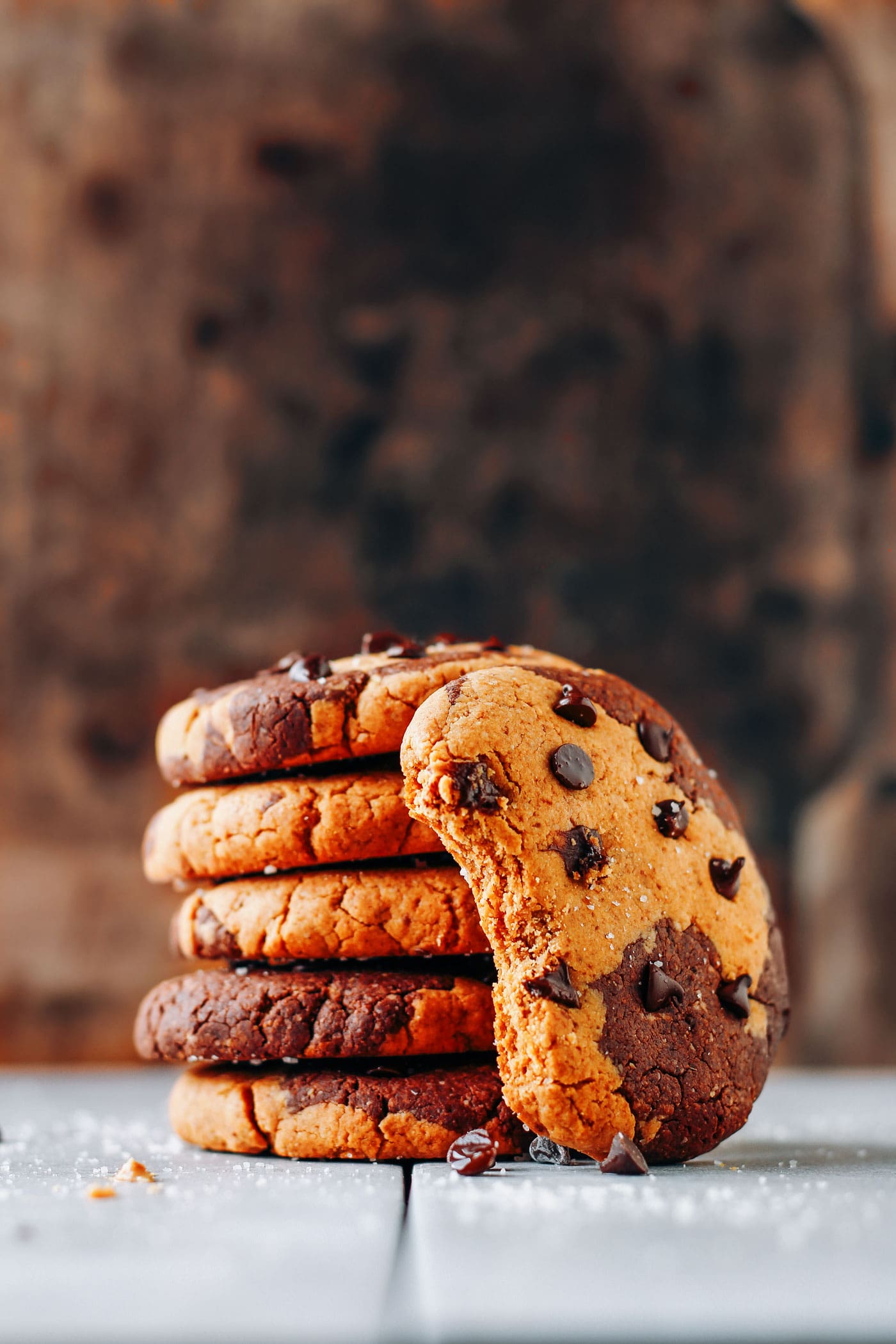 Protein cookies anyone? Peanut butter meets chocolate in these soft baked cookies. You will never believe these are protein cookies!
Super chewy, slightly crispy on the outside, each cookie boasts over 10g of protein, plus it's refined sugar-free and gluten-free! Compared to Lenny & Larry's cookies, these cookies are gluten-free, refined sugar-free, have the same amount of protein and 6 grams less sugar for the same amount of calories. Oh, and they taste awesome!
The base is oat flour, peanut butter, and protein powder. For the sweetener, I went with coconut sugar, which gives the cookies a nice caramel flavor.
Here is a quick tip. The protein powder you use can make a huge difference in flavor. I tried 5 different brands, some resulting in inedible cookies while others were very neutral and you could not taste them. I got terrible results with pea protein powder, giving an earthy, unpleasant flavor to the cookies, so I would recommend staying away from this one, at least for cookies.
In the end, the two protein powders I got the best results with were Sprout's Living Epic Protein and Pumpkin Seed Protein powders. I could not taste them in the cookies, and my testers neither. I'm sure there are other great brands you can use, feel free to let me know your favorite ones!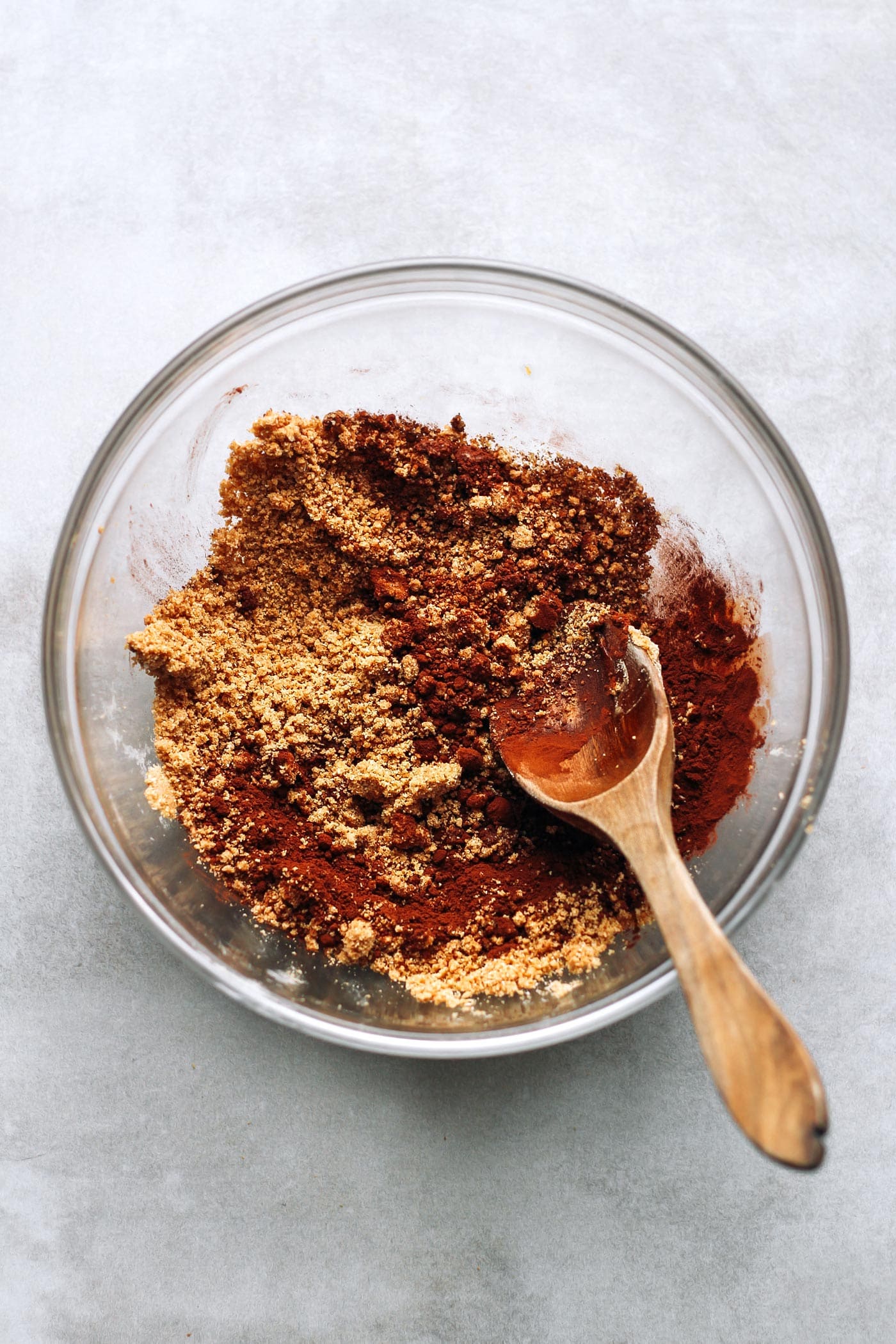 Once your batter is ready, you simply transfer one half to another mixing bowl and add the cocoa powder and chocolate chips. Then form one chocolate ball with your hands, one peanut butter ball, and combine them together to form a bigger one.
Unlike other cookie recipes, you have to shape them into a cookie shape before baking. They won't spread and will only puff a bit.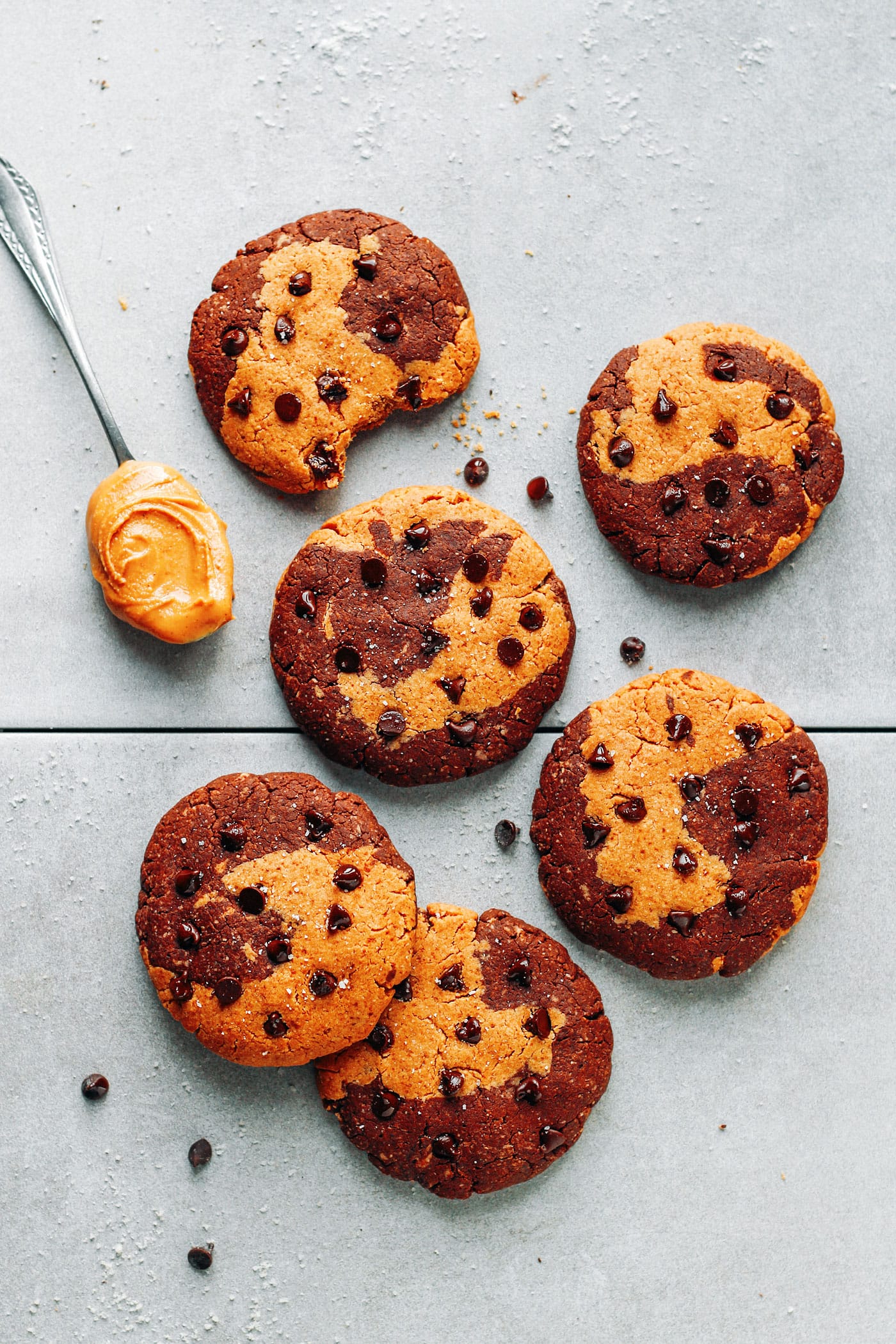 After 13 minutes in the oven, you end up with delicious protein-packed cookies that are soft on the inside without being cakey or dry.
What I also love about these cookies is that they have a long shelf-life. Wrapped in plastic wrap they will keep for up to two weeks. Want to bring them on your next adventure? Just swap the chocolate chips for peanuts, this way you are sure nothing will melt!
Can you see how big these cookies are?!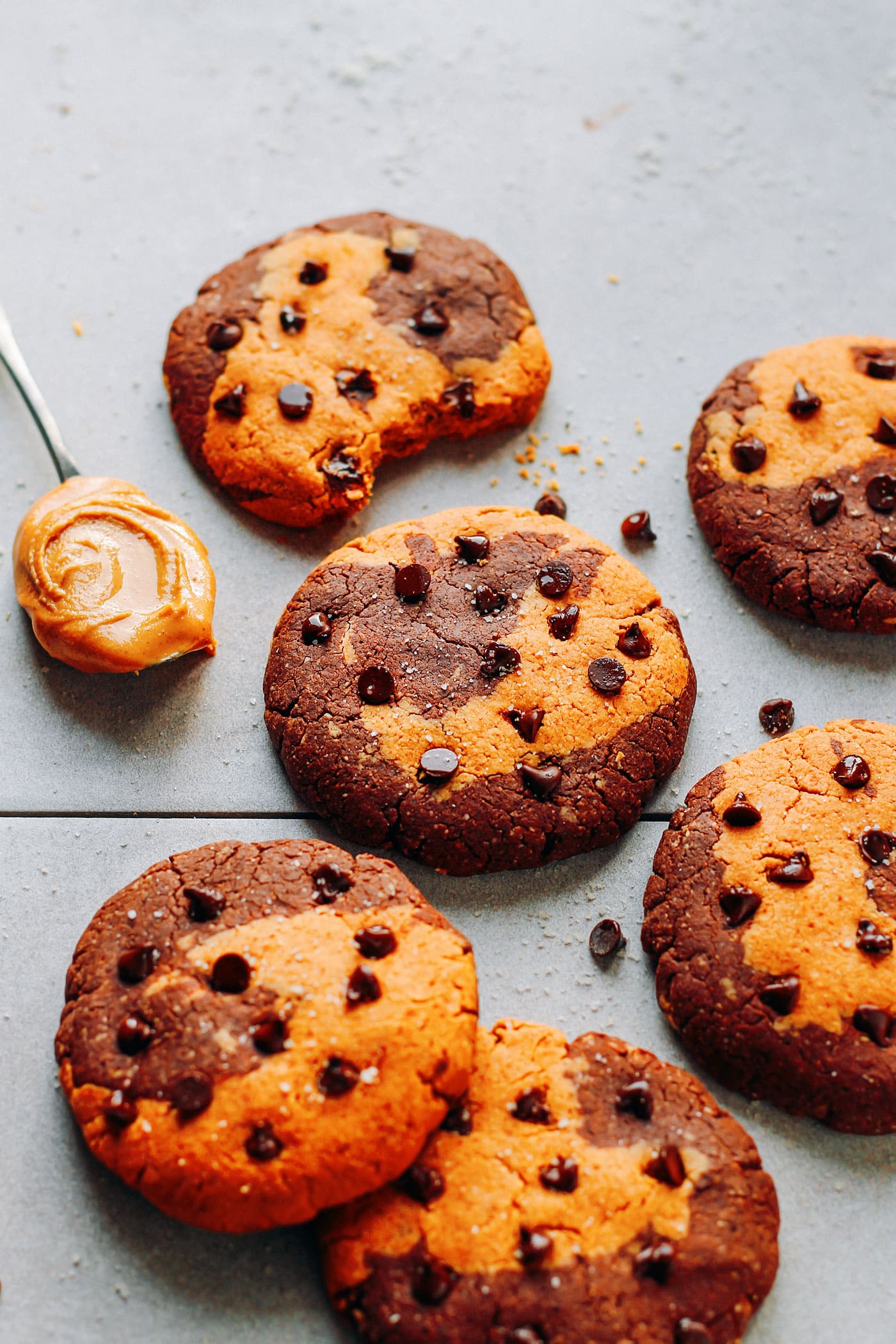 My favorite way to eat these cookies is to crumble them and use as a topping for banana ice cream or oatmeal. It adds a nice crunch as well as protein.
Let me know in the comments if you try this recipe!
📖 Recipe
Peanut Butter Swirl Chocolate Protein Cookies
Peanut butter meets chocolate in these delicious high-protein cookies. Soft, slightly crispy on the edges, these cookies are also gluten-free and refined sugar-free!
Instructions
Preheat oven to 350°F and line a baking sheet with parchment paper.

In a large mixing bowl, whisk together the oat flour, coconut sugar, protein powder, baking powder, and salt. Add the melted coconut oil, peanut butter, almond milk, vanilla extract, and chopped peanuts if using. Mix until well combined using a wooden spoon.

Transfer half of the dough to another mixing bowl. Add the cocoa powder and 1 tablespoon almond milk. Mix until well combined. Stir in the chocolate chips. If the dough seems too dry, add one more teaspoon of almond milk until you get the texture of a cookie dough.

Take about one and a half tablespoon of the chocolate cookie dough. Roll into a ball. Take one and a half tablespoon of the peanut butter cookie dough and roll it into a ball. Combine the two balls together to form one larger ball. Place it on the baking sheet and flatten with the palm of your hand, smooth the edges. You want to shape it into a cookie shape since it won't spread or flatten during baking. Repeat with the remaining dough.

Bake for 13-15 minutes, or until the edges appear golden brown. Remove from the oven and let cool completely on the baking sheet. Cookies will be soft at first but will firm up as they cool. You can press a few more chocolate chips on top while the cookies are still warm.

To store: Place them in an airtight container, or wrap each cookie individually in plastic wrap. Cookies will keep for up to 2 weeks at room temperature.
Nutrition
Serving:
1
large cookie
|
Calories:
286
kcal
|
Carbohydrates:
30.5
g
|
Protein:
10.6
g
|
Fat:
14
g
|
Fiber:
2
g
|
Sugar:
16
g
Did you make this recipe?
Tag @fullofplants on Instagram and hashtag it #fullofplants