This refreshing and fruity iced tea is the perfect drink to sip on hot summer days! It features vibrant guava juice and jasmine tea for a floral and mildly tart flavor. It's naturally sweetened, easy to prepare, and requires just 3 ingredients!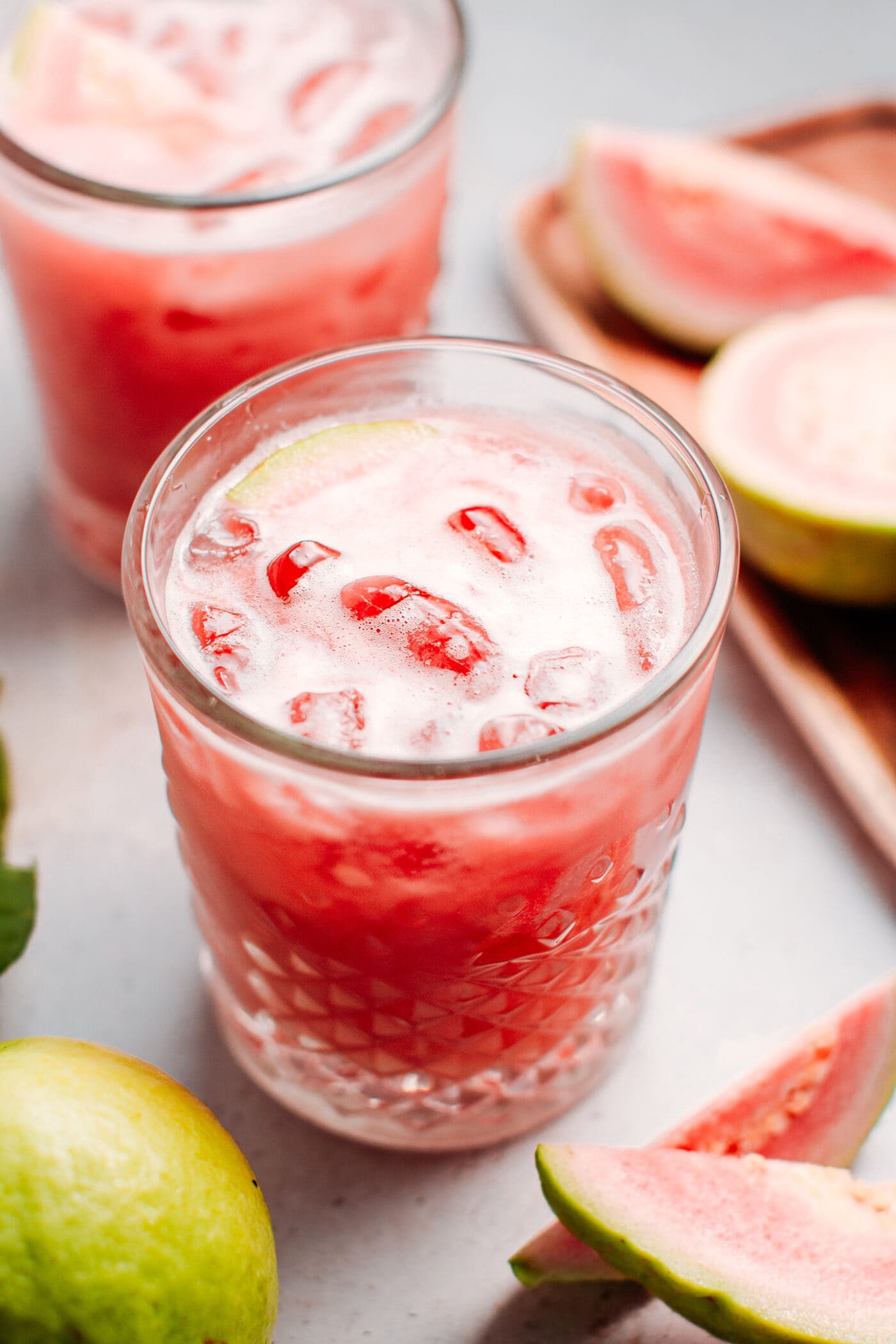 🍹 What is Guava
Guava is a tropical fruit that is native to Central America as well as Mexico and Peru.
Guava fruits have a round shape with a skin that goes from light green to yellow, depending on the ripeness. Its flesh is white when unripe and turns into a vibrant pink color once the guava fruit is fully ripe. If you have never tried guava before, it tastes like a mix of strawberries, pears, and peaches!
🥣 How to Make Guava Iced Tea
You will need the following ingredients:
Jasmine tea – Jasmine tea is green tea leaves infused with jasmine blossoms. It yields a fragrant and nice floral aroma. If you don't have any jasmine tea on hand, feel free to use green tea.
Guava juice – To make things easier, we will use pre-made guava juice. You can find guava nectar online or in many grocery stores. If you have access to fresh ripe guava, check the guide below to learn how to make your own guava juice! I was lucky enough to find fresh guava fruits, so I made my own juice here.
Maple syrup – To sweeten the tea, you can also use agave syrup or simply syrup. Liquid sweeteners work best for this recipe.
If you want to make your own guava juice
You will need 3 medium ripe guava fruits, 1 cup of water, and 1 tablespoon of sugar:
Cut off the outer skin of each guava and discard it.
Cut the guava into quarters and transfer them to a blender.
Add the water and sugar, and blend on high speed for about 20 seconds.
Strain the juice through a fine sieve mesh. You will end up with about 3/4 cup of guava juice. Adjust the sugar to taste; this will depend on how ripe your guavas are.
First, start by brewing the tea. Bring water to a simmer, remove from heat, and add the jasmine tea leaves. Feel free to use tea bags instead of loose tea if you prefer!
Let it infuse for 2-3 minutes. Next, use a fine sieve to remove the tea leaves and discard them.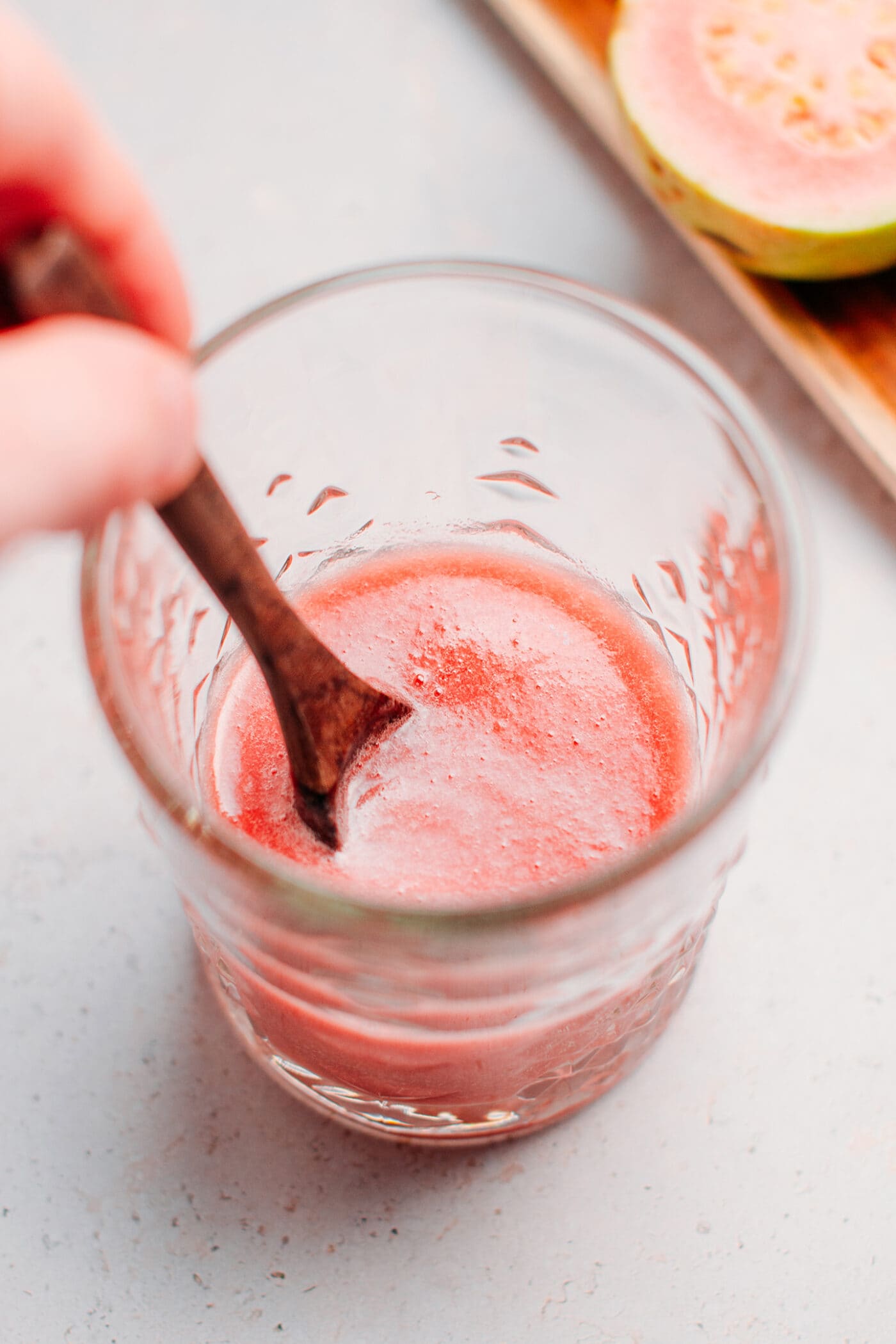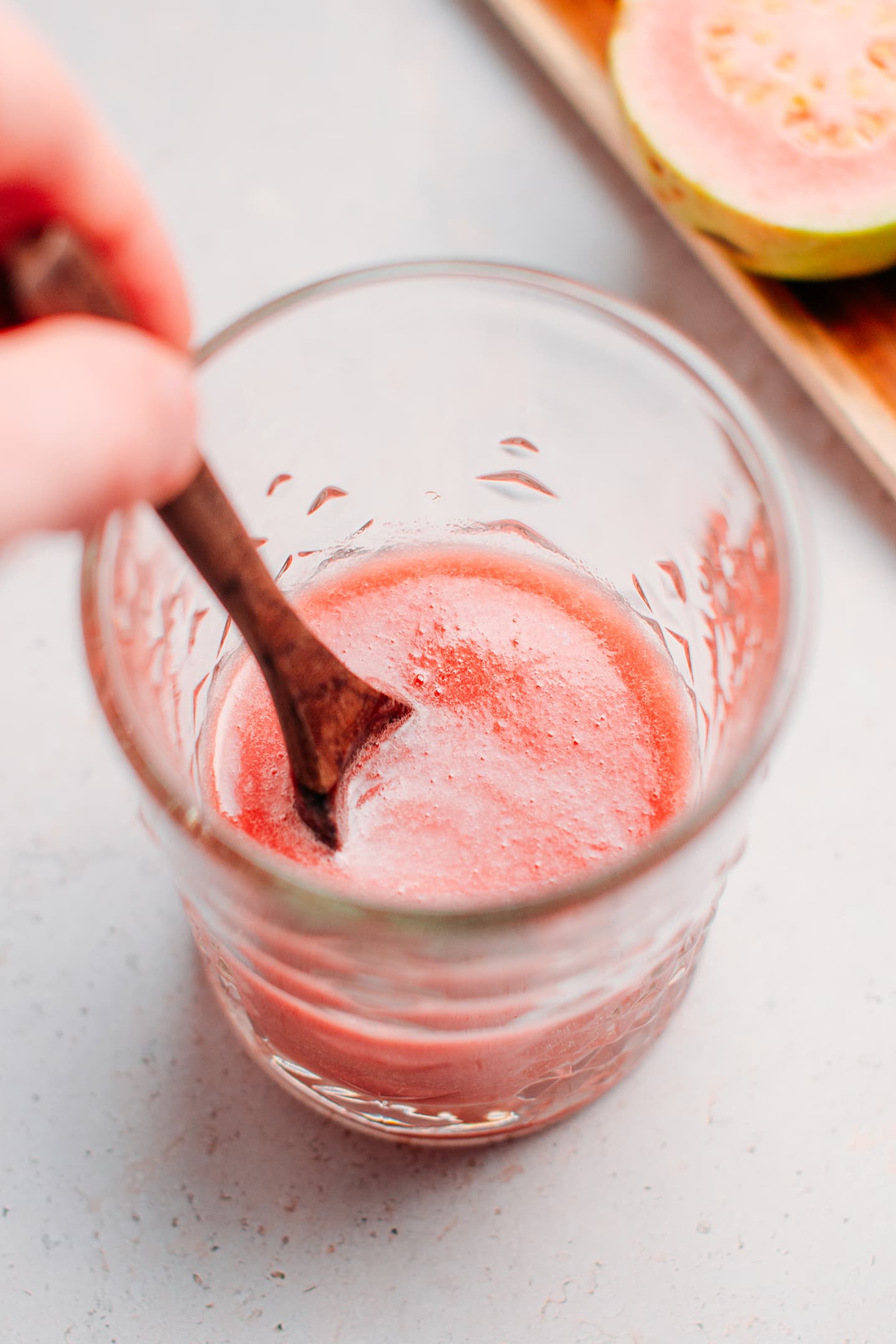 To assemble the drinks, combine the maple syrup with the guava juice in a glass. Add ice and pour in the brewed jasmine tea.
Garnish with a slice of fresh guava and/or lime peel for extra freshness, and enjoy! I also love to serve this iced tea with a slice of orange!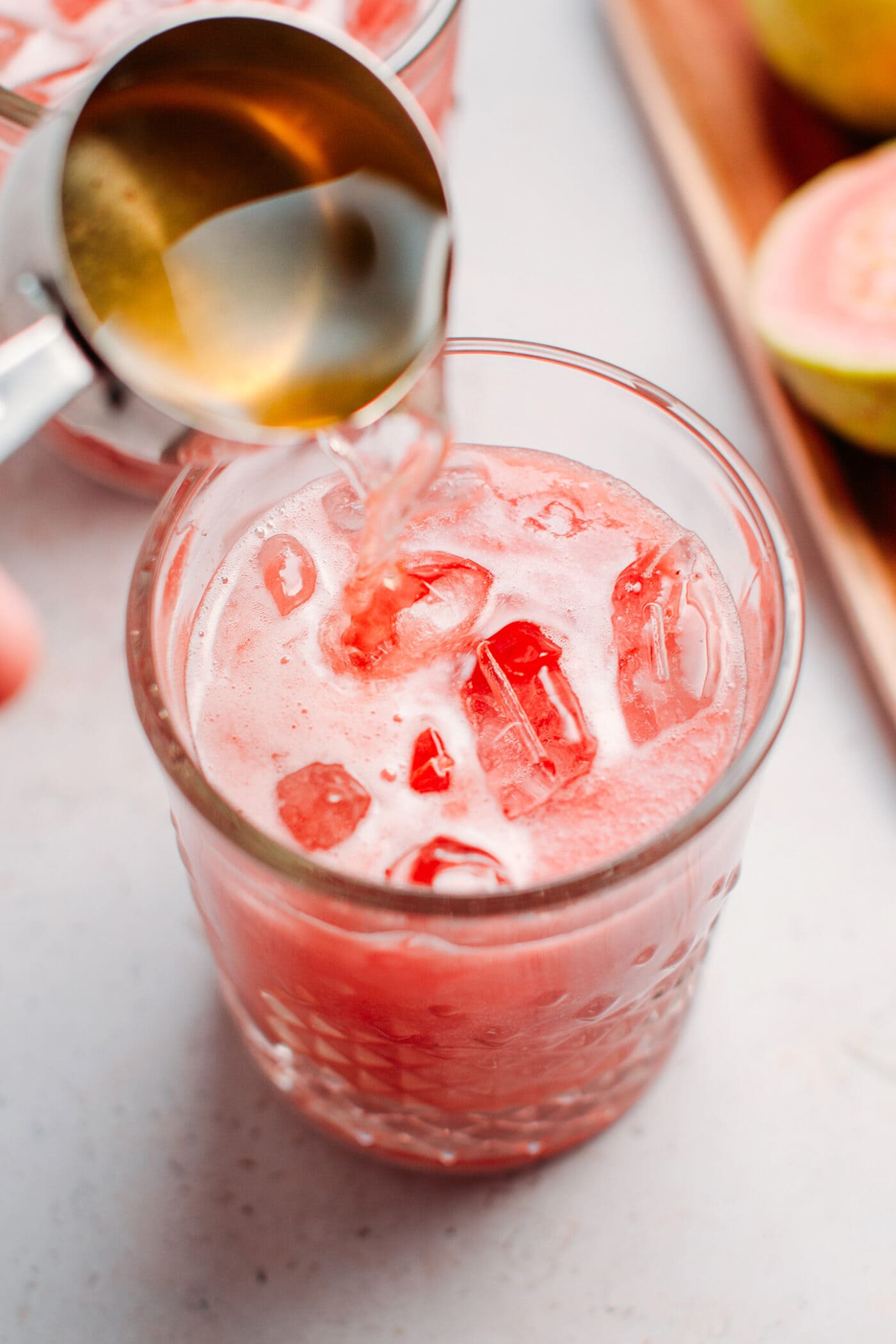 You can easily adjust this iced tea to your taste by using more or less sweetener and playing with the ratio of guava juice to the tea. I personally found a ratio of 1:1 is a perfect balance.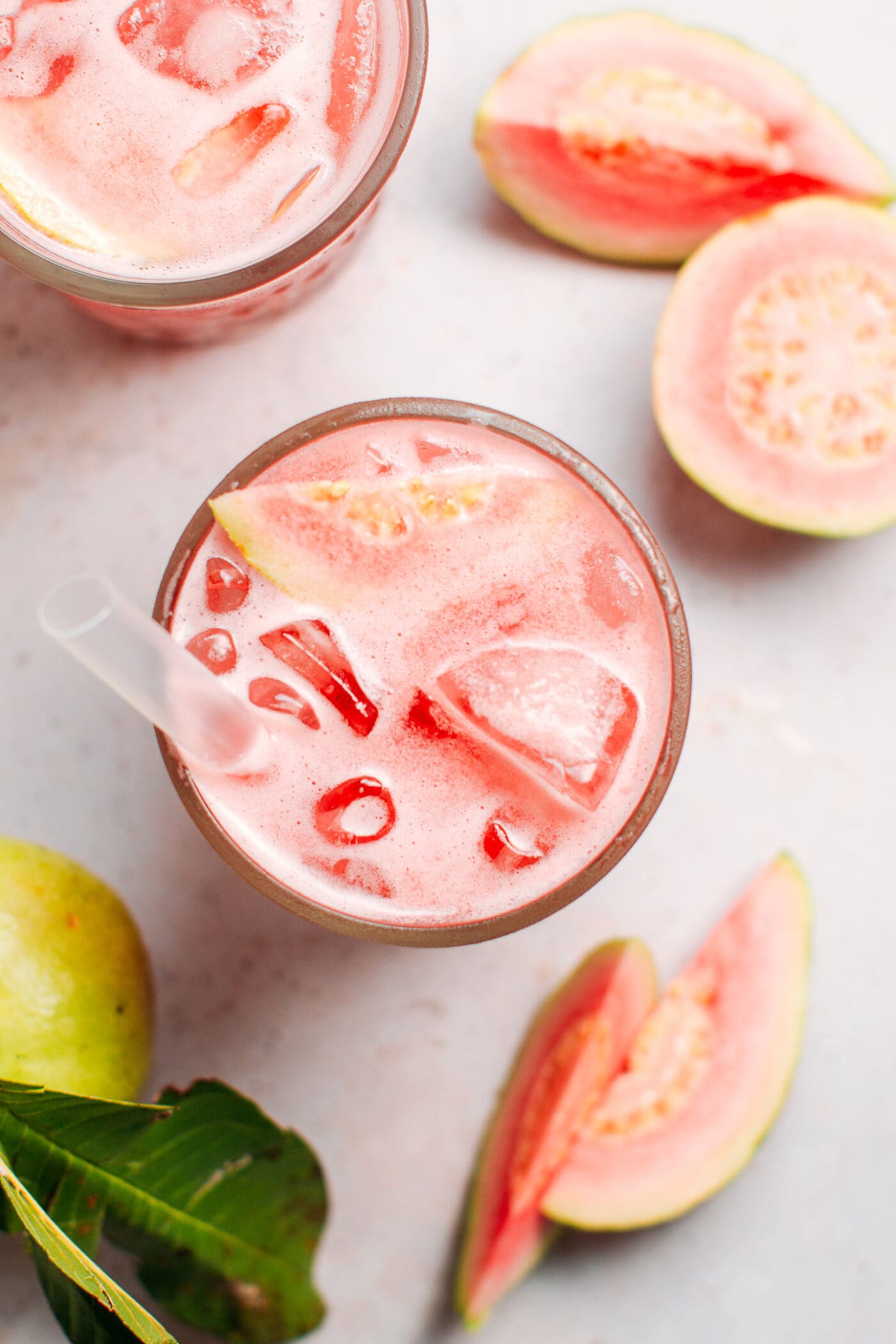 💬 FAQ
Can I use guava syrup to make this tea?
While it won't taste the same, you can use guava syrup to make this recipe. I recommend using about 2 tablespoons of guava syrup for 1 and 1/2 cups of brewed jasmine tea. Obviously, you can adjust depending on how sweet you want it.
Can I make a big batch and keep it for a few days?
Yes, you can easily double or triple the recipe! It will keep for up to 2 days in the refrigerator.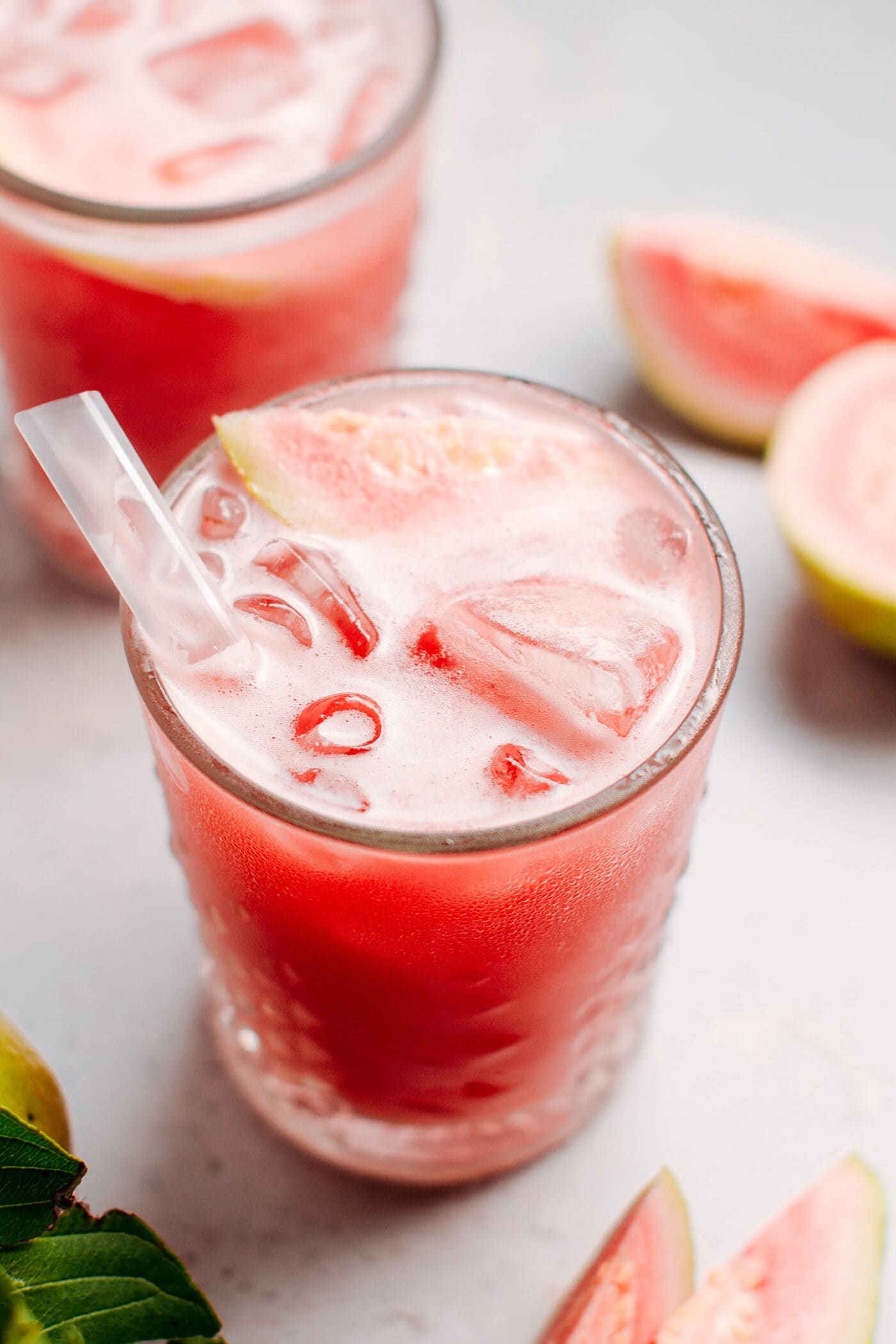 This guava iced tea is SO refreshing! It's super fruity, not too sweet, and has delicate notes of strawberry and peach. Perfect for hot summer afternoons, it can also be served as a sweet appetizer drink for dinner!
🍹 More Refreshing Drink Recipes
Let me know in the comments if you try this recipe!
Recipe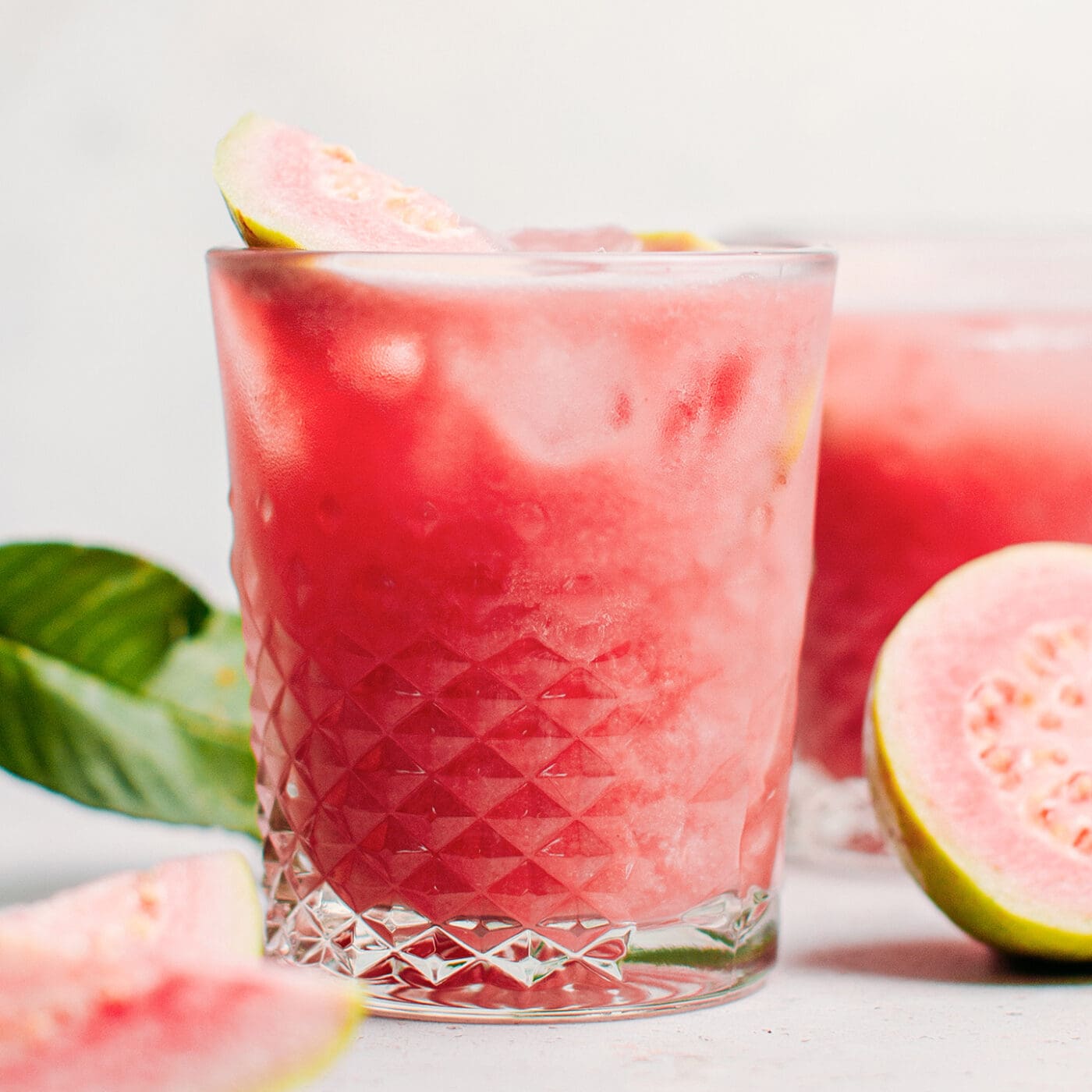 Guava Jasmine Iced Tea
This guava iced tea has the perfect balance of sweet, tart, and fruity! It's super refreshing, easy to make, and requires just 3 ingredients!
Instructions
Bring the water to a simmer in a medium saucepan. Remove from heat and add the loose jasmine tea. Let the tea leaves infuse for about 2 minutes. Strain the tea leaves and discard.

Fill each glass with 1/2 cup of guava juice and about one teaspoon of agave or maple syrup (adjust to taste). Stir to combine.

Add the ice cubes to each glass and pour in about 1/2 cup of the brewed jasmine tea. Stir to combine and enjoy immediately!
Did you make this recipe?
Tag @fullofplants on Instagram and hashtag it #fullofplants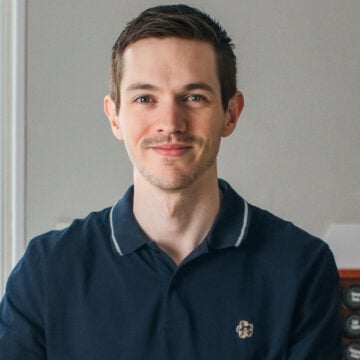 About the Author
Thomas Pagot is the founder, photographer, and recipe developer behind Full of Plants. He created the blog in 2016 as a personal cookbook for vegan recipes. Through years of recipe development, Thomas has successfully grown Full of Plants into a trusted resource for plant-based recipes.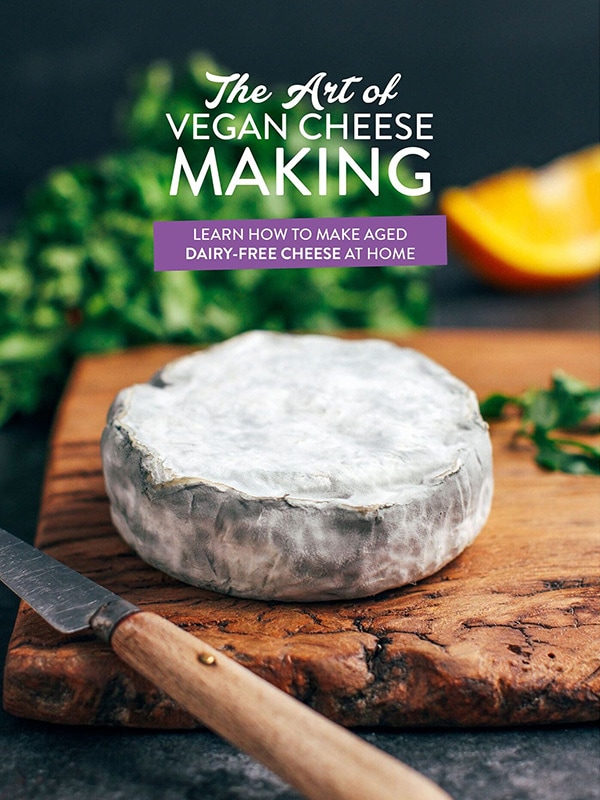 🧀 25 Mind-Blowing Vegan Cheese Recipes!
Sign up for the Full of Plants newsletter and you'll get new recipes delivered by email weekly, PLUS your FREE 100-page printable eBook!