These Vietnamese-inspired savory pastries are crispy and buttery on the outside, and so meaty on the inside!
The "meat" filling is prepare with tofu, vegan pâté, and aromatics like green onions, garlic, and black pepper, adding a ton of flavor. Served warm, these pastries make a delicious appetizer!
WHAT IS PÂTÉ CHAUD
"Bánh Patê Sô" is a Vietnamese savory pastry that first appeared during the French colonization around 1900. These little pastries consist of a meat filling wrapped in puff pastry and baked until golden brown. It is a popular street food and usually enjoyed on the go, anytime of the day.
HOW TO MAKE PÂTÉ CHAUD
To make the filling, we combine tofu with shredded carrots, onion, garlic, and vegan pâté. The pâté not only adds flavor and richness, but it also helps the filling hold together into a paste. While pâté is not used in the traditional version, it definitely adds to the meatiness in this vegan version.
Then, for flavor, we add green onions, cilantro, ground black pepper, salt, and sugar.
Tip: For a meatier texture, drain and press the tofu to remove excess moisture. If you are looking for more meatiness, you can replace half of the tofu with TVP crumbles (textured vegetable protein) rehydrated in a vegetable broth.
Once your filling is ready, simply cut rounds of vegan puff pastry using a cookie cutter. Place about one and a half tablespoon of the tofu filling on the center of each round, and cover with another round of pastry.
Make sure there is no air bubble inside your paté chauds, otherwise they will puff up unevenly in the oven.
Finally, brush with almond milk and pop into the oven for about 20 minutes, or until golden brown!
Serve these pastries warm as an appetizer, or as a light meal with a green salad! The crust is super light and flaky while the filling is moist, meaty, and peppery!
Looking for more Vietnamese-inspired recipes? Check out this huge round-up of Vegan Vietnamese recipes!
Let me know in the comments if you try this recipe!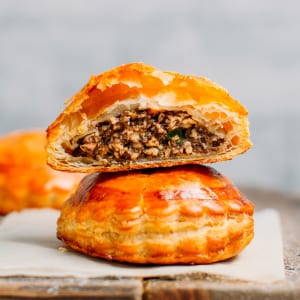 Vegan Pâté Chaud (Vietnamese Meat Pastries)
Vietnamese-inspired pastries filled with tofu, vegan pâté, carrots, and fresh herbs! It's flaky, meaty, and easy to make!
Ingredients
10

ounces

firm tofu

1

small carrot

shredded and cut into 1/2-inch pieces

1/2

cup

vegan paté

1/2

onion

finely diced

2

cloves of garlic

minced

2

tbsp

chopped green onions

2

tbsp

chopped cilantro

1/2

tsp

ground black pepper

adjust to taste

1/2

tsp

salt

1

tsp

sugar

3/4

tsp

vegan fish sauce

optional, add more salt if not using

3

sheets

puff pastries

adjust depending on the size of your pastries
Instructions
Preheat oven to 400° (200°C) and line a baking sheet with parchment paper. Set aside.

Drain and press the tofu to remove excess moisture. Scramble it into a large mixing bowl. Add the shredded carrot, vegan paté, diced onion, garlic, chopped green onions, cilantro, black pepper, salt, sugar, and vegan fish sauce if using.

Using a spatula or spoon, mix everything together until fully combined. Keep mixing until the tofu is almost completely mashed. Taste and adjust the salt, sugar, and pepper to taste.

Using a 3-inch cookie cutter, cut about 30 rounds in the puff pastries. Place half of them on the prepared baking sheet, leaving about 1-inch between each.

Place about 1 and 1/2 tablespoon of the filling in the center of each round of puff pastry. Cover with the remaining puff pastry rounds and press down the edges to enclose the filling. Make sure there are no air bubbles inside and the filling is tightly wrapped.

Brush the pastries with almond milk and bake for 20-22 minutes, or until golden brown.

Let cool a few minutes before serving as an appetizer or a light meal with a salad on the side! These pâté chauds are best served warm but can also be served at room temperature. Pâté chauds will keep for up to 3 days in the refrigerator, reheat 5-7 minutes in a 300°F (150°C) preheated oven.
DID YOU MAKE THIS RECIPE?
Tag @fullofplants on Instagram and hashtag it #fullofplants