This amazing vegan chocolate layer cake is incredibly moist and fluffy and comes with the creamiest chocolate buttercream! Super rich in chocolate, this plant-based chocolate cake will literally melt in your mouth!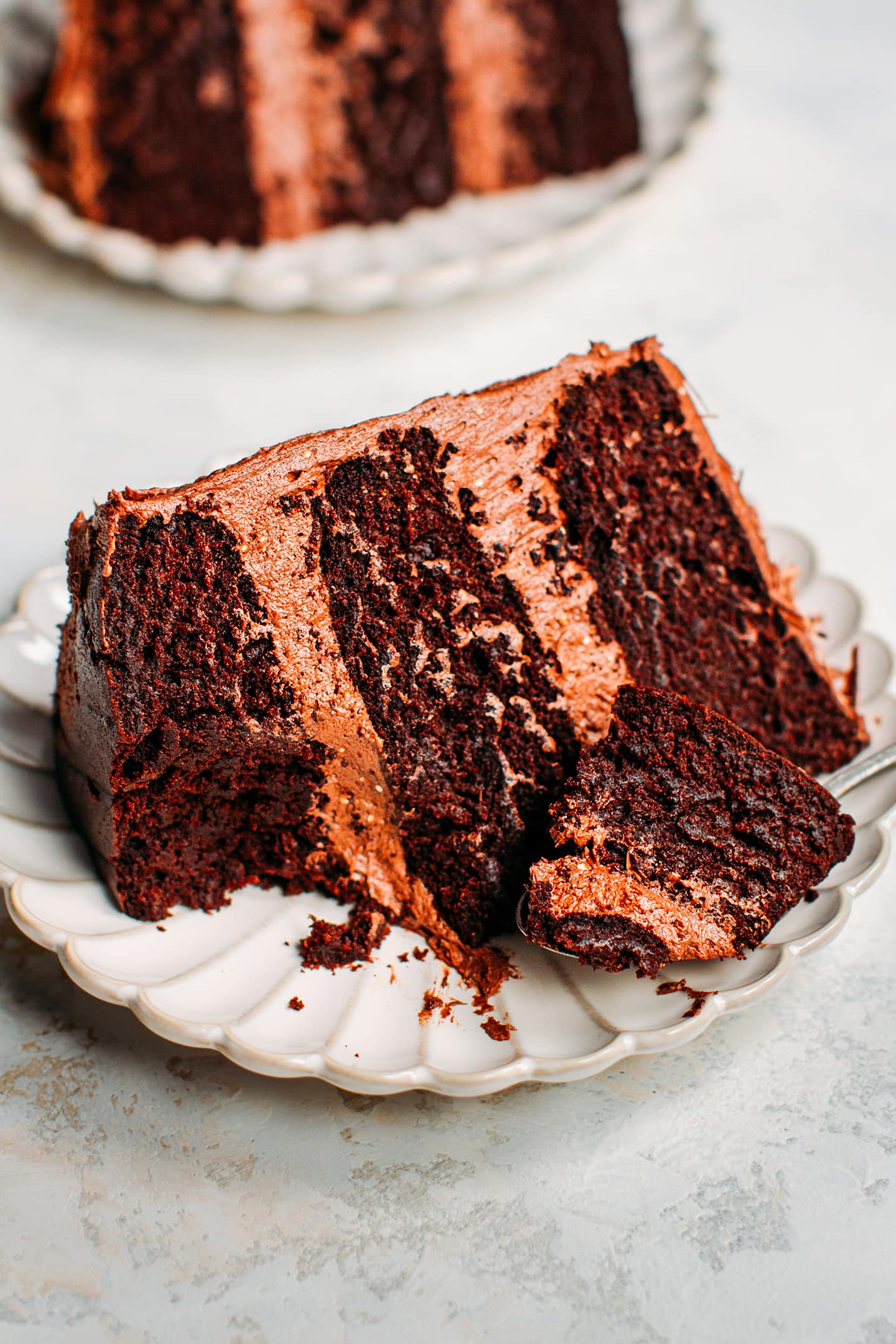 It is about time that we share a recipe for a decadent vegan chocolate layer cake here on Full of Plants. While there is already a chocolate layer cake recipe on the blog, this one is easier and requires fewer ingredients.
It is not gluten-free, but it's a classic recipe that everyone should have on hand. Perfect for any occasion, from birthdays to Valentine's Day and graduation, any excuse is good to enjoy this cake! Let's do it!
⭐️ Why You Should Try This Chocolate Cake
It's moist and fudgy: This chocolate cake just melts in your mouth. It is light, airy, and covered with a rich and creamy chocolate frosting!
It's easier than it looks: The batter requires just one bowl. Then it is divided between 3 pans and baked. Finally, all that is left is frosting the cake.
It's insanely delicious! Super chocolatey, just a bit salty, and perfectly sweet, this cake is a crowd-pleaser!
🥣 How to Make Vegan Chocolate Cake
Preparing this chocolate cake is much easier than it looks. You will need 13 basic ingredients and about 1 hour from start to finish.
Cake
For the cake, you will need:
All-purpose flour – Use the good old all-purpose flour; no need to go with cake flour for this recipe.
Unsweetened cacao powder – Try using a superfine cacao powder. It will result in a lighter texture. Also, a darker cacao powder will usually be more chocolatey.
Sugar – While the frosting is prepared using powdered sugar, I went with coconut sugar for the cake itself.
Yogurt – I like to use yogurt in this cake because it adds a little bit more fat and helps with the overall texture.
Applesauce – Use unsweetened applesauce. You can't taste it in the cake, but it brings a ton of moisture!
Oil – Use a neutral oil like canola or grapeseed oil. I do not recommend using butter or coconut oil as it would result if a too-firm cake once chilled.
Coffee – While you can substitute with more almond milk or water, dark coffee helps increase the chocolate flavor.
Baking powder and baking soda – For a light and fluffy texture!
Salt – To enhance the flavor of the chocolate, we will use a generous pinch of salt in the cake batter as well as in the frosting.
Vanilla – Use good quality vanilla extract for the best flavor.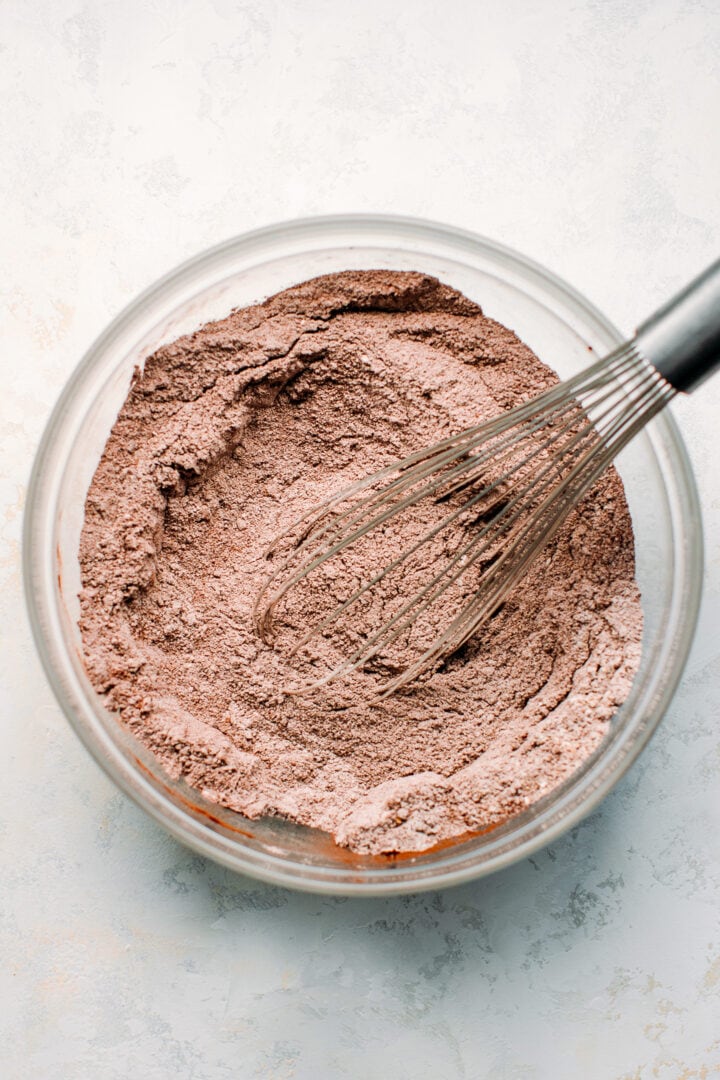 Start by whisking together all of the dry ingredients. Next, add the wet ingredients and whisk until the batter is smooth.
Slightly grease and line three 6-inch cake pans with parchment paper. Then, divide the batter evenly between the pans and bake for about 20 minutes. The tops of the cakes should be just slightly cracked, and a toothpick inserted into the middle should come out almost clean.
Keep an eye on the cakes; you do not want to overbake them. We want moist and tender cakes!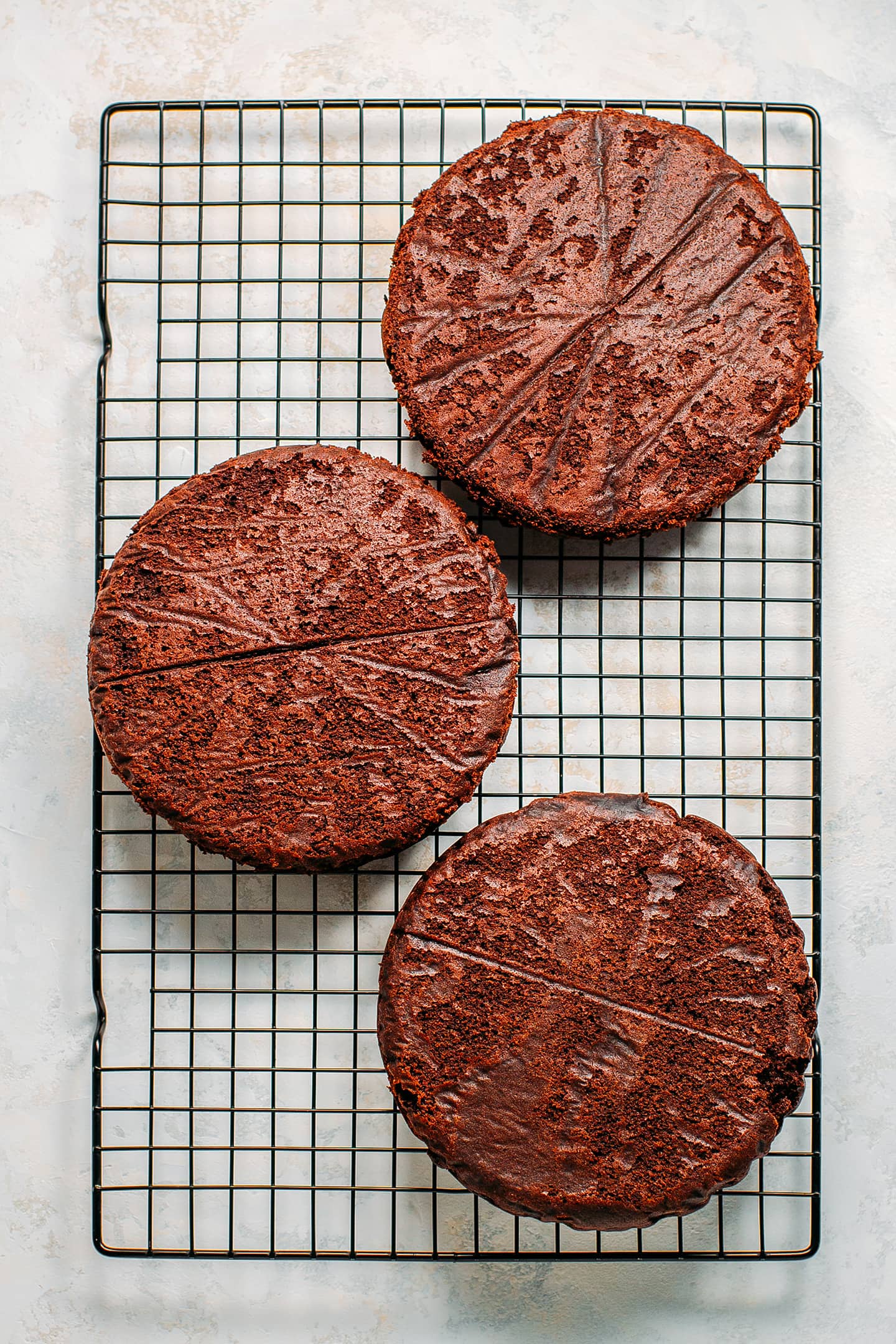 Let the chocolate cakes cool completely at room temperature before frosting.
Frosting
The frosting is super easy to prepare. Simply beat the softened vegan butter with cacao powder, powdered sugar, almond milk, vanilla extract, and a pinch of salt until light and fluffy.
To assemble, spread a generous amount of the frosting on top of a chocolate cake and repeat the process two times. Finish by frosting the top and sides and top with shaved chocolate!
Note: The recipe intentionally yields more frosting than needed. I personally hate having to whip up another batch of frosting just because I could not finish frosting one half of the cake. Problem solved here!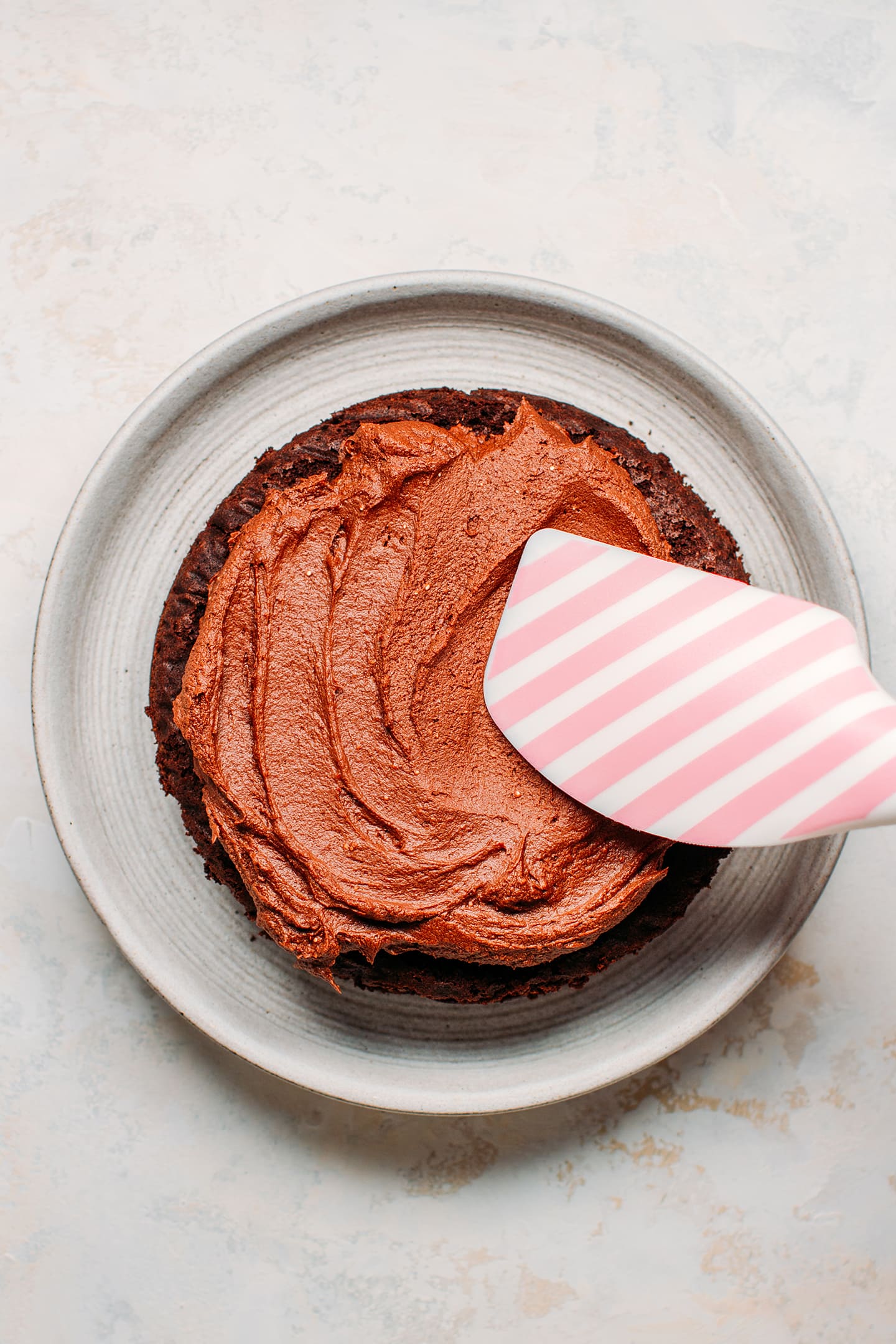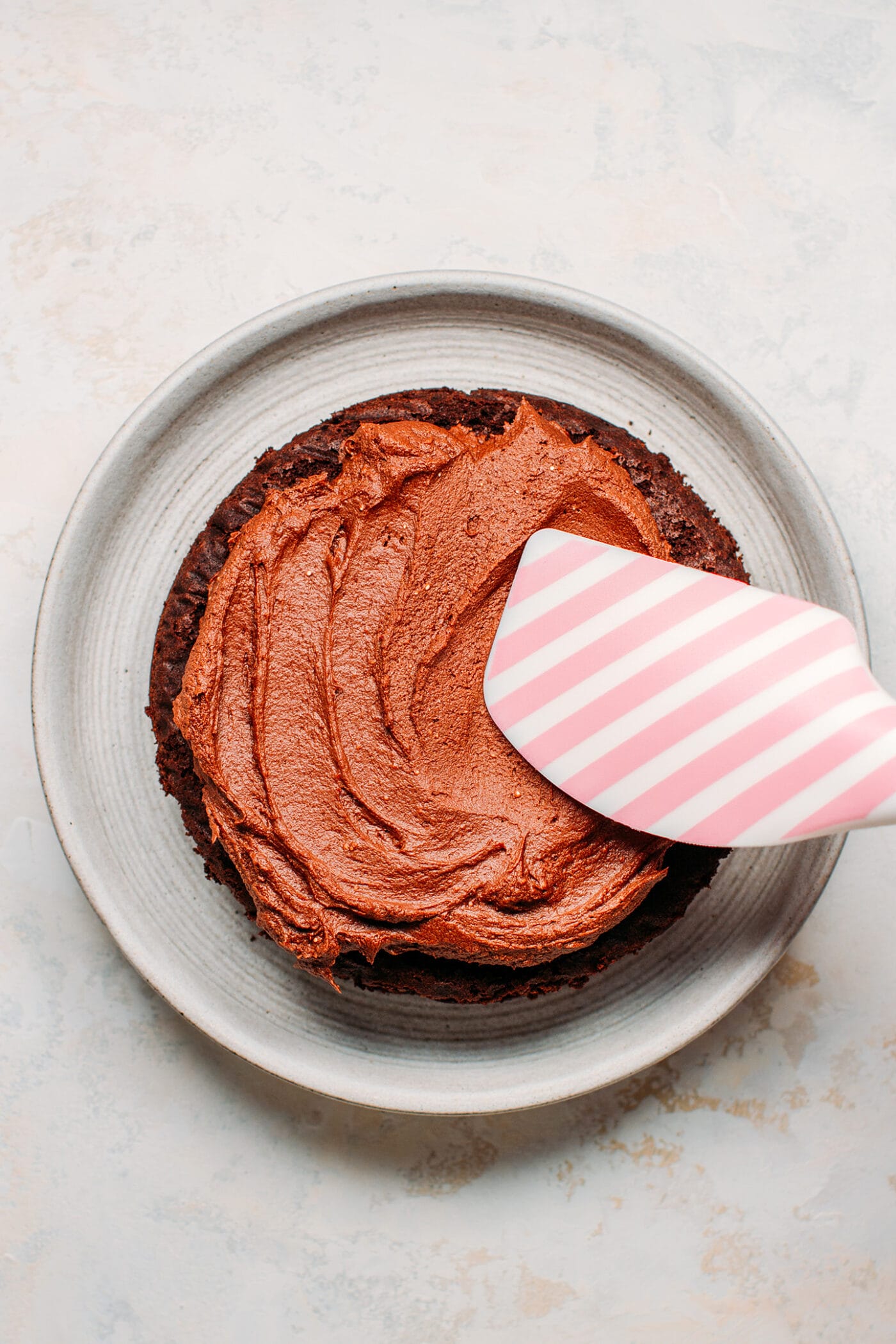 📔 Tips
If you do not have a 6-inch cake pan on hand, simply use an oven-safe saucepan of about the same width! You can also bake this cake into a two-layer cake instead of three if you have 8-inch or larger pans.
Since the chocolate cakes are very moist and tender, try to handle them carefully when assembling.
For extra chocolate flavor and more texture, feel free to top this chocolate cake with mini chocolate chips!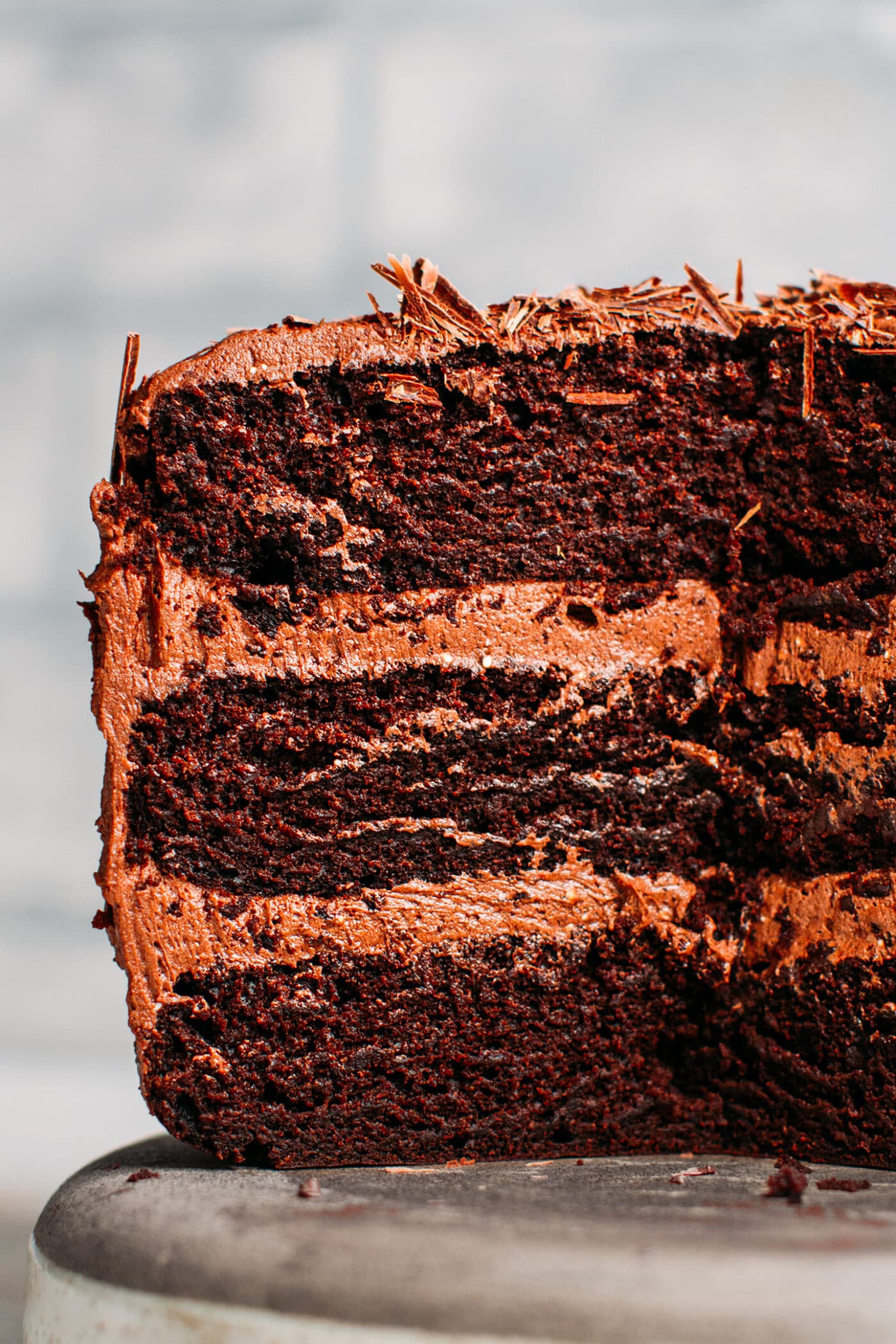 💬 FAQ
Can I use gluten-free flour to make this cake?
While I haven't tried it yet, I think a 1:1 gluten-free flour mix will work.
Can I make this chocolate cake refined sugar-free?
Yes, you can prepare a cashew-based chocolate frosting similar to the one used in our Fudgy Chocolate Layer Cake recipe.
How long does this chocolate cake keep?
This layer cake will keep for up to 5 days in the refrigerator. Remove from the fridge 30-40 minutes before serving.
If you are looking for a decadent and intensely chocolatey cake, you are going to love this recipe!
🍫 More Chocolate Recipes
Let me know in the comments if you try this recipe!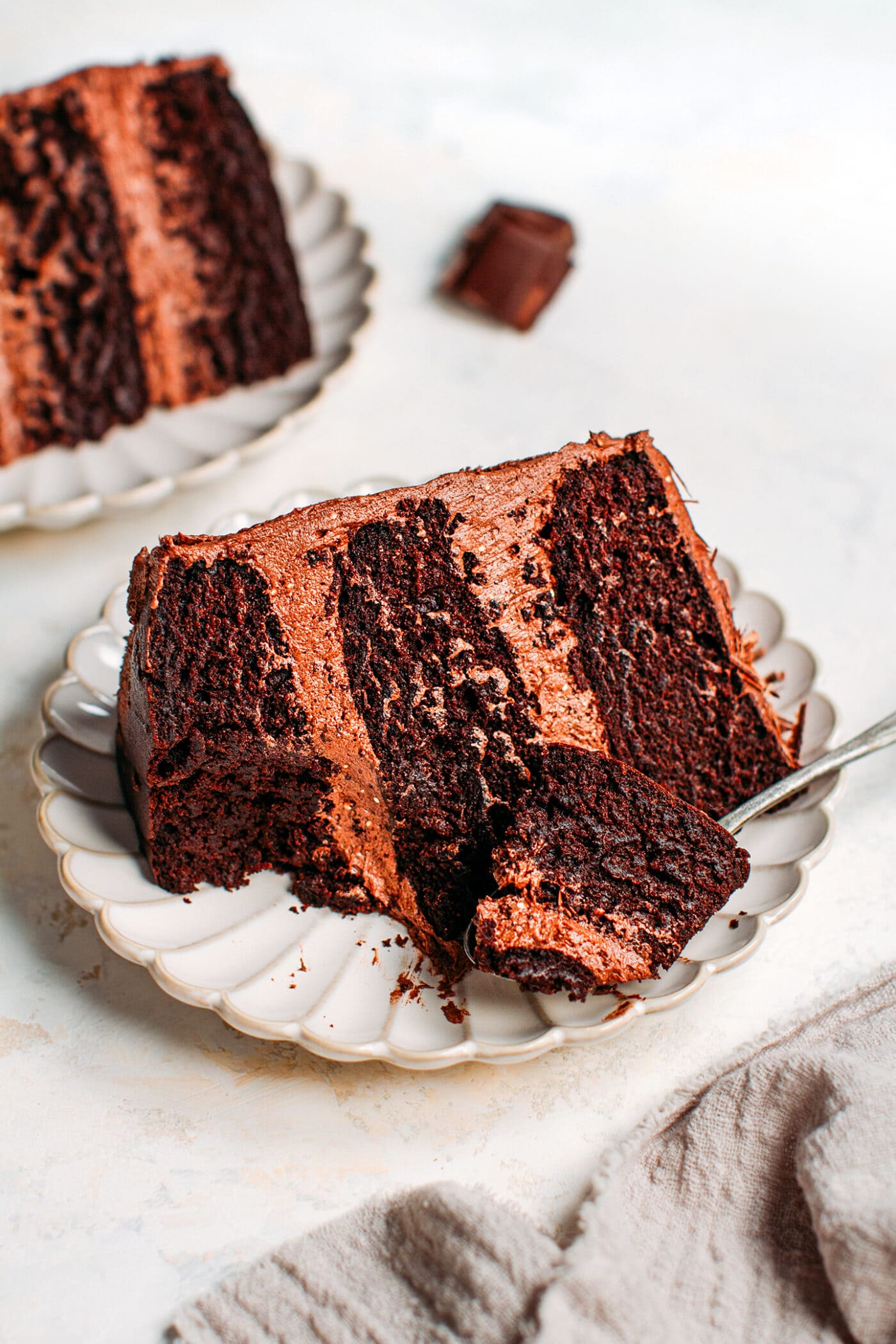 Recipe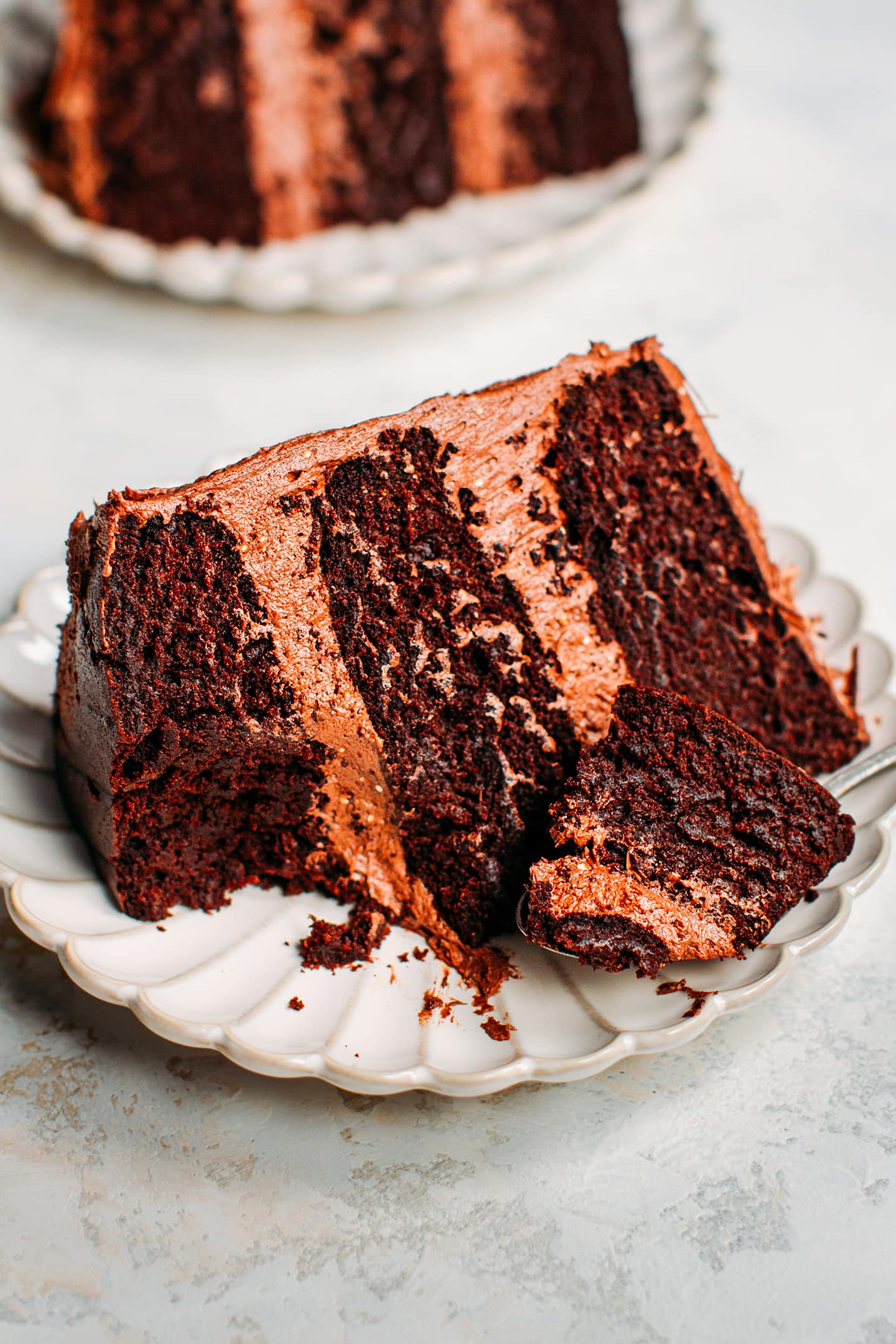 Decadent Vegan Chocolate Cake
This decadent vegan chocolate cake is super moist, fluffy, and insanely chocolatey! Just 13 ingredients and 1 hour are required!
Equipment
Instructions
Chocolate Cake
Preheat the oven to 350° (175°C). Slightly grease three 6-inch cake pans and line them with parchment paper.

In a large mixing bowl, whisk together the flour, coconut sugar, unsweetened cacao powder, baking powder, baking soda, and salt. Add the vegan yogurt, oil, applesauce, and almond milk. Whisk until the batter is smooth.

Next, add the brewed coffee and vanilla extract and whisk until fully combined.

Divide the batter evenly between the three cake pans. Bake for about 20 minutes, or until the cakes have just slightly cracked tops. You can test doneness by inserting a toothpick inside the cake. It should come out clean. Note: Do not overbake. You want to keep the cakes moist and tender.

Remove from the oven and let the cakes cool for at least 30 minutes before carefully flipping over a cooling rack. Let cool completely at room temperature before frosting.
Chocolate Frosting
Cream the butter using a hand or a stand mixer for about 1 minute. Once the butter appears fluffy, add the powdered sugar, cacao powder, almond milk, vanilla extract, and salt.

Beat on low speed for another 30-40 seconds or until fully combined. If the frosting appears too soft, you can add more cacao powder/powdered sugar. If it seems too thick, add an extra tablespoon of almond milk.
Assembling
Place one chocolate cake on a cake stand or flat plate. Cover the top with a generous amount of chocolate frosting, then carefully top with the second chocolate cake and repeat. Finish by placing the last chocolate cake on top of the second one. Frost the top and sides, and smooth using a spatula. Note: you might have frosting leftover. Use it for muffins or cupcakes!

Refrigerate the frosted cake for about 1 hour before serving to allow the frosting to firm up a bit.

This cake is best served the same day but will keep for up to 5 days in the refrigerator.
Nutrition
Serving:
1
serving
|
Calories:
617
kcal
|
Carbohydrates:
61.1
g
|
Protein:
3.8
g
|
Fat:
43.2
g
|
Fiber:
3.5
g
|
Sugar:
46.8
g
Did you make this recipe?
Tag @fullofplants on Instagram and hashtag it #fullofplants