If there is one kind of meal I never get tired of, it's definitely Buddha Bowl. Introducing Sesame-Crusted Hoisin Tofu Buddha Bowl!
Why do I love bowls so much? Because 1) It's cozy and comforting. 2) Easy to eat; you don't need to bring table mats, skillets, spatulas, and all the other stuff on the table. Just get your bowls and a fork! Plus, it's perfect to have in front of your favorite TV show. And 3) It's healthy and LOADED with different flavors and textures.
This Buddha bowl comes with marinated tofu that is perfectly crispy on the outside and tender on the inside, plus spicy roasted sweet potatoes, quinoa, avocado, greens, and hummus!
This recipe starts with the tofu. You have two ways to prepare it, you can freeze it overnight and then thaw on the counter, or simply press it for 30 minutes. The first method yields a chewier tofu that will absorb more of the marinade, while the other yields a slightly more tender texture but doesn't absorb as much flavor. Freezing really helps the tofu get rid of excess water. I went with the first method, but the second one is also great if you are short on time.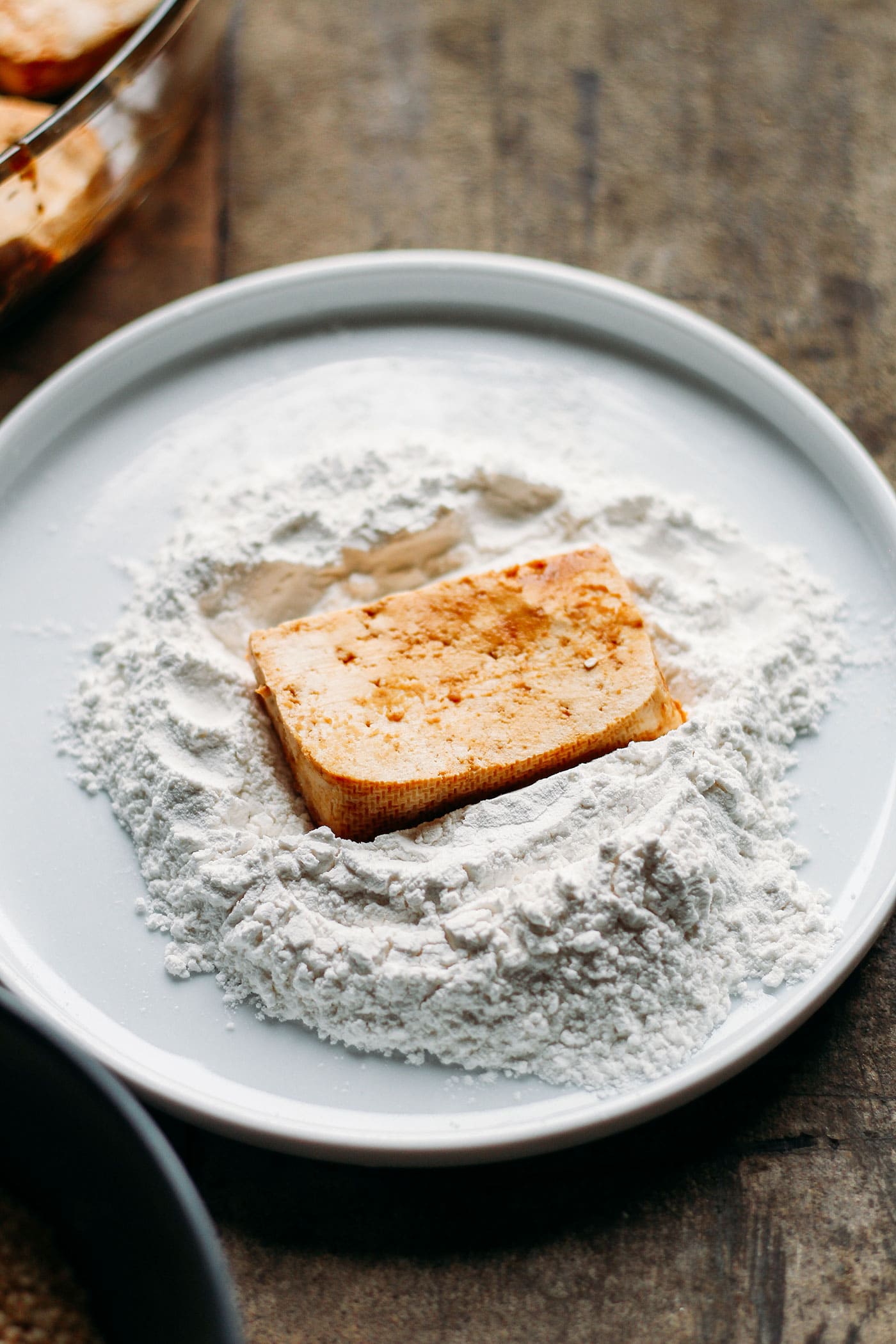 Once your tofu is ready, prepare the marinade. I went with something very simple yet flavorful: hoisin sauce + soy sauce. If you have never tried Hoisin sauce, it's a thick, dark red sauce that is sweet and a bit salty. We usually use it as a dipping sauce or to glaze meats. It's like the Chinese version of BBQ sauce. If you are wondering, it's totally different from Sriracha which is a lot spicier and garlicky. You can find Hoisin sauce online, in Asian markets, or make your own.
Let the tofu marinate for at least two hours to give it time to soak up the marinade. Once the tofu has marinated, heat a skillet over medium heat and cook on each side for a few minutes before pouring the remaining marinade. This step allows the tofu to soak up more flavor from the marinade.
Next, dust the tofu slices with rice flour, dip them into the wet batter, and finally, coat them with the sesame breadcrumbs. It's now ready to shallow-fry until crispy and golden brown! Make sure to cook the tofu just before serving, though, if you want it crispy. Check the notes for a baked version.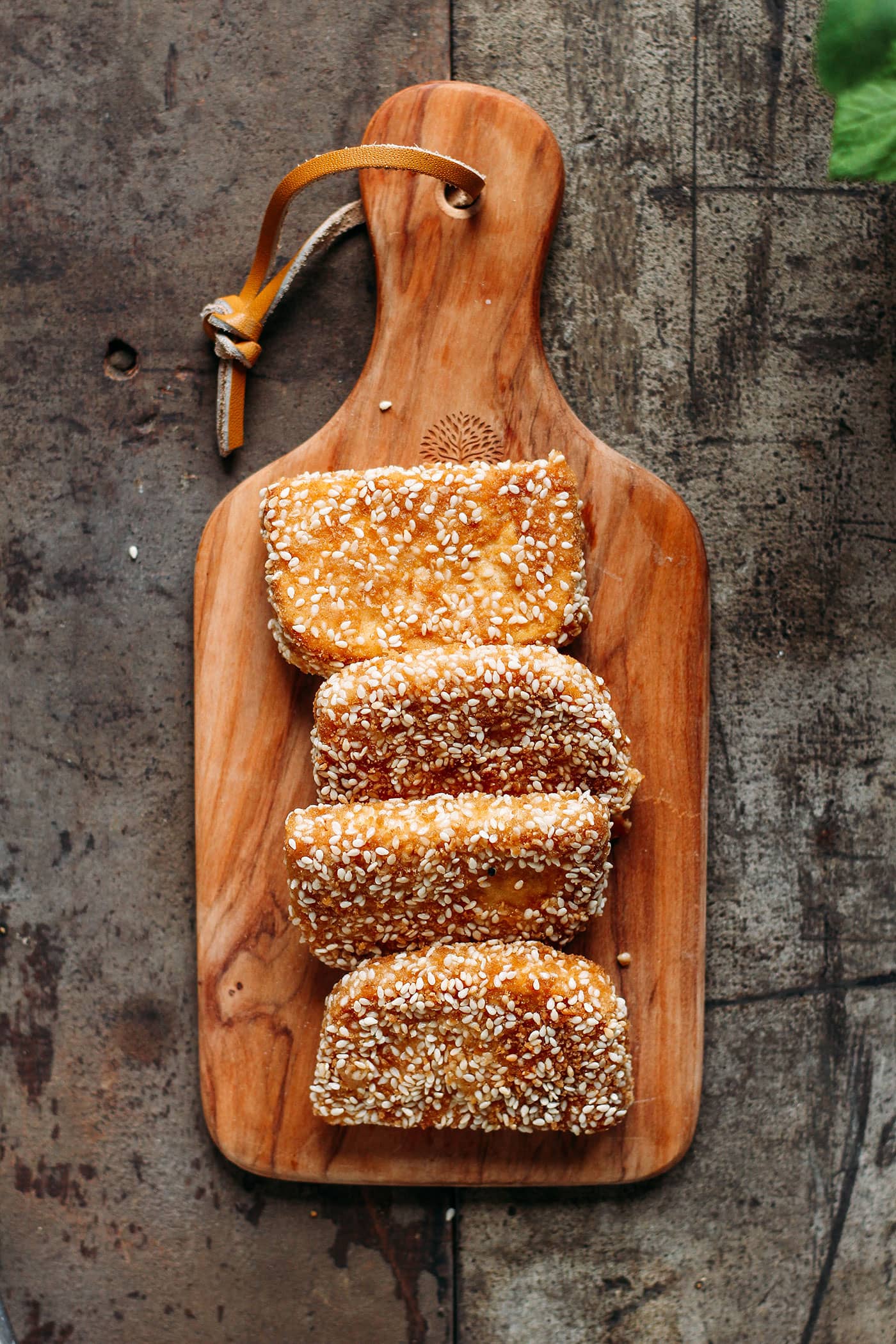 To complement the tofu, you can never go wrong with roasted potatoes + avocado. This combination always works, like peanut butter + jelly, chocolate + sea salt, or apple + cinnamon. Anyway, sweet potatoes are coated with cumin and chili powder, then roasted in the oven until soft.
For healthy fats and added protein, I added a generous dollop of hummus in the bottom of the bowls before topping it with the quinoa, avocado, sweet potatoes, and tofu. I highly recommend you use the hummus as a dipping sauce for the tofu and sweet potatoes, so good!
Quick note: If you love hoisin sauce as much as I do, I won't judge if you add a drizzle of hoisin on top of everything for even more flavor.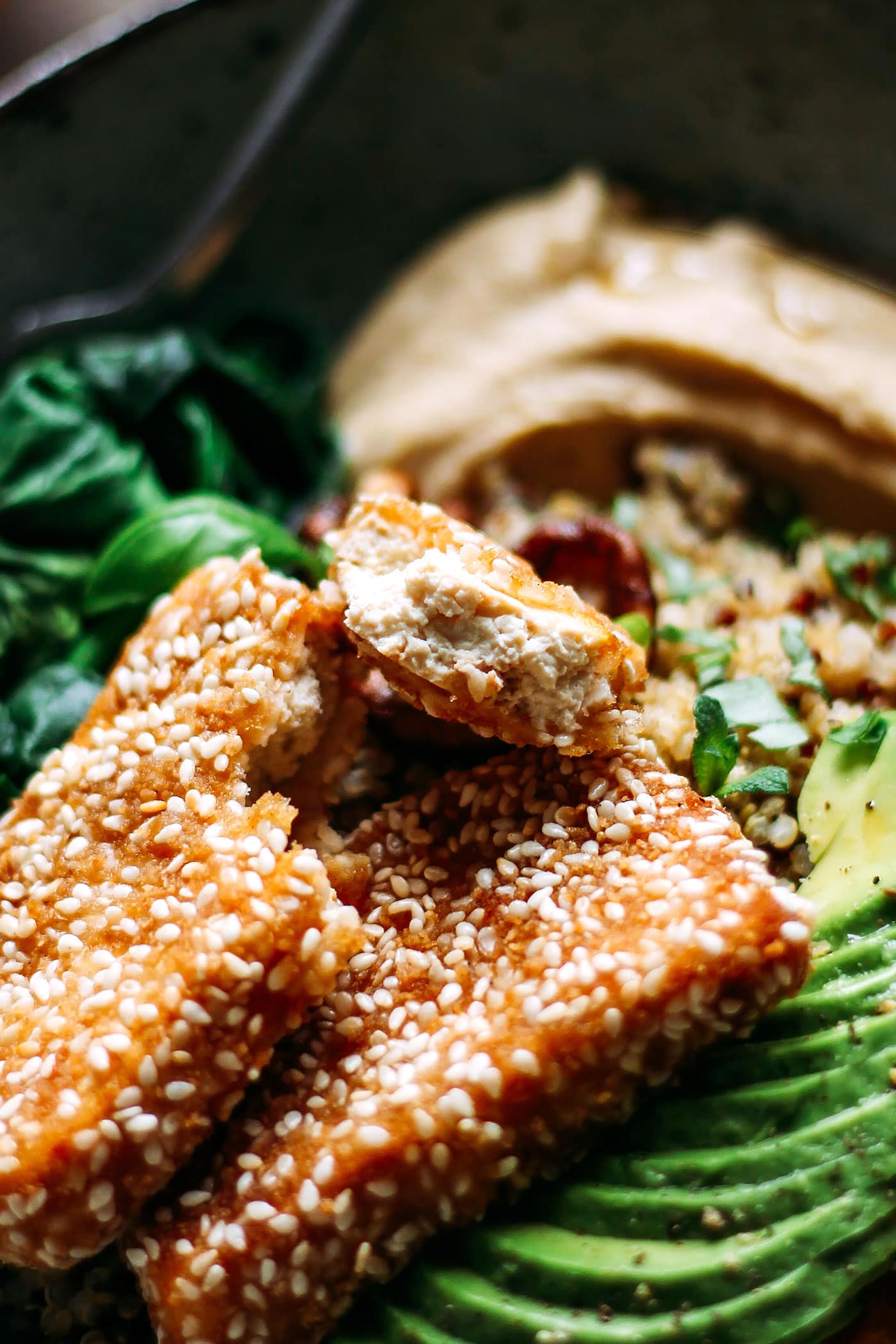 This good-for-you Buddha bowl has it all! It is packed with protein, healthy fats, carbs, vitamins, and, last but not least, flavor!
Let me know in the comments if you try this recipe!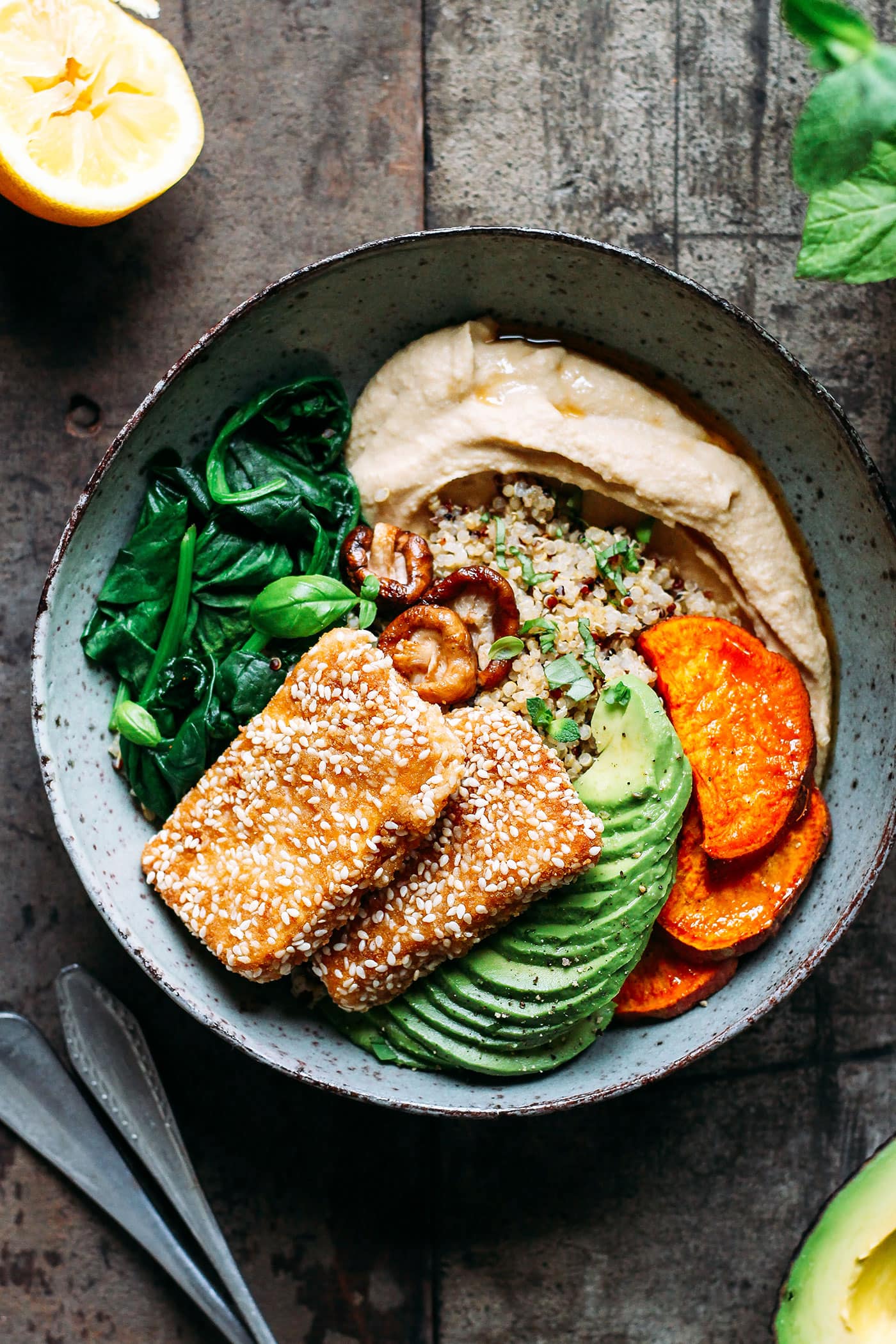 Recipe
Sesame Crusted Hoisin Tofu Buddha Bowl
Freakin' awesome buddha bowl with sesame crusted hoisin tofu, roasted sweet potatoes, quinoa, avocado, and spinach. Comforting, healthy, and filling!
Ingredients
The Rest
1

sweet potato

1

tsp

oil

1/4

tsp

ground cumin

1/8

tsp

ground chili

1/4 tsp if you like it very spicy

1

cup

quinoa

2

cups

water

1

tbsp

hoisin sauce

1/4

tsp

salt

2

cups

greens: spinach, kale, or bok choi

1

avocado

sliced

3/4

cup

hummus

(homemade or store-bought)

garnish: a drizzle of hoisin sauce, ground pepper, fresh basil and/or mint
Instructions
Sesame Crusted Tofu
Two ways to prepare the tofu: 1) Wrap the tofu in plastic film and freeze overnight. The next day, allow it to thaw on the counter until completely thawed. Transfer to kitchen paper towels and press with your hands to remove excess water. This method gives the tofu a chewier texture, plus it tends to absorb more marinade. Or 2) Place the tofu on a double layer of kitchen paper towels. Top with another layer of paper towels. Place something heavy on top like an iron skillet for example. Let the tofu sit at least 30 minutes.

Cut the tofu into nuggets-size pieces, about 1/2 inch thick. I ended up with about 8 slices. Set aside.

In a large baking dish, prepare the marinade by combining the hoisin sauce and soy sauce. Transfer the tofu to the dish and use your hands to coat the tofu with the marinade on each side. Arrange the tofu slices in a single layer, cover with plastic film and let marinate for at least 2 hours (or overnight) in the refrigerator.

Heat a large non-stick skillet over medium heat. Once hot, add the tofu slices and cook about 1 minute per side, or until golden brown. Pour the remaining marinade over the tofu and cook for another minute, or until almost no liquid remains. Remove from heat and let the tofu cool a few minutes.

Next, we will prepare our batter. Place 1/2 cup of rice flour on a soup plate or shallow dish. Set aside. In another plate, combine the remaining 1/4 cup of rice flour with the cornstarch and water. Whisk until no lumps remain. Finally, in a third plate, combine the sesame seeds with the breadcrumbs.

Take a slice of tofu, coat it in the rice flour and shake off excess. Then dip it into the wet batter to coat it lightly, and finally lay the tofu in the sesame-breadcrumbs. Turn it over to make sure it's fully coated. Transfer to a plate and repeat with the remaining tofu.

I recommend cooking the tofu at the last minute, so if you haven't yet, prepare the rest of the bowls (see below).

To cook the tofu, heat about 1/4 cup of vegetable oil in a skillet (see notes for the baked version). Once hot, shallow fry the tofu slices, about 1 minute per side or until golden brown. Transfer to a plate lined with paper towels to remove excess oil.

Prepare the bowls. Place about 3 tbsp of hummus in each bowl and smear it using the back of a spoon. Top with cooked quinoa, roasted sweet potatoes, sautéed greens, avocado, and finally sesame crusted tofu. Garnish with chopped basil or mint, and serve. Drizzle the tofu with hoisin sauce for even more flavor and top the hummus with toasted sesame oil.
The Rest
For the sweet potatoes:

Preheat oven to 400°F (200°C). Wash the sweet potato and cut it into 1/2 inch slices. Transfer to a baking sheet lined with parchment paper. Brush with the oil, sprinkle with cumin, and chili, and mix with your hands to coat each slice with the spices. Arrange the slices in a single layer. Bake for about 20 minutes, or until soft and golden brown.

For the quinoa:

In a large saucepan, combine the quinoa with the water, hoisin sauce, and salt. Bring to a boil, then lower the heat, and cook covered about 15 minutes.

For the greens:

Use your favorite method to cook your greens. To sautée, heat a tablespoon of oil in a large skillet. Once hot, add chopped garlic (optional) and sautée for a few minutes. Then, add your greens (I went with baby spinach) and sautée until wilted. Season with salt and pepper.
Notes
Crusted tofu can also be baked: Preheat oven to 400°F (200°C). Place the tofu coated with sesame seeds and breadcrumbs on a baking sheet lined with parchment paper and bake for 15 minutes.
This recipe makes 4 large bowls or 5 smaller ones. It's fully customizable, feel free to omit avocado or hummus for a lighter meal.
Nutrition
Serving:
1
Bowl (with all the toppings)
|
Calories:
673
kcal
|
Carbohydrates:
84.9
g
|
Protein:
20.8
g
|
Fat:
30
g
|
Fiber:
14.4
g
|
Sugar:
13.4
g
Did you make this recipe?
Tag @fullofplants on Instagram and hashtag it #fullofplants