Delicious and fluffy mug cake packed with peanut butter and plenty of dark chocolate chips! This single-serve cake is a real treat: think peanutty, chocolatey, and so moist! Plus, it's prepared in the microwave in 5 minutes with just 7 ingredients!
How could I never publish a mug cake recipe before? It's the ultimate last-minute dessert that can be done with just a few ingredients that everyone already has on hand.
The best part of mug cakes is that there is no oven required!
📘 What is a Mug Cake
The concept of mug cakes is so simple yet so effective! It consists of a batter prepared directly into a mug and cooked in the microwave until fluffy and golden brown. The result? An airy and moist cake that requires less than 5 minutes of preparation!
Mug cakes make the perfect last-minute treat to enjoy as an afternoon snack, quick breakfast, or as dessert. Personally, I really enjoy mug cakes as a movie snack!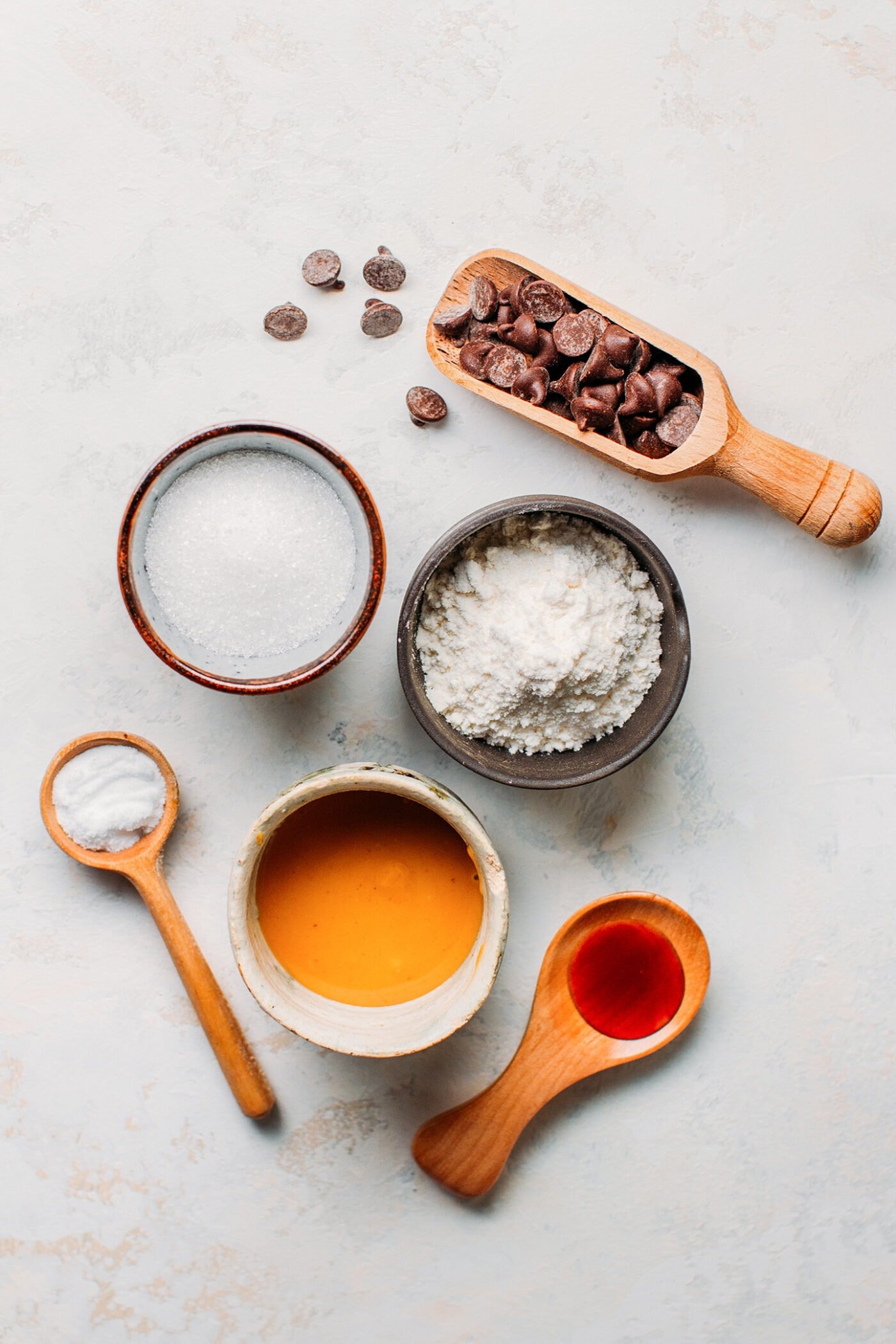 🥣 How to Make a Vegan Mug Cake
If you have never tried mug cakes before, you will be surprised at how quick and easy it is to make. You will need these staple ingredients:
Flour – All-purpose flour gives the mug cake a light and airy texture. If gluten-free, feel free to use your favorite baking gluten-free flour mix.
Sugar – Basically, any type of granulated sugar will work. You can use white sugar, brown sugar, or even coconut sugar. I haven't personally tried it with maple syrup yet, but I think it would work as well.
Milk – Use your favorite unsweetened plant-based milk. Here, I went with almond milk.
Peanut butter – Preferably natural peanut butter, not the Skippy one. Natural peanut butter is a bit more runny and will mix better with the rest of the ingredients.
Baking powder – To help the mug cake rise.
Vanilla – Vanilla extract brings extra flavor and sweetness!
Chocolate chips – It's the icing on the cake, and we all know peanut butter + dark chocolate is a match made in heaven.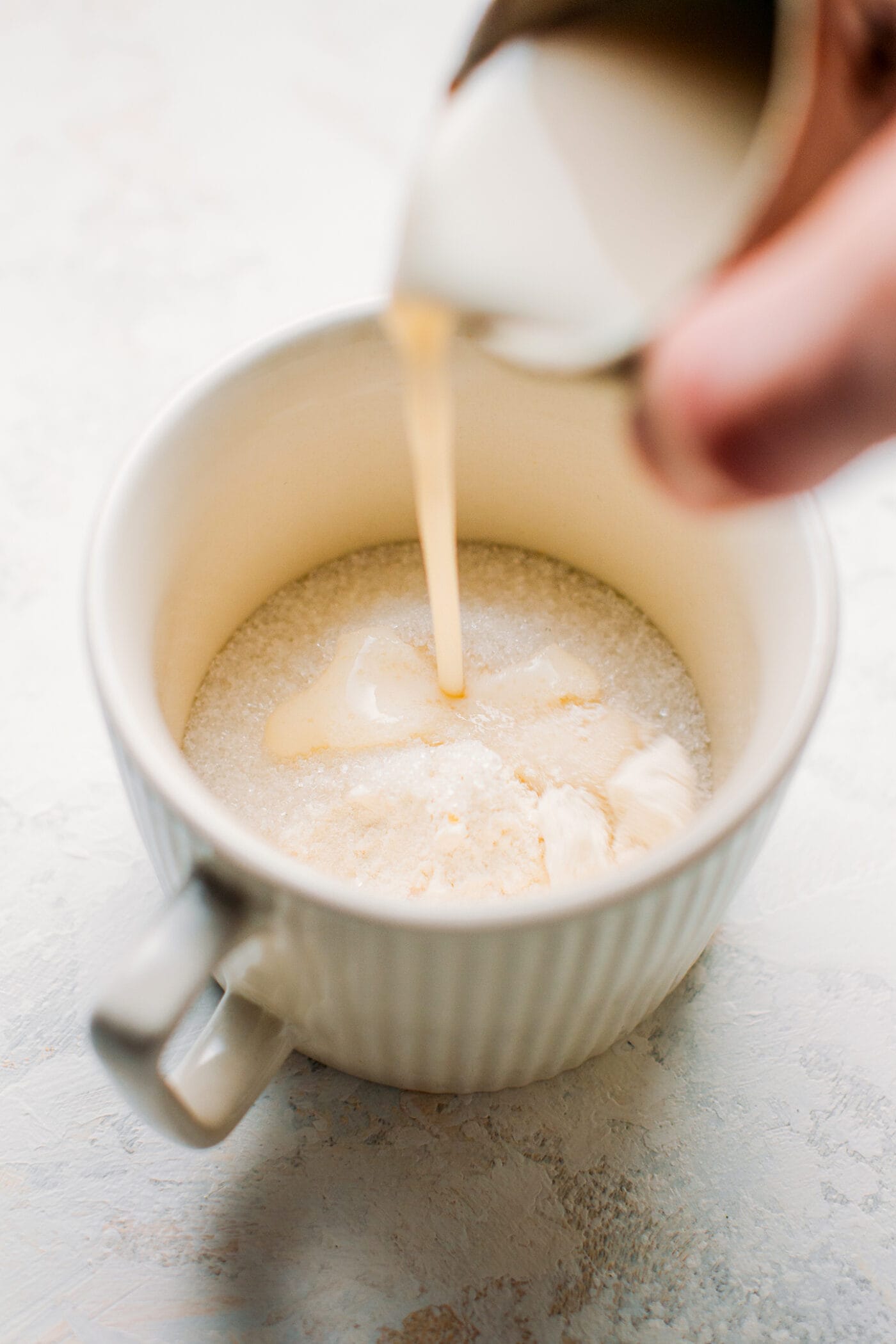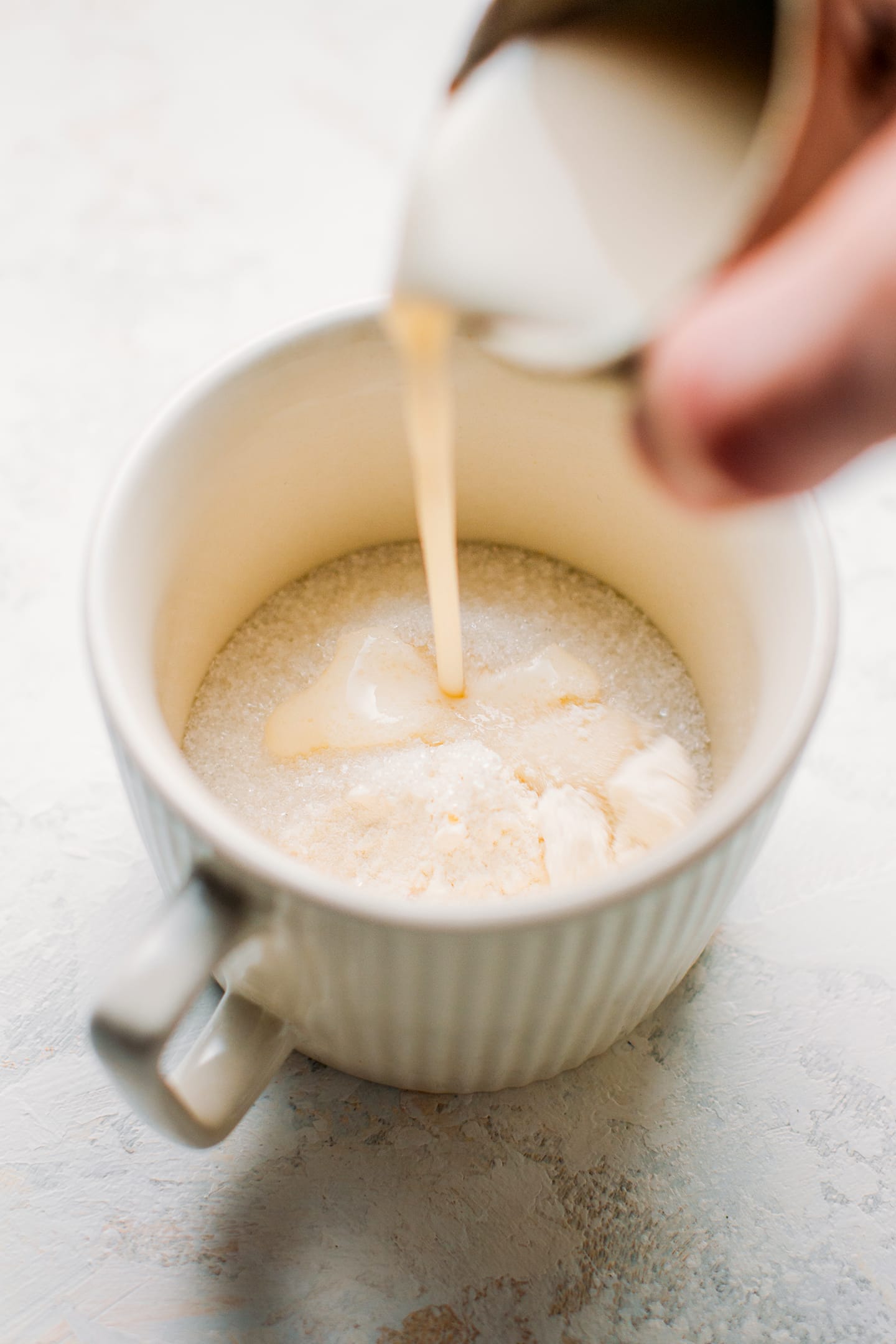 To make a single-serve mug cake:
Mix the dry ingredients. Add the flour, sugar, and baking powder to a microwave-safe mug.
Pour in the wet ingredients. Add the almond milk, peanut butter, and vanilla extract.
Stir well. Use a spoon to stir the batter until fully combined and smooth.
Cook. Microwave the mug cake for 1 minute and 45 seconds.
Let it cool. Remove the mug cake from the microwave and let it cool for 3-5 minutes before enjoying it!
A quick tip: If you are not watching calories and want an even richer mug cake, add one teaspoon of oil to the batter. It will result in an even moister texture!
Before serving, feel free to drizzle with extra peanut butter and add some banana slices for an even more decadent treat!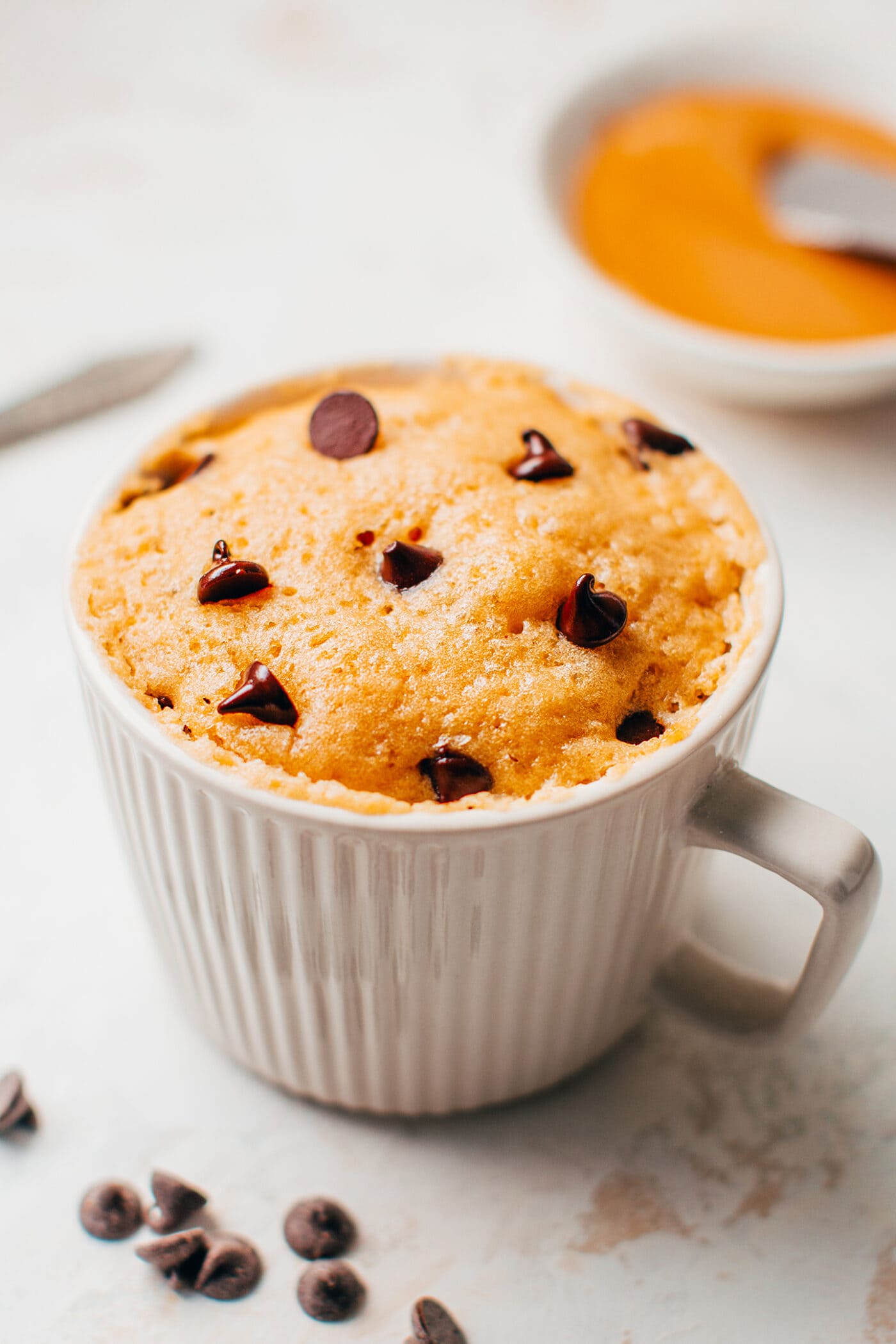 💬 FAQ
Can I bake this cake in an oven instead of a microwave?
Yes, you can bake it at 350°F (175°C) for about 20-25 minutes.
How long does this mug cake keep?
As with most mug cakes, it should be enjoyed right away while it's still just warm.
Can I double this recipe?
Definitely! If you want to make multiple mug cakes, I recommend preparing the batter in a mixing bowl first and then dividing it between mugs before microwaving.
This peanut butter mug cake makes the perfect last-minute snack to enjoy in front of a movie or your favorite TV show!
It's super moist (almost like a steamed cake!), perfectly sweetened, nutty, and loaded with melty chocolate chips!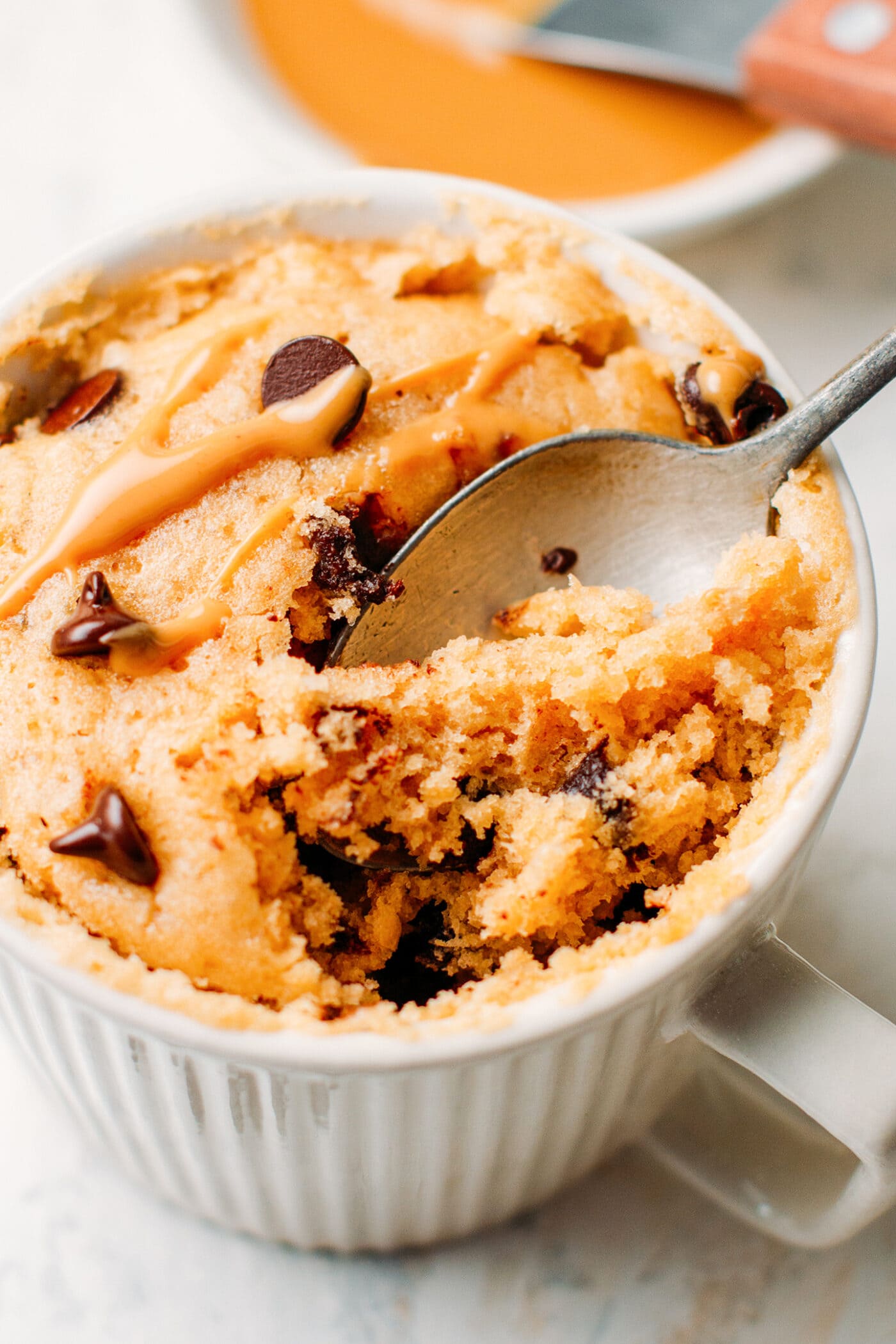 🧁 More Sweet Vegan Snacks
Let me know in the comments if you try this recipe!
Recipe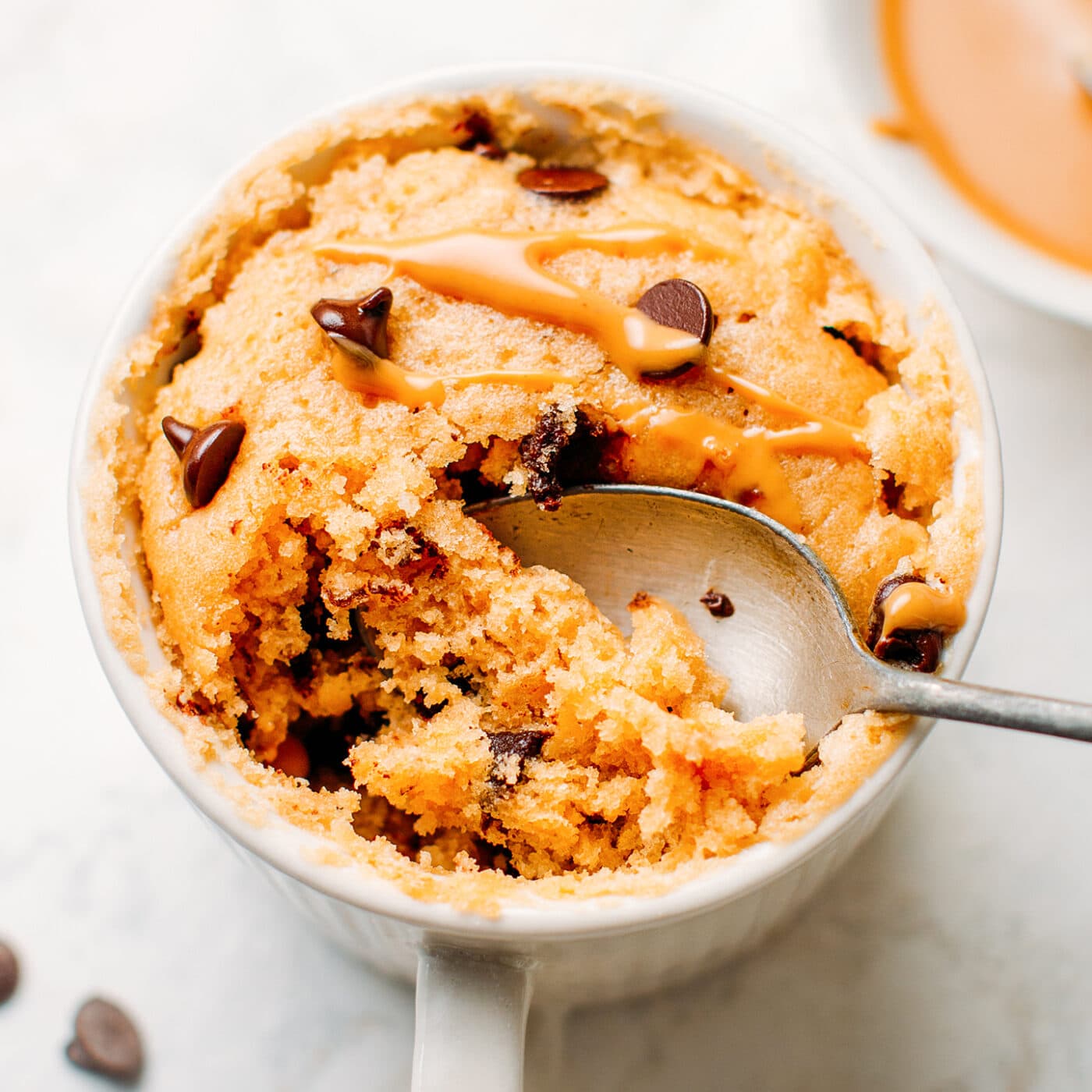 Peanut Butter Chocolate Chip Mug Cake
Moist and fluffy peanut butter mug cake loaded with dark chocolate chips! It's vegan and takes just 5 minutes to make in the microwave! The perfect single-serve dessert!
Instructions
Very slightly grease a microwave-safe mug or deep ramekin. Add the flour, sugar, and baking powder to the mug and stir to combine.

Pour in the almond milk, peanut butter, and vanilla extract. Stir using a spoon until the batter is smooth. Add the dark chocolate chips and give it one more stir. At this point, you can top it with extra chocolate chips for decoration.

Microwave on high for about 1 minute and 45 seconds or until the top is set. Do not microwave for too long. Otherwise, the cake will be dry.

Remove from the microwave and let cool for about 5 minutes before enjoying! Feel free to drizzle with more peanut butter!
Did you make this recipe?
Tag @fullofplants on Instagram and hashtag it #fullofplants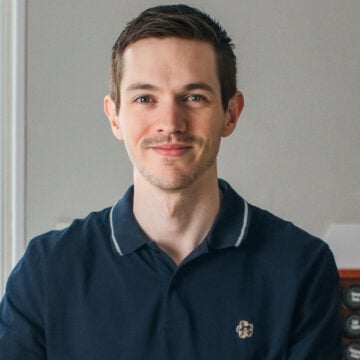 About the Author
Thomas Pagot is the founder, photographer, and recipe developer behind Full of Plants. He created the blog in 2016 as a personal cookbook for vegan recipes. Through years of recipe development, Thomas has successfully grown Full of Plants into a trusted resource for plant-based recipes.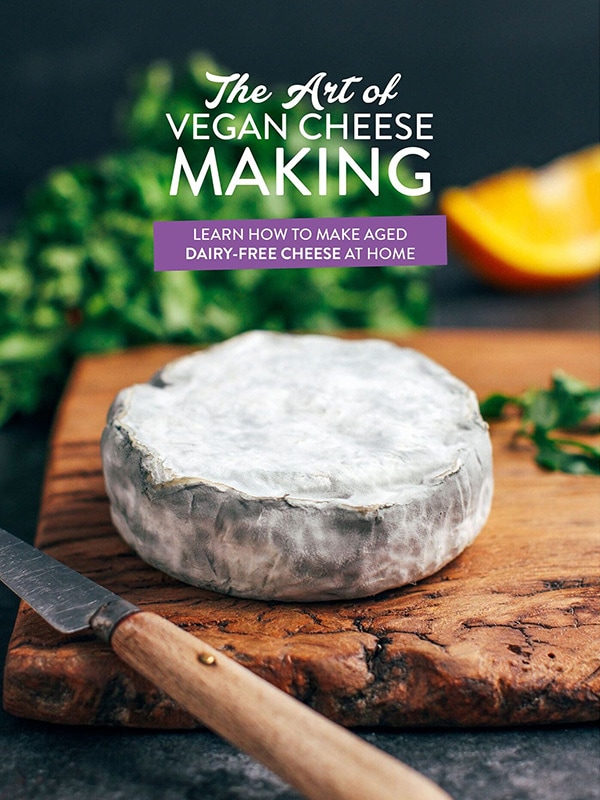 🧀 25 Mind-Blowing Vegan Cheese Recipes!
Sign up for the Full of Plants newsletter and you'll get new recipes delivered by email weekly, PLUS your FREE 100-page printable eBook!