Let's bring back the comforting bowls!
There is nothing cozier than a warm, spicy chili to fight those dark and cold winter days. I mean, it's already dark at 4 pm, and we are having 32°F on most days. No doubt I'm craving hearty and satisfying meals! I wanted to make a chili with more grains than beans this time, so I made it with one of my favorite grain: buckwheat groats. Let me tell you it exceeded my expectations, buckwheat makes this chili thick, slightly chunky and just delicious.
It is definitely becoming a regular here this winter, and I have no doubt it will become one for you too. It's that kind of recipe that is too delicious considering how easy it is. Sometimes the easy way is the best way, this is the perfect example.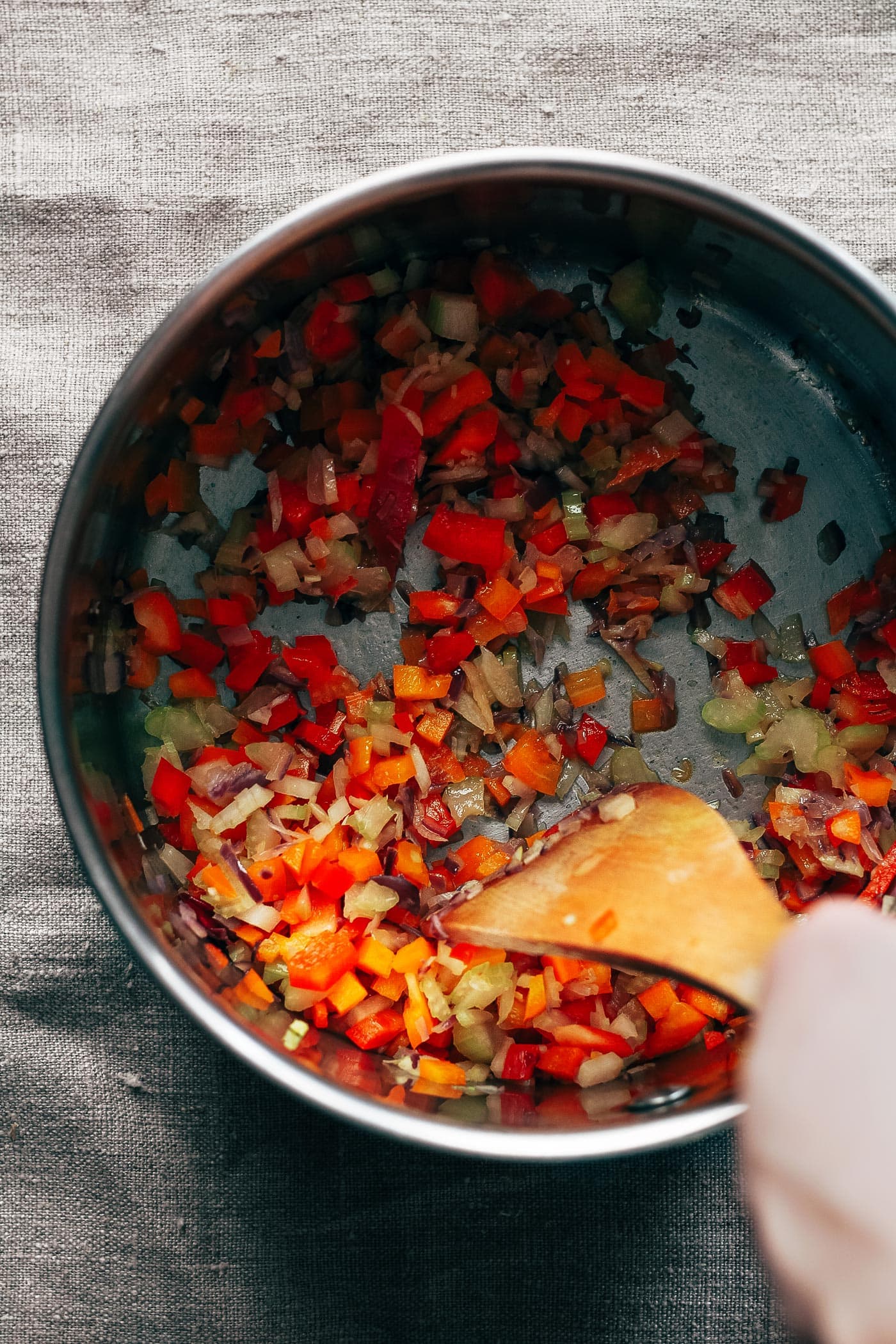 This 1-pot chili starts with the onions and garlic that are fried until golden brown.
Then you add the diced vegetables: celery, carrots, and red bell peppers. Sautée for a few minutes, and add the buckwheat groats, spices, water, and diced tomatoes, or tomato purée, depending on what you have on hand. I tried both and each came out delicious, diced tomatoes will give you a more chunky texture, while tomato purée will give more tomato flavor to the chili.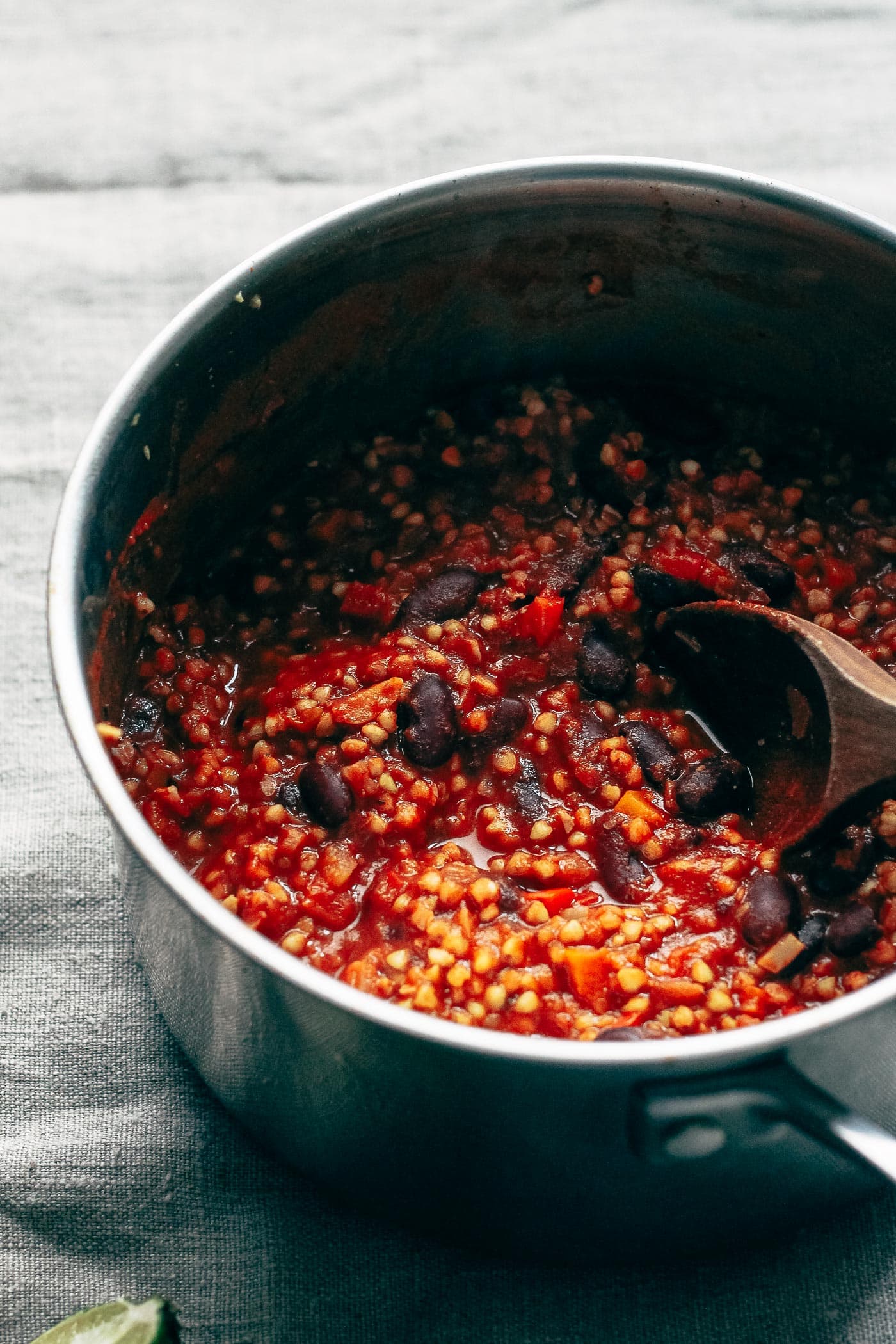 After about 20 minutes, the buckwheat should be cooked, it should be soft but not mushy. At this time you can stir in the cooked red kidney beans and some nutritional for a subtle cheesy flavor. Transfer to serving bowls, drizzle with lime juice, a few slices of avocado, and a spoonful of coconut cream!
What I love about this chili is that it reheats very well, make a big batch and your dinner is ready for the next 3 to 4 days.
This buckwheat chili is the comforting food par excellence, it's spicy, hearty and becomes your best friend on cold winter nights. Now take your favorite bowl, fill it generously with this buckwheat chili, add your toppings and you're ready to go!
Let me know in the comments if you try this recipe!
Print
Easy Buckwheat Chili
Comforting 1-pot chili that is perfectly spiced, smoky, and a bit sweet. Easy to make and heartwarming!
1 tbsp

(15ml)  olive oil

1

onion, diced

2

cloves of garlic, minced

½ cup

chopped celery (about

1

stick)

½ cup

chopped carrot (

1

carrot)

½ cup

chopped red bell pepper (

1

red pepper)

1 cup

(

170g

) buckwheat groats

2 cups

(480ml) water

1

16-ounce can diced tomatoes (or 1 and

½ cup

(360ml) tomato puree)

2 tsp

 ground cumin

1

and ½ tsp chili powder

½ tsp

 smoked paprika

1 tsp

 oregano

½ tsp

 salt

1 tbsp

(15ml) maple syrup

1

15-ounce (425g) can red beans, drained and rinsed

1 tbsp

(

3g

) nutritional yeast
toppings: sliced avocado, fresh parsley, coconut cream, tortilla chips
Instructions
Heat the oil in a large saucepan over medium heat. Once hot, add the onion and garlic. Cook for 3-5 minutes, stirring regularly until onions are soft and start to caramelize.
Add the chopped celery, carrot, and red bell pepper. Cook for another 5 minutes.
Next, add the buckwheat groats, water, diced tomatoes, cumin, chili powder, smoked paprika, oregano, salt, and maple syrup. Bring to a boil and let simmer for about 20 minutes. Check regularly to make sure there is still enough water. After 20 minutes, taste it, the buckwheat groats should be cooked, soft but not mushy.
Finally, stir in the red kidney beans and nutritional yeast. Cook for another 3-5 minutes. Taste and adjust seasonings if needed, adding more chili powder for a spicier chili, or more maple syrup for a sweeter one.
Serve hot topped with avocado slices, coconut cream, and a drizzle of lime juice.
This buckwheat chili will keep for up to 5 days in the refrigerator or up to 2 months in the freezer.
Notes
For a more soupy chili, increase the water to 2 and ½ cups.
Nutrition
Serving Size:

1

Calories:

329

Sugar:

10.5g

Fat:

5.4g

Carbohydrates:

62.1g

Fiber:

12.5g

Protein:

13.8g