Juicy and incredibly tender jackfruit chunks cooked in a sweet and salty black pepper sauce! This Vietnamese-inspired braised jackfruit is hearty, packed with flavor, and ready in just 30 minutes. Serve with steamed rice, noodles, or quinoa!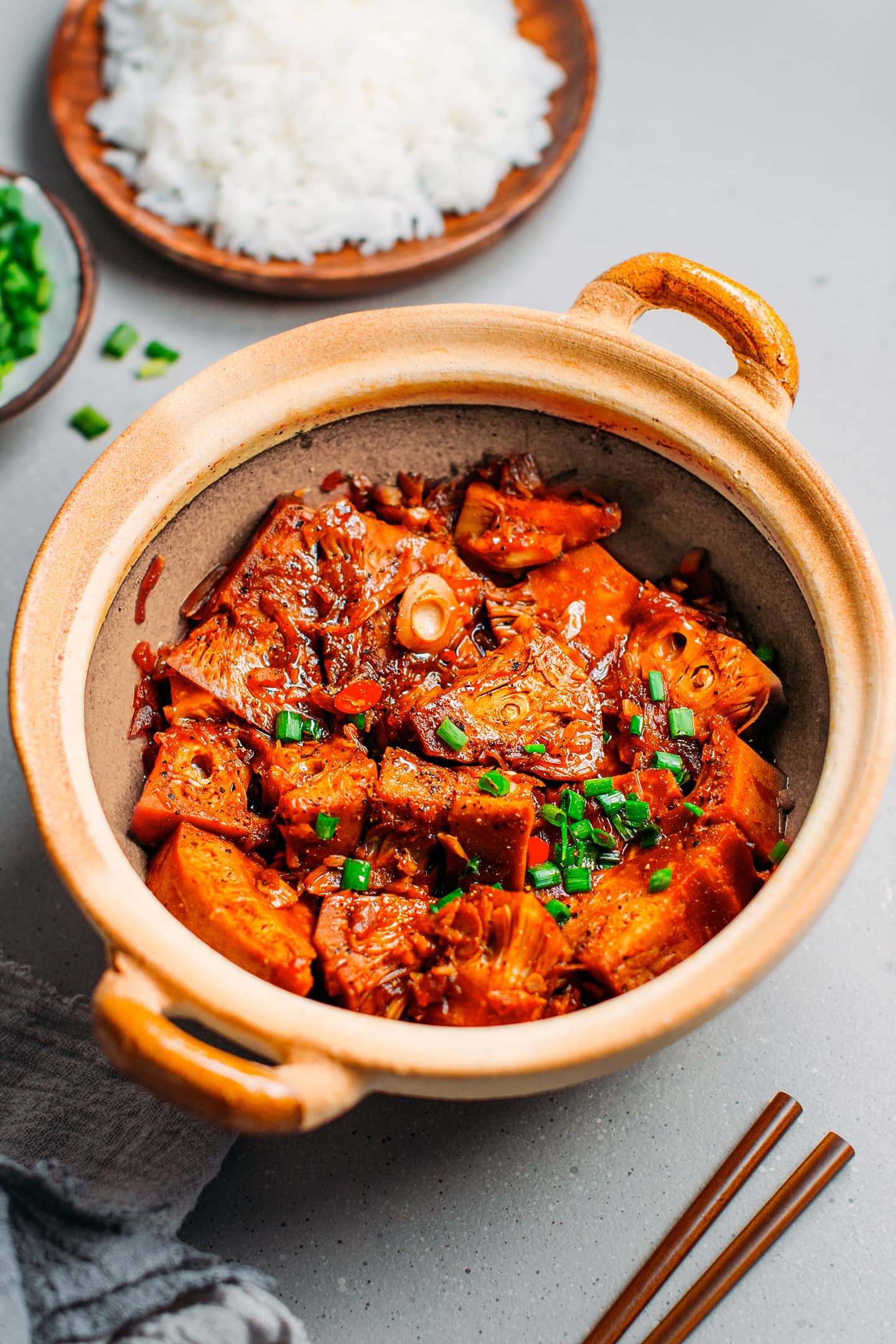 This is hands down one of my favorite jackfruit recipes! It's super quick to make, requires basic ingredients, and there is no need to cut or shred the jackfruit!
📘 What is Jackfruit
Jackfruit is an exotic fruit grown mostly in tropical Asian countries like Thailand, Vietnam, or The Philippines.
Jackfruit can be enjoyed ripe or unripe. When unripe, jackfruit has a very meaty texture, a bit similar to pulled pork, and a neutral flavor. When ripe, jackfruit has a bright yellow color and is very sweet.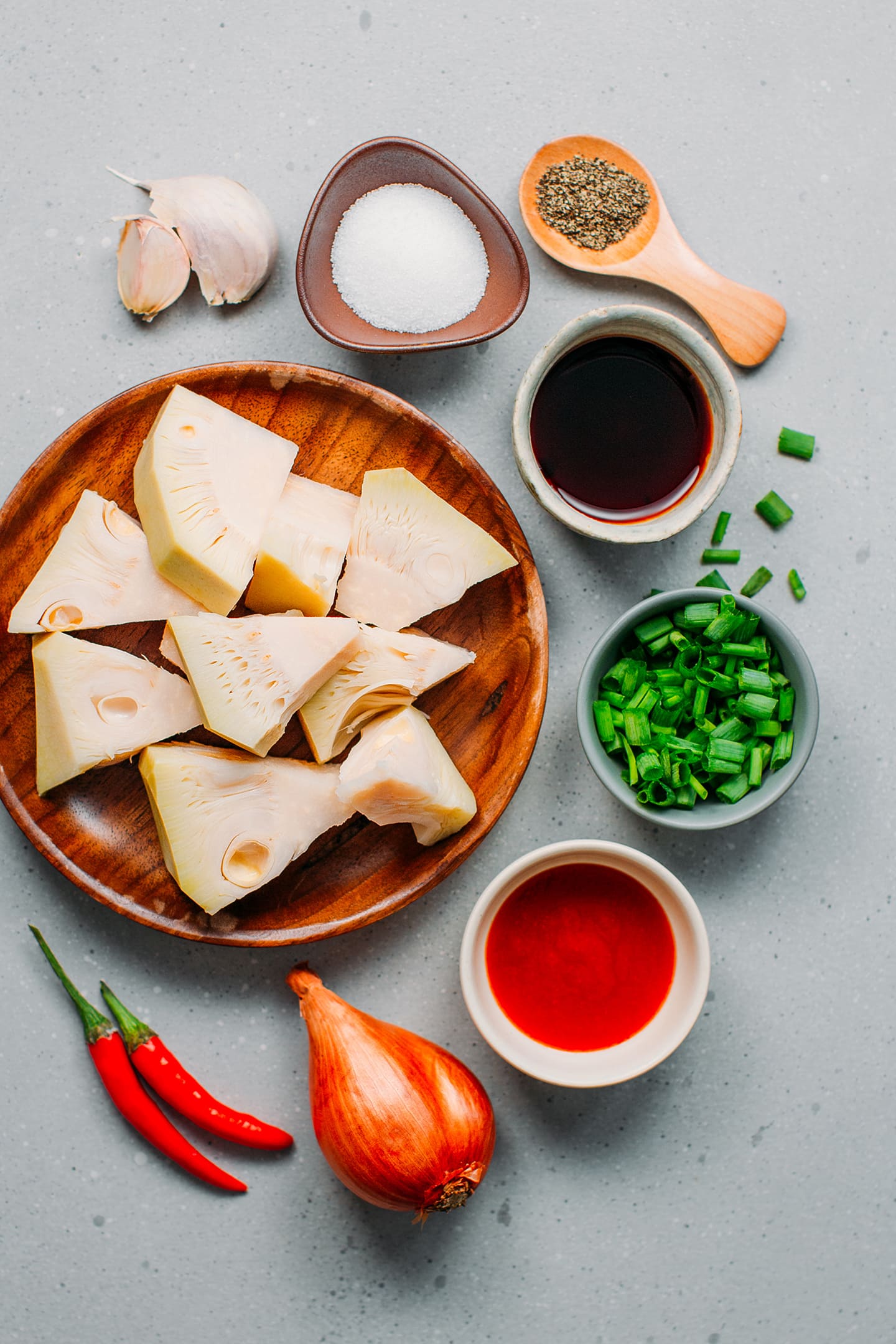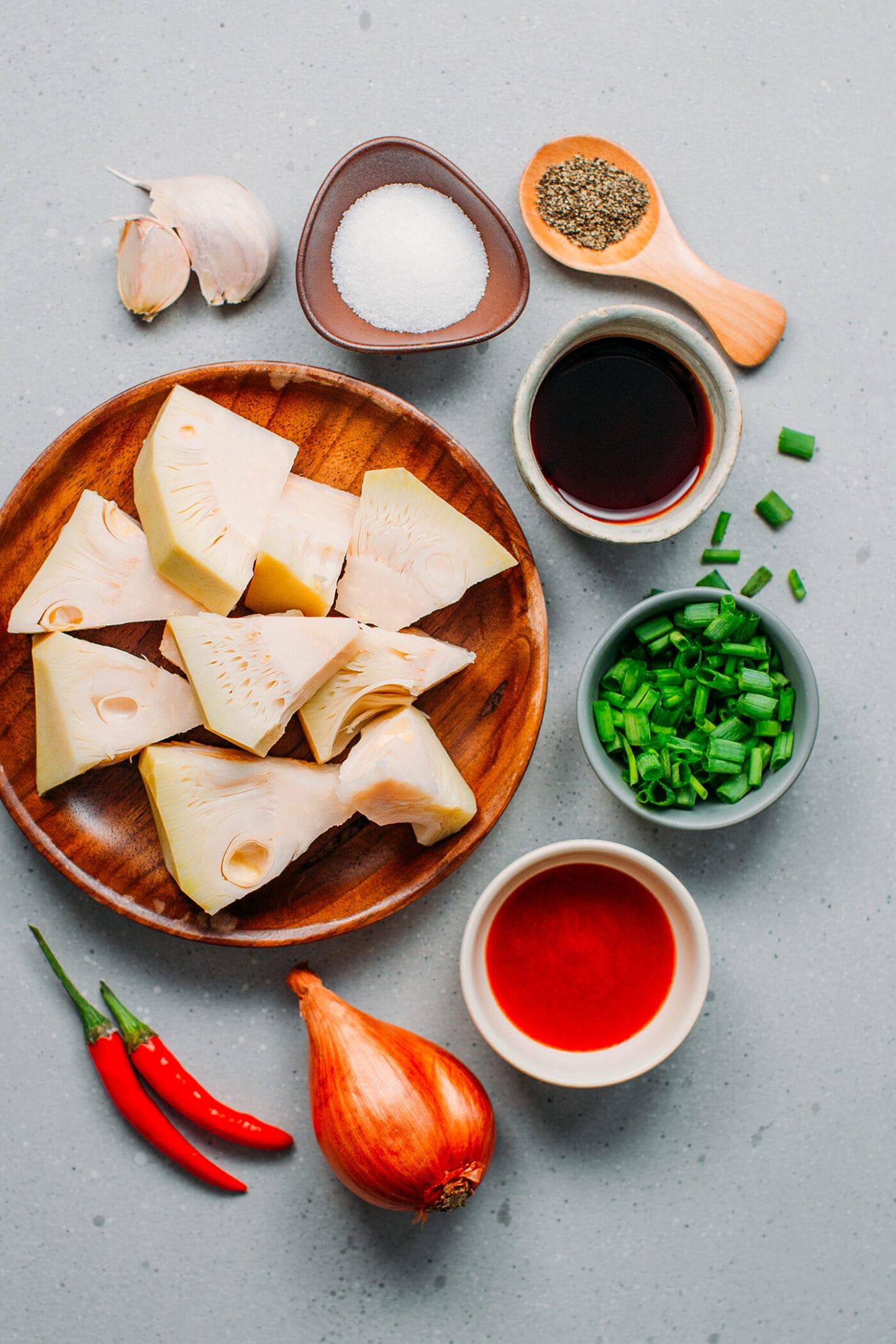 🥣 How to Make Braised Jackfruit
To make this braised jackfruit, you will need just one pot and 8 ingredients:
Young green jackfruit – For this recipe, we will be using unripe green jackfruit. As opposed to the ripe one, which is yellow, green jackfruit is not sweet and has a light beige color. You can find green jackfruit sold in cans in most Asian stores, as well as some grocery stores.
Sugar – Since we will be making caramel, I highly recommend using white sugar. Coconut sugar would burn and yield a bitter flavor.
Garlic and shallots
Soy sauce – You can use regular soy sauce, coconut aminos for a gluten-free option, or vegan fish sauce.
Sweet chili sauce – Optional, for some heat. Use store-bought chili sauce like Chin-Su, or homemade sweet chili sauce.
Black pepper – Preferably freshly ground black pepper for a better flavor.
Green onions – For topping, green onions bring some freshness.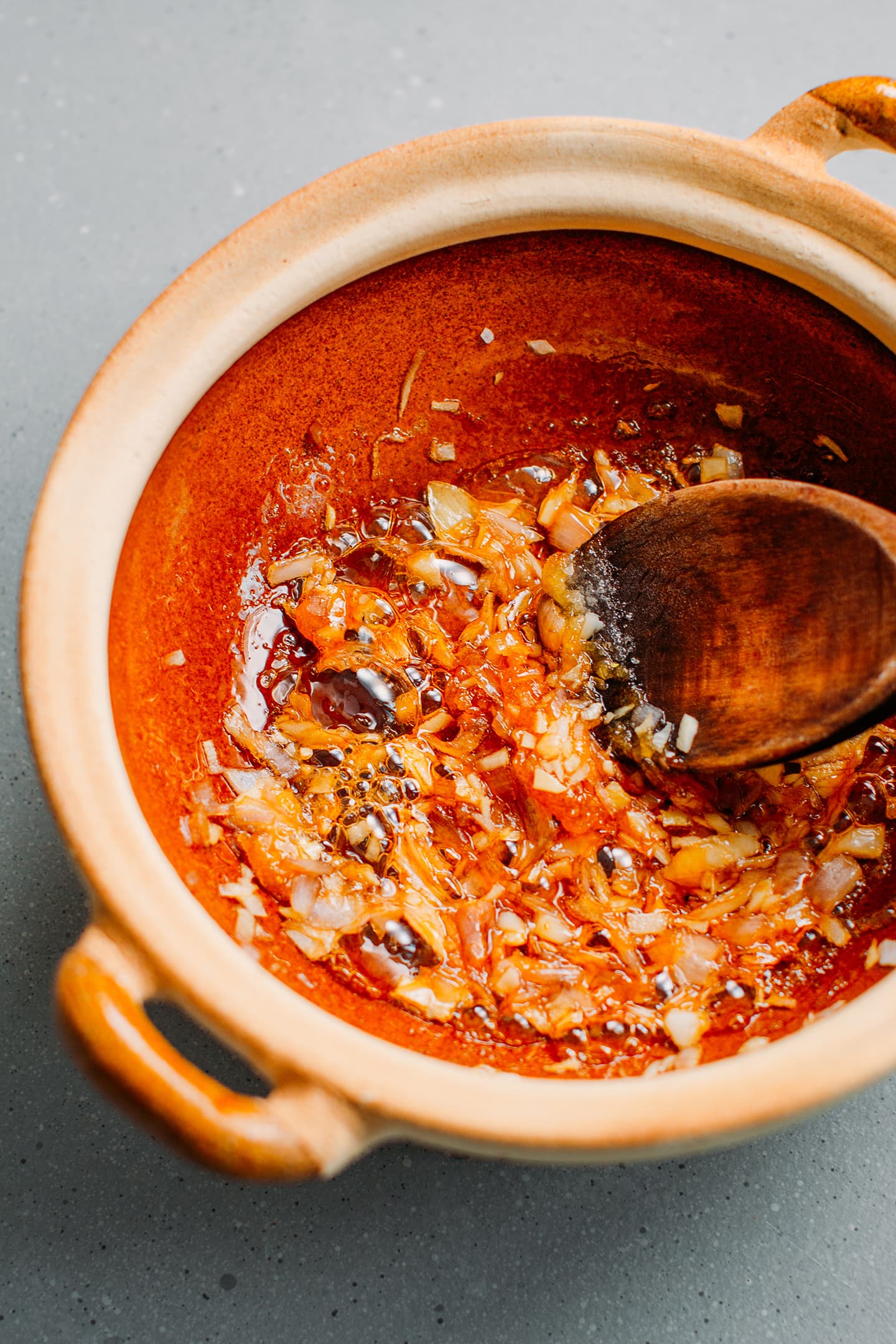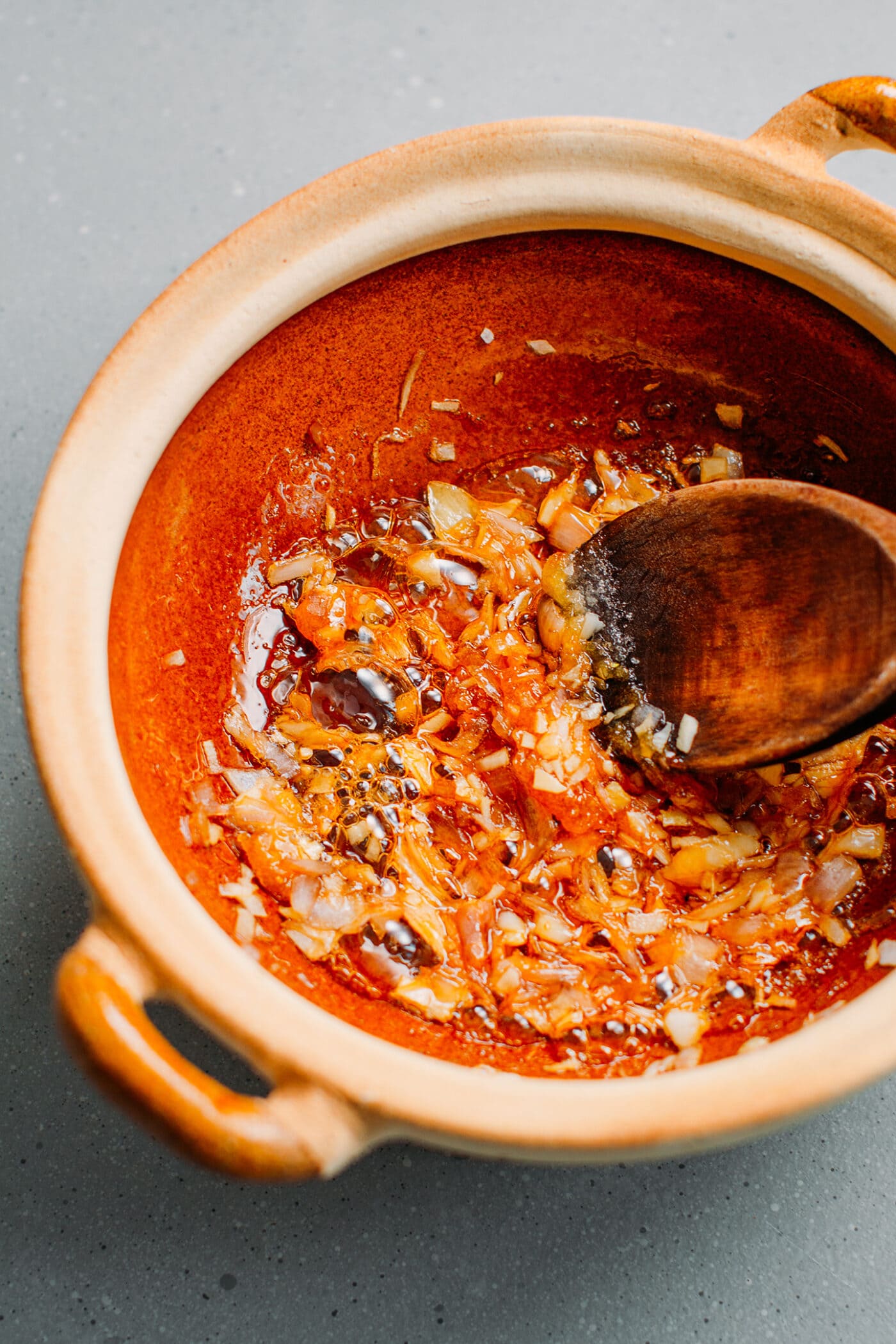 First, start by making caramel by heating the sugar in a clay pot or saucepan. Why caramelize the sugar? Simply because it will bring a deeper flavor to the sauce as well as a more appetizing color!
Once the sugar has caramelized, add the minced shallots and garlic, and cook for a few minutes.
Tip: If you want to make this recipe refined sugar-free, skip the caramel step. Sauté the aromatics in a teaspoon of oil instead, and add a couple of tablespoons of maple syrup when adding the rest of the liquid ingredients.
Next, deglaze the pan with water and add the soy sauce, sweet chili sauce, ground black pepper, and jackfruit chunks.
Finally, cover with the lid and let simmer for about 20 minutes. This will allow the jackfruit to soak up some of the sauce and become super juicy!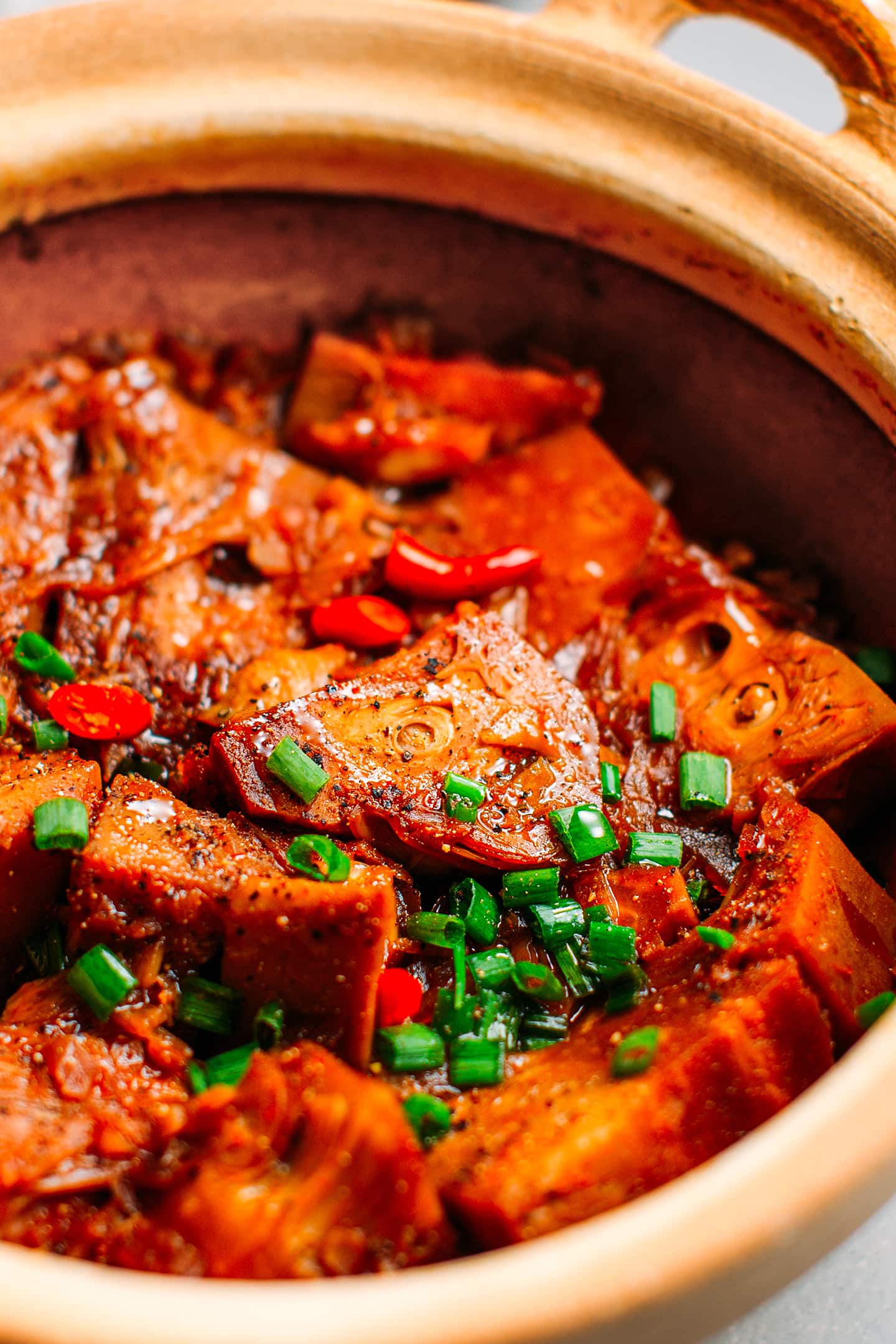 💬 FAQ
Can I use fresh, unripe jackfruit?
If you have access to it, then definitely, yes! You will want to use about 9 ounces of jackfruit.
How long does this braised jackfruit keep?
It will keep for up to 3 days in the refrigerator. Simply reheat over low-medium heat.
What to serve with this braised jackfruit?
This braised jackfruit is delicious served on top of white rice but can also be served with noodles, quinoa, or couscous. For a lighter option, serve it with sautéed greens like pak choi, spinach, or broccoli!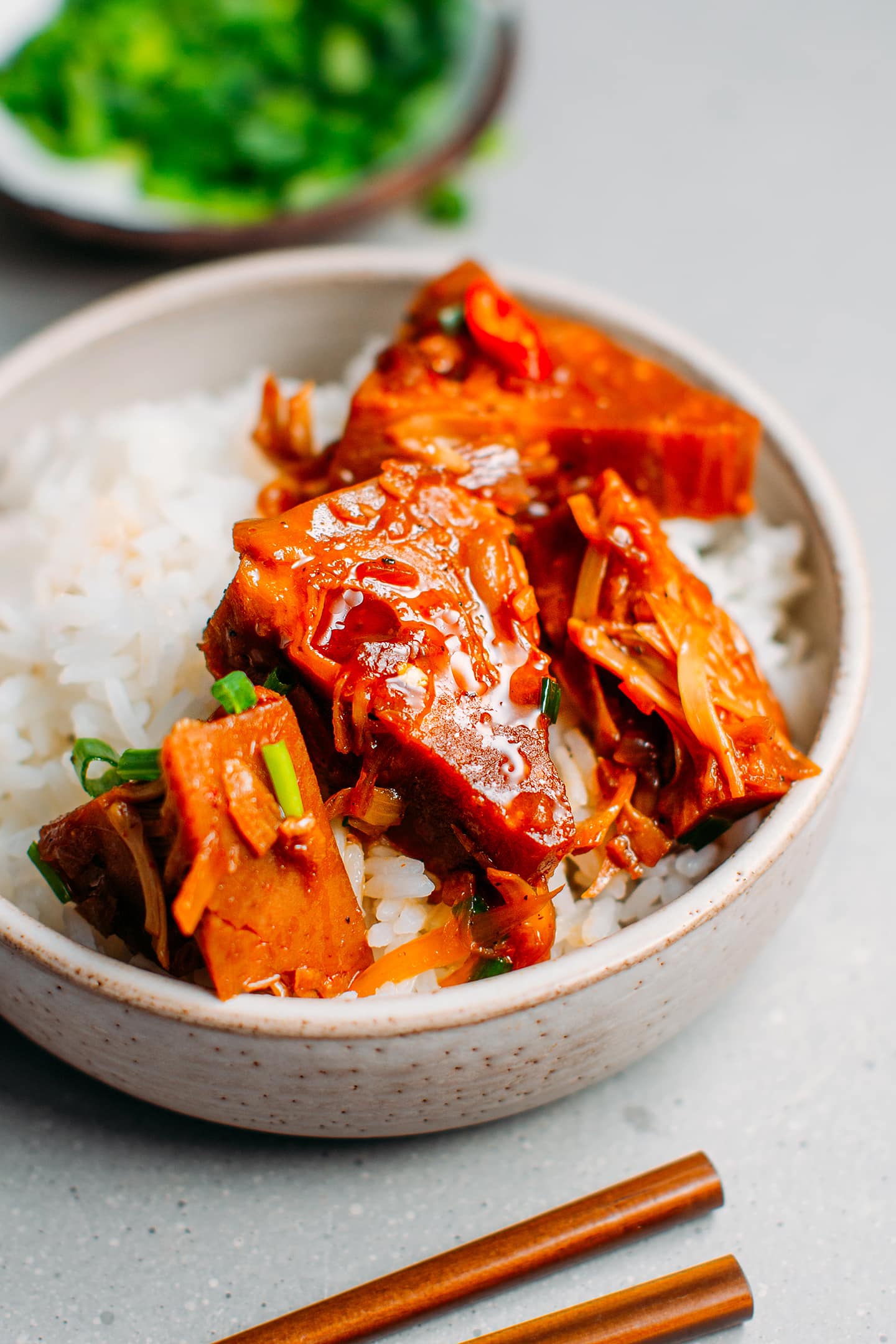 Whether you are new to cooking with jackfruit or not, this recipe is a must-try! It yields incredibly tender and juicy jackfruit that is perfectly sweet/salty/spicy! A delicious plant-based side dish!
🍲 More Jackfruit Recipes
Let me know in the comments if you try this recipe!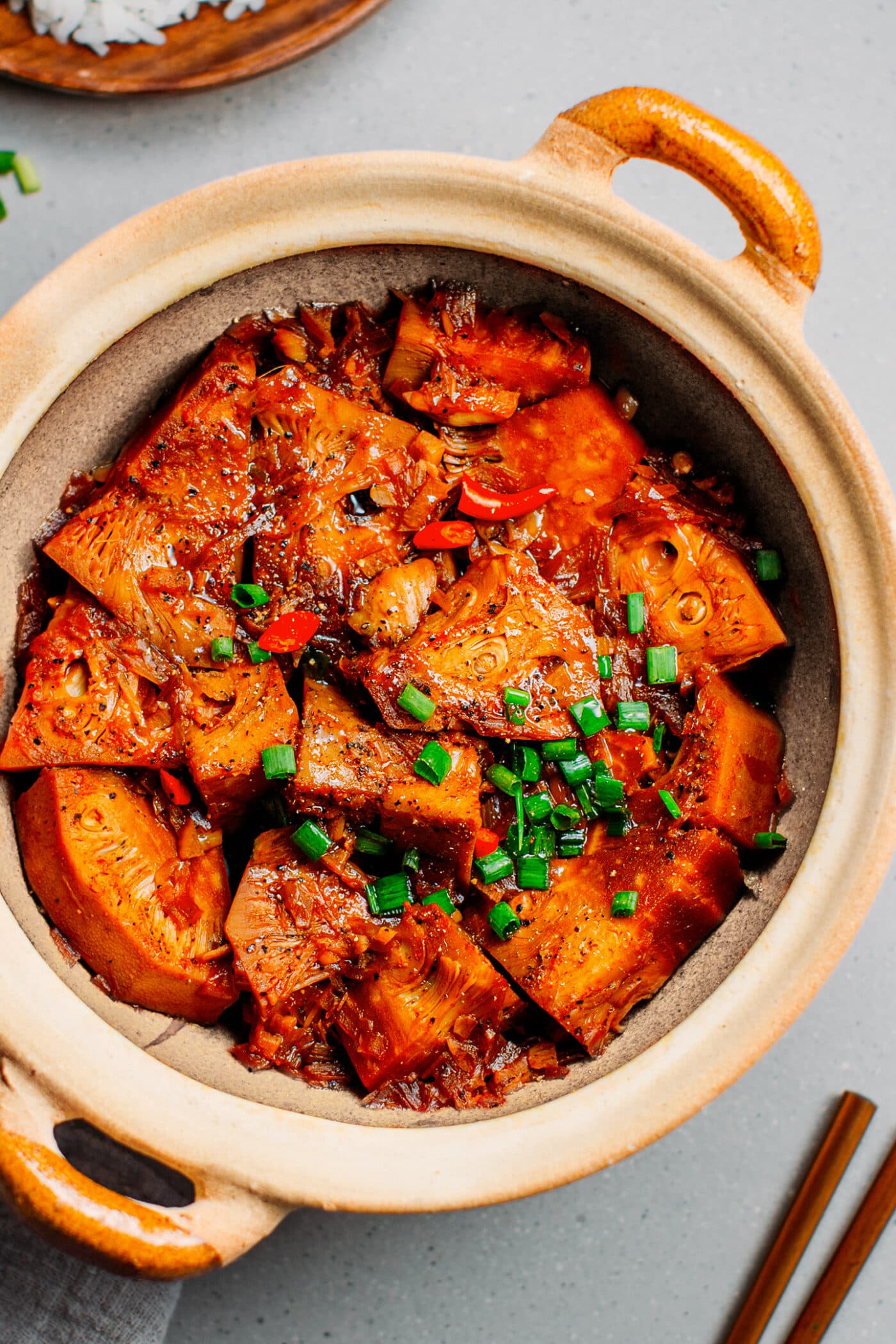 Recipe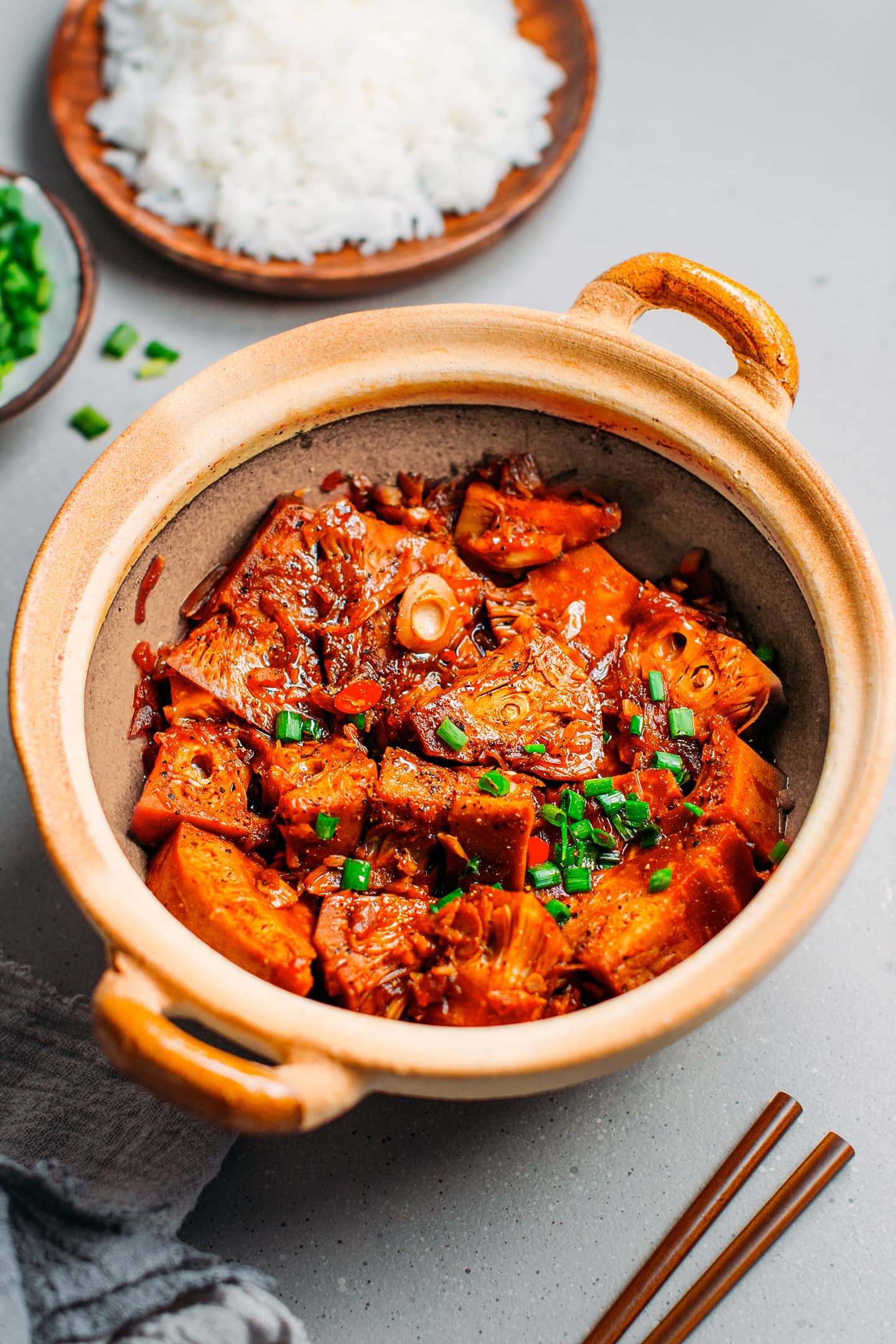 Braised Jackfruit
Incredibly tender and juicy jackfruit cooked in a sweet and spicy black pepper sauce! Just 8 ingredients and 30 minutes are required. Delicious served on top of steamed rice!
Instructions
Add the sugar and water to a medium clay pot or saucepan. Heat over medium heat until the sugar starts to bubble. Keep heating without stirring until the sugar caramelizes and gets a golden brown color.

As soon as the sugar has caramelized, add the minced shallot and garlic, and cook for one more minute. Pour in the water and cook for 1-2 minutes or until the caramel has melted.

Add the soy sauce, sweet chili sauce, dark soy sauce, and ground black pepper.

Finally, add the chunks of jackfruit (add the whole jackfruit pieces). Cover with the lid and let simmer for about 20 minutes.

Top with chopped green onions, and enjoy with white rice, quinoa, or cauliflower rice!
Notes
If you want this braised jackfruit spicier, sauté 1/2 Thai chili, chopped, with the shallots and garlic.
Did you make this recipe?
Tag @fullofplants on Instagram and hashtag it #fullofplants