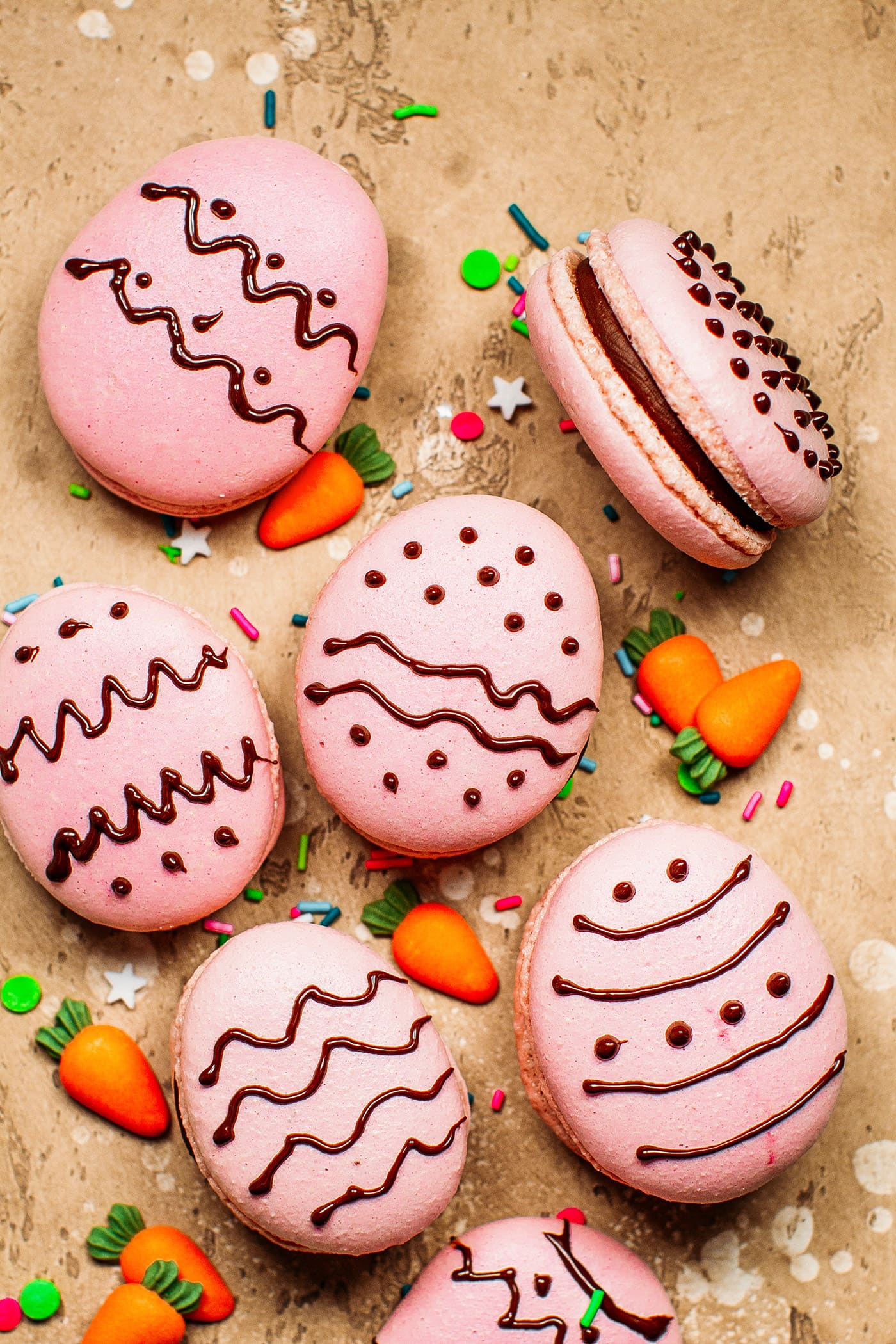 Easter is almost here! It's time to prepare something sweet!
These vegan macarons are crispy on the outside, chewy on the inside, and filled with a rich and creamy dark chocolate hazelnut filling!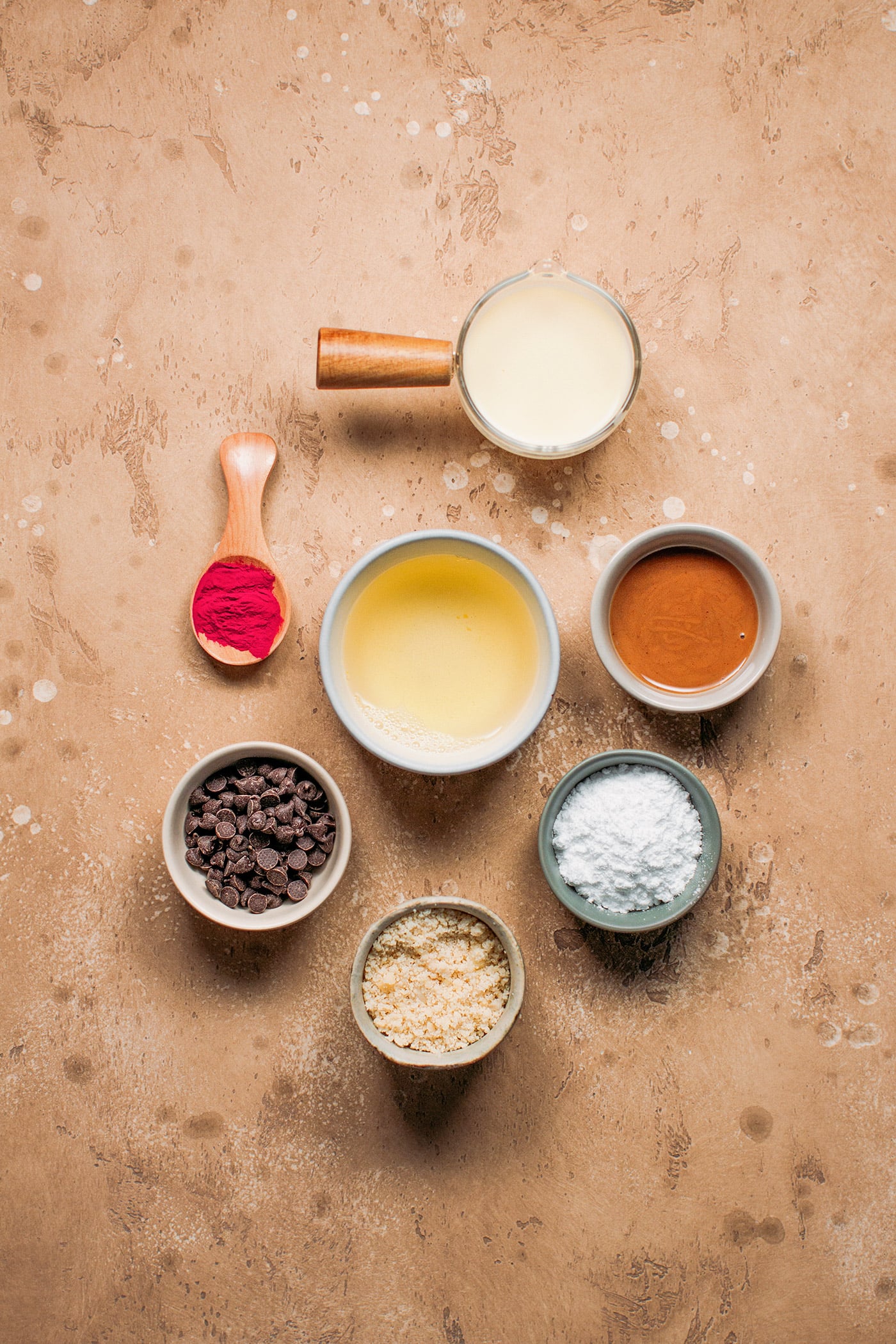 I found vegan macarons to be quite similar to real ones, not 100% the same obviously, but still very convincing and just as delicious!
HOW TO MAKE VEGAN MACARONS
Instead of going with egg whites, we use aquafaba (the viscous liquid from a can of chickpeas) that is whipped until it forms stiff peaks. To add a nice pink color, simply add a quarter teaspoon of beetroot powder. If you want a brown color, add about 1 tablespoon of cacao powder.
Sift together almond flour and powdered sugar in order to get a very fine mixture. This step is essential for smooth macarons.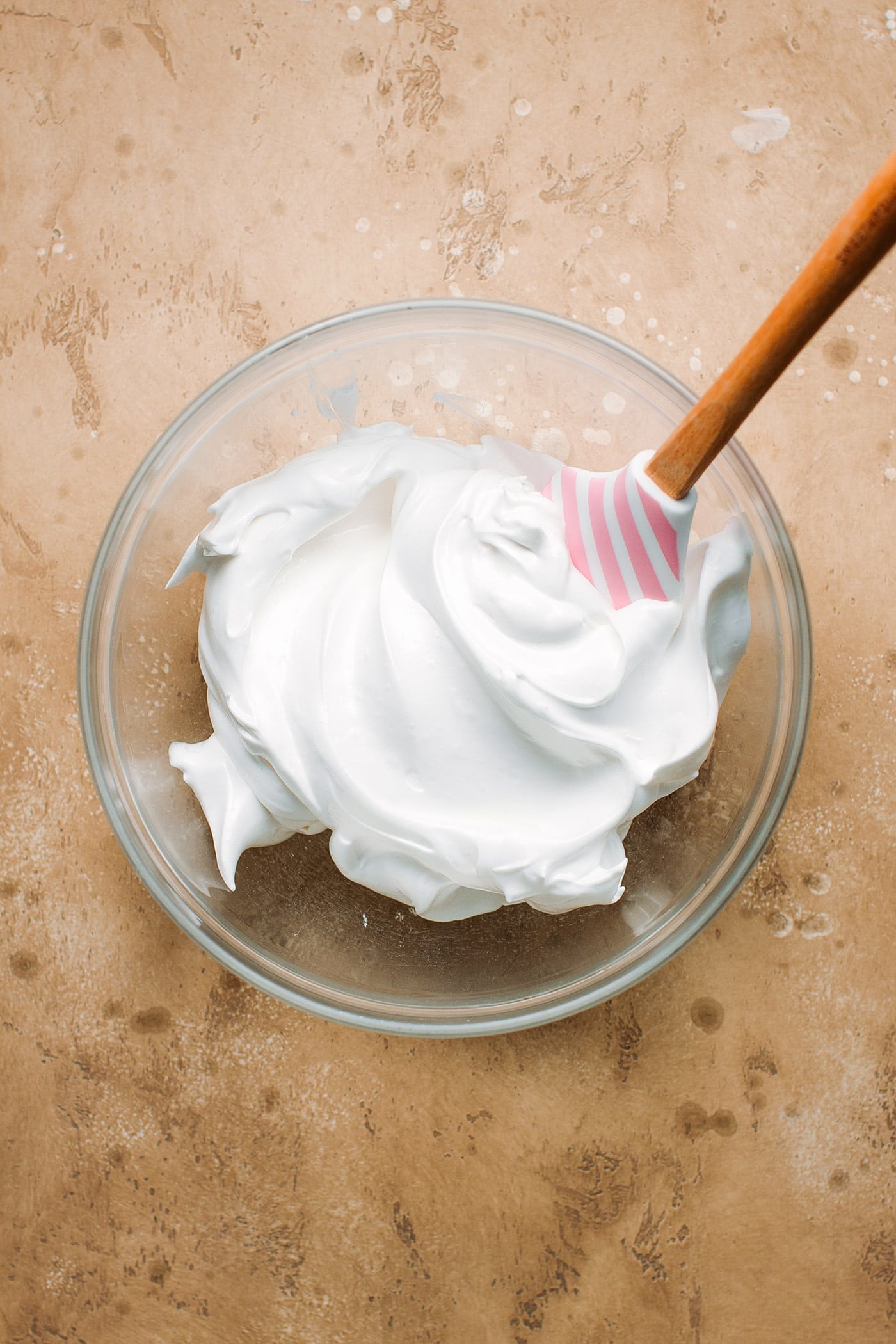 Next comes the "macaronage", which is the step where you mix the whipped aquafaba with the almond flour/powdered sugar mixture. You must be delicate and fold in the dry ingredients with the aquafaba until it forms ribbons. Run your spatula around the edges of the bowl and fold in the middle.
At first, the mixture will be as thick as a brownie batter, but as you keep mixing it will become a bit more runny.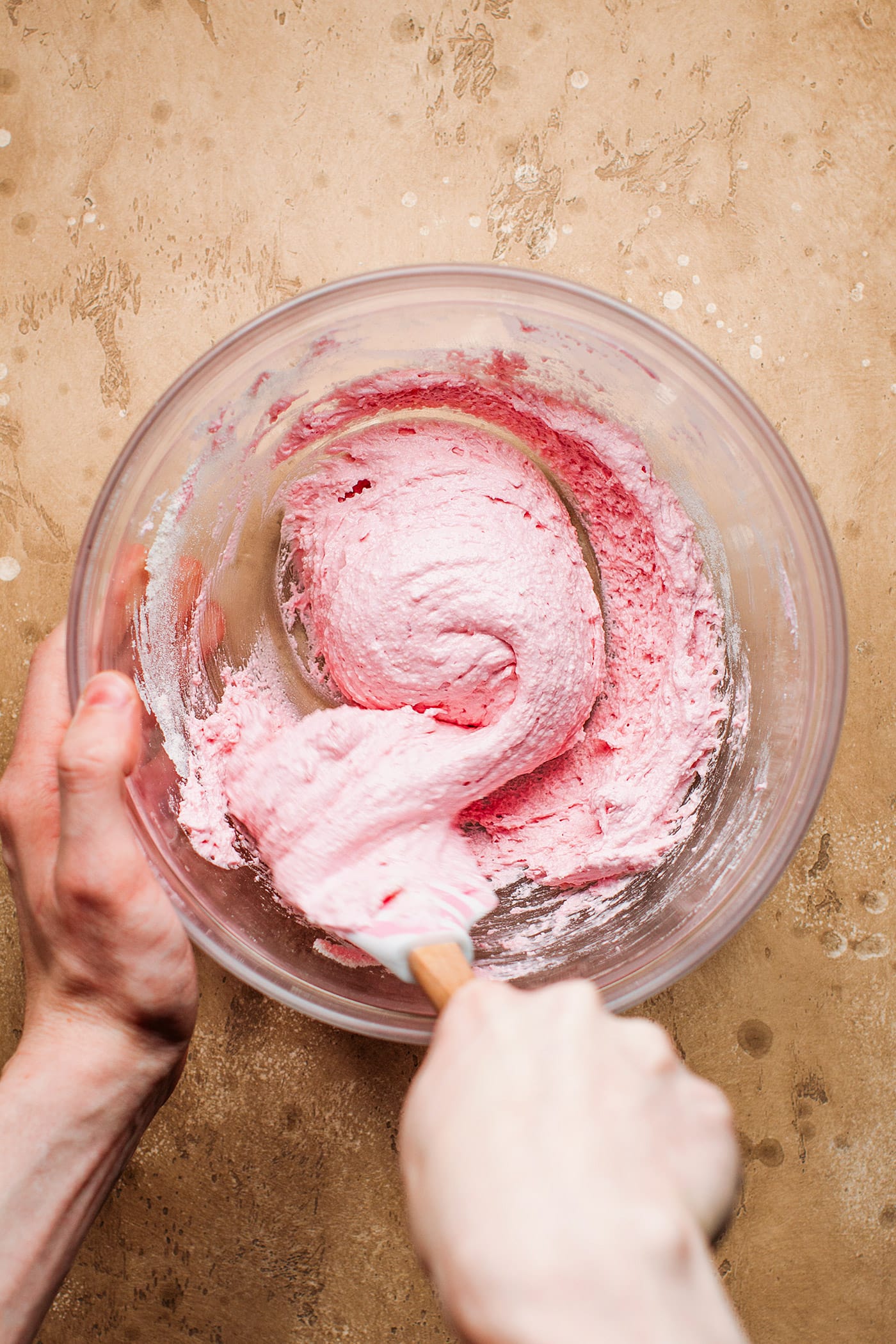 Once your batter is ready, pipe it into oval shapes on a baking sheet lined with parchment paper. I recommend piping all of your shells on a single baking sheet, or two small ones that fit in your oven. You don't want to bake in two different batches otherwise the second batch will get more time to dry, which will result in no feet.
Before baking, let the macarons rest for about 50 minutes, or until they are dry to touch. Do not miss this step or your macarons will crack.
TIPS
Vegan macarons can be quite hard to get right, especially if it's your first time making it. I got a few failed batches at the beginning, here is what I learned:
Macarons feet are spreading: your oven is probably too hot. Lower your oven by 50°F (10°C).
Your macarons don't develop any feet or have uneven feet: you let your macarons dry for too long, which resulted in them sticking to the baking sheet.
Your macarons stick to the parchment paper after baking: first, I would recommend letting the shells cool completely, at least 20 minutes before trying to remove it. If after that you can still remove the shells, bake for another 5 minutes.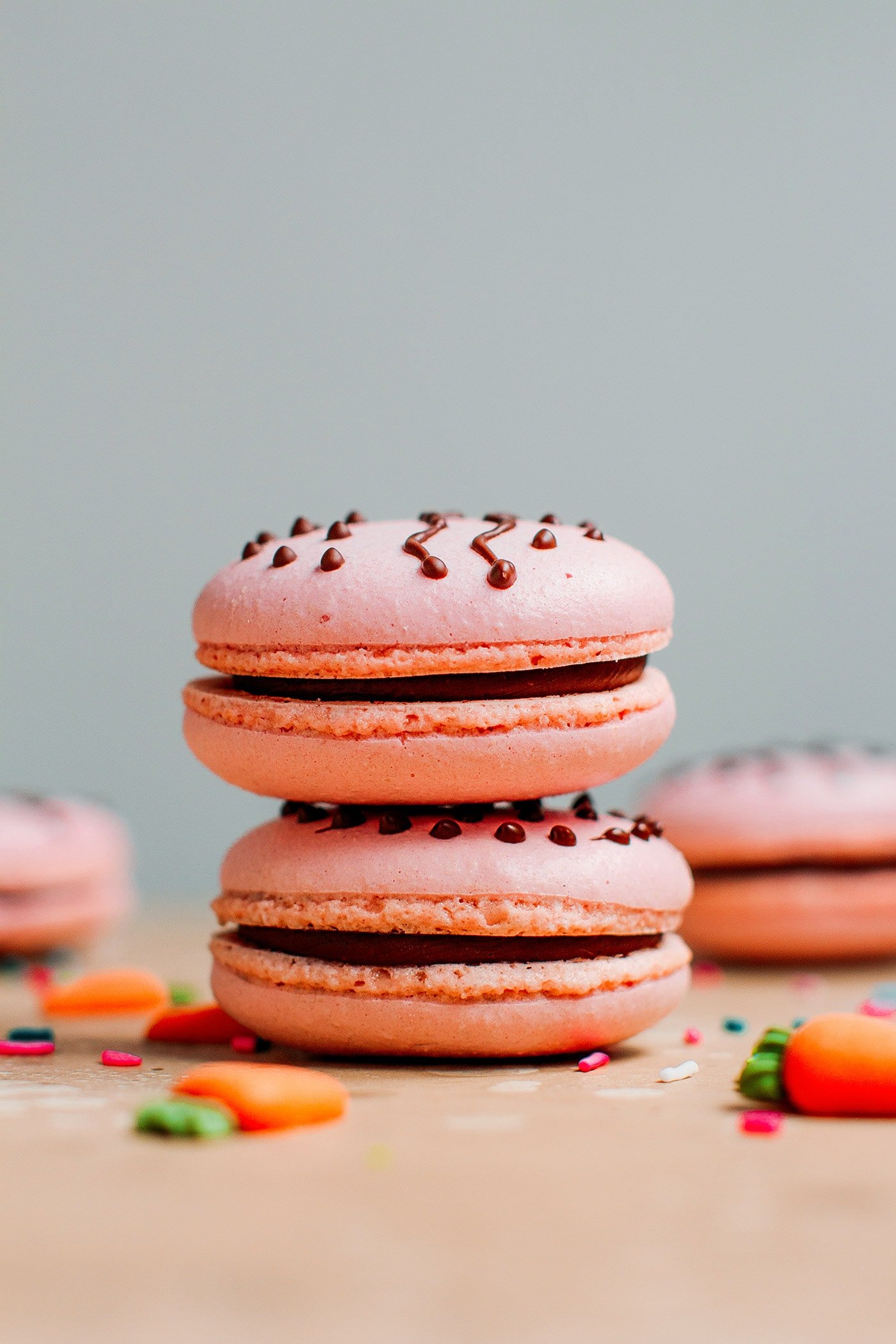 For the filling, I went with a simple chocolate ganache flavored with hazelnut butter. Feel free to use peanut butter, almond butter, or even add a heart of strawberry jam!
I hope you will love these Easter egg macarons, their crispy shell and rich chocolate hazelnut ganache makes them super addicting!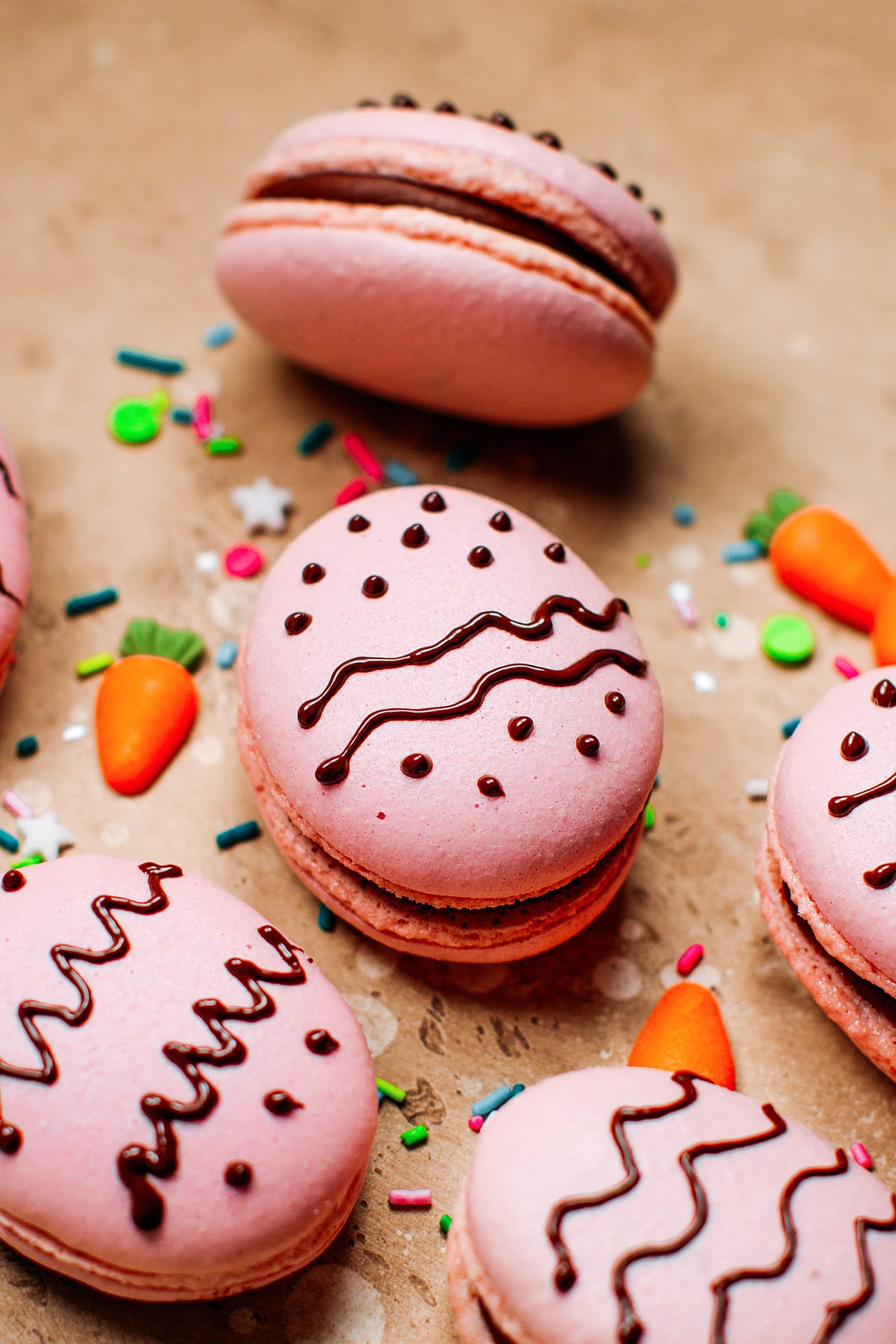 Looking for more sweets to prepare for Easter? Check out these Vegan Praline Chocolates, Chocolate Dragon Eggs, or these Mini Pecan Praline Cups!
Let me know in the comments if you try this recipe!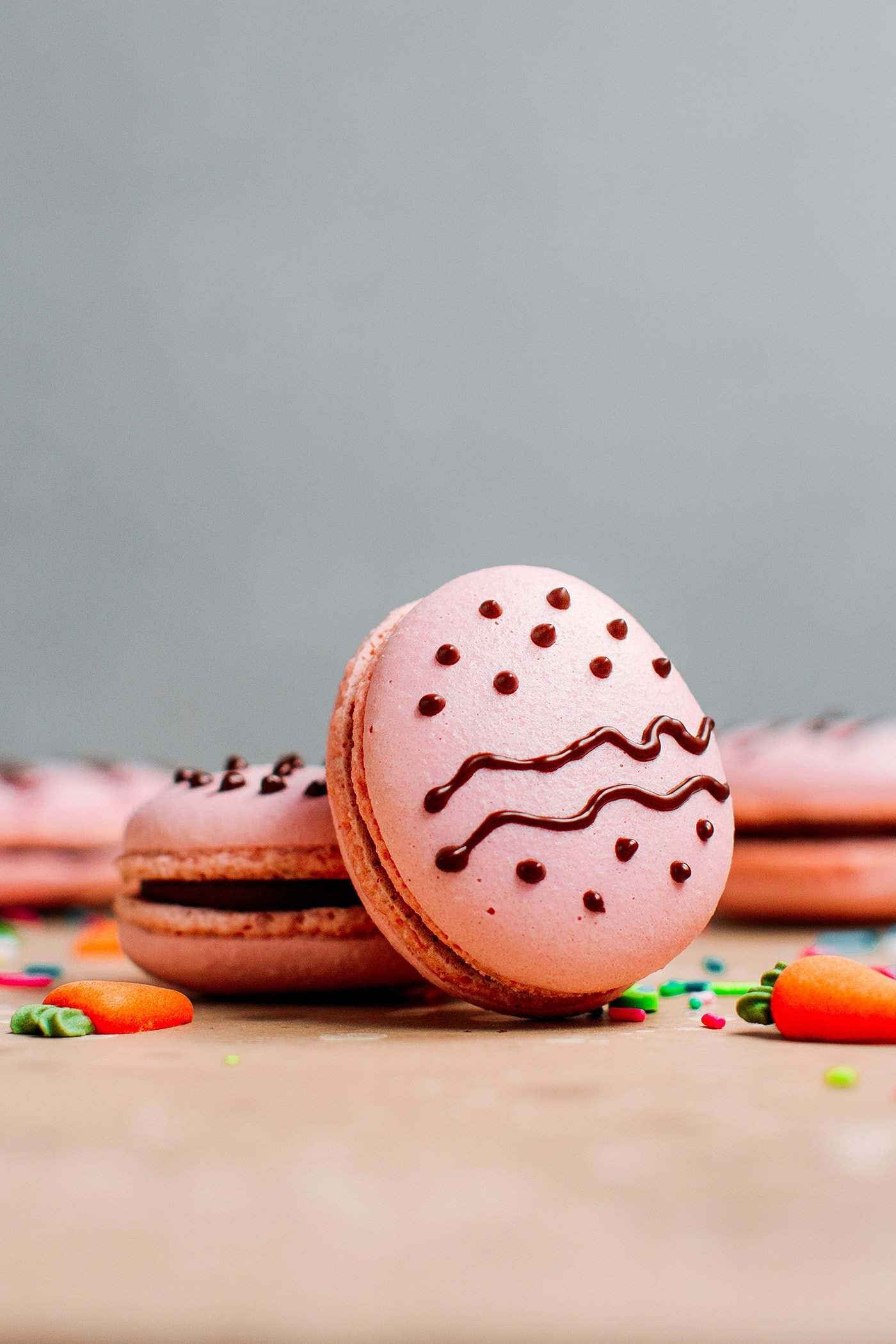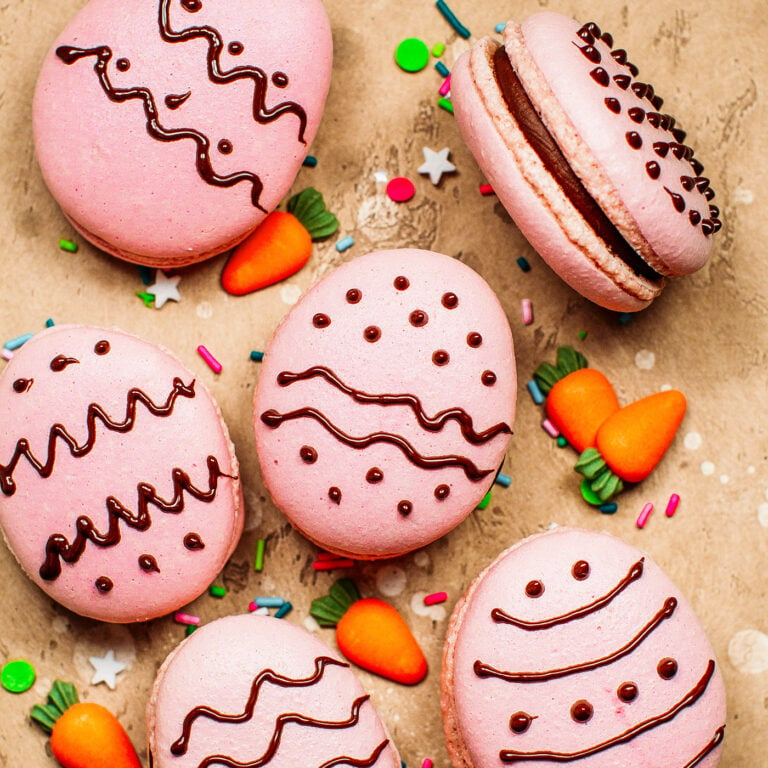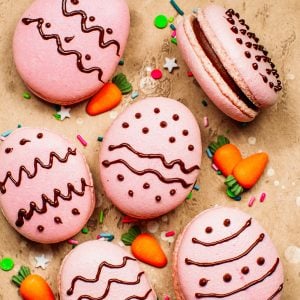 Vegan Chocolate Hazelnut Easter Egg Macarons
Vegan + Gluten-free macarons filled with a delicious dark chocolate hazelnut ganache! Perfect for easter!
Ingredients
Chocolate Hazelnut Filling
Macaron Shells
55

g

reduced aquafaba

see notes

¼

teaspoon

white vinegar

¼

teaspoon

beetroot powder

optional, for color

20

g

granulated white sugar

80

g

powdered sugar

70

g

fine almond flour

sifted

⅓

cup

dark chocolate chips

for decorating
Instructions
Chocolate Hazelnut Filling
Add the dark chocolate chips, hazelnut butter, and vanilla extract to a small mixing bowl. Set aside.

Bring the almond milk to a boil over medium heat. As soon as it starts to boil, pour it over the chocolate chips. Wait a couple of minutes for the chocolate to melt, and stir to combine. Let cool completely, cover with plastic wrap and refrigerate for about 30 minutes, or until it has hardened a bit.
Macaron Shells
Add the aquafaba and white vinegar to a stand mixer, or mixing bowl. Whisk on high-speed until it starts to get white and foamy. Add the beetroot powder and whisk again until it starts to form soft peaks. Slowly pour in the granulated sugar and keep whisking until it forms stiff peaks.

In another bowl, mix together the powdered sugar and sifted almond flour. Transfer half of the almond flour mixture to the bowl of whipped aquafaba and gently fold it using a spatula. Once incorporated, add the rest of the almond flour mixture and fold the batter again (in a circle figure). At first the batter will be quite thick like a brownie batter, keep folding until the batter becomes shiny and stop once it falls into ribbons when holding the spatula up.

Transfer the mixture to a piping bag fitted with a 1-inch tip. Pipe ovals (2-inch long) onto a baking sheet lined with parchment paper, leaving about 1.5-inch between each one. Tap the baking sheet 4-5 times on your counter to remove any air bubble.

Let the macaron shells dry at room temperature for about 50 minutes.

20 minutes before, pre-heat your oven to 270°F (130°C). Please note that this temperature can change depending on your oven, you might have to adjust it for your next batches.

Bake the macarons for 25 minutes. Once you see the macarons has developed a feet, turn down the oven to 230°F (110°C). Then turn off the oven and let the door slightly opened. Leave the macarons inside the oven for another 15 minutes.

Remove from the oven and let the macarons cool completely before removing them from the baking sheet.

Pipe the chocolate ganache onto a macaron shell and sandwich with another macaron. Repeat with the remaining macarons and ganache. You can enjoy immediately or let them "rest" for a few hours.

To decorate, melt dark chocolate over a double boiler. Once melted, transfer to a piping bag and pipe the melted chocolate on top of each macaron.

Macarons will keep in the refrigerator in an airtight container for up to 3 days.
Notes
*I had the best results by using reduced aquafaba. To reduce it, drain a 15-oz can of chickpeas and transfer the liquid (aquafaba) to a small saucepan. Heat over medium heat and let it simmer for about 15 minutes, or until it has reduced by about half. Let cool completely before using.
Macaron shells recipe by Okonomikitchen.
Nutrition
Serving:
1
macaron
Calories:
155
kcal
Carbohydrates:
20.1
g
Protein:
3.2
g
Fat:
8.1
g
Fiber:
1
g
Sugar:
16.8
g
DID YOU MAKE THIS RECIPE?
Tag @fullofplants on Instagram and hashtag it #fullofplants