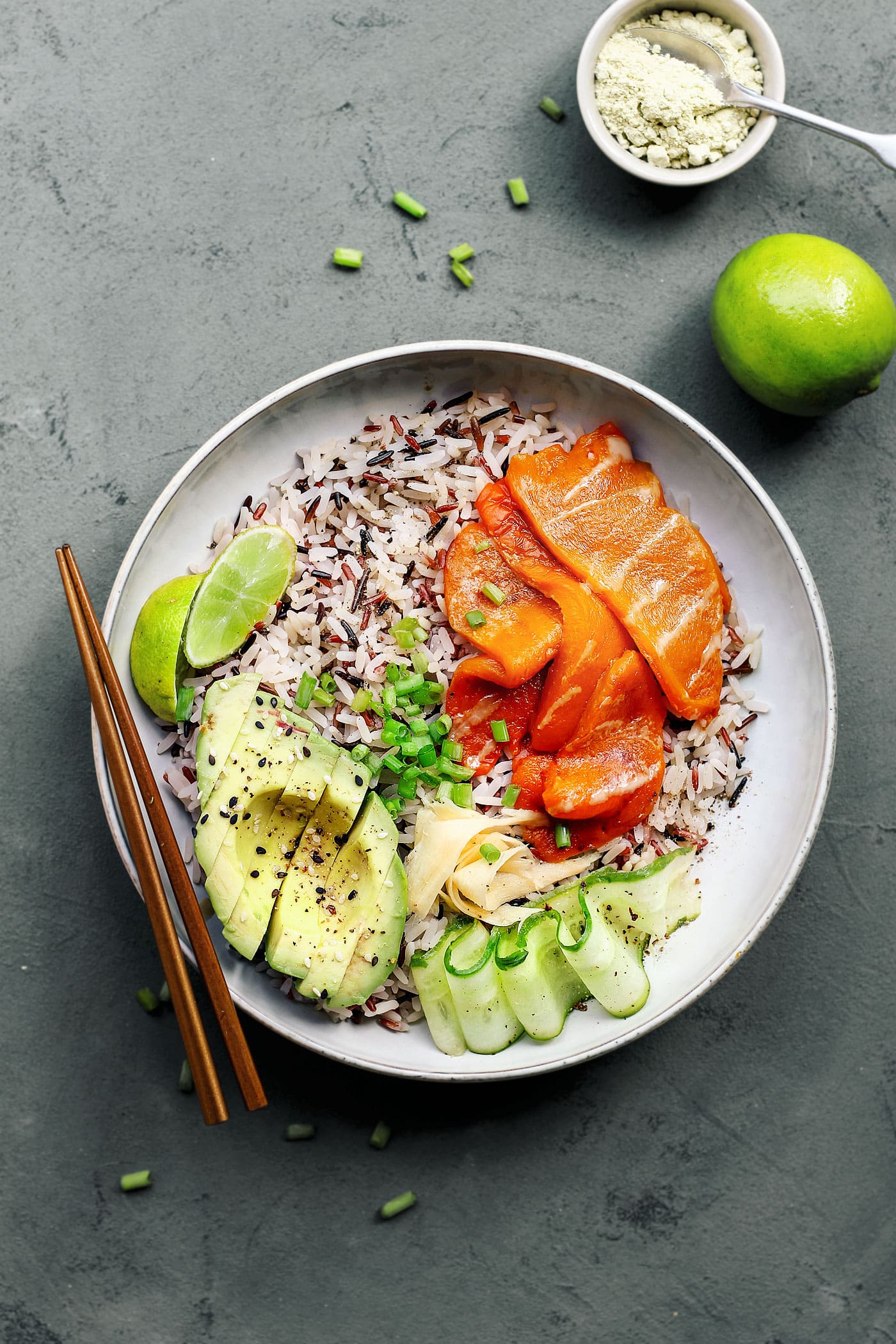 I love sushi, but let's be honest, it takes a while to prepare. Here come these sushi bowls! No rolling required and less mess! Introducing Sushi Bowls with Vegan Smoked "Salmon"!
The star of this recipe is the smoked "salmon." It's savory, smoky, and packed with sea flavors. Plus, it's 100% cruelty-free, made from bell peppers.
My dad was here while I was making this recipe and thought I was using real salmon! So yes, it looks a lot like salmon and tastes similar. Don't expect it to taste exactly like salmon, though. You can still tell it's bell pepper, but it does remind me a lot of the flavor of salmon. I'm not trying to veganize meat or fish very often, but once in a while, it's a fun experiment!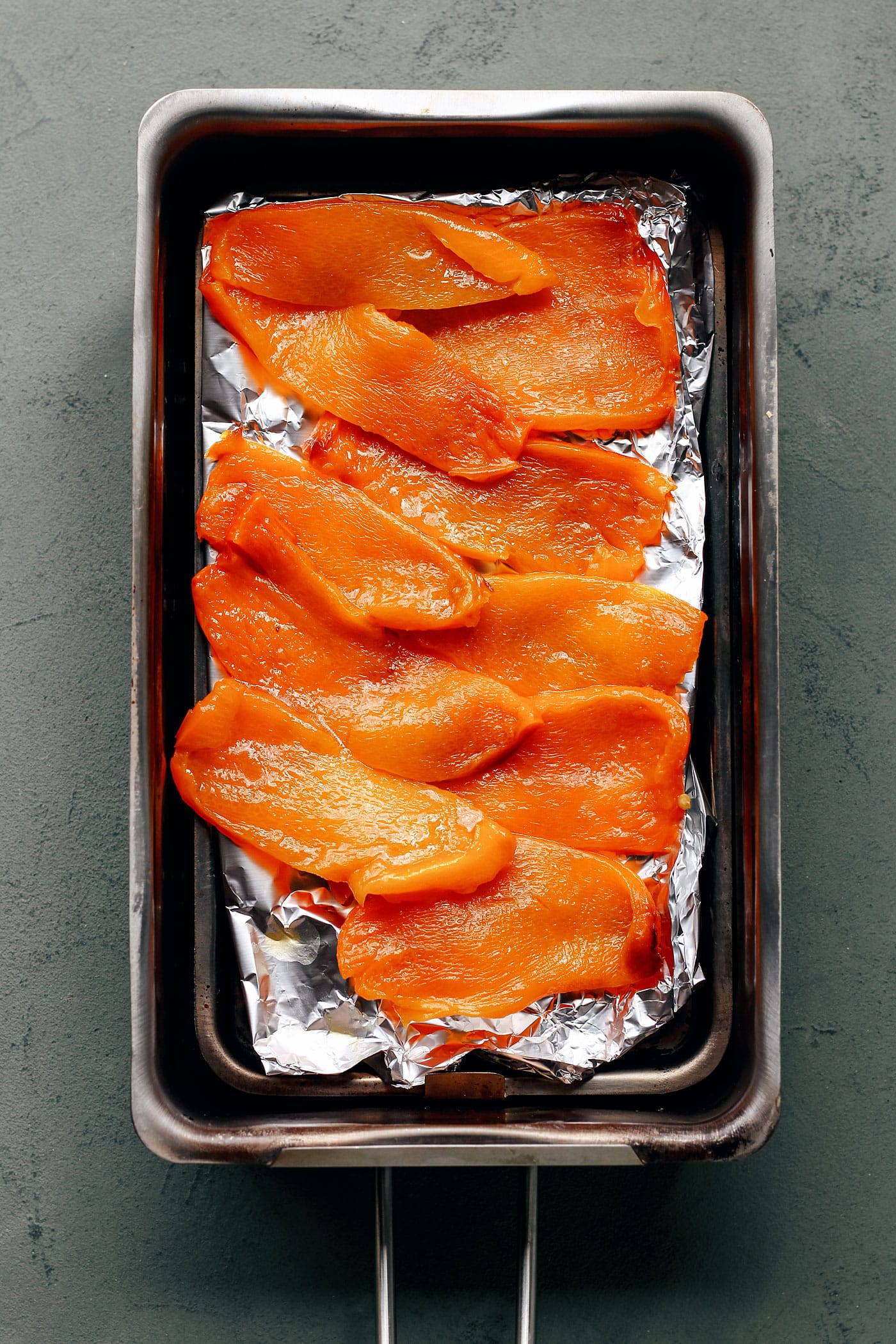 The process of making the "salmon" is very easy but takes some time, so I would recommend making it ahead of time. Don't worry it keeps very well in the fridge.
You start by roasting the bell peppers until the skin is charred. Once done, you should be able to remove the skin easily. I'm sharing two ways to add the smoky flavor. The first one is by using a smoker. Once your bell peppers are done and the skin removed, you smoke them for 10-12 minutes with hickory wood chips in a stovetop smoker. If you don't have a smoker, then you can skip this step and just add liquid smoke to the broth we will make next.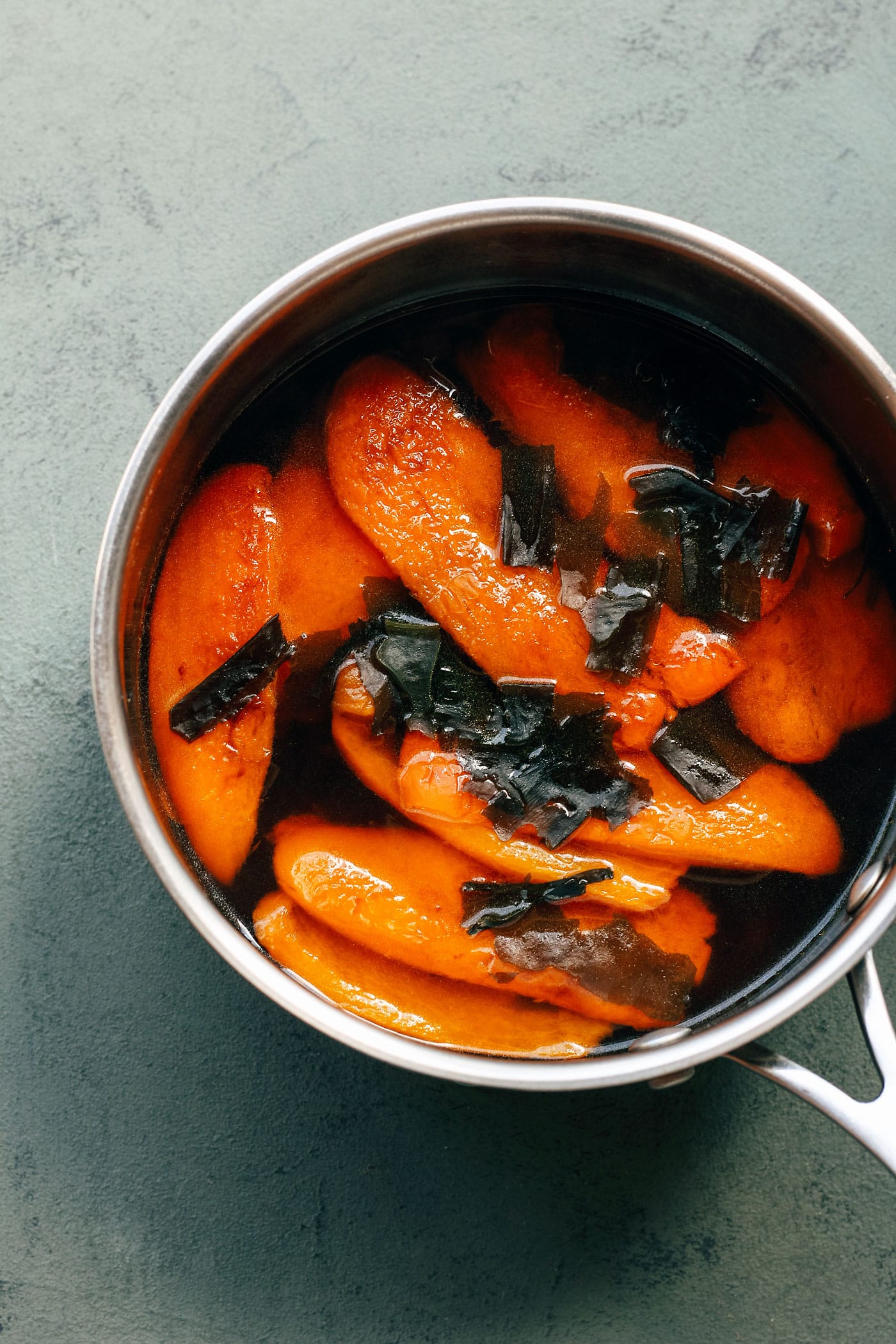 To give more complex flavors to our "salmon," we are going to infuse the bell pepper slices in a broth. Dried seaweed combined with lemon juice, garlic, and soy sauce will create the "sea" taste. At this step, you can add the liquid smoke if you didn't smoke the bell pepper before.
After about 20 minutes, you can remove the slices and discard the broth. Your salmon is now ready to use!
If you want to go even further and make it look *really* like salmon, dip a spoon in some tahini and drizzle thin lines on the bell pepper slices to make it look like fat stripes.
For the toppings, I went with avocado, marinated ginger, cucumber, chives, and sesame seeds on a bed of brown and black rice. Basically, it's the usual sushi filling.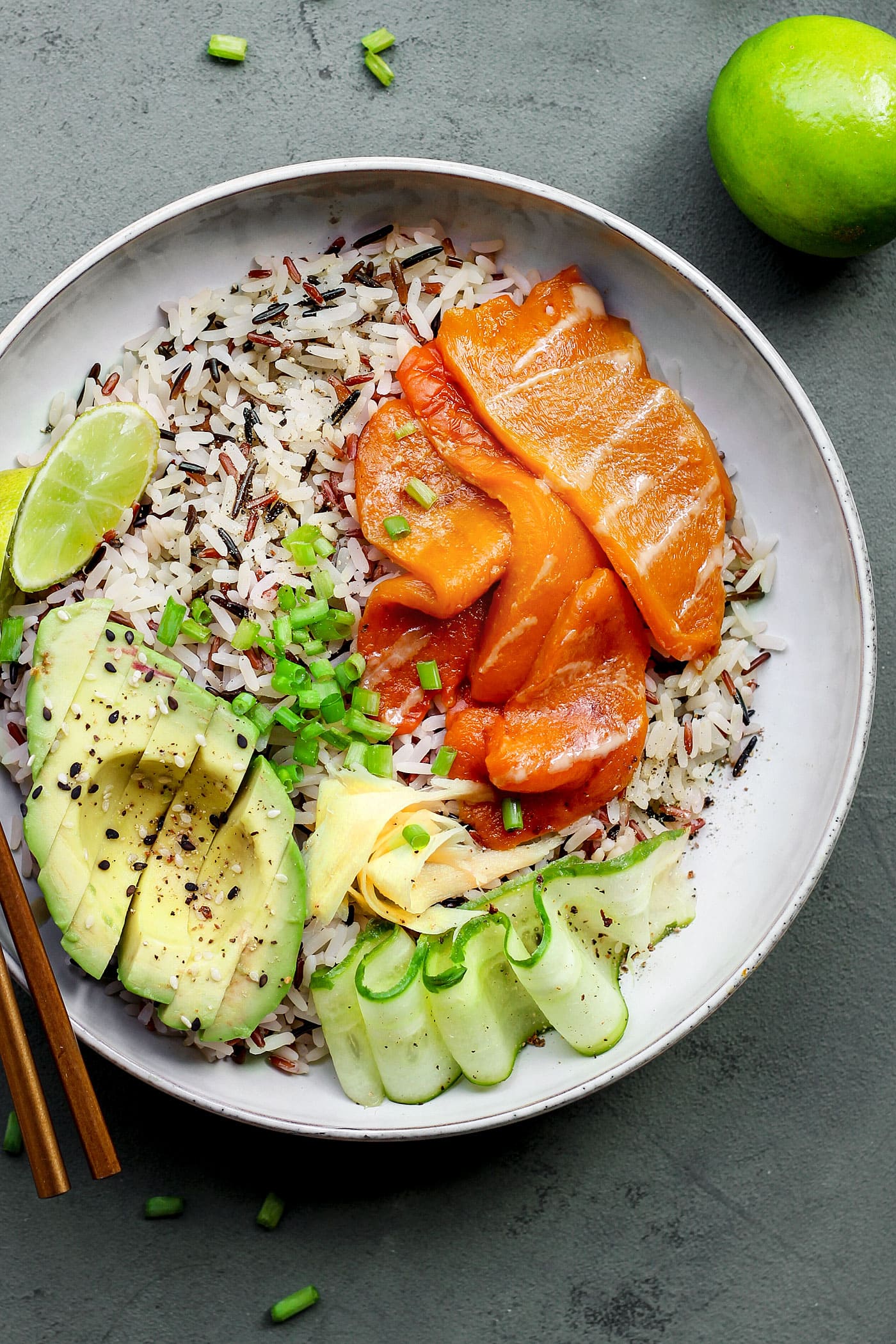 These sushi bowls make the perfect healthy summer lunch (or dinner!). It's fresh, flavorful, and satisfying! If you like sushi, you will love this recipe. The smoked "salmon" takes these bowls to the next level!
Let me know in the comments if you try this recipe!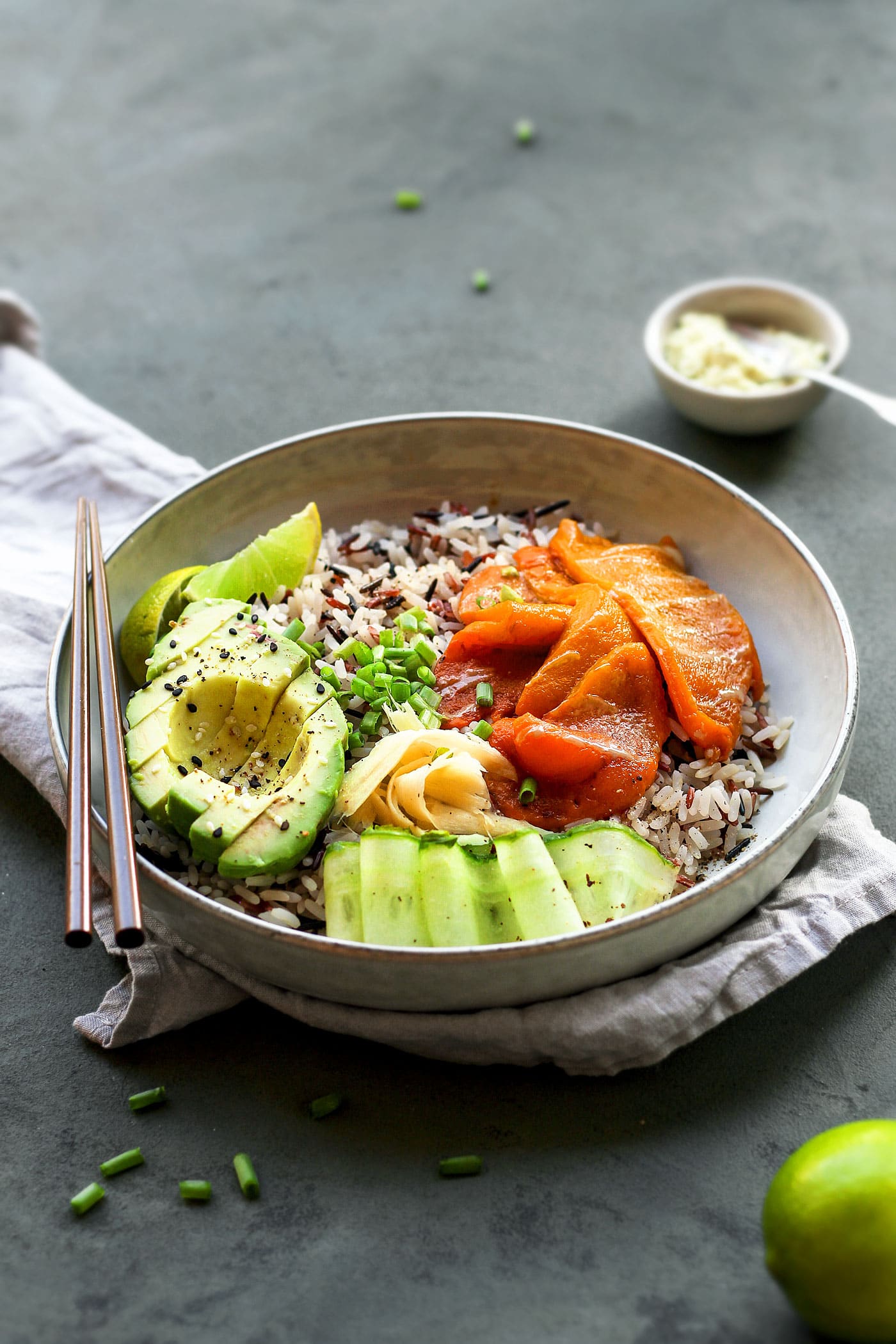 Recipe
Sushi Bowls with Vegan Smoked "Salmon"
Fresh and healthy sushi bowls with vegan "smoked salmon".
Ingredients
Bowls
1

cup

brown rice

or a mix of brown and forbidden rice

3

cups

water

2

tsp

maple syrup

1

tbsp

white rice vinegar

Toppings: avocado, marinated ginger, cucumber, chives, sesame seeds
Instructions
Smoked "Salmon"
Preheat oven to 450°F.

Wash the bell peppers and cut them lengthwise into 3 pieces. Cut out the stems and remove the seeds and white parts.

Line a baking sheet with aluminum foil. Place the peppers cut side down on the baking sheet and bake for 25-30 minutes, or until charred. The skin needs to be dark and wrinkled.

Let the peppers cool 10-15 minutes and peel off the skin.

If you have a

stovetop smoker

: Place one tablespoon of hickory wood chips in the bottom of the stovetop smoker. Place the drip and cooking trays on top of the wood chips. Cover the tray with aluminum foil and place the pepper slices on top. Heat the smoker over low-medium heat on a stovetop burner. Once smoke starts to appear, close the lid of the smoker completely and smoke the peppers for about 12 minutes.

In the meantime, prepare the broth. Combine the water, dried wakame, liquid smoke (if you didn't smoke the peppers), lemon juice, garlic, and soy sauce in a saucepan.

Add the peppers and bring to a boil. Let simmer 20 minutes uncovered. At this point, it should already smell like smoked salmon! Remove from heat and let cool 10 minutes before removing the peppers from the broth.

Transfer the peppers to a plate lined with paper towel to drain. You can lightly press them if you want to remove more water and have slightly drier salmon slices.

Refrigerate for at least 2 hours before using.
Bowls
Combine the rice and water in a saucepan. Bring to a boil and let simmer for 25-30 minutes, or according to the package instructions. Drain excess water if needed.

Stir in the maple syrup and white rice vinegar and mix well. This will make the rice taste more like sushi. Let cool and place in the refrigerator for at least 2 hours.

To serve: Divide the rice into 3 bowls, top with avocado slices, marinated ginger, cucumber, chives, and smoked salmon. Top with sesame seeds and serve immediately.
Nutrition
Serving:
1
serving (without toppings)
|
Calories:
279
kcal
|
Carbohydrates:
59.2
g
|
Protein:
6.6
g
|
Fat:
2
g
|
Fiber:
3.4
g
|
Sugar:
7.1
g
Did you make this recipe?
Tag @fullofplants on Instagram and hashtag it #fullofplants