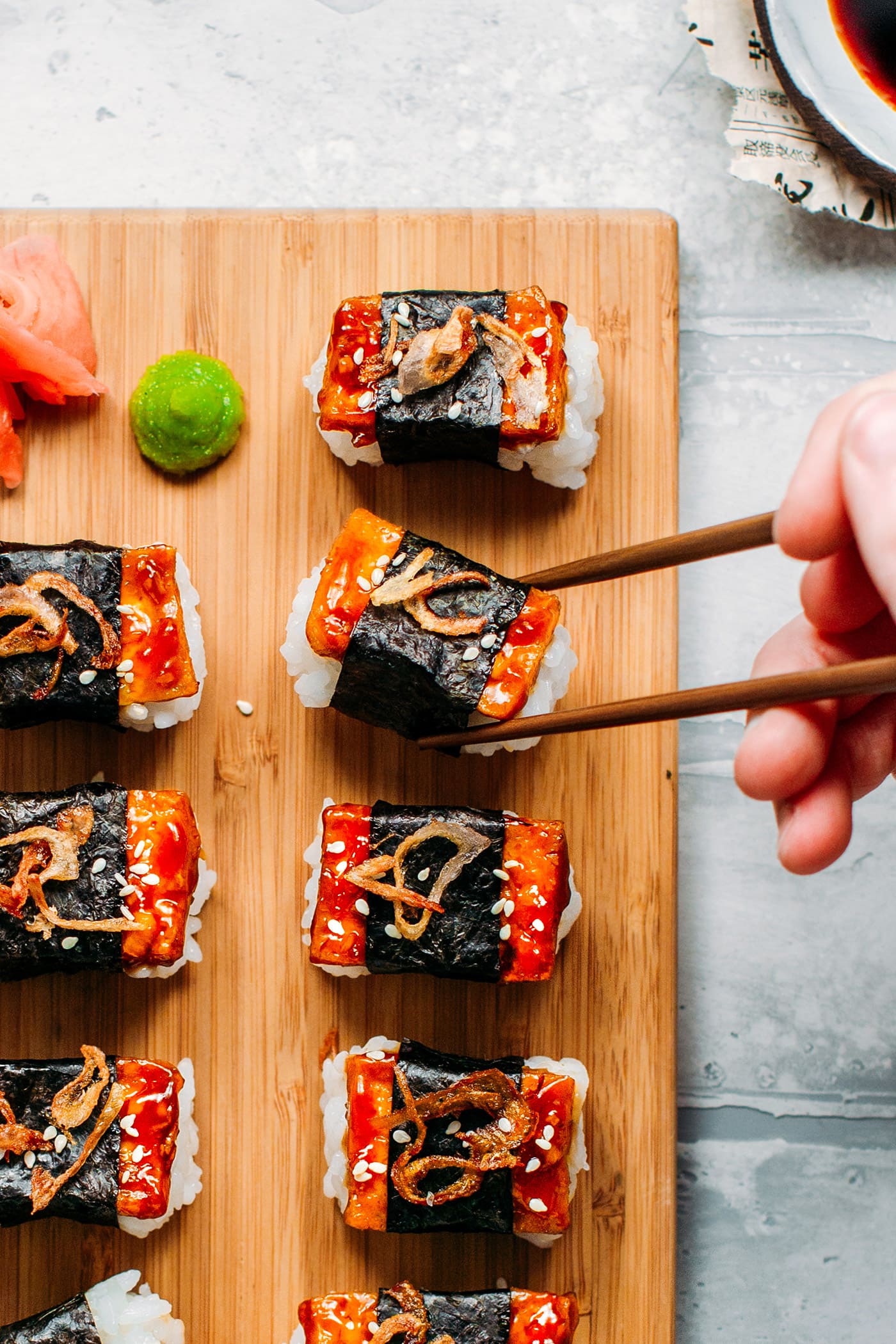 If you are craving sushi but don't feel like rolling rolls, this teriyaki tofu nigiri comes to the rescue!
These little bites packed with umami consist of sushi rice topped with tofu coated in a delicious teriyaki sauce. It's then wrapped in nori and topped with crispy shallots! It's easy to prepare and makes a delicious appetizer (or entrée)!
First, you want to prepare your sushi rice. I recommend using Japanese short grain rice for the best results. It's a bit rounder and stickier than regular rice.
Once rinsed, cook the rice on the stove until tender. Mix in rice vinegar and sugar for a balance of sourness and sweetness, and let it cool a bit.
In the meantime, let's prepare the teriyaki tofu, which is definitely the star of this recipe!
Before cooking the tofu in the sauce, deep-fry it until golden brown. This step gives the tofu more chewiness and helps it absorb more flavors later.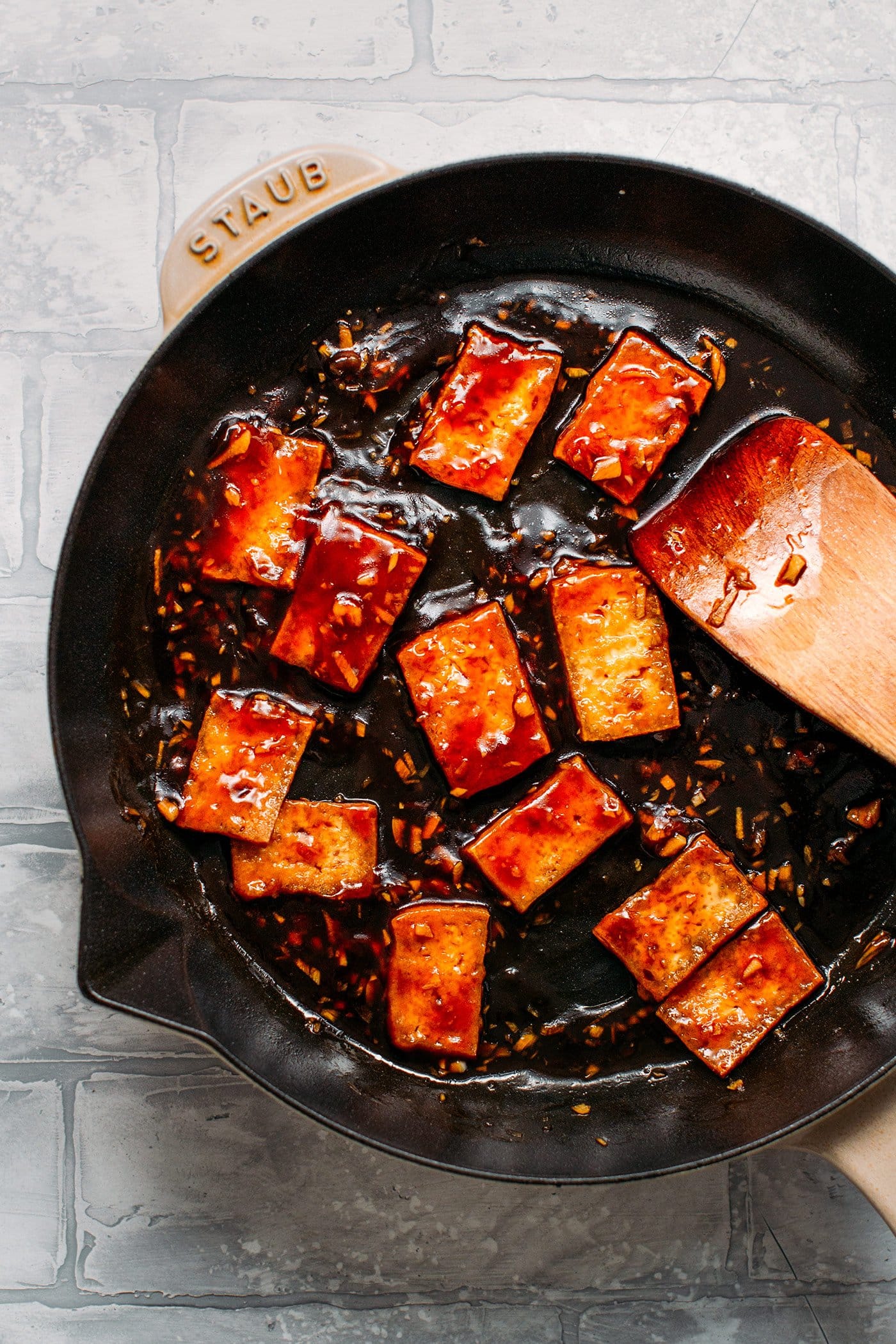 Once fried, simmer the tofu in the teriyaki sauce that consists of just 6 ingredients: soy sauce, maple syrup, rice vinegar, ginger, garlic, and water. Next, add diluted cornstarch to help the sauce thicken and coat the tofu.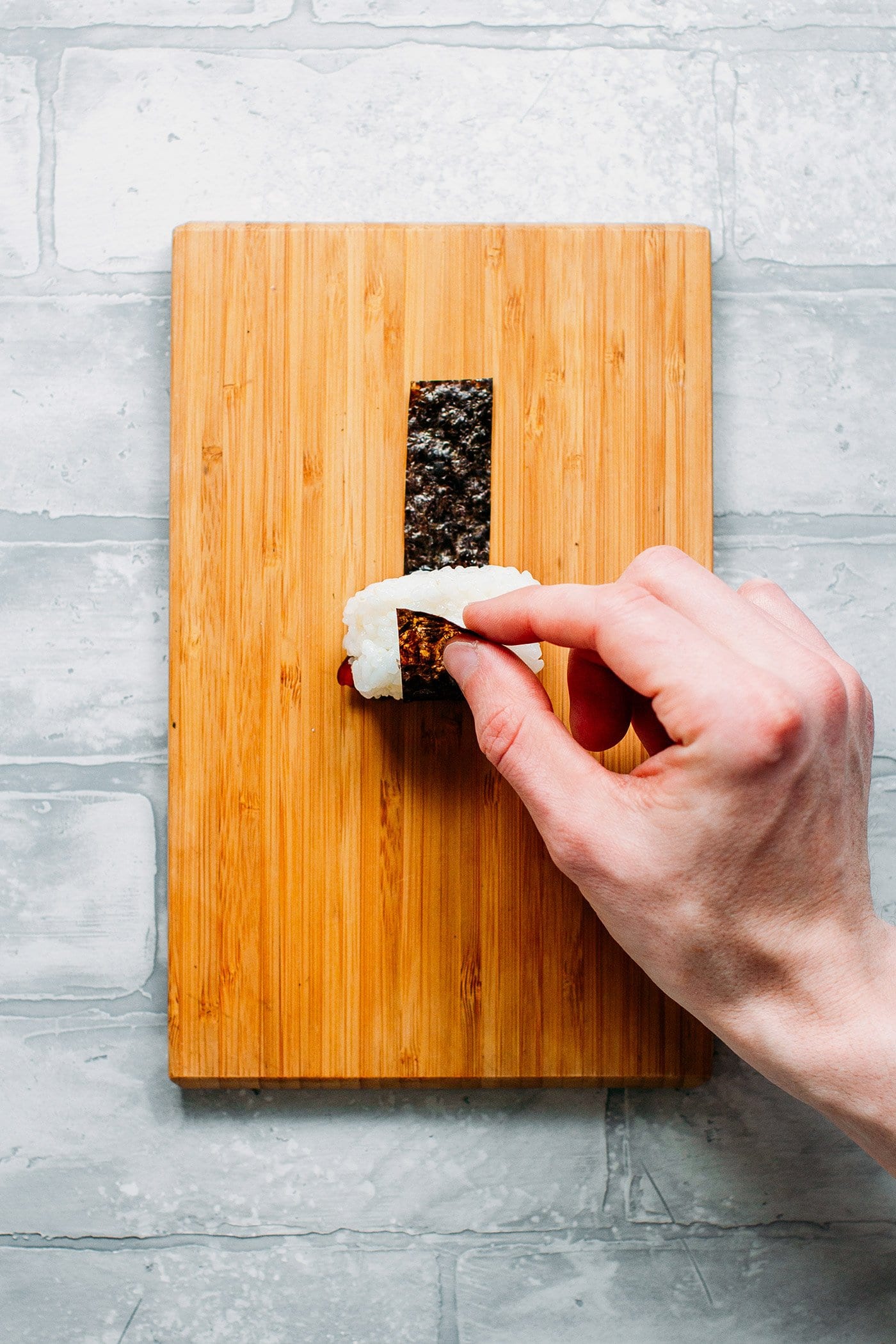 As opposed to maki, there is no rolling required here. Simply place a slice of the teriyaki tofu on top of a strip of nori, top with sushi rice, and wrap with the nori.
Finally, top with fried shallots and sesame seeds, and serve!
The teriyaki tofu is already salty, so you don't need to serve these with a dipping sauce. If you feel like a dipping sauce is mandatory for nigiri sushi, dilute a tablespoon of soy sauce in about 1/3 cup of water and add 2 tablespoons of lime juice. The dipping sauce will not be too salty while still bringing extra flavor.
Looking for another sushi recipe? Check out this Braised Fennel Sushi!
Let me know in the comments if you try this teriyaki tofu nigiri recipe!
Recipe
Teriyaki Tofu Nigiri with Crispy Shallots
Nigiri sushi with teriyaki glazed tofu, wrapped in nori and topped with crispy shallots! It's chewy, crispy, and packed with umami!
Ingredients
Teriyaki Tofu
4

ounces

firm tofu

cut into 15 thin rectangles of 1×2-inch

1/2

cup

oil

for frying

2

shallots

minced

3

tbsp

soy sauce

2

tbsp

maple syrup

1/2

cup

water

1

tbsp

rice vinegar

1

tsp

minced ginger

1

clove

of garlic

minced

2

tsp

cornstarch

diluted in 1 tbsp water
The Rest
2/3

cup

dry sushi rice

3/4

cup

water

2

tbsp

rice vinegar

2

tsp

sugar

1/8

tsp

salt

2

sheets

of nori

cut into strips of a about 1-inch width
Instructions
Rice
Rinse the rice 2-3 minutes under cold water. Drain and add to a saucepan with the water. Heat over medium heat and bring to a simmer. Cover and cook for about 15 minutes, or until all of the liquid has been absorbed and rice is tender. Remove from heat and let it sit for 10 minutes.

In a small bowl, mix the rice vinegar with the sugar and salt. After 10 minutes, transfer the rice to a large mixing bowl, add the sweet rice vinegar to the rice and mix gently (you don't want to mash the rice). Cover with a damp towel and let the rice cool for about 1 hour, or until it is not warm anymore.
Teriyaki Tofu
Heat the oil in a deep skillet, or large saucepan. Once hot, add the tofu rectangles (make sure they don't touch each other) and fry for 5-7 minutes, or until the tofu gets a light golden brown color. Remove from the oil and transfer to a plate lined with parchment paper.

To the same skillet, add the minced shallots and fry for 3-5 minutes, or until shallots are golden brown. Use a slotted spoon to remove from the oil and transfer to a plate lined with parchment paper to remove excess oil. Set aside.

To a non-stick skillet, add the soy sauce, maple syrup, water, rice vinegar, minced ginger, and garlic. Add the fried tofu as well and let simmer over medium heat for about 5 minutes.

Dilute the cornstarch and add it to the skillet. Stir until the sauce has thickened and coats the tofu slices. Remove from heat and let cool a few minutes.

To assemble: place a strip of nori on a cutting board. Place a slice of teriyaki tofu in the middle (see photo). Using slightly wet hands, take about 1 tbsp of the cooked sushi rice and shape it into a rectangle of 2×1-inch (the same size as your slice of tofu). Place it on top of the tofu. Slightly wet the nori sheet and wrap it tightly around the tofu and rice. Flip and place on a serving plate. Repeat with the remaining tofu and rice. For extra flavor, feel free to brush the tofu with more teriyaki sauce.

Top each nigiri with some fried shallots and serve! You can serve at room temperature, or cover with plastic film and refrigerate for about 2 hours before serving. Sushi is best served the same day but will keep for another day in the refrigerator.
Did you make this recipe?
Tag @fullofplants on Instagram and hashtag it #fullofplants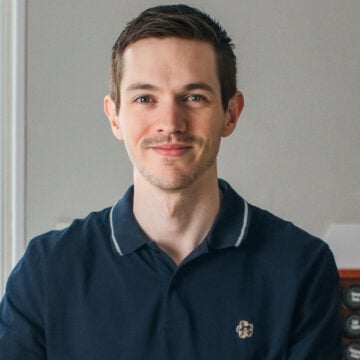 About the Author
Thomas Pagot is the founder, photographer, and recipe developer behind Full of Plants. He created the blog in 2016 as a personal cookbook for vegan recipes. Through years of recipe development, Thomas has successfully grown Full of Plants into a trusted resource for plant-based recipes.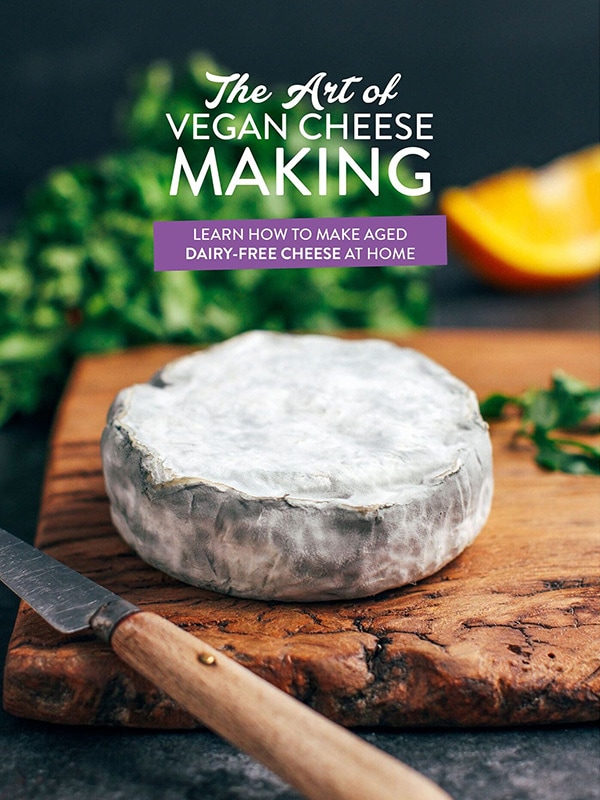 🧀 25 Mind-Blowing Vegan Cheese Recipes!
Sign up for the Full of Plants newsletter and you'll get new recipes delivered by email weekly, PLUS your FREE 100-page printable eBook!