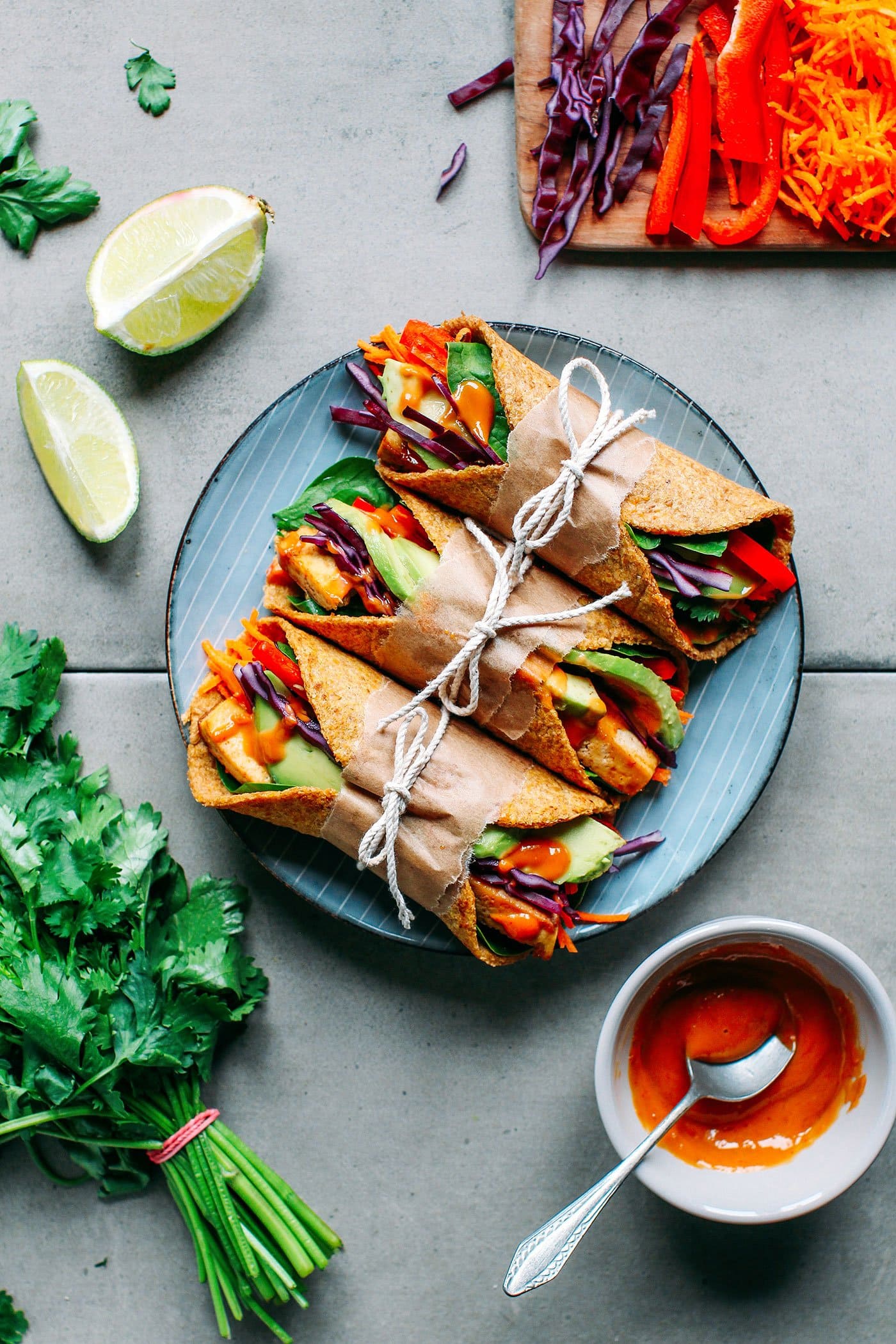 Have you ever tried flaxseed wraps? If not, you are missing something! Today, I'm excited to introduce Spicy Thai Flaxseed Wraps! It's not only delicious, it's also healthy and requires just ground flaxseeds and water!
Before diving into this recipe, I wanted to let you know that I just released my first video! Have you seen it?! I wanted to get into food videos for a long time but never took the time actually to do it. Since you guys loved my vegan cultured butter, I thought it would be great for a first video. Plus, it tastes awesome and can replace regular butter everywhere! It spreads, melts, and bakes perfectly. So if you haven't checked it out yet, you can find the video on Youtube or on the Vegan Cultured Butter recipe page. Hope you guys will like it! Stay tuned for more videos! 😉
Okay, now back to these wraps. What we have here are SUPER FLAVORFUL flaxseed wraps loaded with shredded carrots, marinated tofu, avocado, red bell peppers, and a sweet and spicy peanut butter coconut sauce. It's packed with protein, fiber, flavor AND texture!
Please don't get scared by the ingredient list. It's mostly spices and ingredients you probably already have on hand. This recipe is easy and comes together in less than one hour!
Making the wraps is very easy and requires just ground flax seeds and water as the base. For more flavor, I also added spices to the wraps themselves. For a subtle Thai flavor, I went with ground ginger, coriander, and garlic.
You start by combining the ground flaxseeds with the spices and salt. If you don't have ground flaxseeds on hand, you can make your own! Just grind golden flaxseeds in a blender until it looks like a fine meal.
The next step is to bring water to a boil, remove it from the heat, and immediately add the ground flaxseeds. Mix using a wooden spoon until it forms a ball. You will end up with a slightly sticky and soft dough.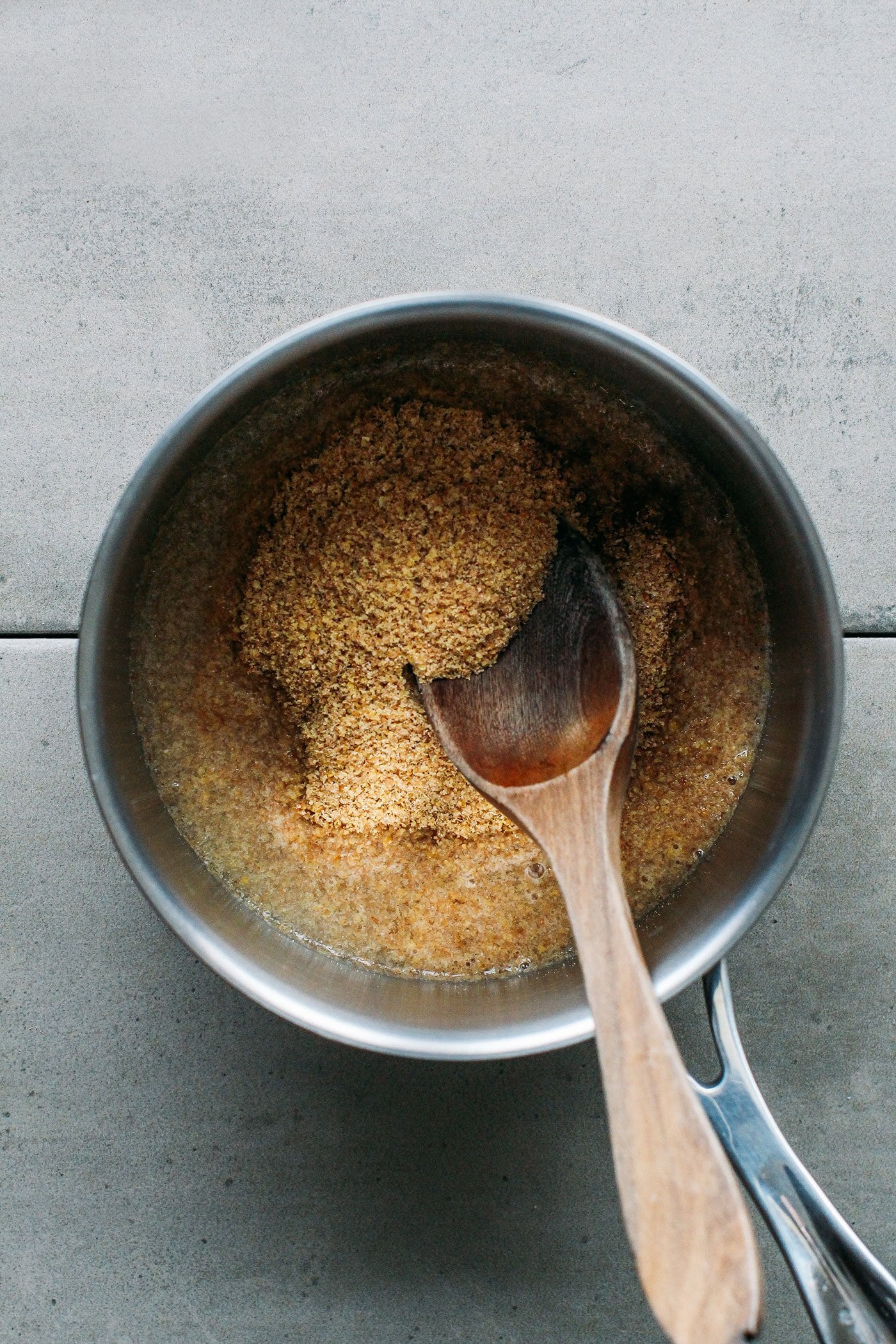 Then you divide the dough into 6 pieces and roll out each into a thin round. I made my wraps the size of a taco, but you can definitely make them larger if you want. Cooking the wraps is very quick as it requires only about 1 minute of cooking per side.
The result is soft and pliable wraps with a garlicky flavor. If you are wondering, they do have a flaxseed flavor if you taste them alone, but you won't be able to taste them once they are filled.
Now, onto the filling! Spinach for the greens, avocado for the healthy fats, tofu for more protein, red bell pepper and red cabbage for a crunch, and grated carrots for sweetness. Feel free to use whatever you have in your refrigerator. The filling is fully customizable! I would still recommend not omitting the carrots, as they provide sweetness and crunchiness.
Top with fresh cilantro or basil if you are not a fan of cilantro.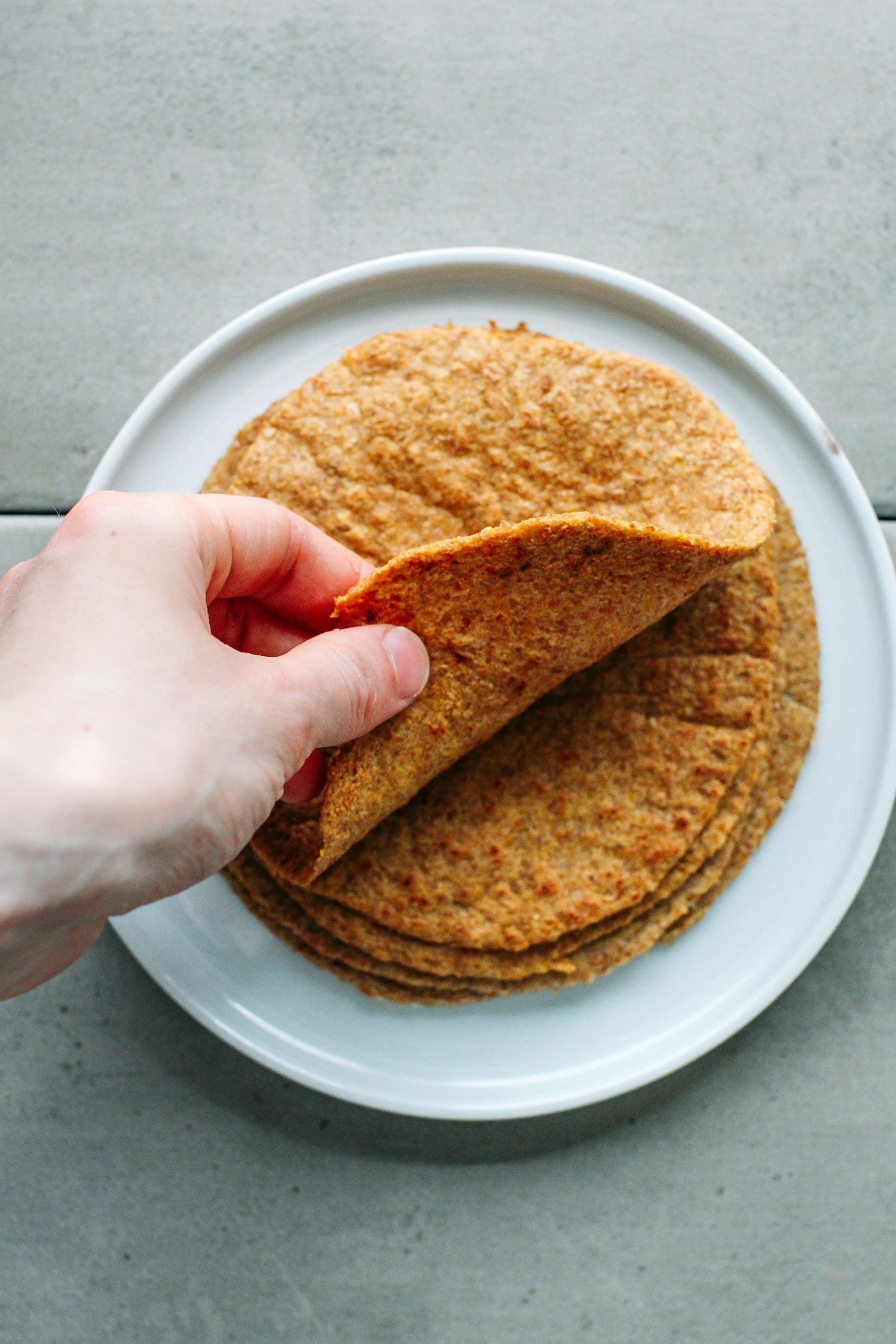 Obviously, the sauce is the star of this recipe (well, the flaxseed wraps are too!). Making the sauce consists of mixing together peanut butter with lime juice, coconut yogurt, maple syrup, soy sauce, and sriracha. It results in a sweet, salty, and spicy sauce. If you want, you can also add some freshly chopped ginger for more freshness.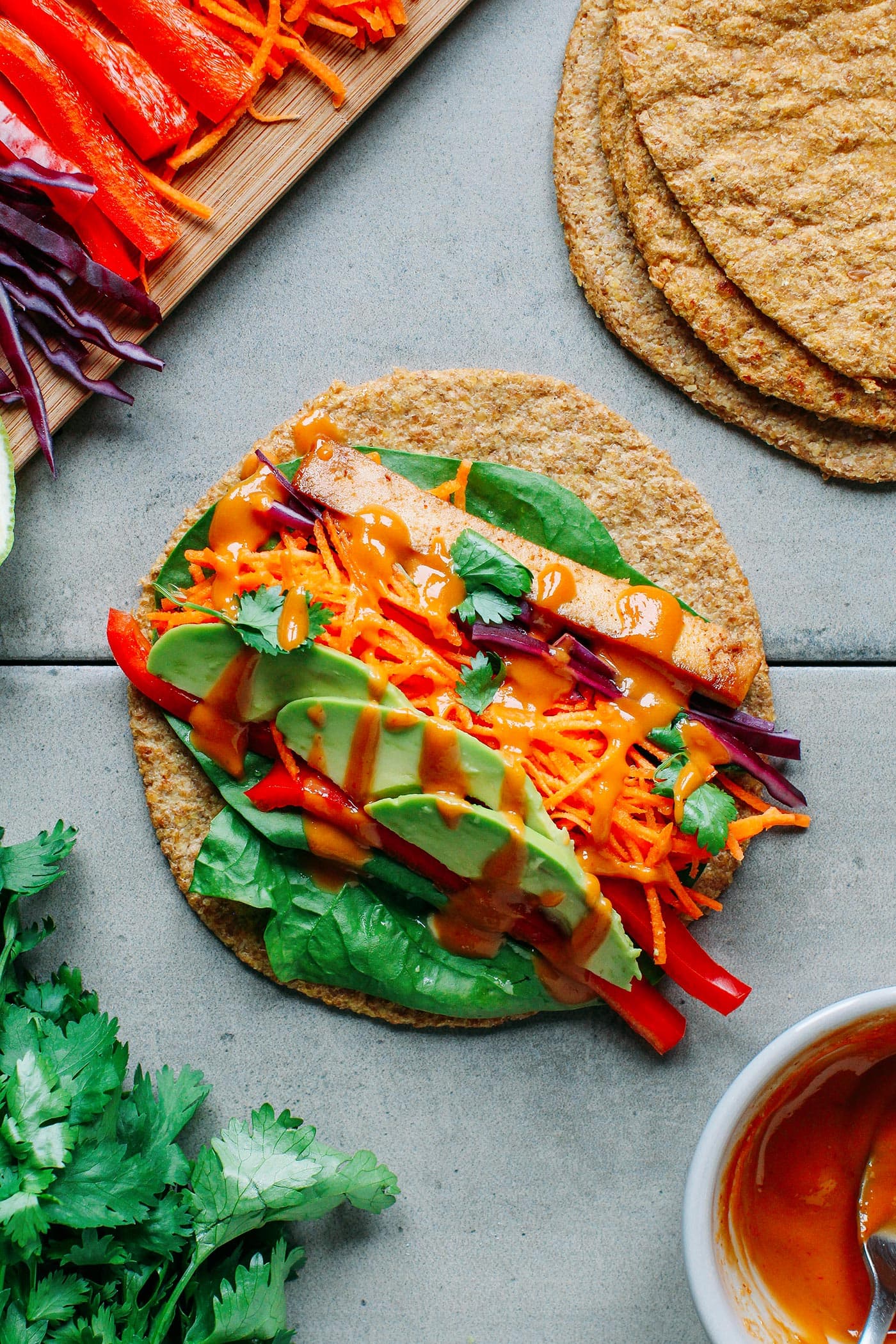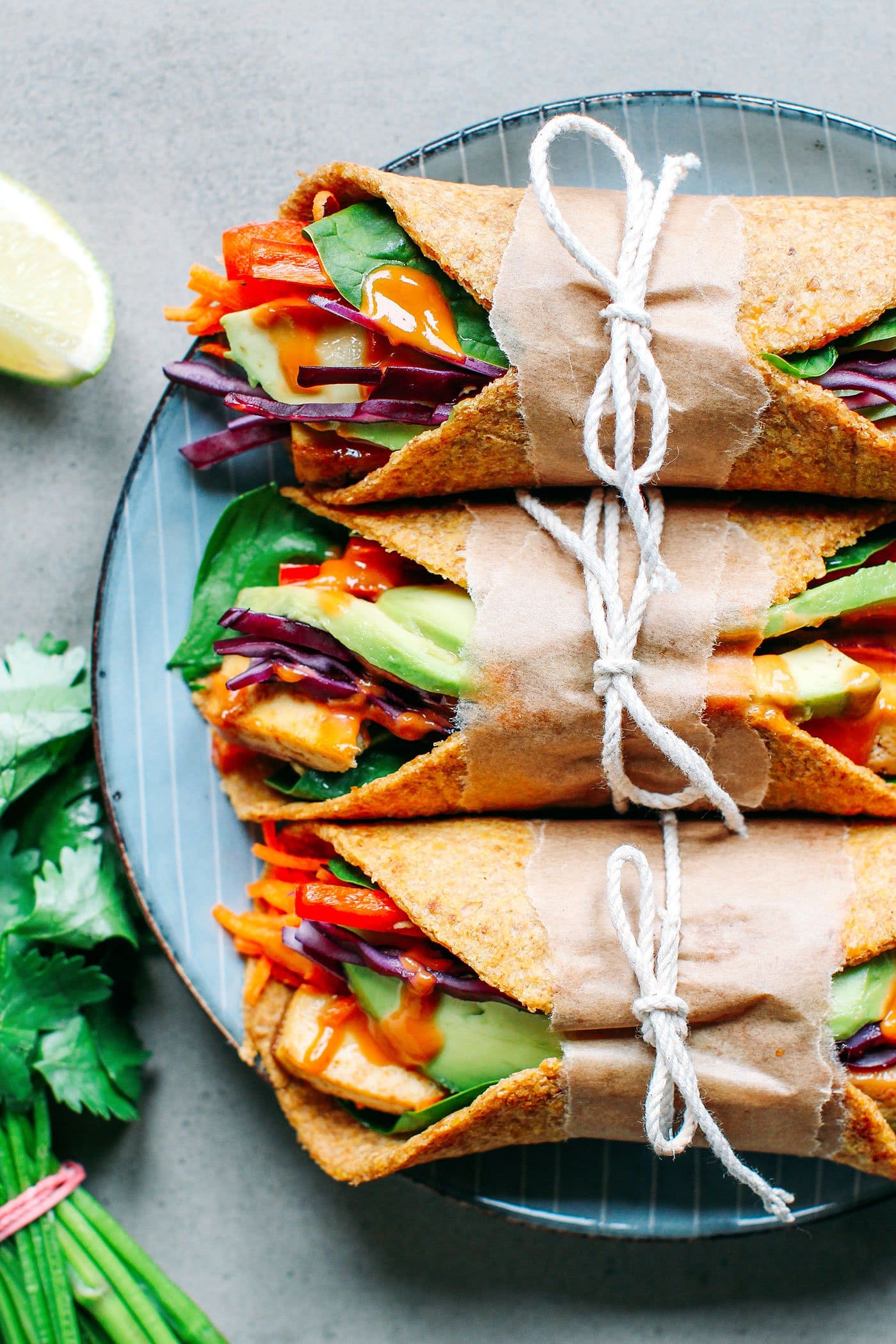 Great for meal prep, perfect for a grab-n-go lunch, easy to prepare, and packed with flavor, these wraps surely won't disappoint!
Let me know in the comments if you try this recipe!
Recipe
Spicy Thai Flaxseed Wraps
Flavorful and garlicky wraps made from ground flaxseeds and filled with marinated tofu, avocado, grated carrots, spinach, and red bell peppers. Drizzled with a sweet and spicy peanut butter coconut sauce!
Ingredients
Flaxseed Wraps
3/4

tsp

garlic powder

1/2

tsp

ground ginger

1/2

tsp

ground coriander

1/2

tsp

salt

1

cup

water
Spicy Peanut Coconut Sauce
1/3

cup

peanut butter

3

tbsp

maple syrup

3

tbsp

coconut yogurt

(or coconut milk)

3

tbsp

lime juice

1

tbsp

soy sauce

1

tbsp

sriracha

(or more to taste)
Filling
5-6

large spinach leaves

3

carrots

grated

1

avocado

sliced

1

red bell pepper

sliced

1/2

cup

shredded red cabbage

a

handful

of cilantro
Instructions
Flaxseed Wraps
In a large mixing bowl, combine the ground flaxseeds, garlic, ginger, coriander, and salt. Set aside.

Heat the water in a saucepan over medium heat. As soon as it's boiling, remove from heat and add the ground flaxseeds to the saucepan. Using a wooden spoon, stir until it forms a ball. This step will take about 30 seconds. Let the dough cool for 2-3 minutes in the saucepan.

Divide the dough into 6 balls. If you want larger wraps, just make 4 balls. Place one ball on a silpat or parchment paper. Top with another sheet of parchment paper and roll out the dough into a 1/16-inch (2mm) thick round. Use a knife to cut the edges and make a perfect round.

Heat a non-stick skillet over medium-high heat. Once hot, cook the flaxseed wrap for about 1 minute on each side. Repeat with the other wraps. Once all the wraps are cooked, stack them on a plate.
Marinated Tofu
Preheat oven to 400°F (200°C).

Cut the tofu into long strips (fries shape) and place them in a baking dish. In a small bowl, combine the soy sauce, maple syrup, oil, and ground chili. Pour the sauce over the tofu strips and flip each tofu strip to make sure it's well coated with the sauce.

Bake for 25 minutes. Remove from the oven and let cool 10 minutes. In the meantime, prepare the peanut coconut sauce and chop the vegetables.
Spicy Peanut Coconut Sauce
Combine all the ingredients together in a bowl. Taste and adjust seasonings if needed, adding more sriracha for spiciness, maple syrup for sweetness, or coconut yogurt if the sauce is too thick.
Filling
Start by preparing the vegetables: finely grate the carrots and cut the avocado, red bell pepper, and red cabbage into thin slices.

Place one or two leaves of spinach on top of a wrap. Add about 1/4 cup grated carrots, 3 slices of avocado, one strip of tofu, a few strips of red bell pepper and red cabbage. Top with fresh cilantro and drizzle with about 3 tablespoons of the peanut coconut sauce. Fold the two opposite sides of the wrap over the filling and tie with a string. Repeat with the other wraps.

These wraps can be eaten cold or at room temperature. They will keep for up to 3 days in the refrigerator.
Notes
I can't credit anyone for the flaxseed wrap recipe as I have no idea who came up with it first.
Nutrition
Serving:
1
Wrap (with all the filling)
|
Calories:
352
kcal
|
Carbohydrates:
28.2
g
|
Protein:
12.5
g
|
Fat:
25.7
g
|
Fiber:
12.5
g
|
Sugar:
12.2
g
Did you make this recipe?
Tag @fullofplants on Instagram and hashtag it #fullofplants