Homemade liquor with tropical flavors, infused with plenty of fresh mango and passion fruit! It makes a fruity and refreshing aperitif, or can be used as a base to make cocktails! Just 4 ingredients required!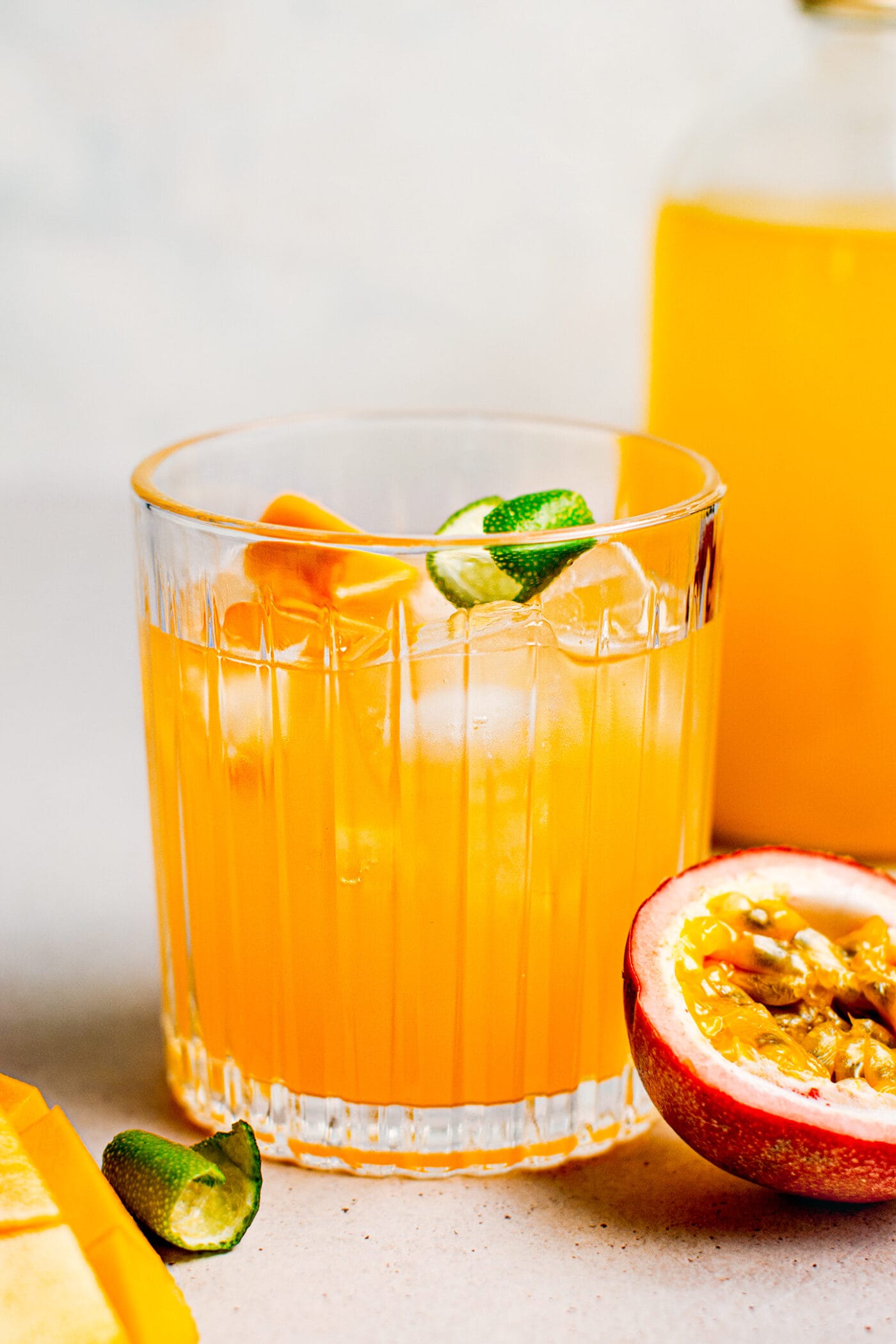 📘 What is a Liqueur
A liqueur is an alcoholic drink prepared from a spirit and flavorings such as fruits, spices, herbs, vegetables, or flowers. It is usually sweetened and served as an appetizer or with dessert.
This liquor consists of vodka infused with fresh mango and passion fruit. Served chilled, this fruity liquor is a true favorite!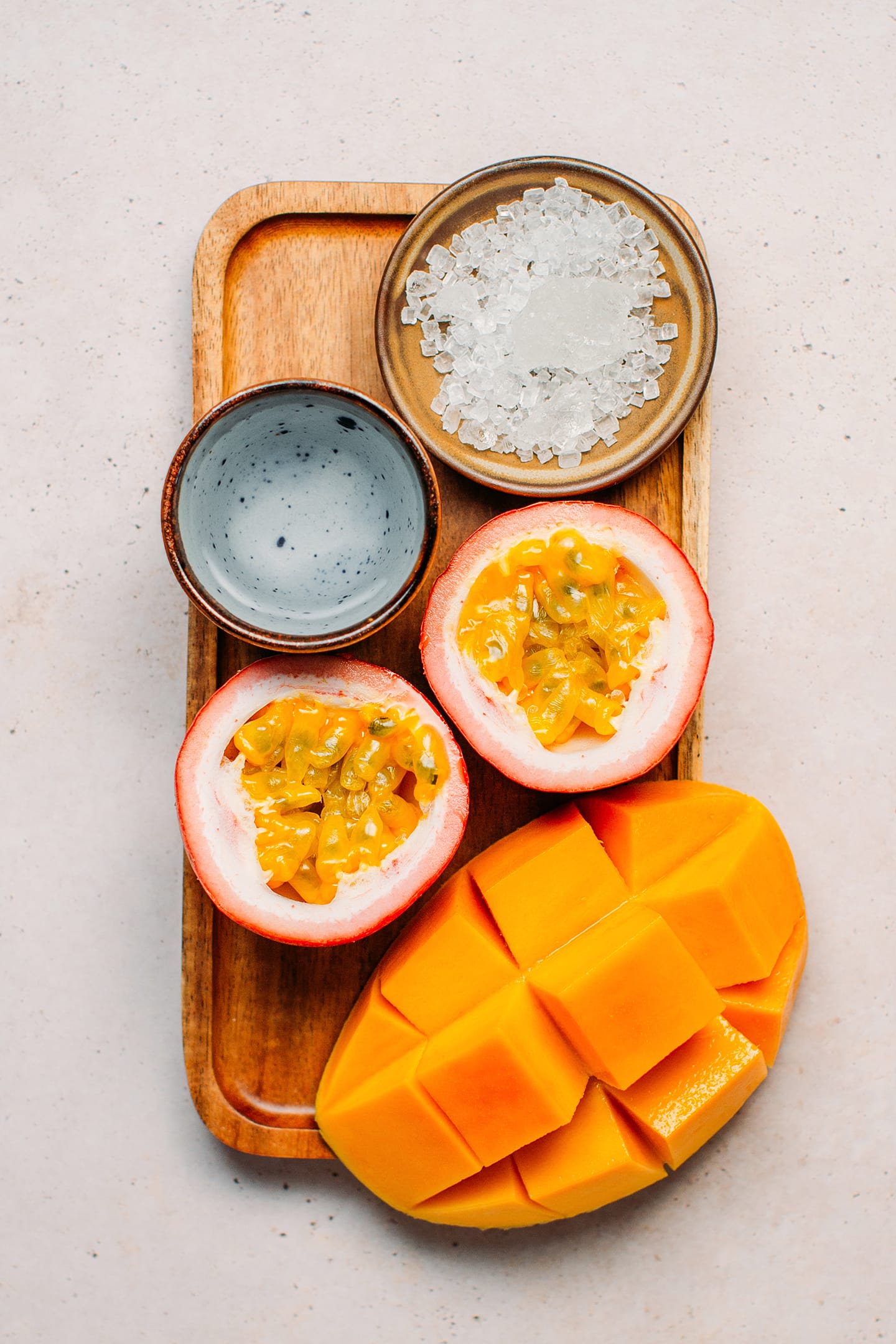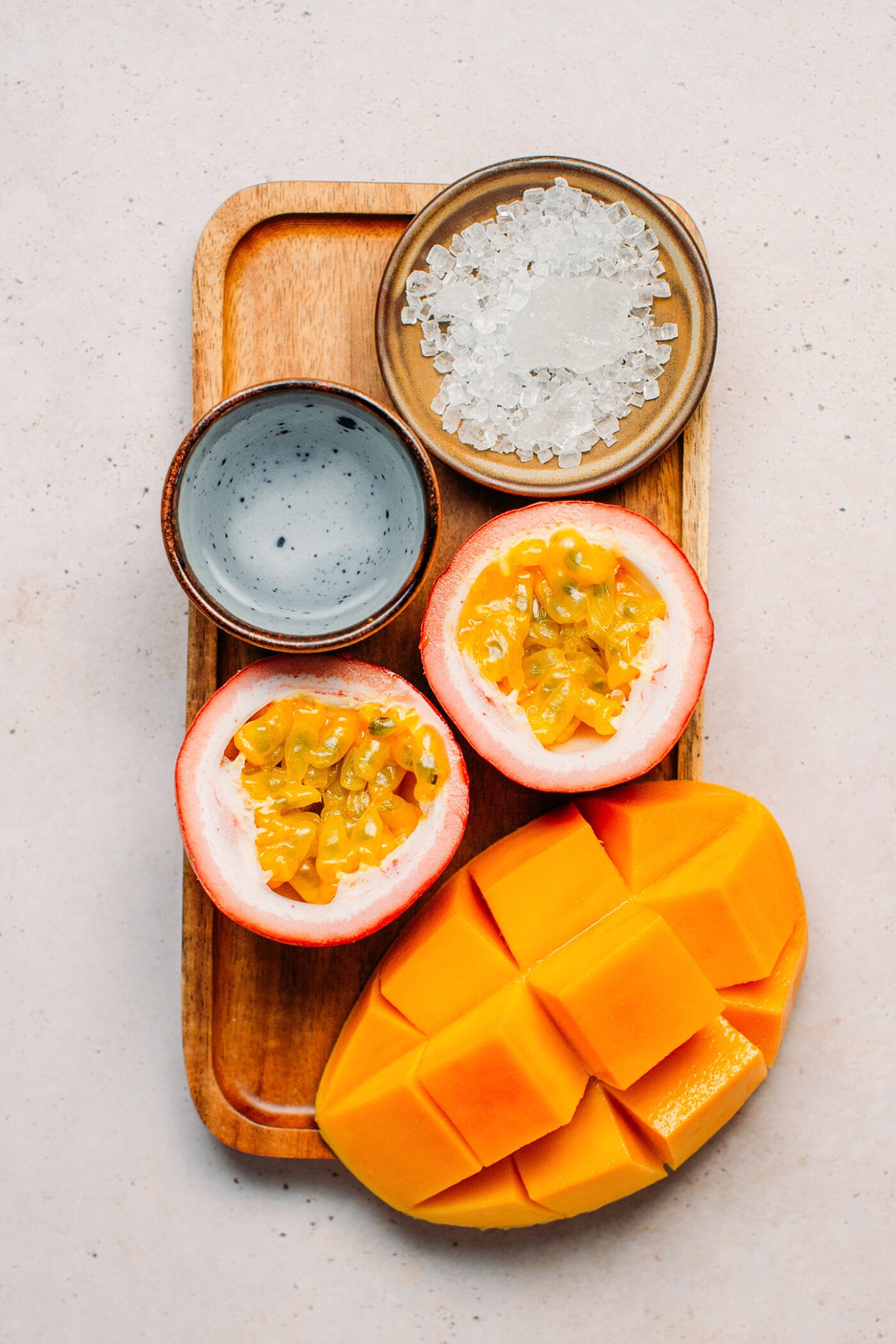 🥭 How to Make Mango & Passion Fruit Liquor
This recipe requires just 4 basic ingredients that you can find at almost any supermarket:
Mango – Use fresh and ripe mangoes. Ataulfo or honey mangoes are perfect for this recipe, but feel free to use your favorite variety!
Passion Fruit – Passion fruit brings a subtlety sour and citrusy flavor.
Rock sugar – We won't be using regular white sugar here. Instead, we are going with rock sugar, which will take a bit longer to dissolve and help raise the sugar concentration slowly. You can use crystal rock sugar or yellow rock sugar.
Alcohol – Any distilled white liquor that is flavorless will work. You need to pick one that is at least 35% alcohol to prevent spoilage. Vodka or shochu works perfectly for this recipe.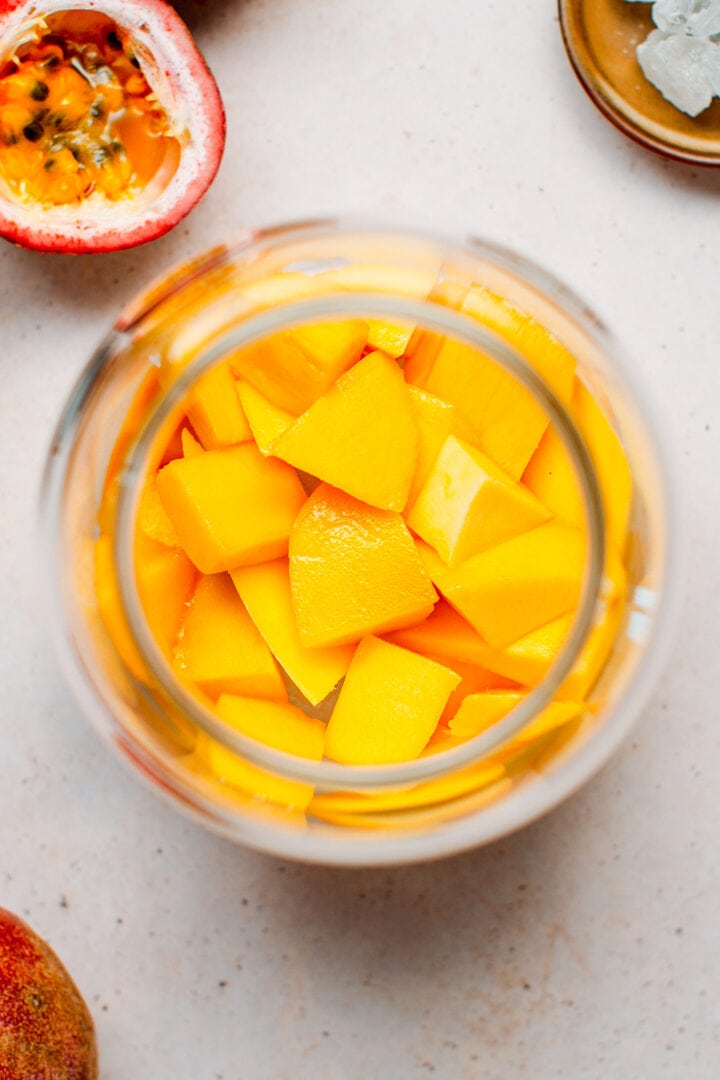 First, start by picking your jar. For one batch, I recommend using a 1.5-L (50-oz) glass jar. If you don't have a large glass jar, you can definitely halve the recipe.
Next, cut the mango into large cubes of about 1 inch and place them into the jar. Add the rock sugar, passion fruit pulp, and cover with the vodka.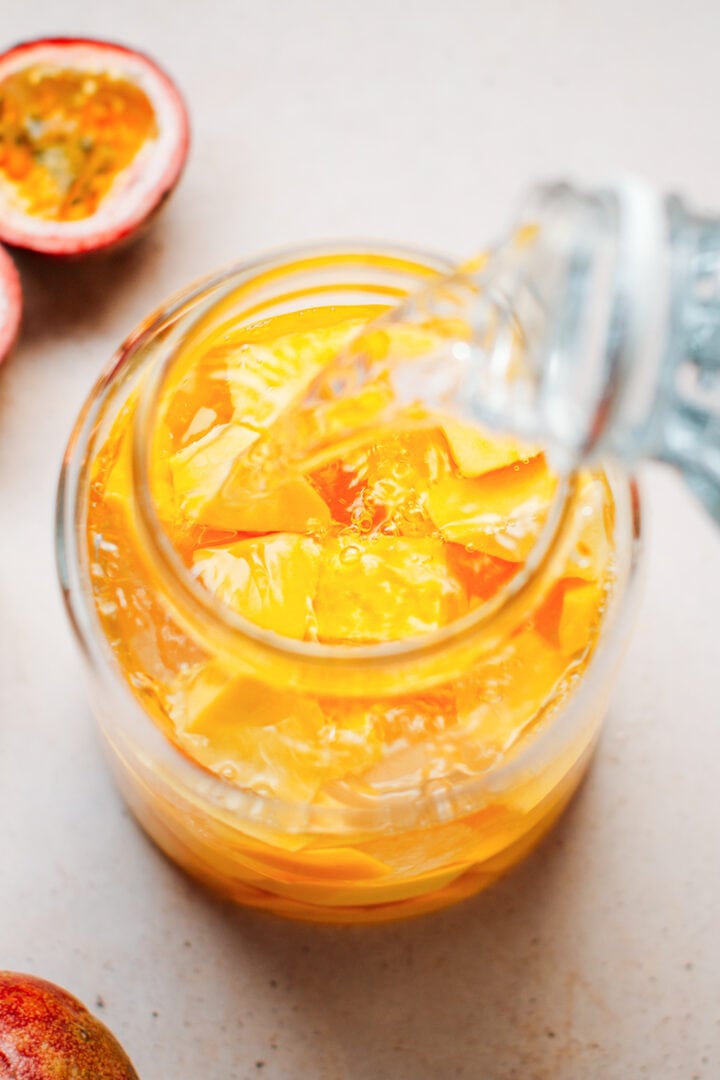 Close with the lid and store the jar in a dark place at room temperature. It's now time to test your patience!
Let the liquor infuse for at least 30 days or up to 2 months. Personally, I found 1 month to be already enough. The liquor had a super fruity and deep mango flavor!
🧊 How to Serve this Liquor
You can serve this liquor:
On the rocks: Simply serve with a few ice cubes for a rich and fruity aperitif. Note: If this liquor is too strong for you, feel free to dilute it a bit with water.
With soda water: For a sparkling and refreshing summer drink! I usually go with a ratio of 1:1 liquor to soda water.
In cocktails: Be creative and use this liquor as a base to make cocktails! Try to combine it with rum, lime, etc! Or how about a mango margarita?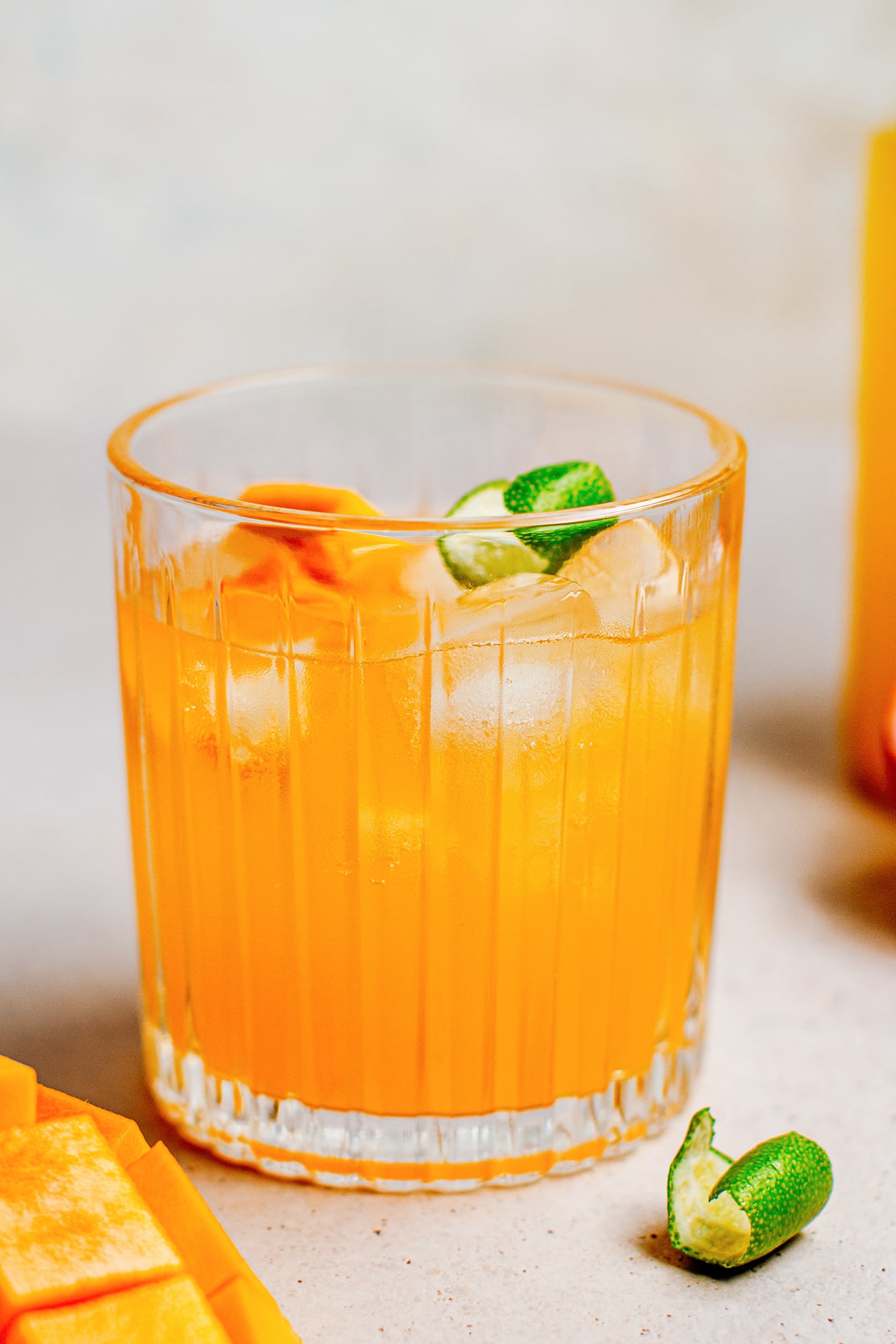 💬 FAQ
Which type of mango works best to make liquor?
Any type of mango will work as long as it is ripe and flavorful. Stay away from the very large mangoes that are usually too watery and flavorless.
How long can I keep this liquor?
Once strained, you can keep this liquor for up to a year. The high alcohol and sugar content will act as a natural preservative.
Can I use a wine with a lower alcohol percentage?
No, if you use alcohol that is less than 35% alcohol, your liquor will probably go bad and ferment. You need a high alcohol percentage to prevent the liquor from being spoiled.
🥃 More Beverage Recipes
Let me know in the comments if you try this recipe!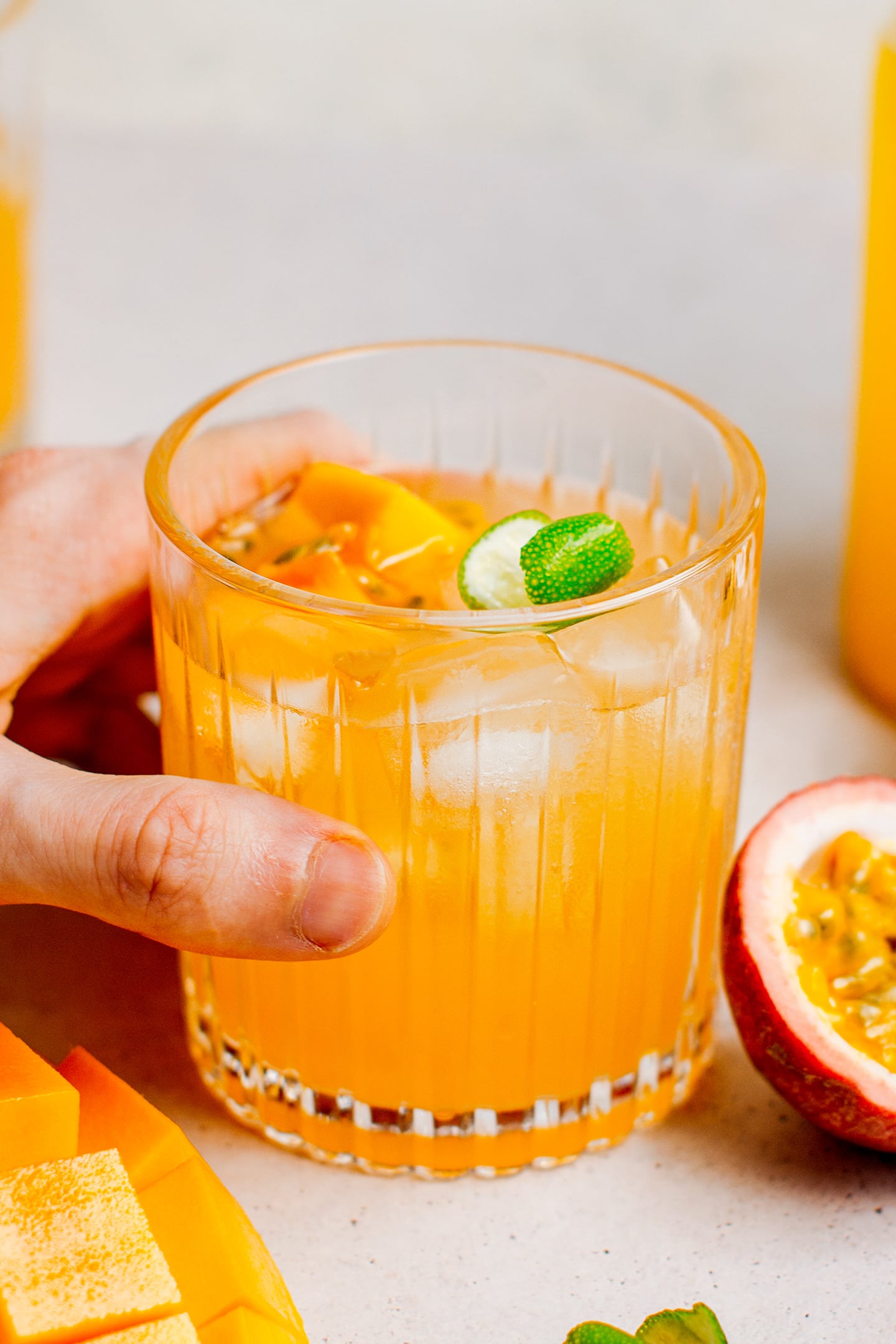 Recipe
Mango & Passion Fruit Liquor
Fresh and fruity homemade liquor infused with fresh mango and passion fruit! Serve chilled as an appetizer, or use it as a base for cocktails!
Ingredients
12

ounces

diced mango

7

ounces

rock sugar

3

cups

vodka

or another distilled spirit above 35% alcohol

6

passion fruits
Instructions
You will need a 1.5 or 2L glass jar to prepare this liquor. Make sure it is perfectly clean.

To the glass jar, add the rock sugar and the diced mango.

Cut the passion fruits in half and transfer the passion fruit juice (including the seeds) to the jar. Pour in the vodka and give it a quick stir. Cover the jar with the lid.

Place in a dark place at room temperature and let it age for about 1 month. After one month, the liquor should have a very fruity smell.

Strain the liquor and discard the mango and passion fruit seeds. Transfer the mango liquor to a clean bottle and enjoy! You can keep this liquor at room temperature for up to 1 year (probably more!).
Did you make this recipe?
Tag @fullofplants on Instagram and hashtag it #fullofplants