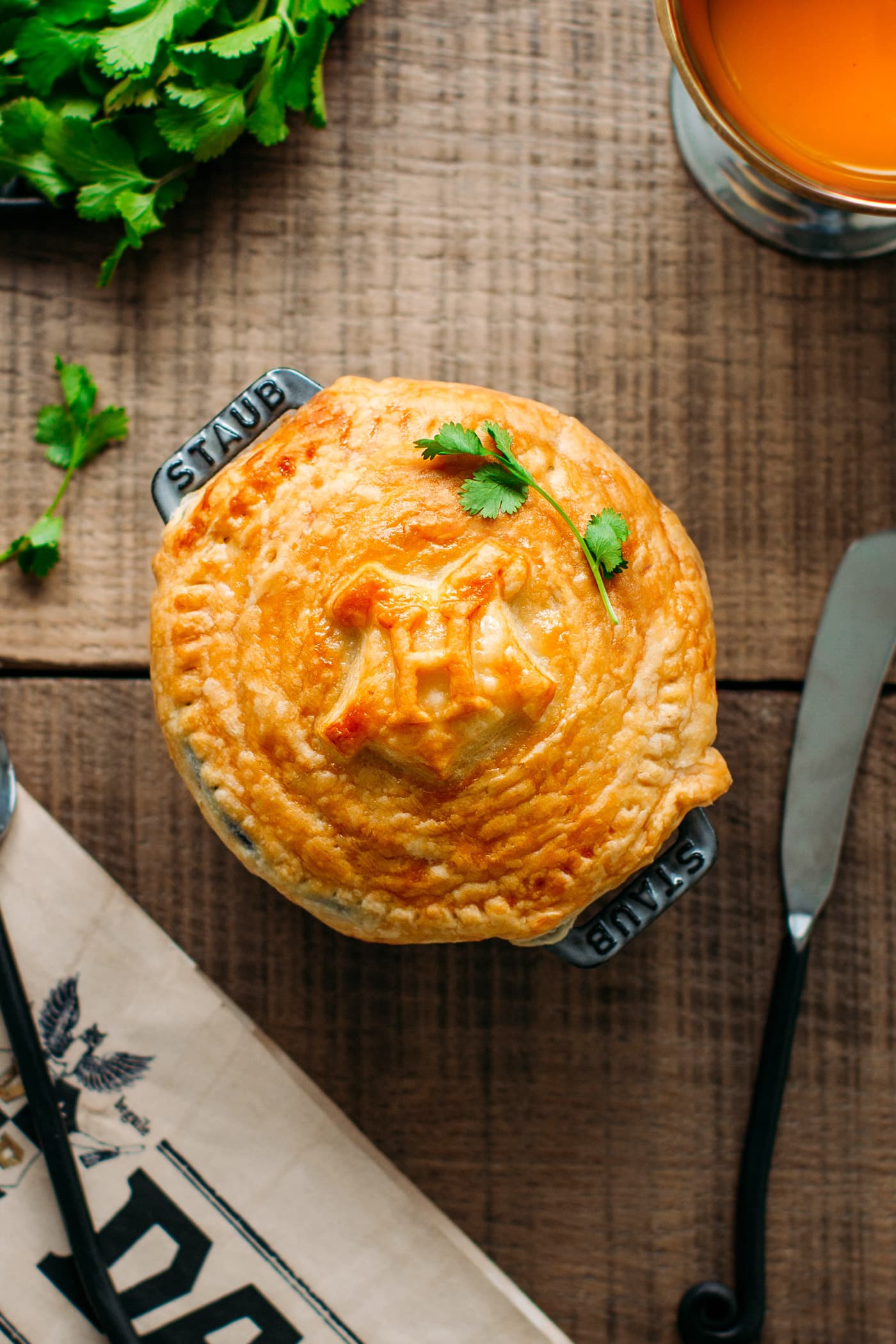 -- This recipe is part of the Harry Potter Inspired Recipes Week --
It's no secret that breakfast at Hogwarts is a feast. From porridge to baked beans and Cheeri Owls, there is something for everyone, but when you are having two Quidditch trainings, one Defense Against the Dark Arts test, and a two-hour long lesson with McGonagall, a hearty breakfast is well needed.
Baked every morning by the house-elves, these buttery little pot pies are "a favorite among students, especially during the Winter" says Riven, the house-elf in charge of the breakfast cooking department. Each pot pie is filled with sautéed mushrooms, carrots, and caramelized onions, and topped with a flaky crust proudly displaying the Hogwarts crest. "It's a recipe we have been making since the opening of Hogwarts, and it hasn't change since. The crest is a little touch that makes our pot pies nicer and more easily recognizable." said Riven.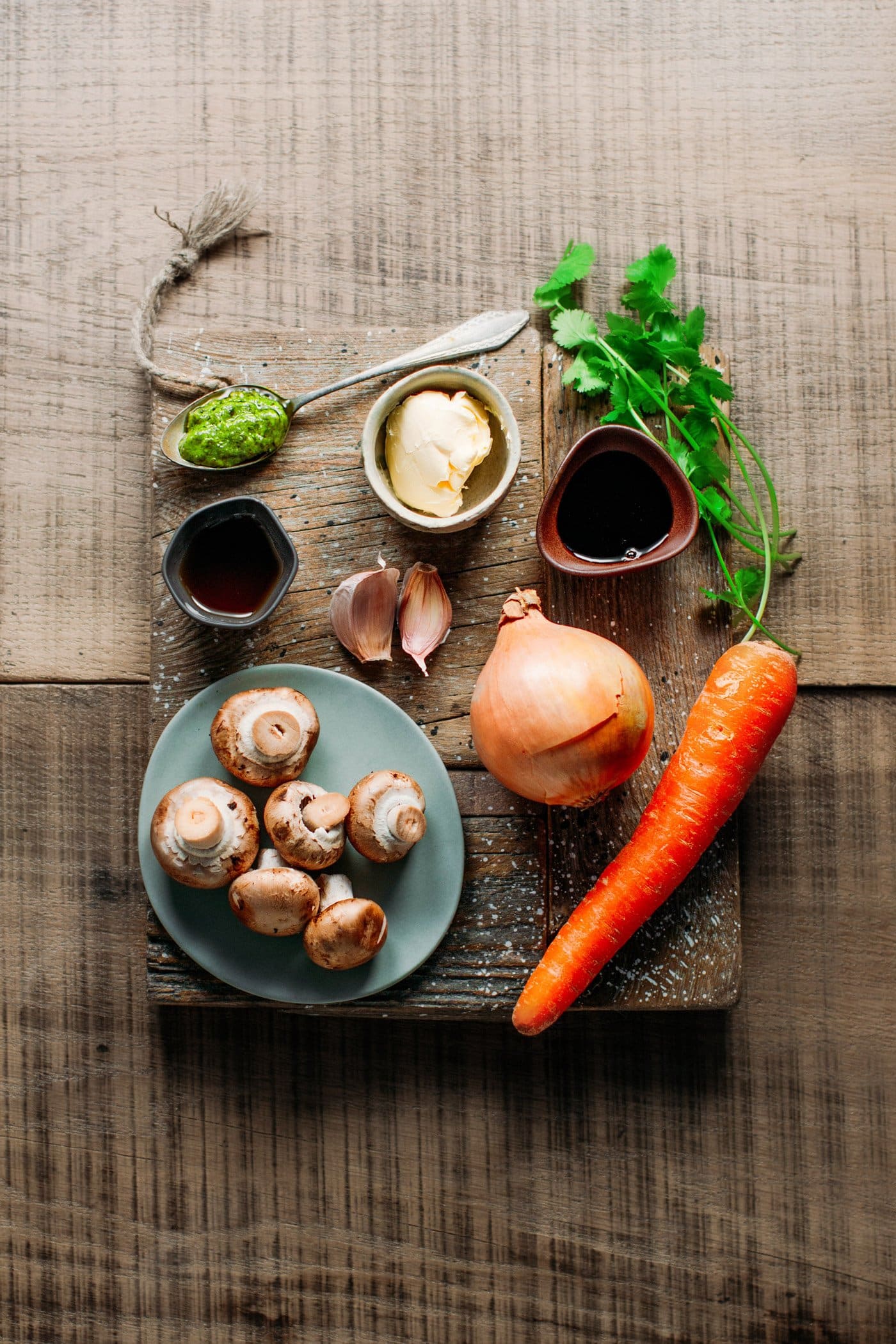 HOW TO MAKE MINI POT PIES
First, you want to prepare the filling that consists of garlic and onions that are sautéed until caramelized. The caramelization will add a ton of flavor and a natural sweetness. Then, we add quartered mushrooms and carrots, and sautée for a few more minutes. I quartered the mushrooms for more texture, but you can slice them if you prefer.
To season, I went with soy sauce for saltiness and umami, and balsamic vinegar that adds a subtle sweetness and sourness. Then we have ground black pepper and a spoonful of vegan pesto. Do not omit the pesto, it really takes the filling to another level.
Next, fill three mini oven-safe ramekins (I used 0.25-QT Staub Cocottes) with the mushroom filling. You want to fill each ramekin almost to the top.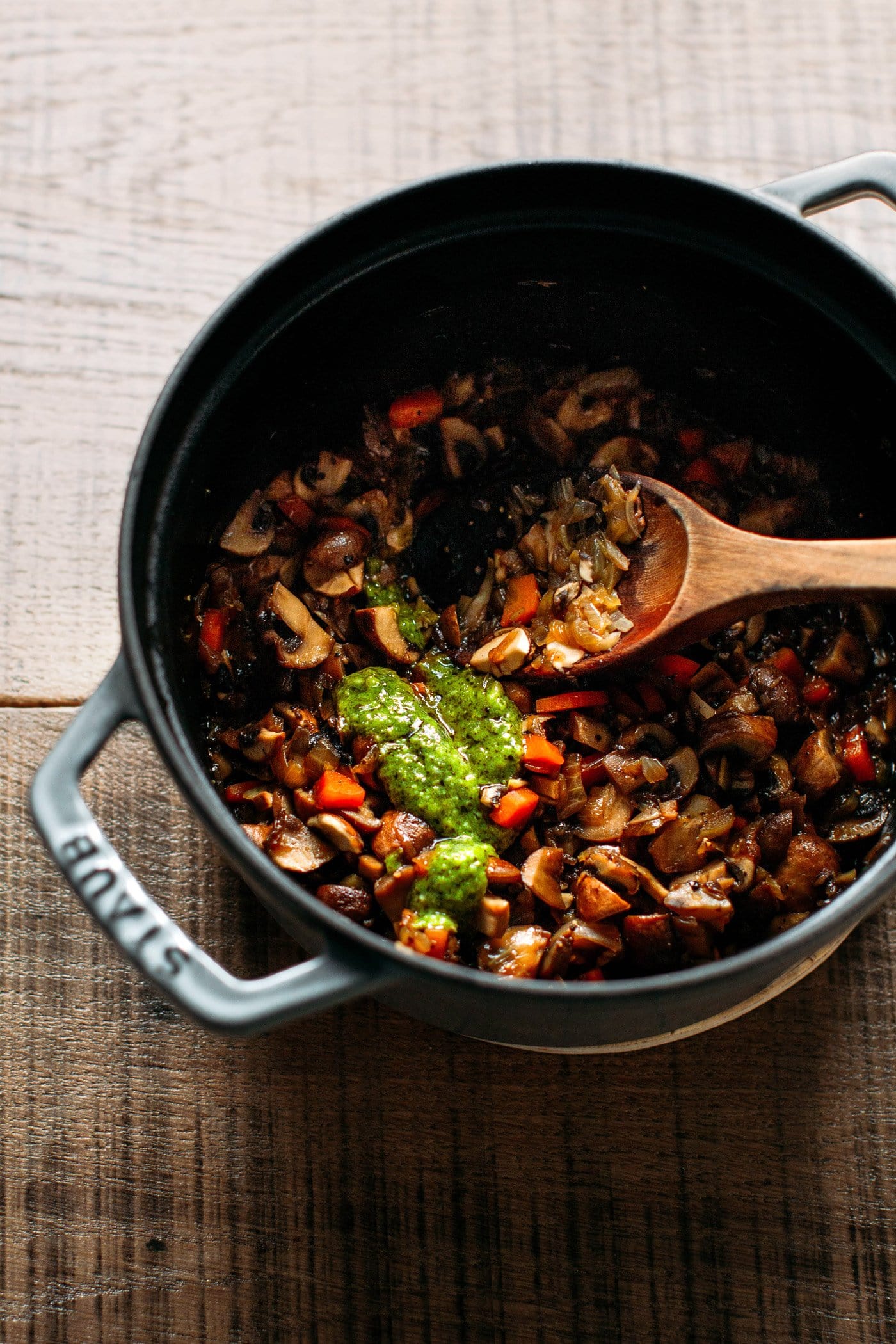 DECORATING
Now it's time to cover your ramekins with puff pastry!
To create the little Hogwarts crest, I simply loaded the logo on my phone and draw it on a piece of parchment paper over the phone screen. Then, cut it and place it on a sheet of puff pastry. Using a small knife, cut out the crest and the H letter. Press them on top of each ramekins and you're almost done!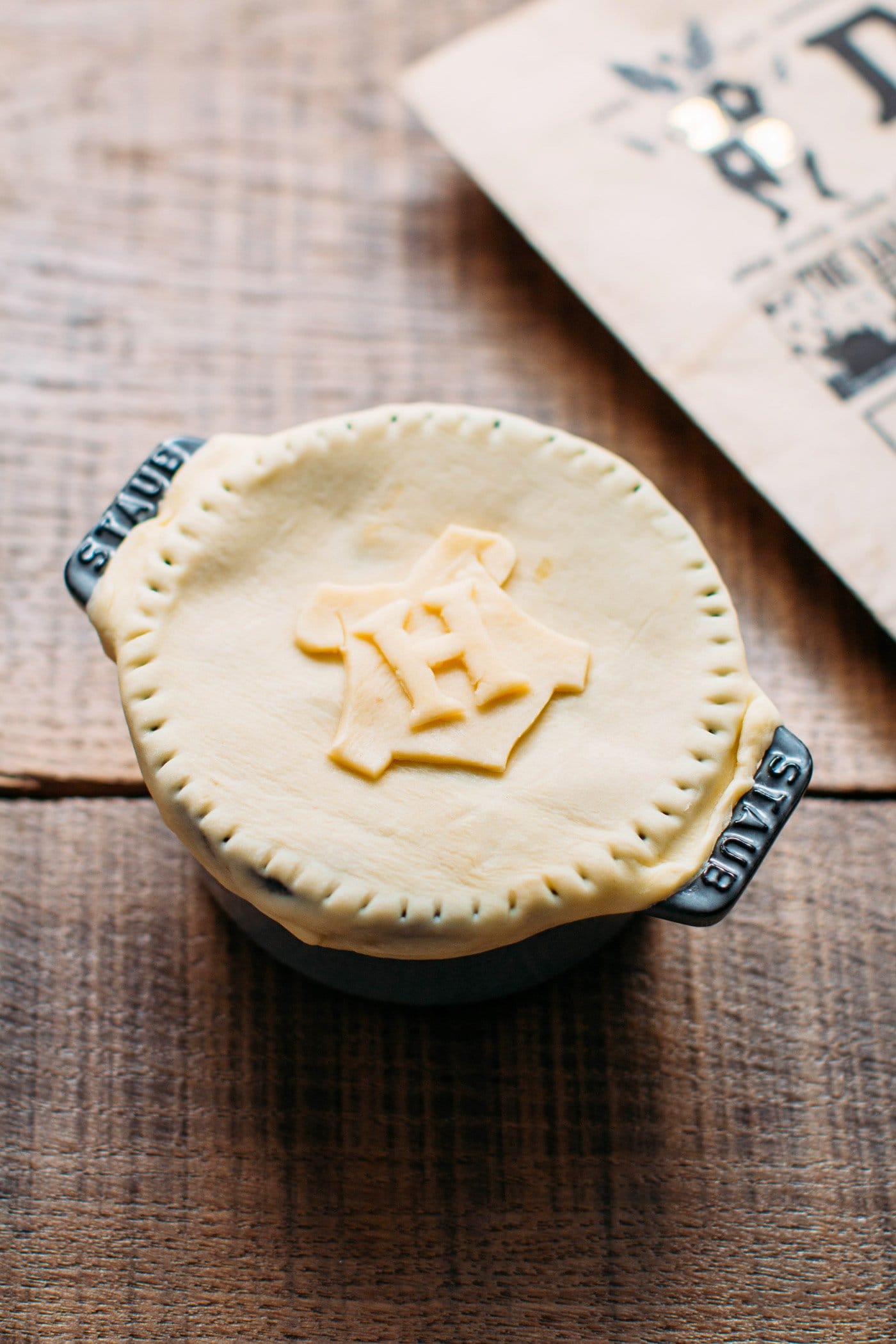 I recommend working with very cold puff pastry as it will be much easier to cut, especially the small H letter.
To finish, brush the pastry with a mix of almond milk and maple syrup, and pop in the oven for about 30 minutes or until golden brown.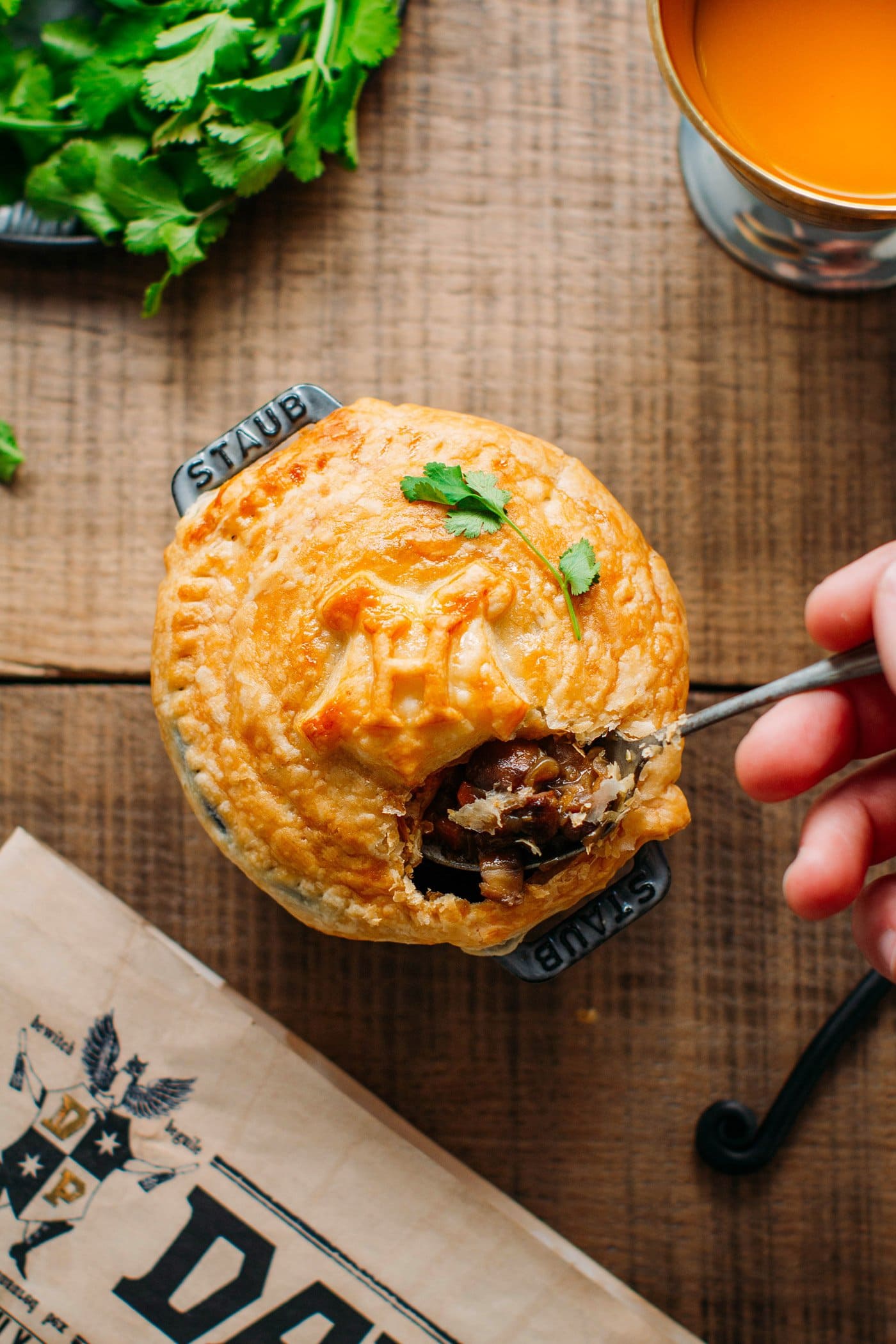 These little pot pies are so comforting! The flaky and perfectly golden puff pastry hides an umami-rich mushroom filling, no wonder Hogwarts students can't get enough of these little pot pies! You can also server these as an appetizer or as a small dinner!
Let me know in the comments if you try this recipe!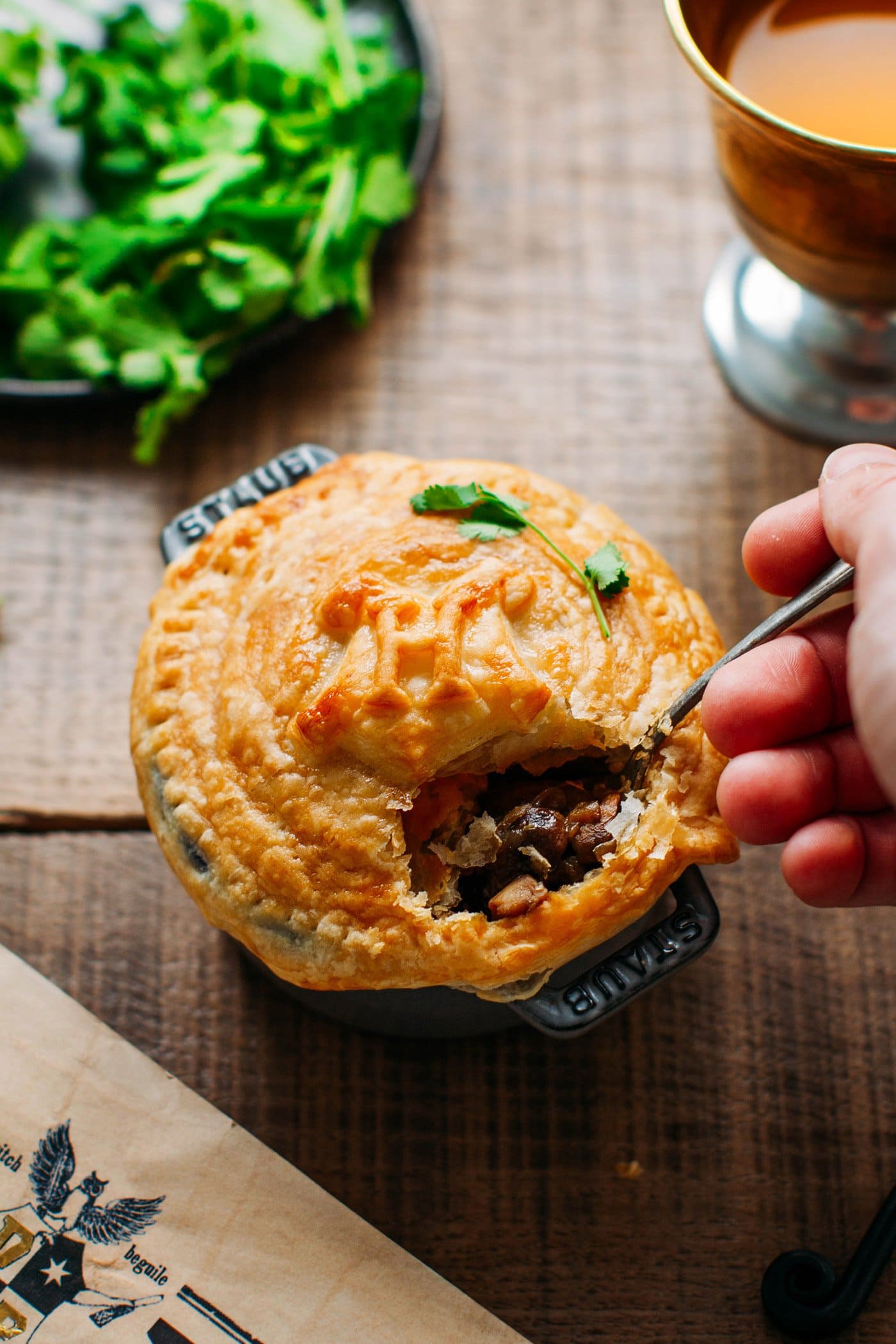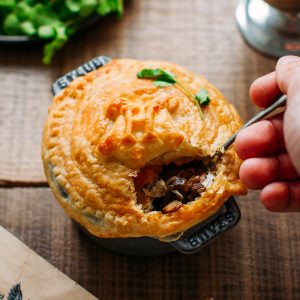 Hogwarts' Butter Mushrooms Pot Pie
Comforting pot pie filled with garlicky butter mushrooms with pesto, and topped with flaky puff pastry!
Ingredients
2

tablespoon

vegan butter

1

large

onion

diced

2

cloves

of garlic

minced

a pinch of salt

2

teaspoon

maple syrup

3

cups

mushrooms

quartered

½

medium

carrot

finely diced

1

teaspoon

soy sauce

½

teaspoon

balsamic vinegar

1

tablespoon

flour

diluted in 2 tablespoon water

½

teaspoon

ground black pepper

1

tablespoon

vegan pesto

1

sheet

vegan puff pastry

3

tablespoon

almond milk

1

tablespoon

maple syrup
Instructions
Preheat oven to 350°F (175°C).

Heat the vegan butter in a medium saucepan, or cast-iron cocotte. Once melted, add the onion, garlic, and a pinch of salt. Sautée for about 5 minutes, or until onions are caramelized. Add the maple syrup and sautée for another 1-2 minutes.

Next, add the mushrooms and carrot and sautée for 5-7 minutes. Deglaze the pan with the soy sauce and balsamic vinegar.

Dilute the flour in 2 tablespoon of water and add it to the saucepan. Stir to combine. Add the ground black pepper and vegan pesto and cook for another minute, stirring regularly.

Divide the mushroom filling between three small ramekins (I used 0.25-Q ones), filling almost all the way to the top.

Cut 3 rounds of puff pastry a bit larger than the size of your ramekins. Cover each ramekin with the puff pastry rounds and use a fork to slightly press the edges. Using a small knife, make 2-3 holes on the puff pastry, this will prevent the pastry from cracking.

To create the little Hogwarts crest, make sure your puff pastry is very cold, straight from the fridge. This will make it easier to work with. Using a sharp knife, cut a little H letter and a crest in shape of the Hogwarts logo. Slightly press them on top of each ramekins.

In a small bowl, combine the almond milk with the maple syrup. Carefully brush the puff pastry with the maple/almond milk. Bake in the preheated oven for about 30 minutes, or until golden brown.

Let it cool a few minutes before serving!
DID YOU MAKE THIS RECIPE?
Tag @fullofplants on Instagram and hashtag it #fullofplants