I have always wanted to make my own cereals.
You will learn that I love making everything from scratch, actually if I had the time to craft my own flour I would do it. So of course I had to create a recipe for healthier, tastier cereals that would be crunchy, spiced, caramelized and obviously easy to make.
Speculoos, a crunchy cinnamon cookie that is often eaten during the Christmas holidays is one of my favorite treat. It is quite popular in Europe, served with coffee, it is similar to gingerbread cookies but crispier. My goal here was to recreate a cereal version of this crunchy cookie made with brown sugar and cinnamon that I could have for breakfast.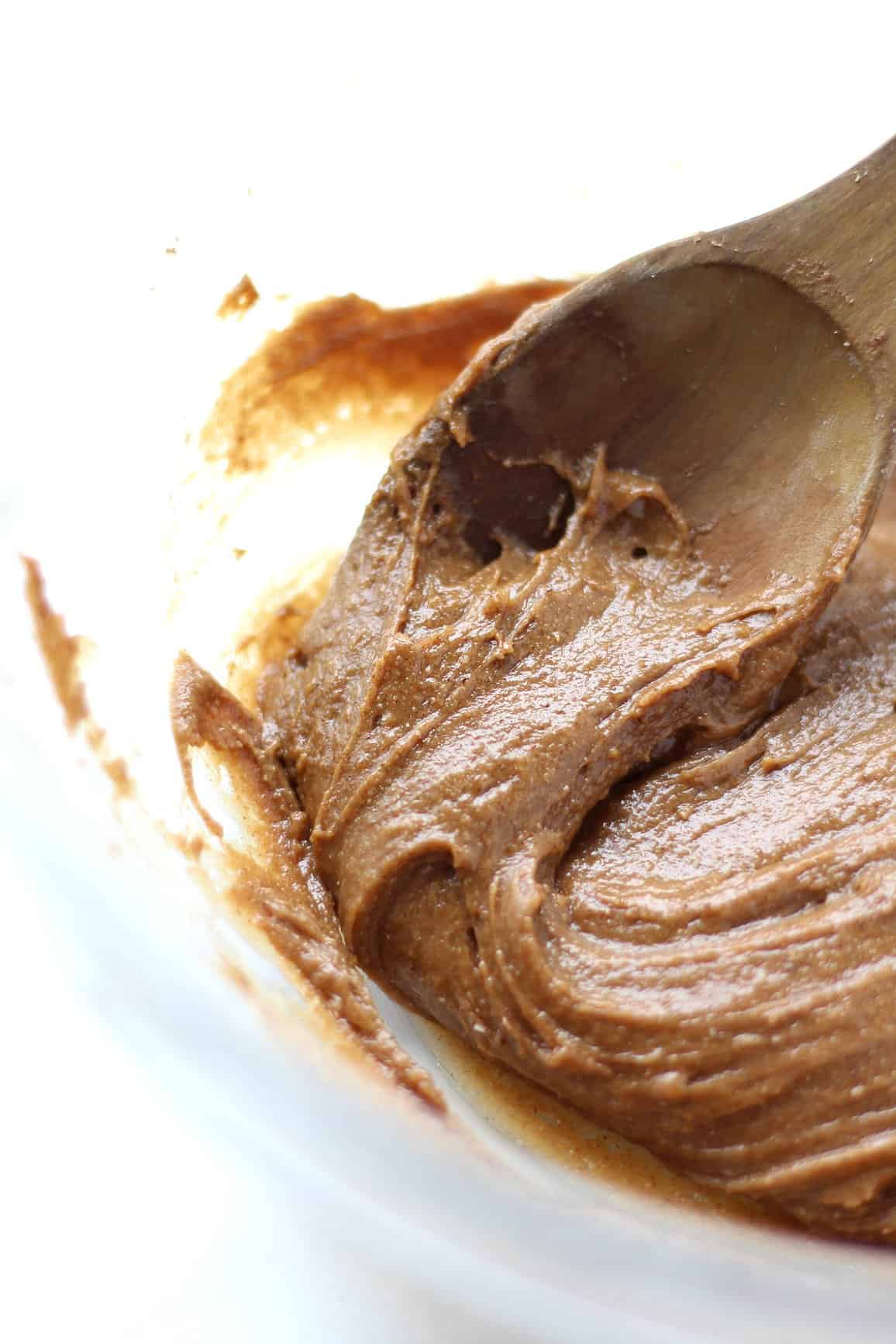 You start with a super easy-to-make batter, fill you pastry bag with it and make bite-sized balls. Put it in your pre-heated oven for 9-12 minutes and you end up with homemade, vegan cereals that are crispy and seriously delicious.
I can already tell you that you won't be buying cereals anytime soon. Double the batch because you will eat a lot more than you plan, trust me.
A big bowl of these cinnamon cereals + fresh homemade almond milk = breakfast in heaven. They stay super crunchy and that subtle caramelized flavor combined with the cinnamon 😍
Did I mention these cereals have a long shelf-life? Like over 1 month if kept in a airtight container. I tried once and they were just as crunchy as fresh ones.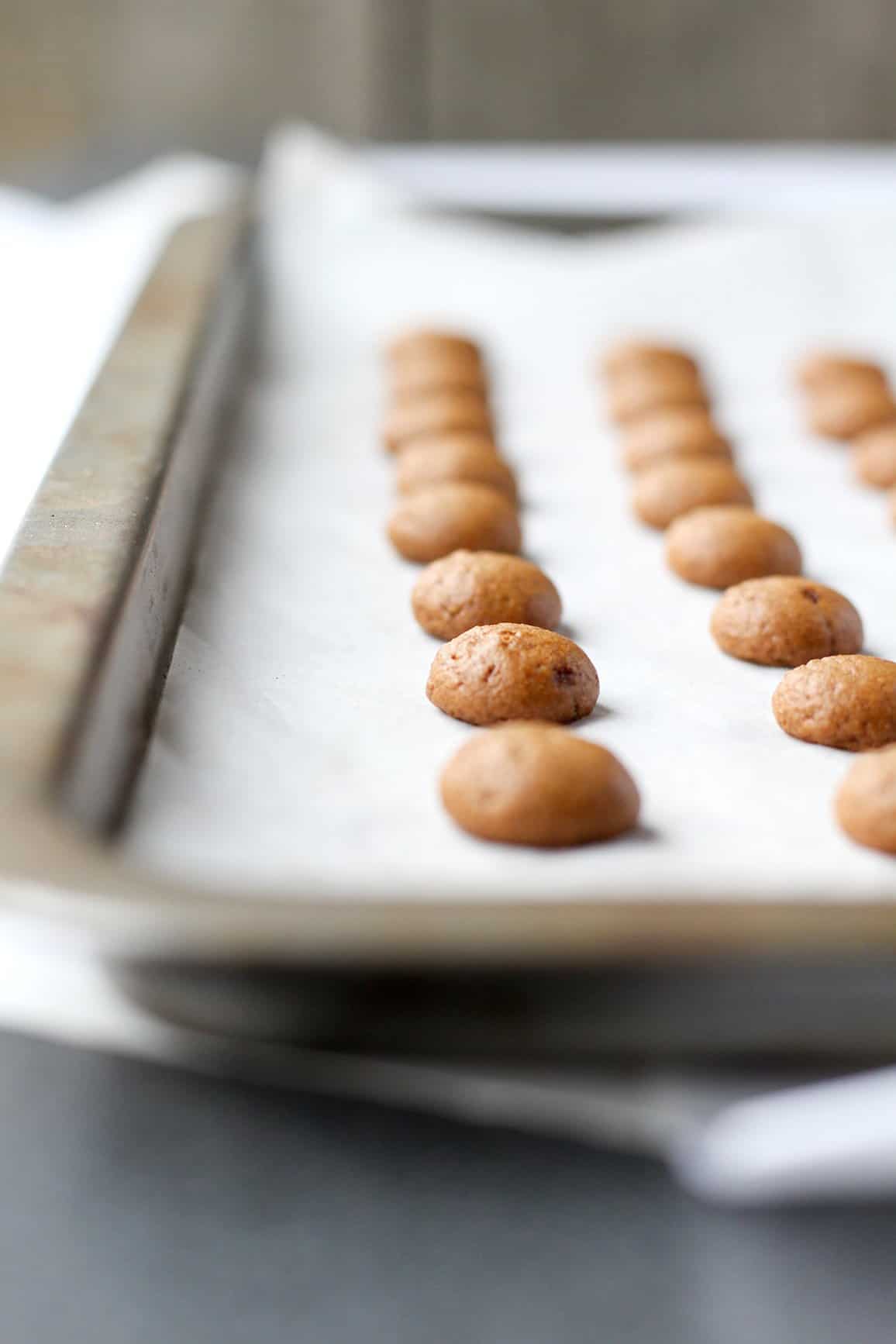 The best part is that you can adjust the spices to your taste and make several versions. Add ½ teaspoon of ground ginger for "Gingerbread", ½ teaspoon of almond extract for "Frangipane" or ½ teaspoon of each, Cardamom and Ginger for "Chai" cereals.
Wouldn't it be fun to make your own cereals? Plus they are a lot healthier, contains only 6 ingredients and less sugar than store-bought cereals.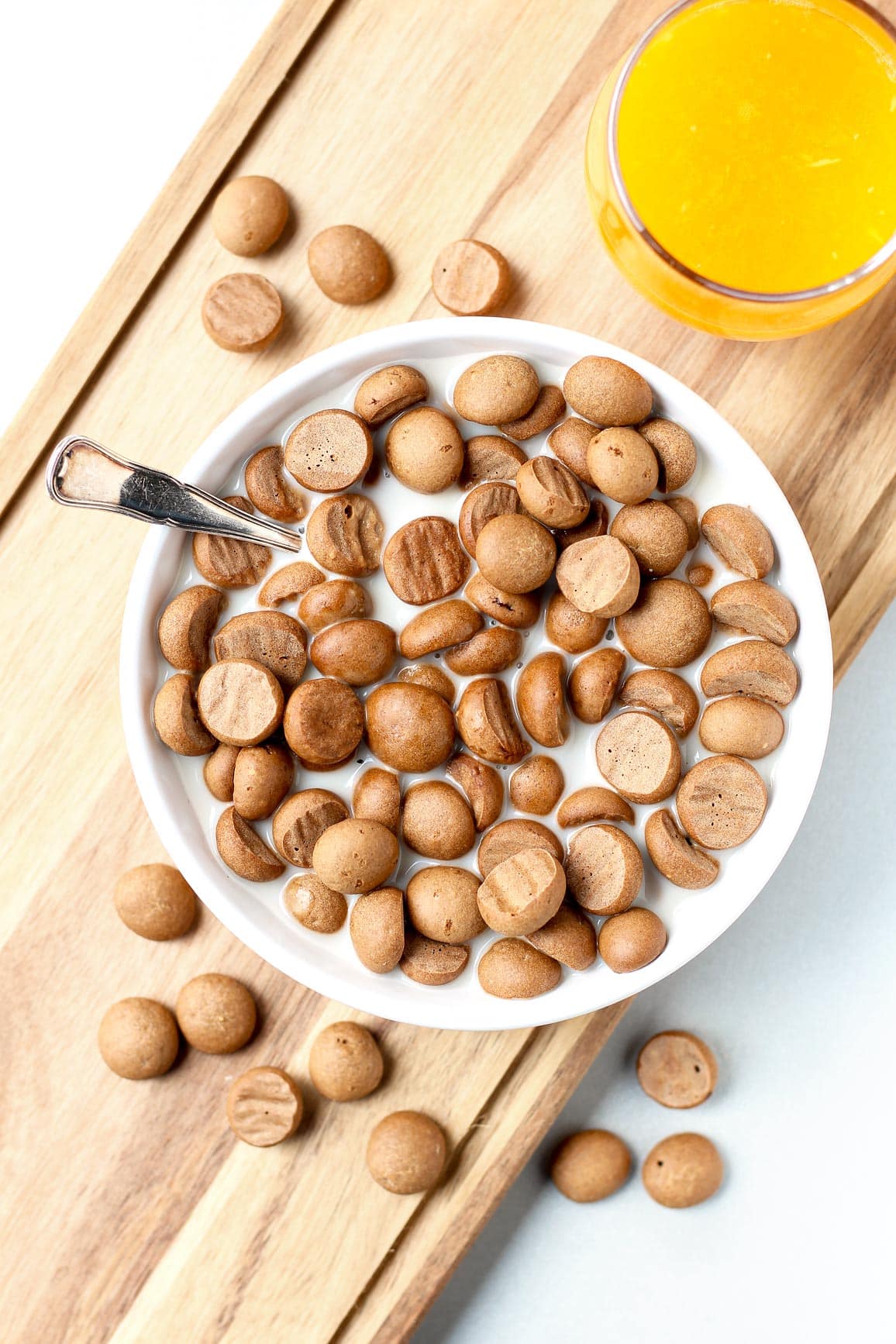 These make a quick and filling breakfast, just fill a bowl, or two with these cereals, add almond milk and you're ready. I particularly like these on cold mornings or simply as a snack. They make a great topping for icecream too.
Let me know in the comments how your cereals turned out!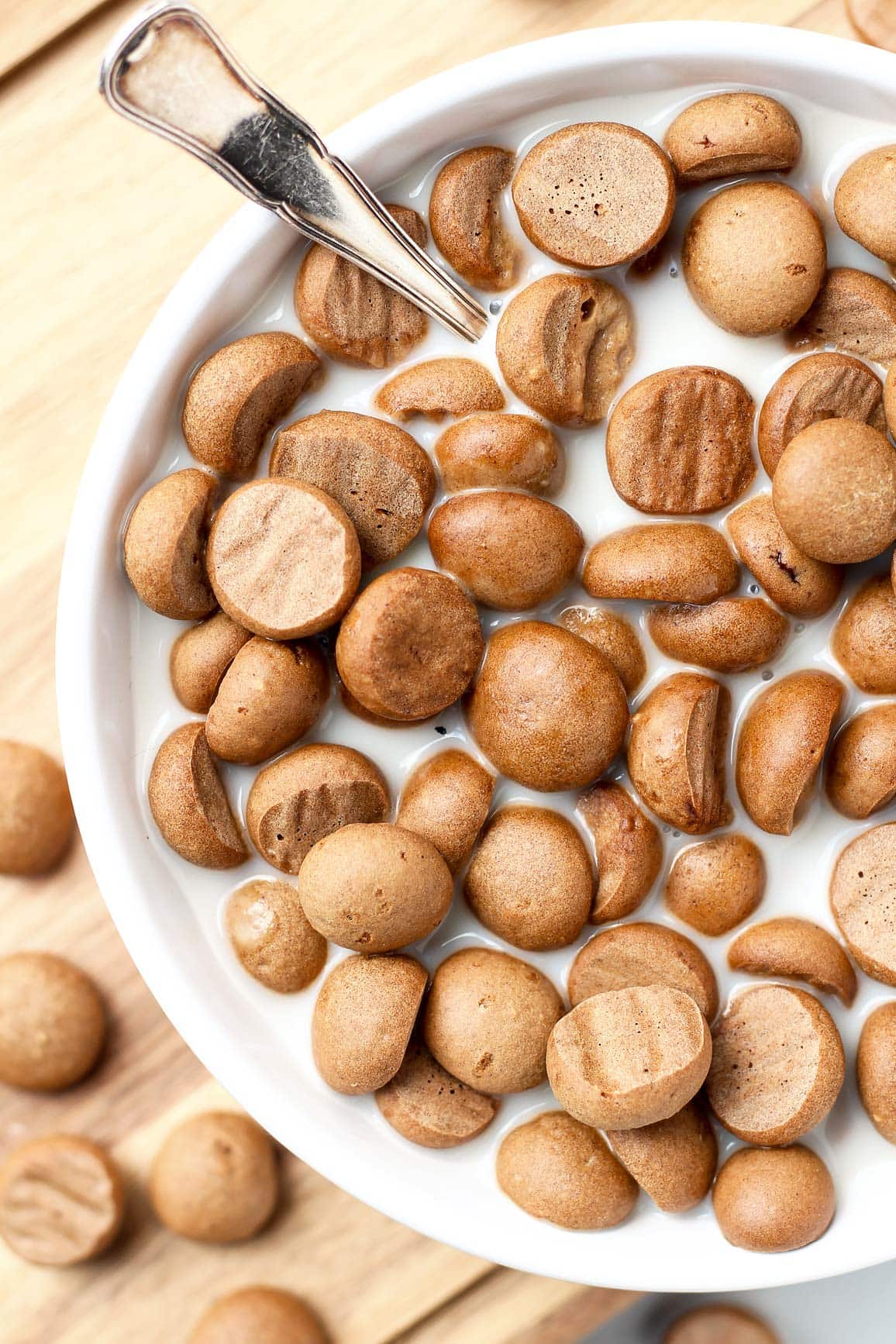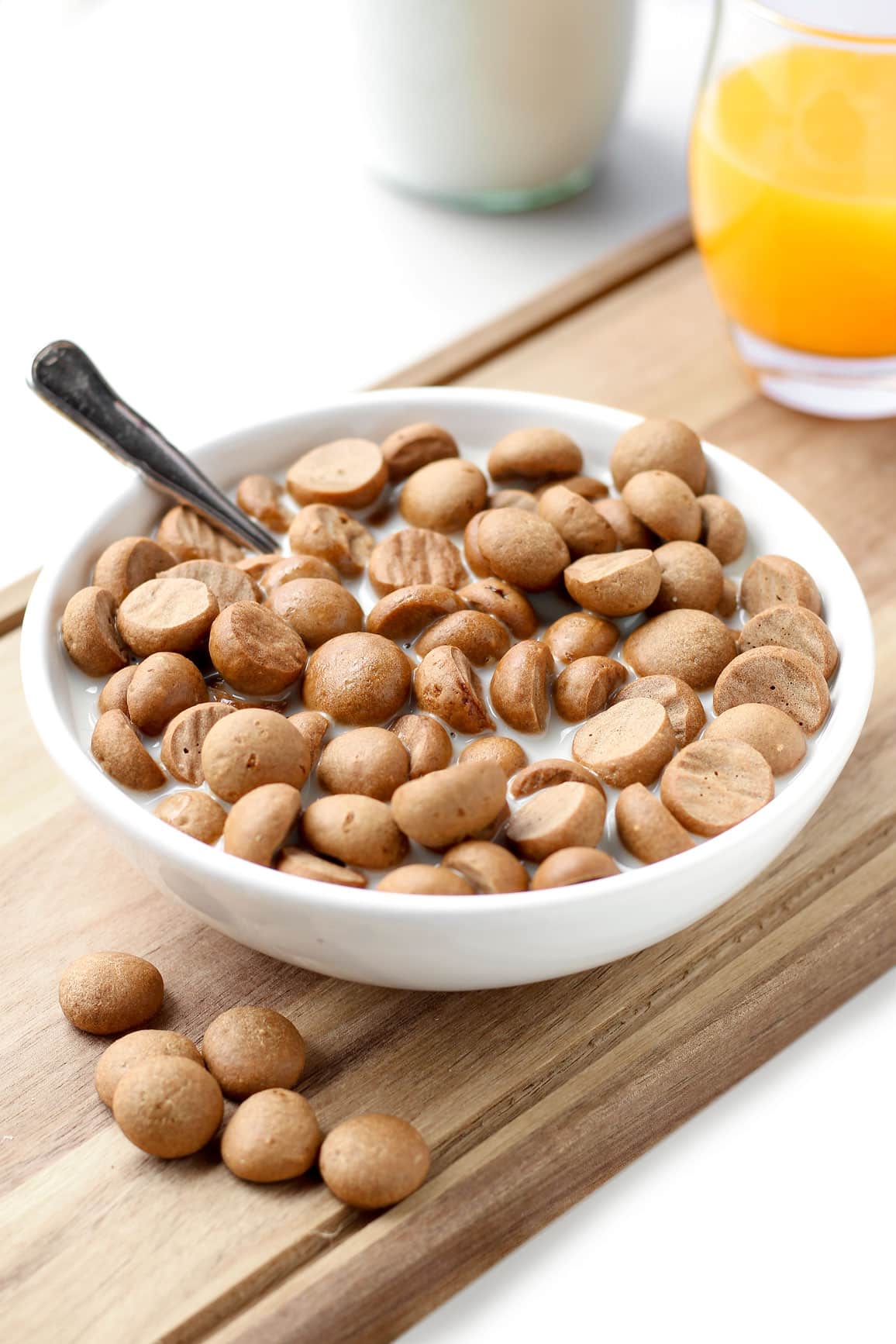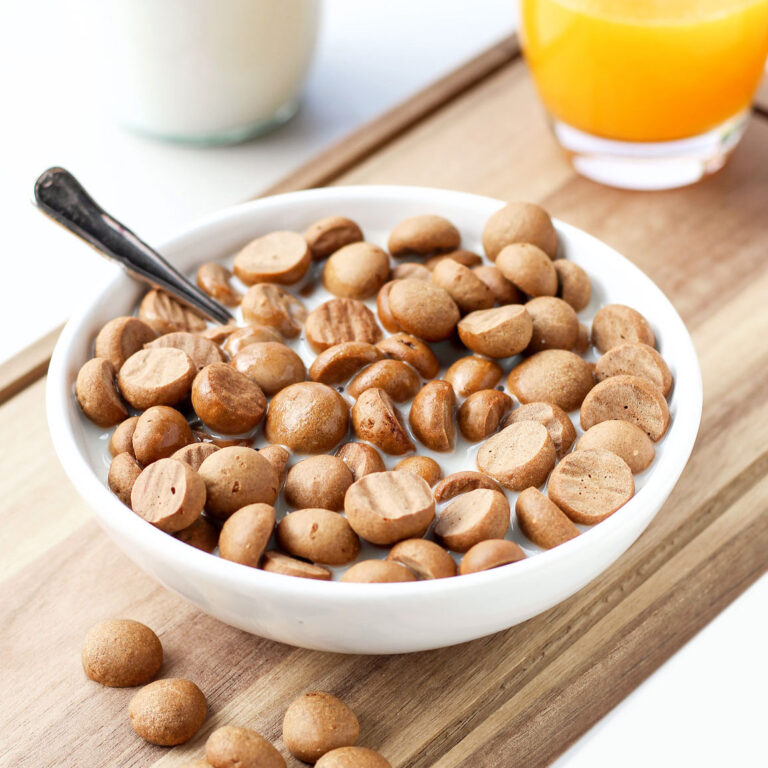 The Best Vegan Cinnamon Cereals
Crunchy, sweet and cinnamon-y, these cereals are perfect with fresh almond milk. You will never buy cereals again!
Ingredients
1

cup

light spelt flour

¼

teaspoon

baking soda

¼

teaspoon

baking powder

1

teaspoon

cinnamon

⅓

cup

packed brown sugar

can substitute with coconut sugar or muscovado

½

cup

almond milk

1

tablespoon

canola oil
Instructions
Preheat oven to 350°.

Mix together all the dry ingredients into a bowl.

Slowly pour milk into the dry ingredients and mix well. Add the oil and mix until combined.

Transfer the batter to a pastry bag fitted with a ¼-inch round tip.

Holding the bag vertically, close to the baking sheet, pipe ¼-inch balls, leaving some space between each. Use a wet knife to cut each ball. This step will take you some time.

Depending on your baking sheets size, you will have to make between 2 and 3 batches.

Bake for about 14 minutes, depending on the size of your cereals. Let cool for 5 minutes and remove from the baking sheet.

Store in a airtight container. Cereals will stay fresh for easily 1 month.
Notes
Light spelt flour can be replaced with all-purpose, whole-wheat flour or another type of flour. The amount of liquid might be adjusted depending on how much liquid the flour is absorbing. Add 2 tablespoon flour if using all-purpose flour.
DID YOU MAKE THIS RECIPE?
Tag @fullofplants on Instagram and hashtag it #fullofplants