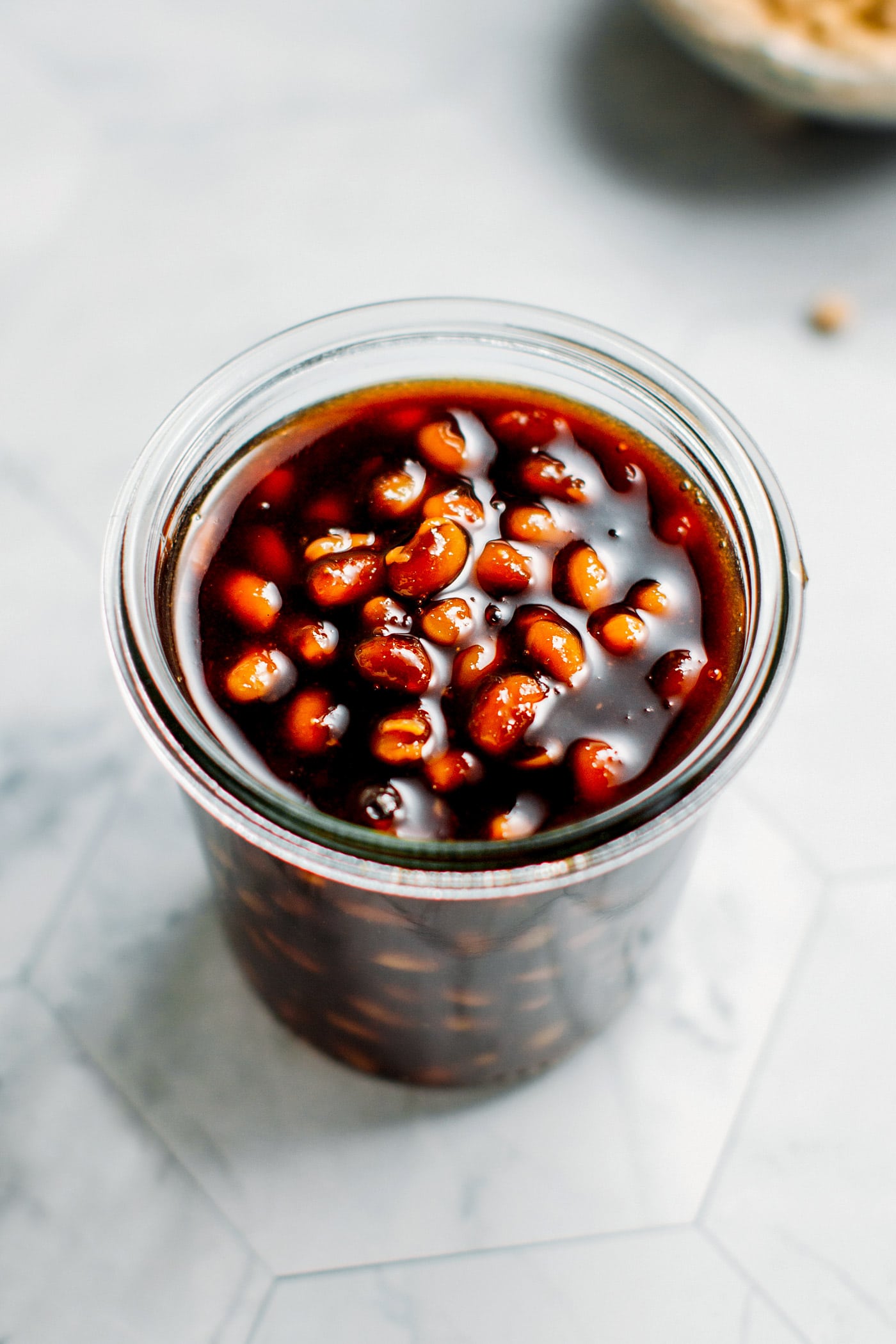 This soybean sauce is an amazing condiment that is umami-packed and perfect to add saltiness, sweetness, and complex flavors to basically any dish!
I first discovered Tương Hột in Viet Nam a couple years ago in a delicious tofu dish (recipe coming soon!). As soon as I tasted it, I knew I had to share a recipe for it!
WHAT IS TƯƠNG HỘT
Tương Hột is a Vietnamese condiment made from fermented soybeans, it is very salty and a bit sweet, depending on the version. This condiment is used to make many different dipping sauces, but is also used in stews, stir-fries, and braised dishes.
The Vietnamese sauce tends to be quite sweet compared to the Chinese versions I tried which contained very little sugar. Here, I'm sharing the Vietnamese-inspired version.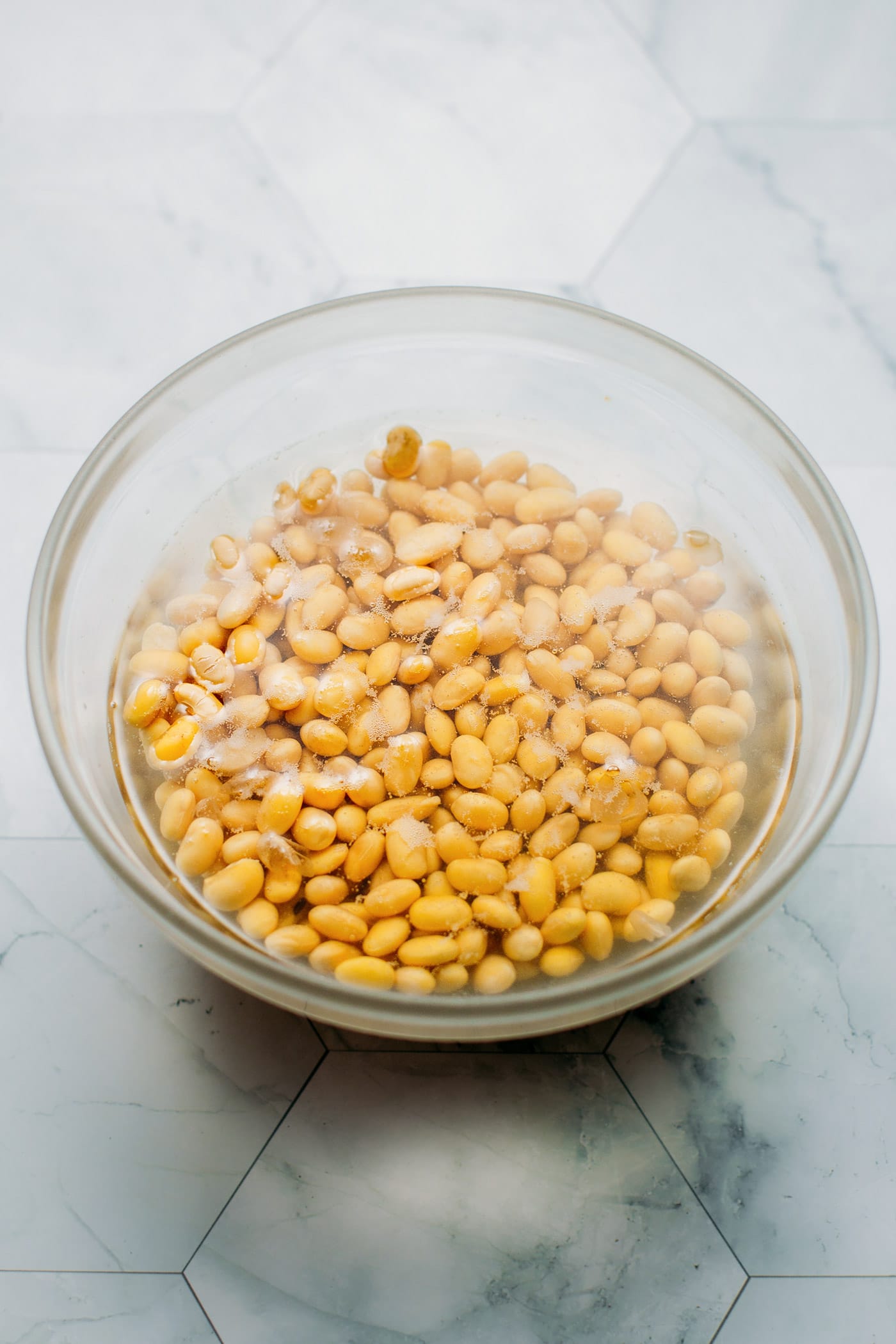 HOW TO MAKE TƯƠNG HỘT
Traditionally, Tương Hột is prepared by fermenting whole soybeans in salt, sugar, and water for at least 30 days (up to a few months) under the sun. Here, I am sharing an easier version of this sauce that doesn't require fermentation. It's just as good and much quicker to prepare!
First, you want to soak the soybeans overnight. The next day, cook the beans until perfectly tender. I used my Instant Pot and pressure cooked for 50 minutes. If cooking on the stove, you might have to cook it for up to 2 hours, or until the beans are soft.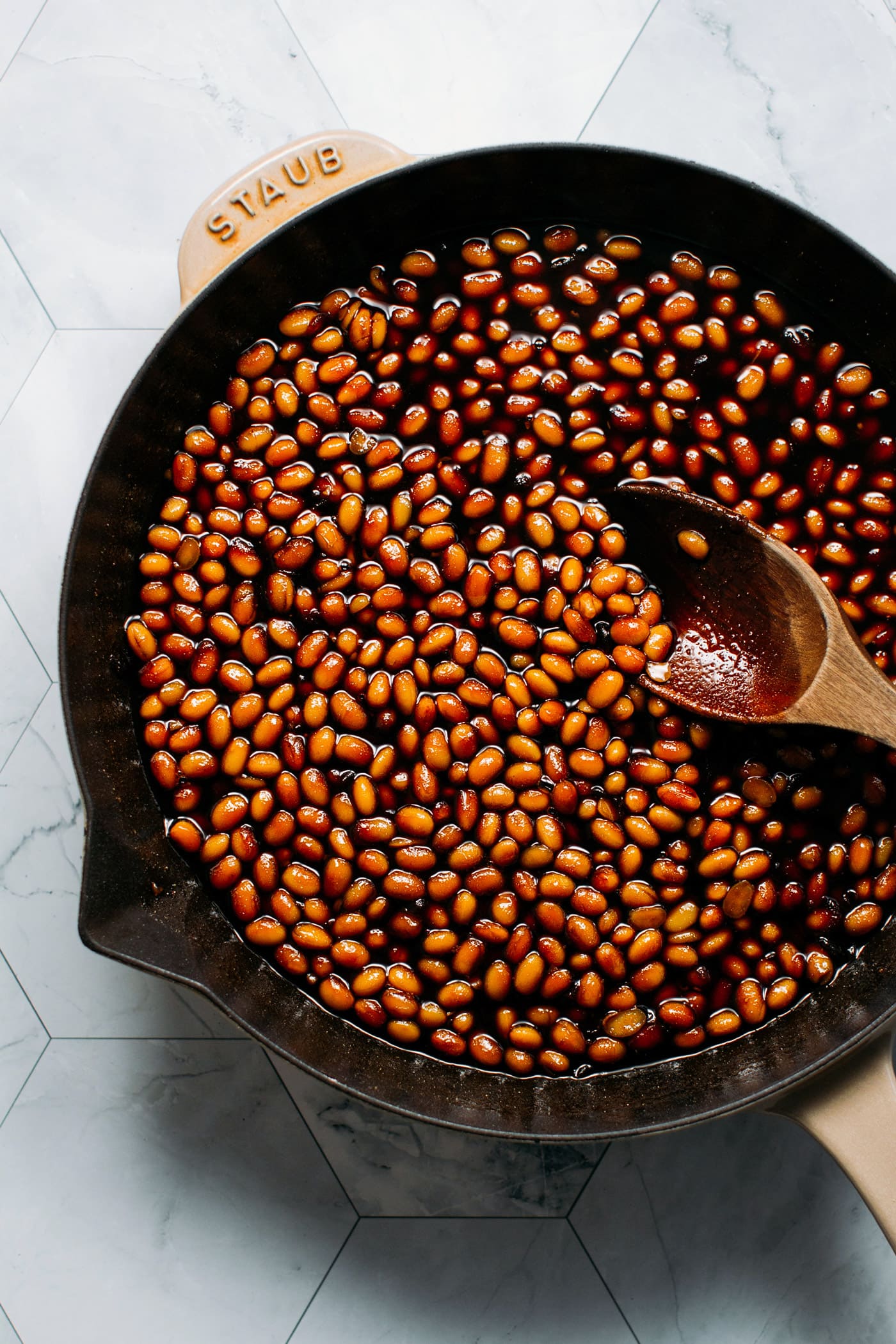 Next, simmer soy sauce with sugar and some of the soybeans cooking liquid. Note: If using Vietnamese soy sauce (Maggi), add a tablespoon of salt. If using regular Japanese soy sauce, simply omit the salt.
Once the sugar has dissolved, add the cooked soybeans and simmer for another 5 minutes. To slightly thicken the sauce, add a couple tablespoons of rice flour and stir until thickened. Transfer to clean jars and let it sit at room temperature for at least 7 days to let the flavors merge and the soybeans soak up the sauce. That's it!
HOW TO USE TƯƠNG HỘT
Add to stir-fries: a couple of tablespoons will bring umami, saltiness, as well as sweetness.
Use it to make spring rolls dipping sauce: Purée ¼ cup of soybean sauce, 2 tablespoon peanut butter, 1 clove of garlic, and ½ chili pepper in a blender. Add 2 tablespoon chopped peanuts and a tablespoon of water to thin it out.
Dilute 2-3 tablespoon with about the same amount of water and add to stews.
Let me know in the comments if you try this recipe!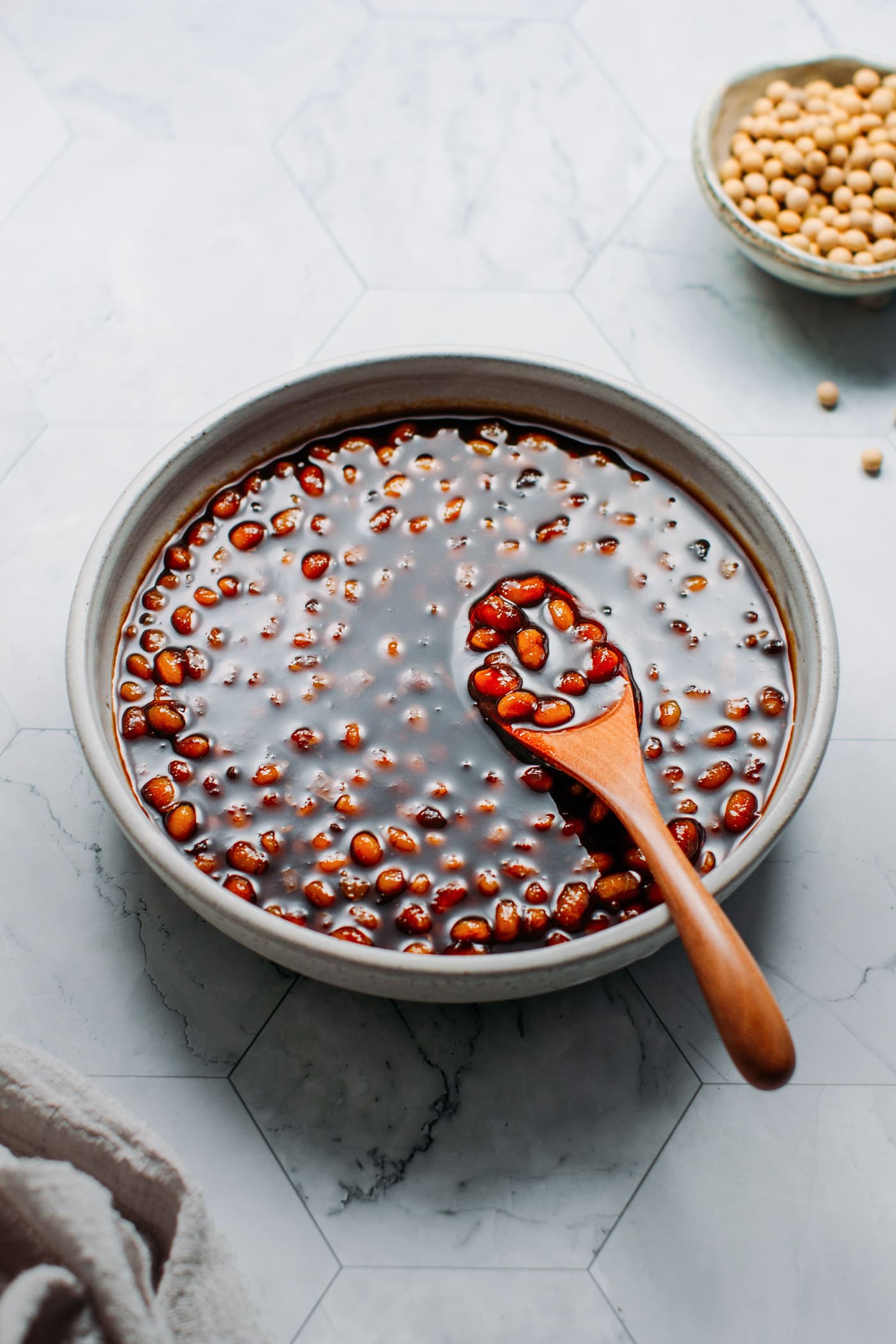 Vietnamese Soybean Sauce (Tương Hột)
Vietnamese-inspired soybean sauce that is umami-packed, salty and a bit sweet. Perfect to add complex flavors to any dish!
Ingredients
½

cup

dry soybeans

soaked overnight

½

cup

soybean cooking water

½

cup

soy sauce

4.5

ounces

sugar

(I used palm sugar)

1 and ½

tablespoon

salt (only if using Vietnamese soy sauce, omit if using regular Japanese soy sauce)

2

tablespoon

rice flour
Instructions
Drain the soybeans and transfer to a pressure cooker or Instant Pot. Cover with water (about 8 cups) and close with the lid. Pressure cook for about 50 minutes. The soybeans should be tender, if they are still chewy cook for another 10 minutes. If you don't have a pressure cooker, boil the soybeans for about 2 hours, checking from time to time until tender.

Reserve about ½ cup of the soybeans cooking water and drain the soybeans.

Pour the reserved soybean cooking water, soy sauce, and sugar into a large saucepan or deep skillet. Bring to a simmer and cook for about 5 minutes, or until the sugar has fully dissolved.

Add the soybeans and let it simmer for another 10 minutes uncovered. In the meantime, prepare 2 clean jars.

Dissolve the 2 tablespoon of rice flour in 2 tablespoon of water and add to the skillet. Cook for another 2-3 minutes, stirring regularly until the sauce has slightly thickened. Remove from heat and let cool about 30 minutes before transferring to the jars.

Close the jars with the lid and let them sit for at least 7 days, or up to 14 days at room temperature. This will allow the flavors to merge and the soybeans to soak up the flavors of the sauce.

Keep in the refrigerator for up to 6 weeks. Use in stir-fries, stews, and dipping sauce!
Nutrition
Serving:
70
g (¼ cup)
Calories:
160
kcal
Carbohydrates:
23
g
Protein:
8.6
g
Fat:
4.2
g
Fiber:
2.1
g
Sugar:
15.7
g
DID YOU MAKE THIS RECIPE?
Tag @fullofplants on Instagram and hashtag it #fullofplants