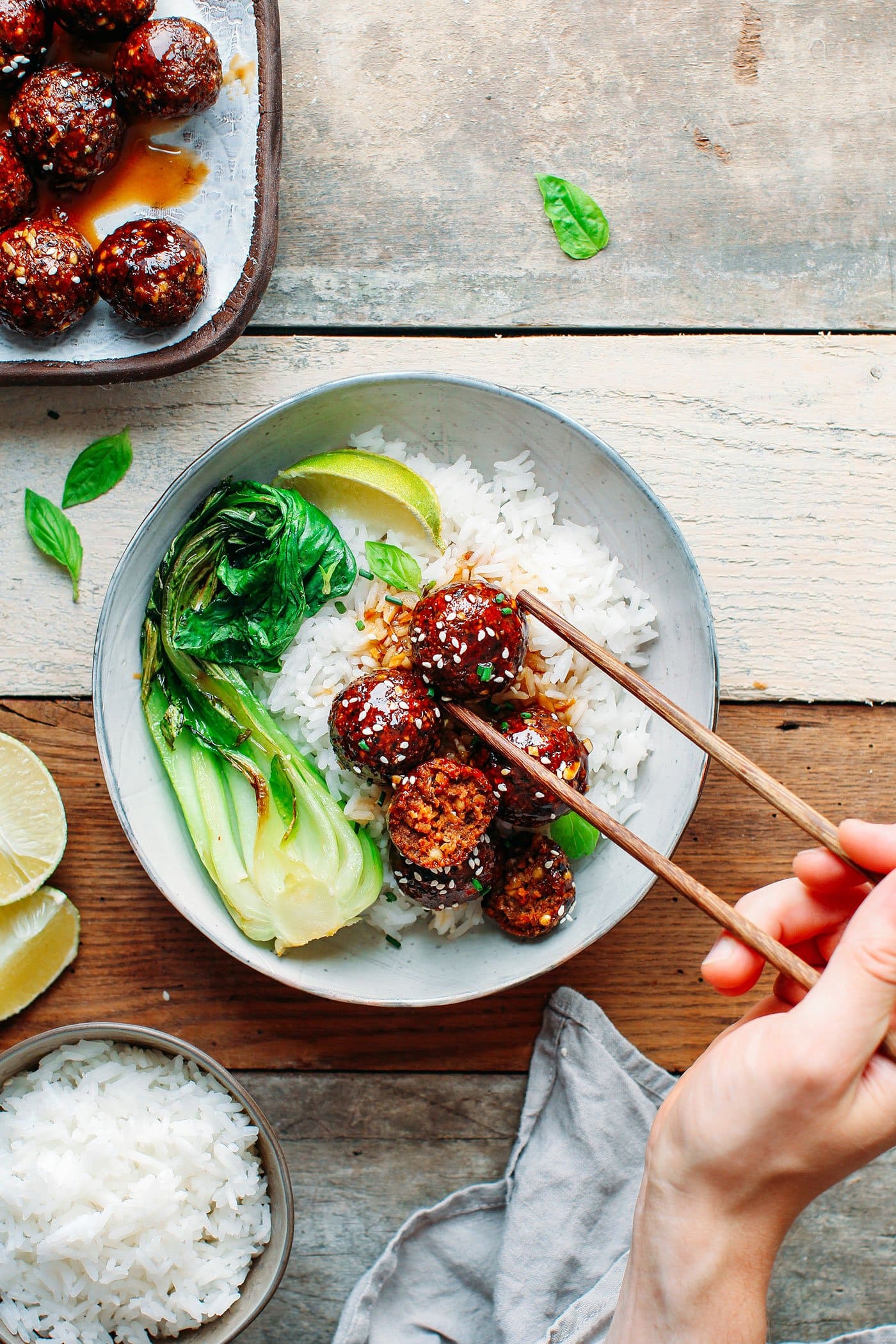 Tender, meaty, and flavorful vegan teriyaki meatballs are here!
I'm super excited to share this recipe with you as it's the best "meatballs" I ever made. Plus, they come with a sweet and salty teriyaki sauce that, let's be honest, makes them 10 times better.
We start with the aromatics. Cook onion and garlic until fragrant, then add the mushrooms that will not only add a ton of flavor but also texture and moisture to the balls. Once the mushrooms are cooked and have reduced, it's time to add the spices. I went with smoked paprika, cumin, chili, and oregano.
Next, you transfer the mixture to a food processor and add the rest of the ingredients. Almond flour adds richness, pecans crunchiness, and red kidney beans softness. For even more texture, I added cooked buckwheat groats. I have used them many times in savory or sweet recipes, I love their nutty flavor and chewy texture. If you can't find buckwheat groats, you can use brown rice, steel-cut oats, or bulgur.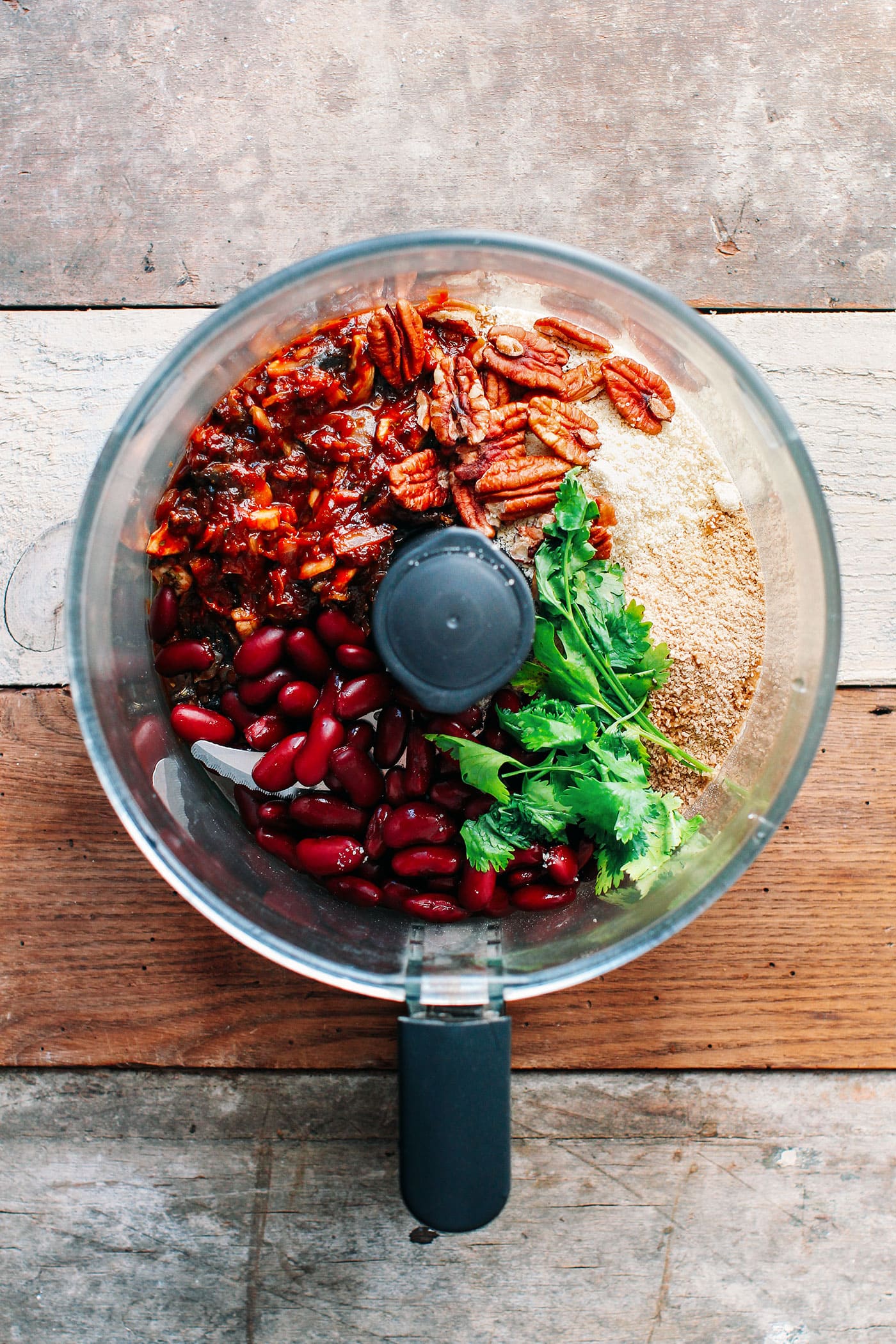 Give it a few pulses until it has a coarse texture that looks like ground meat. Then transfer to a bowl and add some vital wheat gluten. I try to keep most of the recipes here gluten-free, but once in a blue moon, I use all-purpose flour, or in this case, pure gluten. The reason I added gluten is to give the meatballs a stretchy texture. It's very subtle, as I don't use it much, but it's enough to take them to the next level, plus they hold together better.
Now, if you want to make the balls gluten-free, omit the gluten. Obviously, you won't have the same meaty texture, but they will still taste great!
Finally, shape into balls and bake for about 20 minutes in the oven before shallow-frying in a skillet until golden brown.
The teriyaki sauce is very easy. You combine soy sauce, maple syrup, toasted sesame oil, lime juice, and minced garlic in a small bowl. Then dissolve a teaspoon of cornstarch into it so the sauce thickens when heated. Pour the sauce into the skillet, mix to coat the balls, and remove from heat. It's now ready to serve!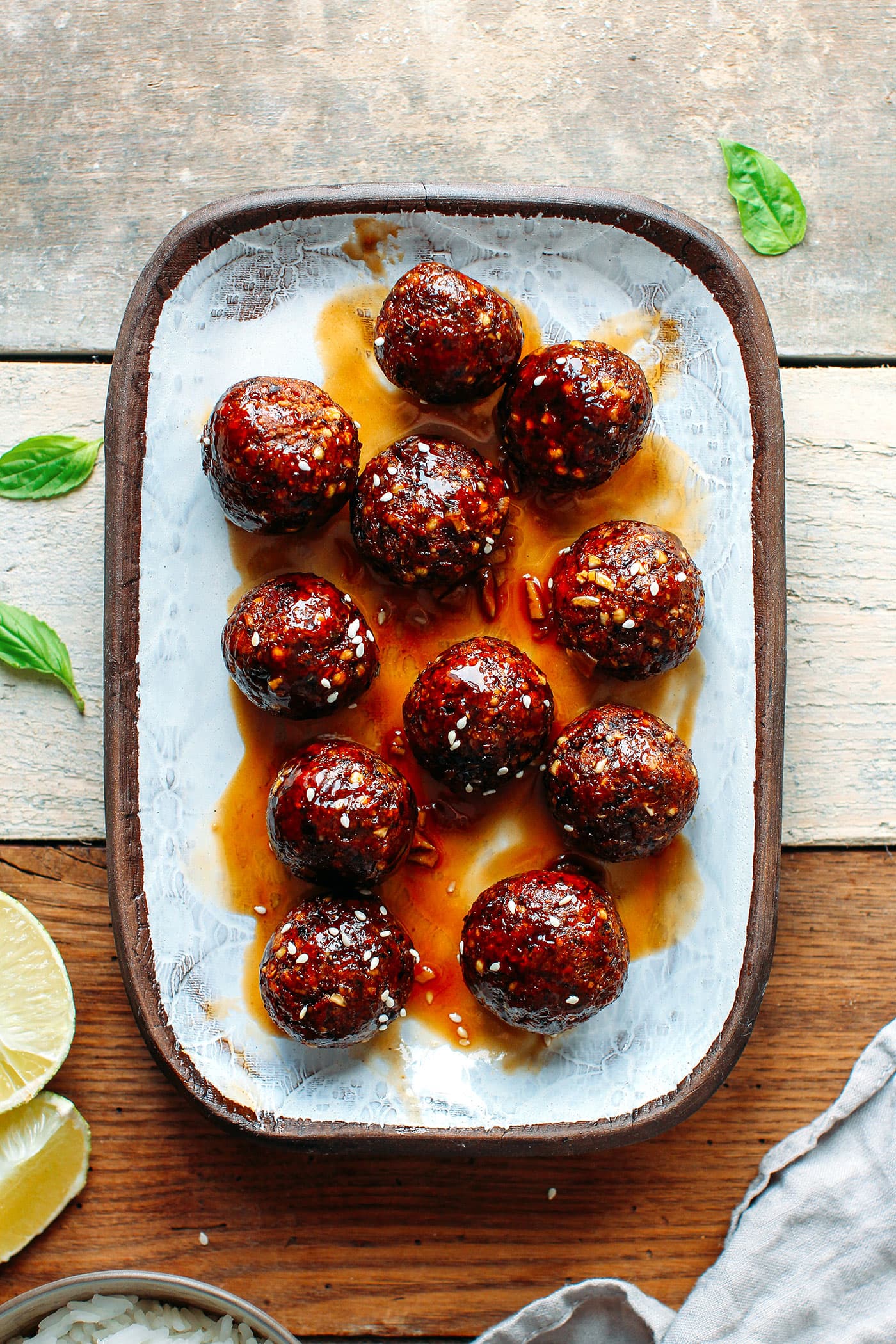 These meatballs are a crowd-pleaser! Whether you have only vegans and/or meat eaters at your table, these won't disappoint! The meatballs are super tender, meaty, and glazed with a garlicky, sweet, and salty sauce.
For more meatball recipes, check out these delicious Veggie Balls in Creamy Masala Sauce!
Let me know in the comments if you try this recipe!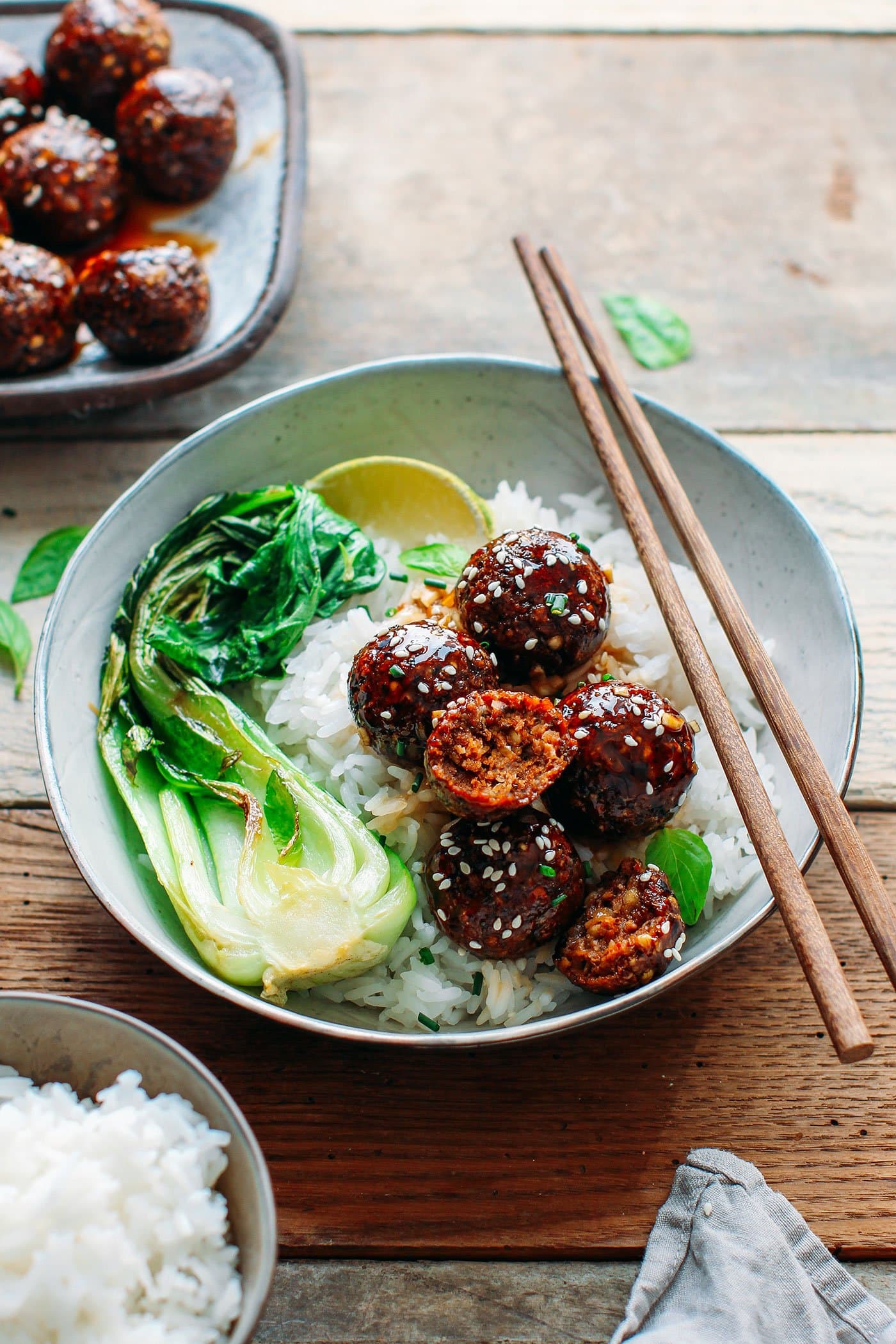 Recipe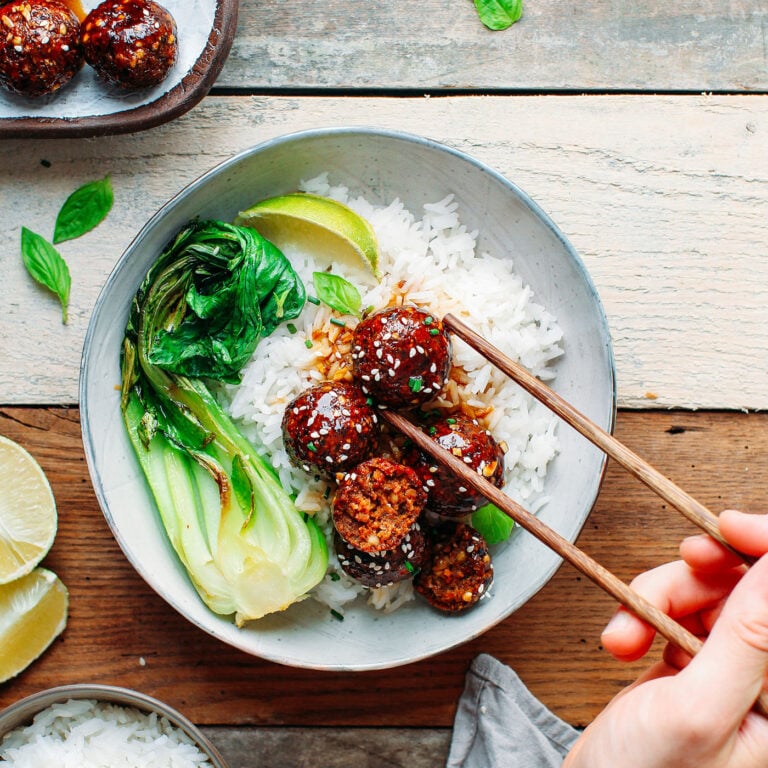 Vegan Tender Teriyaki Meatballs
Soft and tender vegan meatballs glazed with a sweet and salty teriyaki sauce! A crowd-pleaser!
Ingredients
Tender Meatballs
1/4

cup

buckwheat groats

2

cups

water

1

tbsp

oil

1

medium onion

diced

1

clove

of garlic

minced

1

cup

sliced mushrooms

2

tbsp

tomato paste

1

tbsp

soy sauce

1

tbsp

maple syrup

1/4

tsp

each: smoked paprika, ground chili, cumin

1/2

tsp

oregano

1

tsp

onion powder

1/2

cup

cooked red kidney beans

1/4

cup

parsley

or cilantro, basil

1/4

cup

almond flour

1/4

cup

breadcrumbs

1/4

cup

pecans

1/4

cup

vital wheat gluten
Instructions
Tender Meatballs
Start by cooking the buckwheat groats: Add the buckwheat groats and the water to a saucepan. Heat over medium heat and bring to a boil. Reduce to a simmer and cook uncovered for 7 minutes.

Taste to check if the buckwheat is cooked, it should not be mushy or crunchy, it should be soft with some texture. Drain, discard the cooking water and set aside the cooked buckwheat.

Preheat the oven to 350°F (175°F).

Heat a tablespoon of oil in a skillet over medium heat. Once hot, add the diced onion and garlic and cook until fragrant, about 3 minutes.

Add the sliced mushrooms and cook for another 6-8 minutes. Stir in the tomato paste, soy sauce, maple syrup, spices, oregano, and onion powder. Cook for another 30 seconds and remove from heat.

Transfer the mushroom mixture to the bowl of a food processor. Add the cooked red kidney beans, parsley, almond flour, breadcrumbs, and pecans. Pulse for 5-7 seconds, or until it has a coarse texture.

Add the cooked buckwheat to the food processor and pulse for another 3-5 seconds. You don't want to process too much to keep some texture, you should still see some whole buckwheat groats.

Transfer the mixture to a large mixing bowl, add the vital wheat gluten and mix using a wooden spoon until fully incorporated. With slightly wet hands, shape the mixture into balls (I used about 1.5 tbsp for each ball) and place them on a baking sheet lined with parchment paper.

Bake the "meatballs" for 20 minutes. In the meantime, prepare the teriyaki sauce.

In a small mixing bowl, combine the soy sauce, maple syrup, lime juice, sesame oil, minced garlic, and cornstarch together.

Once the meatballs are ready, heat a tablespoon of oil in a skillet over medium heat. Add the meatballs and shallow-fry until golden brown, about 3 minutes. Remove from heat and pour in the teriyaki sauce. Stir to coat the balls with the sauce.

Serve the teriyaki meatballs immediately on a bed of rice or noodles and some greens on the side.

Meatballs will keep in the refrigerator for up to 3 days. Reheat gently in a skillet, adding more sauce if needed.
Nutrition
Serving:
1
(4 meatballs)
|
Calories:
278
kcal
|
Carbohydrates:
32.3
g
|
Protein:
11.3
g
|
Fat:
12.9
g
|
Fiber:
4.4
g
|
Sugar:
12.6
g
Did you make this recipe?
Tag @fullofplants on Instagram and hashtag it #fullofplants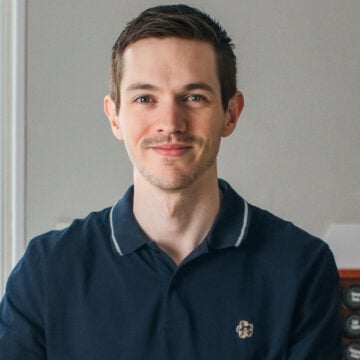 About the Author
Thomas Pagot is the founder, photographer, and recipe developer behind Full of Plants. He created the blog in 2016 as a personal cookbook for vegan recipes. Through years of recipe development, Thomas has successfully grown Full of Plants into a trusted resource for plant-based recipes.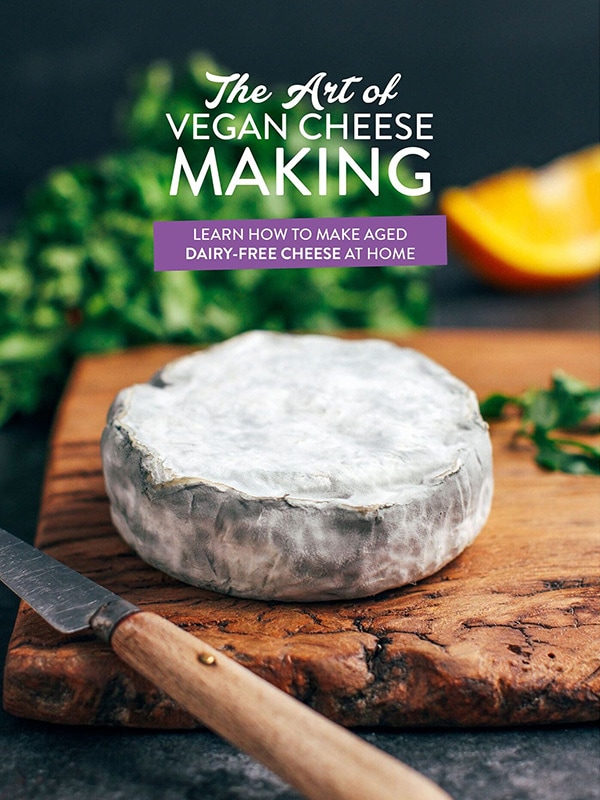 🧀 25 Mind-Blowing Vegan Cheese Recipes!
Sign up for the Full of Plants newsletter and you'll get new recipes delivered by email weekly, PLUS your FREE 100-page printable eBook!