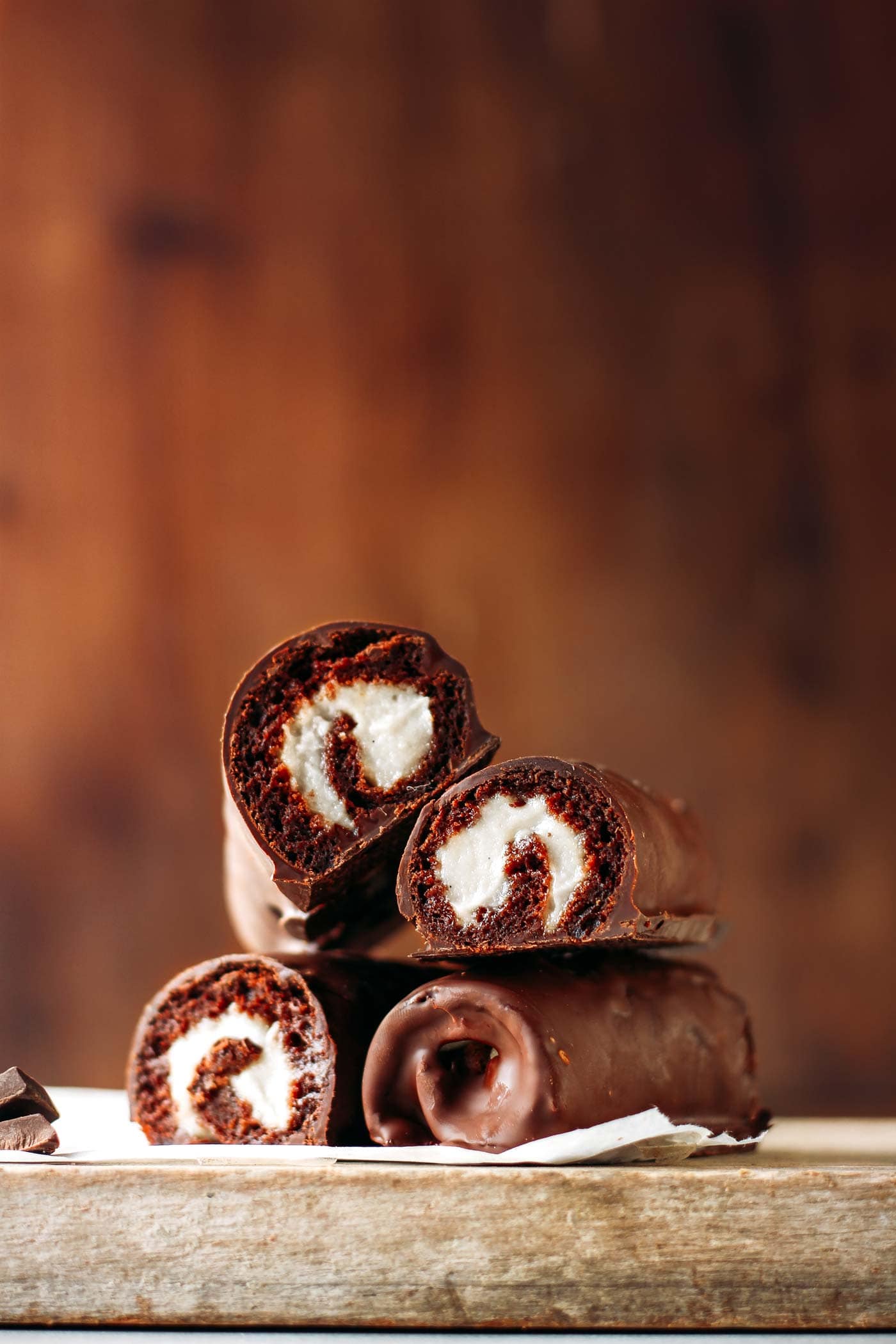 Ho ho ho! Time for a chocolate treat! Introducing Vegan Gluten-Free Ho Hos!
Can you believe I only heard about Ho Hos last month? And it was actually in an episode of Malcolm in the Middle…I know it's a 10-year-old tv show, but it never gets boring to me.
After countless cakes breaking while trying to roll them, I finally nailed it. And the result is mindblowing. These vegan Ho Hos are incredibly soft, filled with delicious cashew vanilla cream, and coated with a thin layer of chocolate. You get the contrast of the crispy chocolate shell, the softness of the chocolate cake, and the creaminess of the filling. These are very addictive. You have been warned!
If you are from Europe, you could compare these to kinder délice in a different shape and with a coconut vanilla cream filling instead of the regular milk one.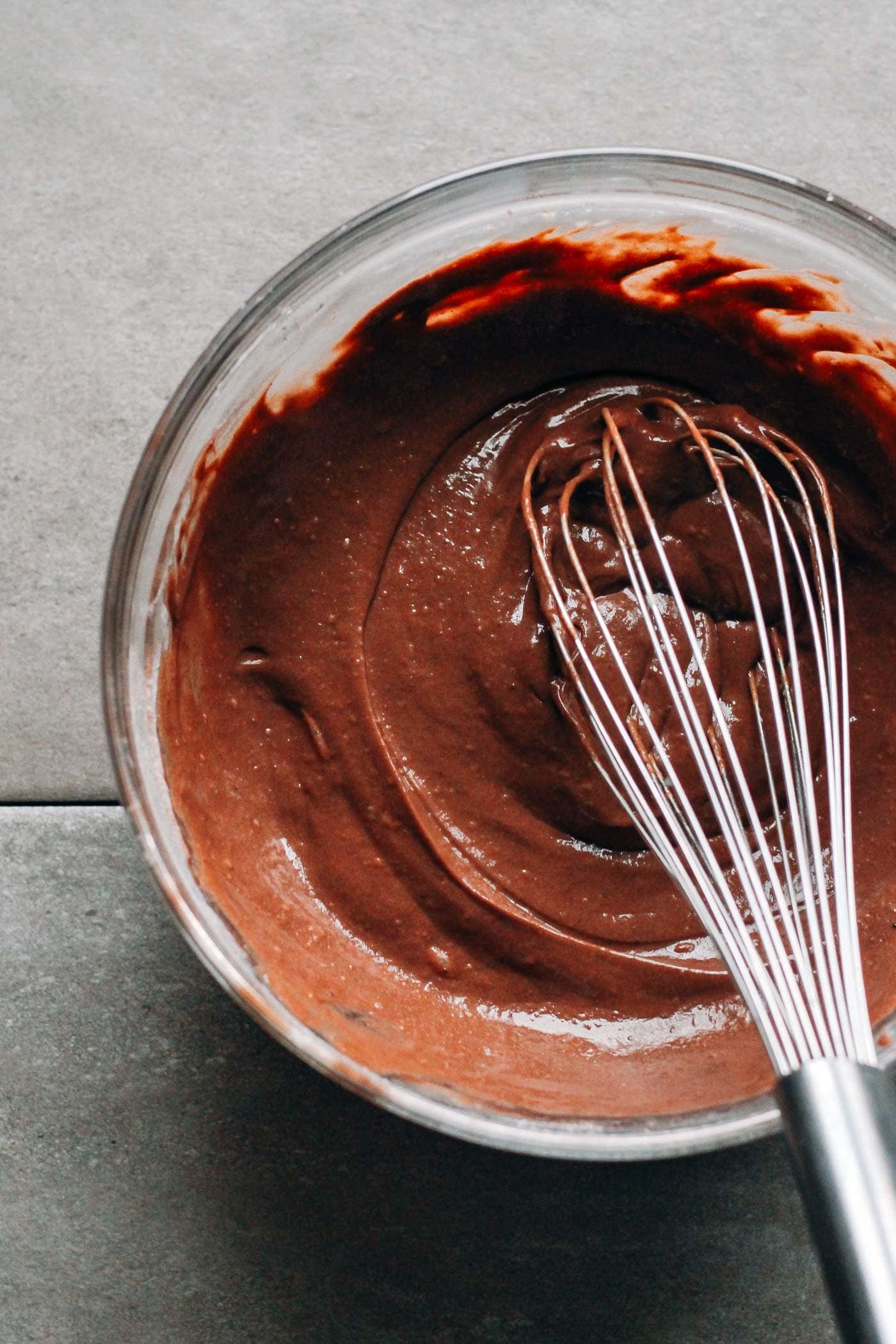 The gluten-free roll was the most challenging part of the recipe. Making a Swiss cake that you can roll is not an easy task, especially when your rolls have to be small. To give the batter enough elasticity, I relied on a mix of rice flour, tapioca starch, and xanthan gum. My first tries broke while rolling. The next ones were too elastic and had a gummy texture. I found out I was actually using too much xanthan gum, so once I got the amount right, the chocolate cake was soft and rollable with a fluffy texture.
I guess you could use guar gum instead, but make sure to double the amount as it is less powerful than xanthan gum.
Here are a few tips to get perfectly shaped Ho-Hos:
Spread the batter as evenly as possible on the baking sheet. You want to have the same thickness everywhere. Otherwise, the thinner areas will be crispy instead of soft, and you will have trouble rolling it.
As soon as the cake is cooked, transfer it to a clean damp towel. This will prevent it from drying. This way, your cake will be soft and rollable. No need to flip it. Just transfer it from the baking sheet to the towel (the baking paper being in contact with the towel).
Do not overfill them. Spreading too much vanilla cream will make it harder to roll: they might break, and you won't get a nice swirl.
Don't wait too long until you dip the rolls into the melted chocolate once they are rolled and filled with the cream. You don't want them to dry in the refrigerator and break, so I would recommend dipping them in chocolate just after or less than 1 hour after rolling.
Then you can cut it into 12 even squares and spread each one with a thin layer of cashew vanilla cream. Roll them up tightly and chill in the refrigerator while you melt the chocolate for dipping.
The chocolate shell makes these rolls 10 times better. I mean, who doesn't love a crispy chocolate coating with a soft, creamy inside? Plus, it protects the rolls from drying, meaning they stay fresh longer. So, don't omit the dipping step!
To get a very thin shell, I melted the chocolate with some cocoa butter. If you don't have cocoa butter, then go with a bar of chocolate with a high cocoa butter content. 70% dark chocolate is usually good.
Each roll is about the same size as a Mars bar, making it the perfect grab-n-go snack. I hope you will love this recipe. It's super chocolatey, creamy, and you "get a big delight in every bite!"
Let me know in the comments if you try this Vegan Gluten-Free Ho Hos recipe!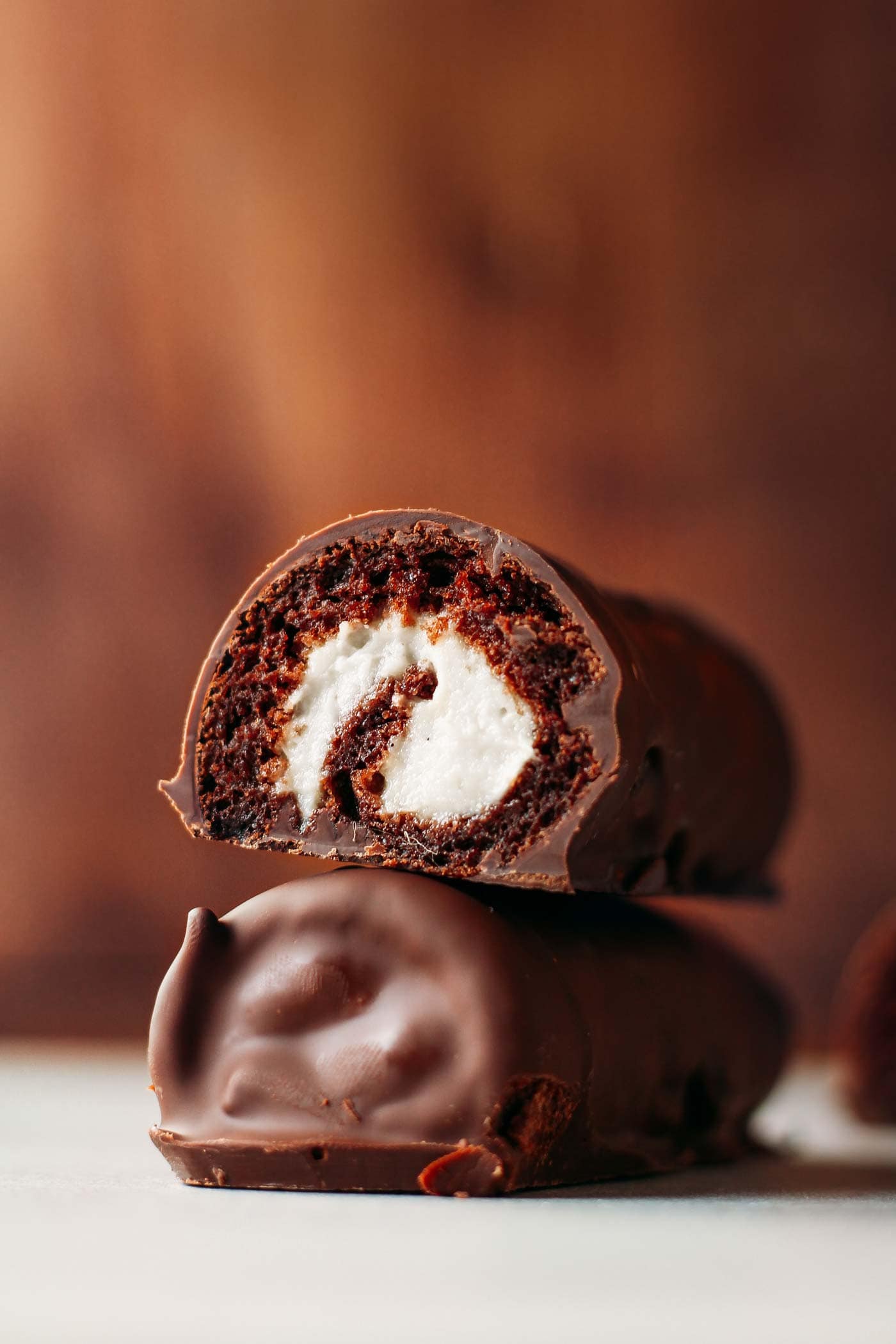 Recipe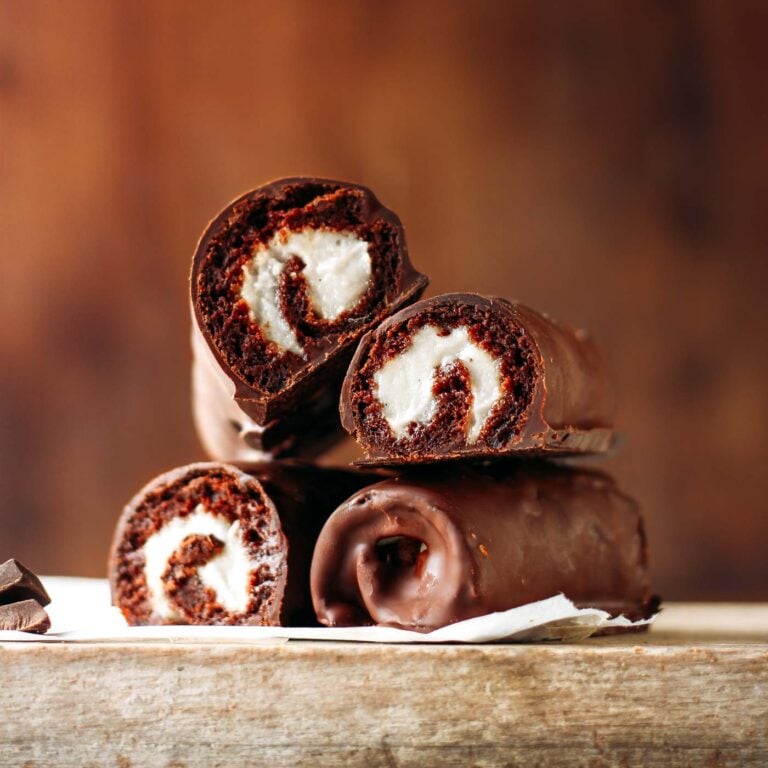 Vegan Gluten-Free Ho Hos
Delicious chocolate swiss rolls filled with creamy vanilla cashew cream. "A big delight in every bite!"
Ingredients
Vanilla Cream Filling
1

cup

raw cashews

soaked overnight and drained

1/2

cup

coconut cream

from one 13.5-ounce can full-fat coconut milk

2

tbsp

maple syrup

3

tbsp

melted coconut oil

1

tsp

vanilla extract

2

tsp

lemon juice

1/8

tsp

salt
Instructions
Vanilla Cream Filling
Combine all the ingredients in the bowl of a blender and blend on high speed for 30 seconds or until you get a very smooth consistency. Transfer to a bowl, cover with plastic film to touch, and place in the refrigerator for at least 5 hours. You can speed up the process by placing the cream in the freezer. The cream will thicken as it cools. I usually make the cream the day before and let it harden in the refrigerator overnight.
Chocolate Roll
Preheat oven to 350°F (180°C). Lightly grease a 10×15-inch baking sheet and line with parchment paper.

In a large mixing bowl, whisk together the white rice flour, brown rice flour, tapioca starch, coconut sugar, cocoa powder, baking soda, baking powder, and xanthan gum.

Stir in the almond milk, melted coconut oil, maple syrup, and applesauce. Whisk until smooth and well combined. The batter should have the consistency of a pancake batter.

Pour the chocolate batter into the prepared baking sheet and spread it as evenly as possible using a spatula. This step is important to get the same thickness everywhere.

Bake for 16 minutes, or until a toothpick inserted in the middle comes out clean. Transfer the cake to a clean damp towel. This will keep it from drying.

Let cool for 10 minutes before cutting into 12 squares.

One at a time, spread a cake square with a thin layer of vanilla cashew cream (about 2 tbsp). Don't add too much, or you will have trouble rolling the cake. Carefully roll up the cake to form a tight roll. Transfer the rolls to a baking sheet and place them in the refrigerator while you melt the chocolate.

Melt the dark chocolate over a double boiler or in the microwave. Let it cool slightly. If you want, you can melt it with the cocoa butter, it will yield a thinner coating.

Using a fork, dip each cake roll into the melted chocolate, starting with the ends and then the tops and bottoms. Shake to let excess chocolate drip into the bowl. Transfer to a baking sheet lined with parchment paper and repeat with the remaining rolls. Let them cool completely before placing them in the refrigerator.

Ho Hos will keep for up to 4 days in the refrigerator. I like to wrap each one individually and have them as a decadent chocolate snack.
Notes
Nutritional information is just an estimate.
Nutrition
Serving:
1
Ho Ho
|
Calories:
289
kcal
|
Carbohydrates:
29.7
g
|
Protein:
3.8
g
|
Fat:
18.4
g
|
Fiber:
1.8
g
|
Sugar:
17.3
g
Did you make this recipe?
Tag @fullofplants on Instagram and hashtag it #fullofplants