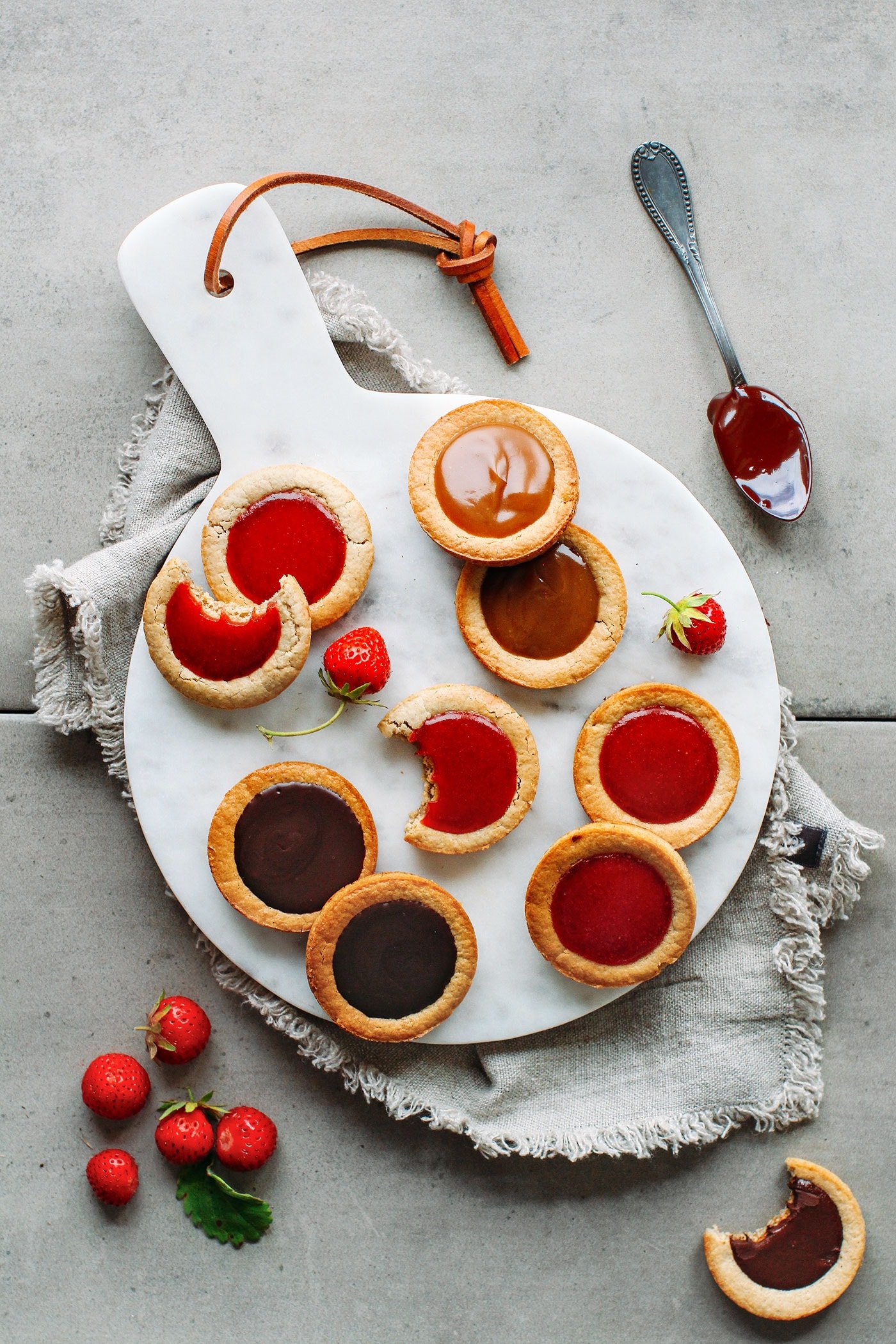 Introducing Soft Thumbprint Cookies!
What kind of snacks were you eating as a kid? During my childhood, I used to love "Barquettes," which were small boat-shaped cookies filled with jam or chocolate. I used to eat them for breakfast or as an after-school snack. This recipe is inspired by these, and I'm happy to say they are quite similar to the original ones, except this recipe is gluten-free, refined sugar-free, and vegan! Did I mention they are also oil-free?
These cookies are not like shortbread cookies. They are light and soft, with a texture between a cake and a cookie. I'm sharing three flavors so you can pick your favorite or make different ones. Chocolate, strawberry, and salted caramel!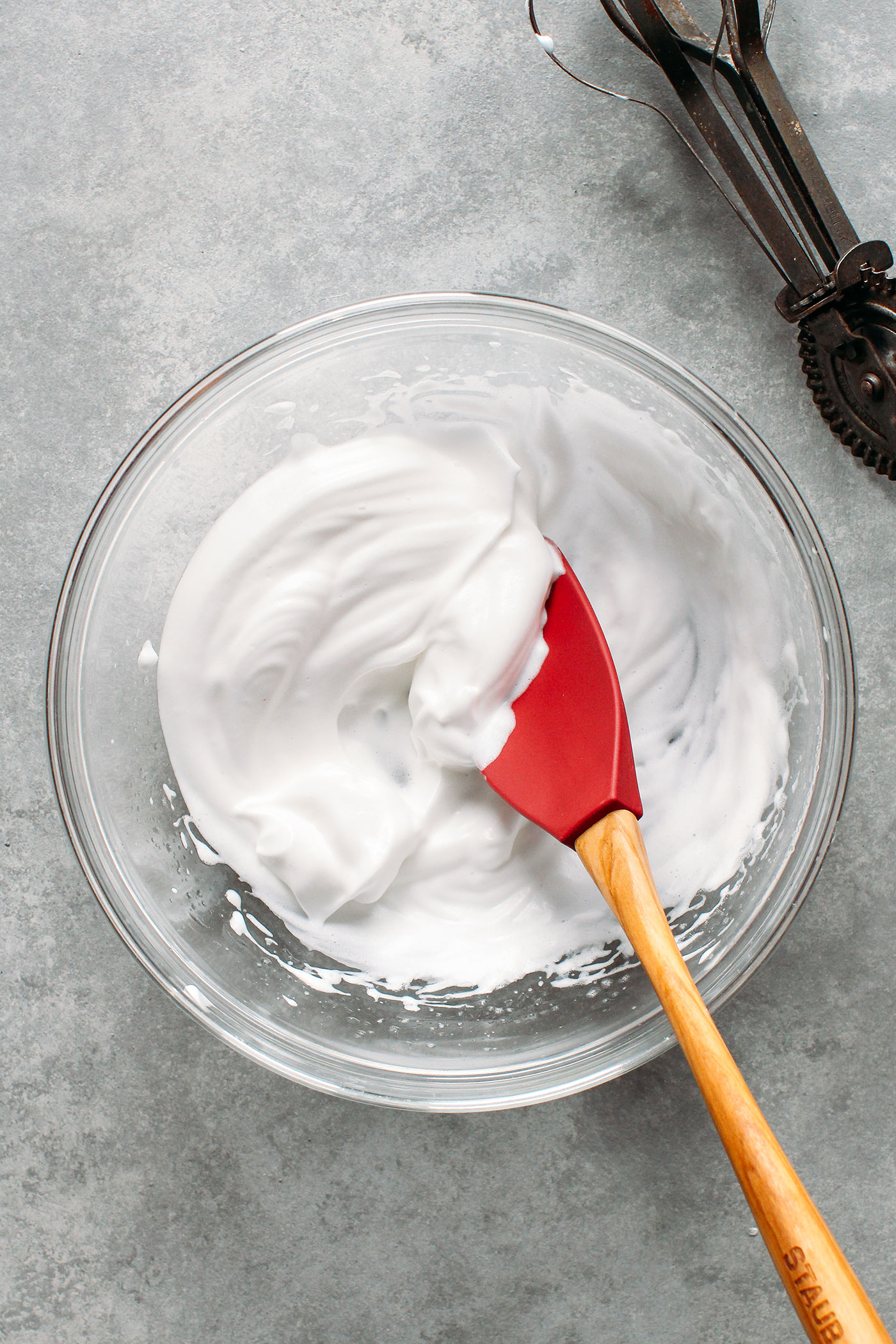 Oat flour, almond flour, and tapioca starch make the base of the cookies. Then comes maple syrup for sweetness, almond milk to make the batter thinner, and vanilla for flavor.
Oh, and aquafaba! Yes, aquafaba magic strikes again! There is no leavening added to this recipe. It's the aquafaba that creates that light texture between a cake and a cookie.
As opposed to most thumbprint cookie recipes, you don't make the indentation before baking but after by using the top of a plastic bottle or a small pill bottle. These cookies are also baked in a muffin pan for a perfect shape!
To get a texture similar to the cookies I ate as a kid, I had to bake them a second time at a lower temperature to make them slightly firmer. This step is optional, depending on how you want your cookies: soft, cakey, or crispy on the edges and tender on the inside. For me, it's the second option.
Next comes the filling. I'm sharing three different flavors:
Strawberry: Instead of using strawberry jam, often loaded with white sugar, we are making our own strawberry "jelly" here by combining fresh strawberry juice with maple syrup and agar. It yields a delicious strawberry filling that is soft without being too runny.
Hazelnut Chocolate: Simple is often the best. Dark chocolate meets hazelnut butter, no need to say more.
Caramel: Again, we are making a healthier version of caramel by using a base of almond butter combined with maple syrup, vanilla, sea salt, and cocoa butter to firm up everything.
I hope you guys will like these soft thumbprint cookies! The filling is versatile as you can use other fruits for the filling: blueberry, raspberry, mango, apricot, etc., depending on what you have on hand.
Let me know in the comments if you try this recipe!
Recipe
Soft Thumbprint Cookies (3 Flavors!)
Crispy on the edges, tender on the inside, these thumbprint cookies (or tartlets) are filled with homemade strawberry jam, hazelnut chocolate, or caramel! Vegan, gluten-free, and oil-free!
Ingredients
Instructions
Cookies
Preheat oven to 350°F (180°C) and lightly grease a muffin pan. I recommend using a silicon one.

In a small bowl, combine the oat flour, almond flour, and tapioca starch. Add the maple syrup, almond milk, and vanilla extract. Mix until combined. The batter will be quite thick, set aside.

In another bowl, beat the aquafaba using a hand mixer until it forms soft peaks. This step can take up to 5 minutes.

Add the thick batter to the aquafaba and carefully mix using a spatula until well combined. Stop as soon as the aquafaba is integrated. You should get a light and fluffy batter.

Divide the batter (about 2 tbsp per cavity) into the 6 cavities of the muffin pan and bake for 25 minutes.

Remove from the oven but don't turn it off, lower the oven to 300°F. While the cookies are still warm, use the top of a bottle to make an indentation in the center of each cookie. A small jar or pill bottle can also work.

Let the cookies cool 5 minutes and carefully remove from the pan. Place the cookie cups on a baking sheet lined with parchment paper and bake for another 8-10 minutes. This step makes the cookie a bit crispier on the outside.

Remove from the oven and let cool completely. In the meantime, prepare the filling(s). You don't have to make them all, just pick your favorite one!

Cookies are best served the same day but will keep for up to 3 days in an airtight container at room temperature.
Strawberry Filling
Place the strawberries in a blender and blend until you get a juice. Strain the juice to remove the seeds and place it in a small saucepan. You should get about 1/2 cup of strawberry juice.

Add the maple syrup and heat over medium heat for 2-3 minutes.

In the meantime, dissolve the agar in one tablespoon water. Add the agar mixture to the saucepan and bring to a boil. As soon as it boils, remove from heat and let cool 2-3 minutes before pouring it into the cookie cups. Let cool at least 2 hours, or half an hour in the refrigerator.
Chocolate Filling
Melt the chocolate chips over a double boiler. Once melted, stir in the hazelnut butter and mix until well combined. Pour the melted hazelnut chocolate into the cookie cups and let cool at room temperature until firmer, or one hour in the refrigerator.
Salted Caramel Filling
Combine the almond butter, maple syrup, and melted cocoa butter in a small bowl. Add the vanilla extract and sea salt, and stir until combined. Taste and adjust saltiness if needed. Pour into the cookie cups and let cool at room temperature until firmer, or one hour in the refrigerator.
Notes
Nutritional information is given for one cookie with strawberry filling. Chocolate and caramel cookies might be a bit richer.
You can use other fruits to make the filling: apricot, raspberries, blueberries, peach, etc. I recommend using 1/4 tsp of agar powder for every 1/2 cup of fruit purée.
Nutrition
Serving:
1
Cookie (with strawberry filling)
|
Calories:
75
kcal
|
Carbohydrates:
15
g
|
Protein:
1.2
g
|
Fat:
1.4
g
|
Fiber:
1.1
g
|
Sugar:
7.1
g
Did you make this recipe?
Tag @fullofplants on Instagram and hashtag it #fullofplants