Have you guys ever heard of fonio?
It's the name of a small grain that has been used for thousands of years in West Africa. Fonio looks a bit like brown sugar, it's a very small grain. It's naturally gluten-free, has an earthy, nutty flavor and a texture similar to couscous when cooked. It's also rich in fiber, protein, iron, and calcium. I still wonder why I didn't try it sooner!
These fonio balls are super tender and served in an African-inspired peanut sauce. Ready?
We start by cooking the fonio. Since it is a very small grain (a bit smaller than millet), it cooks very quickly. Just 7 minutes in boiling water and it's ready!
The mixture for the balls is easy to prepare. You process the cooked fonio, oats, spices, and aromatics like garlic and onion in a food processor until everything is well combined and sticky enough to form balls. For the spices, I went with a mix of ground cumin, chili, paprika, coriander, fenugreek, and cinnamon. This mix is inspired by famous African spice blends like Ras el Hanout, or Berbere. If you have those in your pantry, feel free to use it instead of the different spices.
Once the balls are shaped, shallow-fry in a skillet until golden brown. What I like about these fonio balls is how well they hold together, you don't have to worry about them falling apart.
Now onto the sauce! Cook some onions, garlic, and ginger until fragrant, then add carrots and red bell peppers. The addition of carrots and peppers not only adds sweetness, it gives the dish more texture. I personally like to keep the carrots slightly crunchy.
When the carrots are cooked, pour in the full-fat coconut milk, a generous amount of natural peanut butter, water to thin out, spices and some coconut sugar to balance with the spices.
Do not try to reduce the amount of peanut butter or use light coconut milk, it just won't be as good. Okay, the sauce is rich but it's really the star of the dish.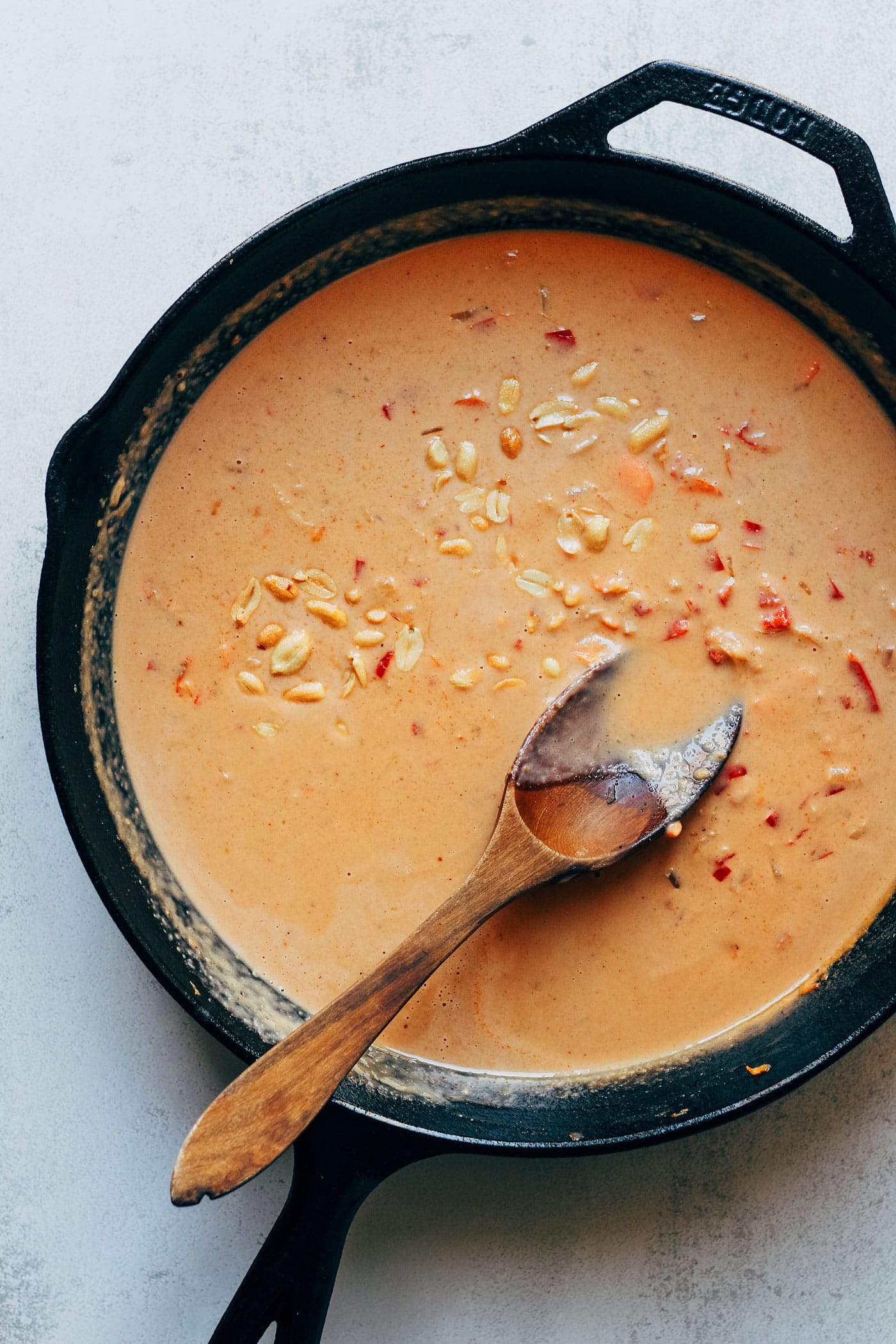 Finally, you add the fonio balls to the sauce, stir to coat and let simmer a few more minutes to let the balls soak up the flavors of the sauce.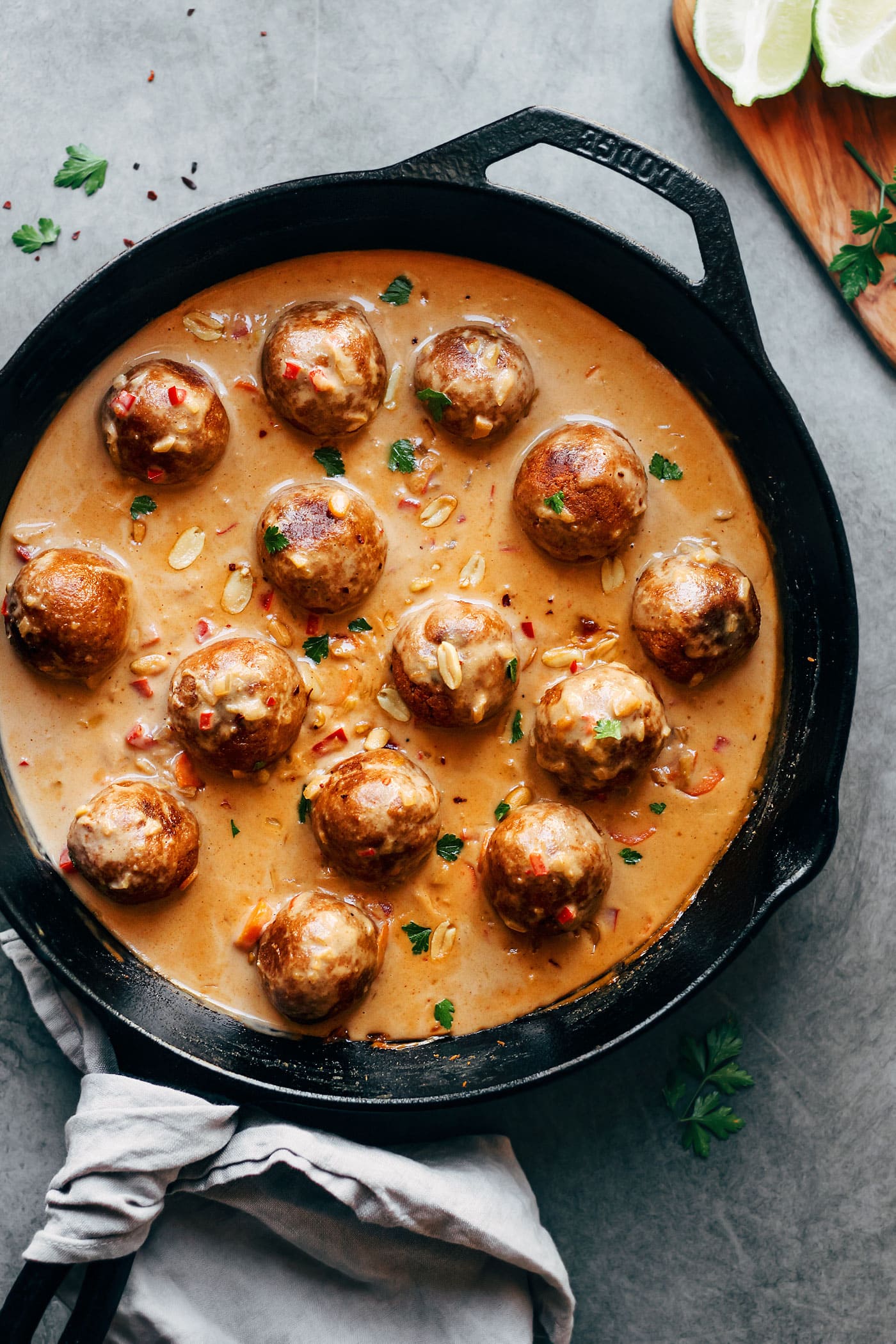 These fonio balls are delicious with a simple green salad, or on top of rice for a filling and nutritious meal. I'm sure you will love this recipe, it's tender, creamy and packed with flavor. Seriously!
If you are looking for more recipes using fonio, stay tuned I have a few more in the works!
Let me know in the comments if you try this recipe!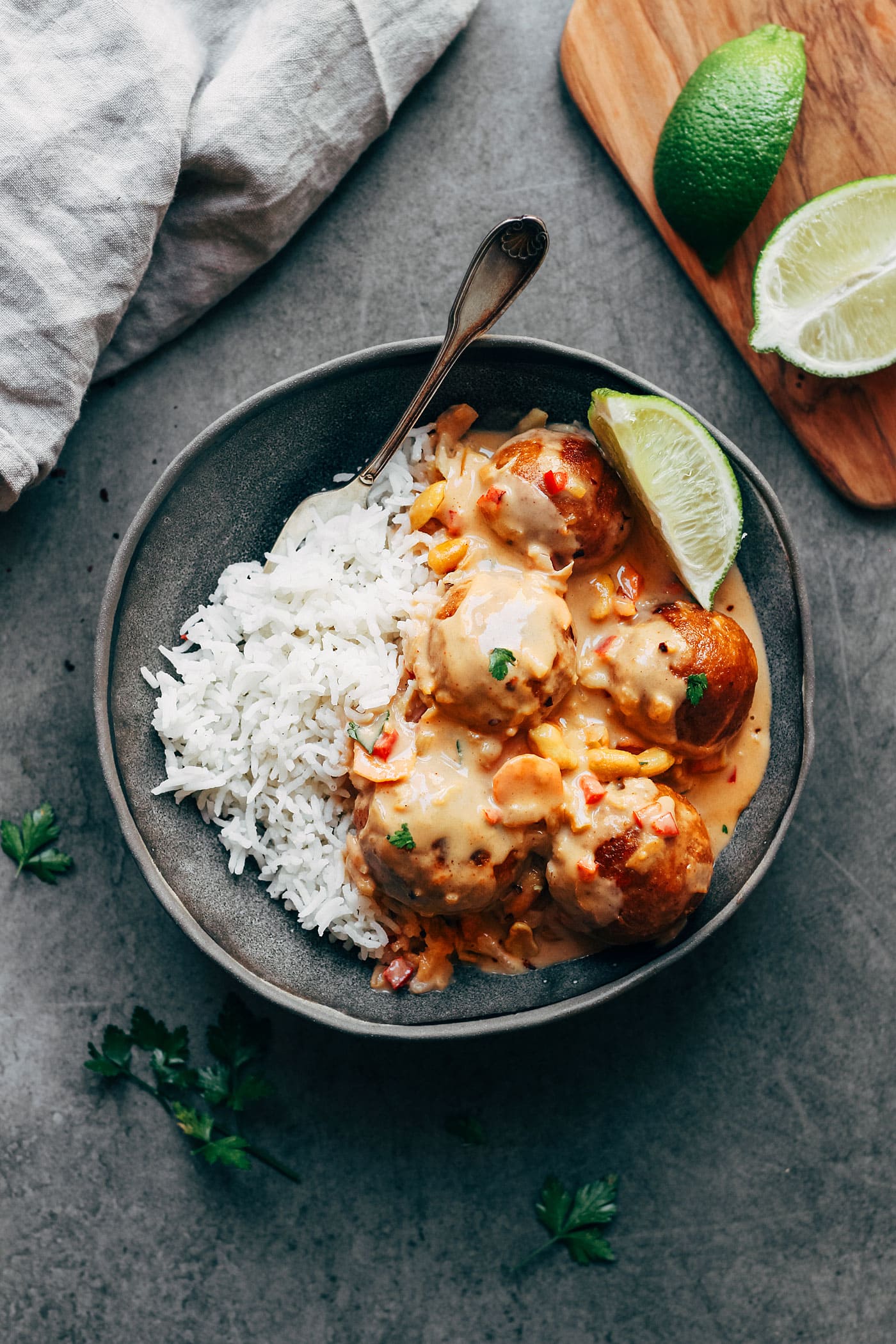 Print
Fonio Balls in Peanut Sauce
Tender fonio balls served in a delicious coconut peanut sauce flavored with spices, ginger, and garlic.
Yield:

12

-

14

balls (about

4

servings)

1

x
Fonio Balls
1 cup

fonio

2

and ½ cups water

¼ tsp

salt

½ cup

quick oats (or rolled oats)

½ tsp

harissa paste

½

onion, diced

1

clove of garlic

2 tsp

cumin

1 tsp

ground chili

1 tsp

each: paprika and coriander

½ tsp

fenugreek

¼ tsp

cinnamon

⅛ tsp

cayenne pepper

2 tbsp

tomato paste
Coconut Peanut Sauce
1 tbsp

oil

1

onion, diced

2

cloves of garlic, minced

1 tsp

freshly grated ginger

1

carrot, finely sliced

½

red bell pepper, diced

1

13.5-ounce can full-fat coconut milk

⅓ cup

peanut butter

½ cup

water (you might have to use

¾ cup

)

1 tbsp

tomato paste

1 tsp

coconut sugar

½ tsp

ground chili

¼ tsp

salt

¼ cup

roasted peanuts
Instructions
Fonio Balls
Heat a teaspoon of oil in a large saucepan over medium heat. Add the fonio and toast for 1-2 minutes, stirring frequently. Add the water and salt, and bring to a boil. Reduce to a simmer and cook until no liquid remains, about 7-8 minutes.
Transfer the cooked fonio to the bowl of a food processor. Add the oats, harissa paste, onion, garlic, spices, and tomato paste. Process for 20-30 seconds, scraping down the sides regularly until everything is well combined and the mixture is sticky enough to form balls. Taste and adjust seasonings if needed.
Using your hands, form balls (about 3 tablespoons of the mixture per ball). Transfer to a large plate or dish lined with parchment paper and set aside. You should get about 12 balls.
Heat a tablespoon of oil in a large non-stick skillet over medium heat. Once hot, add the balls and rotate the skillet to coat the balls with oil. Cook for about 5 minutes, stirring regularly until the balls are golden brown on each side. Remove from heat and cover to keep warm.
Coconut Peanut Sauce
Heat the oil in a large skillet over medium heat. Once hot, add onion, garlic, and grated ginger. Cook for 1 minute. Add the carrot and red bell pepper, and cook for 5-8 minutes, or until the carrots are soft.
Pour in the coconut milk, peanut butter, water, tomato paste, coconut sugar, ground chili, and salt. Stir well to combine everything. For a thinner sauce, use ¾ cup water instead of ½ cup. Taste and adjust salt, or sugar if needed. Cook for another 3-5 minutes.
Transfer the fonio balls to the sauce and stir to coat. Cook for 2 minutes. Top with peanuts, red pepper flakes, and fresh parsley. Serve immediately on top of rice, or simply with a green salad.
Nutrition
Serving Size:

1 (of 4)

Calories:

565

Sugar:

6.6g

Fat:

32g

Carbohydrates:

57.1g

Fiber:

8.2g

Protein:

15.5g