Deconstructed vegan sushi bowls with chewy seaweed tofu, avocado, sushi rice, and a spicy wasabi sauce! It's fresh, nourishing, and healthy! My favorite plant-based sushi bowl!
📘 What is a Sushi Bowl
A sushi bowl is basically seasoned short-grain rice served with a variety of toppings. It's like sushi but in a bowl form! The best part is that there is no rolling required!
🥣 How to Make Vegan Sushi Bowls
These sushi bowls come together in just a bit more than 1 hour and consist of 3 main elements: the rice, the tofu, and the wasabi sauce.
I didn't go with a ton of different toppings, but each one brings something interesting in terms of texture and/or flavor, so while this recipe is easy, it doesn't lack in flavor!
1. Rice
First, we start by preparing the rice that needs to cool down for about 1 hour.
Rinse the rice 2-3 times or until the water is clear. This will prevent too much foam from forming during cooking. Next, add it to a saucepan, cover with water, and bring to a simmer.
Cover with a lid and cook for about 8 minutes. Next, remove from the heat and let it rest covered for another 15 minutes. This will allow the rice to steam and finish cooking.
To season, simply pour in a few tablespoons of seasoned rice vinegar and stir to combine. You can find seasoned rice vinegar online, in Asian grocery stores, or simply make your own. Check out this Inari Sushi recipe to learn how to make your own seasoned rice vinegar.
2. Seaweed Tofu
The tofu is, without a doubt, the star of this recipe! It consists of medium tofu that is pan-fried until golden brown, wrapped in a sheet of nori, and simmered in a sweet/salty/spicy sauce!
To make the tofu:
Cut medium tofu into small rectangles. The size doesn't matter too much as long as it's bite-size pieces.
Pan-fry the tofu in a non-stick skillet until it is golden brown on both sides.
Cut a sheet of nori into thin strips long enough to wrap each rectangle of tofu.
Wrap each piece of tofu in a strip of nori and seal it by slightly wetting the end of the strip with the cornstarch slurry.
Simmer the tofu in the sauce for a few minutes or until the tofu is glazed!
To make a cornstarch slurry: simply stir one teaspoon of cornstarch with one tablespoon of water.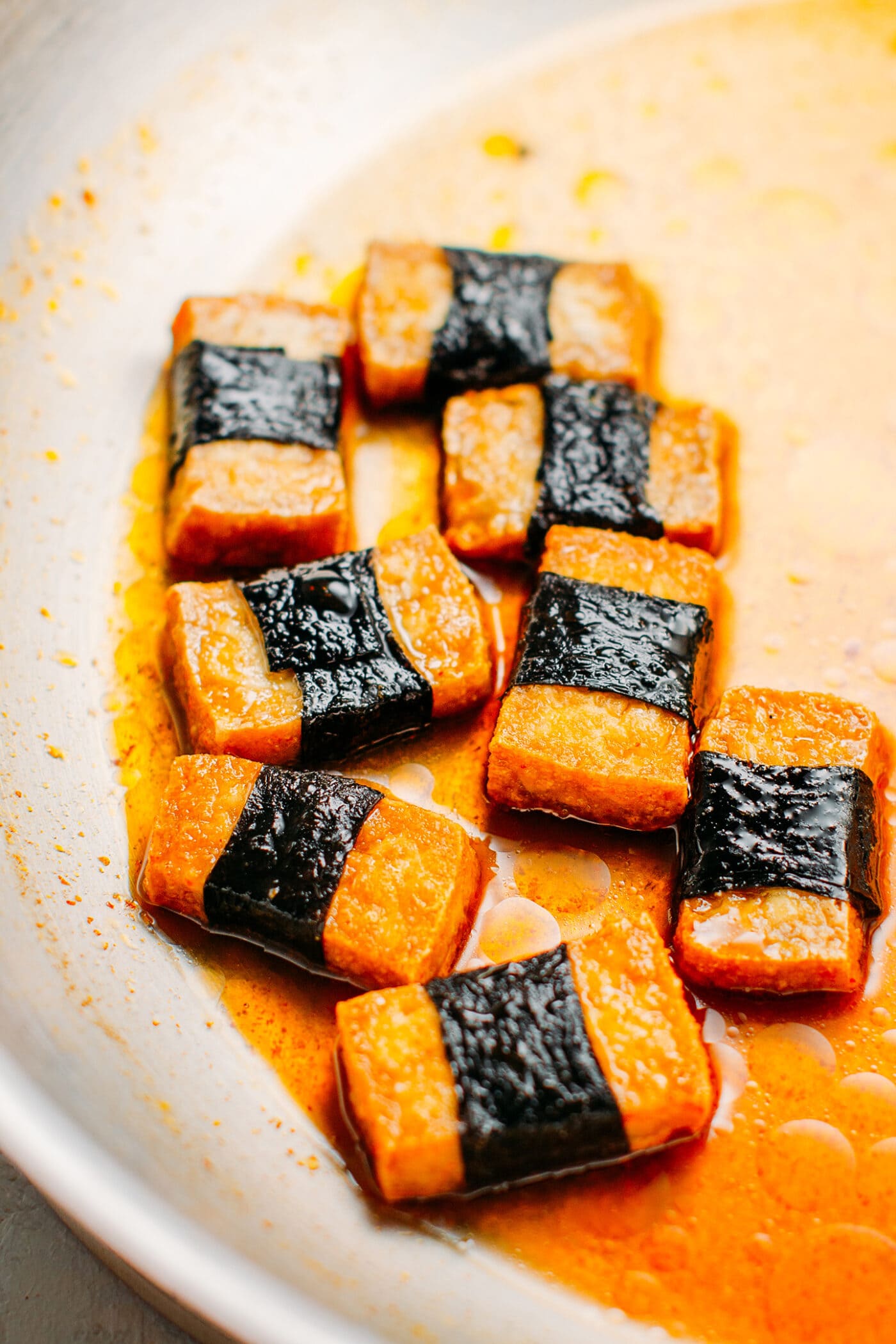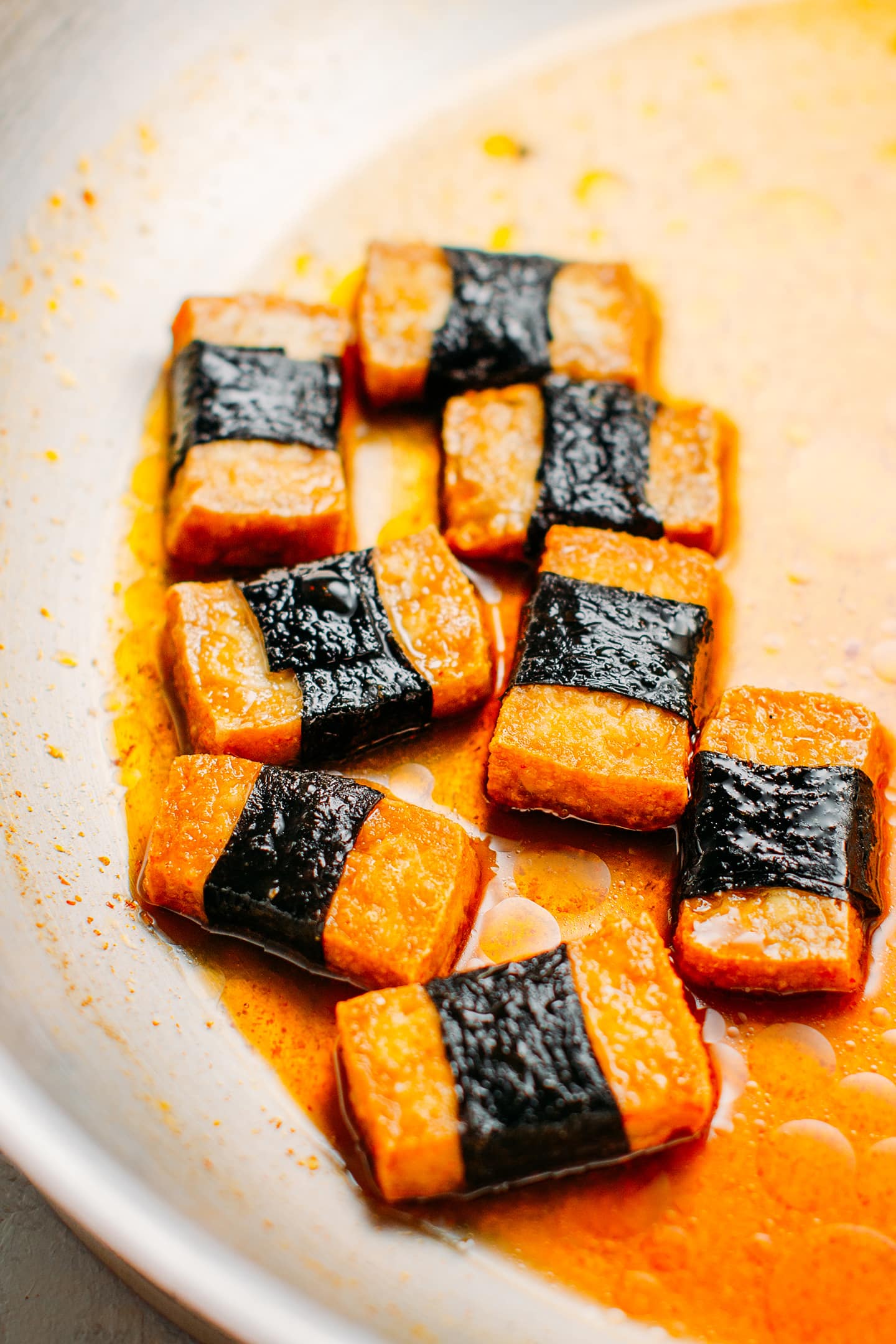 3. Wasabi Mayo
Finally comes the sauce that consists of just two ingredients: vegan mayo and wasabi paste. Stir until fully combined and adjust the spiciness to taste by adding more wasabi paste for a spicier sauce or more mayo to tone it down.
Want to lower the calories? Feel free to use yogurt instead of mayo! Simply swap the mayo for vegan yogurt, add a pinch of salt and a quarter of a teaspoon of vinegar or lemon juice.
4. Toppings
For the toppings, I went with avocado for creaminess and healthy fats, raw carrots, and fried shallots for some crunch, and micro greens for extra vitamins!
These vegan sushi bowls are super fresh, healthy, and packed with flavor! The tofu is chewy, sweet, and salty and balances perfectly with the spicy wasabi mayo!
🇯🇵 More Japanese-Inspired Vegan Recipes
Let me know in the comments if you try this recipe!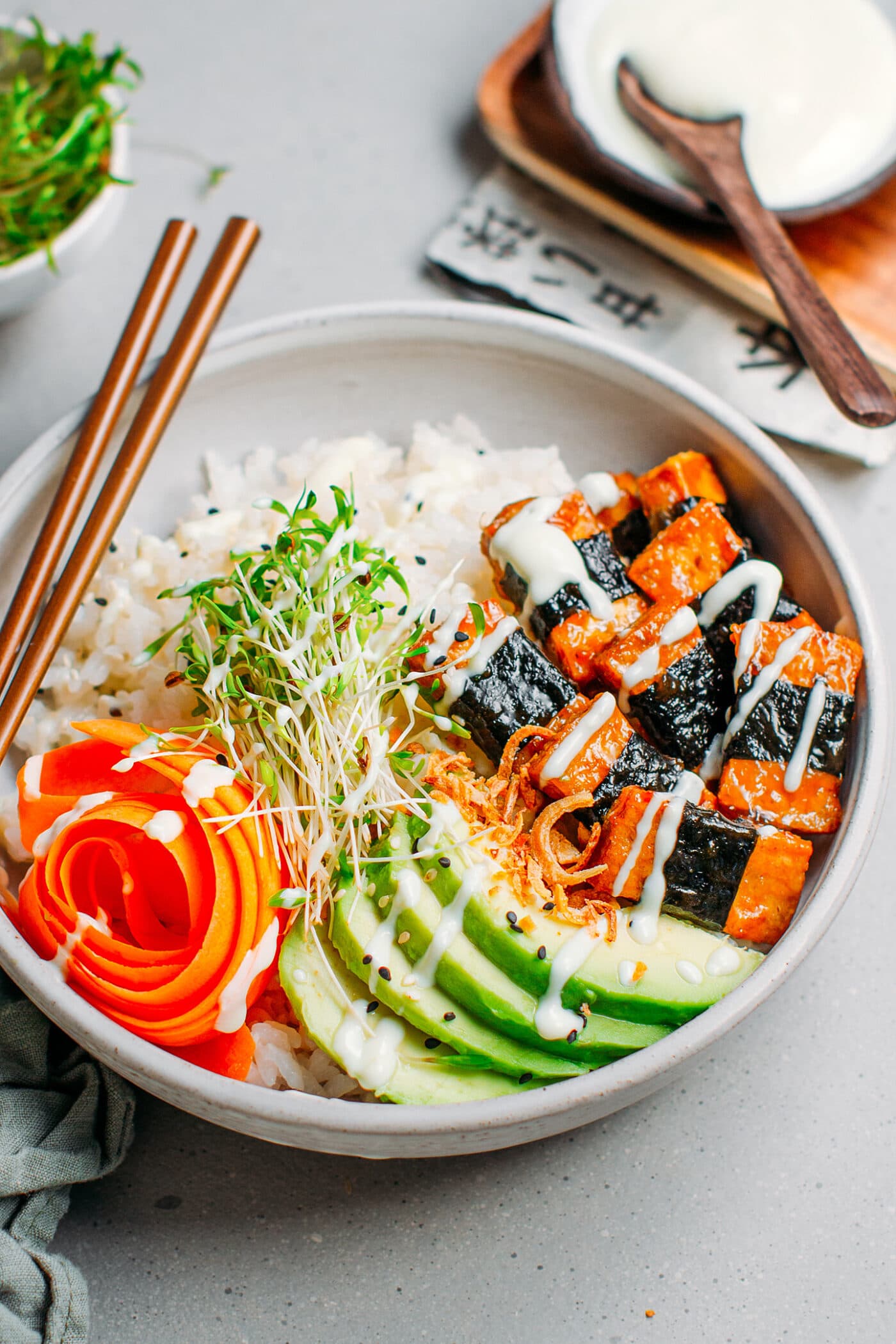 Recipe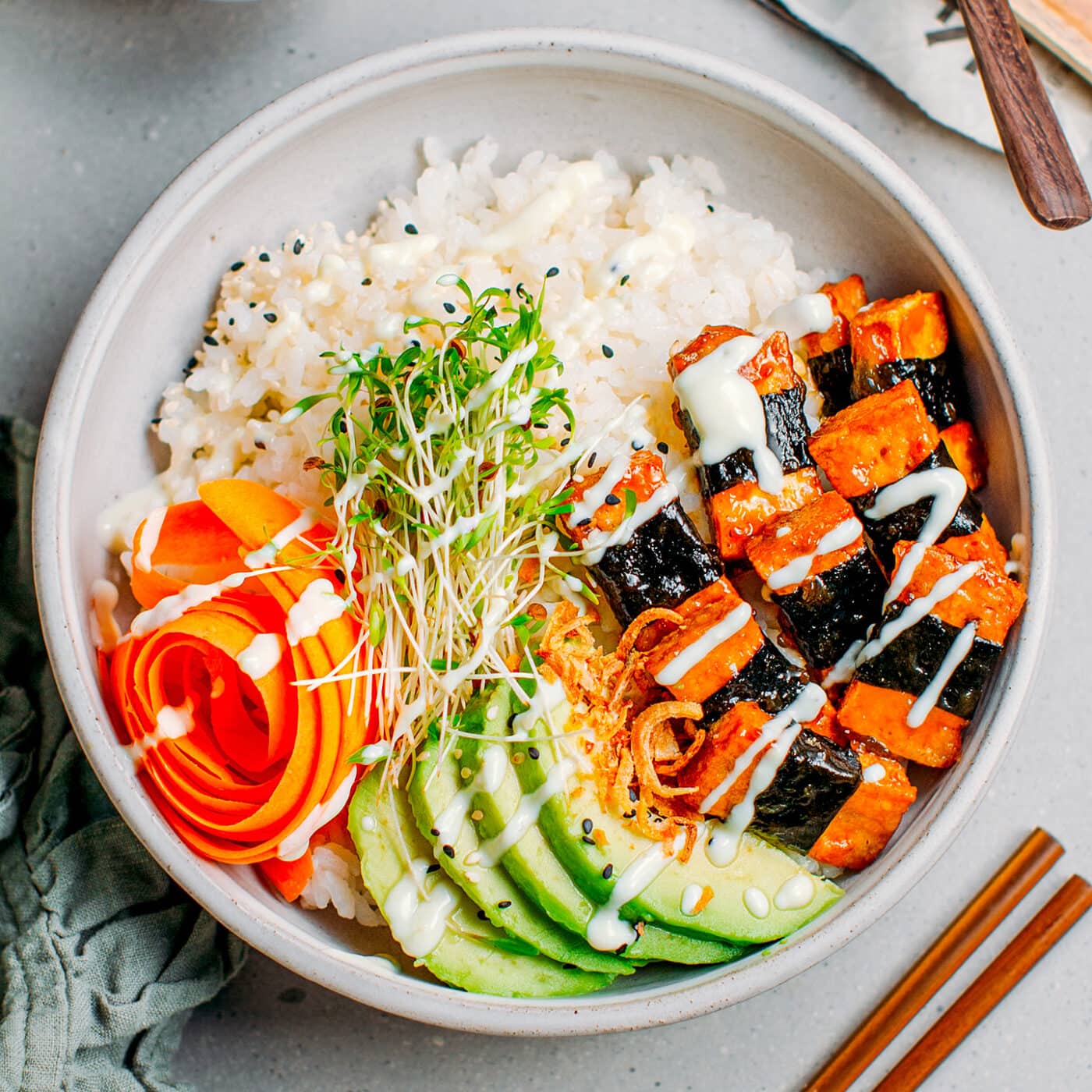 Vegan Sushi Bowls with Wasabi Mayo
Fresh and healthy vegan sushi bowls with glazed nori tofu, avocado, carrots, and a creamy wasabi mayo!
Ingredients
Seaweed Tofu
1/4

cup

oil

7

ounces

medium tofu

cut into 2×1-inch rectangles of about 1/2-inch thickness

1

sheet

of nori

cut into 1/2-inch thick strips

1/4

cup

water

1

tsp

soy sauce

1

tsp

coconut sugar

or white sugar

1/2

tsp

sriracha

1/4

tsp

cornstarch
The Rest
1/2

avocado

sliced

2

tbsp

fried shallots

1/2

carrot

finely shredded
Instructions
Sushi Rice
Wash the rice 2-3 times or until the water is clear. Drain well and transfer the rice to a large saucepan.

Cover with the water and bring to a boil. Once boiling, reduce the heat to a simmer and cover with a lid. Cook covered for 8-9 minutes or until no water remains. Remove from heat and let the rice steam for another 15 minutes (with the lid on).

Transfer the sushi rice to a large baking dish or bowl. Pour in the seasoned rice vinegar and stir to combine. Cover with a damp kitchen towel and let cool for about 1 hour at room temperature.
Seaweed Tofu
Heat the oil in a non-stick skillet over medium heat. Once hot, add the tofu rectangles and fry on each side for 5-7 minutes, or until the tofu is golden brown. Remove from the skillet and transfer to a plate lined with a kitchen paper towel to remove the excess oil.

In a small bowl, mix together 1 teaspoon of cornstarch with 1 tablespoon of water. Set aside.

Wrap each rectangle of tofu with a strip of nori and slightly wet the end of the strip with the cornstarch mixture to seal.

To a non-stick skillet, add a tablespoon of oil and fry the nori-wrapped tofu for about 2 minutes. Next, add the water, soy sauce, coconut sugar, sriracha, and cornstarch. Stir to combine. Let simmer for about 5 minutes, flipping regularly to coat the tofu with the sauce.

Remove from heat once almost all of the sauce has been absorbed by the tofu.
Wasabi Mayo
In a small bowl, stir together the mayo with the wasabi paste. Taste and adjust the spiciness to your liking.
To Assemble
Divide the sushi rice between two serving bowls. Top with the nori-wrapped tofu, avocado slices, fried shallots, carrots, and drizzle with the wasabi mayo!
Did you make this recipe?
Tag @fullofplants on Instagram and hashtag it #fullofplants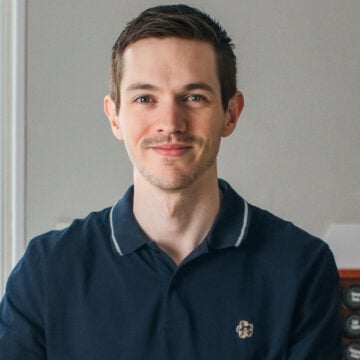 About the Author
Thomas Pagot is the founder, photographer, and recipe developer behind Full of Plants. He created the blog in 2016 as a personal cookbook for vegan recipes. Through years of recipe development, Thomas has successfully grown Full of Plants into a trusted resource for plant-based recipes.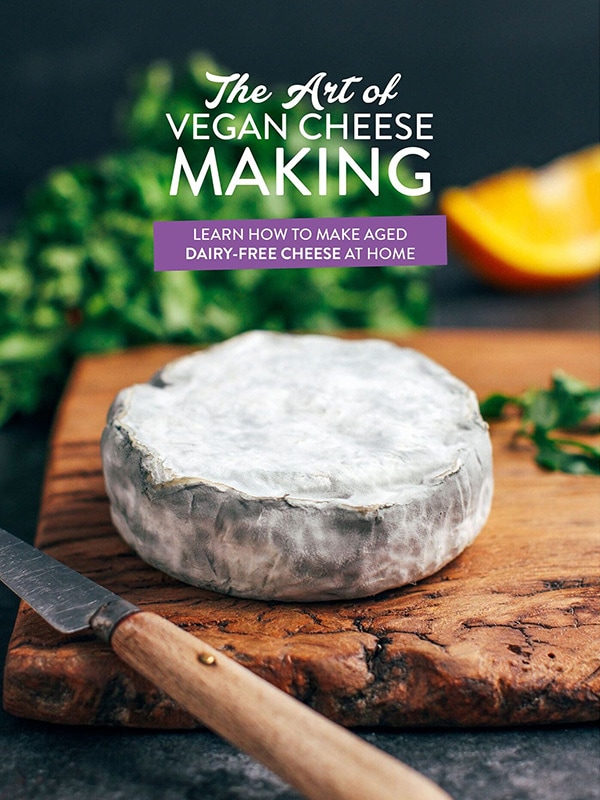 🧀 25 Mind-Blowing Vegan Cheese Recipes!
Sign up for the Full of Plants newsletter and you'll get new recipes delivered by email weekly, PLUS your FREE 100-page printable eBook!