Do you guys need an appetizer to go with your summer cocktails?
I have got you covered with these fresh "smoked salmon" rolls filled with cultured cream cheese! It's fresh and creamy with a subtle smoky and sea-y flavor. Your guests won't believe it's vegan!
Before starting, I'm aware not everyone wants to eat something that brings back memories of meat/fish, but for new vegans or people who miss the taste of fish, this recipe will be a good fit. It also makes a nice appetizer for that time when you have vegans and meat-eaters at the table.
Alright, let's dot it! We start with the cream cheese filling, which requires only 5 ingredients. Soak the cashews overnight and then blend them with water and probiotics.
It is naturally fermented with probiotics for 24-48 hours, giving it a fresh and tangy flavor. For those with limited time, I'm also giving in the notes another way to make the cashew cream that requires just 5 minutes.
Once the cream cheese is tangy, we add salt, lemon juice, and chopped fresh basil. You can use dill instead if you happen to have some on hand.
Quick note: the recipe for the filling makes more than needed. I found it hard to blend only one cup of cashews into a creamy texture, so I went with two cups. You can use the leftover cream cheese as a spread, sauce, or just roast more orange bell peppers to make more rolls!
Next, we make the "smoked salmon." The secret ingredient here is orange bell peppers! It's crazy how similar it is to salmon once it's roasted and marinated!
We first roast slices of bell peppers for 25 minutes or until charred. Then remove the skin and discard it. The next step is to marinate the slices overnight to give them a salmon flavor. For the marinade, I went with a mix of water, wakame seaweed for the "fish" flavor, soy sauce for umami and saltiness, lemon juice, and liquid smoke. I recommend marinating at least 6 hours; overnight is even better.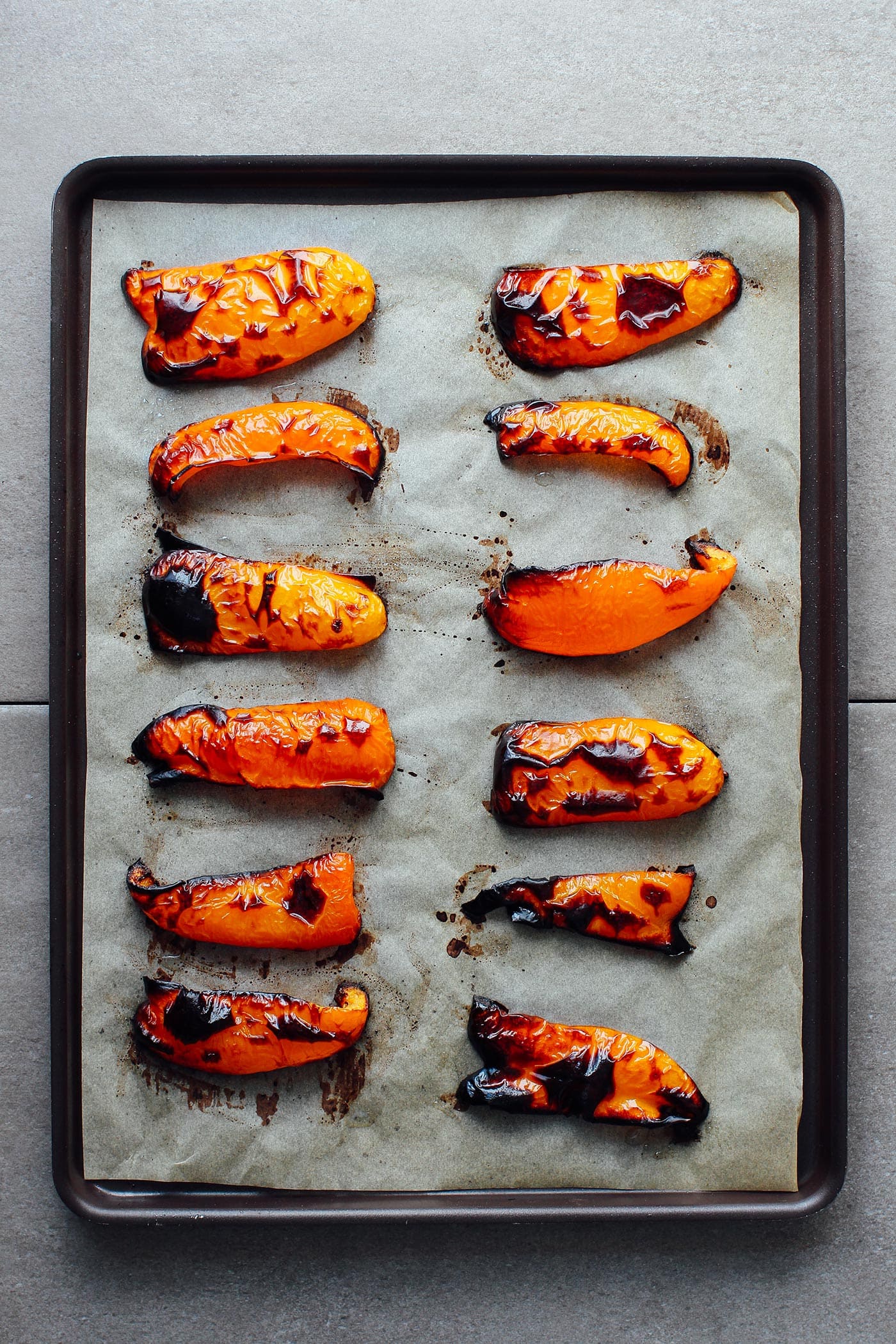 After 6 hours, remove the orange bell pepper slices from the marinade. The slices will have absorbed some water, so they will be a bit watery. You don't want that! Place the slices on two sheets of kitchen paper towel, top with another two sheets of paper towel, and press with your hands to remove excess moisture. You can also use a rolling pin and gently roll it on the paper. This step is essential to get a texture more similar to salmon, plus it will make the peppers look a bit more fibrous!
Finally, spread some cultured cream cheese on a slice of vegan "salmon" and roll it up into a roll. Refrigerate and serve cold with a glass of white wine or rosé!
These fresh rolls make a great party appetizer for basically any occasion. It's perfect for summer, but I'm sure these would also be great as Christmas canapés.
Let me know in the comments if you try this recipe!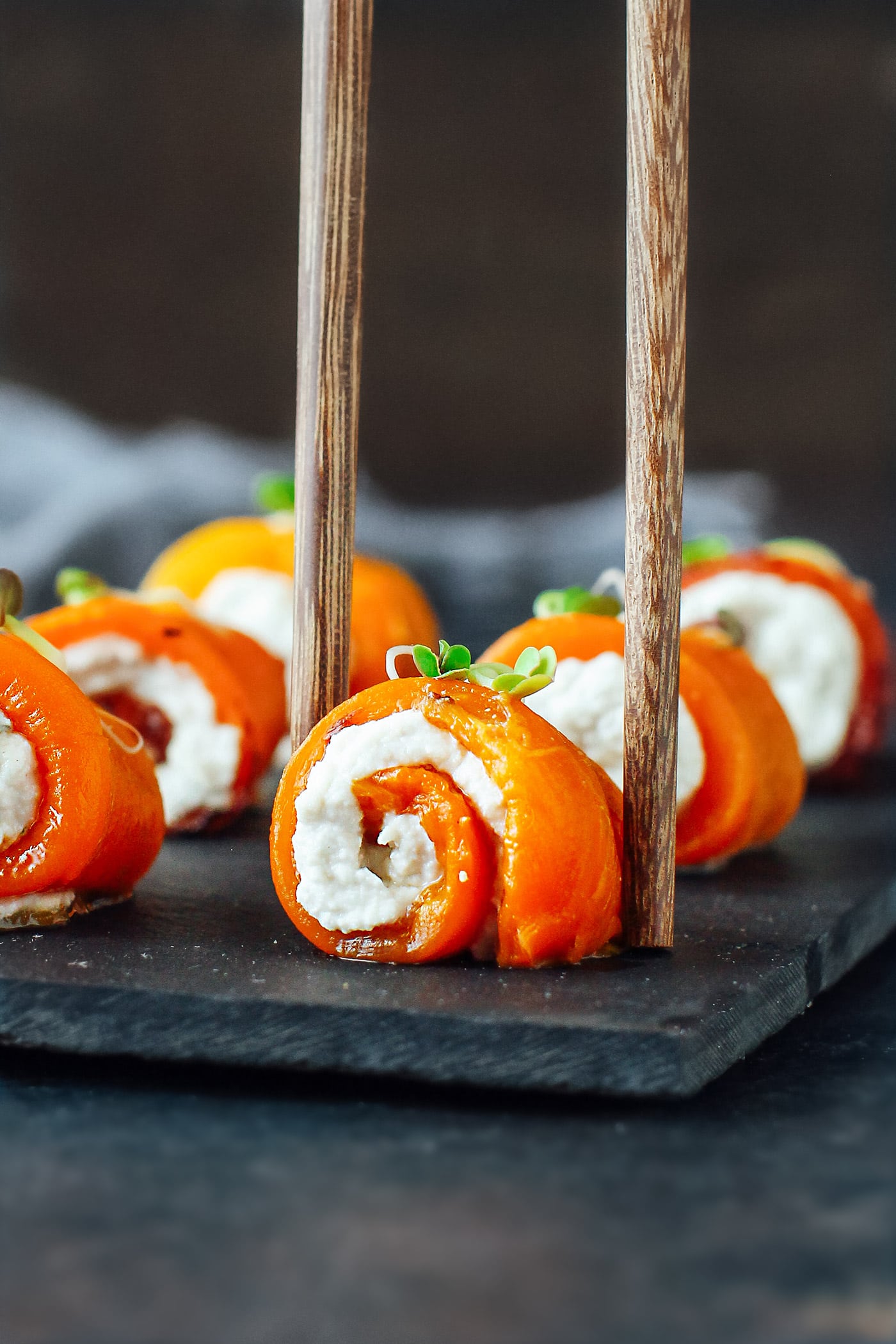 Recipe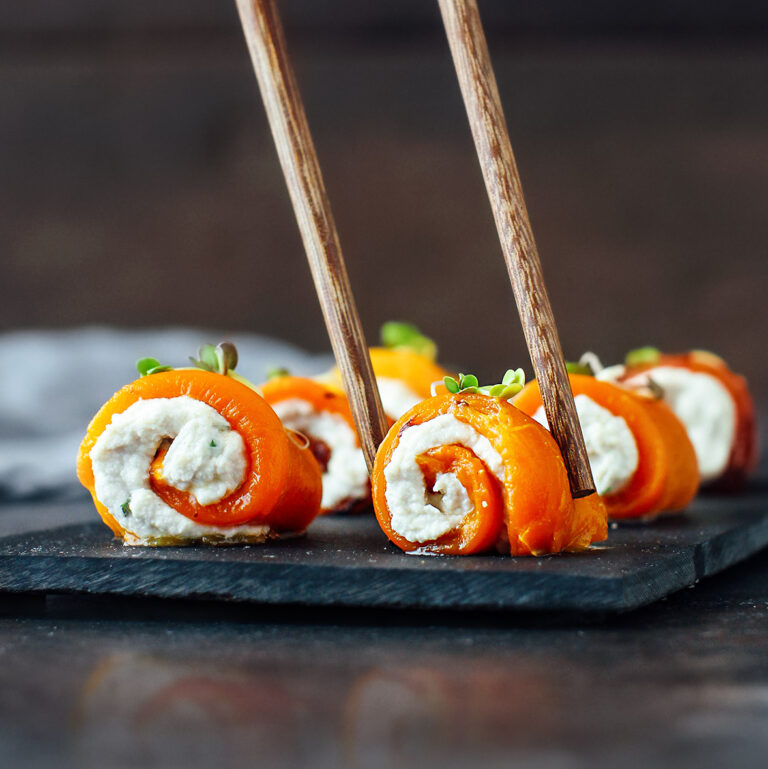 Vegan Smoked "Salmon" Cheese Rolls
Smoked "salmon" rolls filled with a tangy cultured cream cheese. These fresh and delicious party appetizers are vegan and gluten-free!
Ingredients
Cream Cheese
2

cups

raw cashews

soaked overnight

4-6

tbsp

water

2

capsules acidophilus probiotic

or 1/16 tsp mesophilic culture

1/8

tsp

salt

or more to taste

2

tbsp

freshly chopped basil

1

tsp

lemon juice

1/2

clove

of garlic

minced, optional
Instructions
Cream Cheese
Drain the cashews and place them in the bowl of a food processor or blender.

Add the water and blend on high speed for 3-5 minutes, scraping down the sides from time to time. Add one tablespoon of water at a time if the cream is too thick. Continue to blend until it's smooth and creamy.

Stir in the powder from the acidophilus capsules and blend for another 20 seconds. Transfer to a clean bowl and cover with plastic wrap to touch.

Place the bowl in a dark place at room temperature and let it ferment for at least 24 hours. Depending on the temperature of your house it might take up to 48 hours. The cashew cream should have a tangy flavor.

Once fermented, place about 1 cup of the cashew cream in a mixing bowl. Add the salt, chopped basil, lemon juice, and optionally, the minced garlic. Mix until combined. Taste and adjust seasonings if needed. Cover with plastic film to touch and keep in the refrigerator until ready to use. The cashew cream will keep for up to 7 days in the refrigerator.
Smoked "Salmon"
Preheat the oven to 455°F (235°C) and line a baking sheet with parchment paper.

Wash the bell peppers and remove the stems and seeds. Cut each bell peppers into 4-5 slices. Arrange the slices on the baking sheet and brush with olive oil.

Roast for about 25 minutes, or until the skin is charred. Remove from the oven and let cool 10-15 minutes.

Once cooled down, carefully remove the skin from the peppers. The skin should peel off easily.

In a small baking dish, make a marinade by combining the water, wakame seaweed, lemon juice, soy sauce, and liquid smoke together. Add the pepper slices to the marinade and let marinate at least 6 hours or overnight in the refrigerator.

The next day, remove the bell pepper slices from the marinade. Place the slices on a kitchen paper towel, top with another sheet of paper towel and press slightly to drain excess water. This step is essential to get the right texture, otherwise, the "salmon" will be too watery.

To make the rolls: lay the bell pepper slices on a cutting board. Spread some cream cheese on each pepper slice and roll up tightly into a roll. Place on a serving plate and serve immediately, or cover with plastic wrap and refrigerate at least 2 hours.

Rolls will keep in the refrigerator for up to 3 days.
Notes
If you don't have time to make cultured cream cheese, skip the fermentation process and replace the probiotic capsules with 1 tbsp lemon juice and 2 tsp nutritional yeast.
Nutrition
Serving:
1
Roll
|
Calories:
60
kcal
|
Carbohydrates:
4.2
g
|
Protein:
1.4
g
|
Fat:
4.7
g
|
Fiber:
0.5
g
|
Sugar:
1.6
g
Did you make this recipe?
Tag @fullofplants on Instagram and hashtag it #fullofplants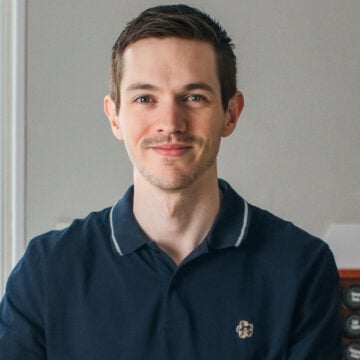 About the Author
Thomas Pagot is the founder, photographer, and recipe developer behind Full of Plants. He created the blog in 2016 as a personal cookbook for vegan recipes. Through years of recipe development, Thomas has successfully grown Full of Plants into a trusted resource for plant-based recipes.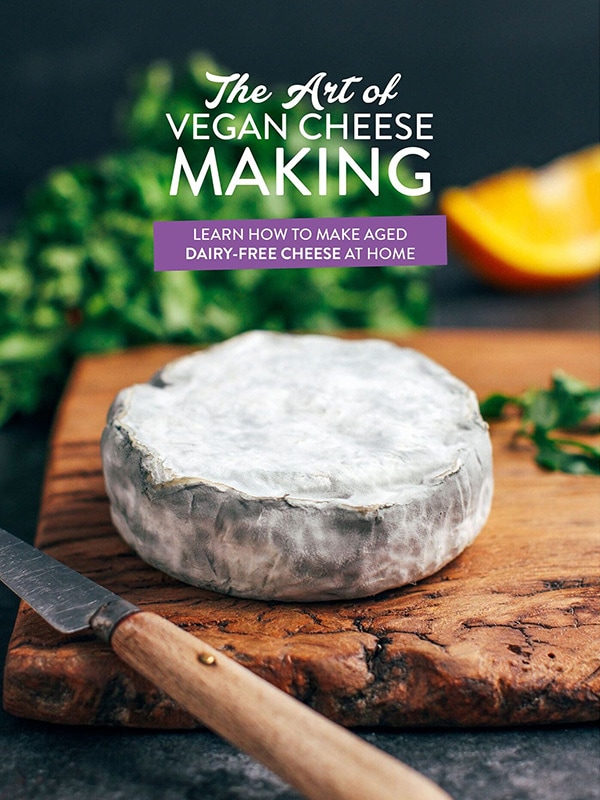 🧀 25 Mind-Blowing Vegan Cheese Recipes!
Sign up for the Full of Plants newsletter and you'll get new recipes delivered by email weekly, PLUS your FREE 100-page printable eBook!