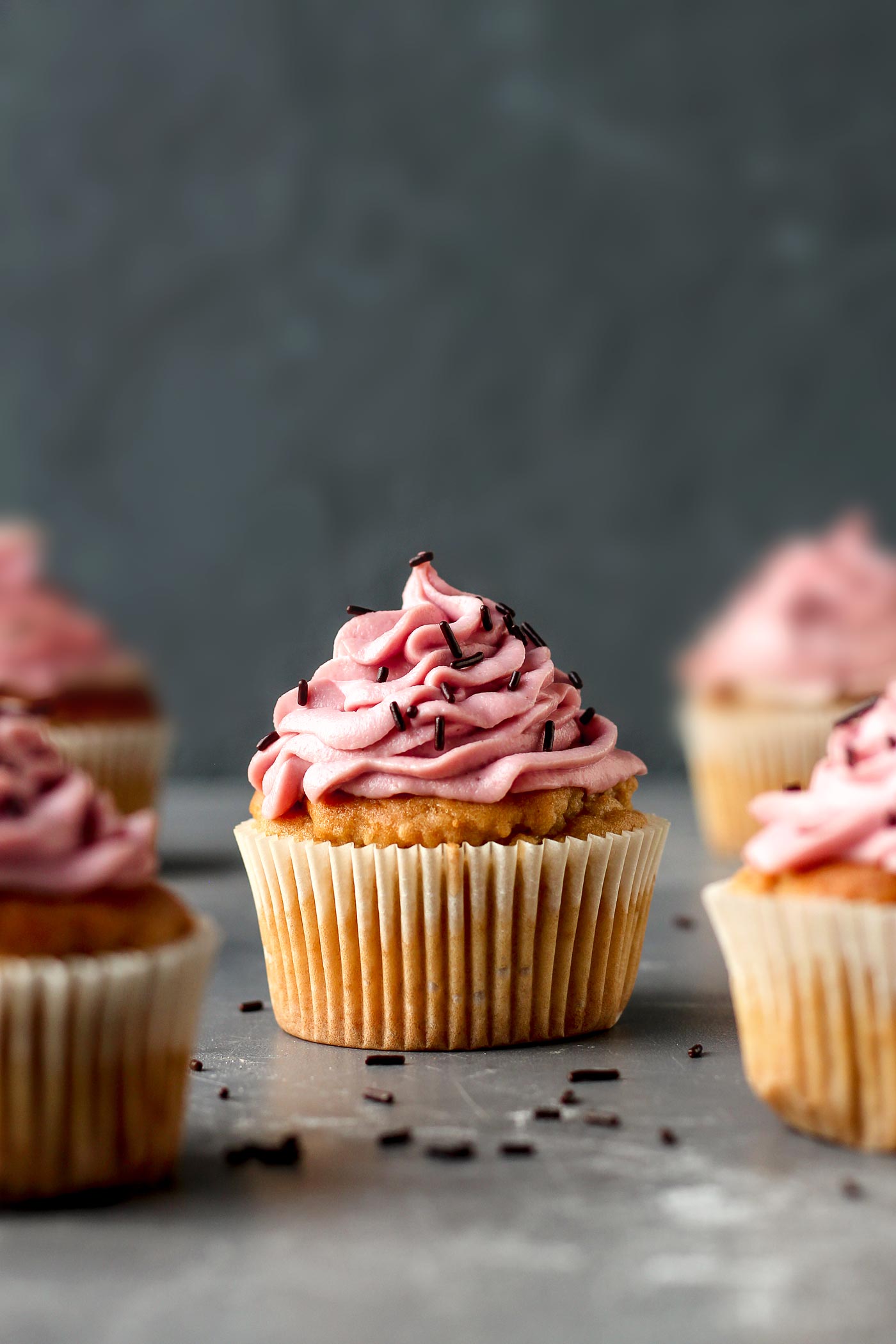 January is over, so we can finally start to indulge a bit more, yeah! You know New Year's resolutions never last long anyway. So, are you up for some vegan rose water cupcakes?
These cupcakes are fluffy, extra soft, and melt in your mouth. They are flavored with rose water that adds a subtle floral note.
If you have never heard of or tasted rose water, it's a natural flavoring made by letting rose petals steep in water. It has a refreshing smell, but it's very powerful, so a little goes a long way. You can usually find rose water at Turkish or Arabian grocery stores or online here.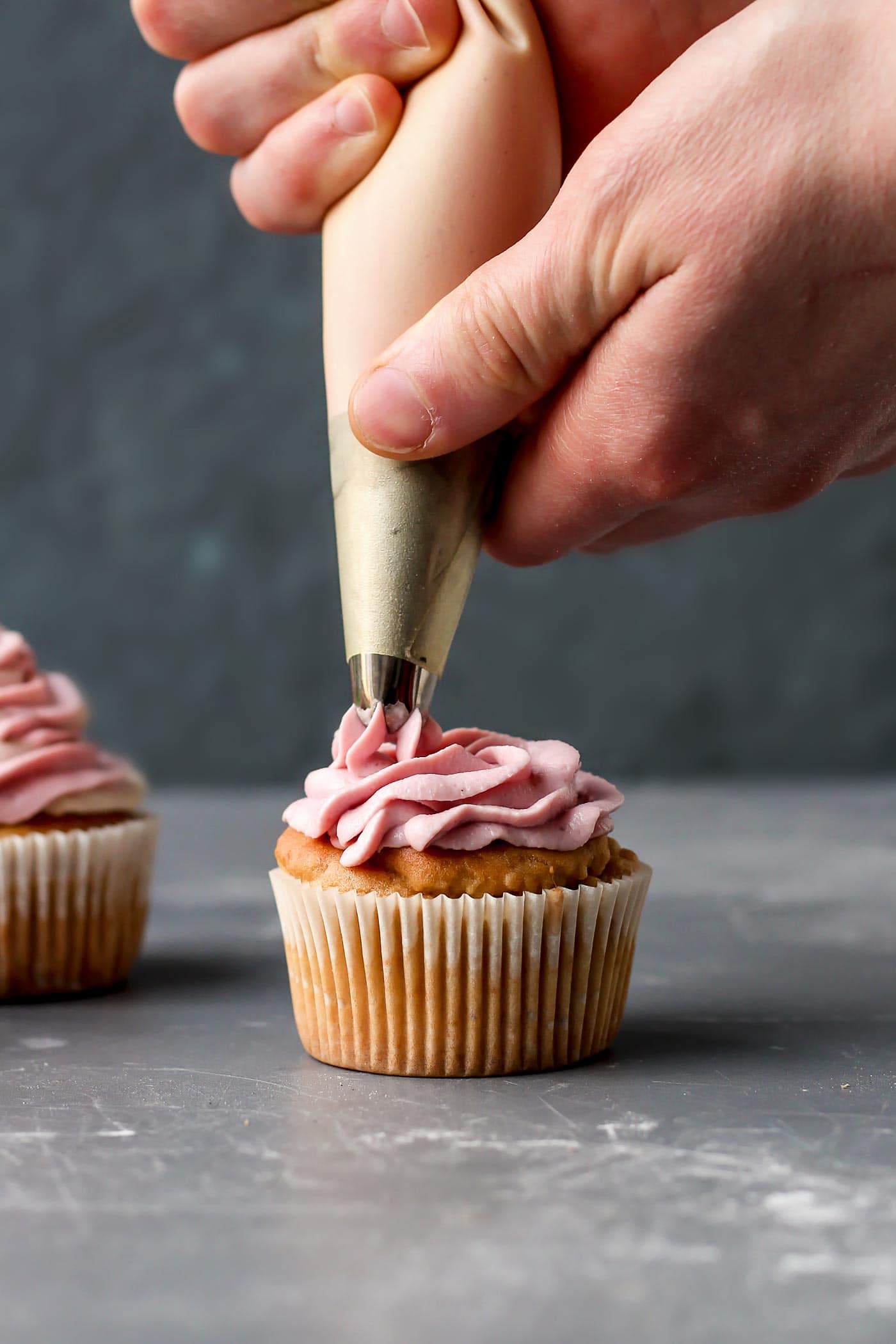 The gluten-free cupcake batter is easy to prepare. It's a mix of white and brown rice flour. I also added some tapioca starch to help make these light and fluffy. They are naturally sweetened with maple syrup and coconut sugar and flavored with vanilla and rose water.
I do not recommend swapping the coconut sugar for more maple syrup or the opposite. The mix of liquid and dry sweeteners keeps the texture soft.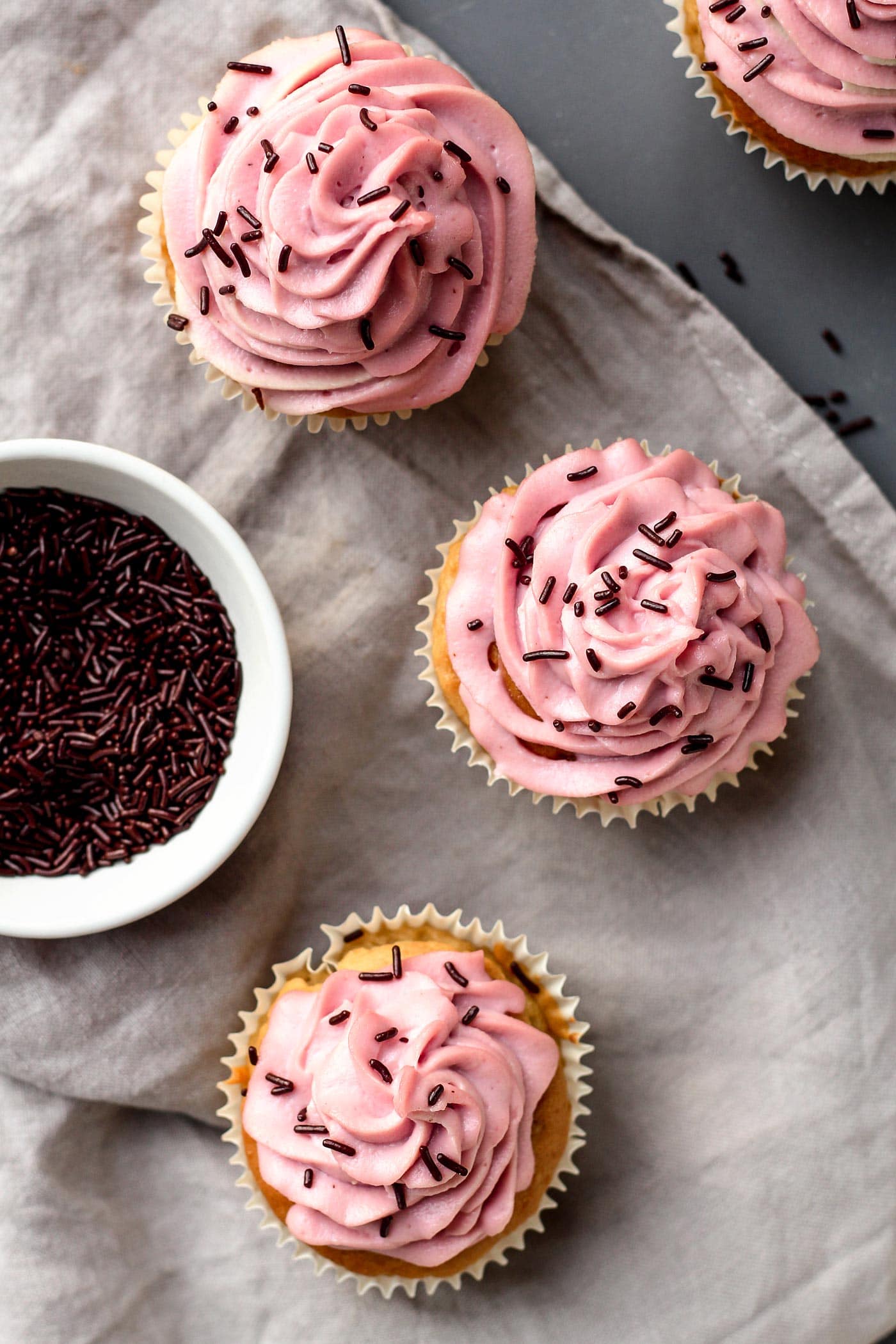 For the frosting, I went with a sweet cashew cream flavored with rose water and colored with natural beetroot powder. If you prefer traditional buttercream, I also added a recipe for it.
Buttercream is easier to make, though, and takes only 5 minutes, but it contains refined sugar and vegan butter, which is not everyone's thing.
Either way, the rose water frosting really takes these cupcakes to the next level by adding that fresh and discreet floral note.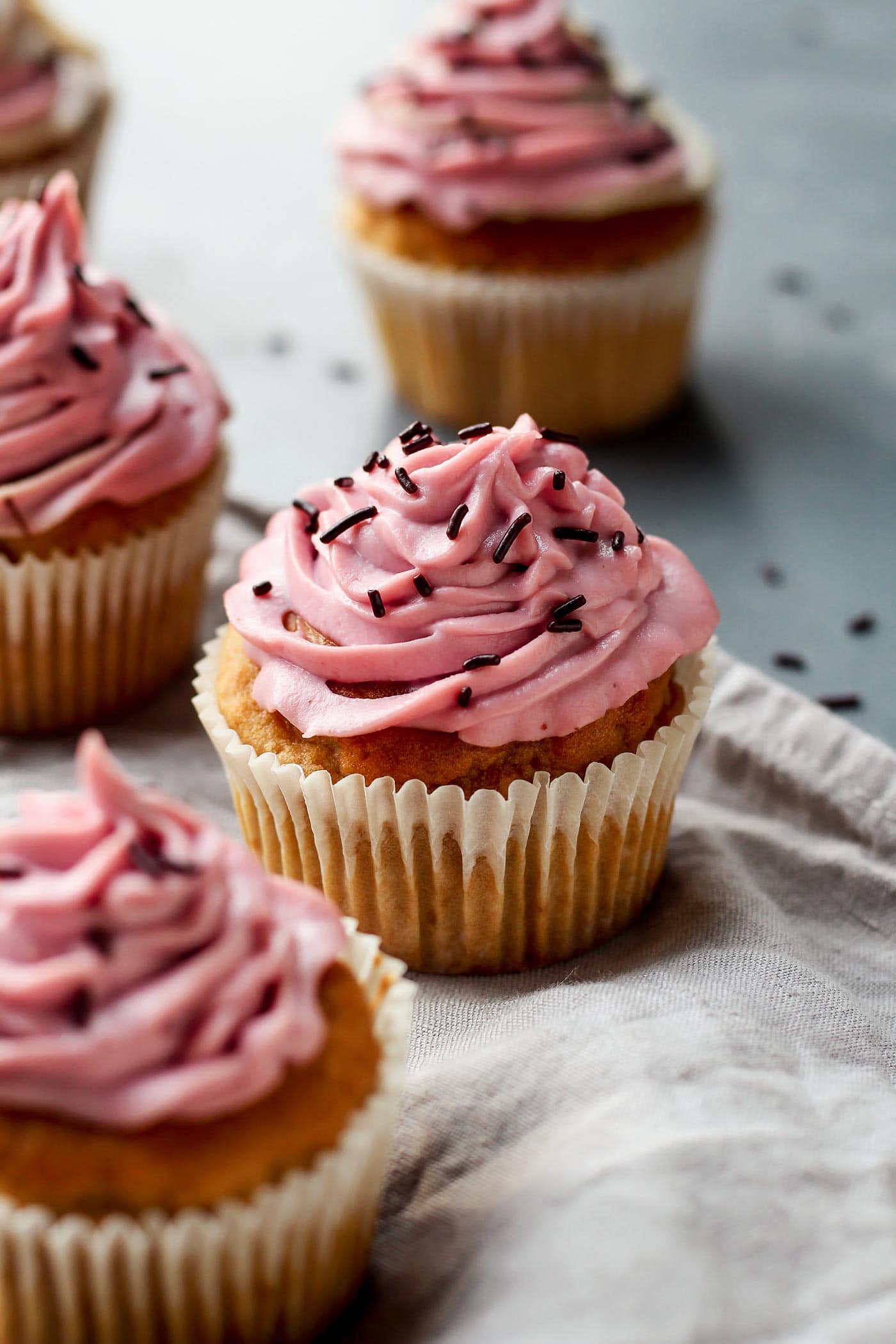 Don't forget to top your cupcakes with sprinkles or chocolate chips, and let me know in the comments if you try this recipe!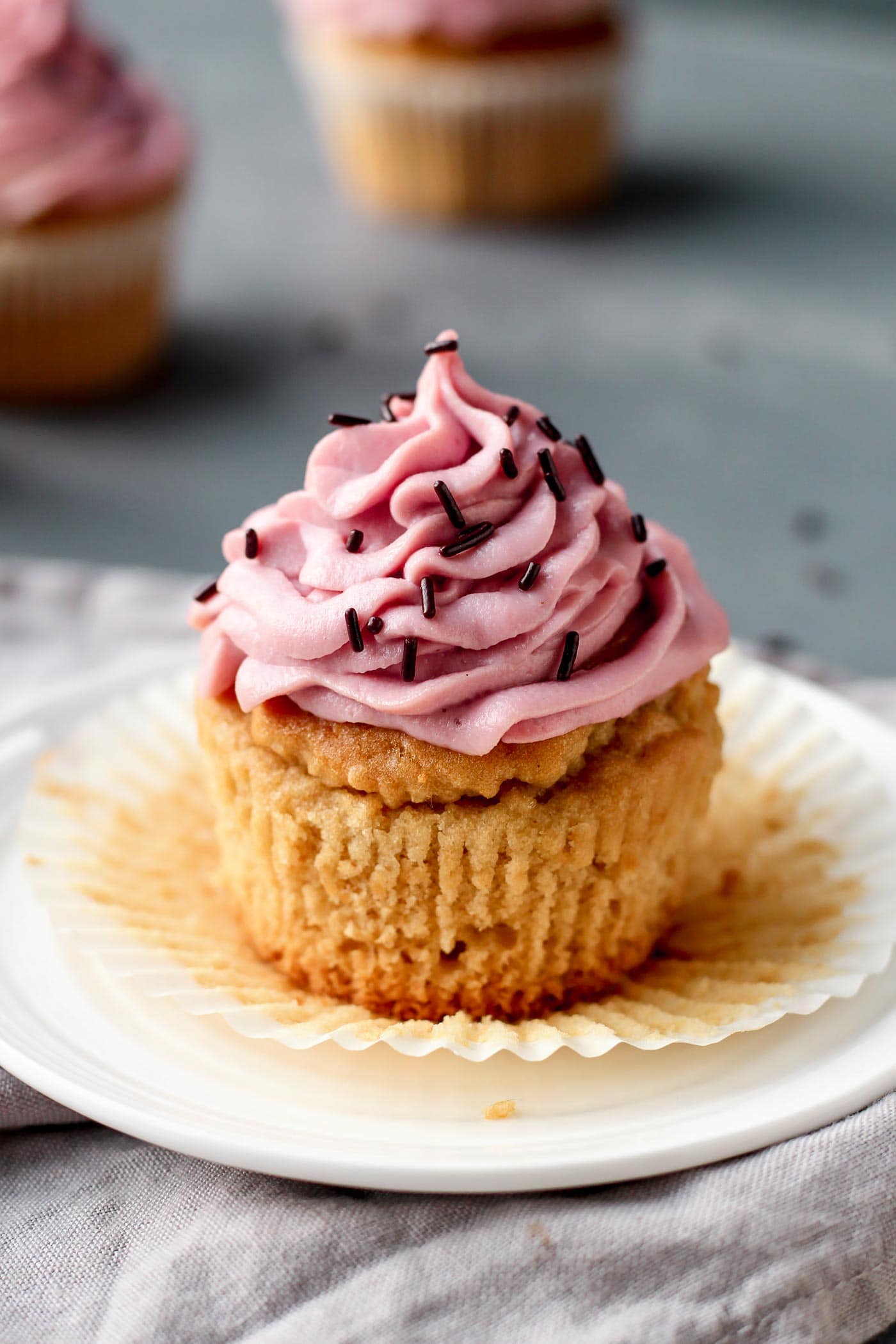 Recipe
Vegan Rose Water Cupcakes
Perfectly soft and fluffy vegan cupcakes flavored with rose water - Plus two ways to make the frosting!
Instructions
Cupcakes
Preheat oven to 350°F and line a muffin pan with cupcake liners.

In a medium bowl, whisk together the rice flour, brown rice flour, tapioca flour, coconut sugar, baking powder, baking soda and xanthan gum. Set aside.

In a small bowl, combine the almond milk, oil, maple syrup, vanilla extract and rose water.

Slowly pour the wet ingredients into the dry ones and mix until well incorporated. It will have the consistency of a pancake batter. Let batter rest for about 10 minutes.

Fill muffin liners to about 3/4 full. Bake for 25-35 minutes, or until a toothpick inserted in the center of a muffin comes out clean. I baked mine for 30 minutes. Let cool at room temperature in the pan before removing them.

Using a piping bag fitted with a star tip, pipe the frosting (cashew cream OR buttercream) on each cupcake.

Cupcakes are better served the same day but are still very soft on day 2. Store at room temperature in a airtight container and add frosting only if eaten the same day.
Buttercream Frosting
Beat the butter with the powdered sugar, beetroot powder and rose water until fluffy and light. You can do it by hand or with a stand mixer.
Cashew Cream Frosting
Drain the soaked cashews and place them with all the other ingredients in a blender. Blend on high speed until smooth, scraping down the sides of the bowl from time to time. Transfer to a large bowl and place in the refrigerator for at least 1 hour.
Notes
I'm giving two different frosting options, one that is refined sugar-free, made with cashews and the other made with powdered sugar and vegan butter. The latter is definitely sweeter but takes only 5 minutes to prepare.
If making the cashew cream frosting: you will have enough to decorate about 12 cupcakes so you will have leftovers since this recipe yields about 8 cupcakes. The cashew cream will keep in the refrigerator for up to 6 days.
Rose water is very powerful, I do not recommend increasing the amount used.
Nutritional information is for one cupcake without the frosting since it's difficult to calculate depending on how much you pipe on each cupcake.
Nutrition
Serving:
1
cupcake (without frosting)
|
Calories:
148
kcal
|
Carbohydrates:
23.6
g
|
Protein:
1
g
|
Fat:
5.6
g
|
Fiber:
0.6
g
|
Sugar:
7.9
g
Did you make this recipe?
Tag @fullofplants on Instagram and hashtag it #fullofplants