Fall is almost here! Meaning: PUMPKIN recipes!
Just the smell of the pumpkins baking in the oven reminds me of fall, more particularly Christmas. I know, we are not there yet, but still, it's my favorite season and it's coming!
These gluten-free pumpkin waffles are crispy on the outside and soft on the inside, topped with roasted pumpkin, sautéed kale and creamy hollandaise sauce. Super flavorful, healthy and filling, a great dish to start the fall season right!
Waffles always remind me the times when as a kid, we were staying at my grandparents' house for the holidays. We would go to the pool in the afternoon and come back to the pleasing smell of hot, crispy waffles my grandmother would have prepared.
The thing is, we would usually buy snacks at the pool (think french fries and other junk food) and were definitely not hungry when coming home. Not wanting to deceive our grandma, we would still eat one waffle, or two, we all know grandmothers are pushy when it comes to eating. The "Take another one" kind of thing. Anyway, result: food baby.
Back to these pumpkin waffles benedict. It starts with the pumpkin that you cut in half and roast for about 45 minutes in the oven. That gives you plenty of time to prepare the waffles, kale and hollandaise sauce.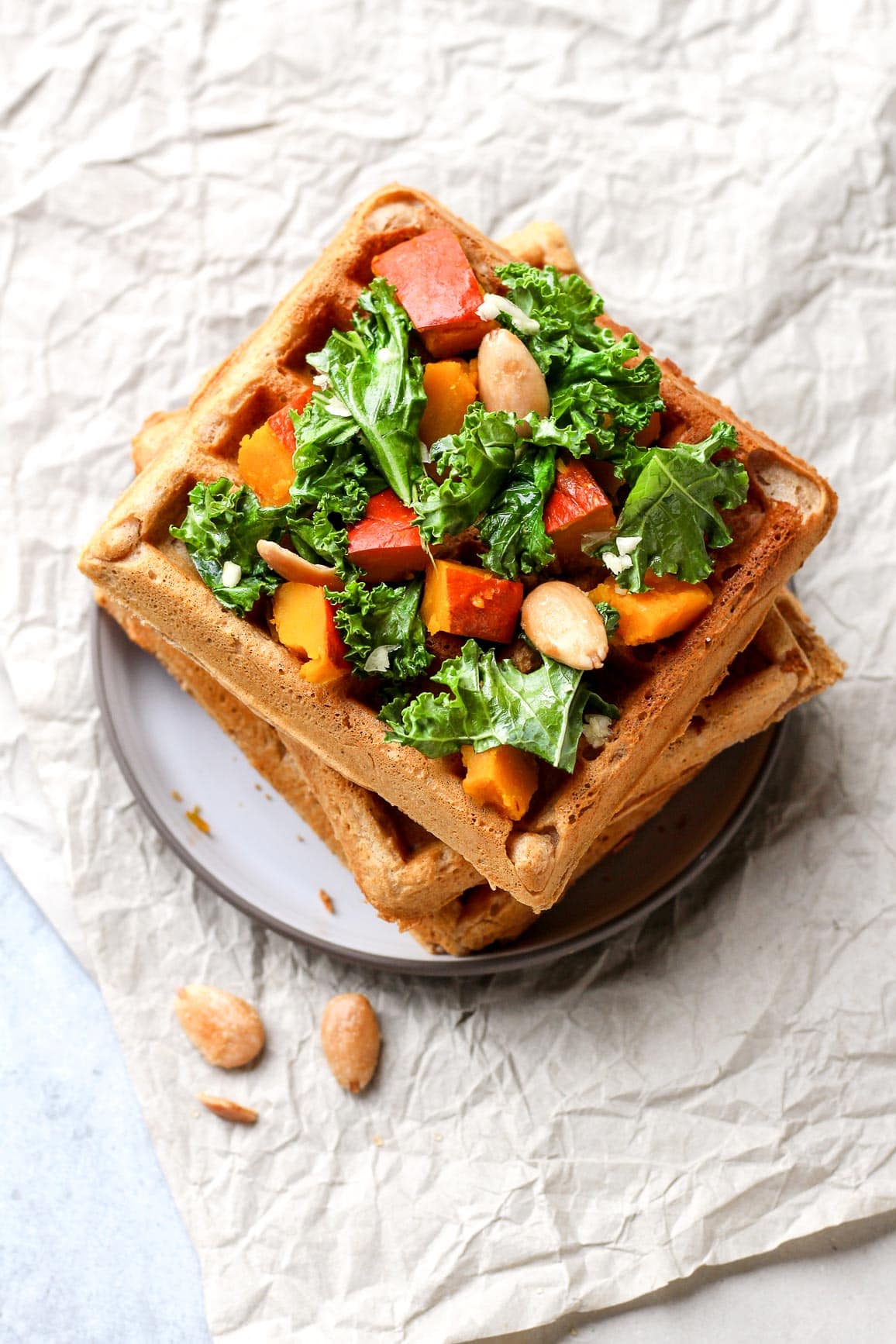 Just to let you know, this recipe is easy but requires some preparation, it's not the kind of recipes you can make in 30 minutes, but it's so delicious I think it's worth spending some time in the kitchen. Plus who doesn't like to spend time in the kitchen when it's cloudy or rainy outside?! I'm sure you do.
While the pumpkin is in the oven, you can prepare the waffles, which are gluten-free and refined sugar free. I added pumpkin puree to the batter to add moisture as well as a nice and subtle pumpkin flavor. You can also add some pumpkin spice if you want.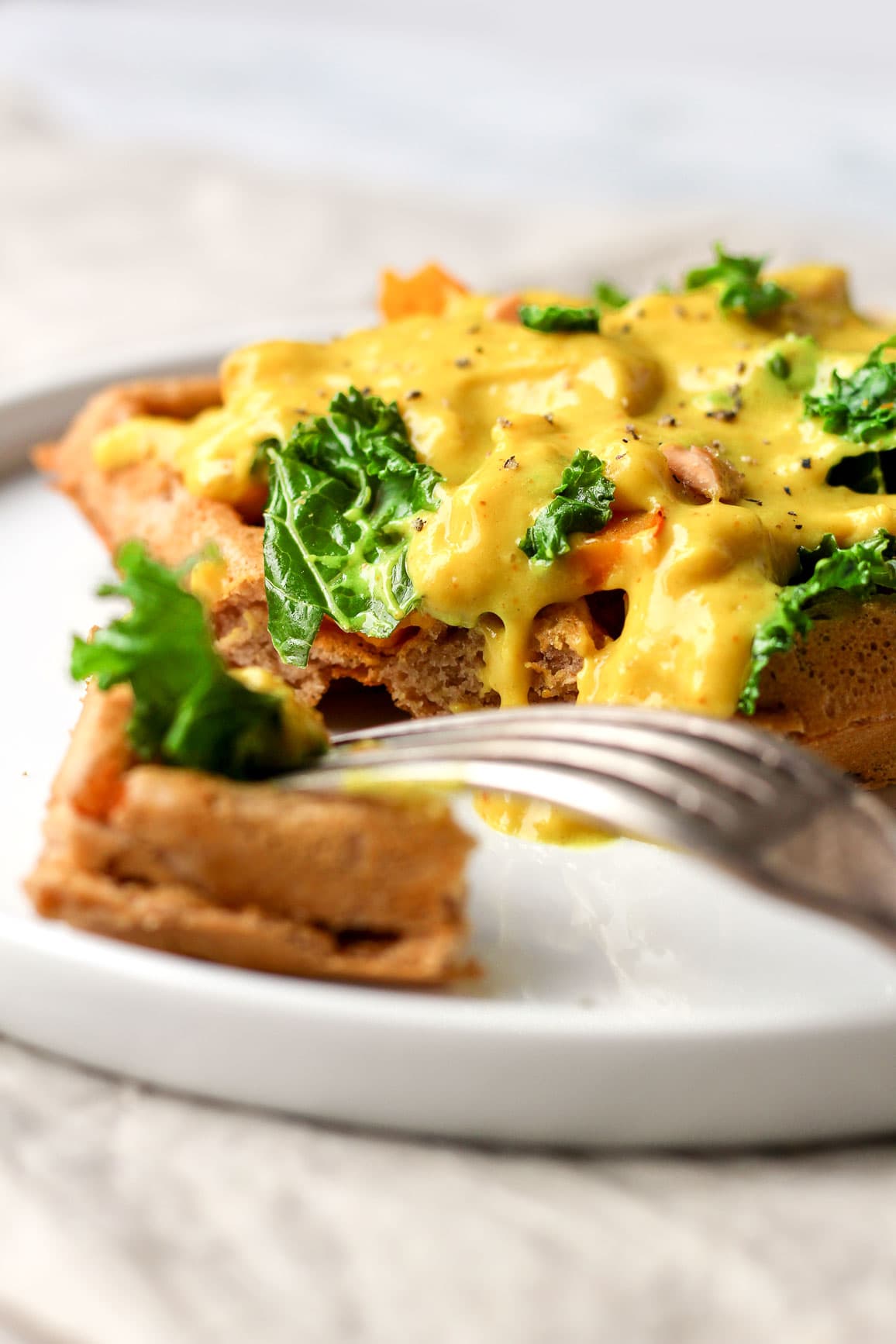 The kale is roughly chopped and sautéed with garlic for about 10 minutes. The hollandaise sauce is made with only 6 ingredients: almond milk, nutritional yeast to add a cheesy flavor, yellow mustard, cornstarch to make it thicker, turmeric for the color and a little bit of salt. It won't taste *exactly* like real hollandaise sauce but it's a very tasty and cheesy sauce.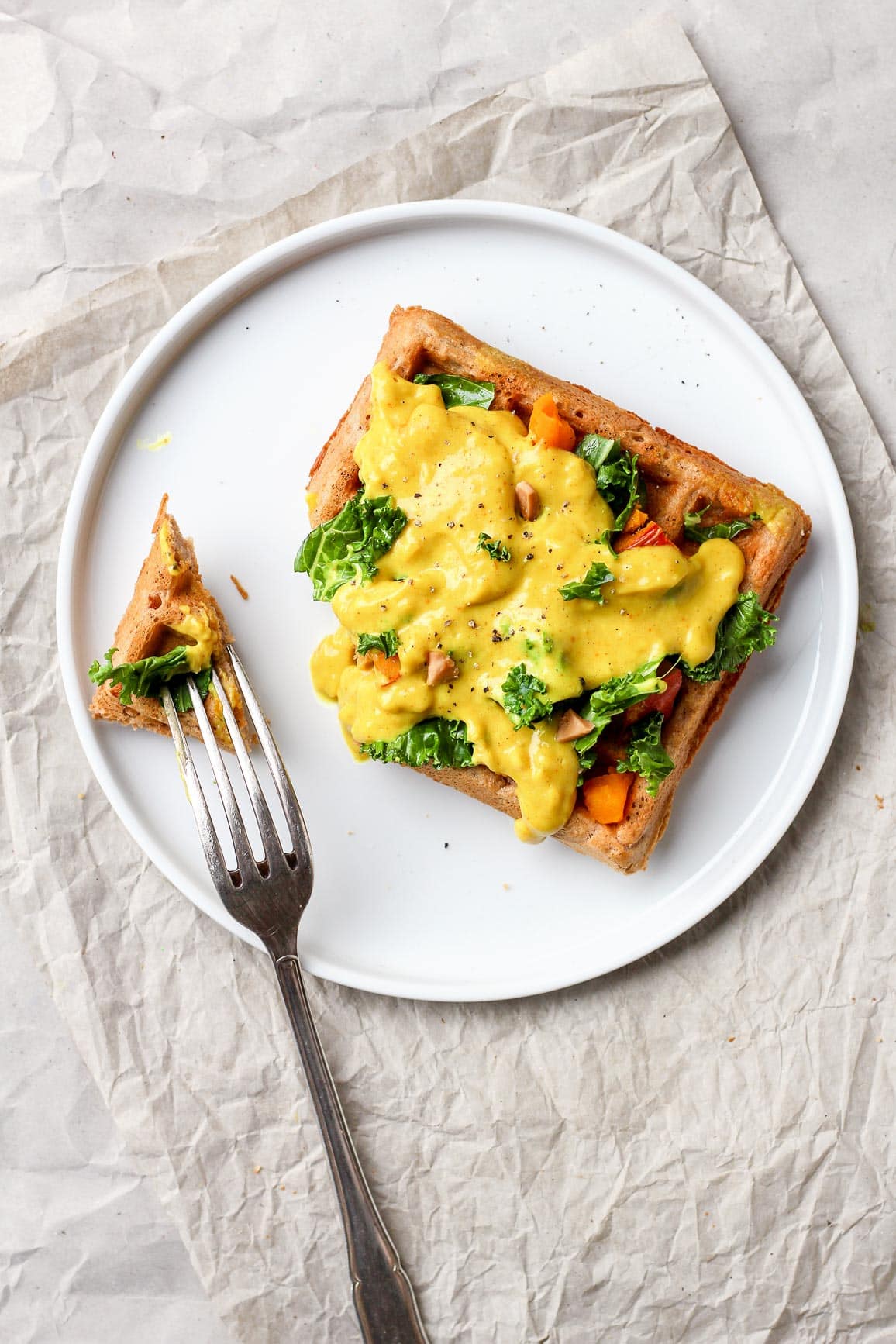 These pumpkin waffles benedict are great for any occasion, breakfast, lunch or dinner. Let me know if you try it and tag @fullofplants on Instagram!
Print
Vegan Pumpkin Waffles Benedict
Gluten-free waffles that are crispy on the outside, soft on the inside and topped with roasted pumpkin, sautéed kale and hollandaise sauce.
Waffles
1 cup

white rice flour

⅓ cup

oat flour

¼ cup

arrowroot

1 tbsp

baking powder

¼ tsp

pumpkin spice (optional)

¼ cup

pumpkin puree

2 tbsp

maple syrup

1 tbsp

olive oil

1 cup

unsweetened almond milk
Pumpkin
1

small sugar pumpkin

1 tbsp

olive oil
Kale
2 cups

kale, washed and chopped

2

cloves garlic, peeled and finely chopped

¼ cup

water

1 tbsp

olive oil
Hollandaise Sauce
1 cup

almond milk

¼ cup

nutritional yeast

1 tbsp

yellow mustard

½ tsp

turmeric

¼ tsp

salt

1 tbsp

cornstarch (

2

if you want a thicker consistency)
Optional: chopped roasted almonds or pumpkin seeds
Instructions
Roasted Pumpkin
Preheat oven to 350°F.
Wash the pumpkin and slice the stem off.
Slice the pumpkin in half and scoop out the seeds and guts using a spoon or an ice cream scoop.
Brush the insides with a little bit of olive oil and place each half face down on a baking sheet lined with parchment paper.
Roast for about 45 minutes. Remove from the oven and set aside. You can cover with foil to keep warm.
Waffles
In a large bowl, combine the white rice flour, oat flour, arrow root, baking powder and pumpkin spice.
Slowly pour in the almond milk and whisk well until no clumps remain.
Add the pumpkin puree, maple syrup and olive oil. Mix until combined.
Let sit for about 10 minutes. In the meantime, preheat waffle iron. I used a rectangle waffle maker.
Lightly grease the preheated waffle iron with canola oil (or other oil). Pour the batter onto the hot waffle iron and cook until golden brown. Mine took 4 minutes to cook.
Place waffles on a wire baking rack. Make sure you don't stack them or they won't be as crispy.
Kale
Heat the olive oil in a large skillet over medium heat.
Add the kale and sautée for about 5 minutes.
Add the chopped garlic, and cook for another 5 minutes.
Add the water, cover and cook for about 10 minutes, or until the kale is soft.
Add salt and pepper to taste.
Hollandaise Sauce
Combine all the ingredients in a small pan and whisk until well combine.
Heat on medium heat for about 5 minutes, whisking constantly until the sauce thickens.
Combine
Chop the roasted pumpkin into small cubes.
Top each waffle with roasted pumpkin cubes, some sautéed kale, and about ¼ cup of hollandaise sauce.
You can also top waffles with some chopped almonds, parsley, a pinch of pumpkin spice or more kale.
Serve as is, or place the waffles on a baking sheet, cover with aluminium foil and reheat in a 350°F preheated oven for about 12 minutes.
I recommend you serve these the same day as the waffles will lose their crispiness if put in the refrigerator overnight.
Notes
Please use real mustard for the hollandaise sauce, not the "French's" one.
Nutrition
Serving Size:

1 Waffle (with toppings and sauce)

Calories:

323

Sugar:

8.1g

Fat:

8.8g

Carbohydrates:

55.8g

Fiber:

7.3g

Protein:

9.1g