Are you looking for a six-pack and a summer body? If you answer yes, then you are definitely on the wrong page. Because what's coming is seriously dangerous for your waist.
It's basically biteable Nutella.
Creamy, melt-in-your-mouth, nutty and chocolatey. This fudge is naturally sweetened with maple syrup and requires only 4 ingredients! Five actually if you add in some vanilla. Ready to bite into this rich Nutella fudge?
The base for this fudge is hazelnut butter, you can make your own or use store-bought. It is combined with maple syrup, some cocoa powder and cocoa butter to firm up everything.
For the cocoa butter, make sure to use deodorized cocoa butter, like this one for example. Otherwise, it will be too powerful and will cover the flavor of hazelnut butter. I chose cocoa butter over coconut oil because I found it yields a better taste and texture.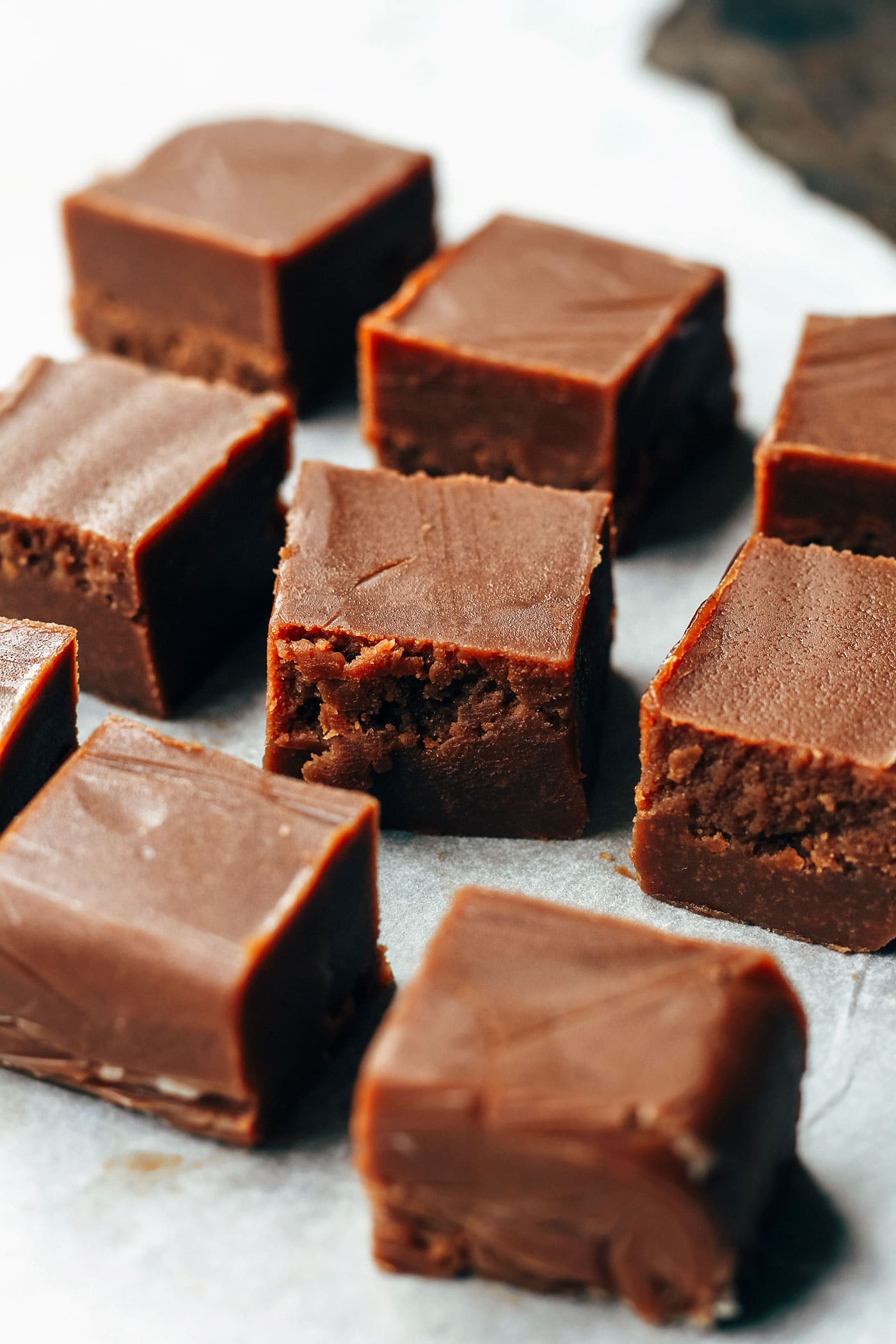 I only used one tablespoon of cocoa powder to let the hazelnut flavor shine, but if you want it more chocolatey just double the cocoa powder.
This recipe is SO easy, you just mix everything in a bowl and pour into a dish. Let cool in the fridge until firm and slice into squares. That's it!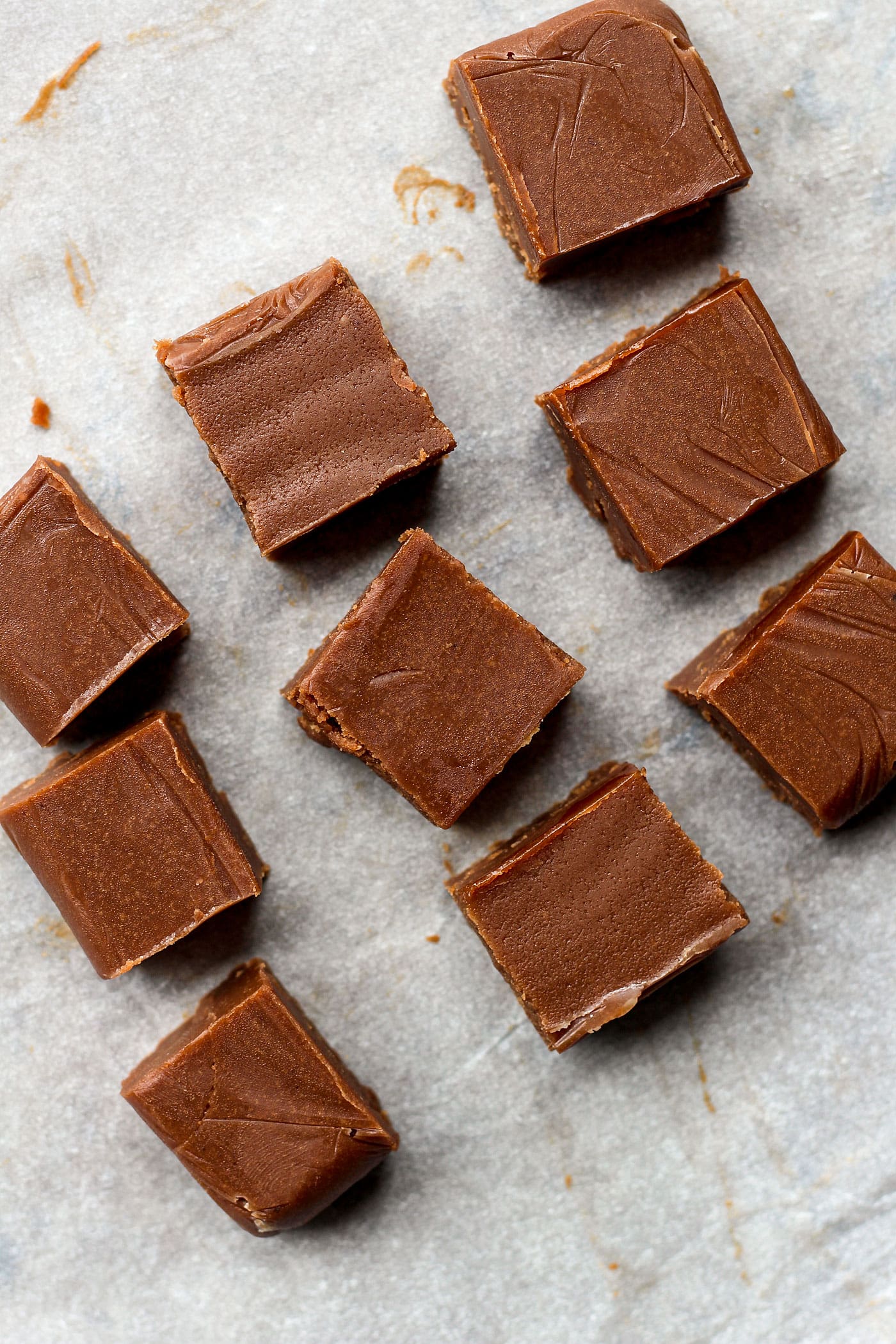 Nutella fans, this recipe is for you! This fudge is smooth, insanely creamy and packed with hazelnut and chocolate flavors.
Let me know in the comments if you try this recipe!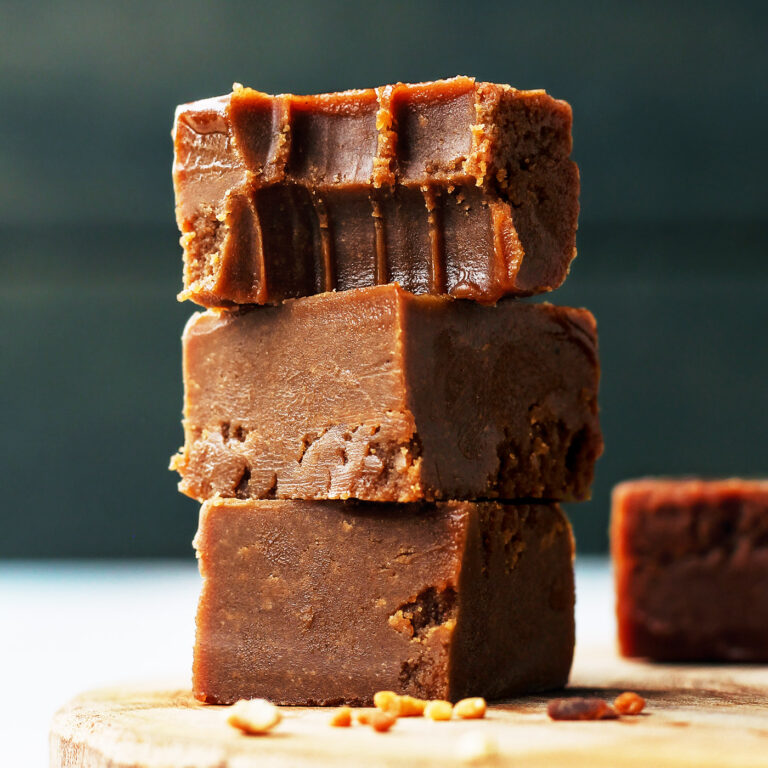 4-Ingredient Vegan Nutella Fudge
Easy and healthy Nutella fudge that requires only 4 ingredients! Dairy-free, refined sugar-free, it melts in your mouth. It's like biteable Nutella!
Instructions
Line a small 7x4 dish, or loaf pan with parchment paper. Use a smaller dish if you prefer thicker fudge cubes or a larger one for thinner fudge bites.

In a small bowl, combine the hazelnut butter, maple syrup, and cocoa powder. Add the melted cocoa butter, and vanilla extract if using, and whisk slowly until everything is smooth and fully combined. At first, cocoa butter will stay on top but as you mix, it will start to combine with the other ingredients.

Once fully smooth, pour the fudge into the prepared dish and refrigerate at least 3 hours, or until firm. Using a hot knife, cut into 18 (or less!) squares.

Nutella fudge will keep in the refrigerator for up to two weeks, or in the freezer for up to 3 months.
Notes
If you don't have, or can't find hazelnut butter, you can make your own: Preheat oven to 350°F. Place 2 cups hazelnuts on a baking sheet and roast for 10-12 minutes. Remove from the oven and let cool 15 minutes. Place the hazelnuts in a clean kitchen towel and rub with your hands to remove the skins. It's okay if there are still some left. Place the hazelnuts in a food processor and process until it becomes smooth and creamy. For a smoother texture, you can pass it through a fine sieve.
Nutrition
Serving:
1
square
Calories:
93
kcal
Carbohydrates:
3.5
g
Protein:
1.2
g
Fat:
8.4
g
Fiber:
0.8
g
Sugar:
2.9
g
DID YOU MAKE THIS RECIPE?
Tag @fullofplants on Instagram and hashtag it #fullofplants