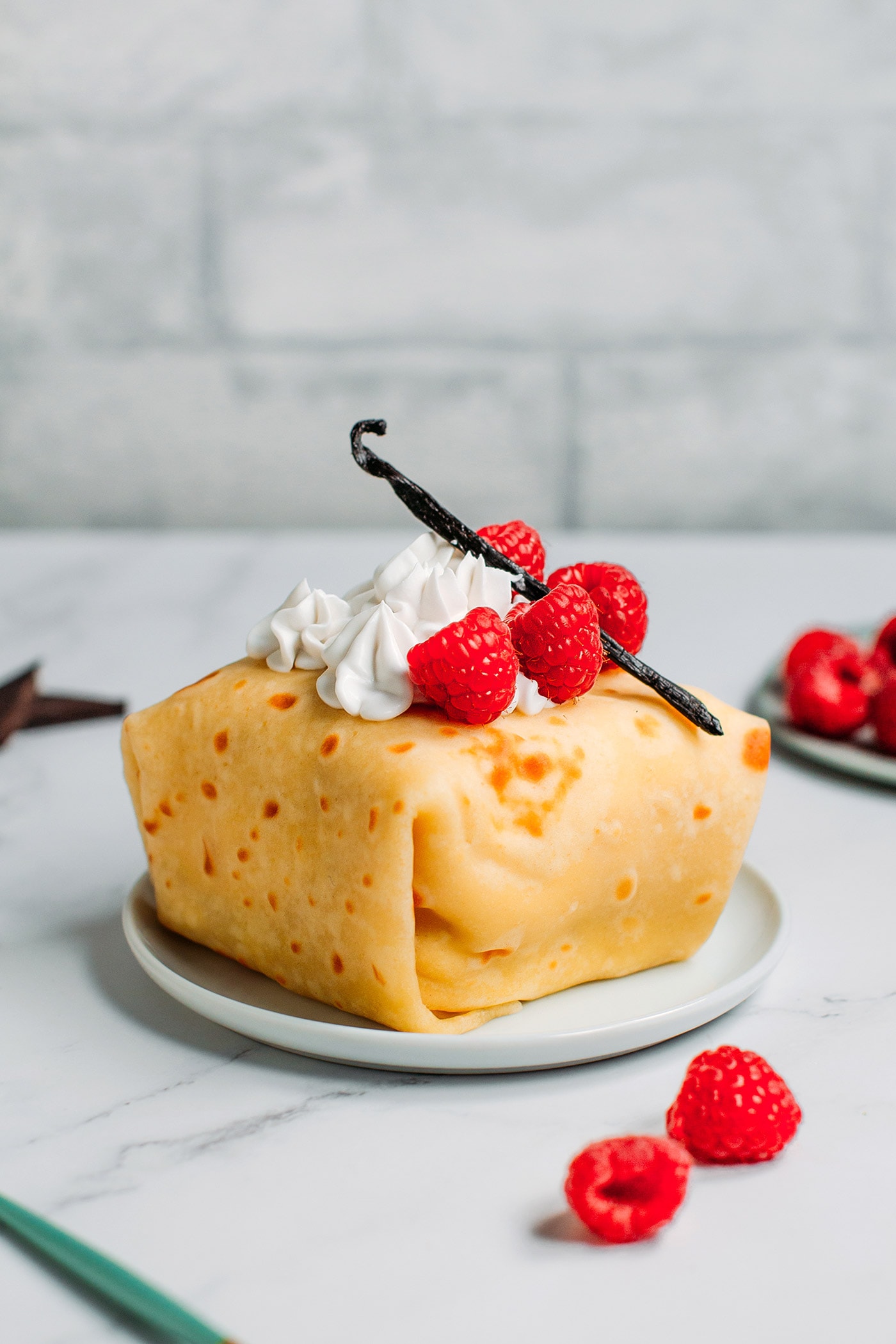 If you have never heard about this cake, Courchevel is a French dessert that could be described as a raspberry shortcake wrapped in a crêpe!
It's airy, light, creamy, and just delicious!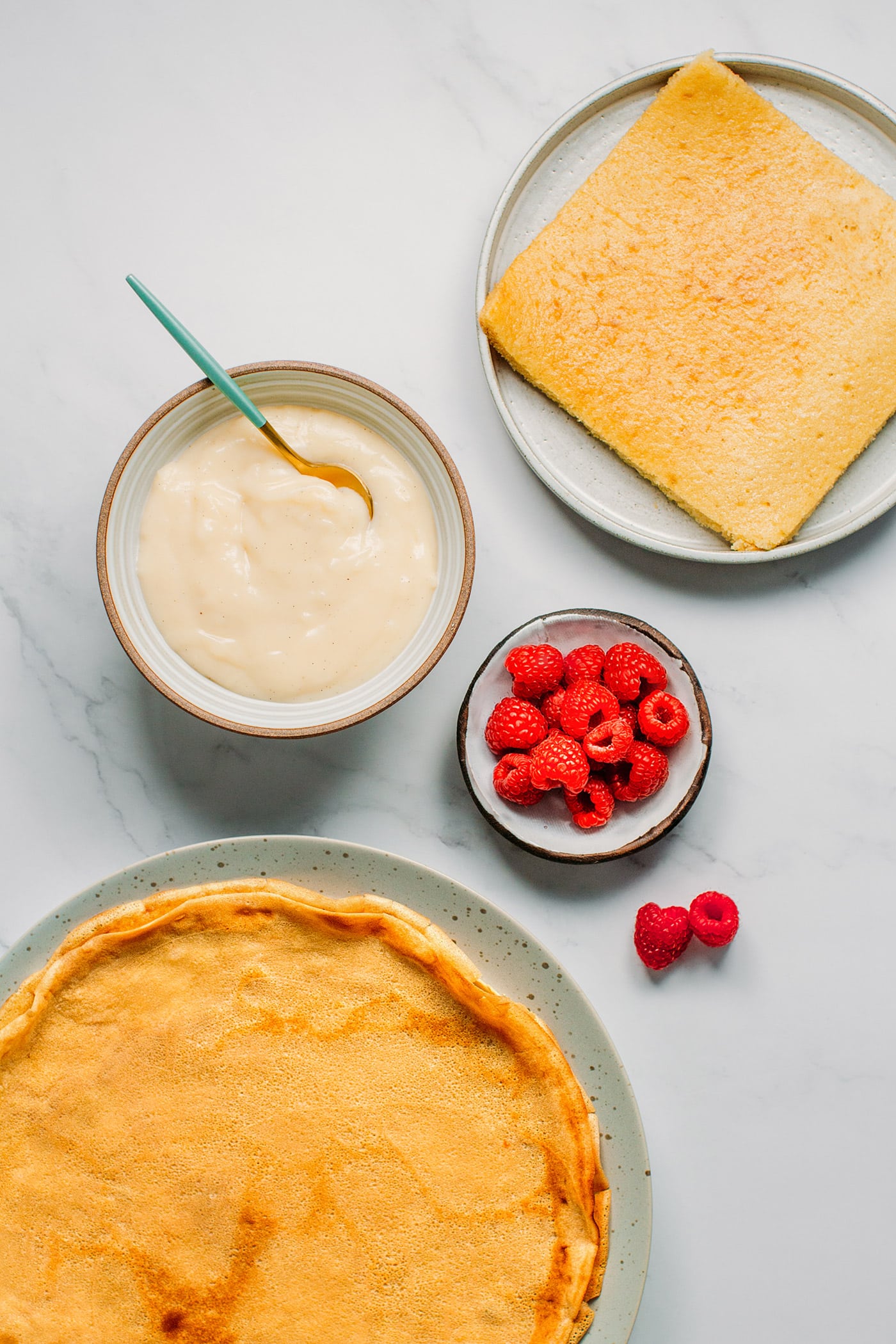 WHAT IS A COURCHEVEL CAKE
Courchevel is a French cake that appeared around 1990. It's basically a raspberry shortcake wrapped in a crêpe. The crêpe adds chewiness and another level of texture to the cake.
This cake is not very popular nowadays and it's rare to see it in French bakeries. It used to be more common a few years ago and it was one of my favorite treats!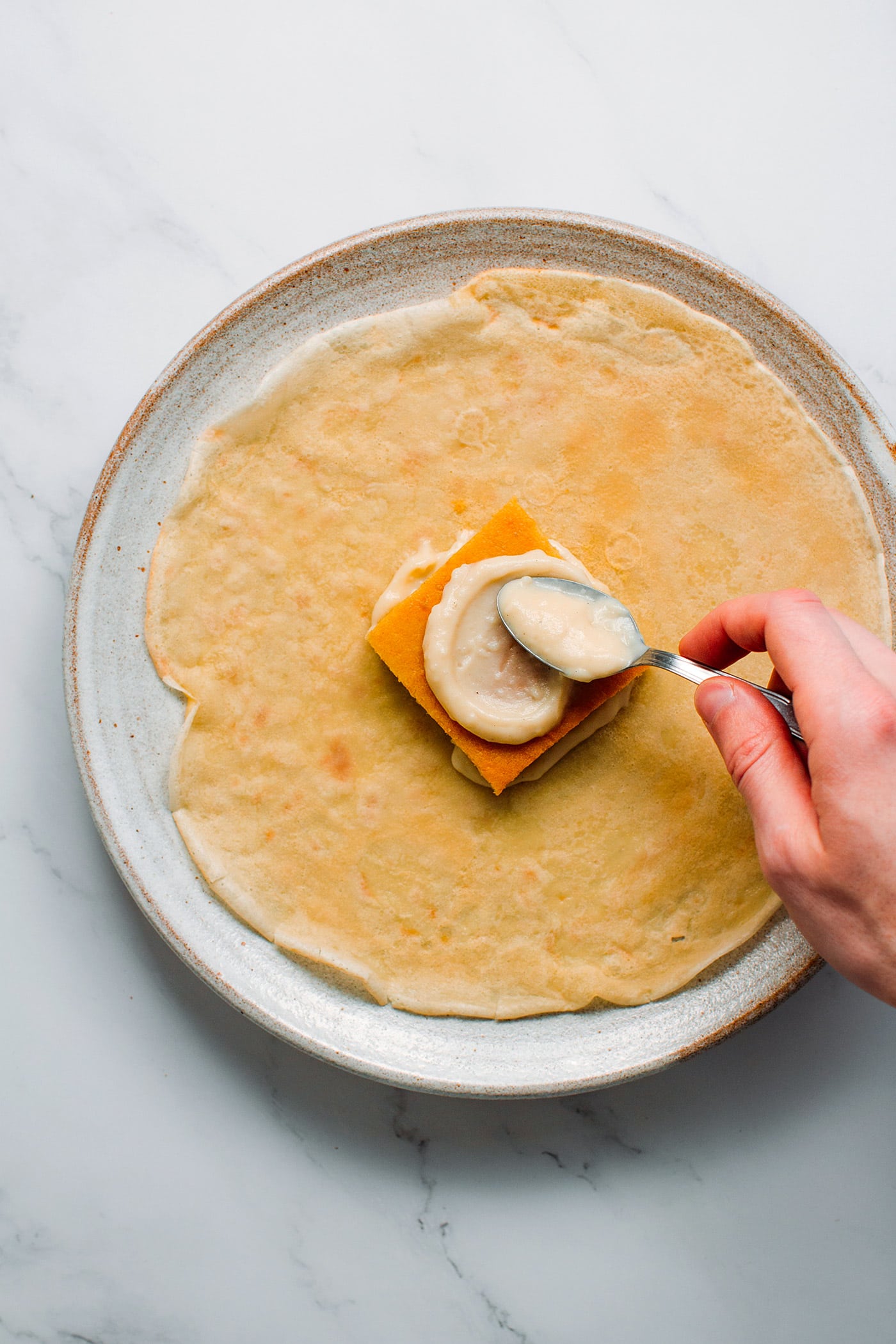 HOW TO MAKE IT
The inside consists of a two layers of sponge cake lightly soaked into a rum syrup for extra flavor. Then we have the vanilla pastry cream and fresh raspberries.
While I try to share mostly gluten-free recipes, I chose not to with this one to keep it simpler. Since there are 3 preparations, I didn't want to overcomplicate things with many different gluten-free flours. Please note, you could probably substitute the all-purpose flour for your favorite gluten-free flour blend.
Since there are a few preparations, I recommend preparing the pastry cream and the sponge cake the day before. This way, the next day you just have to make the crêpes and assemble.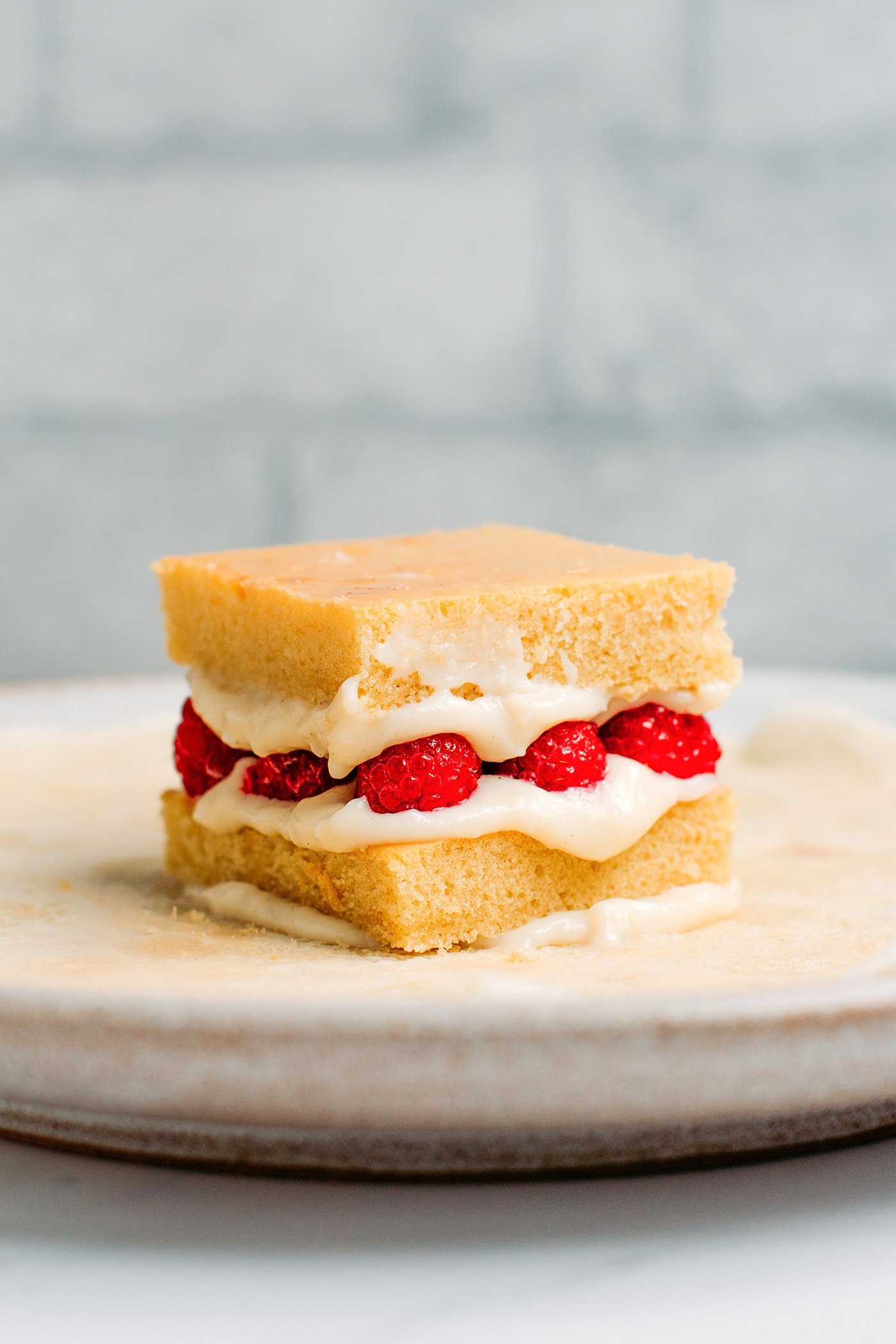 To assemble, place one crêpe on a large plate. Then, cut two squares of sponge cake and quickly dip them into your rum syrup. Top the sponge cake with pastry cream, raspberries, and more pastry cream before placing the second layer of sponge cake on top.
The pastry cream is first whipped with vegan butter to give it a lighter and richer texture.
Next, you want to spread a thin layer of pastry cream all over the sponge cake, as if you were doing a frosting.
Finally, wrap the crêpe tightly around the filling and flip it so the folds are at the bottom. Repeat with the remaining crêpes and filling and refrigerate for at least 5 hours to let the flavors merge. This recipe makes about 3 cakes, each one yielding about 2 servings.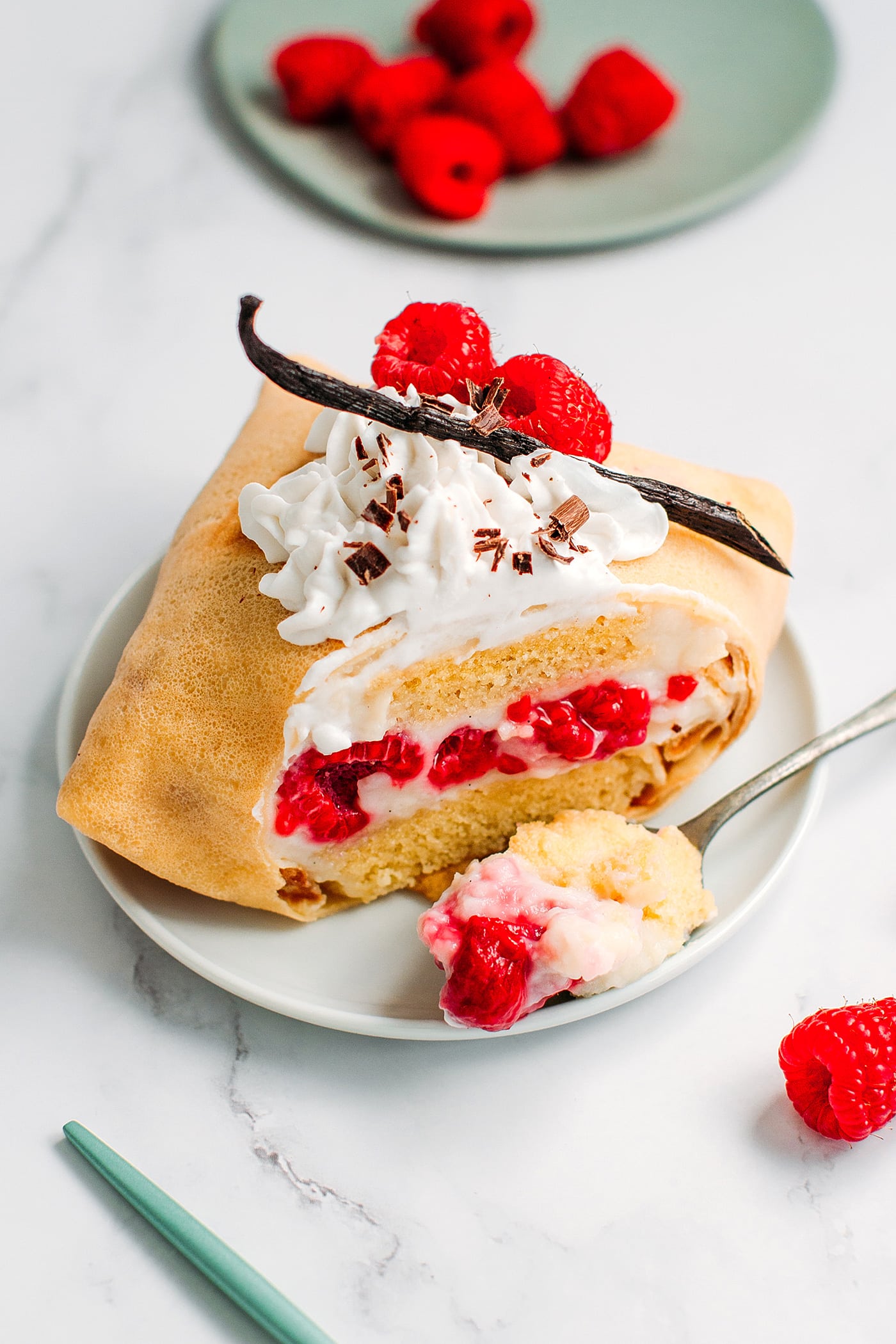 The sponge cake is super moist and completely melts in your mouth! Plus the crêpe layers balances with the creamy and juicy raspberry filling! This Courchevel cake makes the perfect weekend dessert!
Looking for more French inspired sweets? Check out these Vegan Madeleines, Crème Caramel, or this Vegan King Cake!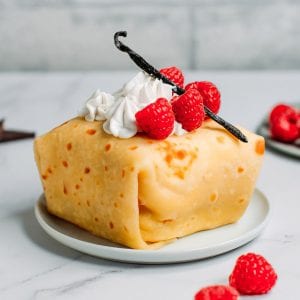 Vegan Courchevel (French Raspberry Crêpe Cake)
This crêpe cake is filled with vanilla pastry cream, sponge cake, and raspberries! It's moist, creamy, and so fresh!
Ingredients
Pastry Cream Filling
1 and ½

cup

vegan pastry cream

¼

cup

vegan butter, left at room temperature for 30 minutes

(preferably one that is hard when chilled, not the spreadable kind)
Sponge Cake
½

cup

all-purpose flour

5

tablespoon

sugar

¼

teaspoon

baking powder

¼

teaspoon

baking soda

¼

cup

vegan yogurt

¼

cup

unsweetened almond milk

2

tablespoon

melted vegan butter

½

teaspoon

vanilla extract

½

cup

raspberries
Rum Syrup
¼

cup

water

¼

cup

sugar

2

tablespoon

rum
Instructions
Pastry Cream
Add the cold pastry cream and vegan butter to a stand mixer. Whisk for 30-40 seconds, or until fully combined and airy. Transfer to a bowl and cover with plastic film to touch. Refrigerate for at least 6 hours, or until the cream has hardened a bit, it should have the consistency of frosting.
Crêpes
In a large mixing bowl, whisk together the flour, cornstarch, and coconut sugar. Slowly pour in the milk and water and whisk until smooth. Stir in the melted vegan butter and vanilla extract and whisk again. The batter should be very liquid and thin. If it's too thick like a pancake batter, add a bit more milk/water.

Heat a large non-stick skillet over medium heat. Once hot, use a kitchen paper towel to very lightly grease the skillet with oil. Pour about ½ cup of the batter and tilt the skillet with a circular motion to spread it into a thin even layer. Cook the crêpe for about 2 minutes, carefully flip it and cook for one more minute, or until lightly golden brown.

Transfer the crêpe to a large plate and repeat with the remaining batter. You should make about 4 crêpes (we will only use 3 so feel free to eat one!).

You can prepare the crêpe one day ahead. Keep at room temperature, covered with plastic film or aluminum paper.
Sponge Cake
Preheat oven to 350°F (175°C) and line a 10x6-inch baking dish with parchment paper.

In a large mixing bowl, whisk together the flour, sugar, baking powder, and baking soda. Pour in the vegan yogurt, almond milk, vegan butter, and vanilla extract. Whisk until smooth.

Transfer the batter to the prepared baking dish and spread it into an even layer.

Bake for about 15 minutes, or until the top is golden brown. Remove from the oven and let cool completely. The sponge cake can also be prepared one day ahead and kept at room temperature.
Rum Syrup
Add the water and sugar to a small saucepan. Bring to a boil and boil for 30 seconds. Remove from heat and let cool before adding the rum. The syrup is now ready.
To Assemble
Place one crêpe on a large plate or working surface. Cut your sponge cake into 6 squares of about 3-inch. Spread about one tablespoon of the cream on the middle of your crêpe. Quickly dip a square of sponge cake into the rum syrup and place it in the center of the crêpe.

Top with about 2 tablespoon of cream. Place 9-10 raspberries on top of the cream and slightly press them into the cream. Top with a bit more cream to cover.

Dip another square of sponge cake into the rum syrup and place it on top of the cream filling. Using a spoon or small knife, spread more cream all over the sponge cakes, just like a cake frosting.

Fold the crêpe over the shortcake tightly (and carefully) to enclose it. Flip your cake so the folds are not visible and appear at the bottom of the cake. Repeat with the remaining crêpes, sponge cake and filling. You should be able to make about 3 cakes.

Cover the cakes with plastic film and refrigerate for at least 3 hours to let the flavors merge.

Before serving, you can decorate with whipped coconut cream, shaved chocolate, and some extra raspberries. Courchevel cakes will keep for up to 3 days in the refrigerator.
Notes
Sponge cake recipe adapted from Nmmeiyee.
DID YOU MAKE THIS RECIPE?
Tag @fullofplants on Instagram and hashtag it #fullofplants