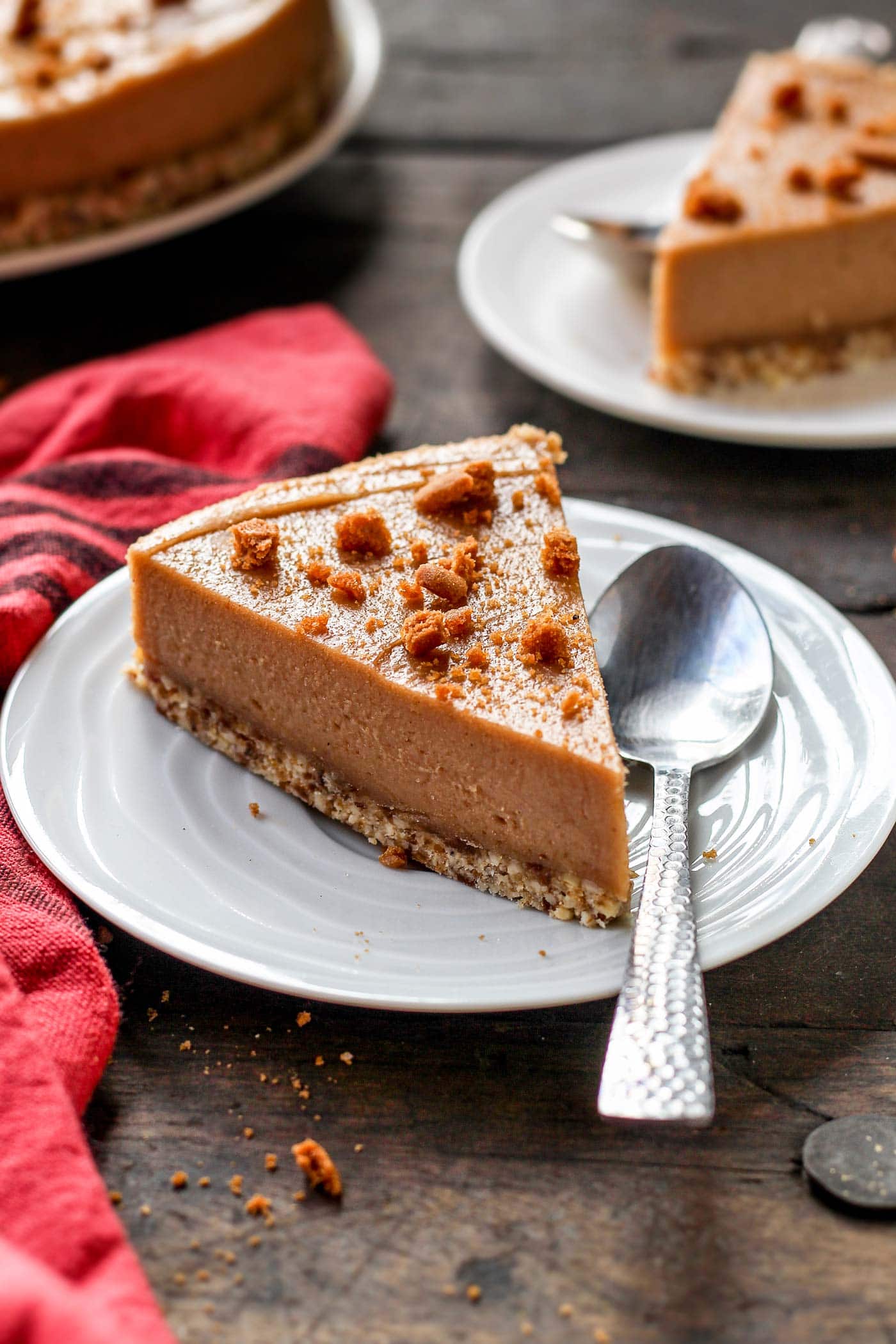 I LOVE speculoos, my favorite ones were made by a small Belgian artisanal bakery, their speculoos were crunchy and the flavor was very, very buttery, their cookie butter was amazing too, but unfortunately both contain butter so it's a no-no now. I'm a huge cookie butter fan. The thing is, I never buy it because #1 it's basically a mix of sugar and oil and #2 I have no self-control when there is a jar of cookie butter in the house.
This cheesecake tastes exactly like cookie butter from a jar and is made entirely from scratch. You start by making the speculoos (biscoff cookies), then grind them into a fine powder and blend with the basic raw cheesecake ingredients: soaked cashews, coconut oil, maple syrup and some vanilla for extra flavor.
Did I mention each slice is only 12504 calories? Yes this cheesecake is very rich but a treat once (or twice) in a while is okay, right? Especially at this time of the year, we are already screwed anyway with Thanksgiving and Christmas coming.
The crust requires only 5 minutes to prepare, it's a mix of pitted dates and nuts. I used cashews but you can use peanuts or almonds. I also tried with roasted hazelnuts but I found out it was not going too well with the cookie butter filling. Do not use medjool dates here, they would be too moist, I recommend deglet noor.
The speculoos cookies are very easy to make, ready in 25 minutes, but if you want to save time feel free to use store-bought biscoff cookies. Speculoos are first grinded into a fine powder, it helps make the filling very creamy since the powder will dissolve better in the blender.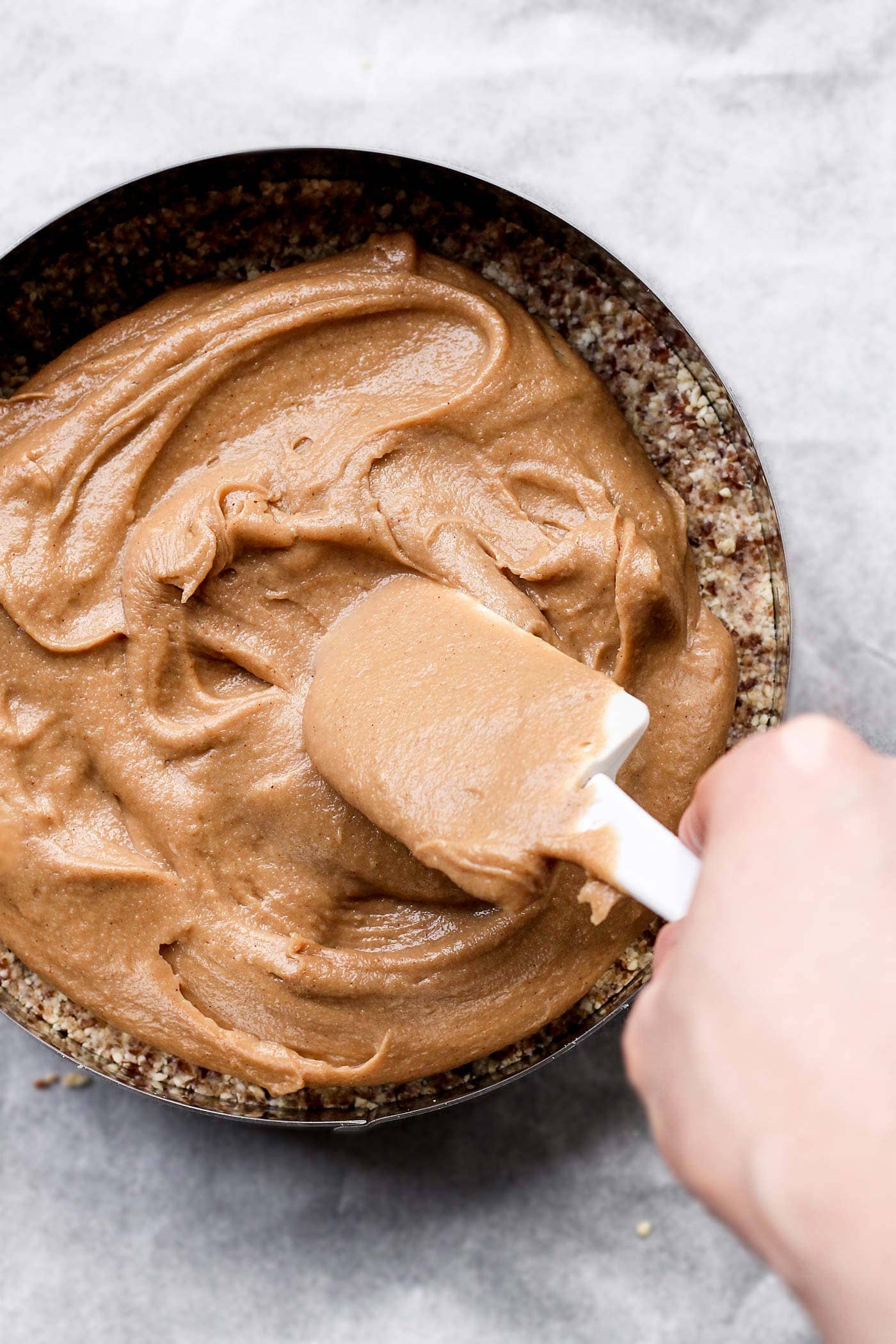 Coconut oil makes the filling harden when cold. The coconut taste is very subtle, if not imperceptible, but if you can't stand it at all, use refined coconut oil. It has a completely bland taste.
This cheesecake has the perfect consistency, you can cut slices easily and it's slightly softer if you let it sit at room temperature for 10 minutes before serving.
If you are looking for a creamy, cinnamon-y and delicious cheesecake with a caramelized flavor, look no further. This cheesecake is a winner, it will get you into the Christmas spirit after just one spoonful!
It's also the perfect Thanksgiving dessert, serve it with coconut whipped cream or custard sauce!
Let me know in the comments if you try this recipe and if you succeed eating only one slice!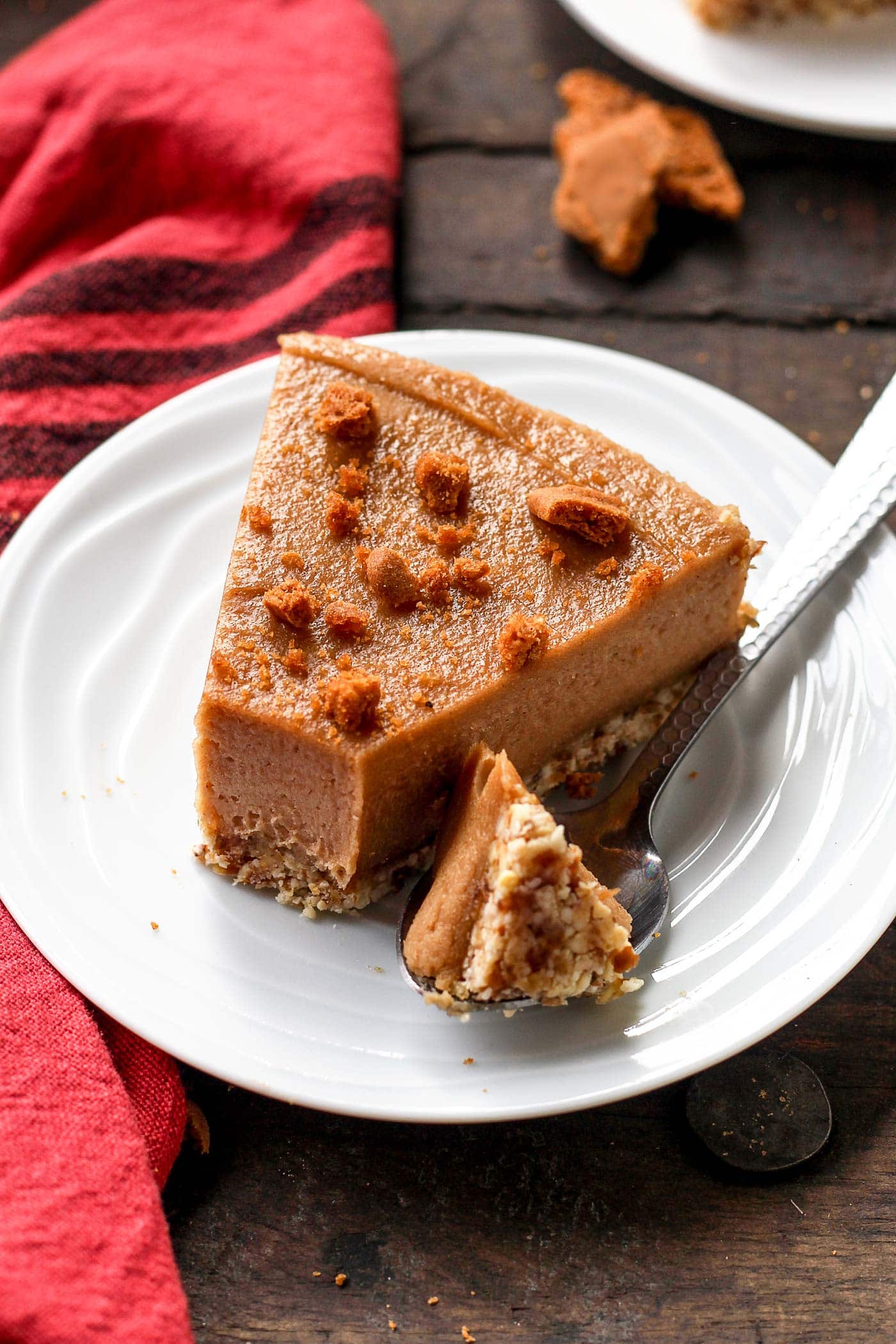 Vegan Cookie Butter Cheesecake
Creamy and delicious cheesecake that tastes exactly like cookie butter! Cinnamon-y, not too sweet and with a caramelized cookie flavor!
Ingredients
Speculoos cookies
⅓

cup

brown sugar

or coconut sugar

¼

cup

coconut oil

melted

2

tablespoon

almond milk

¾

cup

all-purpose flour

¼

teaspoon

cinnamon

⅛

teaspoon

baking soda

⅛

teaspoon

salt

a small pinch of cloves
Instructions
Speculoos cookies
Preheat oven to 350°F. Line a baking sheet with parchment paper.

In a small bowl, combine together the brown sugar, melted coconut oil and almond milk and whisk until the sugar is dissolved.

In a separate bowl, whisk the flour, cinnamon, baking soda, salt and cloves. Gradually add the flour mixture to the wet ingredients, until well combined. If the dough is too dry, add one or two teaspoons of almond milk.

Roll out the dough to a ¼ inch thickness and cut into squares or rectangles. Place each cookie on the baking sheet and bake for about 18-20 minutes. The speculoos should be golden brown and firm on the edges. They will still be soft on the inside but will firm up as they cool.

Let cool for at least 30 minutes. Set one or two cookies aside to use as a topping later. Place the speculoos cookies in the bowl of a food processor and process until you get a very fine powder. You will get about 1 cup of speculoos powder.
Crust
Add the cashews and pitted dates to the bowl of a food processor and process until it looks like a meal, about 30 seconds, you want to see small bits of cashews. Test the crust by forming a ball with your fingers, if should stick together well.

Line a baking sheet or a large and flat plate with parchment paper. Place a 8-inch springform pan on top. Transfer the crust mixture into the springform pan and press it down very firmly with your hands, or with a glass covered with parchment paper to make sure the crust doesn't stick to the bottom of the glass. Set aside.
Cheesecake
Drain and rince the cashews. Place them with the speculoos powder, maple syrup, coconut oil, almond milk, vanilla and cinnamon in a blender and mix until completely smooth, for about 3-4 minutes. Make sure to scrap down the sides of the blender regularly. The mixture will be very thick. Pour the cheesecake mixture in the springform pan and smooth the top using the back of a spoon or a spatula. Top with crushed speculoos if you want.

Refrigerate for at least 3 hours, or until the cheesecake is firm. Remove from the springform pan and cut into squares or slices. To me it has the perfect consistency right from the refrigerator, but if you prefer a softer texture, let it sit at room temperature for about 10 minutes before serving.

Serve with vanilla custard sauce, whipped cream, or as is.

The cheesecake will keep in the refrigerator for up to 4 days, or in the freezer for several weeks.
Notes
I used a 8-inch springform pan, but if you prefer a thinner cheesecake, use a 9 or 10-inch pan.
You can use store-bought biscoff cookies to make the speculoos powder if you want to save time.
Nutrition
Serving:
1
g
Calories:
483
kcal
Carbohydrates:
38.8
g
Protein:
7.5
g
Fat:
36
g
Fiber:
2.5
g
Sugar:
19.3
g
DID YOU MAKE THIS RECIPE?
Tag @fullofplants on Instagram and hashtag it #fullofplants