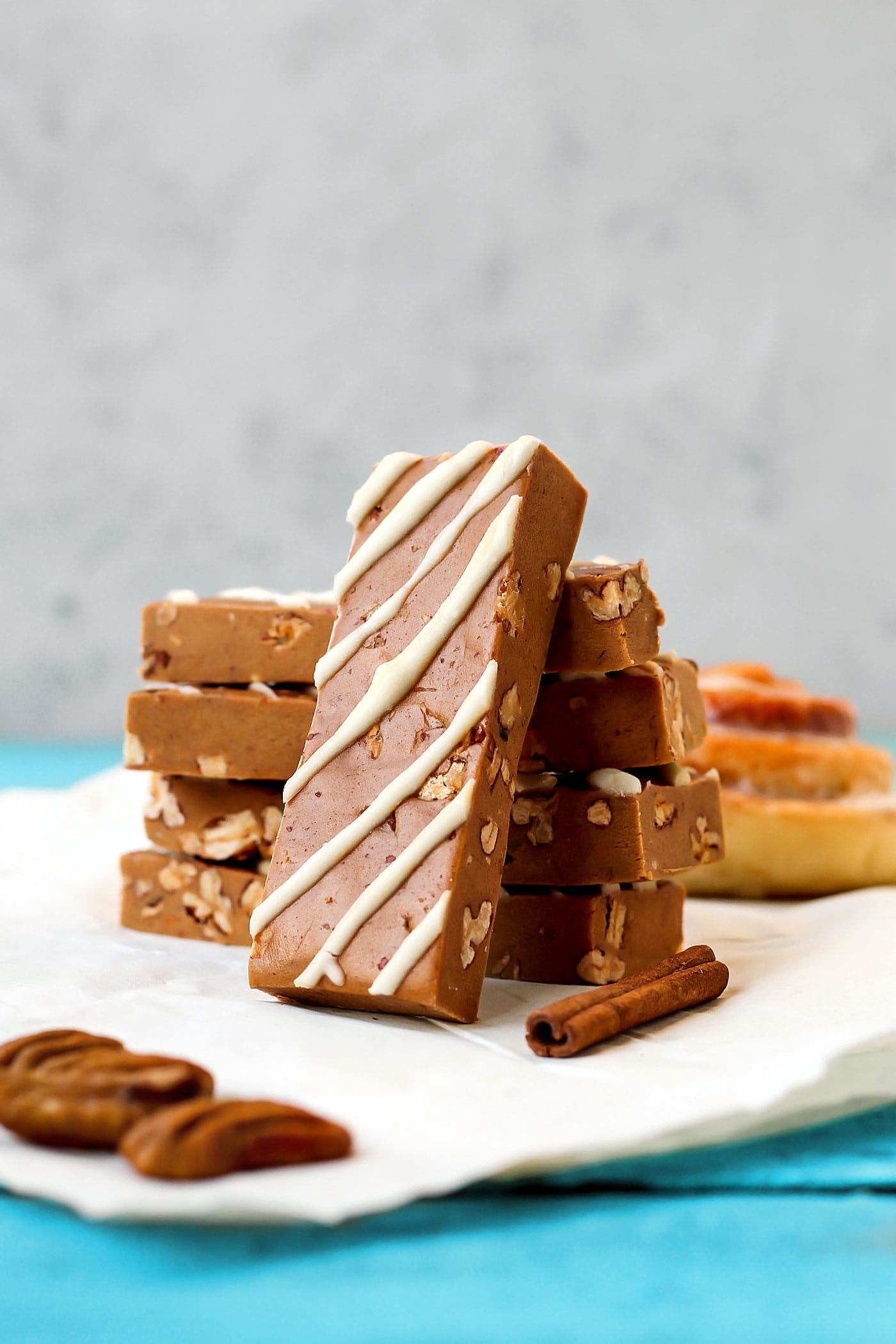 Cinnamon...just thinking about it makes me drool. I love it so much I basically put it everywhere and love everything cinnamony like chai, speculoos, stroopwafels, snickerdoodles, cookie butter and obviously...cinnamon rolls.
If you too are a cinnamon lover, you will love these no bake protein bars! Each bar is packed with candied pecans and topped with a vanilla glaze. Oh and you get over 20g of protein per bar!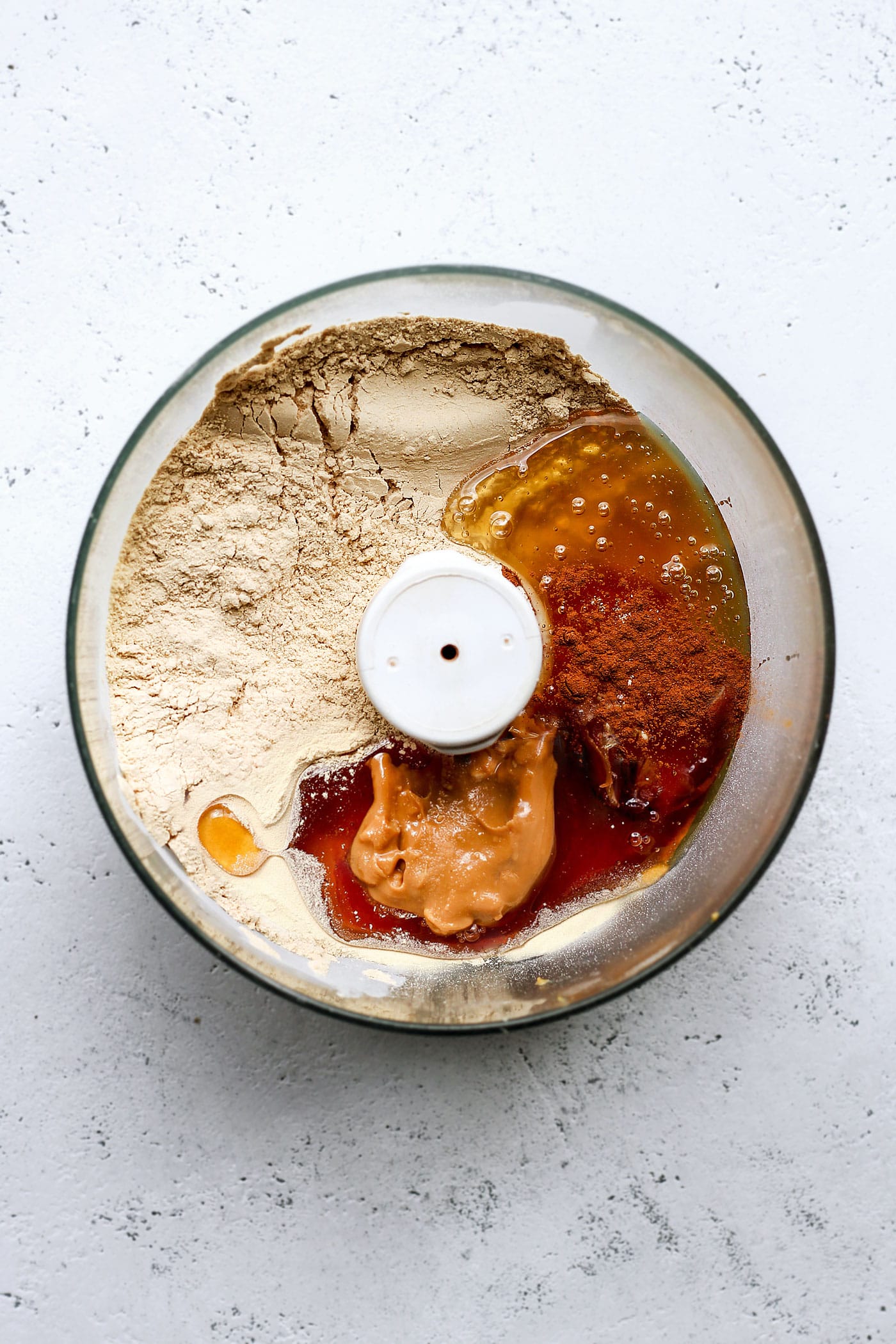 The base for these bars is protein powder and brown rice syrup. For the protein powder, I went with Sprout Living's Epic Protein Powder Original, it is the best I tried. Not too chalky, very bland in taste and it contains all amino acids. I used to buy Sunwarrior sprouted brown rice protein but I find it more gritty than Sprout Living's one.
So, depending on which brand you use, the texture, as well as the taste, might change a bit. If you can get your hands on pea protein, it's also a great choice since it tends to have a neutral taste, at least the ones I tried.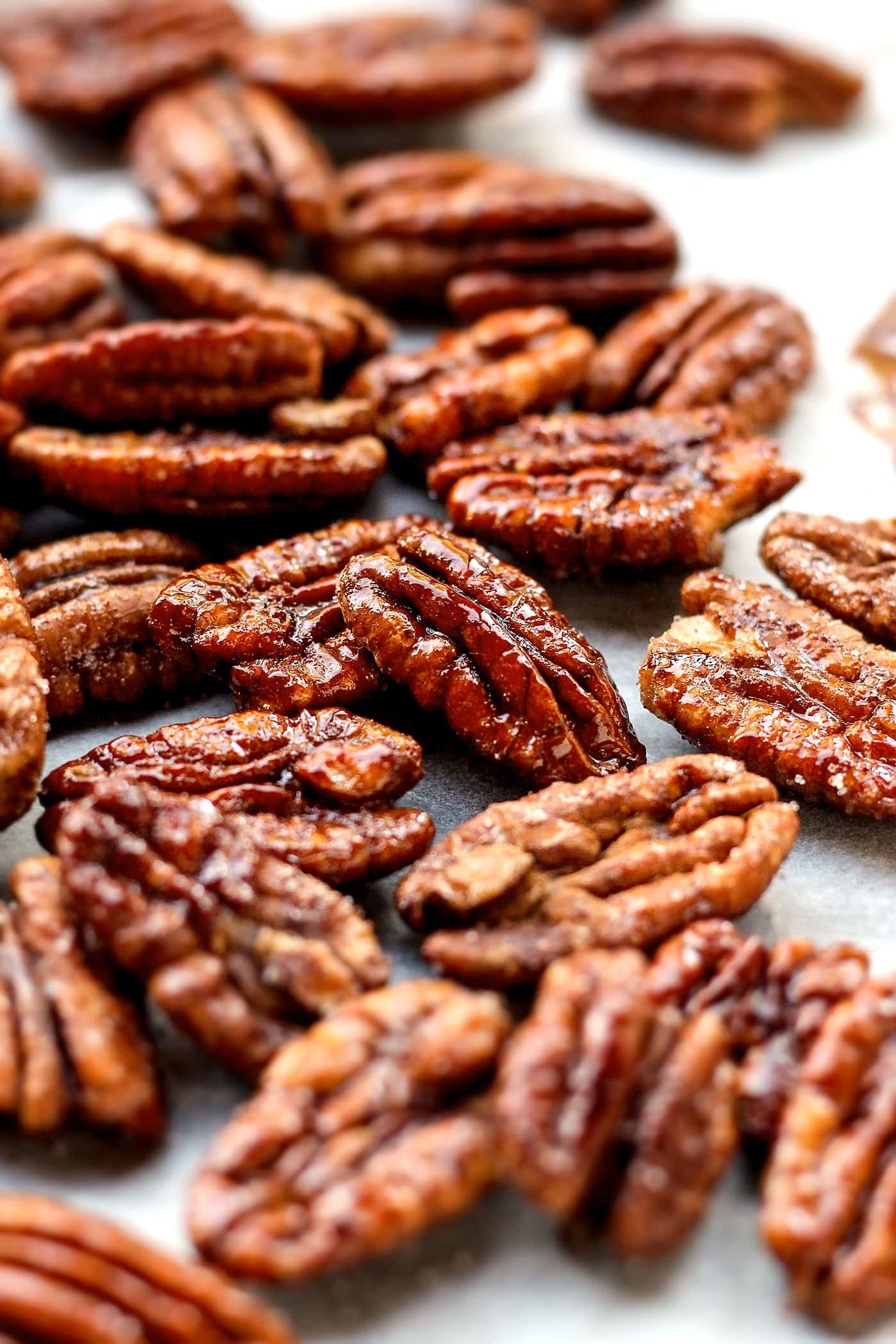 Brown rice syrup acts as the binder, it's a thick and sticky syrup made out of brown rice. It also helps keep the bars soft for a long time, two weeks later they are still chewy! If you prefer a slightly less processed sugar, I recommend using coconut nectar or date syrup, both will work but you might have to use a bit less since they have a thinner consistency.
Candied pecans make these bars 10X more delicious! They are mandatory, do not omit! Seriously. They give the bars a nice crunch in every bite. Check out the recipe notes if you want to make the candied pecans yourself.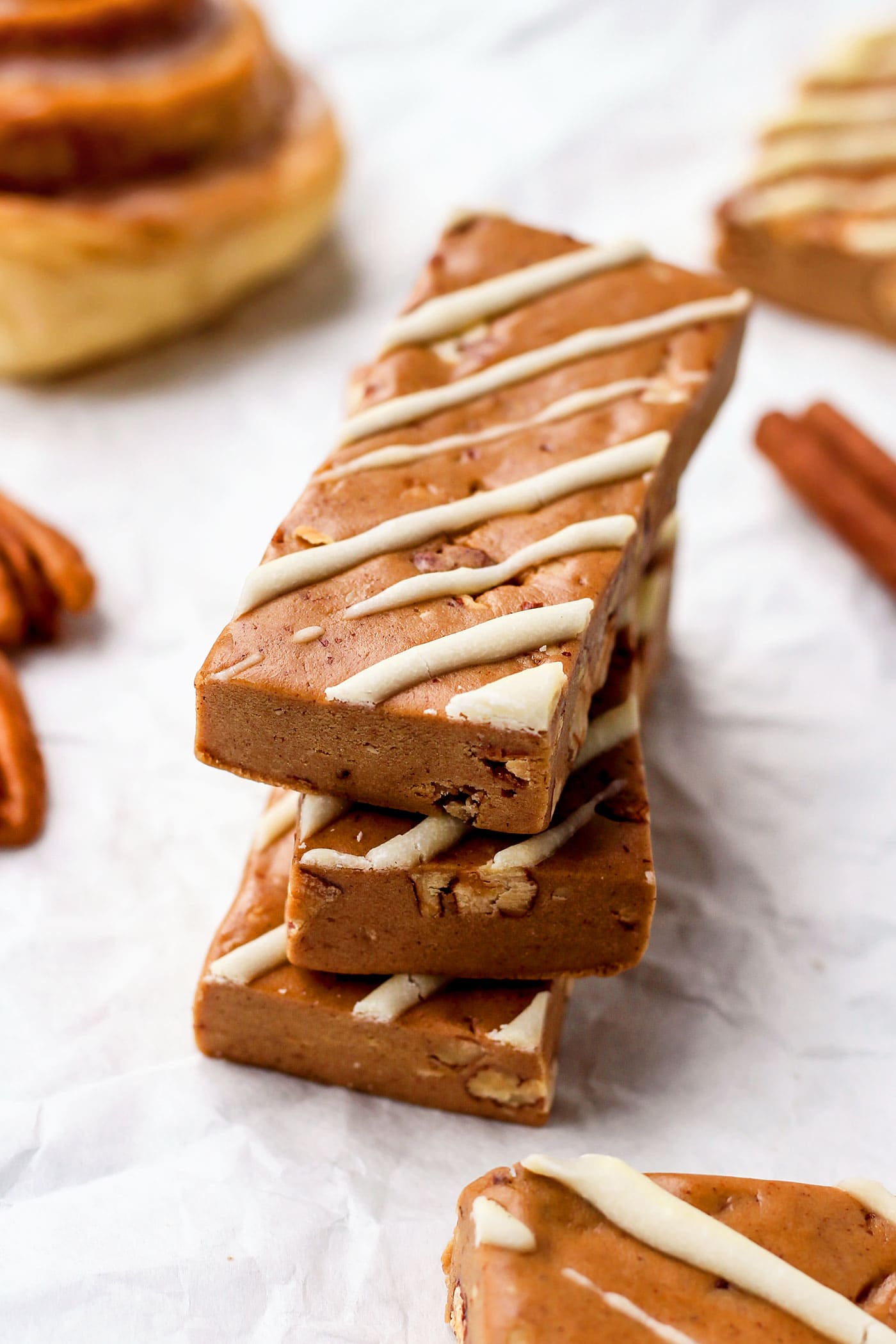 I'm sure you will love these bars, they taste A LOT better than the ones you could buy at the store, not to mention they are cheaper. They make a healthy and tasty protein-packed snack whether you are traveling to work or refilling your workout. I also like to cut them into chunks to top my oatmeal.
They make a healthy and tasty protein-packed snack whether you are traveling to work, going for a hike, or refilling your workout.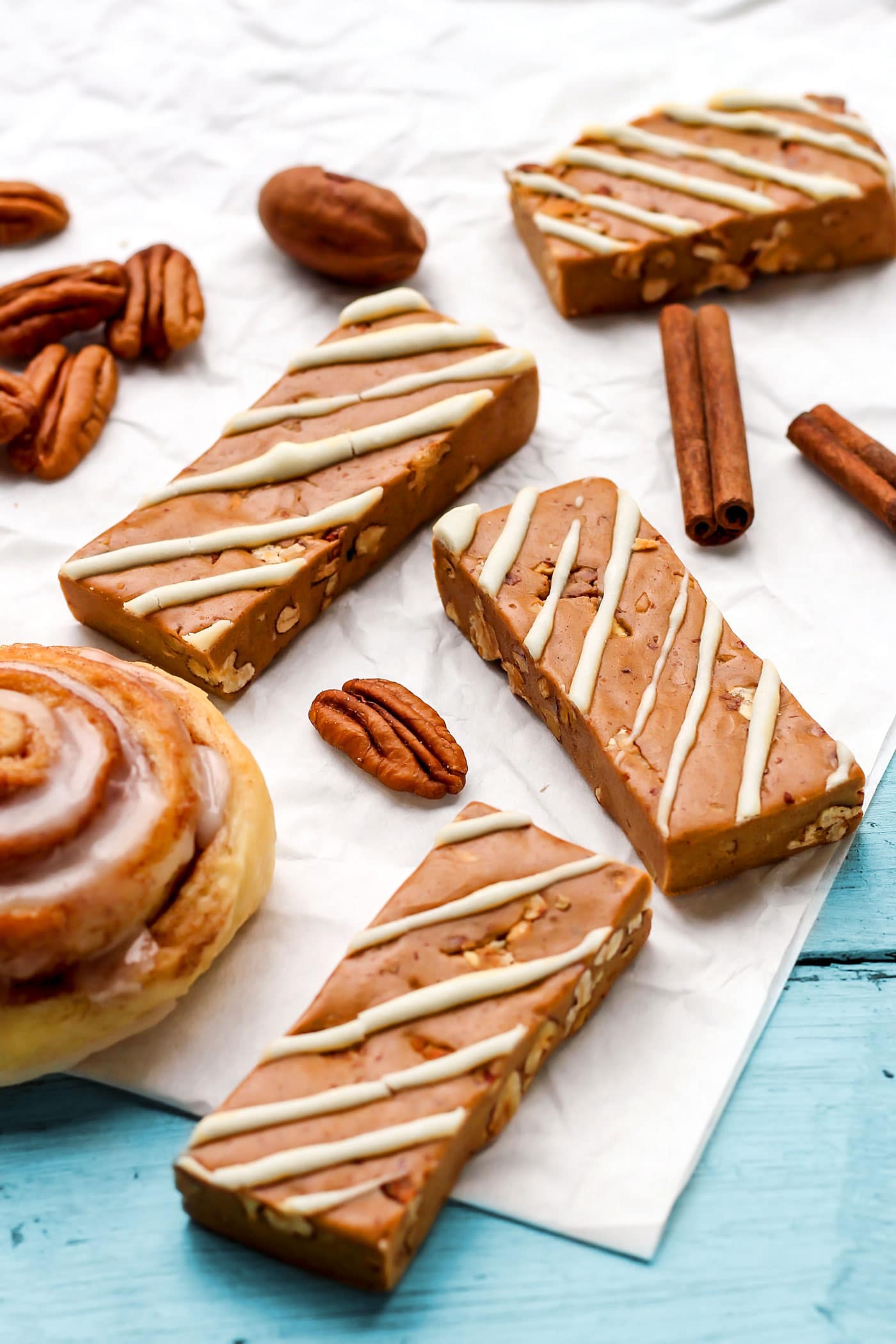 Let me know in the comments if you try this recipe!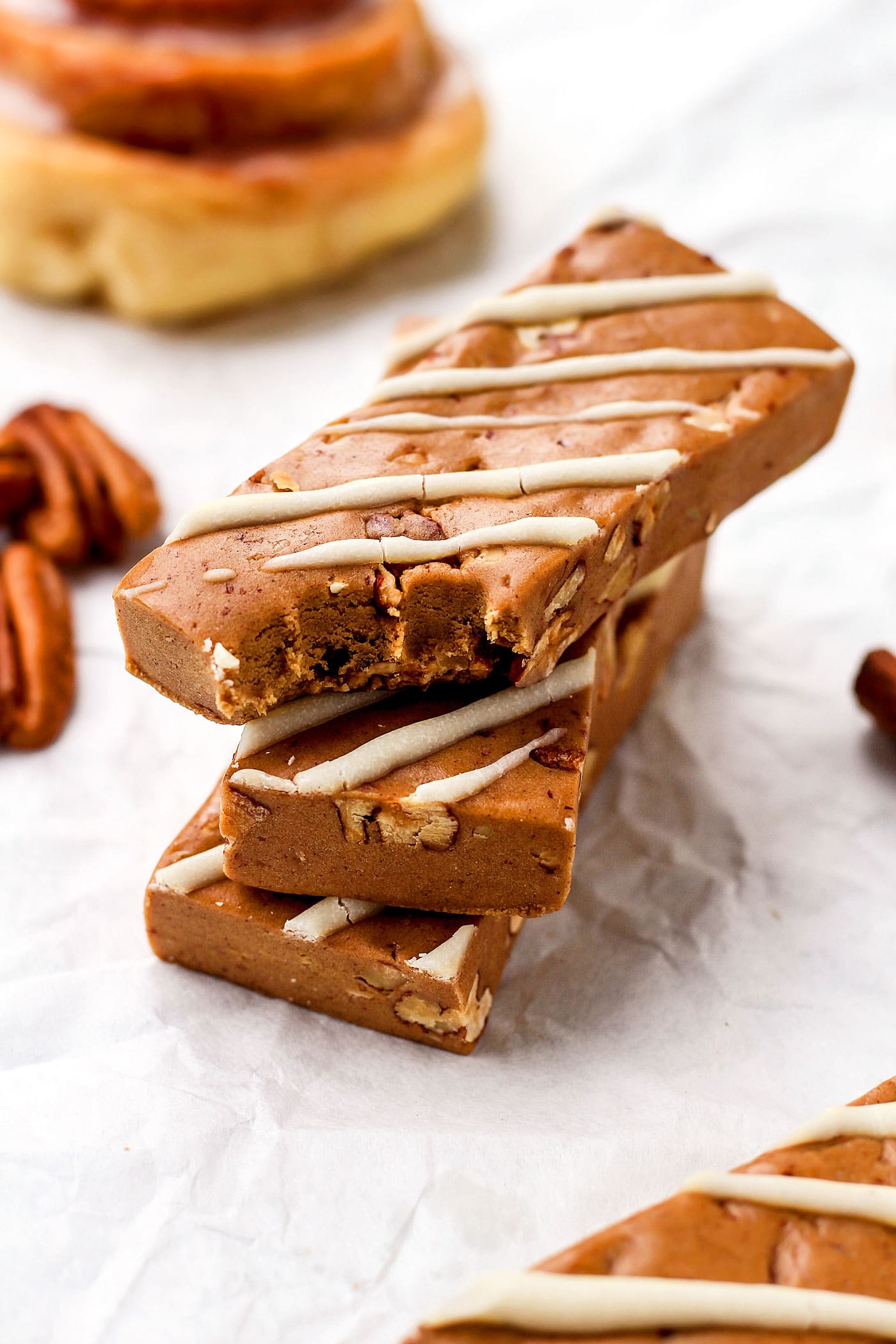 Print
Vegan Cinnamon Roll Protein Bars
8-ingredient vegan protein bars that taste just like cinnamon rolls! Soft and chewy, each bar contains 20g of plant-based protein!
Protein Bars
1 cup

(

130g

) vegan protein powder (I used Epic Protein Powder Original)

⅓ cup

and 1 tablespoon (

87g

) brown rice syrup (or coconut nectar, date syrup)

1 tbsp

(

13g

) maple syrup

1 tbsp

(

15g

) almond butter

2 tbsp

(

26g

) melted cocoa butter

½ tsp

cinnamon

1 tsp

vanilla extract

⅓ cup

candied pecans (see the notes to make your own)
Glaze
3 tbsp

cocoa butter, melted

5 tbsp

powdered sugar (or

1 tsp

maple syrup for a thinner glaze)

⅛ tsp

vanilla extract
Instructions
Protein Bars
Place the candied pecans in the bowl of a food processor, pulse a few times until roughly chopped. Transfer to a small bowl and set aside.
Add the protein powder, brown rice syrup, maple syrup, and almond butter to the bowl of a food processor. Process for a few seconds until roughly combined.
Stir in the melted cocoa butter, cinnamon and vanilla extract, and process for another 10-15 seconds, or until coarse meal forms. Test the dough by taking about 1 tablespoon of the mixture and press it firmly in your hands, if it sticks together it's okay. If it's still too crumbly, add 1-2 teaspoon brown rice syrup and mix for another 3-5 seconds.
Transfer to a mixing bowl and stir in the chopped pecans. Mix with your hands until the pecans pieces are well distributed.
Line a 7x5 inch baking dish with parchment paper. Transfer the mixture to the dish and flatten, pressing down firmly with your hands, or the bottom of a glass. You can also flatten the dough between two sheets of parchment paper until you get the desired thickness.
Transfer to the refrigerator and chill for at least 1 hour.
For the glaze: Melt the cocoa butter over low heat in a small saucepan. Transfer to a bowl and add the powdered sugar (or maple syrup) and vanilla extract. Mix well with a spoon until smooth and well combined. If you want a thicker glaze, add more powdered sugar. For a thinner glaze, add more cocoa butter.
Drizzle the bars with the glaze and chill in the fridge for about 1 hour. Remove from the fridge and cut into 4-5 bars.
The bars will keep for up to 3 weeks at room temperature, wrapped in plastic film. You don't have to keep the bars in the fridge, the glaze won't melt at room temperature.
Notes
If you don't have candied pecans on hand: Preheat oven to 330°F. In a small bowl, combine ⅓ cup pecans with 2 teaspoon maple syrup, ⅛ teaspoon cinnamon, and ⅛ teaspoon salt. Place on a baking sheet lined with parchment paper and roast for 13-15 minutes. Remove from the oven and let cool completely.
If you substitute cocoa butter for coconut oil, keep the bars in the refrigerator since the glaze might melt at room temperature, coconut oil having a lower melting point than cocoa butter.
Nutrition
Serving Size:

1 Bar

Calories:

264

Sugar:

13.1g

Fat:

13.6g

Carbohydrates:

20.9g

Fiber:

2.2g

Protein:

21g