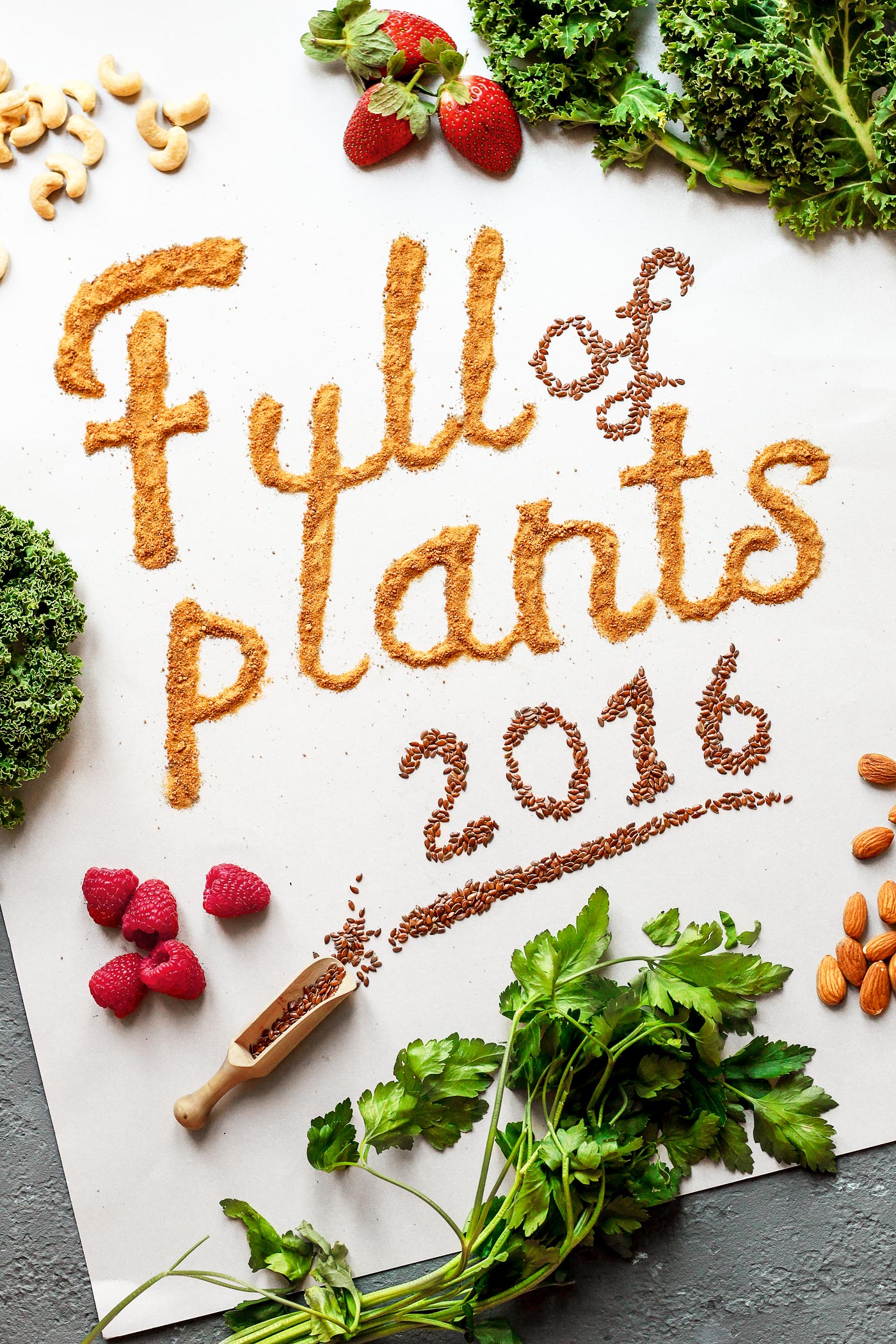 Phew, that was a lot of coconut sugar and flaxseeds! 2016 is over and it's time to make a small recap of what happened this year!
I can't believe it's been already 7 months since I started this blog, my first post was this Mint Lemon Quinoa Salad that I posted in June. A lot has happened since, I release a total of 49 recipes this year, learned a lot about blogging, writing recipes, social media, and more importantly, I met wonderful people! I also got the surprise to be featured on the front cover of VeganLife magazine this January!
Nothing of that would have happened if I didn't released that first post. I feel it was the hardest thing to do, you know, doing that first little step that seems like a huge deal. Thinking about that now, I realize that no one knew me or this blog and it was not a big deal at all to launch a blog.
My traffic constantly grew over the past few months, probably because I have more recipes available and have started to get a following.
Most of you probably discovered Full of Plants with my two most popular posts: the Vegan Camembert and the Vegan Blue Cheese. These are the recipes I'm probably the most proud of, they took a long time to develop and it can't make me happier to receive emails from you guys telling me it was the best vegan cheese you ever tasted. If you have been checking the comments, you know by now I do my best to reply to everyone and give help when it's needed, because hey, vegan cheese making is almost like science!
But, I felt a little bit frustrated lately, mostly because some people have been making my cheeses recipes and posting it on social media without giving any credit, almost claiming it was their own. Even worse, some have been selling vegan camemberts (I'm sure blue is coming too) to customers and they never gave me any credit either. Well, I'm not talking about every company selling vegan camembert obviously, Happy-cheeze and New Roots for example are great companies that are experimenting themselves and constantly trying new things, I admire that.
I'm definitely not the owner of the camembert or blue recipe, I know that, and I'm sure we will see this kind of cheeses in stores soon everywhere, that's a good thing for vegans who don't have time to make their own, but still, I'm not feeling too good knowing some people took advantage of my recipes. When I released them there was not a single similar recipe available online, at least that I know of, so I had to do research and testing before achieving good results. Considering all the above, I will now think twice before posting cheese recipes, or at least the ones that are too original or took me too long to develop. This is not fair for most of you and I'm sorry about that, don't worry though I will still continue to post tasty and healthy vegan recipes!
With that being said, let's go back to the positive stuff, here is the list of what I want to do/continue doing in 2017:
#1 Improve my writing - and be more personal in my posts. This is something I struggled the most, writing the articles for each recipe is not easy and sometimes I just don't know what to say! Inspiration may be in the kitchen, but when it comes to writing and promoting the recipe, words don't always come easy. Maybe it's a matter of experience and I will eventually get better at it.
#2 Continue to post at least once a week - Since things will probably change this year I'm not sure how much free time I will have left, but I really want to continue posting quality content here. My goal is to post at least once a week, twice would be even better.
#3 Improve the website interface - especially on mobile. The mobile version of Full of Plants is not the most user-friendly and I don't even have a search function. This is something I want to fix in 2017 as well as making it easier to browse and improve a few things here and there.
#4 Experiment more in the kitchen - You know what they say, "If you don't fail enough, you are not trying hard enough." I want to try more vegan experiments in the kitchen this year, things that may seem impossible to veganize or just come up with original recipes that have never been seen elsewhere.
#5 Keep eating healthy and exercise - I'm sure you saw this one coming! Nothing original, it's probably on everyone's list for new year's resolutions 🙂
I could go on, but enough about me, here are the top recipes of 2016, the ones that got the most traffic and social shares.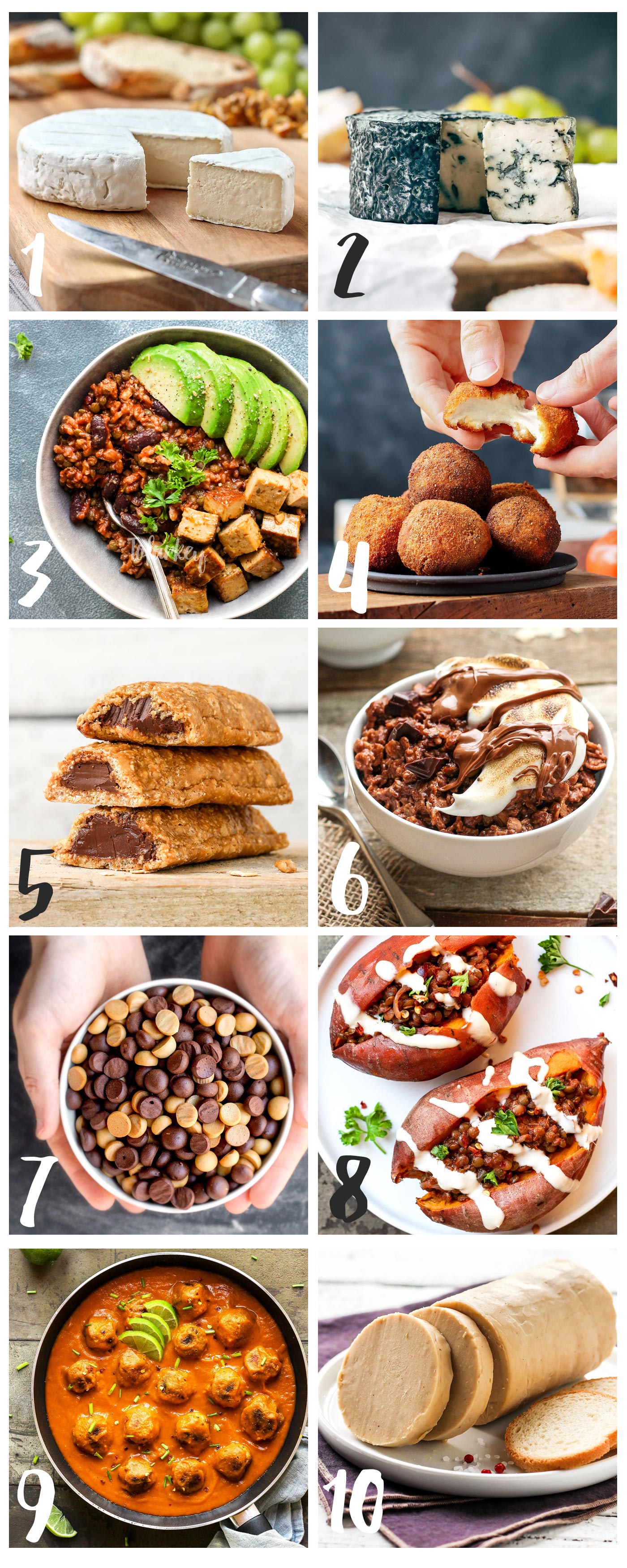 1. Vegan Aged Camembert Cheese / Probably the most mind-blowing vegan camembert recipe you will find! This vegan cheese even has a white and fluffy rind!
2. Vegan Blue Cheese / "Amazing flavor and texture...best blue cheese EVER!!" That's the latest comment I received from a reader, I guess it's pretty self-explanatory.
3. Enchilada Power Bowls with Spicy Tofu / Lentils, brown rice and black beans in a spicy-sweet enchilada sauce. This is the recipe that got the front cover of VeganLife for January 2017, plus it's a great dish to get back on track after all the holidays feasts.
4. Vegan Fried Goat Cheese Balls / 4-Ingredient vegan cheese balls that are crispy on the outside and melty on the inside. These taste like the real thing!
5. Nutella Filled Soft Granola Bars / Soft granola bars filled with a homemade creamy chocolate hazelnut butter. When I'm out of square bars, these are the ones I'm having!
6. Vegan S'mores Oatmeal / This chocolate oatmeal is topped with caramelized marshmallow fluff and melted chocolate. S'mores for breakfast!
7. Chocolate Peanut Butter Cereals / A mix of chocolate and peanut butter cereals that are crunchy and healthier than store-bought. Chocolate + peanut butter = best combo.
8. BBQ Lentil Stuffed Sweet Potatoes / Baked sweet potatoes filled with smoky barbecue lentils and topped with a creamy tahini sauce. Easy, healthy and packed with protein.
9. Veggie Balls in Creamy Masala Sauce / Veggie balls made from chickpeas and brown rice, served in a flavorful and spicy masala sauce.
10. The Best Vegan Foie Gras / Another recipe that took some time to develop but that is totally worth it! Even if you never had foie gras before, try this recipe if you want a rich and delicious spread, great on a fresh slice of french bread!
Last but not least, I want to THANK everyone for your incredible support, your emails and comments keep me motivated and mean a lot to me. REALLY. SO THANKS AGAIN.
I wish everyone a happy and healthy new year!