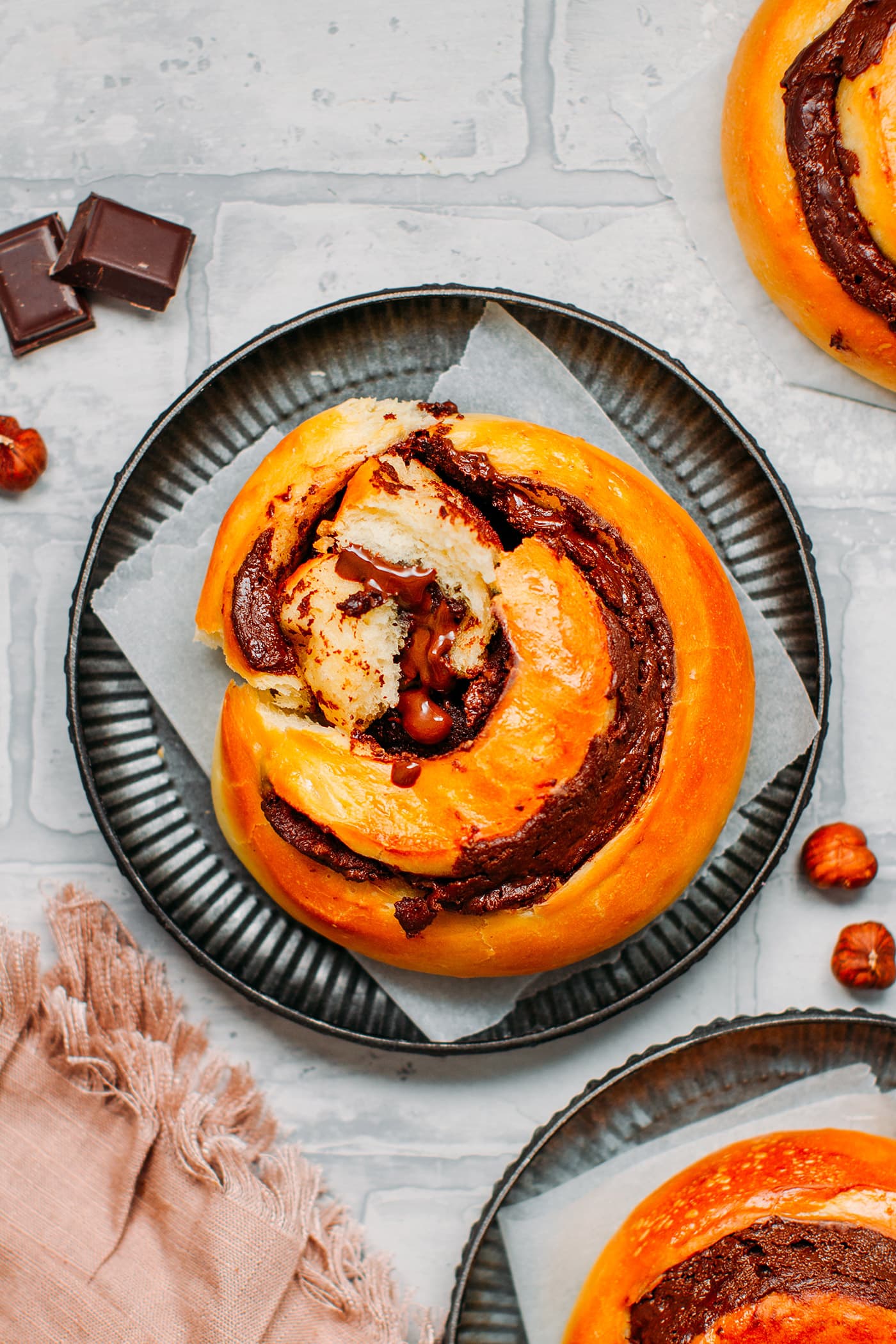 Move over cinnamon rolls, we have a new winner here!
Introducing these super fluffy brioche buns loaded with a homemade chocolate hazelnut filling!
I can't even describe that Nutella smell coming out of these warm and pillowy buns! Dreamy!
Jump to:
🥣 How to Make Chocolate Hazelnut Rolls
First, we start by preparing the chocolate hazelnut filling that consists of:
Hazelnut butter: For a nutty and Nutella-like flavor. You can use homemade hazelnut butter, or store-bought. Since hazelnut butter is quite expensive, you can also use half almond butter, half hazelnut butter.
Dark chocolate: For sweetness and to help the filling harden a little bit once chilled.
Powdered sugar: We do not use a lot since the dark chocolate is already sweet, it's just to add extra sweetness.
Coconut oil: It helps make the filling a little bit creamier.
Vanilla extract: Because everything tastes better with a hint of vanilla.
Melt the dark chocolate over a double boiler and combine it with the other ingredients. Chill until it gets the consistency of a chocolate spread.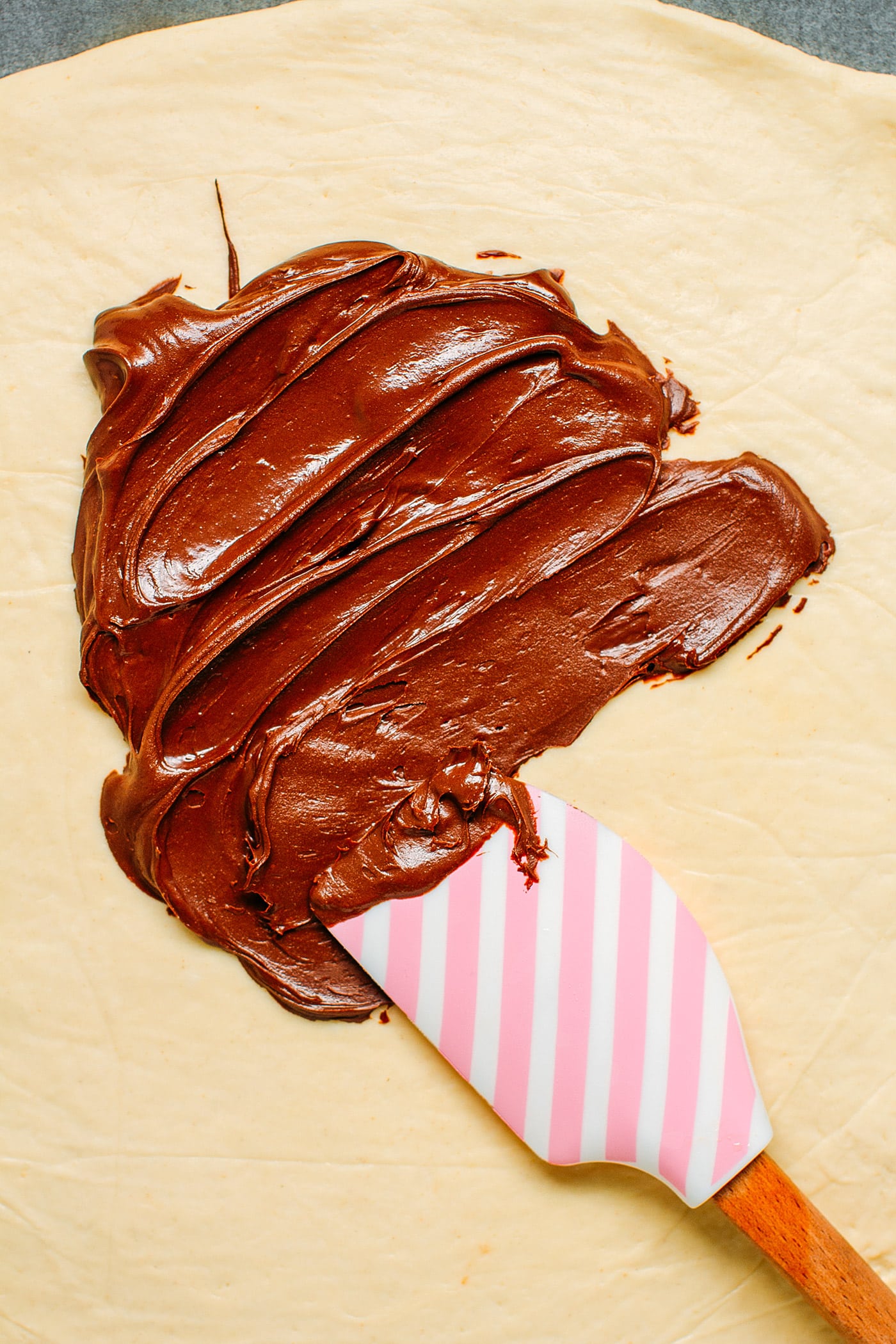 Next, we have the dough. All-purpose flour makes the base, then we have almond milk, sugar, and vegan butter to add richness.
The dough is first proofed for 2 hours, then deflated, and chilled in the refrigerator for two reasons: 1) Allow the flavors to merge and 2) Slightly firm up the dough so it will be easier to flatten.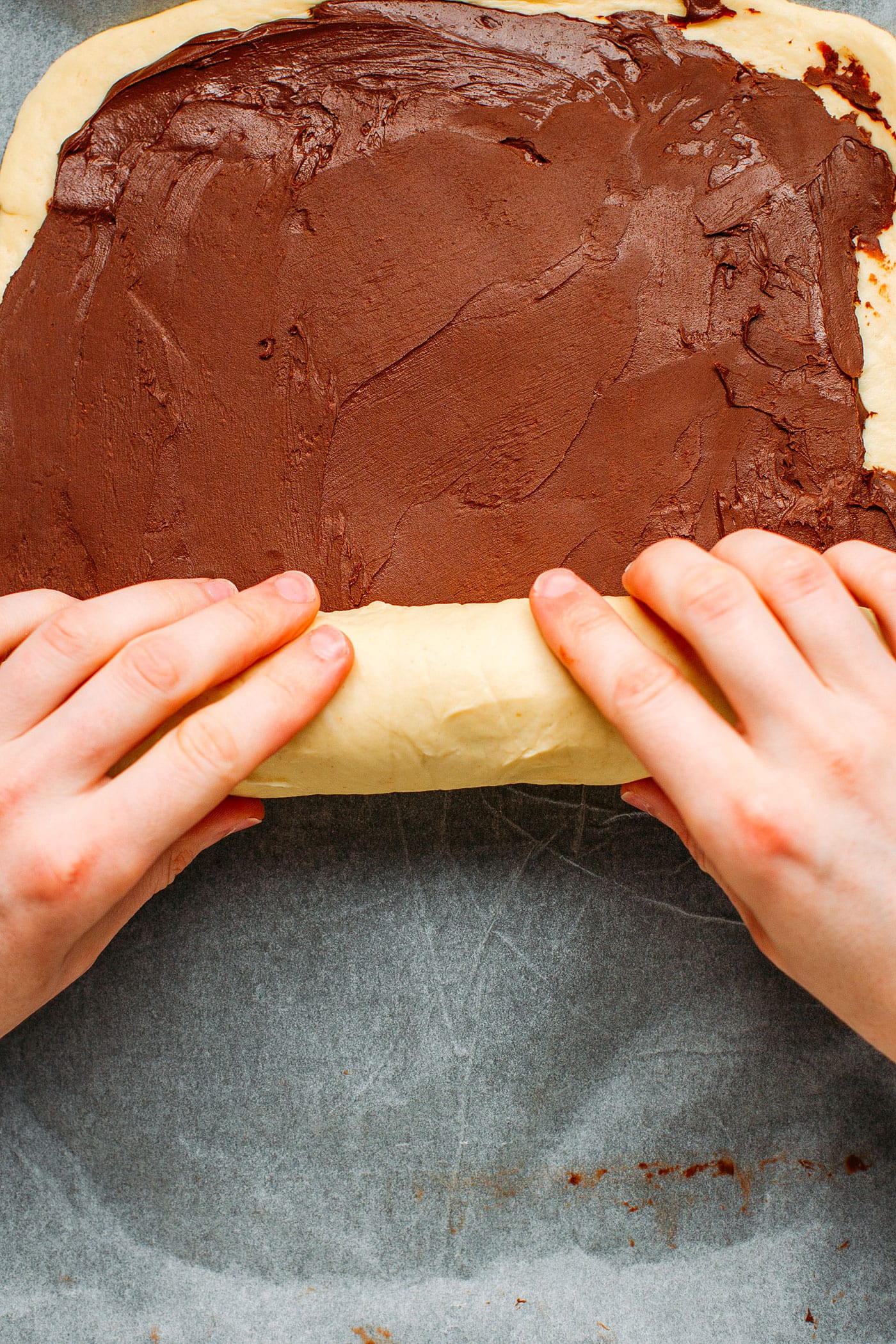 Once that is done, spread the chocolate hazelnut butter into a thick and even layer. Roll it up tightly and cut into 8-9 rolls.
Finally, we will let the rolls/buns rise for another 2 hours at room temperature, or in a warm place.
Bake for 20-25 minutes, or until golden brown, and enjoy these pillowy chocolate buns warm!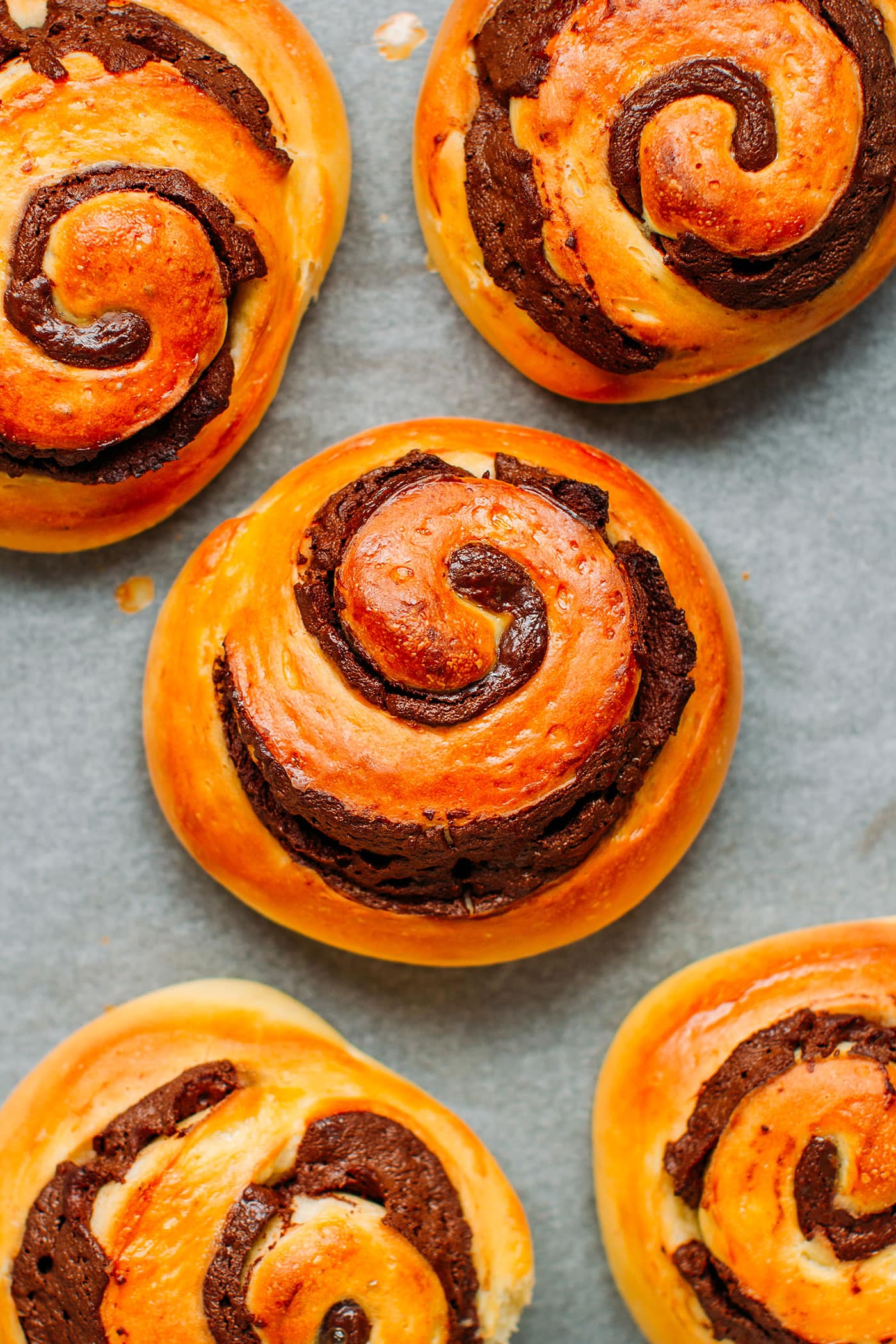 📔 Tips
This recipe yields about 9 rolls, you can bake these in a large (or two smaller) baking dish, or as individual buns.
The chocolate hazelnut filling will harden if left for too long in the refrigerator, so keep an eye on it. If it's too hard, you can place it in an oven with the light turned on, this will help give it a soft and spreadable consistency, making it easier to spread on the dough.
Since the dough will be cold once flattened, you should spread the chocolate filling quickly, before it starts to harden.
Chocolate chips can be added before rolling, for even more decadence.
These rolls are best served warm, the buns are super tender and fluffy while the chocolate is still melty! Be aware some of the chocolate may have dried a little bit on top, that's normal. The chocolate should still be melty on the inside.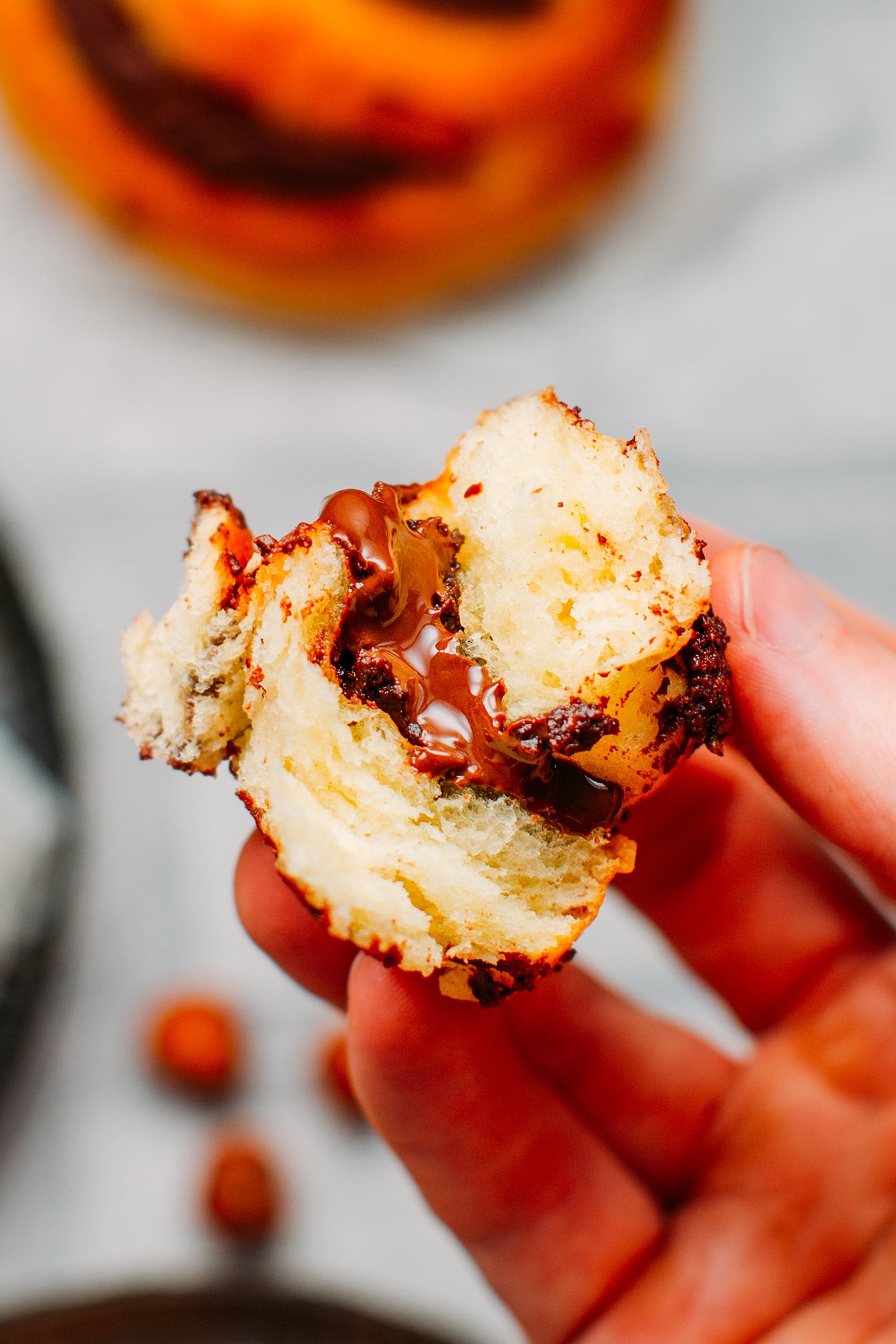 💬 FAQ
Can I prepare the dough the day before? Yes, you can let the dough rise once, deflate it, then cover and refrigerate overnight to bake the next morning. You will still have to let the rolls rise for about 2 hours at room temperature before baking though.
Can I use store-bought vegan "nutella"? Of course! It will work just as well.
Can I bake these in a baking dish? Sure, you can bake the rolls in a dish, or as individual buns on a baking sheet lined with parchment paper.
Would this recipe work with 1:1 gluten-free flour? We haven't personally tried, but we doubt you will get the same fluffiness.
How do I get a shiny glaze? As soon as you remove the rolls from the oven, brush them with maple syrup while still hot.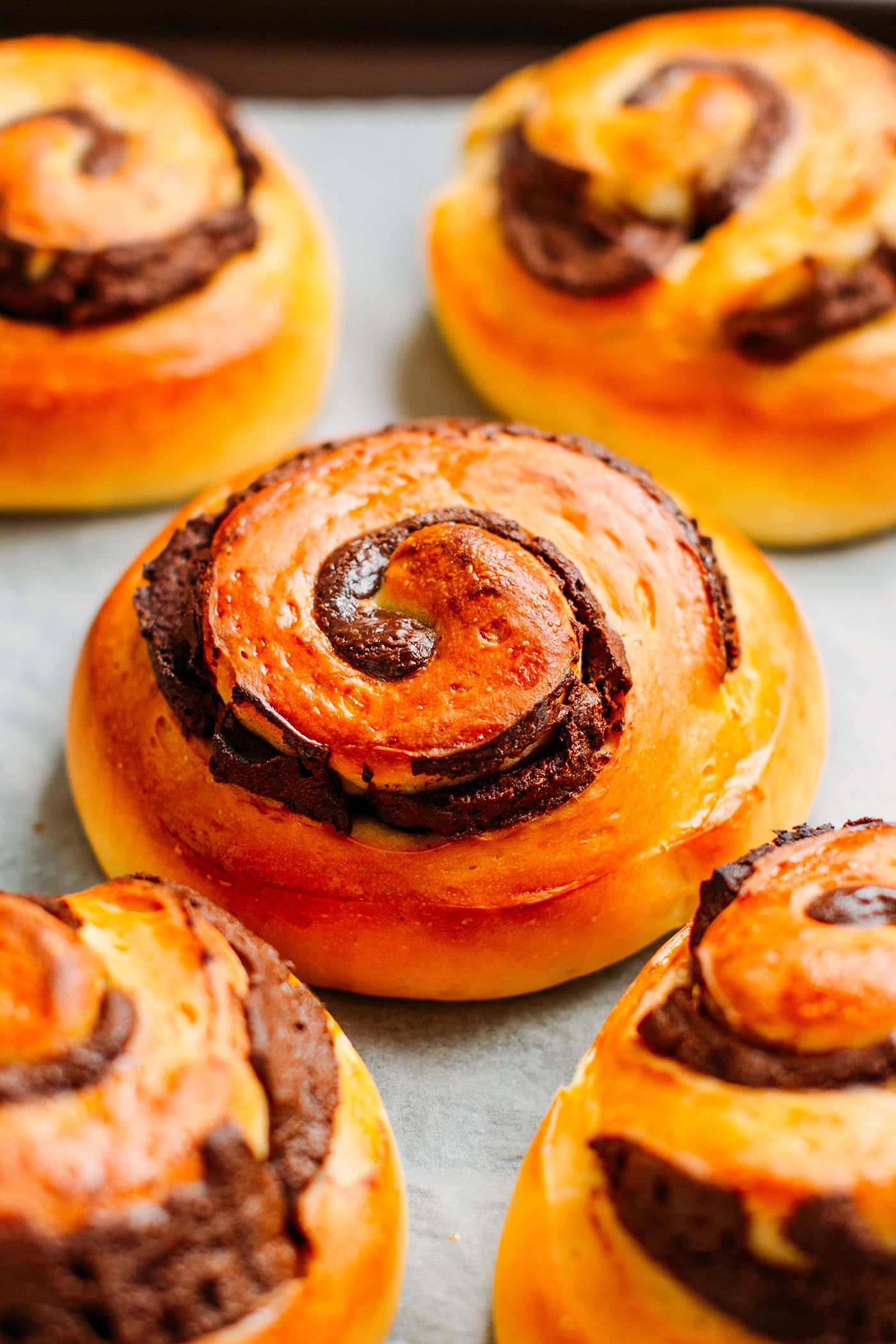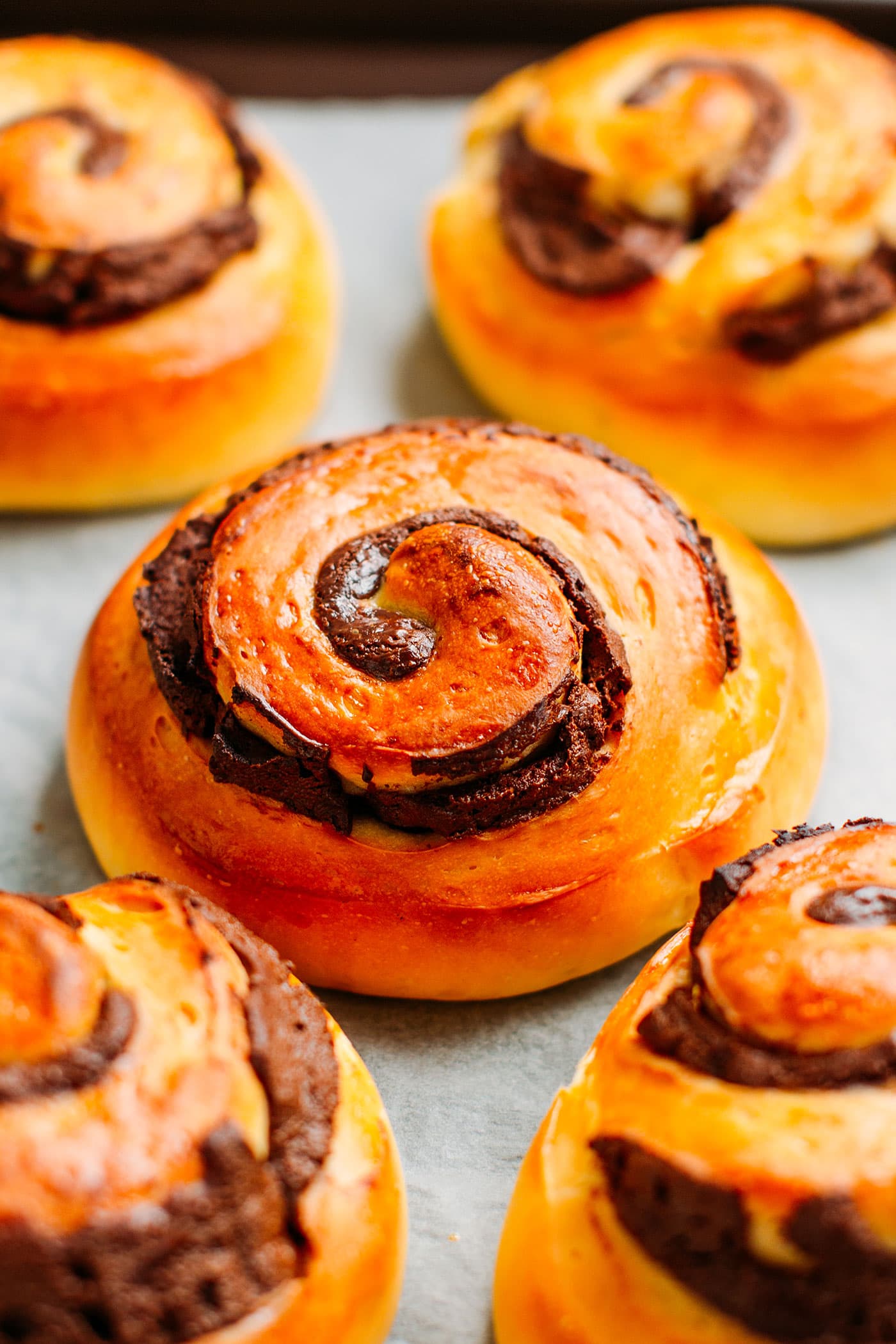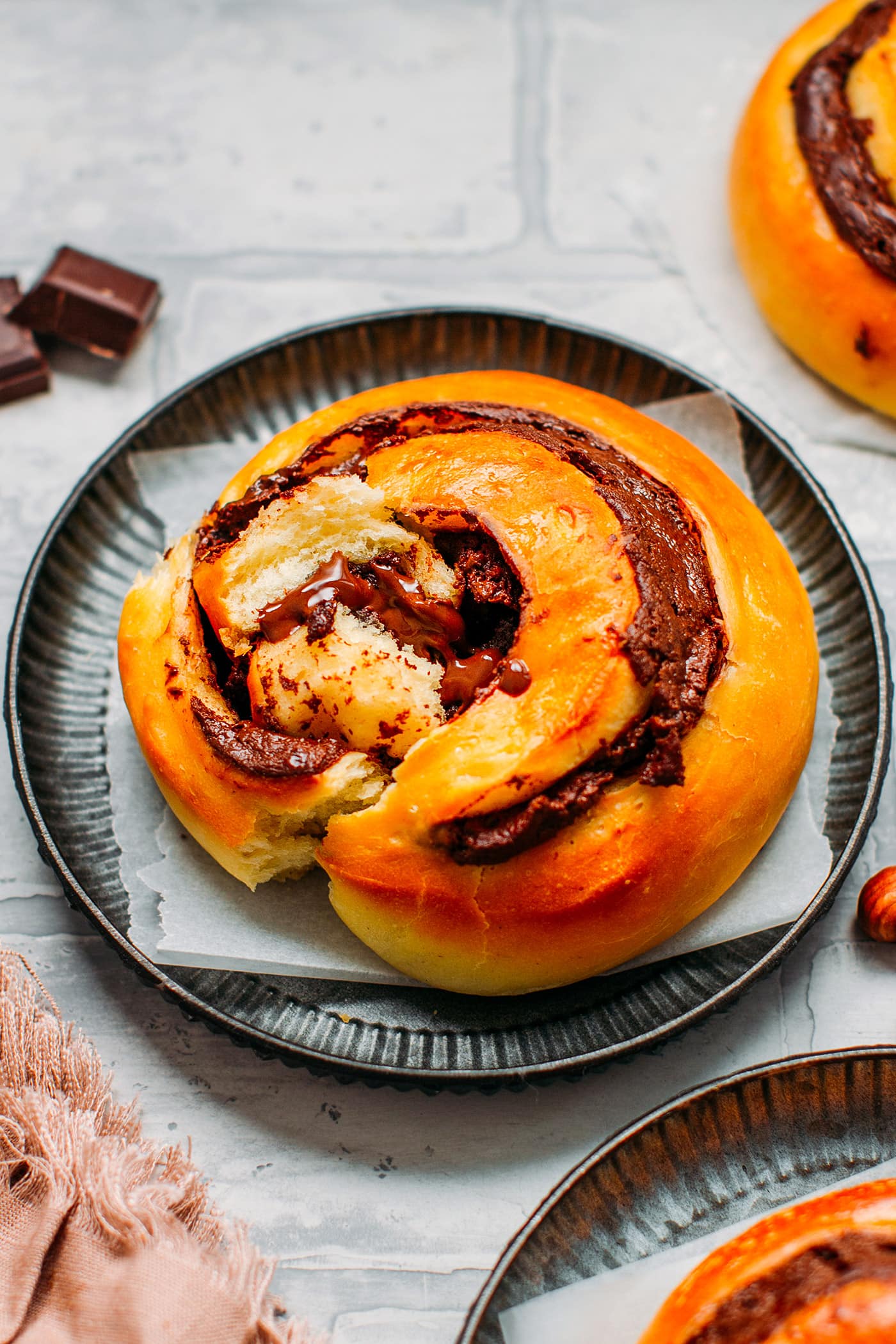 Looking for more plant-based baked sweets? Check out this Black Sesame Swirl Brioche, Double Chocolate Raspberry Banana Muffins, or this Vegan Cream Cheese Banana Bread!
Let me know in the comments if you try this recipe!
📖 Recipe
Vegan Chocolate Hazelnut Rolls
Incredibly fluffy and pillowy vegan buns loaded with homemade chocolate hazelnut spread! Buttery, chocolatey, and so delicious!
Ingredients
Chocolate Hazelnut Filling
7

ounces

dark chocolate

1

cup

hazelnut butter

store-bought or homemade

¼

cup

powdered sugar

or coconut sugar

1

tablespoon

melted coconut oil

1

teaspoon

vanilla extract
Instructions
Chocolate Hazelnut Filling
Melt the dark chocolate over a double boiler. Once melted, transfer to a small bowl and stir in the hazelnut butter, powdered sugar, coconut oil, and vanilla extract. Stir until fully combined. Cover and refrigerate for about 2 hours, or until it has just slightly thickened, you don't want it to harden too much.
Dough
Add the bread flour, warm almond milk, sugar, salt, baking powder, and vanilla to a stand-mixer. Knead for 10 seconds on low speed. Next, add the dry yeast and knead on medium speed for about 30 seconds.

Add the vegan butter and knead on medium-high speed for 3-5 minutes, or until the butter is fully incorporated and the dough is smooth.

Transfer to a bowl and cover with plastic film to touch (or a wet towel) to prevent the dough from drying. Let it rise for about 2 hours in a warm place, or until it has doubled.

Punch the dough to deflate it, replace the plastic film to touch, and refrigerate for at least 2 hours, or overnight.

After 2 hours, roll out the dough into a 13x10-inch rectangle between two sheets of parchment paper. Spread the chocolate hazelnut filling evenly on the rectangle of dough. Note: if the chocolate hazelnut filling is too thick/hard, place it in the oven with the light on for 30 minutes, or until it has softened.

Roll up the dough tightly to make a 10-inch long log. Cut the roll into 8-9 rolls and place them on a baking sheet lined with parchment paper, or in a large baking dish. Make sure you leave at least 4 inches between each, as they will double in size.

Cover with plastic film and let it rise for another 2 hours at room temperature. The rolls/buns will almost double in size.

Preheat oven to 350°F (175°C). Slightly brush each bun with some almond milk. Bake the rolls for 20-25 minutes, or until just golden brown. Remove from the oven and let it cool 10 minutes before enjoying!

These rolls are best served warm but will keep for up to 3 days at room temperature. You can reheat them covered with foil in a 350°F pre-heated oven for 15-20 minutes.
Notes
If you end up having too much chocolate hazelnut filling, melt it over a double boiler and drizzle over the buns!
Nutrition
Serving:
1
Bun
Calories:
547
kcal
Carbohydrates:
56.3
g
Protein:
9.5
g
Fat:
32.9
g
Fiber:
5.4
g
Sugar:
21
g
DID YOU MAKE THIS RECIPE?
Tag @fullofplants on Instagram and hashtag it #fullofplants