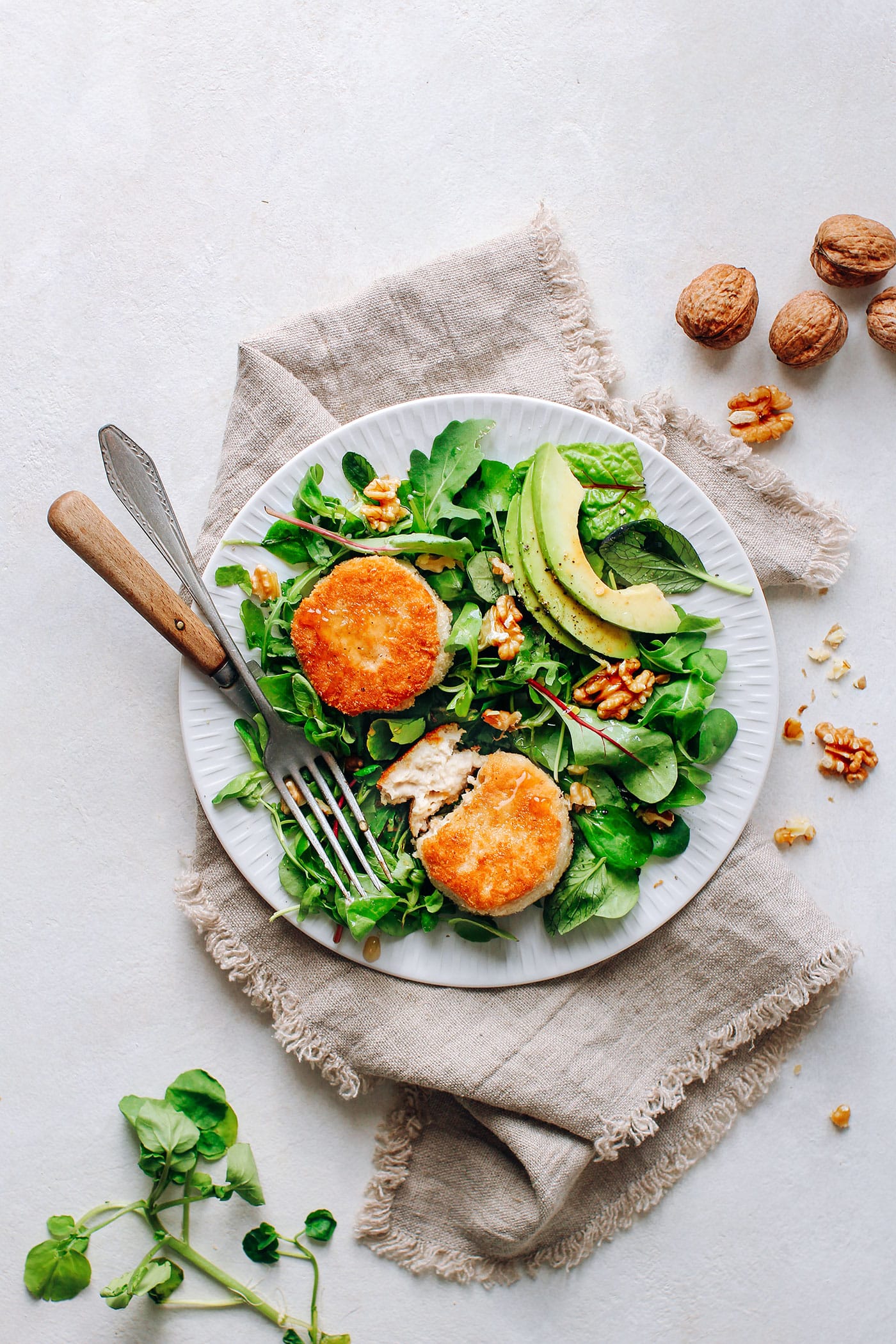 If there is one salad that is perfect for Fall/Winter, this is it.
If you have never heard of Chevre Chaud Salad, it's a classic French appetizer that consists of breaded fresh goat cheese served with a salad and a balsamic vinaigrette. It is served all year-round as an appetizer in restaurants but is usually preferred later in the year.
To replace the goat cheese used in the original recipe, I went with a very simple cashew cheese fermented with probiotics. The fermentation gives the cheese a flavor that cannot be replaced by simply adding lemon juice. It's tangy, cheesy, and so creamy!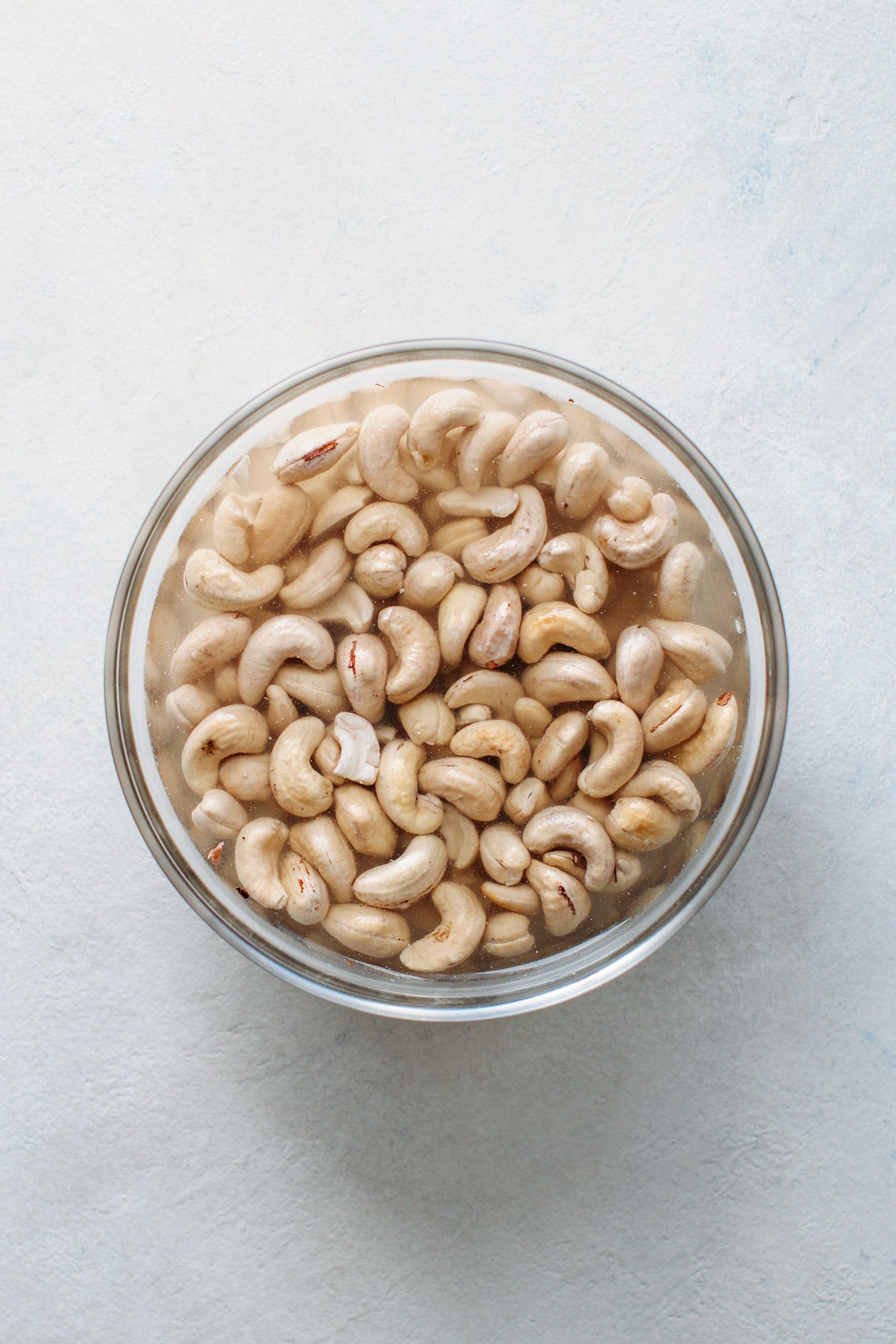 It all starts with the cashews that are soaked overnight. Then, you blend them with water until you get a thick and smooth cream.
Next, it's time to add the cultures! You can use acidophilus probiotics, rejuvelac, or a pinch of mesophilic culture. If you plan on using rejuvelac, simply omit the probiotics and use rejuvelac instead of water.
Once you have a smooth cashew cream it's time to let it ferment! Simply transfer it to a bowl and cover with plastic film to touch. Then leave it at room temperature for 24-48 hours depending on the temperature of your house. You know it is ready when it has a tangy flavor.
It is the fermentation process that will give the cheese its tanginess and sharpness.
The cheese is still soft after the fermentation so I recommend you refrigerate it for at least 8 hours, it will firm up slightly once cold. Then use a cookie cutter lined with plastic film to shape the cashew cream into a round and then carefully coat it with breadcrumbs (I used panko here for extra crispiness).
I didn't deep fried the breaded cheese here, as opposed to my Vegan Fried Goat Cheese Balls recipe. Simply shallow-fry until golden brown on both side and serve immediately!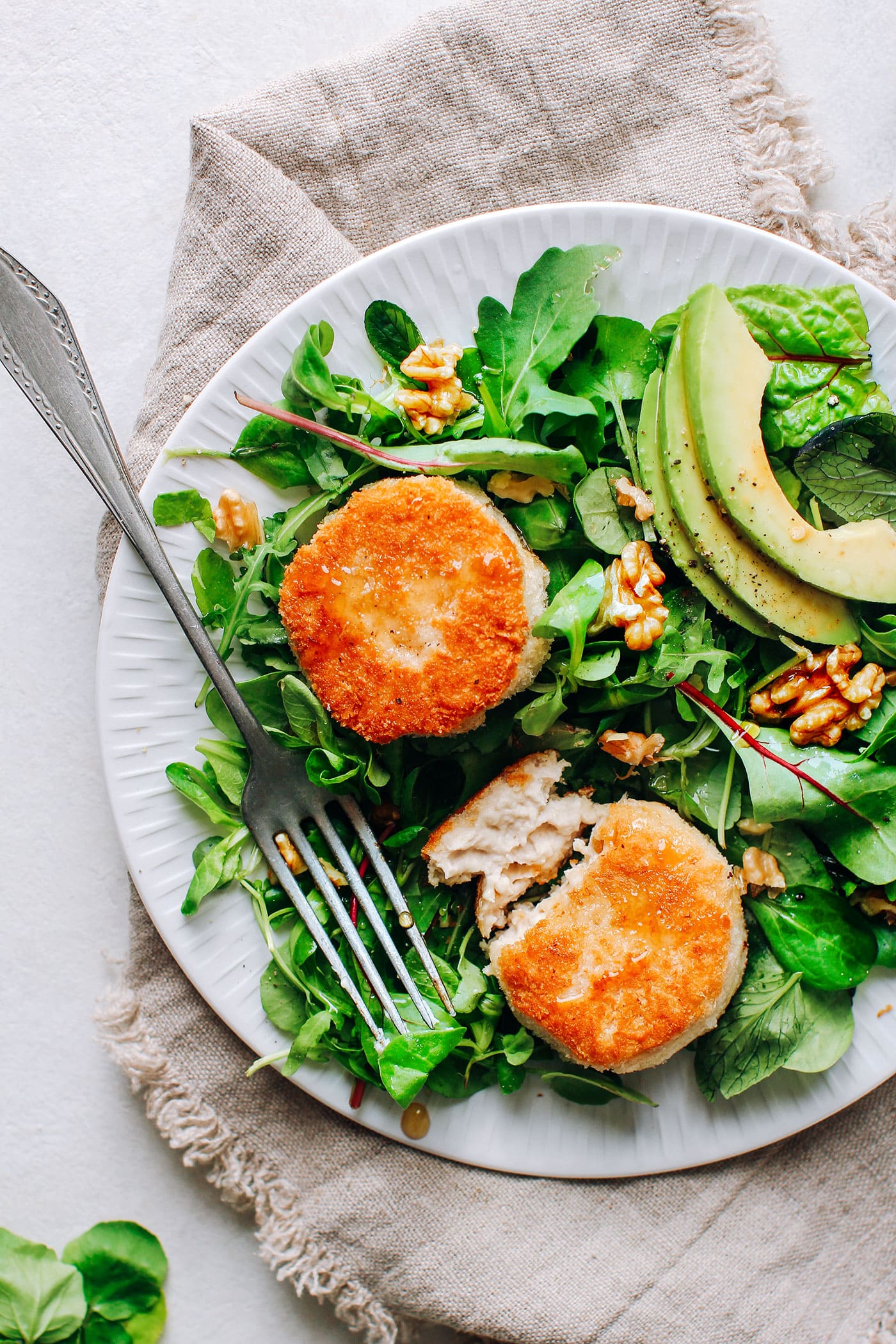 To serve, use your favorite greens and mix with the balsamic vinaigrette. Place the "chèvre chauds" on a bed of salad and top with crushed walnuts.
I like to add a drizzle of maple syrup on top of the "chèvre chauds" for a balance of sweet and salty. SO delicious!
If you are looking for a delicious and filling entrée (or appetizer), this Chèvre Chaud Salad will not disappoint! The crispy crust and the creamy inside of the vegan cheese combined with the tart vinaigrette makes this recipe a must-try!
Let me know in the comments if you try this recipe!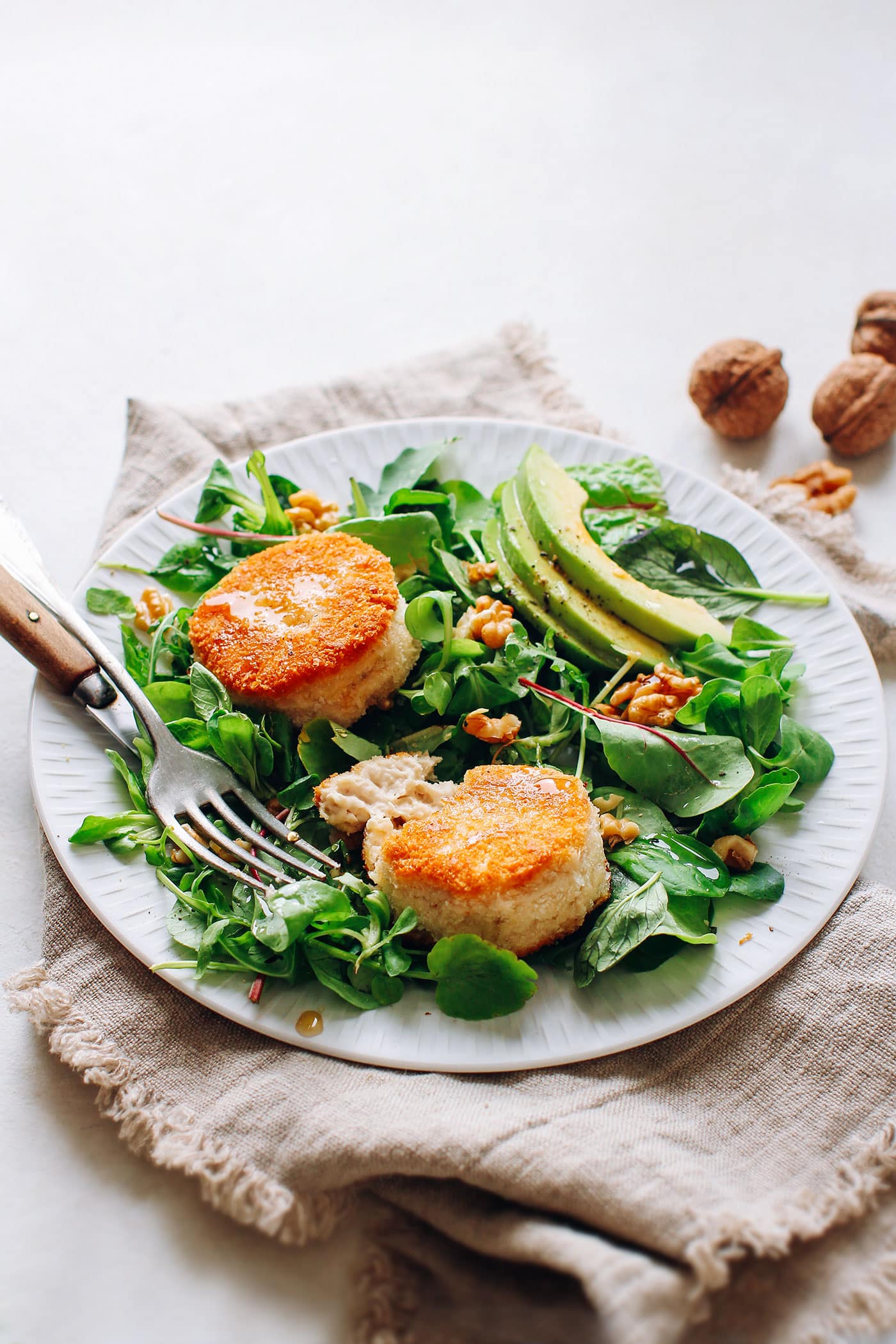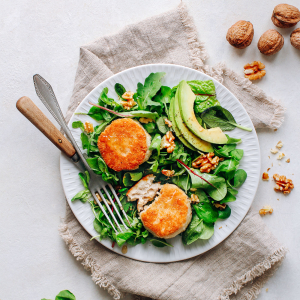 Vegan Chevre Chaud Salad
The famous French Salad that consists of warm breaded goat cheese made vegan! It tastes even better than the one you get in restaurants!
Ingredients
Chèvre Chaud (Breaded "Goat" Cheese)
Salad
2

tablespoon

olive oil

1

and ½ tablespoon balsamic vinegar

1

teaspoon

dijon mustard

1

small shallot

minced

⅛

teaspoon

salt

or more to taste

5

cups

mixed greens

arugula, lettuce, or your favorite salad

add-ins: ¼ cup walnuts

1 avocado, 2 tablespoon chopped dried figs (optional), a drizzle of maple syrup
Instructions
Chèvre Chaud (Breaded "Goat" Cheese)
Drain the cashews and transfer to a blender. Add the water and blend on high speed, scraping down the sides from time to time until it forms a smooth paste. If you have trouble blending, add 1-2 tablespoon of water, just be careful to not add too much otherwise the cashew cream will be too soft.

Add the mesophilic culture or acidophilus and blend for another 10-15 seconds. Transfer the cashew cream to a clean bowl and cover with plastic film to touch.

Place the bowl in a dark place at room temperature and let it ferment for at least 24 hours or up to 48 hours. Taste the cashew cream after 24 hours, if it has a tangy flavor then it's ready. If it doesn't let it ferment for another day.

Once fermented, taste and add salt to taste, mix to combine. Place the cashew cream bowl in the refrigerator and refrigerate for at least 8 hours. This will make the cashew cream slightly firmer and easier to work with.

Fill a deep plate or bowl with the breadcrumbs. Place a 1.5-inch round cookie cutter on a cutting board. Line it with plastic film and fill it with cashew cream. If you don't have a cookie cutter, place about ¼ cup of cashew cream on plastic film and shape it into a cylinder. It is essential to use plastic film as the cashew cream is a bit sticky.

Transfer the shaped cashew cheese to the bowl of breadcrumbs and carefully coat it on both faces and sides. Place on a plate and repeat with the remaining cashew cream.

Prepare the salad: in a large mixing bowl, whisk together the olive oil, balsamic vinegar, mustard, shallot, and salt together. Add the salad and stir to coat. Set aside.

Heat two tablespoons of oil in a large skillet over medium heat. Once hot, carefully add the breaded cashew cheeses and cook for 2-3 minutes, or until golden brown before flipping using a spatula. Cook the other side until golden brown.

Transfer to a plate lined with kitchen paper towel to remove excess oil.

To serve, divide the salad into 4 serving plates, add two "chèvre chauds", crushed walnuts, a few avocado slices, a drizzle of maple syrup, and serve immediately.

Cashew cream cheese will keep for up to 5 days in the refrigerator.
Notes
Two chèvre chauds makes a quite filling entrée. If you plan on serving these as an appetizer I would recommend making smaller ones (14 instead of 7 pieces of cheese).
Nutrition
Serving:
1
(2 chèvre chauds with salad)
Calories:
489
kcal
Carbohydrates:
28.6
g
Protein:
12.1
g
Fat:
39.3
g
Fiber:
2.8
g
Sugar:
4.4
g
DID YOU MAKE THIS RECIPE?
Tag @fullofplants on Instagram and hashtag it #fullofplants