That's right, vegan cheese tortellini! Plus it's gluten-free!
I feel like I don't have enough pasta recipes here, so let's start with these homemade gluten-free tortellini filled with fermented cashew cheese and basic, served with a spicy white wine tomato sauce. I never had the chance to find gluten-free AND vegan tortellini in supermarkets here so I decided to make my own.
The filling consists of fermented cashew cheese with garlic, shallot and fresh basil. If you are in a hurry you can skip the fermentation process and just add nutritional yeast and lemon juice but you will be missing on a lot flavor-wise. It's impossible to get that tangy, fresh cheese taste without some kind of fermentation. I tried both and the ones made with fermented cashew cheese received the most votes.
Do you know how you could make these tortellini even 10 times better? By using vegan blue cheese for the filling! Yep, blue cheese tortellini made completely vegan and incredibly tasty. Obviously it's not the kind of pasta you can make on a weekly basis since the blue cheese takes a long time to age but if you have guests to impress, this would be the perfect dish to serve!
I had to do several tests before finding the good ratio of flour/starch/gum. The pasta dough is made with a mix of rice flour, cornstarch and xanthan gum to add some elasticity.
The secret ingredient to replace eggs is...silken tofu! It adds protein and makes the dough softer, without it the pasta will be a little bit harder to chew. Many recipes for eggless pasta already require silken tofu, I'm not sure who came up with that but it was a great idea! Traditional pasta usually requires chilling, this one doesn't, you can roll and shape the dough right away.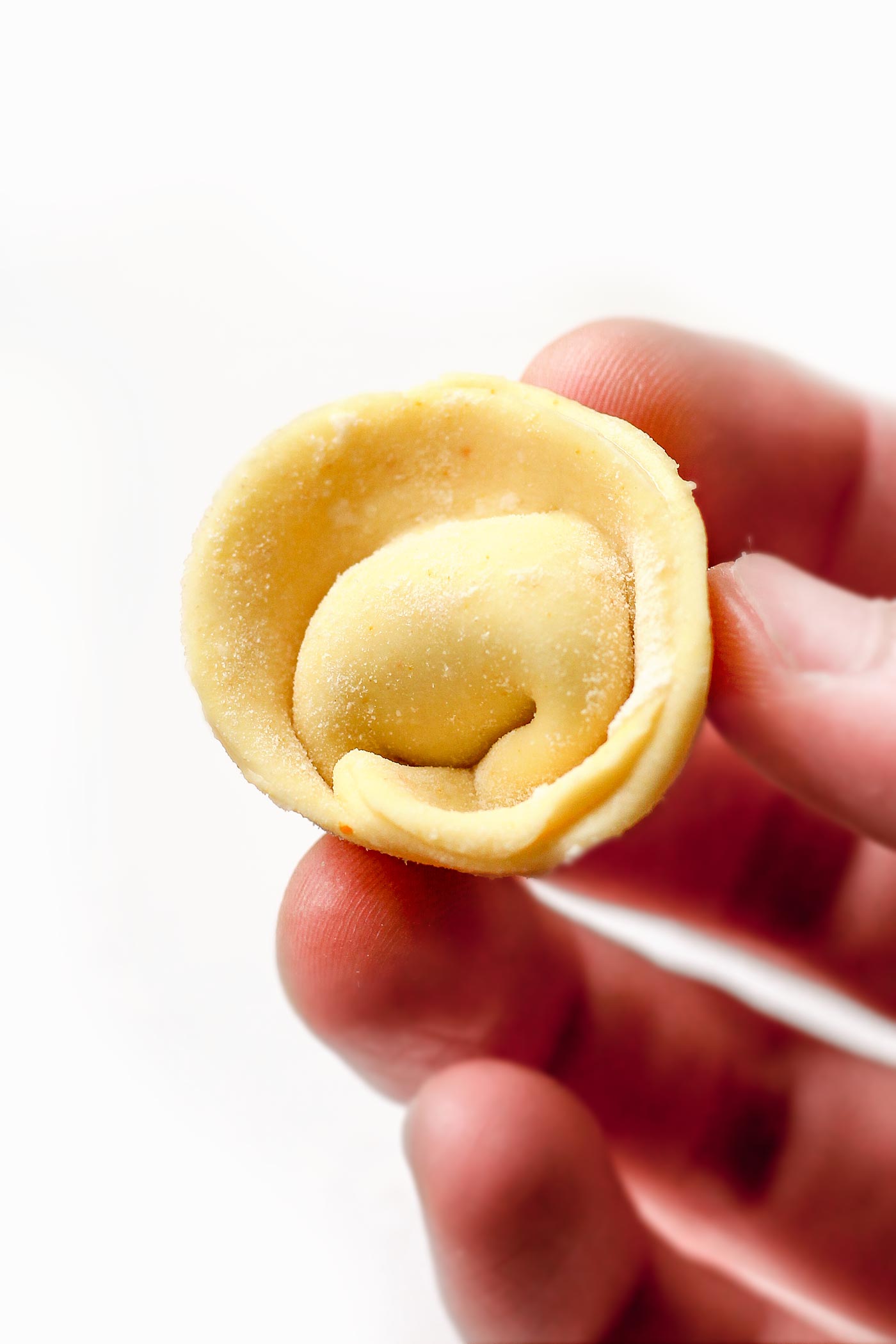 I'm not going to lie, the gluten-free version is a little bit more delicate to handle, but you will still be able to get nice shapes as you can see in the photos. I really recommend you keep the dough covered all the time when you are not working it, it dries out very quickly when in contact with air and will break if it's too dry. The gluten version is obviously easier to work with as you have very little chance to "break" the dough. I tried with and without gluten and both are delicious, it's almost impossible to find which one is gluten-free.
Forming the tortellini requires some practice but after a few tries you will be able to make nicely shaped tortellini! Make sure to roll the dough very thinly and shape it carefully.
The sauce is ready in 10 minutes and adds a LOT of flavor to the tortellinis. Fresh Cheese + White wine = super tasty combo! I also added some crushed red pepper to make the sauce just a little bit spicier. These tortellini are best served warm but if you have leftovers you can also use them in salads.
I hope you will love these vegan cheese tortellini, let me know in the comments if you try the recipe and tag @fullofplants on Instagram!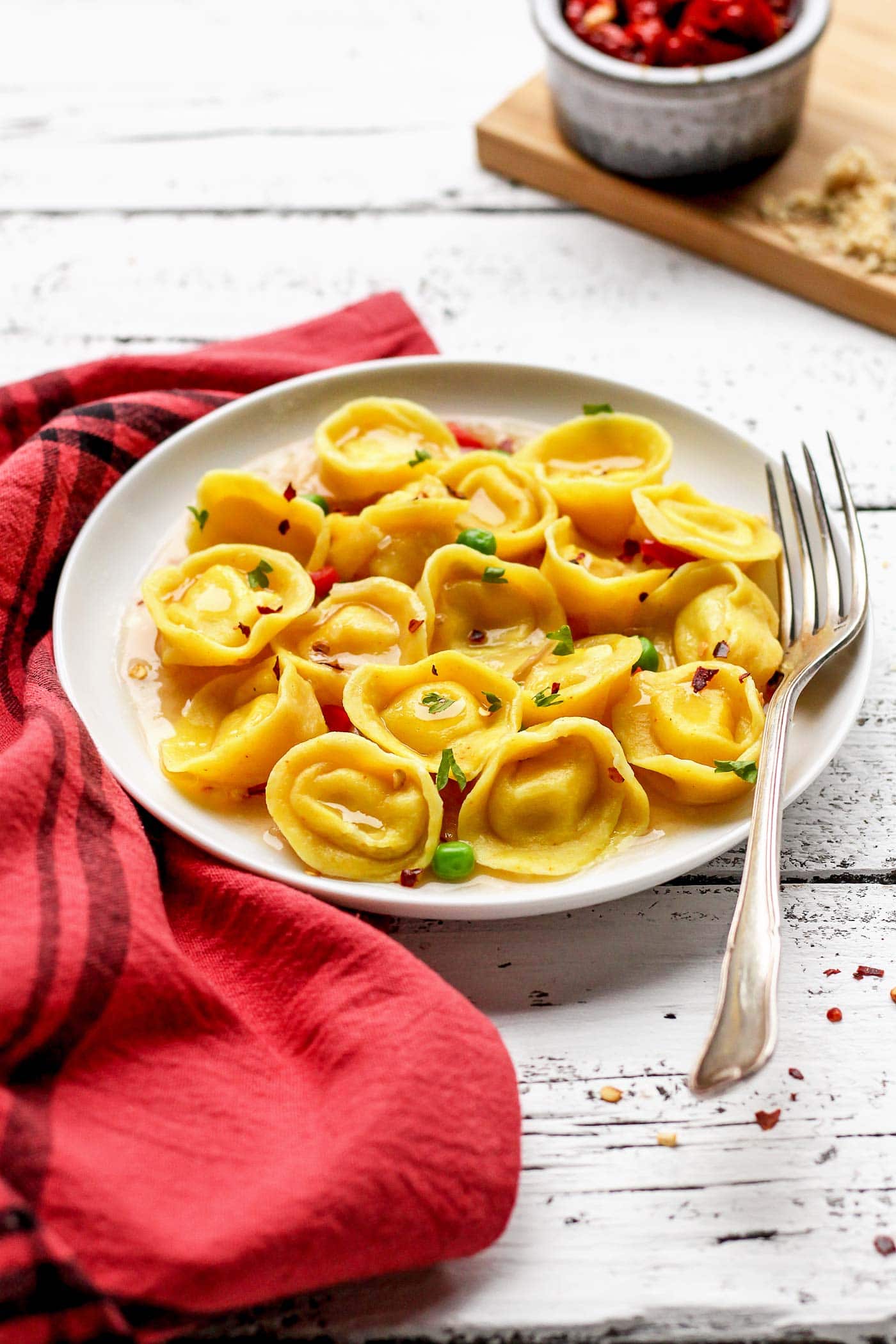 Print
Vegan Cheese & Basil Tortellini
Gluten-free tortellini filled with fermented cashew cheese and basil, served in a lightly spiced tomato white wine sauce.
Yield:

20

-

25

tortellinis

1

x
Vegan cheese
1 cup

raw cashews, soaked overnight

3

-

4

tablespoon filtered water

2

capsules vegan probiotics (I used acidophilus)
a pinch of salt

1

clove of garlic, peeled and finely chopped

1

small shallot, finely minced

5

-

6

leaves fresh basic, finely chopped
Pasta dough
¾ cup

rice flour

¼ cup

cornstarch

2 tsp

xanthan gum

2

-oz silken tofu (about

¼ cup

)

3 tbsp

water

¼ tsp

turmeric

1 tbsp

olive oil
White wine sauce
2 tbsp

olive oil

4

shallots, chopped

2

clove garlic, peeled and finely chopped

¼ tsp

red pepper flakes

½ cup

white wine

½ cup

water

1 tsp

tomato paste

¼ tsp

salt

1 tbsp

cornstarch
Instructions
Vegan cheese
Drain and rinse the soaked cashews and add them to the bowl of a food processor with 3 tablespoons filtered water and a pinch of salt.
Process for about 5 minutes until really smooth. Open the probiotic capsules and add the powder to the bowl, process for another 2 minutes. You want a smooth but thick consistency.
Transfer to a clean bowl, cover with a kitchen towel and place in a warm place for 24 hours. The cheese should have a tangy smell, like fresh cheese. (Depending on the temperature of your house it might take up to two days to ferment, if it doesn't smell anything after one day let it ferment for another day.)
Mix the cashew cheese with the chopped garlic, shallot and fresh basil. Add salt and pepper to taste and place in the refrigerator for at least 2 hours. The cheese will keep for about one week in the refrigerator.
Pasta dough
Add all the pasta dough ingredients to the bowl of a food processor and process until the dough begins to pull away from the sides of the bowl. If needed, add one teaspoon water of a time until the dough is soft but not too sticky.
You can use the dough right away with no problem. If you are making the dough in advance, wrap it in plastic film and keep in the refrigerator for up to 3 days.
On a very well floured surface (you can also use a silpat), roll out the dough very thinly using a pastry roller. I recommend you don't skimp on the flour when rolling or you dough will stick to the surface and break.
Using a glass, or a cookie cutter, cut 3 or 4 inch rounds, depending on how big you want the tortellini. Place about ¼ teaspoon of the cashew cheese mixture in the center of each round. When working on one round, I recommend you keep the remaining dough rounds covered with plastic film, the dough dries out very quickly and won't be easy to work with if it's too dry, it might actually break, you don't want that.
Using a wet finger, lightly brush the bottom half of the round and fold over to seal and form a half moon. Lightly wet the two corners and draw them together to form a rounded shape.
Repeat with the remaining rounds.
Cook the tortellinis in salted boiling water for about 4 minutes. Drain, coat with the sauce, top with vegan parmesan, fresh basil leaves and/or toasted pine nuts. 5-6 tortellinis per person is great for a starter.
White wine sauce
Heat the olive oil over medium heat in a medium size pan.
Add the chopped shallots, garlic and red pepper flakes and sautée for about 5 minutes, until soft.
Deglaze the pan with the white wine. Add the water, tomato paste and salt. Bring to a boil and simmer for 5 minutes.
In a small glass, mix the cornstarch with 1 tablespoon water. Add the cornstarch water to the pan and whisk until the sauce thickens, it should only take a few seconds. Remove from heat and keep covered.
Notes
Pasta dough recipe adapted from Rouxbe.
This recipe yields about 20 medium size tortellini or 25 small ones.
If not gluten-free, replace the rice flour, cornstarch and xanthan gum with 1 cup all-purpose flour or 00 flour.