-- This recipe is part of the Harry Potter Inspired Recipes Week --
Qizilbash Quality Confectionary, established in 1854, announced last week that their wizarding confectionary development team has started to work on a healthier version of their popular Cauldron Cakes.
The upcoming version is said to be dairy-free, egg-free, and gluten-free, three allergens that many Hogwarts students have. It is said to feature a creamy hot chocolate center inside a fudgy cake so moist that any death eater would turn over in its grave. On top of each cauldron cake, people will discover a spoonful of dragviar, these mini green eggs come from a rare type of dragons only breeded in a little town in Romania.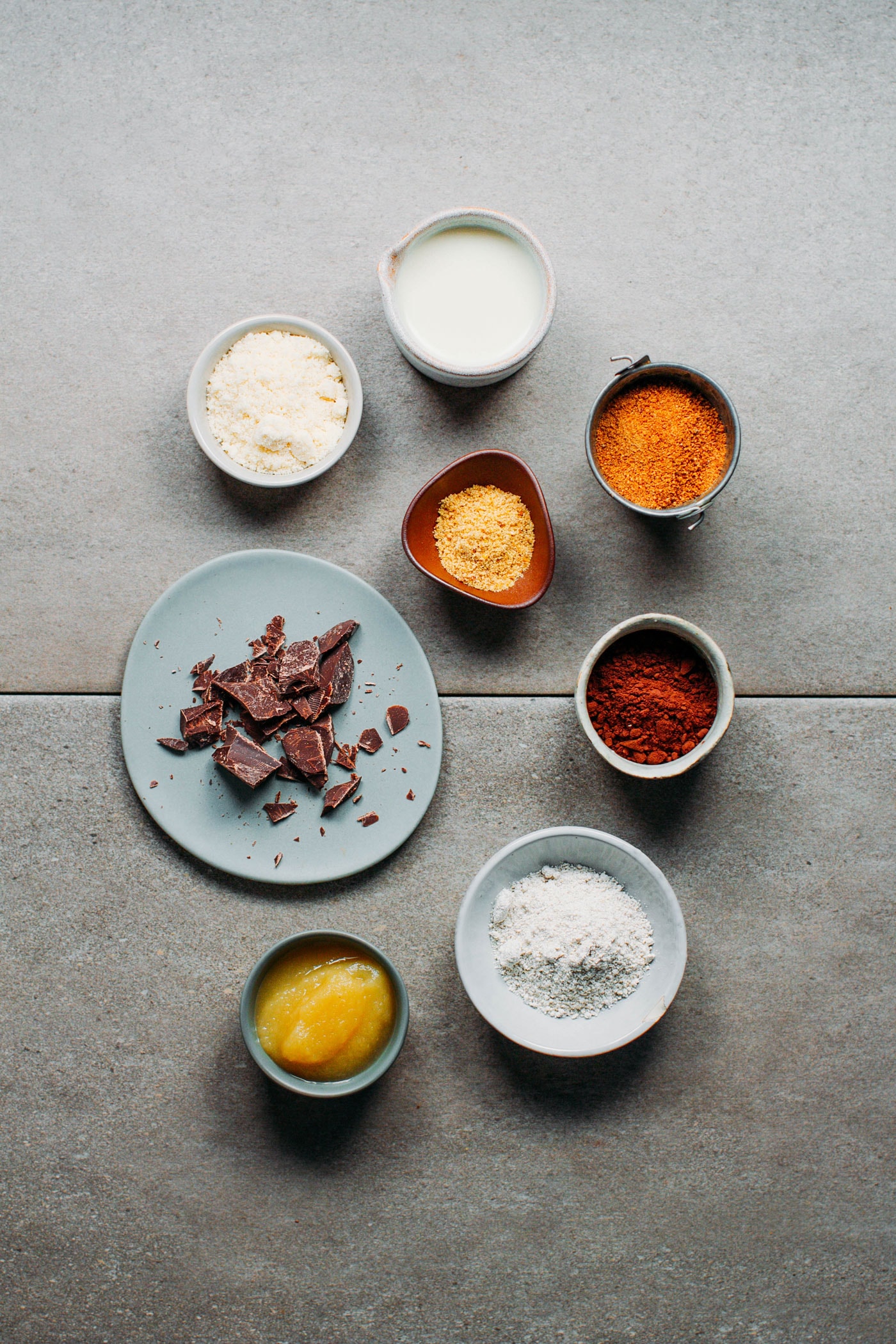 It wouldn't be a good Harry Potter week without some cauldron cakes! These chocolate-dipped cakes are filled with a creamy almond milk chocolate cream, and topped with green tapioca pearls for a magical touch!
HOW TO MAKE CAULDRON CAKES
The base of our cauldron cakes will be fudgy chocolate muffins that we will turn upside down. The muffin batter is gluten-free and naturally-sweetened with coconut sugar. To add moisture I included a combination of applesauce and pumpkin purée. Then we have oat flour, almond flour, and a couple of flax eggs that act as a binder.
If you want to make slightly shorter cauldron cakes, use a demi-sphere mold instead of a muffin one.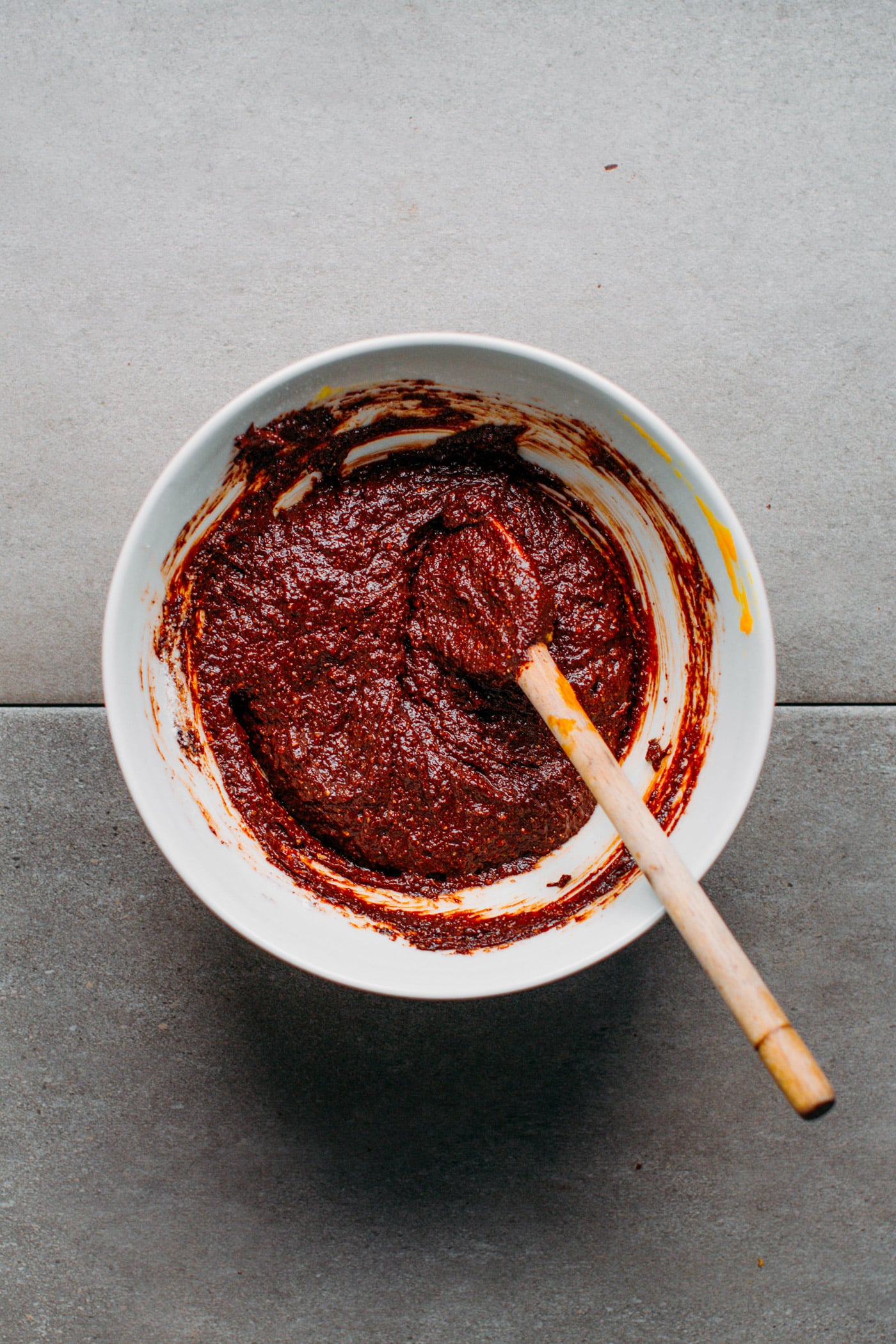 DECORATING CAULDRON CAKES
Once our muffins are baked, let cool completely and dip in melted dark chocolate to create a shell. The shell will add crispiness and give our cauldron cakes a better, smoother look.
Quick tip: I recommend using a high percentage dark chocolate in order to have a thin shell. Don't use melted dark chocolate chips, the chocolate will be too thick and you will have trouble dipping your muffins.
Handles and stick: With the leftover melted chocolate, we will draw the handles and sticks of our cauldron cakes. Use a piping bag or a spoon to draw them on a sheet of parchment paper.
Feet: You can pipe rounds of melted chocolate on parchment paper, or simply use large chocolate chips (which I did).
Let the chocolate set before "sticking" the handles and feet on your cauldron cakes using, once again, melted chocolate.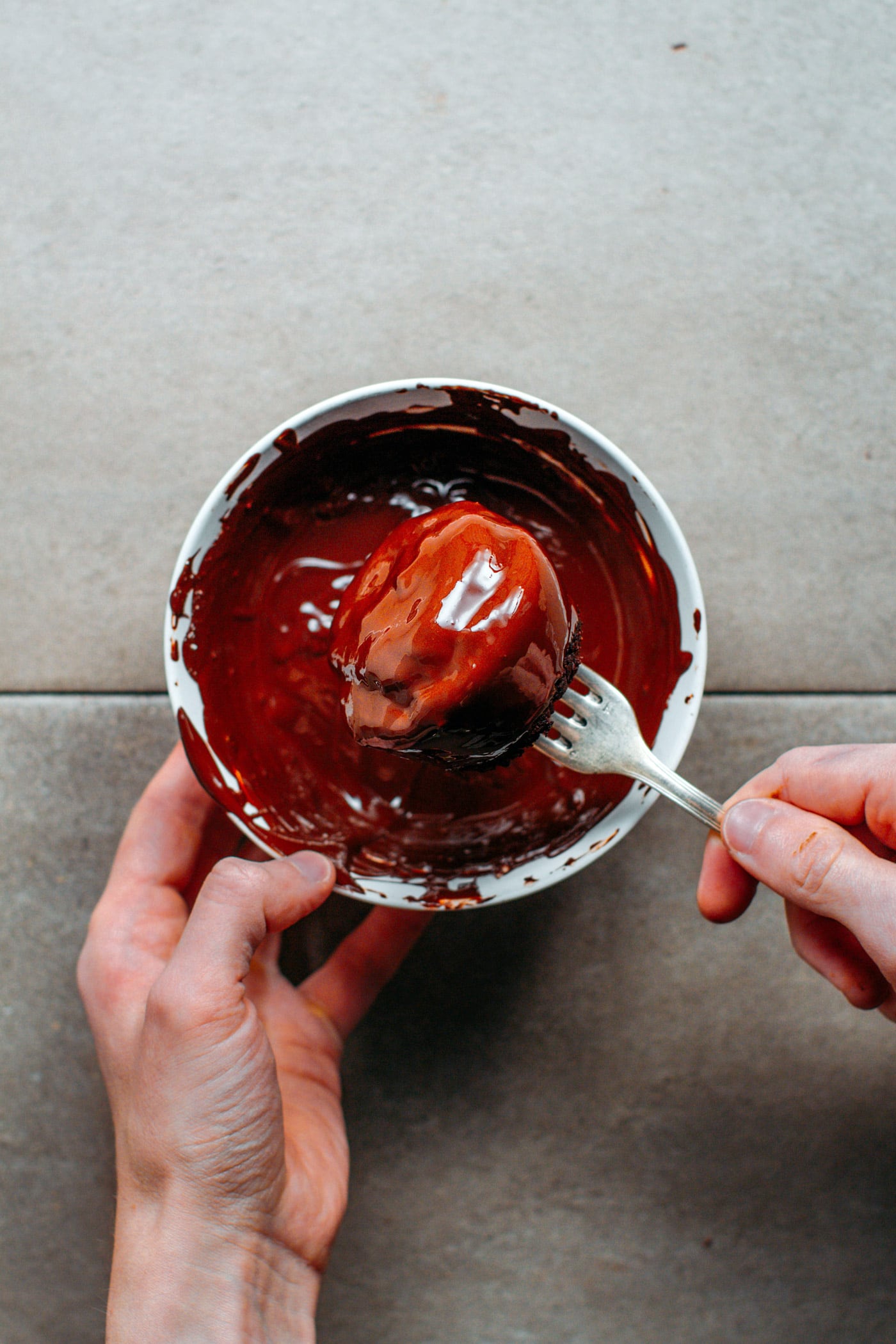 Finally, we have the filling, which consists of almond milk, cacao powder, coconut cream, maple syrup, and cornstarch.
To add a vibrant green color, I used tapioca pearls colored with pandan extract. The tapioca pearls are pretty flavorless so they don't affect the flavors of this dessert. They just add a little chewy texture! If you don't have tapioca pearls on hand, you could prepare a matcha frosting instead and pipe it over the cakes.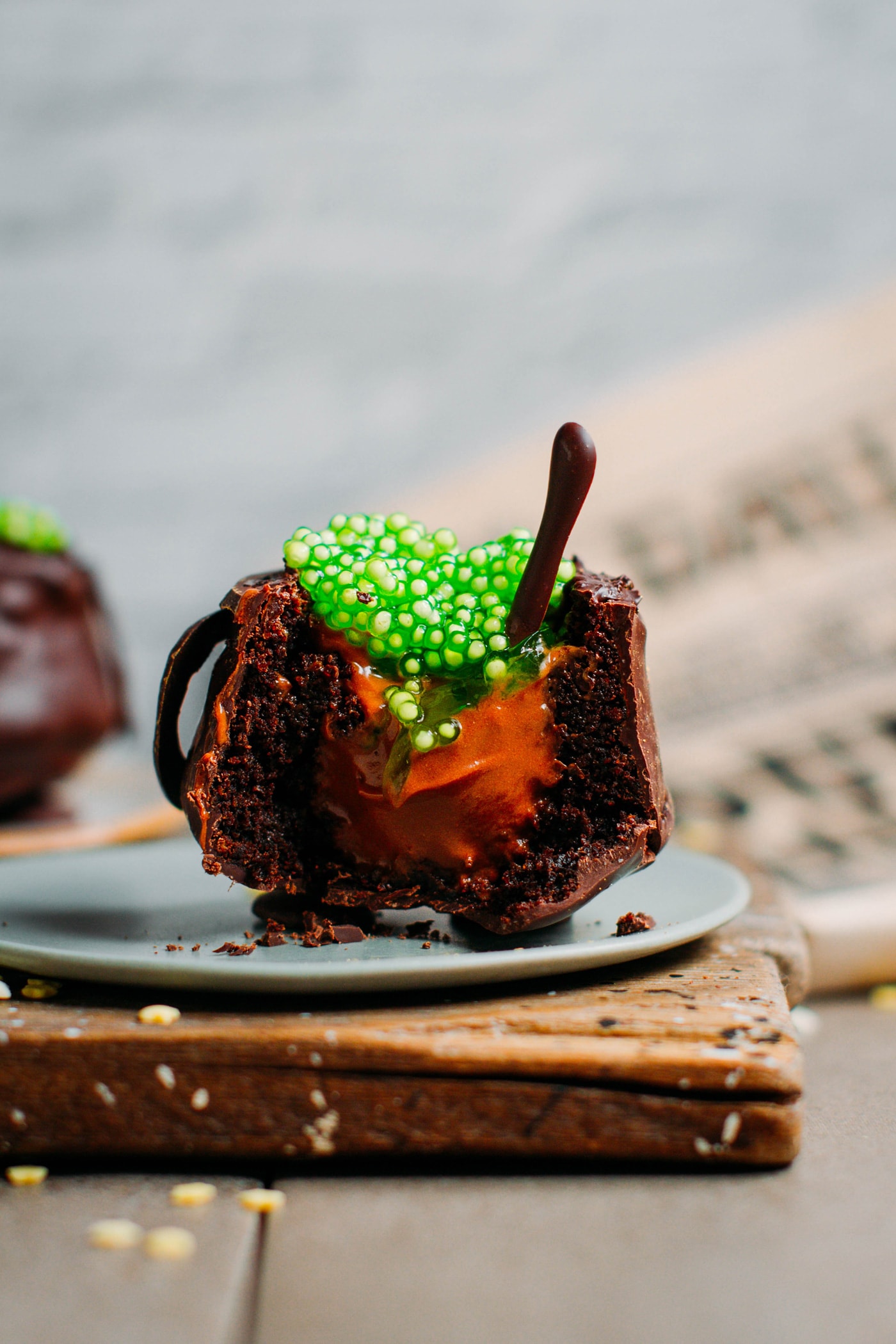 These insanely fudgy cauldron cakes are fire! A crispy shell, a moist and tender cake, and a creamy chocolate cream. Chocolate lovers, this one is for you!
Let me know in the comments if you try this recipe!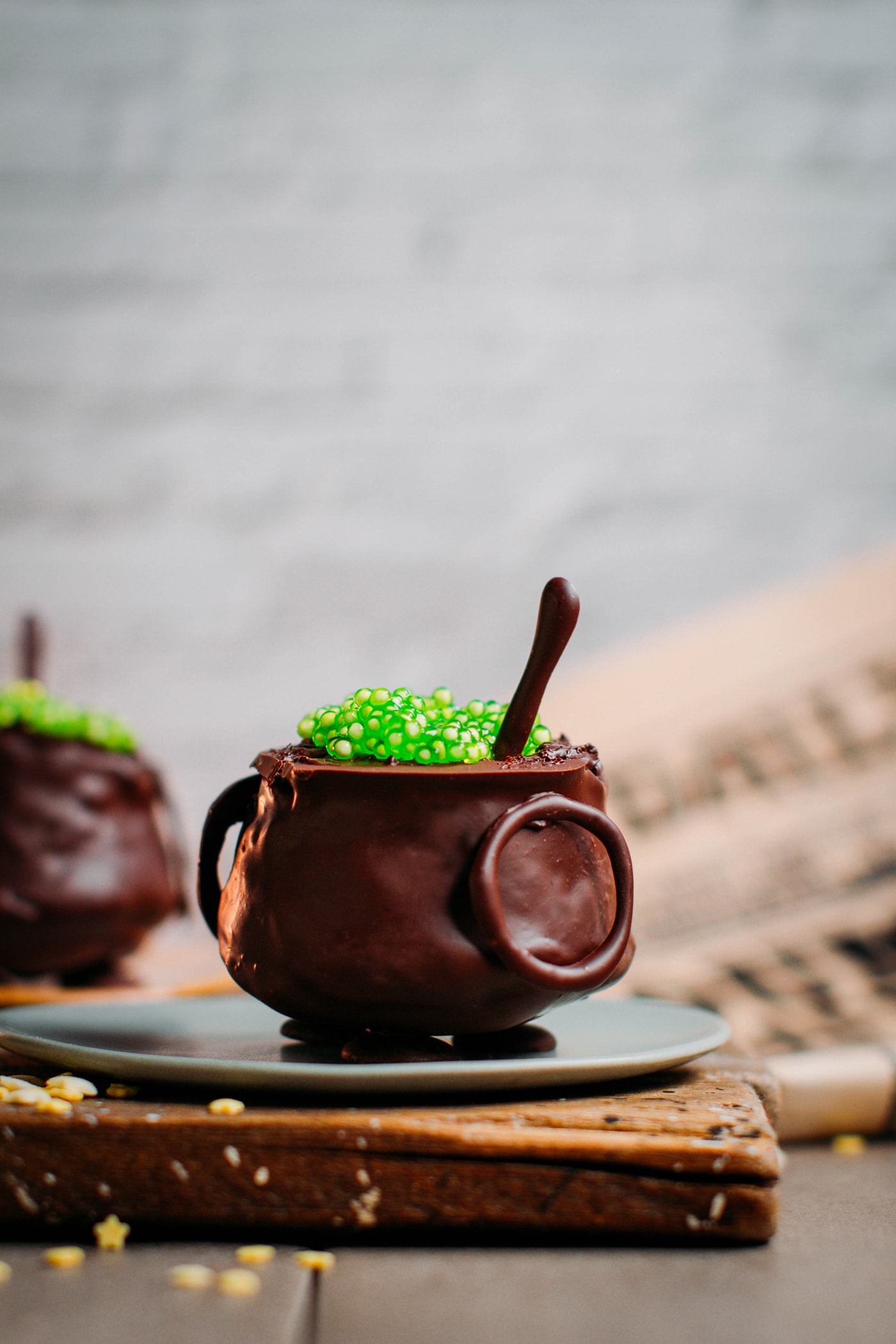 📖 Recipe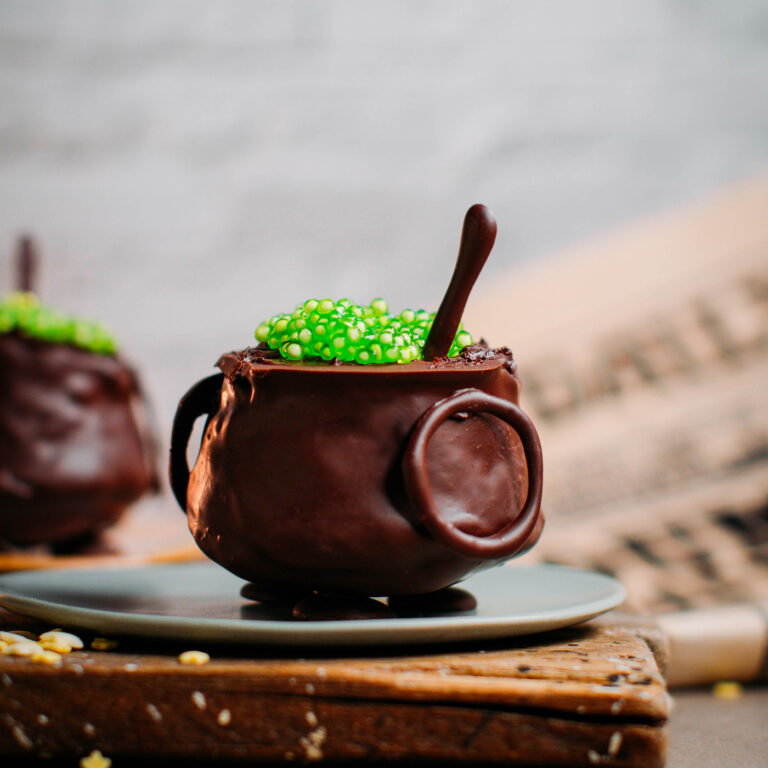 Vegan Cauldron Cakes
Delicious cauldron cakes filled with a creamy hot chocolate filling, and coated with a thin and crispy chocolate shell! Vegan and gluten-free!
Ingredients
Cream Filling
½

cup

almond milk

1

tablespoon

cornstarch

2

tablespoon

cacao powder

1

tablespoon

maple syrup

¼

cup

coconut cream

1

tablespoon

praline paste

(optional, adds a caramel flavor)
Cakes
2

tablespoon

ground flax seeds

6

tablespoon

water

⅔

cup

oat flour

⅔

cup

almond flour

½

cup

cacao powder

2

teaspoon

baking powder

½

teaspoon

salt

1

cup

coconut sugar

½

cup

applesauce

½

cup

pumpkin puree

2

tablespoon

oil

2

teaspoon

almond milk

1 and ½

cup

chopped dark chocolate

for dipping
Instructions
Cream Filling
To a saucepan, add the almond milk, cornstarch, cacao powder, maple syrup, coconut cream, and praline paste if using. Whisk to dissolve the cornstarch and cacao powder.

Heat over medium heat, whisking constantly, until the mixture thickens. Remove from heat, transfer to a bowl and cover with plastic film to touch. Refrigerate for at least 2 hours.
Cakes
Preheat oven to 350°F (175°C).

Prepare the flax eggs: in a small bowl, whisk together the ground flax egg and water. Let it sit for 5 minutes.

In the meantime, add the oat flour, almond flour, cacao powder, baking powder, salt, and coconut sugar to a large mixing bowl. Whisk until combined.

Pour in the flax eggs, apple sauce, pumpkin purée, oil, and almond milk. Stir using a wooden spoon until well combined. Divide the batter between the 6 cavities of a silicon muffin pan, filling each cavity to the ⅘. Try to make the top smooth, this will result in a nicer shape after baking.

Bake for about 25 minutes, or until the centers are set. Remove from the oven and let cool completely before removing from the pan.
Assemble
Melt the dark chocolate over a double boiler. (You can temper the chocolate if you want crispy and shiny shells.)

Using a small piping bag, draw some circles for the handles, and straight lines for the sticks on a piece of parchment paper. If you don't have a piping bag, you can use a spoon.

Now, flip your muffins upside down. Prick one with a fork. Using a large spoon, drizzle the melted chocolate all over the muffin, except the flat top. I found this way to work better than simply dipping, which can sometimes result is losing the muffin inside the whole bowl of melted chocolate.

Transfer the dipped muffins to a large plate lined with parchment paper and let cool completely. If you room temperature is warm, you can transfer the cakes to the refrigerator.

Once the chocolate has set, use a small and sharp knife to carve the inside of each cake. Fill each one with chocolate cream to the top.

Using melted chocolate, stick the handles and feet (I used chocolate chips) to each cauldron cake. Since your cakes will be cold the chocolate should set quickly.

Now for the green pearls, bring a small pot of water to a boil. Once boiling, add the tapioca pearls and the pandan extract. Cook for about 5 minutes, or until the pearls are tender. Drain and transfer to a small bowl. Add one more drop of pandan extract and mix to combine.

Top each cauldron cake with about 1 tablespoon of green pearls and enjoy! These cakes are better chilled, so keep them in the refrigerator. Cauldron cakes will keep for up to 3 days.
Notes
Calories don't count in the Wizarding world.
Did you make this recipe?
Tag @fullofplants on Instagram and hashtag it #fullofplants