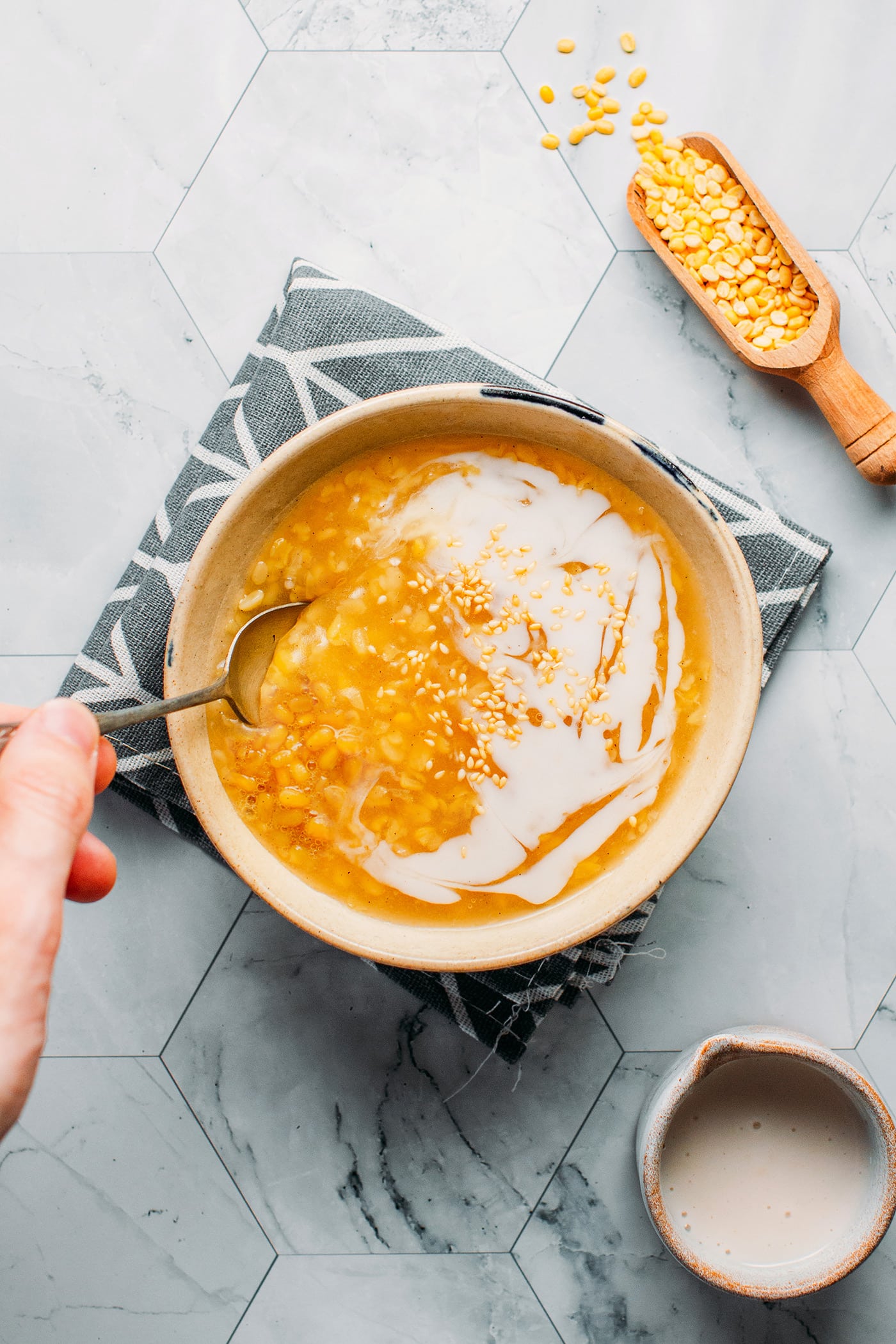 Because beans can do more than just savory dishes!
This sweet soup makes the perfect afternoon snack, it's creamy, sweet, and refreshing! Sweet soups are one of my favorite snacks to have in front of a good movie. And because we have a lot of free time these days, now is a great time to make it!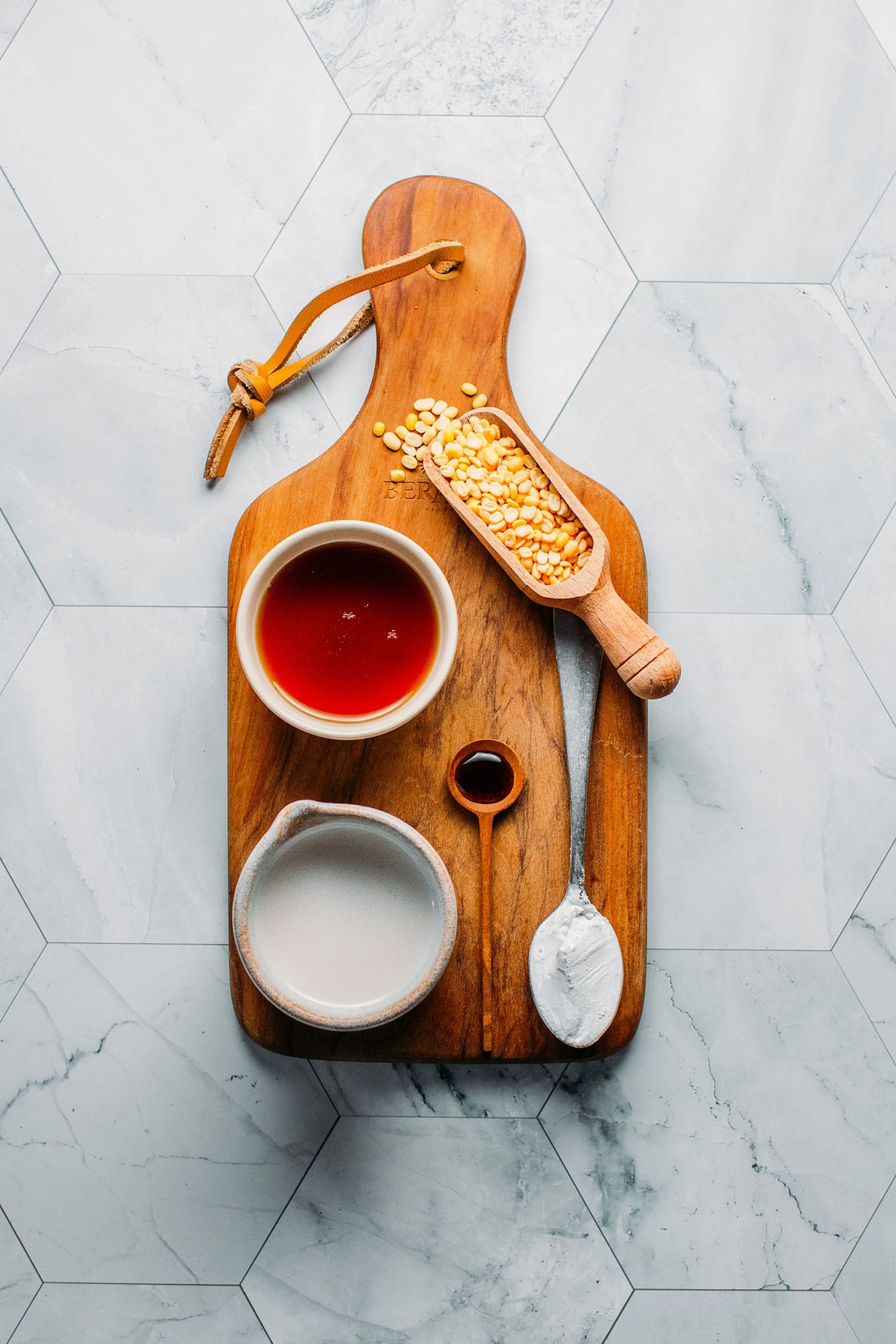 This 5-ingredient dessert is easy to prepare, you start by soaking the split yellow mung beans for about 2 hours. This will reduce the cooking time and make the beans easier to diggest.
Once this is done, drain and rinse them a few times under cold water. Transfer to a saucepan, cover with water and add the sugar.
To sweeten, I went with maple syrup, which gives it a nice caramel flavor. However, if you want to get a more traditional flavor and taste the beans a bit more, feel free to use regular sugar.
Speaking of traditional, this recipe is inspired by "chè" which is a Vietnamese dessert that comes in many shapes, colors, and flavors. It usually consists of sweet beans, rice, or jelly served chilled with coconut milk.
Now back to the recipe, bring the beans to a boil, and let simmer for 20-25 minutes, or until the beans are super tender. Next, stir in the vanilla extract, and add some tapioca starch to thicken the soup. The addition of tapioca makes this soup slightly sticky (in a good way!).
This soup is best served cold in my opinion, but it's also delicious at room temperature. Serve with coconut milk or coconut cream, and toasted sesame seeds!
This sweet soup is thick, perfectly sweet, and infused with a nice vanilla flavor. Plus it contains a good amount of protein from the mung beans. Stay tuned for more sweet soup recipes!
Let me know in the comments if you try this recipe!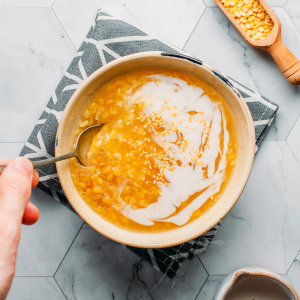 Vanilla Sweet Mung Bean Soup
Sweet split mung bean soup infused with vanilla and served with coconut milk and toasted sesame seeds. A refreshing and delicious dessert!
Instructions
Place the split mung beans in a bowl and cover with water. Soak the beans for about 2 hours.

Drain and rinse the beans. Wash them a couple of times under cold water. Transfer the beans to a medium saucepan. Add the maple syrup, water, and salt.

Bring to a boil, then lower the heat to a simmer, and cook uncovered for about 25 minutes. Check regularly to make sure there is still some water remaining. Once the beans are soft, you should still have a little bit of water, but it should not be soupy. If no water remains, add about ¼ cup of water.

Stir in the vanilla extract, and pour in the tapioca diluted in water. Cook for one more minute.

Remove from heat and let it cool at room temperature. You can enjoy at room temperature, or chilled (my favorite).

Serve with chilled coconut milk on top and sprinkle toasted sesame seeds! This sweet soup will keep for up to 3 days in the refrigerator.
Notes
*If you want to thicken the coconut milk, transfer it to a small saucepan. Add about 1 teaspoon of tapioca starch, and heat over medium heat, whisking regularly until it thickens.
This makes a small batch (serves 2), so feel free to double the recipe!
Nutrition
Serving:
1
g
Calories:
253
kcal
Carbohydrates:
33.2
g
Protein:
4.3
g
Fat:
12.1
g
Fiber:
2.9
g
Sugar:
19
g
DID YOU MAKE THIS RECIPE?
Tag @fullofplants on Instagram and hashtag it #fullofplants