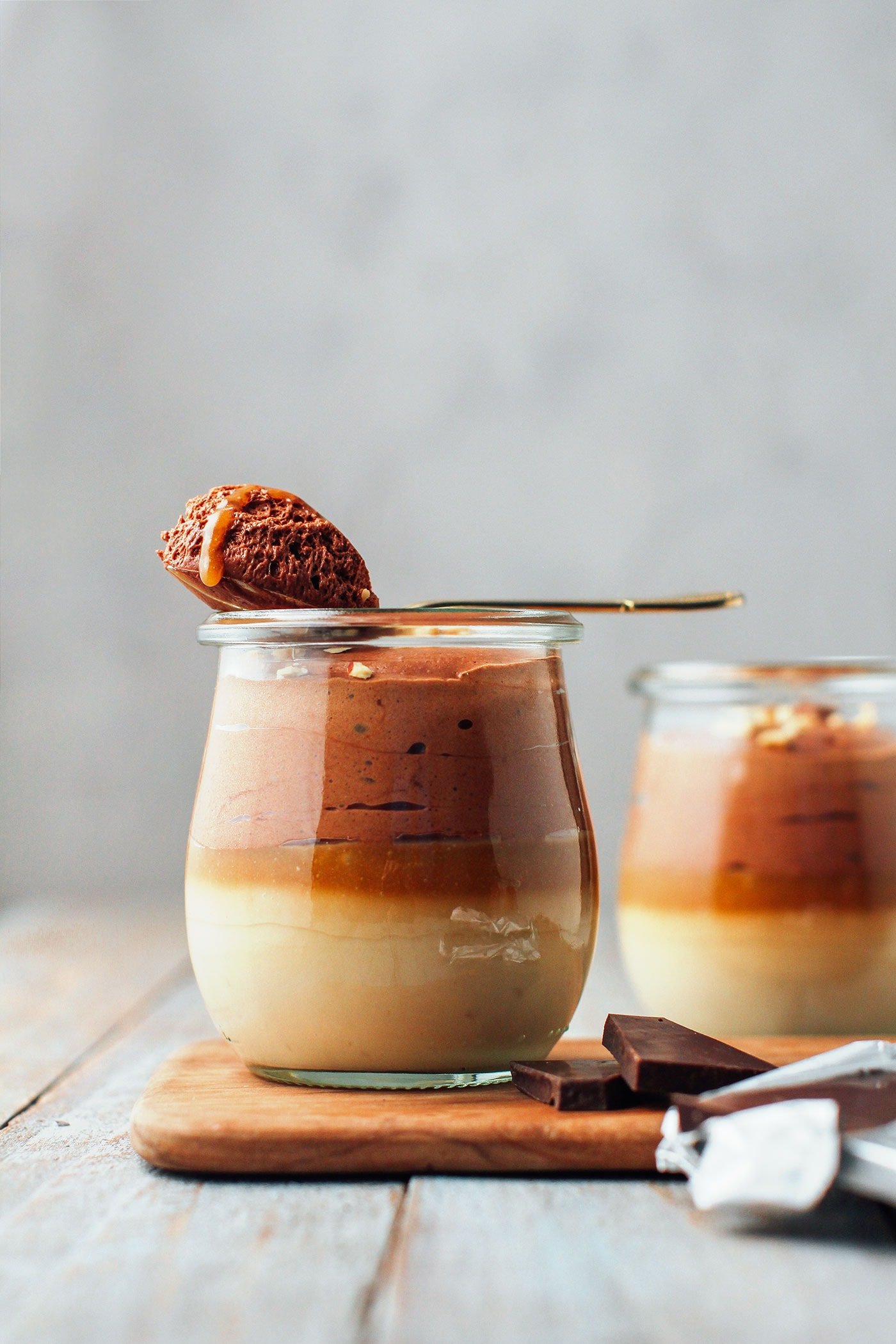 You guys loved this Yule log recipe I released last Christmas! Well, this one is basically it in jars.
These 3-layer parfaits have a thick and creamy vanilla custard at the bottom, a layer of rich salted caramel, and finally an airy and nutty chocolate mousse. These parfaits would be perfect as a Christmas dessert! No need to say that you don't have to wait for Christmas to enjoy them!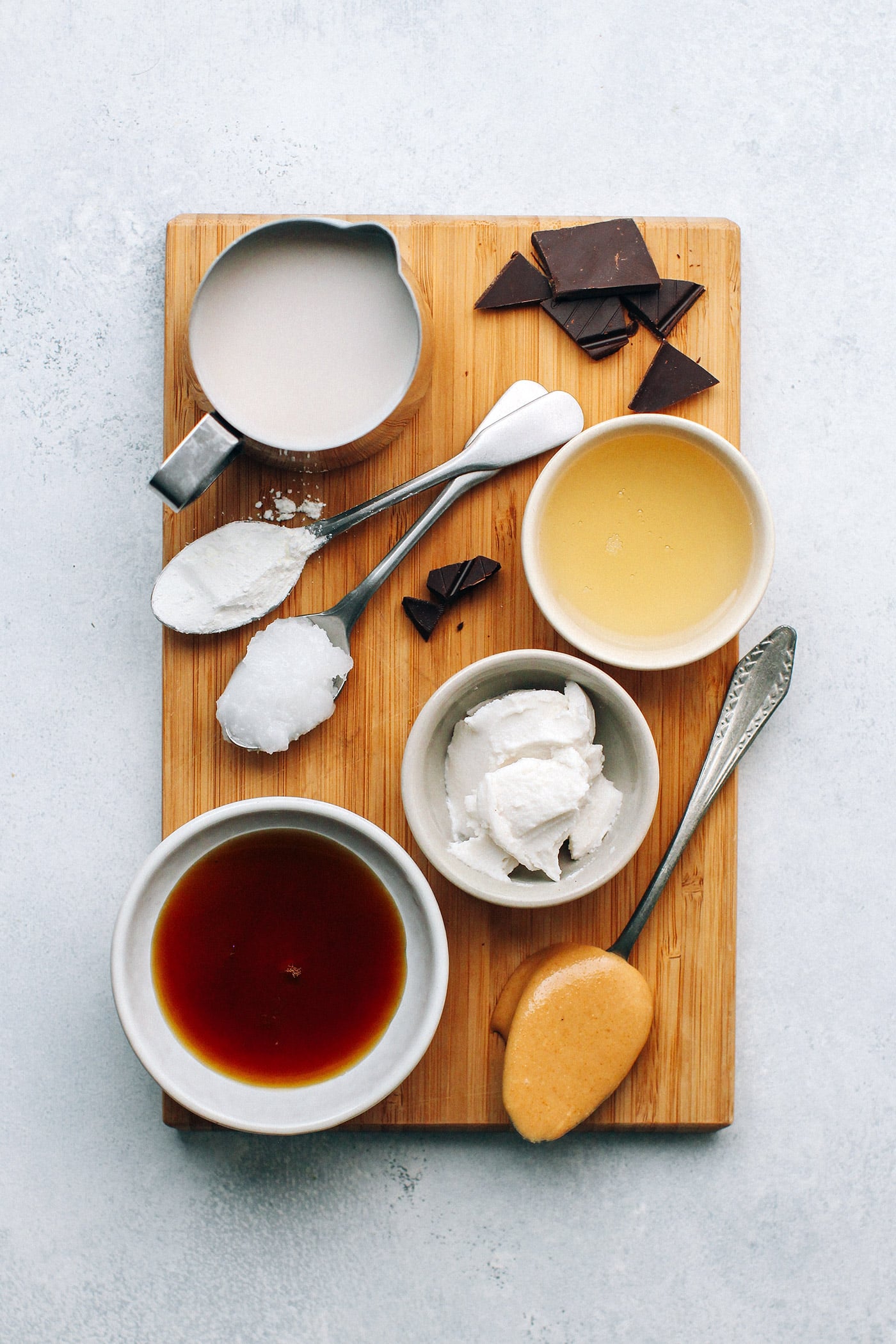 We start with the vanilla custard that consists of almond milk sweetened with maple syrup and flavored with vanilla extract. To thicken it I went with a combination of cornstarch and potato starch. I found the mix of both yielded the best result in term of texture. It's creamy and thick without have the texture of a flan.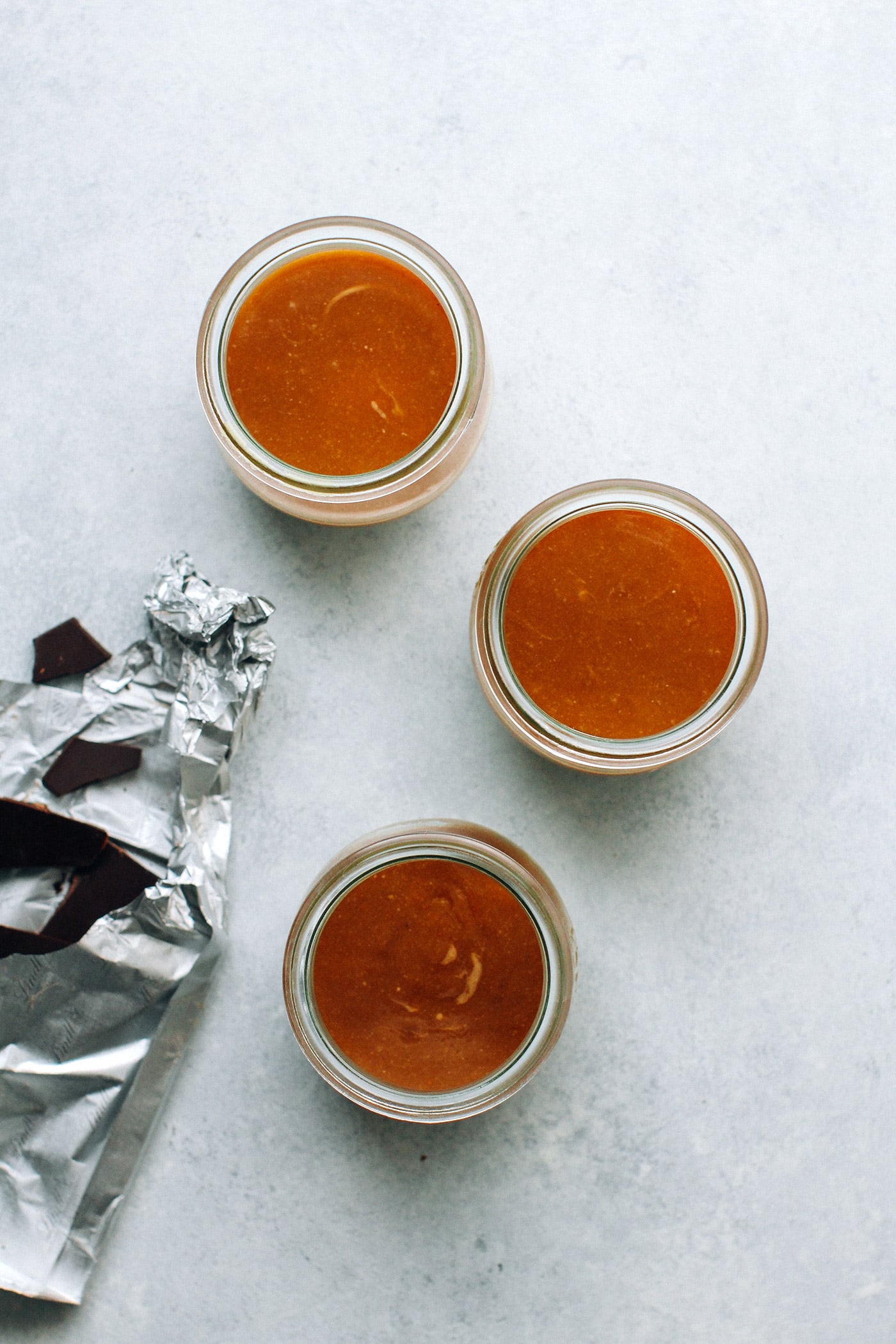 The salted caramel layer is easy to make. You simply combine almond butter (may I suggest making your own?) with maple syrup, vanilla, salt, and coconut oil. The coconut oil help firm up slightly the caramel, resulting in a thick but soft texture once chilled. Delicious!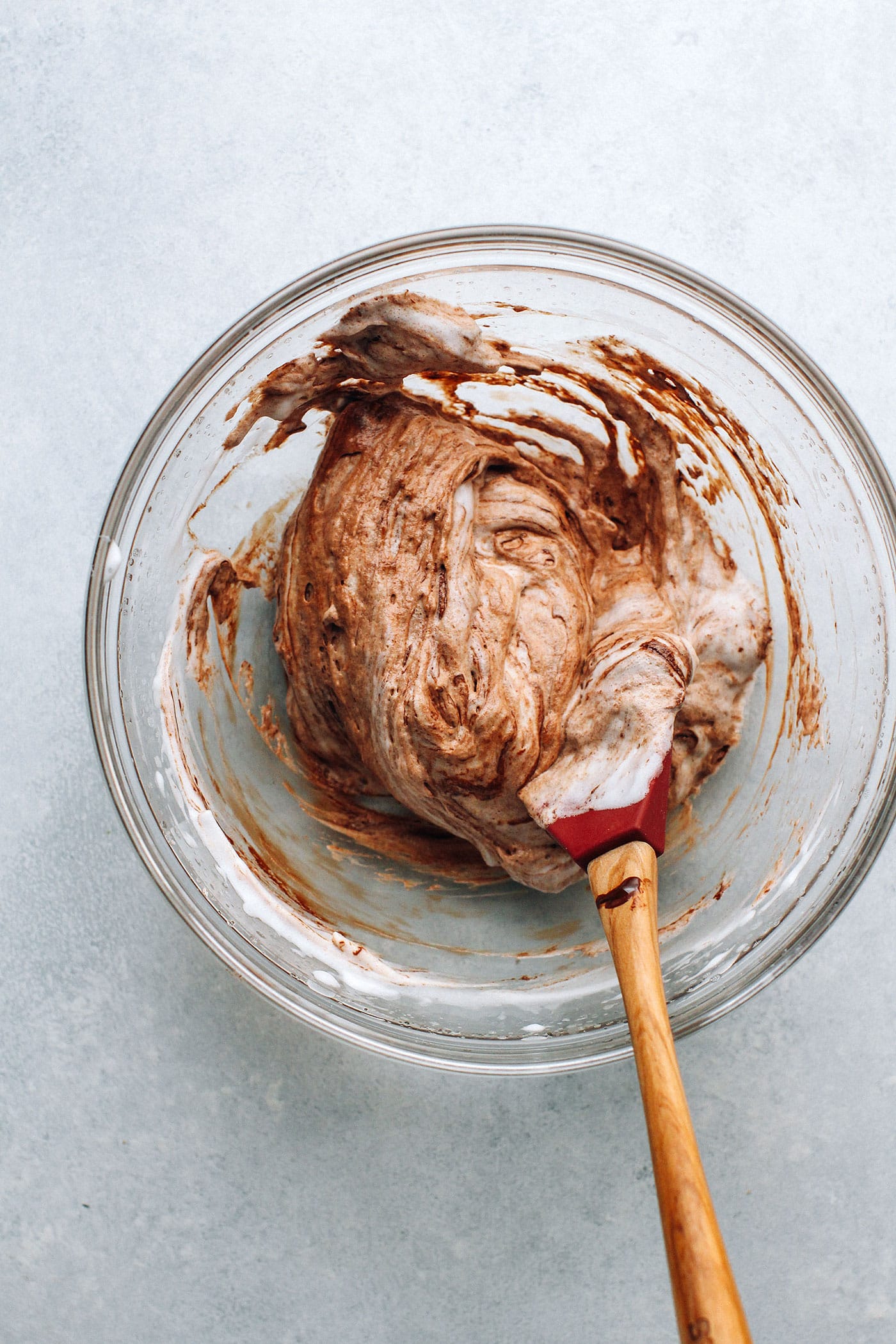 Finally, we have the chocolate mousse that is made with the magical aquafaba. You whip it to stiff peak and then combine with melted chocolate. For extra flavor and nuttiness, I added a couple tablespoons of hazelnut butter in the mousse.
The airy chocolate mousse balances with the fresh and creamy vanilla custard and the salty caramel. If you like chocolate and vanilla you won't be disappointed!
Let me know in the comments if you try this recipe!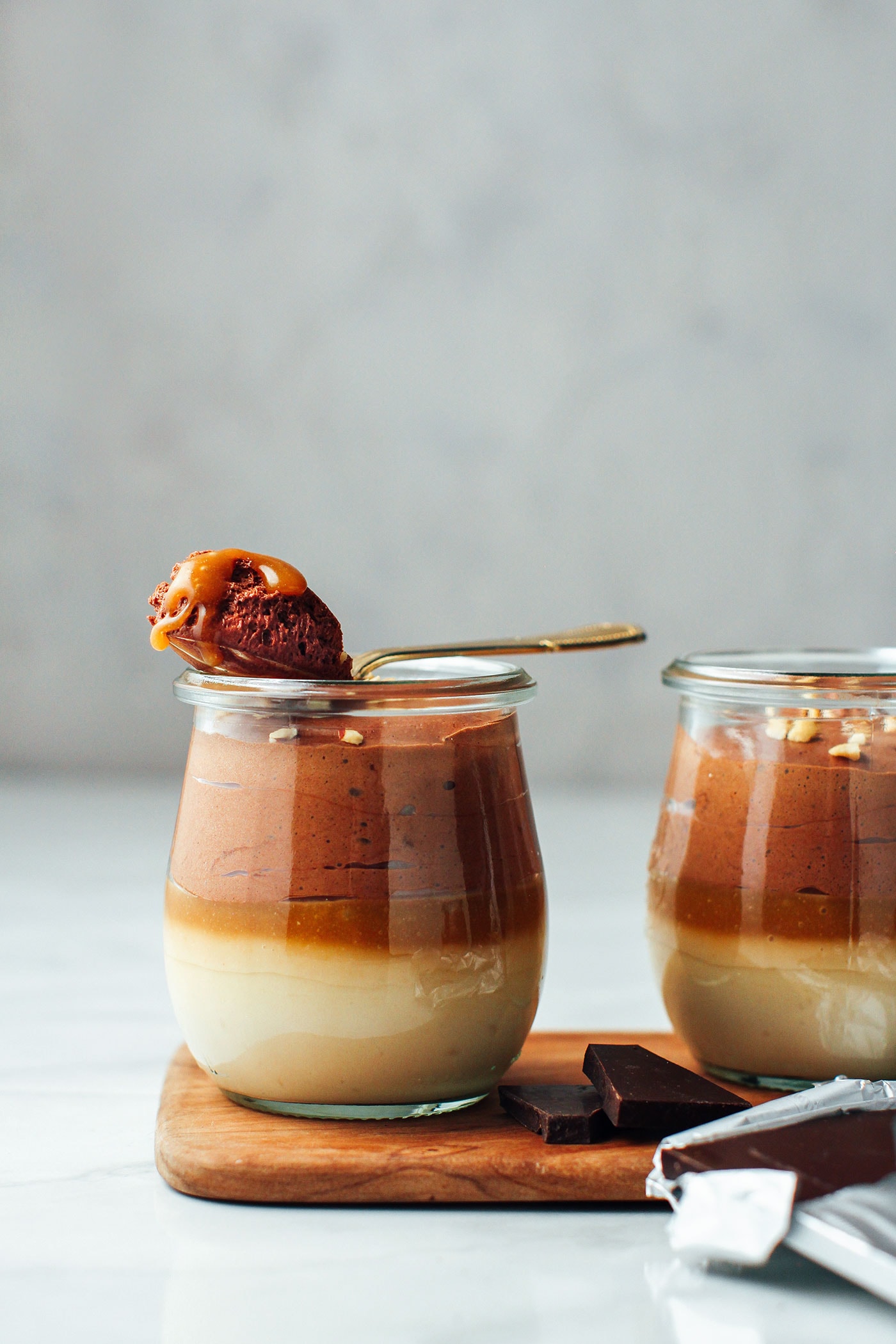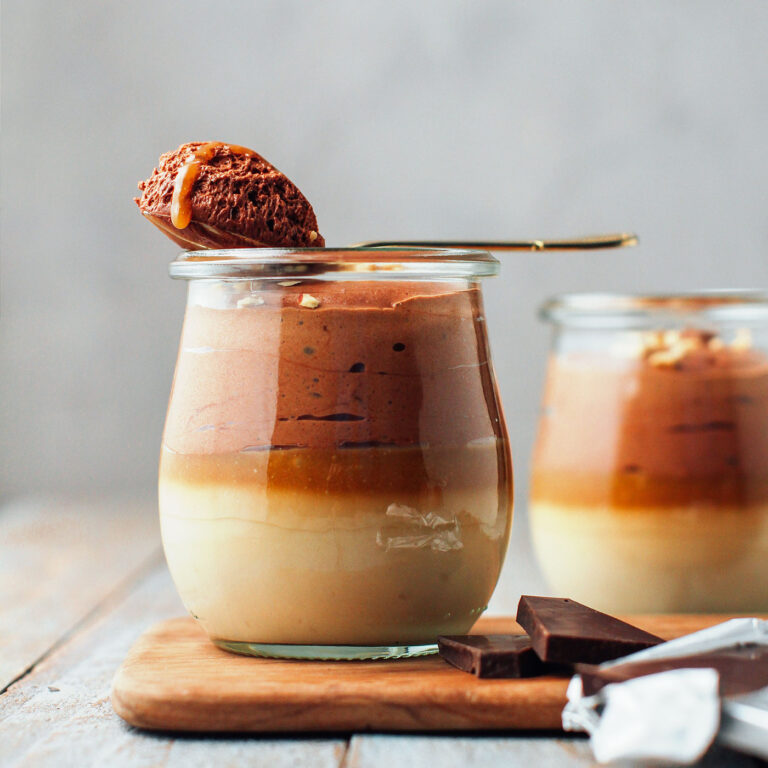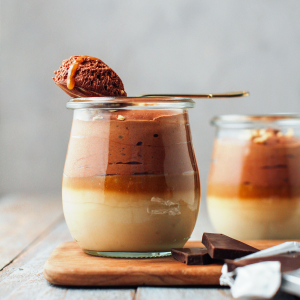 Vanilla Custard, Chocolate Mousse & Salted Caramel Parfaits
Three-layer parfaits with a thick and creamy vanilla custard, a rich salted caramel, and an airy chocolate mousse!
Ingredients
Vanilla Custard
1

cup

236ml almond milk (or other plant-based milk)

¼

cup

60ml coconut cream

2

tablespoon

30ml maple syrup

1

tablespoon

10g potato starch

1

tablespoon

8g cornstarch

1

teaspoon

vanilla extract
Salted Caramel
2

tablespoon

30g almond butter

2

tablespoon

30ml coconut oil, melted

2

tablespoon

30ml maple syrup

¼

teaspoon

vanilla extract

⅛

teaspoon

salt

or more to taste
Chocolate Mousse
½

cup

118ml aquafaba

¾

cup

130g dark chocolate chips

2

tablespoon

30g hazelnut butter (optional, adds nuttiness)
Instructions
Start with the vanilla custard: In a saucepan, combine the almond milk, coconut cream, and maple syrup. Add the potato starch and cornstarch and whisk until dissolved.

Heat over medium heat, whisking constantly until it starts to thicken. Once the milk has thickened, remove from the heat and stir in the vanilla extract. Divide the vanilla custard into 3 small jars.

Let cool a few minutes before transferring to the refrigerator. Refrigerate for at least 30 minutes.

Next, prepare the salted caramel layer: in a small bowl, combine the almond butter, coconut oil, maple syrup, vanilla extract, and salt. Taste and adjust saltiness to your liking. Divide the salted caramel into the three jars, on top of the vanilla custard. Refrigerate for another 30 minutes, or until the salted caramel is slightly firmer.

Finally, prepare the chocolate mousse: Melt the chocolate chips over a double boiler. Remove from heat as soon as the chocolate is melted. At this point, you can stir in the hazelnut butter if using. Set aside.

Pour the aquafaba into a large mixing bowl and whip it using an electric hand (or stand) mixer until it forms stiff peaks. This step can take up to 5 minutes.

Next, pour the melted chocolate over the whipped aquafaba and carefully mix using a spatula until combined. Try not to overmix, stop as soon as it's combined and no white parts remain.

Divide the chocolate mousse into the three jars, on top of the salted caramel and top with crushed nuts or chocolate chips. Refrigerate for at least 1 hour, or until the chocolate mousse is set. Serve chilled.

These parfaits will keep for up to 3 days in the refrigerator.
DID YOU MAKE THIS RECIPE?
Tag @fullofplants on Instagram and hashtag it #fullofplants