If you love pop tarts as much as you enjoy sipping on a creamy chai latte, you are going to go crazy over these homemade chai pecan pop tarts! These vegan pop tarts are nutty, spicy, infused with vanilla, and so flaky!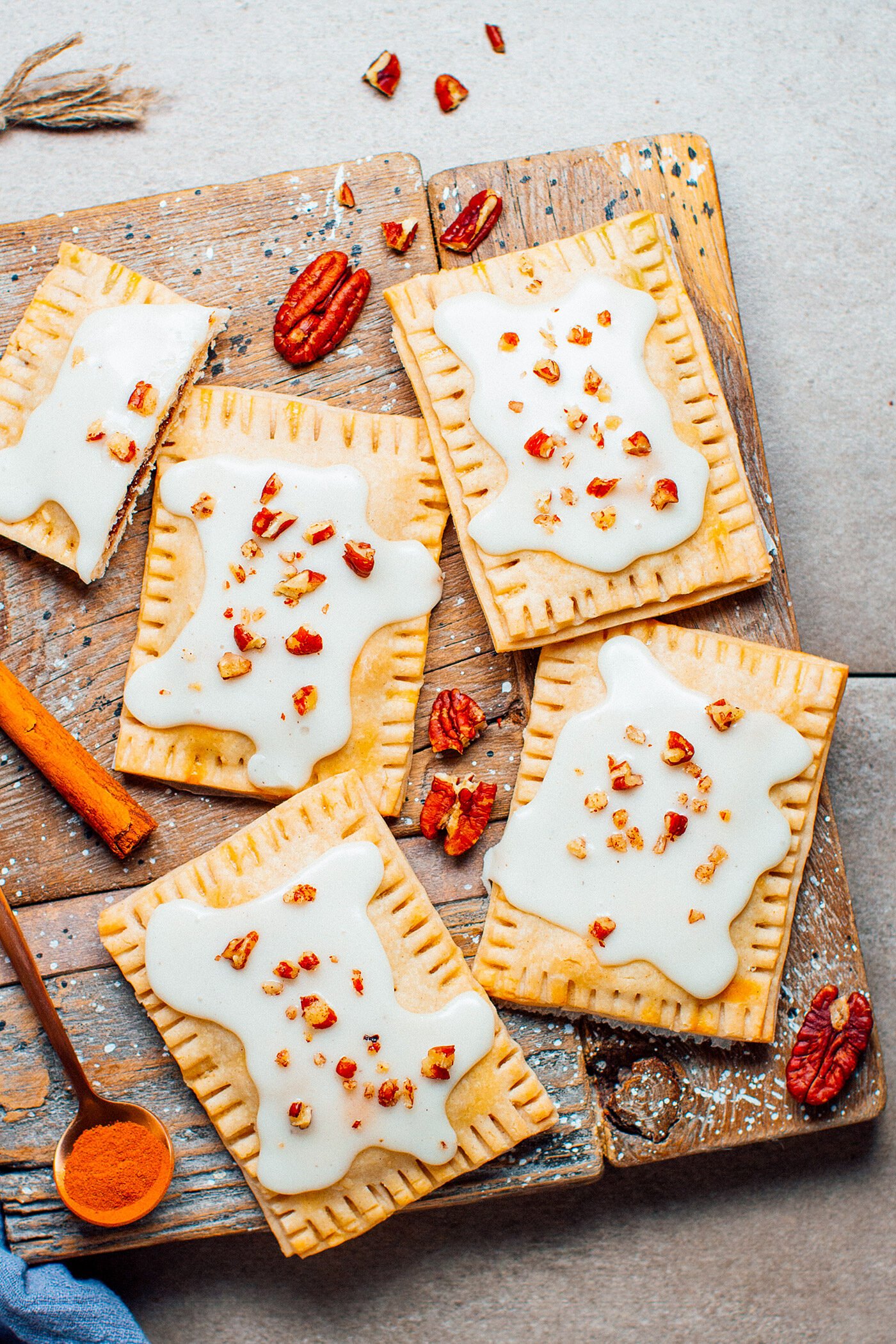 📘 What are Pop Tarts
Pop Tarts are thin and flaky pastries filled with a sweet filling. It is enjoyed for breakfast or as a snack.
Most commercial Pop Tarts are quite unhealthy, contain a ton of weird ingredients, and, most of the time, taste like cardboard. Here, we are making our own pop tarts that are naturally sweetened, require just 6 ingredients + spices, and taste a lot better!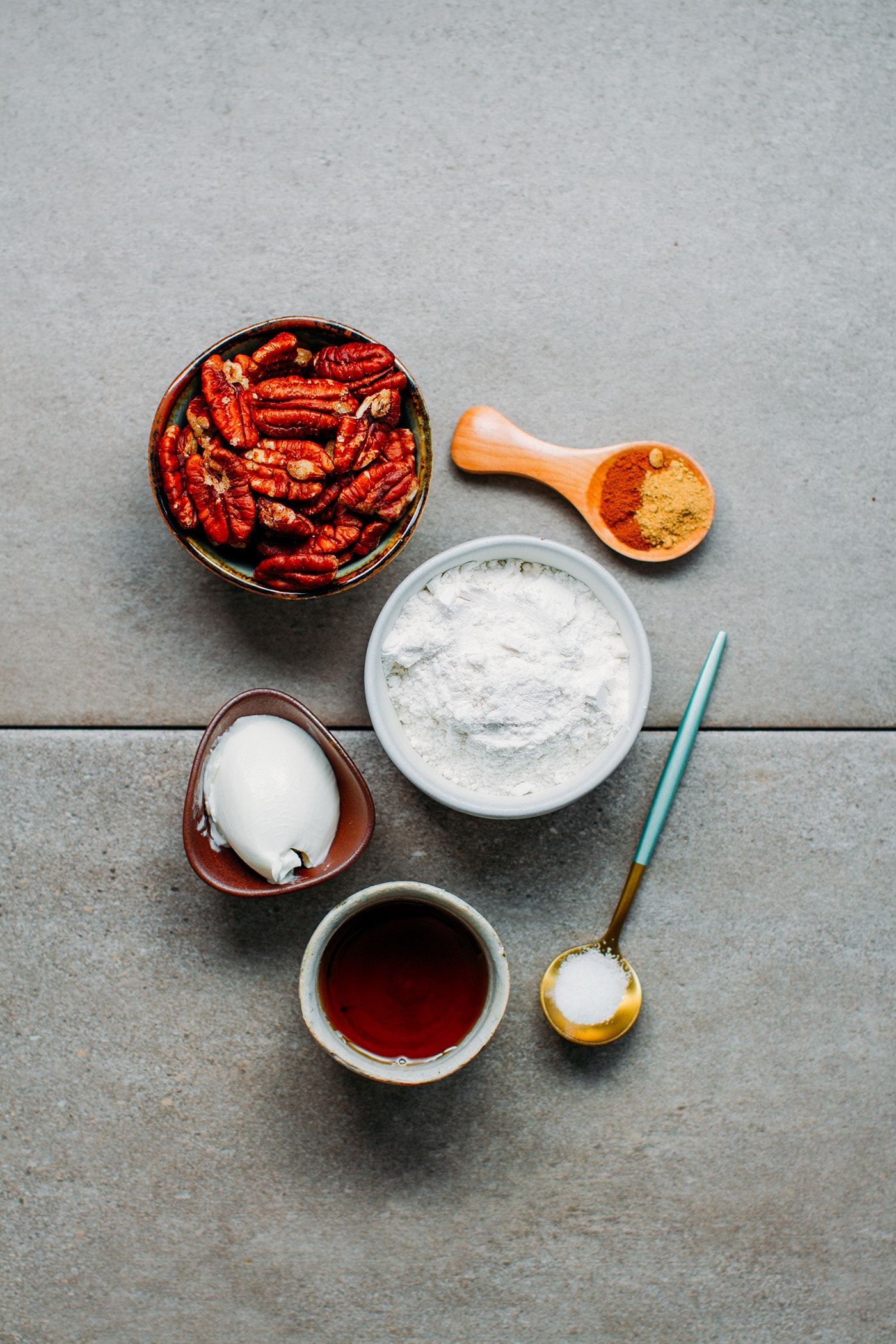 🥣 How to Make Homemade Vegan Pop Tarts
Pastry
It starts with the pastry that must be prepared in advance as it needs to chill for a couple of hours before use.
To prepare the dough, add all-purpose flour and a pinch of salt to a mixing bowl. Then cut in cold vegan butter and mix until it forms a coarse meal. Stir in a tablespoon of very cold water (to prevent the butter from melting), and mix again until it forms a dough.
Next, wrap the dough in plastic wrap and chill in the refrigerator for at least 2 hours.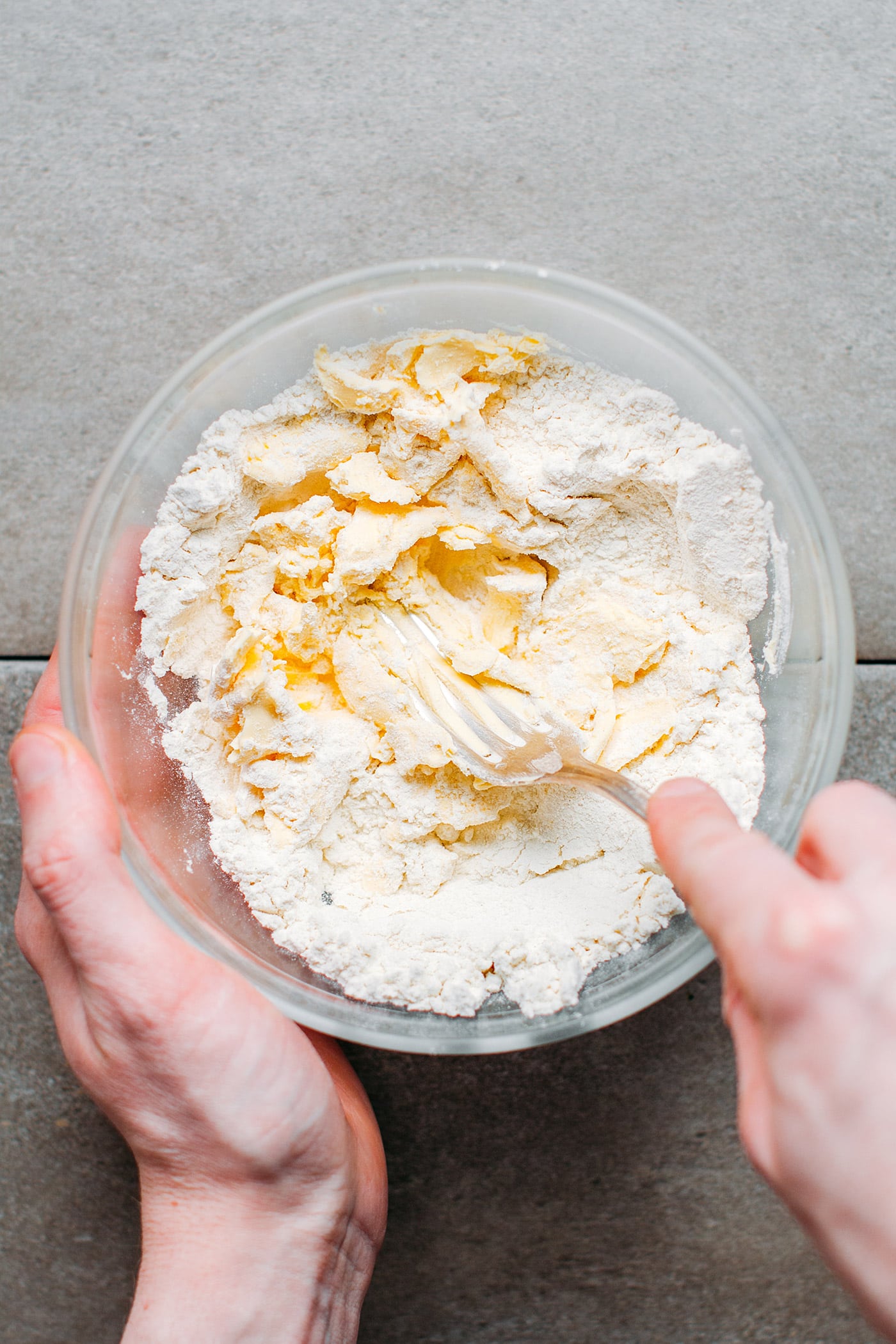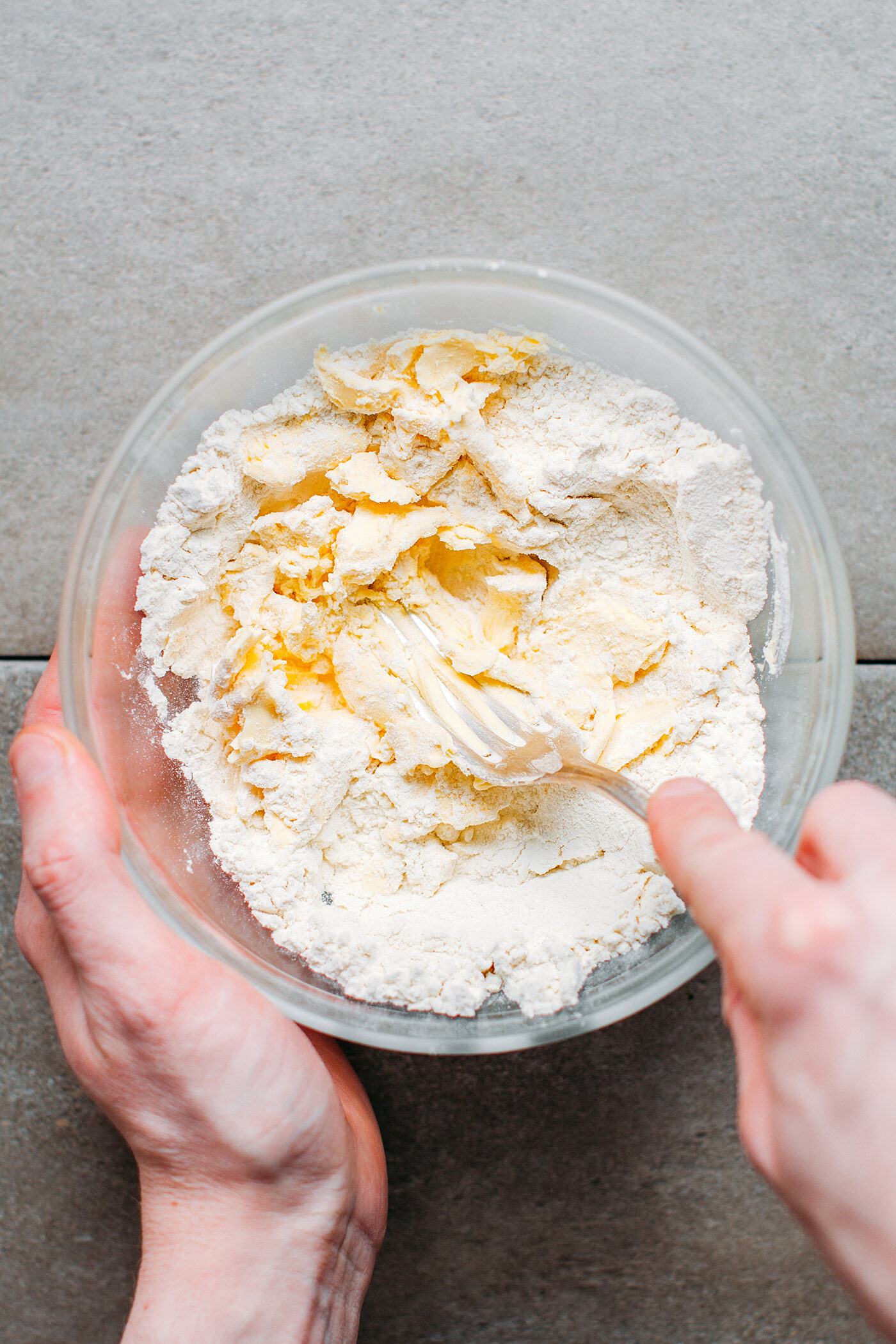 Filling
While the pastry is chilling, prepare the filling: coat pecan halves with maple syrup, a pinch of salt, and spices. To give the filling a chai flavor, we are going with ground cardamom, cinnamon, ginger, and cloves.
Next, spread the pecans on a baking sheet and roast for about 8 minutes or until caramelized.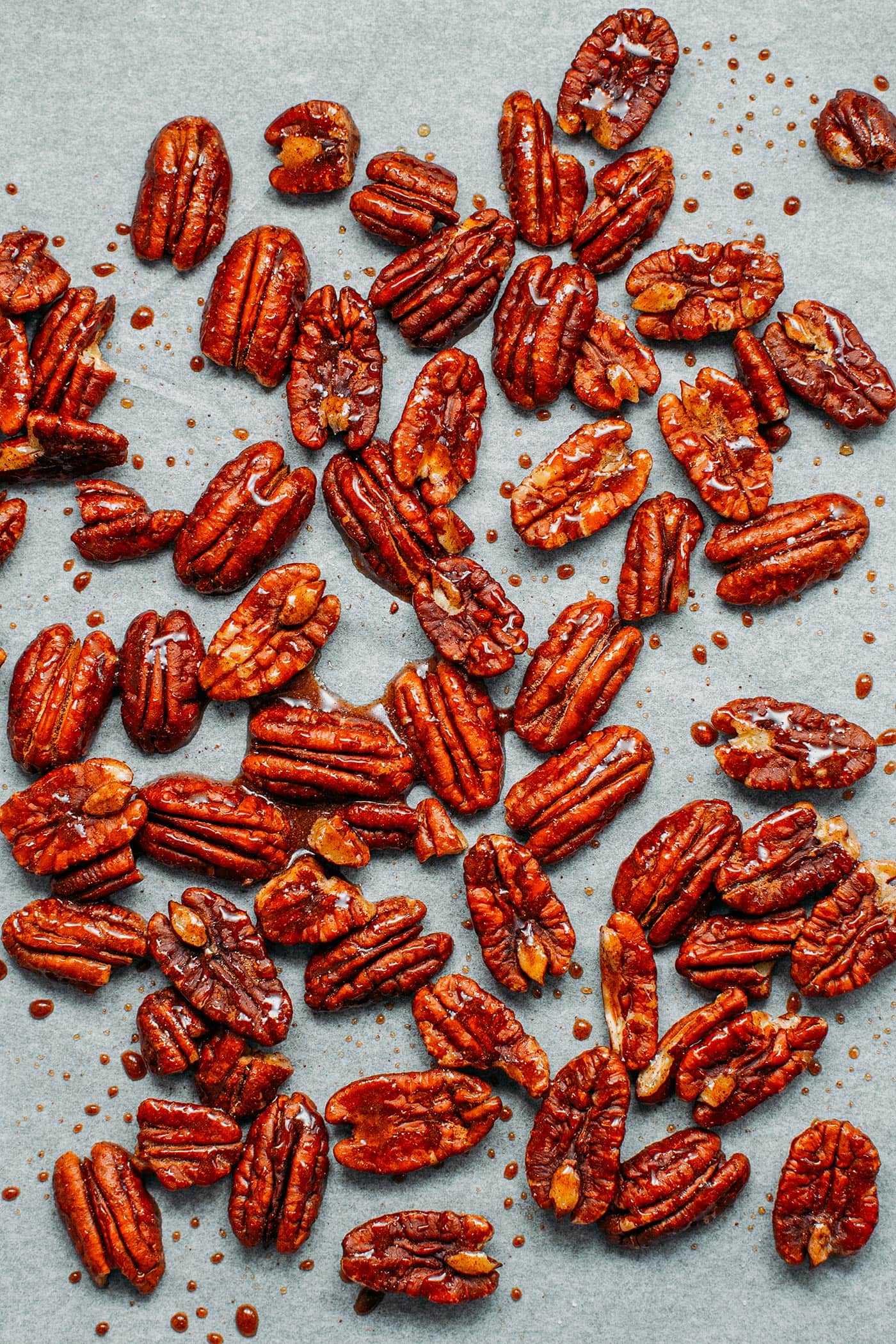 Once the caramelized pecans have cooled down a bit, transfer them to a food processor and add the remaining ingredients: more maple syrup, coconut sugar, and vanilla extract.
Process until it forms a chunky paste. You do not want to turn it into a nut butter, so do not process it for too long.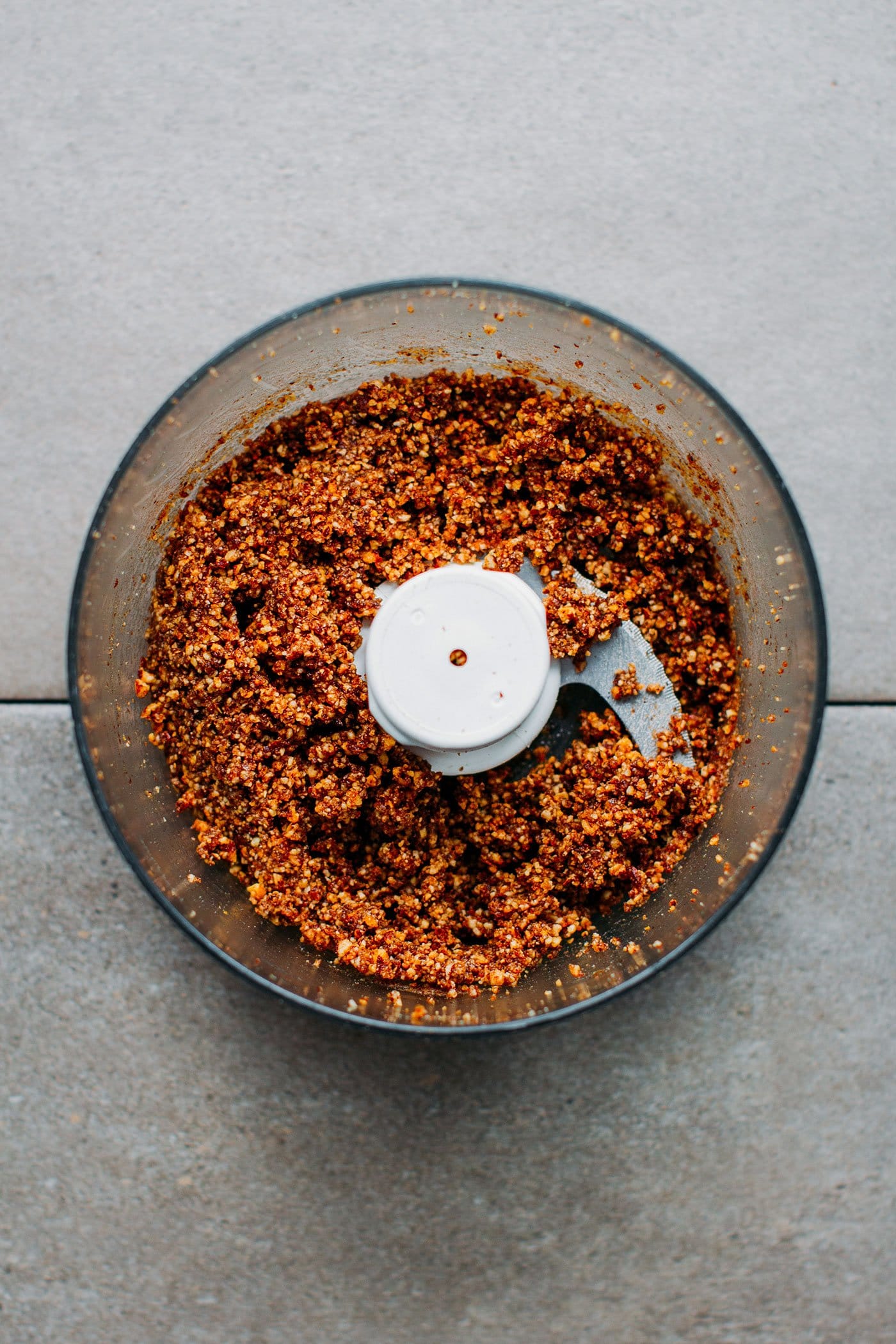 Assembling the Pop Tarts
Flatten the cold dough into a thin rectangle (of about 3/32-inch thickness) and cut it into 6 even rectangles.
Place 2 teaspoons of the pecan filling on half of the rectangles of dough and cover with another rectangle of dough. Use a fork to seal and make ridged edges.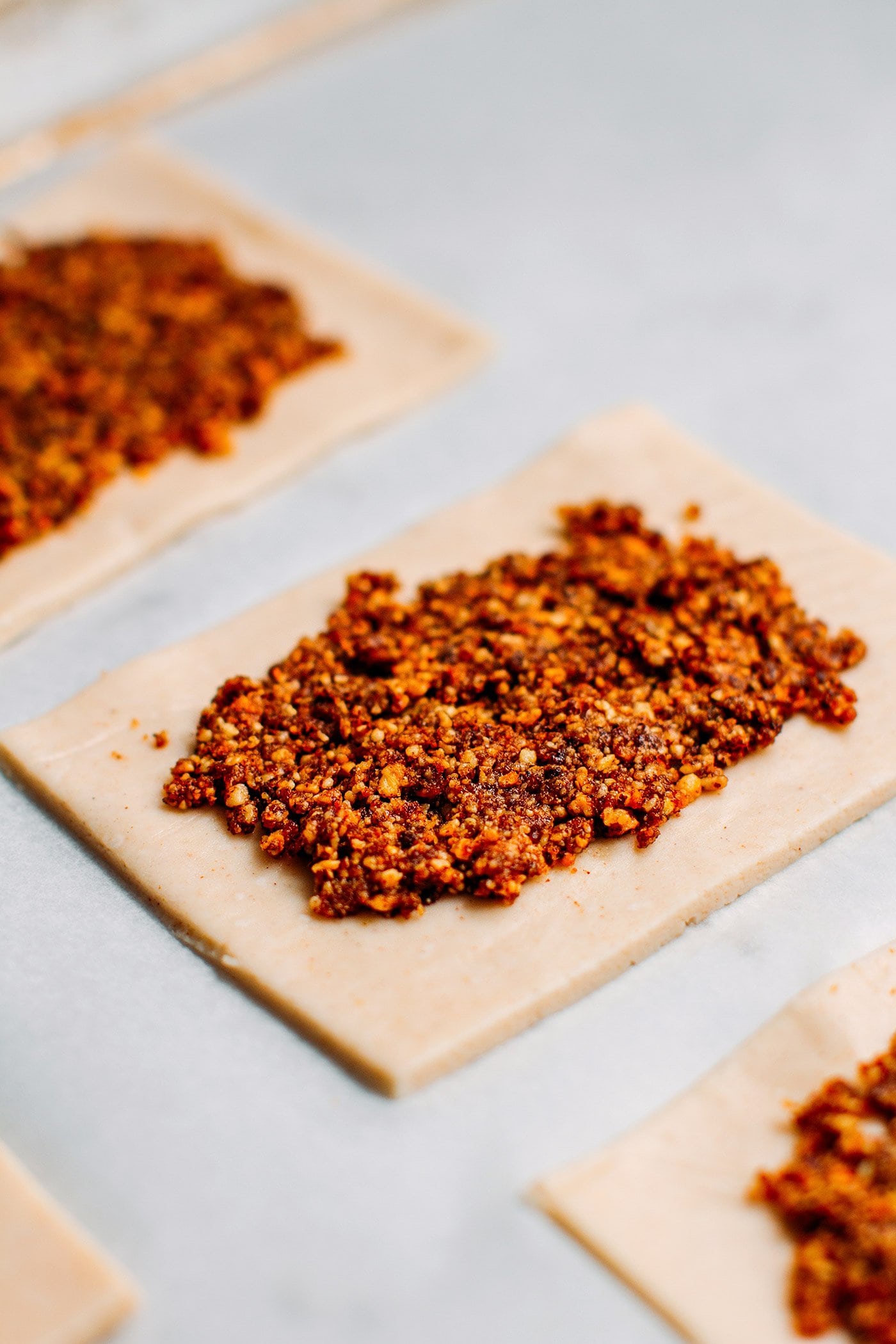 Finally, poke the pop tarts with a fork to let the steam escape and bake for 20-25 minutes, or until golden brown!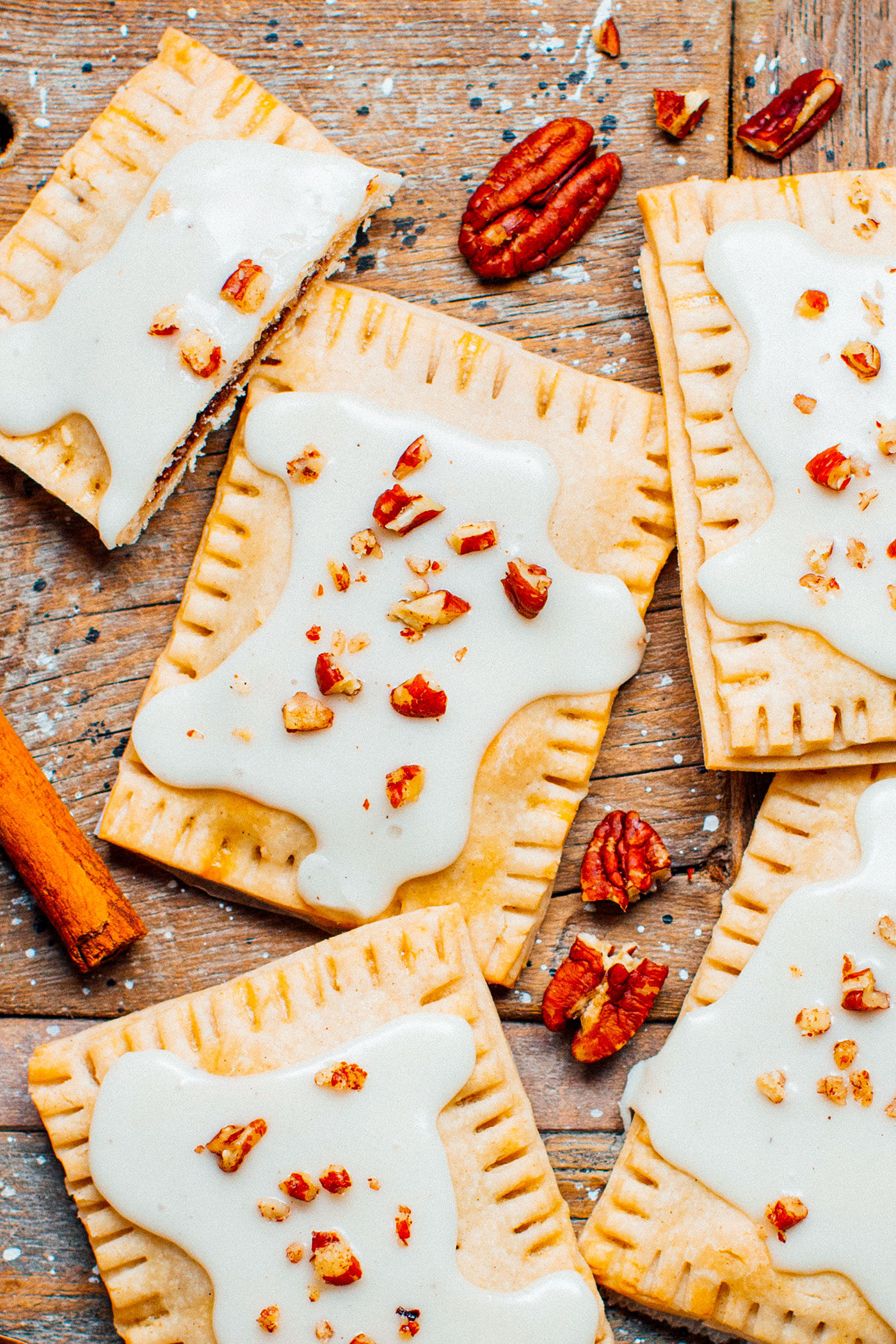 To be honest, I actually prefer these pop tarts unglazed. It really makes the pecan filling shine. If you have a sweet tooth and want prettier pop tarts, definitely go with the glaze!
💬 FAQ
Can I make these vegan pop tarts gluten-free?
Yes, substitute the all-purpose flour for your favorite 1:1 gluten-free flour mix.
I don't have pecans. Can I use other nuts?
Yes, you can use almonds, cashews, hazelnuts, or even peanuts.
How long do these pop tarts keep?
Pop tarts will keep for up to 3 days at room temperature, stored in an airtight container.
Can I toast these pop tarts?
If unglazed, you can toast it in a toaster, but I would recommend just popping these in a 350°F(175°C) preheated oven for 3-5 minutes instead if you want to enjoy warm pop tarts.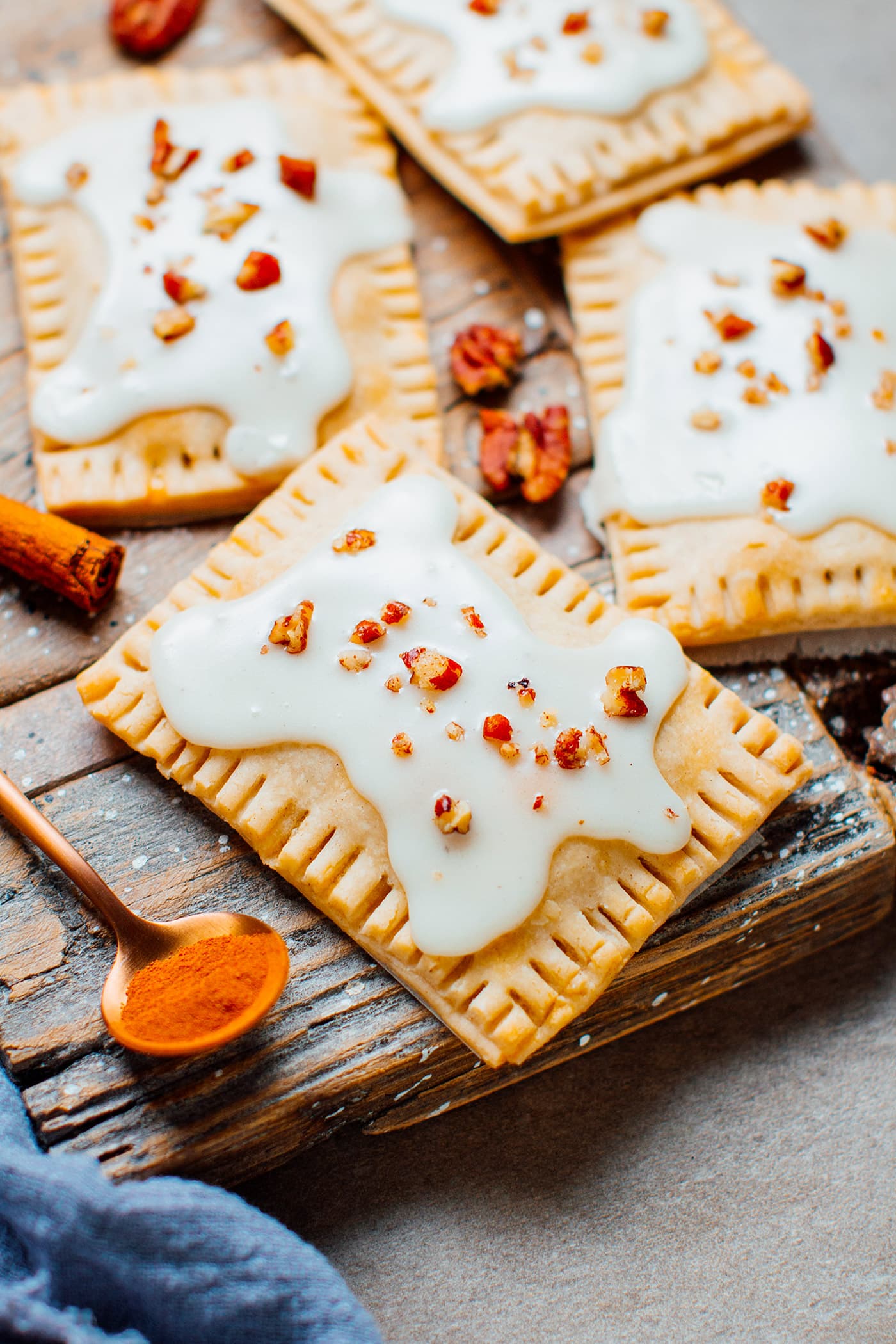 If pop tarts used to be (or still are) your favorite high school snack, you are going to love these homemade chai pecan pop tarts! It is super fun to prepare, buttery, and flaky, and the chai-spiced pecan filling really takes these to another level!
Let me know in the comments if you try this recipe!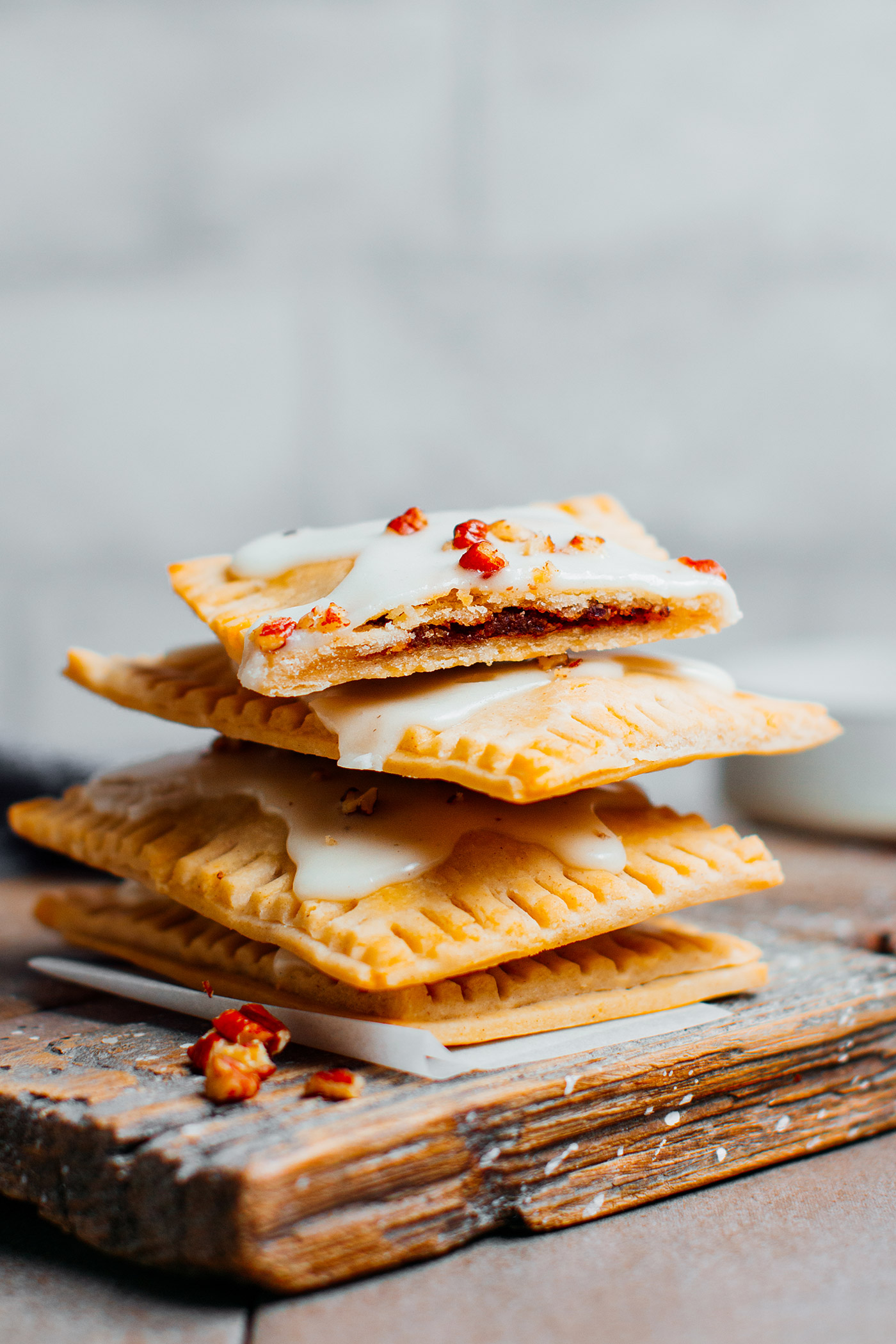 Recipe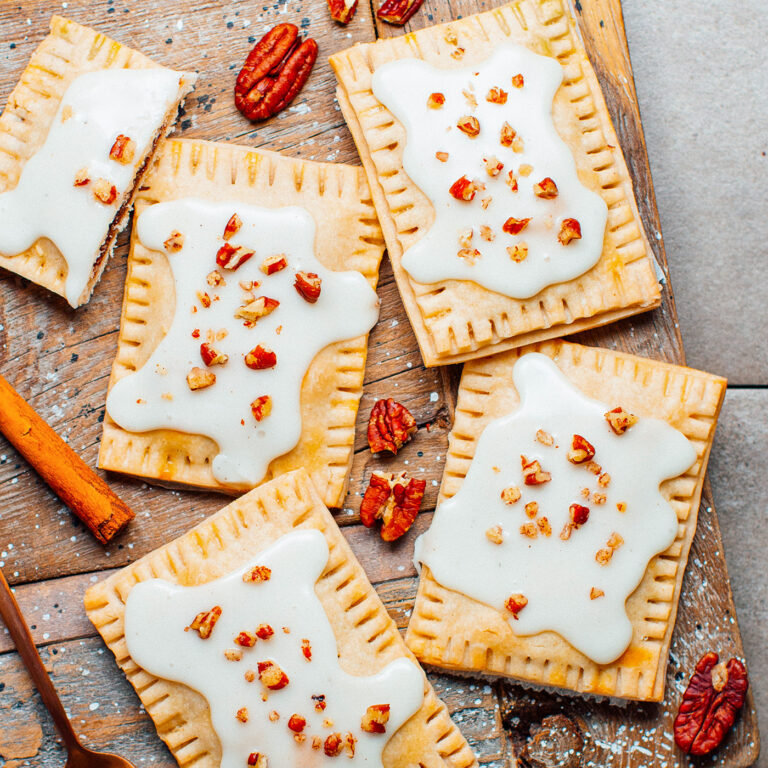 Vanilla Chai Pecan Pop Tarts
Flaky homemade vegan pop tarts filled with a chai-spiced caramelized pecan filling! It's nutty and infused with cardamom, cinnamon, and vanilla!
Ingredients
Optional Vanilla Glaze
3/4

cup

powdered sugar

2

tbsp

water

1/4

tsp

cinnamon

1/2

tsp

vanilla
Instructions
Pastry: Add the flour and salt to a mixing bowl. Next, add the chilled butter and cut it in using a fork or pastry cutter until it looks like a coarse meal. Pour in the cold water and stir to combine using a wooden spoon or until it forms a smooth dough.

Shape the dough into a 1-inch thick rectangle and wrap it in plastic wrap. Place in the refrigerator and chill for at least 2 hours or up to 24 hours. In the meantime, prepare the pecan filling.

Pecan filling: Preheat oven to 350°F (175°C) and line a baking sheet with parchment paper.

To a small bowl, add pecans, 1 and 1/2 tablespoons of maple syrup, salt, cinnamon, cardamom, ginger, and cloves. Stir to coat the pecans with the spices.

Transfer the pecans to the prepared baking sheet and spread them into an even layer. Roast for about 8 minutes. Let the pecans cool completely.

Add the cooled pecans to a small food processor and add the remaining tablespoon of maple syrup, coconut sugar, and vanilla extract. Process for 5-10 seconds or until it forms a thick paste. It doesn't have to be smooth. A little bit chunky is okay.

Assembling: Remove the dough from the refrigerator and flatten it into an 11×8-inch (28×20 cm) between two sheets of parchment paper. Cut into 12 equal rectangles. Transfer half of the rectangles to a baking sheet lined with parchment paper, leaving about 1 inch between each (pop tarts won't spread a lot).

Place about 2 teaspoons of the pecan paste filling into the center of each rectangle, leaving about 1/2 inch of space near the edges.

Place the remaining rectangles of dough on top of the filled rectangles and use a fork to seal the edges. Prick the top of the pop tarts once with a fork to create holes (to let steam escape). Refrigerate the pop tarts for 20 minutes in the refrigerator or 10 minutes in the freezer.

Preheat oven to 350°F (175°C). Once pop tarts have chilled, bake for 20-25 minutes or until just golden brown.

Let pop tarts cool for at least 15 minutes before enjoying! You can eat as is or drizzle with the optional vanilla glaze.
Vanilla Glaze
Add the powdered sugar, water, cinnamon, and vanilla to a small bowl. Whisk until smooth. The glaze should be thick but pourable. If it's too liquid, add more powdered sugar. If it's too thick, add more water.

Use a spoon to glaze the pop tarts. Let the glaze harden at room temperature for about 30 minutes.
Did you make this recipe?
Tag @fullofplants on Instagram and hashtag it #fullofplants