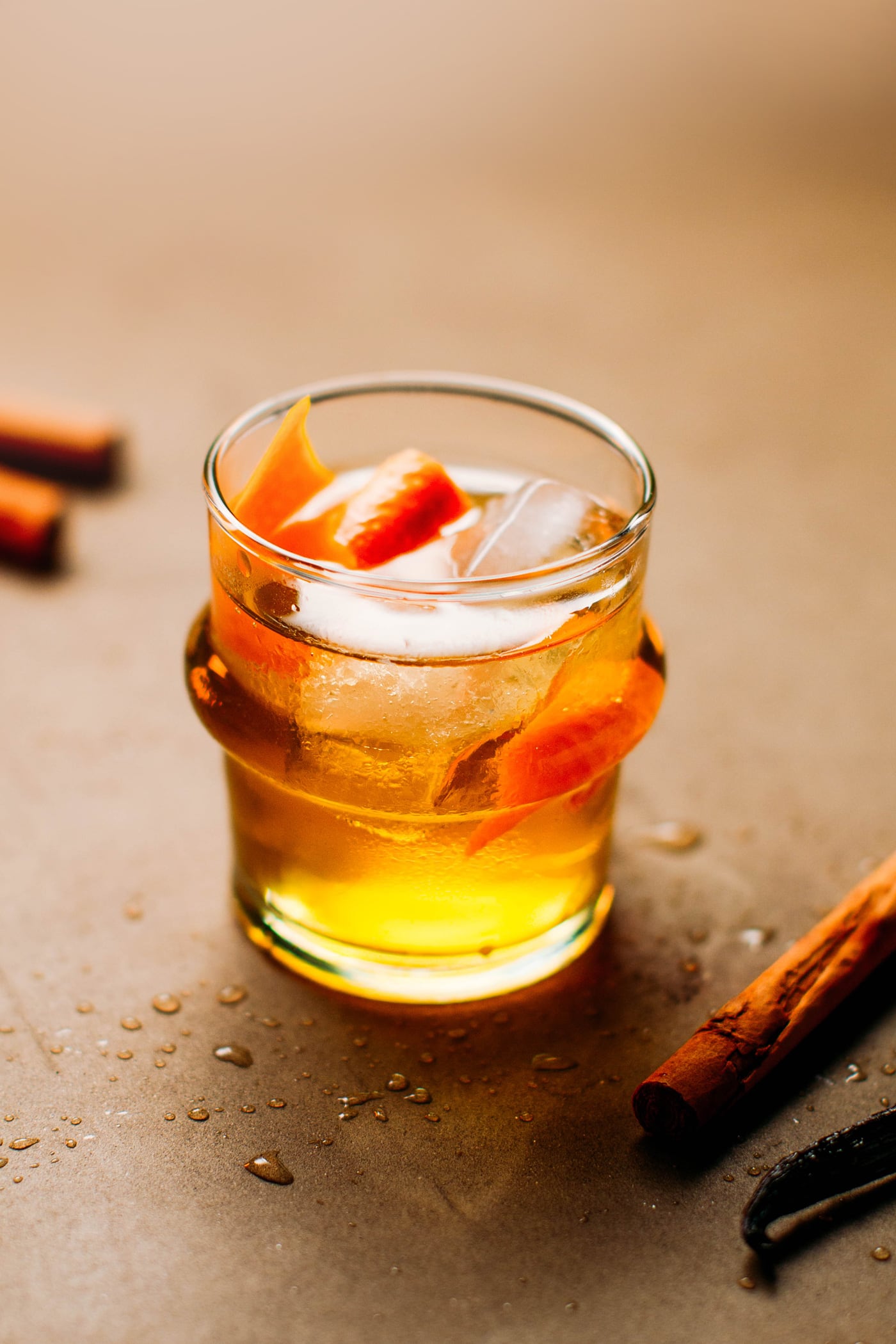 With the holidays coming, there will be a lot to celebrate, meaning it's the perfect time to make your own liquor! Introducing Vanilla, Caramel & Cinnamon Liquor!
It is super easy to prepare and can be served as an appetizer or used as a base for cocktails! This sweet liquor with vanilla and caramel goodness almost tastes like cake in liquid form! Let's make our own liquor!
Preparing the liquor takes less than 30 minutes, but it must rest for at least 2 weeks to let the flavors merge.
We first prepare caramel syrup. Heat some sugar in a saucepan until it gets a nice golden brown color. Then, deglaze the pan with water to stop the caramel from getting too dark (be careful it will sizzle!). Add the rest of the sugar and water and boil for about 1 minute or until the caramel has dissolved completely. Our caramel syrup is now ready!
Once your caramel syrup has cooled down, combine it with vodka and add the flavorings: fresh vanilla bean, cinnamon sticks, and a teaspoon of vanilla extract for extra flavor. Transfer to a glass bottle, close with a lid, and wait. That's it!
This vanilla caramel & cinnamon liquor has about 13% alcohol content. It's not that strong, but you can slightly dilute it with ice and/or water if you want a lighter drink.
Enjoy as is with ice, with orange zest, a squeeze of lime, or use in cocktails! I'm sure it would also add a delicious flavor to hot chocolate or go very well with apple cider!
Looking for a non-alcoholic holiday drink? Check out this Festive Christmas Soda that is great for any occasion!
Let me know in the comments if you try this recipe!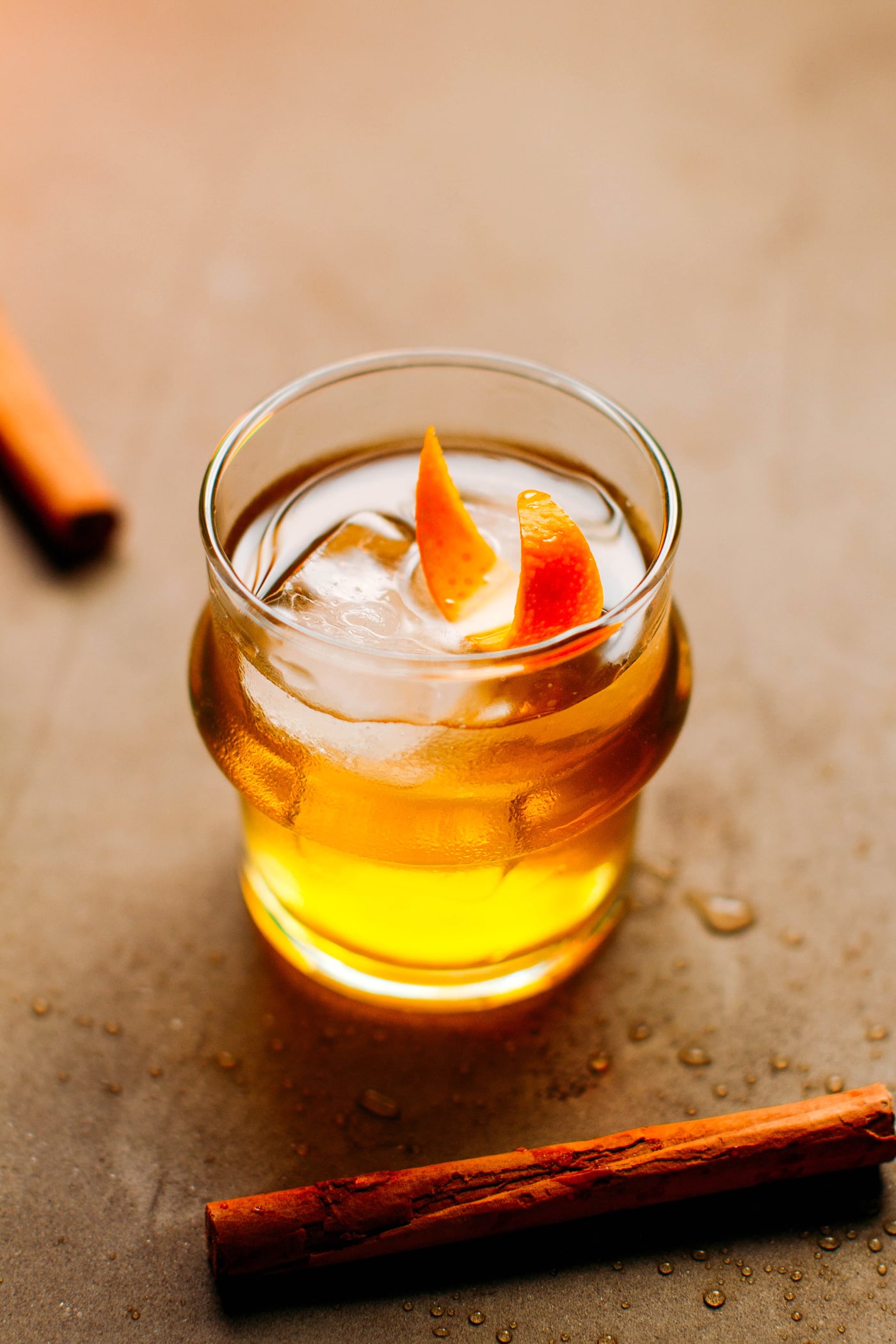 Recipe
Vanilla, Caramel & Cinnamon Liquor
Sweet liquor with a rich vanilla flavor, a note of caramel, and cinnamon undertones, this liquor is perfect for the holidays! Serve on ice with some orange zest!
Instructions
Place 1/4 cup of sugar with 2 tablespoons of water in a medium size saucepan. Heat over medium heat without stirring. The sugar will melt, then boil and will turn into a golden brown caramel. You don't want a dark caramel (that would be bitter), so as soon as the sugar has taken a nice golden color, carefully pour 1 cup of water into the saucepan. It will sizzle so be careful.

Add the remaining 1/4 cup of sugar and 1 cup of water. Bring to a boil and boil for about 1 minute, or until the caramel has melted and is combined with the water. This will be our caramel syrup. Let it cool completely.

To a glass bottle or large glass jar, add the vodka. Slice the vanilla bean in half and scrape off the vanilla seeds using the tip of a knife. Add the seeds to the vodka as well as the whole vanilla bean. Next, add the cinnamon sticks, caramel syrup, and vanilla extract. Stir to combine. Close with a lid and leave it at room temperature for at least 10 days, or up to 2 months. The flavors will merge and develop as it ages. You can then strain the liquor through a fine sieve to make it clear.

Enjoy as an appetizer with ice and orange peels, or use in cocktails!
Nutrition
Serving:
1
/4 cup
|
Calories:
75
kcal
|
Carbohydrates:
8.7
g
|
Sugar:
8.7
g
Did you make this recipe?
Tag @fullofplants on Instagram and hashtag it #fullofplants