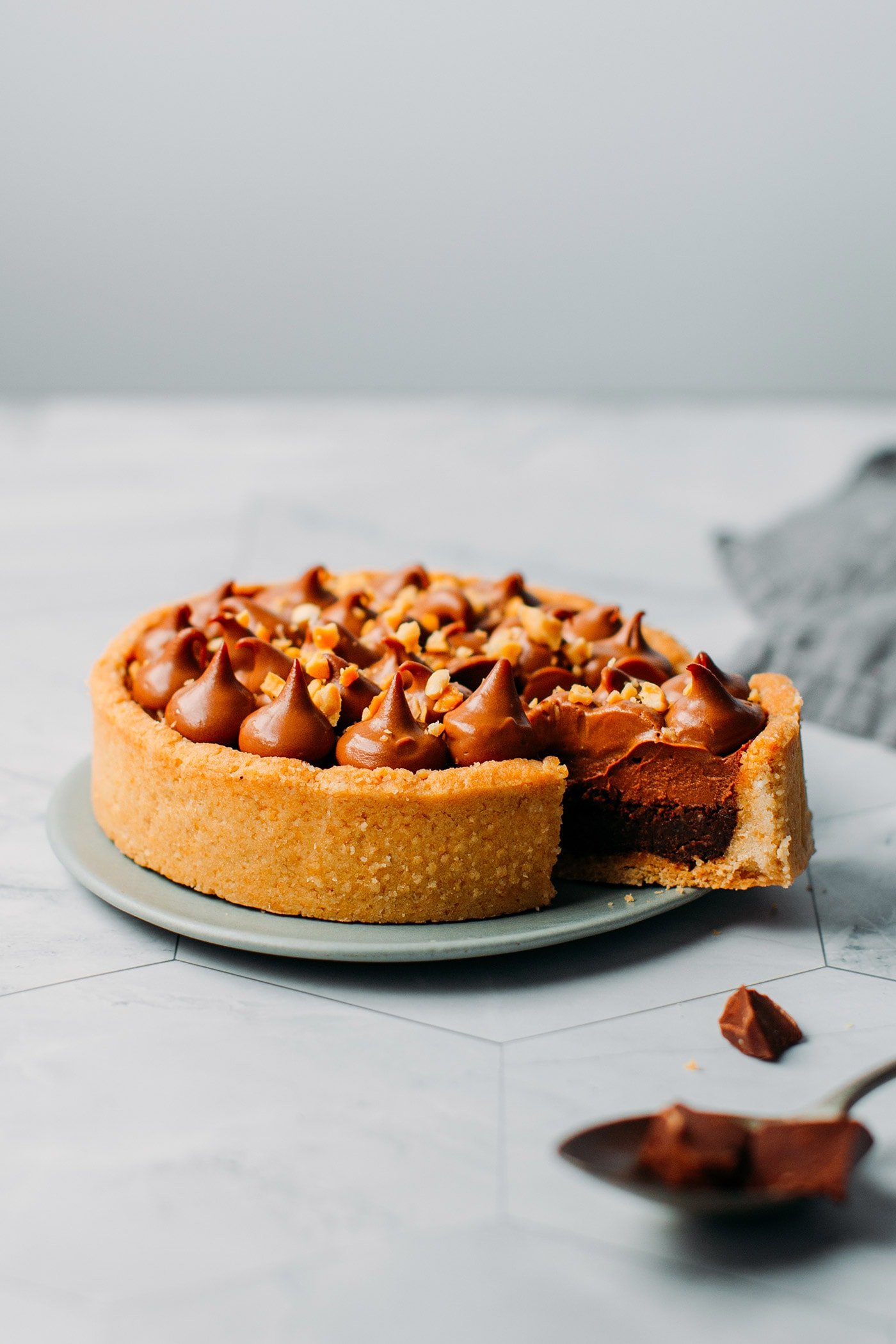 Introducing Ultimate Vegan Chocolate Tart!
So, what do we have here? First, a gluten-free vanilla pastry crust, then a fudgy layer of brownie followed by a rich dark chocolate ganache, and finally, a salted caramel chocolate frosting cream. This tart is insanely good. Super chocolatey, and loaded with different textures and flavors, it's the ultimate chocolate tart(let)!
Let's make it!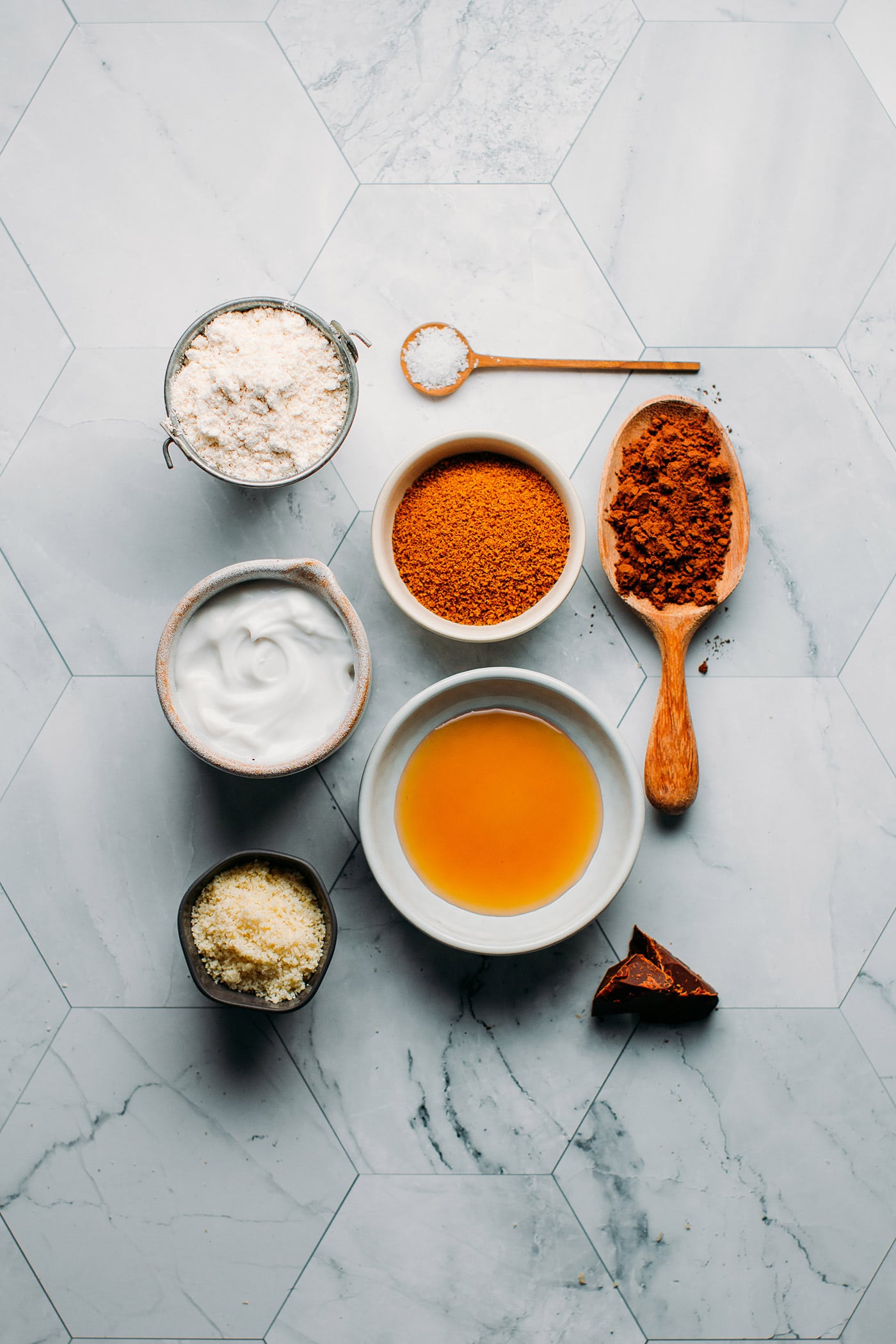 Before starting, here is a little disclaimer: If you are looking for a quick dessert, you might pass this one as it requires some time to make all the different layers. Okay, with that being said, let's start!
We start by making the crust that consists of a mix of oat flour and almond flour. Coconut oil gives it a flaky texture, and maple syrup brings sweetness. If you don't want the subtle coconut flavor, use deodorized coconut oil.
Combine all the ingredients in a mixing bowl to form a dough, then press it down into small 4-inch tart rings. The dough cannot be rolled out, so you will have to shape it into each ring. This is the step that will take the longest.
I made small tartlets here, but feel free to double the recipe if you want to make a large one.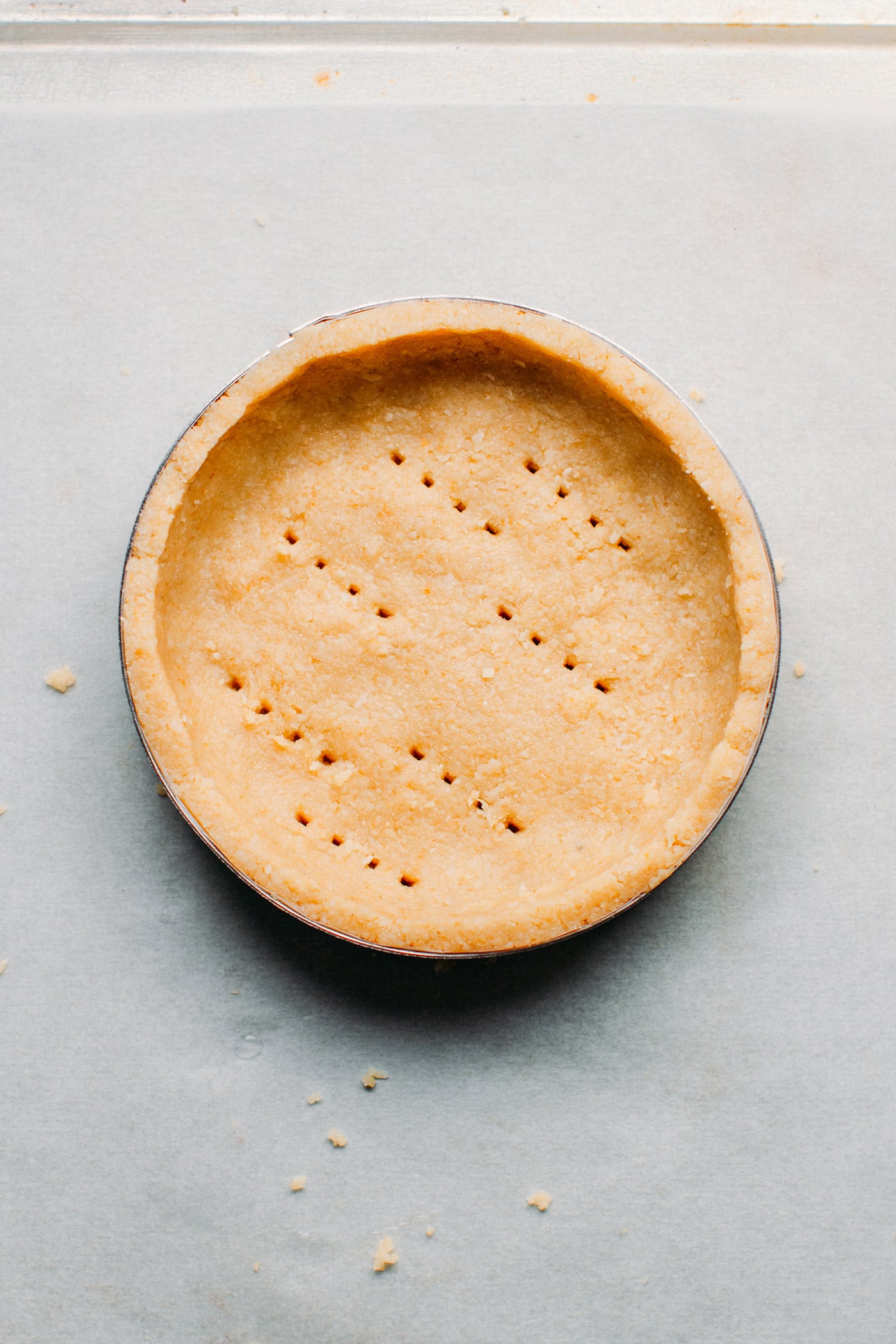 Next, bake for about 15 minutes or until golden brown!
Now onto the super fudgy brownie layer! It is based on my Extra Fudgy Vegan Brownies recipe with a few changes. Once baked into a thin layer, it is cut and placed on the bottom of the crust.
For the second layer, we have a very simple chocolate ganache that consists of almond milk and dark chocolate. Nothing complicated, but it results in is a rich, creamy, and chocolatey ganache.
To finish, the coconut caramel chocolate cream! It's the icing on the cake, literally and figuratively.
To make the caramel, simmer coconut cream and coconut sugar for a few minutes or until it has slightly reduced. Then, pour in more coconut cream and dark chocolate chunks. Both will add richness to the cream and help it firm up once cold.
This cream topping has a nice salted caramel flavor with coconut undertones. So good! A sprinkle of crushed hazelnuts (or almonds or peanuts) on top, and you're ready to go!
I hope you will love these chocolate tartlets! They are super rich, chocolatey, creamy, and addicting! You will definitely not stop at one slice!
For more chocolate desserts, check out these Chocolate Mousse Praline Domes, No-Bake Vegan Chocolate Mousse Brownies, or this Salted Caramel & Vanilla Mylk Chocolate Bars!
Let me know in the comments if you try this ultimate vegan chocolate tart recipe!
Recipe
Ultimate Vegan Chocolate Tart
Super rich and creamy chocolate tartlets with a layer of fudgy brownie, chocolate ganache, and a salted caramel chocolate frosting!
Ingredients
Instructions
Crust
Preheat oven to 350°F (175°C). Line two 4-inch tart rings with parchment paper and place them on a baking sheet.

In a mixing bowl, combine the oat flour, almond flour, maple syrup, coconut oil, and vanilla extract until it forms a soft dough. Press the dough into each tart ring, first press into the bottom to make a thin layer, and then shape the sides. Try to make it thin as you don't want a crust too thick.

Bake for 10-15 minutes, depending on the thickness, until the crust is golden brown. Remove from heat and let it cool completely before removing the crust from the tart rings.
Brownie
Preheat oven to 350°F (175°C). Line a 7×6-inch baking pan with parchment paper.

In a mixing bowl, combine the oat flour, coconut sugar, cocoa powder, almond milk, and oil. Melt the dark chocolate over a double boiler. Once melted, pour into the batter and whisk until fully combined.

Pour the batter into the prepared baking pan (you should have a thickness of about 1/4-inch) and bake for about 15 minutes. Remove from heat and let cool completely.

Cut two circles of brownie large enough to fit into the bottom of the crust. If you prefer a thinner layer of brownie, feel free to flatten it. You will have extra brownie, just eat it or save for later.
Chocolate Ganache
Place the dark chocolate chips or chunks in a small bowl. Heat the almond milk in a saucepan over medium heat. As soon as it starts to boil, remove from heat and pour over the dark chocolate. Whisk for a couple of minutes, or until the chocolate is fully melted and combined with the almond milk. Let it cool for 10 minutes before pouring into the tartlets, over the brownie layer. Refrigerate for about 2 hours, or until the ganache has set.
Salted Caramel Chocolate Frosting
Place the 1/2 cup of coconut cream and coconut sugar in a small saucepan. Heat over medium heat and bring to a simmer. Let simmer for about 8 minutes. Remove from heat and stir in the vanilla extra, sea salt, and dark chocolate chips. Stir until the chocolate has melted. Next, add the 1/4 coconut cream and stir to combine. Transfer to a bowl, cover with plastic film, and refrigerate for at least 2 hours or until the frosting has set.

Transfer the frosting to a piping bag and pipe rounds on each tartlet (see photos). Top with crushed hazelnuts or almonds, and enjoy!

These tartlets will keep in the refrigerator for up to 3 days. Let sit on the counter for 10 minutes before serving.
Did you make this recipe?
Tag @fullofplants on Instagram and hashtag it #fullofplants