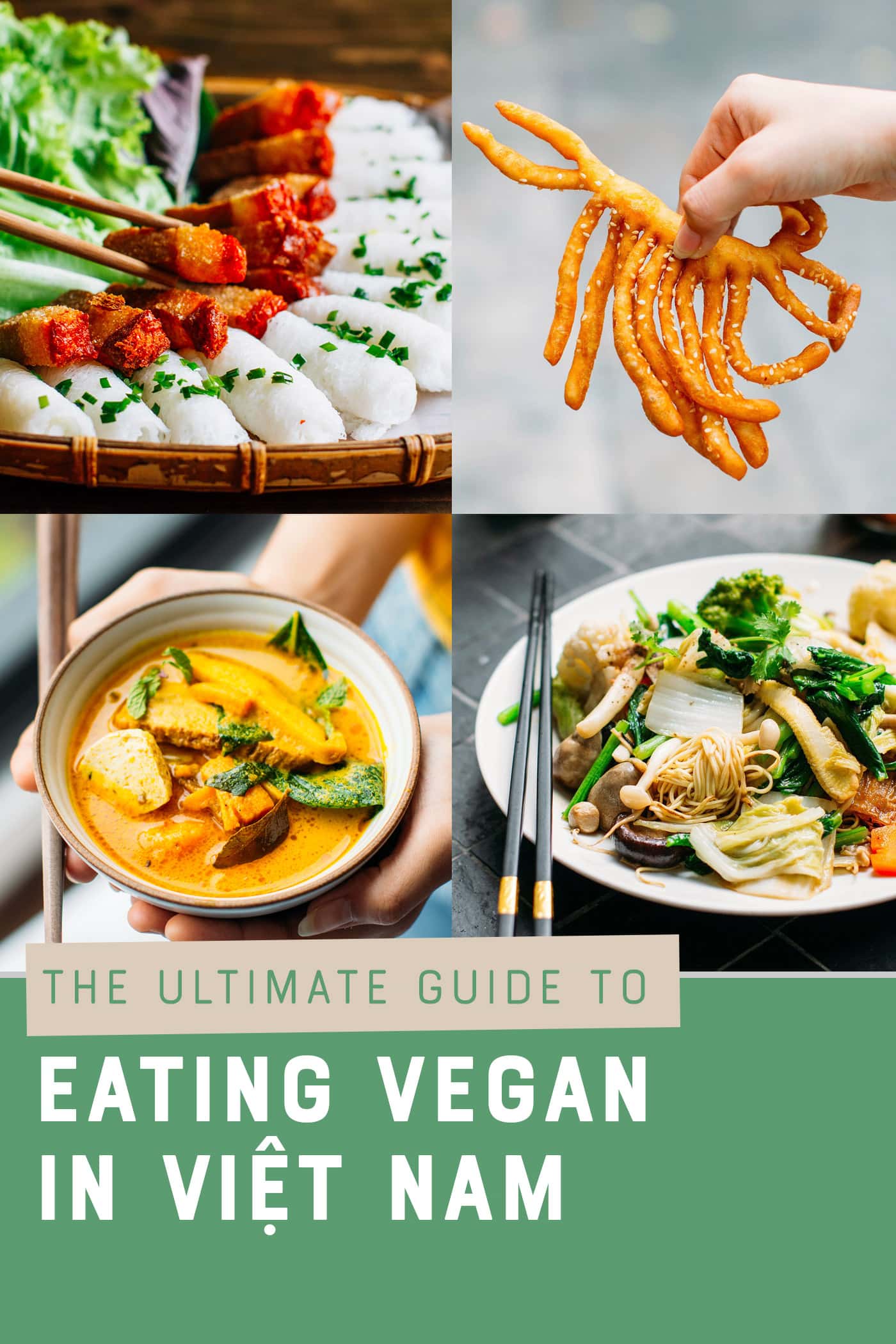 Welcome to Việt Nam! Aka vegan paradise!
I recently spent several months in Việt Nam as you could guess from all the recipes released lately. The food was so amazing that I thought it would be interesting to create a little guide of all the different vegan options available there.
I hope it will help you discover many dishes and may encourage you to visit this wonderful country that is Việt Nam. Get ready for A LOT of deliciousness!
At the end of this post, you will also find a quick section of Vietnamese words that could be useful for your next trip.
HOW TO FIND VEGAN RESTAURANTS?
Finding vegetarian/vegan places is very easy, all you have to do is look for the word "chay" (with no accent) which means vegetarian. There are chay restaurants almost everywhere in big cities like Ho Chi Minh, Hanoi, Danang, Can Tho, Hue, etc. These places only serve vegetarian food, so you don't have to worry about the ingredients used, even the nước mắm used there is vegan. Be aware though that some dishes may contain eggs, but it's rare and you will know if you see the word "trứng" on the menu.
That's about it, if you stick to chay restaurants, or smaller/cheaper places called "quán chay", you won't have to struggle explaining your food requirements. On the other side, by going to a regular restaurant, you may encounter some problems as they very rarely receive such requests.
Enough talking, let's dive into what you are here for: the food! Here is a non-exhaustive list of my favorite Vietnamese vegan dishes! And yes, every dish listed below is vegan!
ENTREES
Bún Bò (Spicy Noodle Soup)
Probably one of my favorite noodle soup! This colorful soup is flavored with lemongrass and chili, and comes with "bún" which is a type of thick round noodles. It is usually served with many different toppings like mushrooms, fried tofu, vegan beef, and a ton of fresh herbs. A must-try!
If you want to make it at home, feel free to check out my recipe here!
Bún Thịt Nướng Chả Giò (Noodles with Grilled "Meat" and Egg Rolls)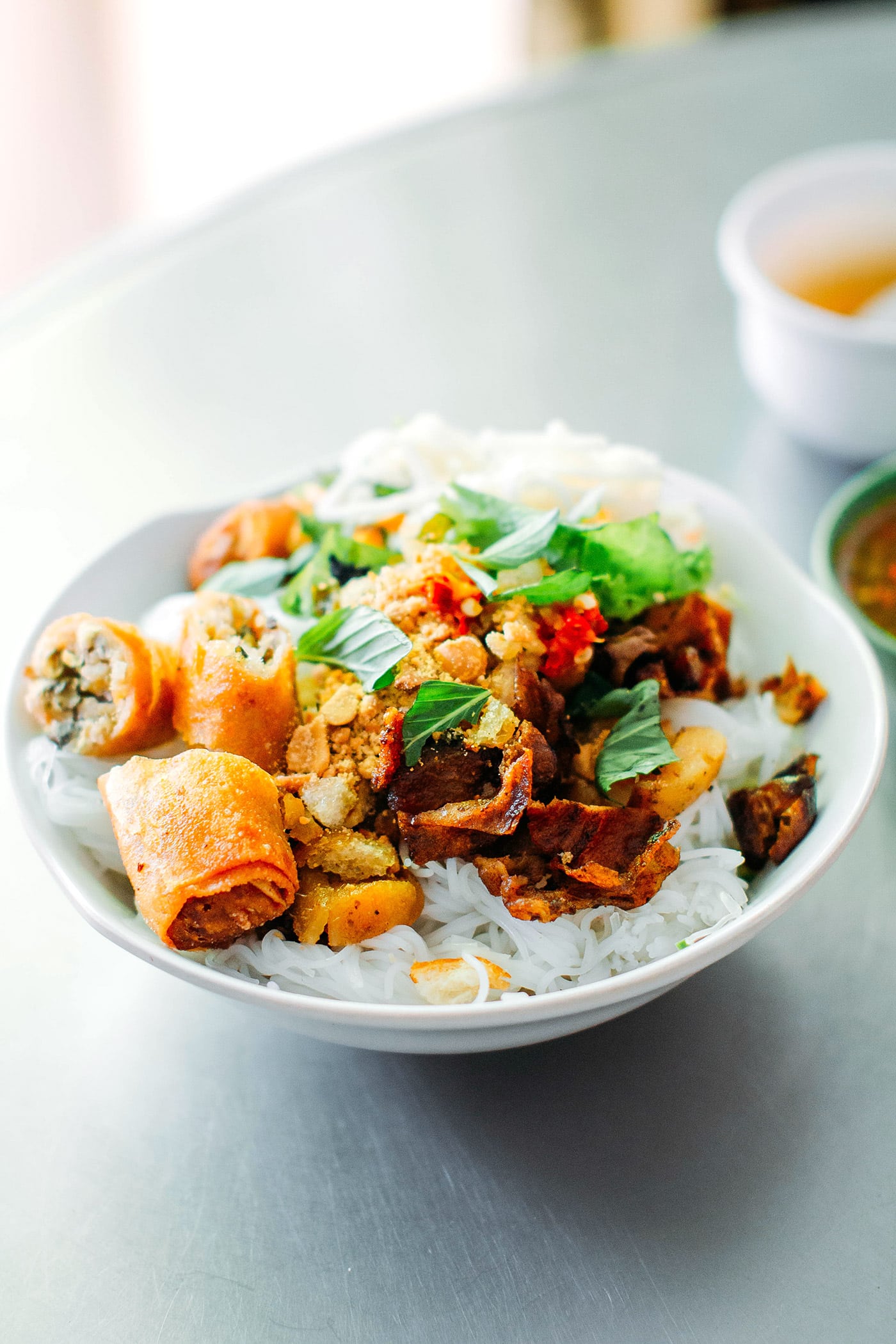 Crunchy egg rolls, grilled "meat", roasted peanuts, fresh herbs, a sweet and salty sauce, and some chili on top of rice noodles = an explosion of flavors and textures! Probably one of the dishes I had the most there, it's filling, healthy, and delicious!
Bánh Tráng Trộn (Rice Paper Salad)
This rice paper salad, usually sold in a plastic bag features thinly cut rice paper, crunchy shredded mango, basil, roasted peanuts, and some fried vegan "pork" slices. It comes with saté paste, which is a mix of fried chilies, lemongrass, and garlic, that coats everything and give the rice paper a perfectly chewy texture. A squeeze of lime and you're good to go! This is usually enjoyed as a savory snack.
Looking for a recipe? Check out my Saté Rice Paper Salad!
Bò Lá Lốt (Betel Leaf Rolls)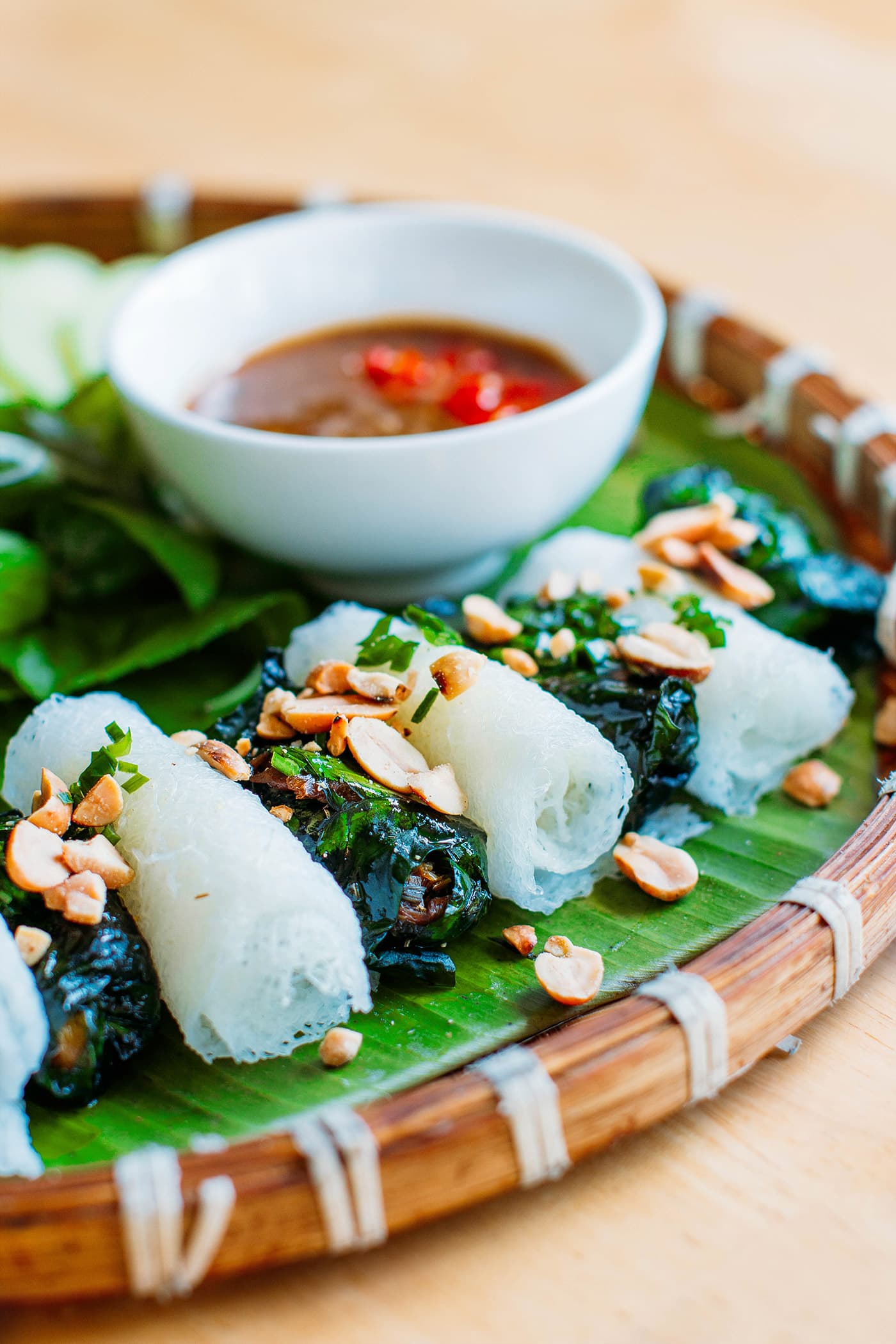 I'm not sure why this one is not more popular outside Viet Nam as it is in my top 5 dishes of all time. You basically have a meaty mixture (usually made with a mix of tofu, mushrooms and/or fake meat) wrapped in betel leaves. It is then grilled and wrapped in rice paper with cucumber, banana or pineapple, fresh herbs, and noodles. Once rolled, you dip it into a delicious sauce made of fermented tofu, pineapple juice, and chili.
Chả Giò (Egg Rolls)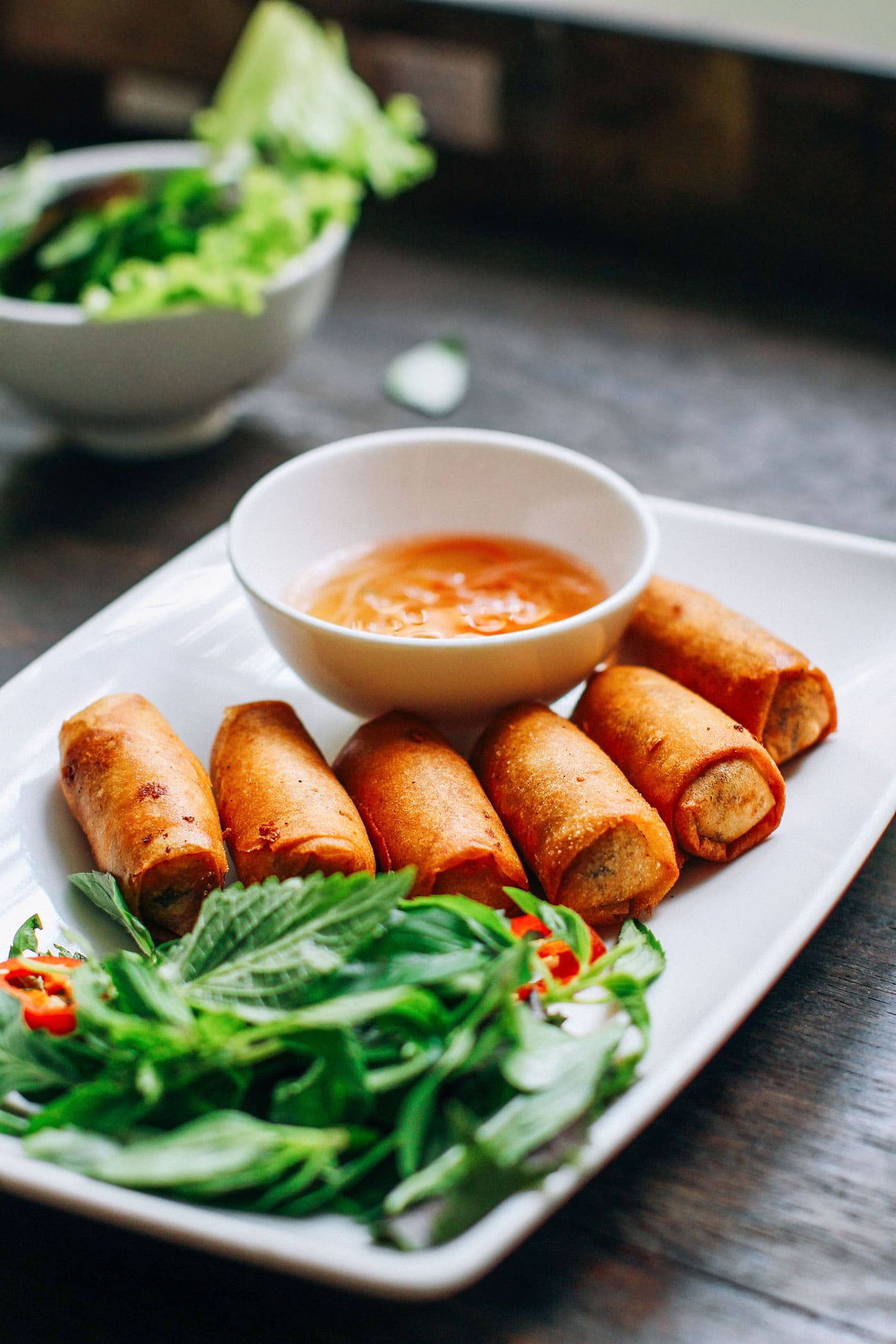 Different from our western egg rolls, these crunchy rolls are filled with taro, black mushrooms, carrots, and some times mung beans. The filling really depends on the cook, so there are many variations of this dish. The dipping sauce can be nước mắm or a sweet and spicy chili sauce.
Want to make your own? Check out my Easy Vegan Egg Rolls recipe!
Bánh Mì (Sandwich)
It wouldn't be a good guide without mentioning bánh mì! The famous Vietnamese sandwich stuffed with pickled veggies, tofu or meat-substitute, fresh herbs, a sauce, and a lot of other possible add-ins. The bread is super light with a cotton-like texture inside. I usually don't really like sandwiches because of the heavy bread, but this one is totally different! This is a street food, so look for "Bánh Mì Chay" on the street.
Bánh Xèo (Crispy Savory Crepe)
A thin crepe, super crispy on the outside and stuffed with bean sprouts, mushrooms, mung beans, and tofu. There is a special way to eat bánh xèo, first pick a lettuce leave, then place some basil, perilla leaves, and mint on it. Add a small piece of the crepe as well as the filling. Wrap in into a roll and dip in a vegan nước mắm sauce…oh I'm still dreaming about it.
Want to make your own? Check out my recipe for Vegan Bánh Xèo!
Bò Kho (Braised "Beef" Soup)
This braised "beef" noodle soup gets its bright orange color from annatto seeds. It has a subtle lemongrass and garlic aroma, and a natural sweetness. This soup can be served with noodles, or bread that you dip into the soup. It is a bit more filling than Phở or Bún Bò Huế because it usually includes potatoes and carrot. If you are looking for a rich and flavorful broth, definitely try this one!
Heo Quay (Roast "Pork")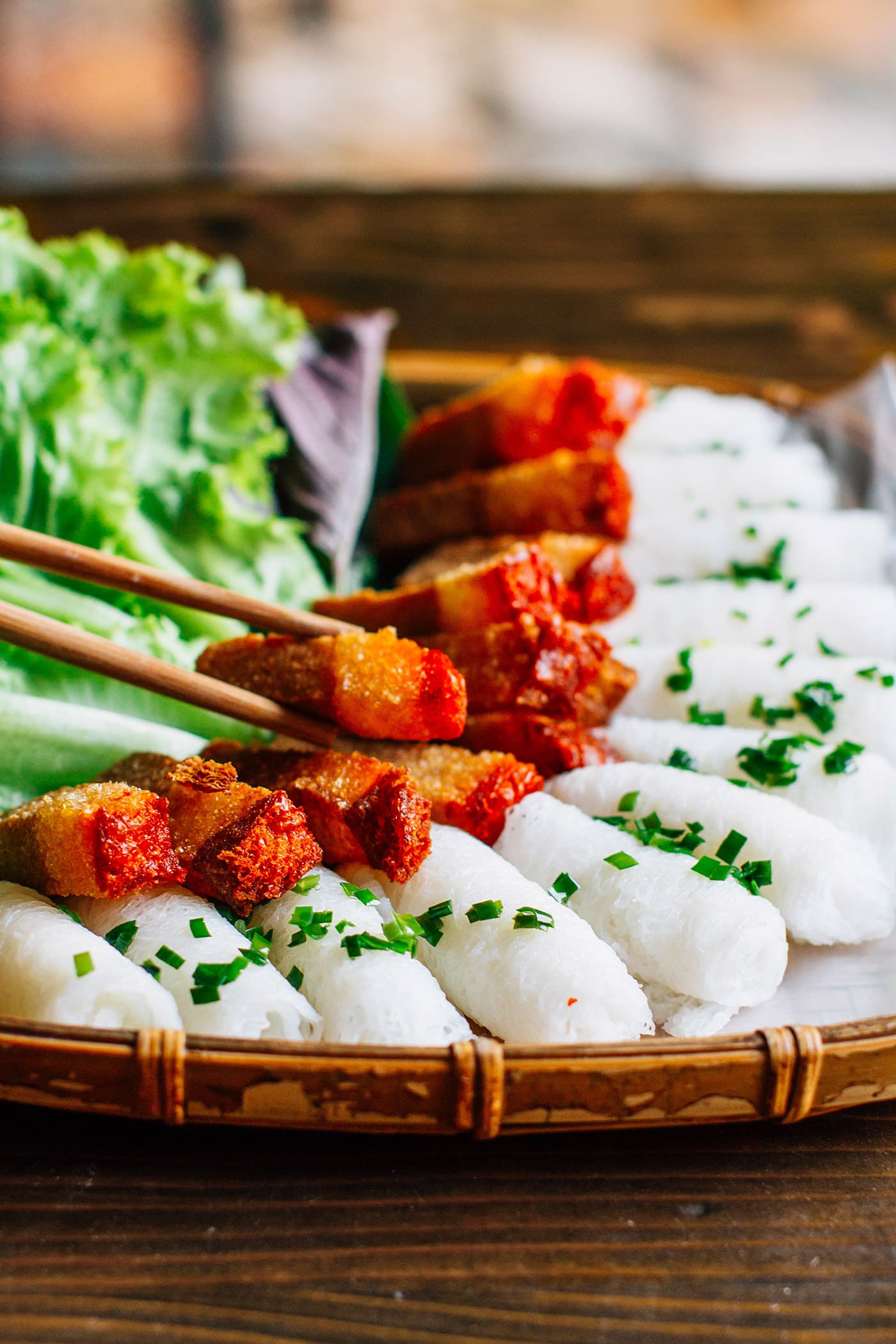 This vegan version of roasted pork belly is made with a soy-based fake meat, a coconut milk layer to mimic the fat, and a bread crust to imitate the crispy skin. It is then deep fried, giving it a crunchy texture. The way to eat this dish is very similar to Bò Lá Lốt and Bánh xèo, you wrap it in lettuce leaves with fresh herbs and noodles. The white rolls you can see there are called bánh hỏi, which are thin vermicelli noodle rolls.
I loved it so much that I made my own version, check out this Vegan Roast Pork recipe!
Xôi Mặn (Salty Sticky Rice)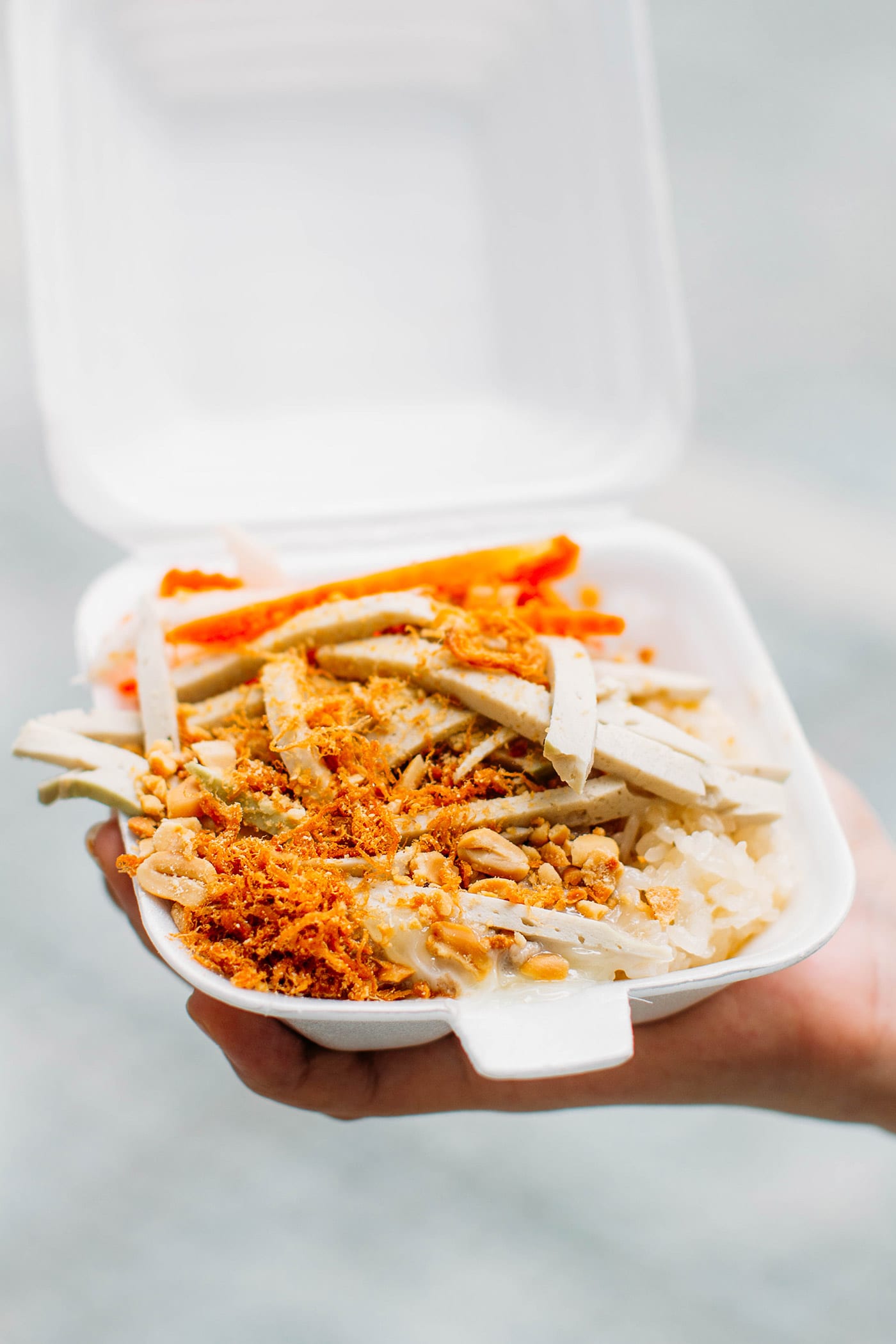 I had this a lot for breakfast! Incredibly creamy, savory, and crunchy, this street food consists of sticky rice topped with many different things, in this case: mayo, vegan paté, pickles, vegan sausage, peanuts, and vegan dried "meat". This is another must-try! There is also a sweet version of this dish simply called xôi that is topped with sesame, peanuts, and coconut.
Mì Xào (Noodles with Vegetables)
If you want the noodles without the soup, Mì Xào is exactly what you need. This stir-fry is loaded with vegetables, tofu, and noodles. Flavored with soy sauce, chili, and some vegan nước mắm!
Gỏi Cuốn (Spring Rolls)
One of the most popular dish in Việt Nam! And also probably one of the cheapest! Healthy, filled with fresh herbs, mushrooms, tofu, rice noodles, and lettuce, these rice paper rolls come with a delicious peanut hoisin sauce. It makes the perfect meal to have on the go, or when you don't have a lot of time.
Cháo Nấm (Rice Soup with Mushrooms)
It is said that Cháo will make you feel better when you have the flu. This soupy rice porridge is super comforting and comes in many different variations, some with a lot of finely diced veggies, others just mushrooms, some are made with black rice, etc. If you want to try one with a mix of the different topping, get "Cháo Thập Cẩm". "Thập Cẩm" meaning mixed.
Gỏi Mít (Young Jackfruit Salad)
In this salad, young jackfruit is mixed with shredded carrots, banana blossom, basil, mint, and topped with crunchy peanuts and shallots. The zesty dressing is a bit sweet and spicy. Young jackfruit brings freshness to this salad.
Bánh Bao (Steamed Bun)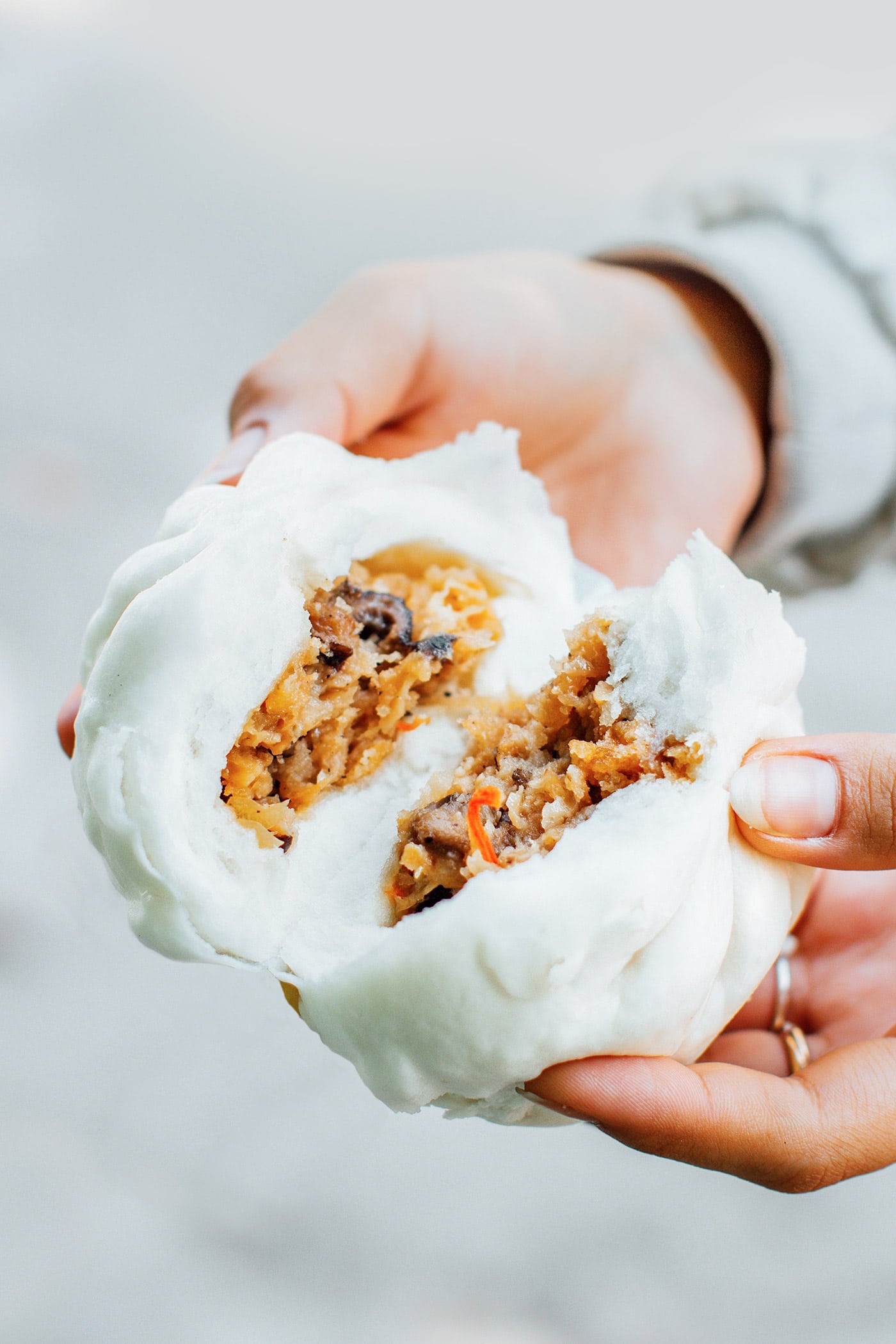 When it comes to portable and savory food, this one is a winner. Inside a pillowy, soft, and tender steamed bun is hidden a mix of vegetables, beans, and mushrooms. Once again, the filling really depends on the cook but you will usually find shredded carrots, cabbage, or manioc, seasoned with soy sauce.
Hủ Tiếu (Thin Noodle Soup)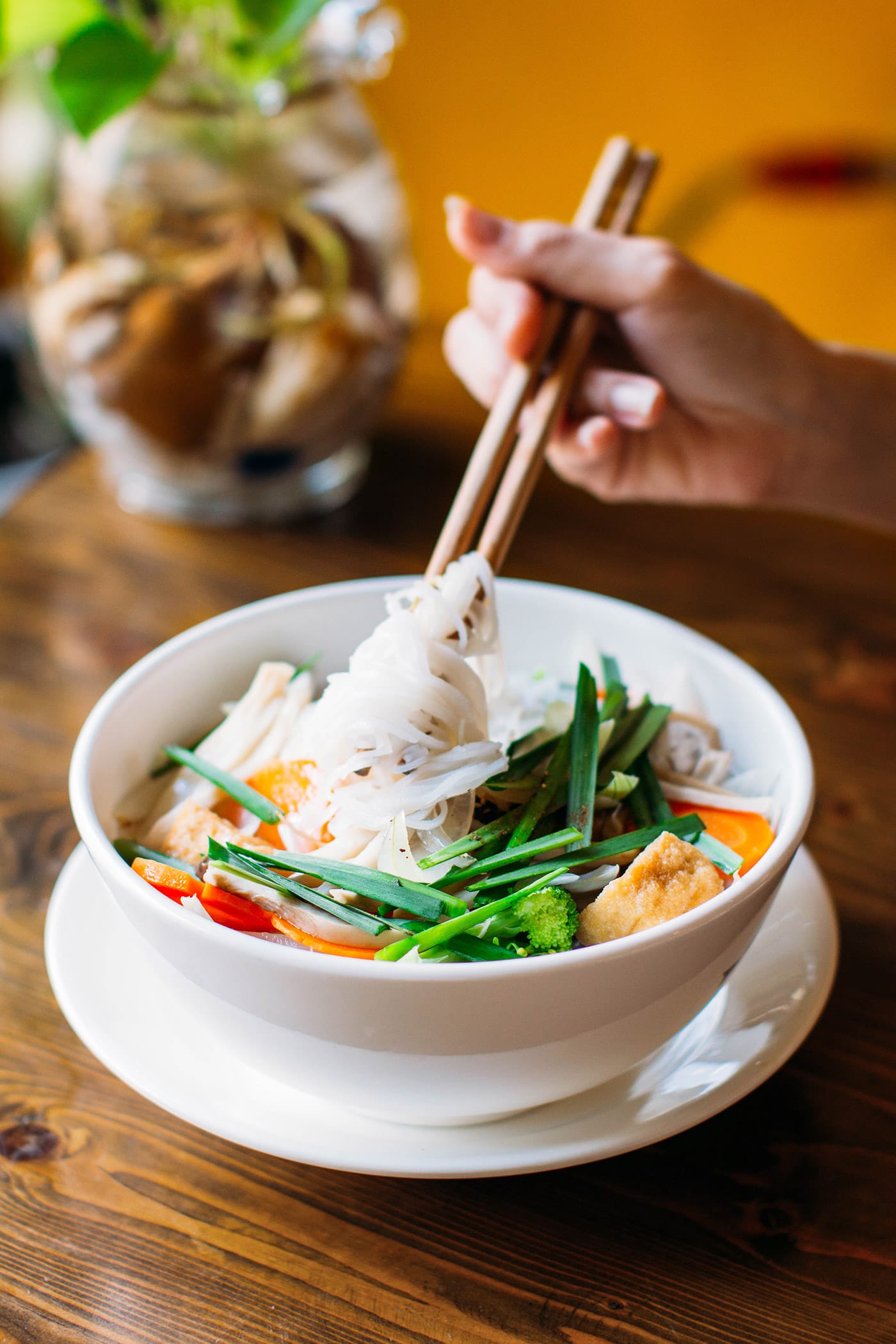 Made from a simple broth, this clear soup is very popular in the south of Việt Nam. The rice noodles served with it are thin and the broth is naturally sweet thanks to the addition of corn, carrot, and radish. It comes with tofu, vegetables, and vegan sausage. You can season the broth to your taste by adding lime, chili, or hoisin sauce available on the table. Another popular variant of this dish is called "Hủ Tiếu Nam Vang", which comes from the city of the same name.
Gỏi Củ Hủ Dừa (Coconut Shoots Salad)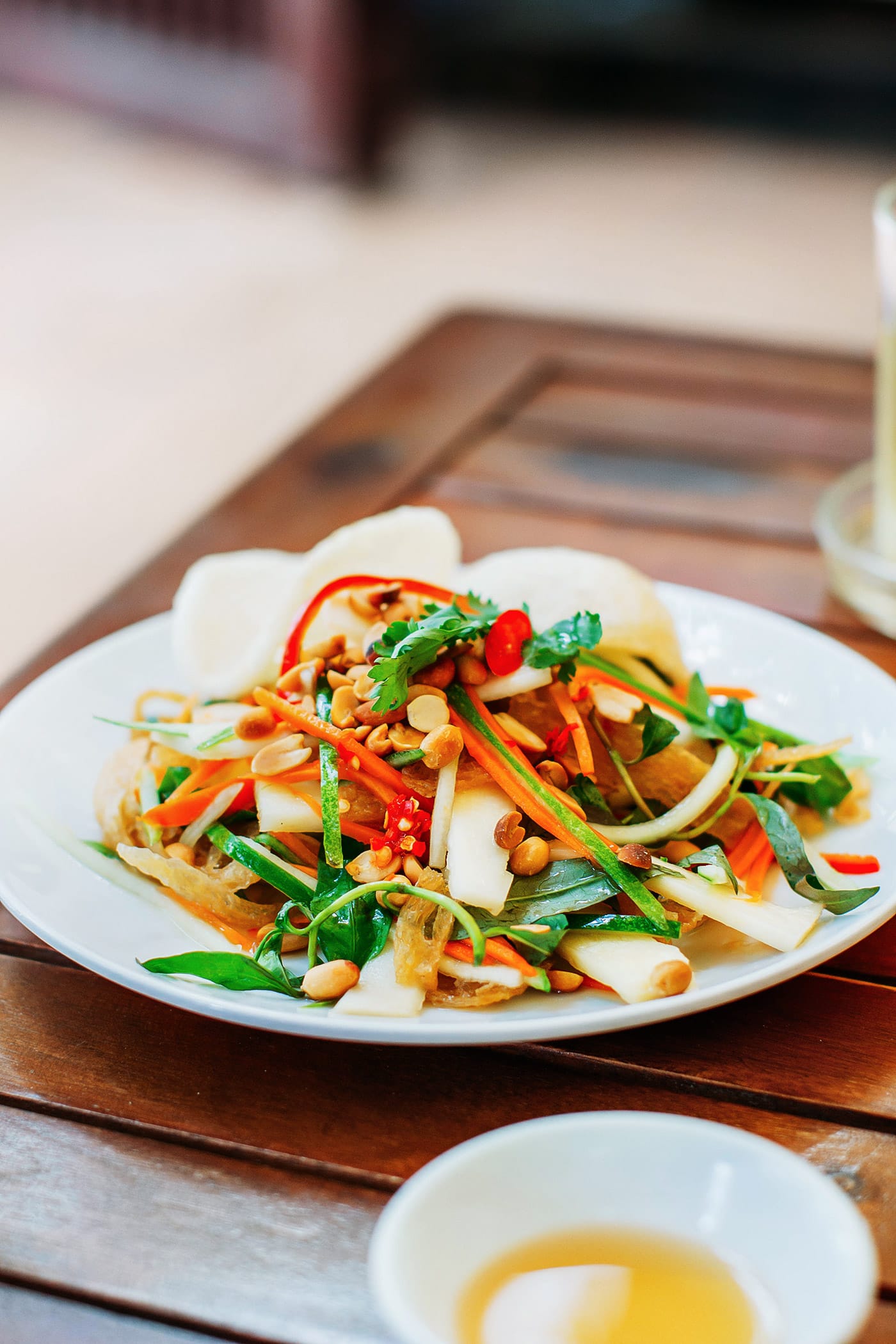 Have you ever tried coconut shoots? If not, you have try this salad! It's crunchy, and perfectly sweet and salty. Cilantro, Thai basil, and lime juice all bring a lot of freshness. The dressing is similar to most salads, made from vegan nước mắm, sugar, garlic, and chili.
Phở (Flavorful Noodle Soup with Spices)
Everyone probably already know this one, but I had to include it otherwise I guess this guide would not feel complete. Phở is a noodle soup that comes with flat rice noodles, as opposed to all the other soups listed in this guide. The broth is light and has a subtle flavor that comes from roasted cinnamon, black cardamom, ginger, and anise. It's not my favorite, as I think other soups are much more flavorful, but still a must-try.
Đậu Hũ Kho Tương Hột (Tofu in Sweet & Salty Bean Sauce)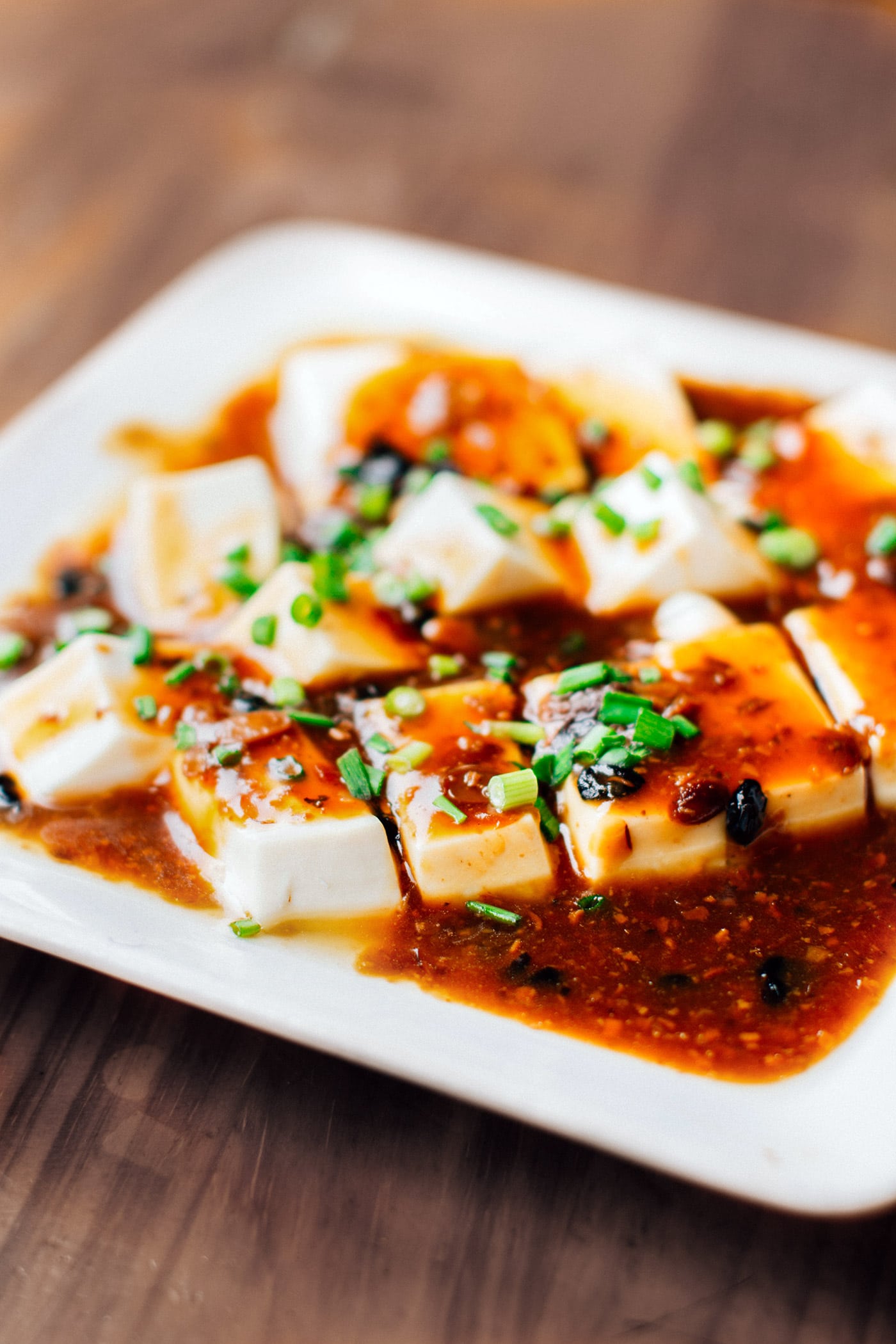 Imagine soft and tender tofu in a fermented bean sauce. It is perfectly salty, a bit sweet, and topped with green onions for a touch of freshness. You may also find salted pickled radish in this dish, bringing some crunchiness. It can be eaten as is, or with white rice.
Mì Vịt Tiềm ("Duck" Noodle Soup)
This Chinese-inspired soup is infused with shiitakes, anise, dried apples, cinnamon, and many other dried spices. The broth has a dark color, and has a very special, deep flavor that is hard to describe due to all the different ingredients. It is served with yellow noodles, vegan "duck", pak choy, and mushrooms. Really delicious!
Cơm Tấm
Cơm Tấm consists of broken rice topped with some kind of meatloaf, grilled pork slices, pickles, cucumber, and drizzle with spicy fish sauce. This dish can be found on the street, or in vegetarian places. It is eaten at any time of the day, from breakfast to late night. Another very popular dish in Việt Nam.
Lẩu (Hot Pot)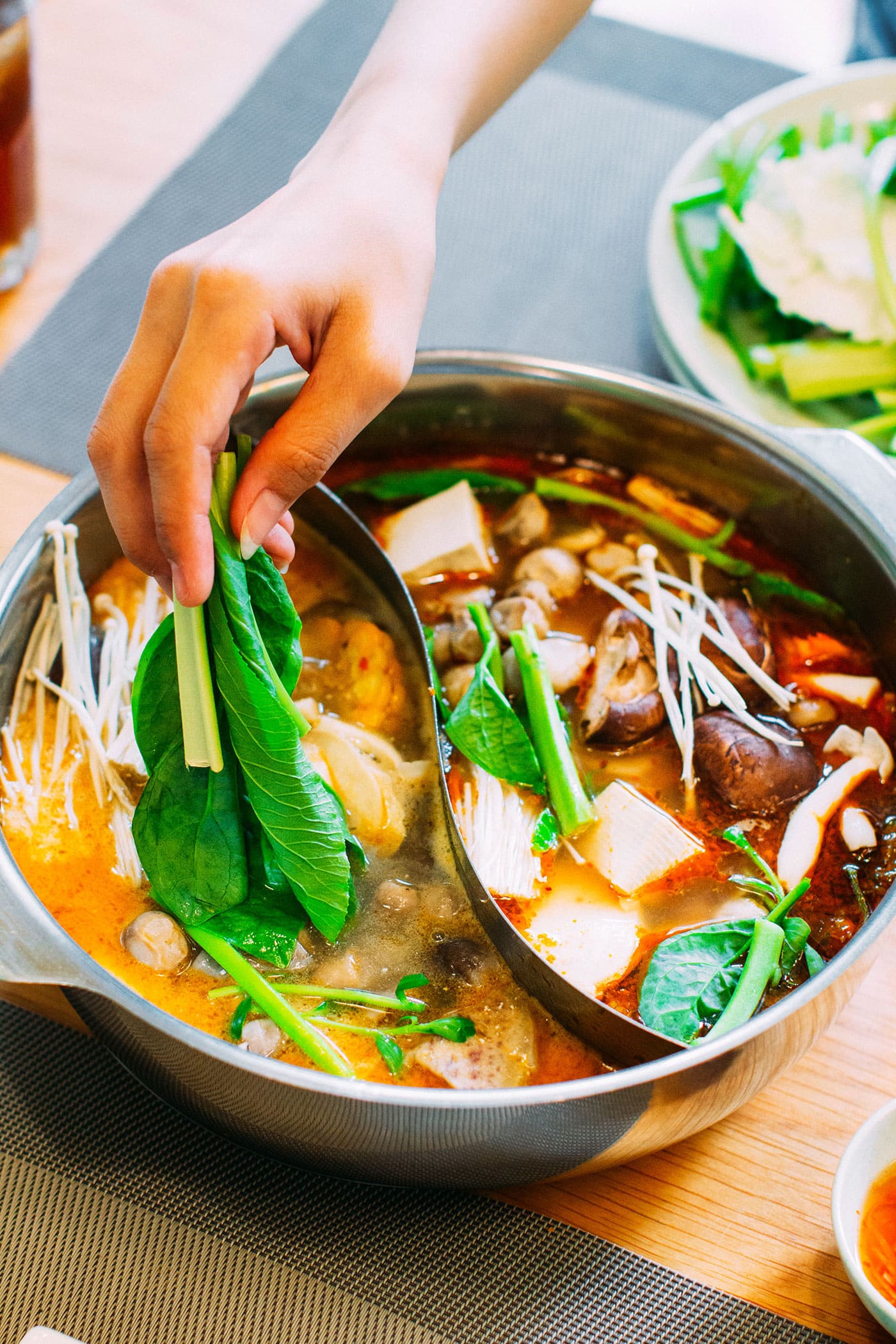 The dish that brings people together! So what is hotpot? It's a big pot of soup placed in the center of the table. It is heated constantly so the soup stays hot. Each person add the vegetables, greens, and vegan meat of their choice. Once cooked, you pick what you want. Hotpot is a meal that must be shared with friends.
There are many different kinds of hotpot, the most populars being: Thai, kimchi, mushrooms, chao (fermented tofu), and tom yum. Just the soup and some toppings change, the principle stays the same.
Want to make hotpot? Check out my Spicy Vegan Hotpot recipe!
Mít Non Kho Nước Dừa (Stewed Young Jackfruit)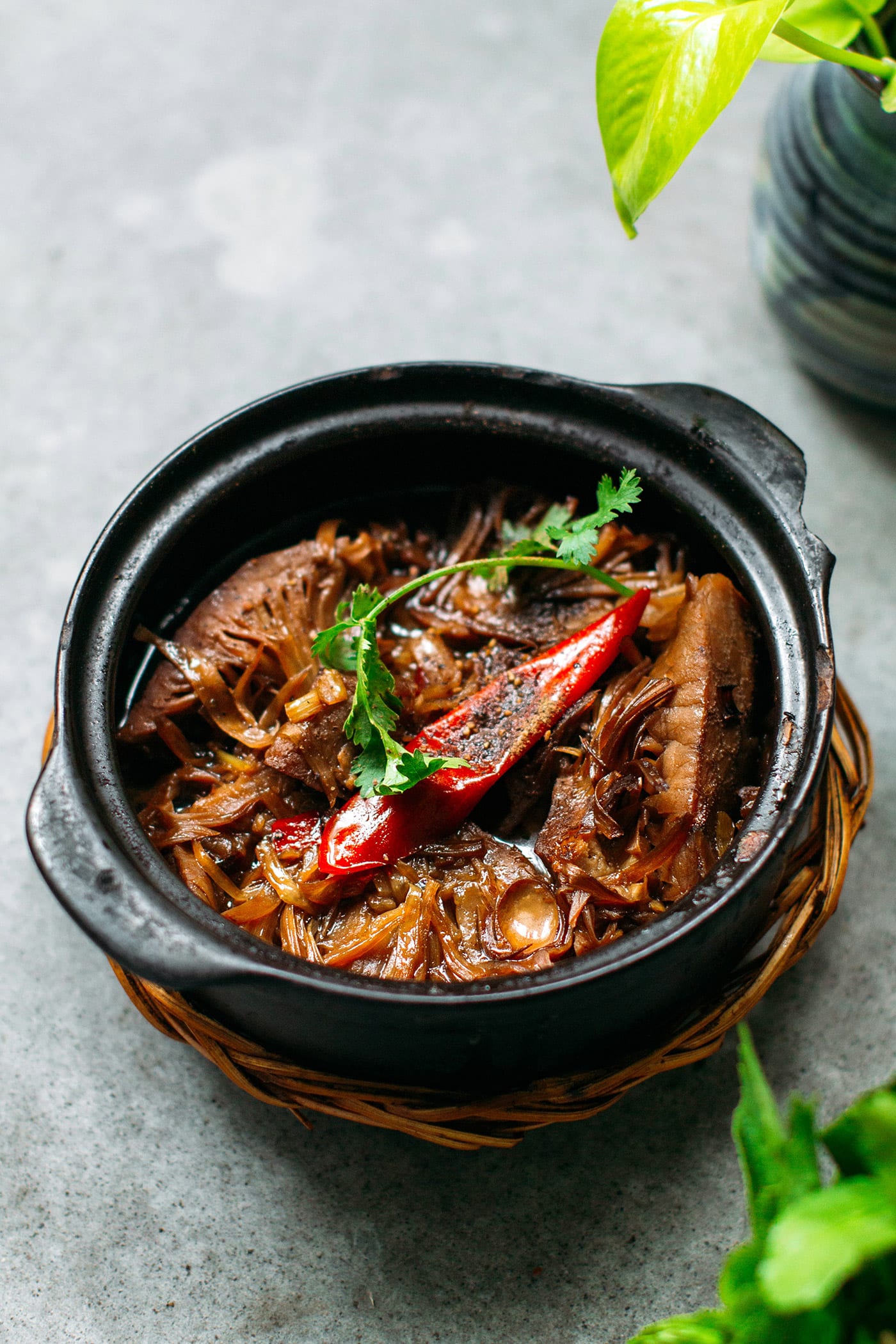 If you didn't like jackfruit before, this one may change your mind! The young jackfruit is stewed in a mix of soy sauce, vegan nước mắm, coconut water, and chili, resulting in the juiciest jackfruit ever! They use fresh young jackfruit (not the canned one) so it is super tender.
Cà Ri (Curry)
Probably influenced by Indian cuisine, Vietnamese curry is rich and creamy, served with taro, mushrooms, tofu, and pumpkin. You can choose to order cà ri with rice noodles, or with bread. I recommend going with bread, it soaks up the delicious sauce.
Want to make a Vietnamese inspired curry? Check out my recipe here!
SWEETS
Bánh Tiêu (Fried Sesame Brioche)
Not overly sweet, this brioche is super tender and fluffy on the inside, and slightly crunchy on the outside. It is first coated with white sesame seeds before being deep-fried. It makes the perfect mid-morning snack! You can find these on the street from the morning to the late afternoon.
Want to make it? Check out my Super Tender Sesame Donuts recipe!
Chè Mè đen (Black Sesame Soup)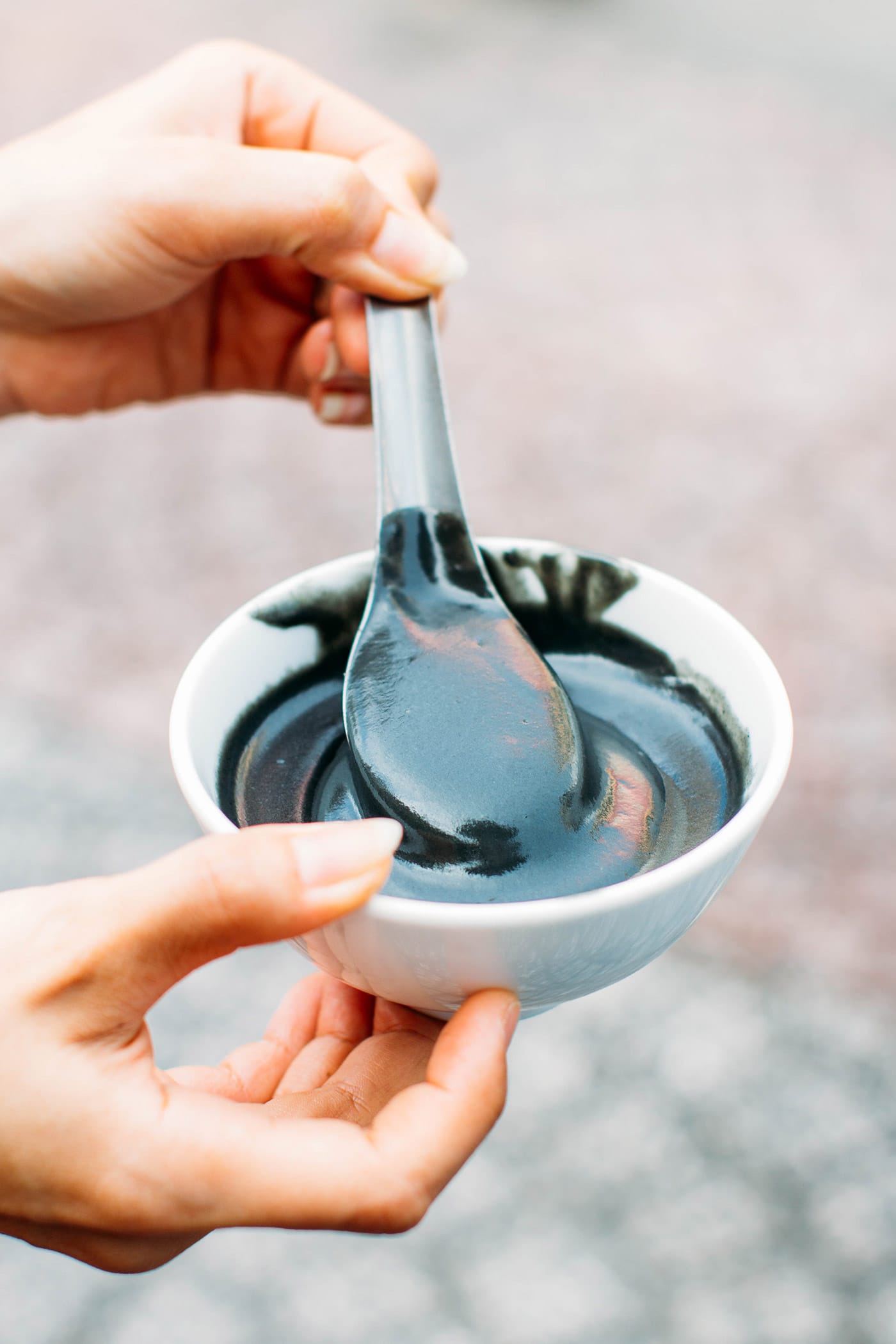 While it might not look like the most appetizing dessert/snack, it is actually delicious. It has a delicate nutty and almost milky flavor. It is made with toasted black sesame seeds that are blended with water, sugar, and sometimes coconut milk, and then thickened with rice or tapioca flour. I tried many different ones during my stay and always came back to the one located in Nguyễn Văn Đậu street as it is the smoothest and most flavorful I found. I recommend getting there around 3 pm if you want to have a chance to get one!
Learn how to make your own Black Sesame Soup here!
Bánh Long Châu Lá Dứa (Pandan Mung Bean Cake)
These sweet little bites are not super popular and only sold in some supermarkets, but I really liked them. The crust is thin and flaky, while the filling consists of mung bean paste combined with pandan, giving it a beautiful green color.
Bánh Tiêu Bạch Tuộc (Fried Sesame "Octopus")
Made from the same dough used to make Bánh Tiêu, but rolled and cut into a different shape, this fried "donut" is perfect for sharing! The name translates to Octopus cake because of the many "arms".
Bánh Bao (Sweet Steamed Bun)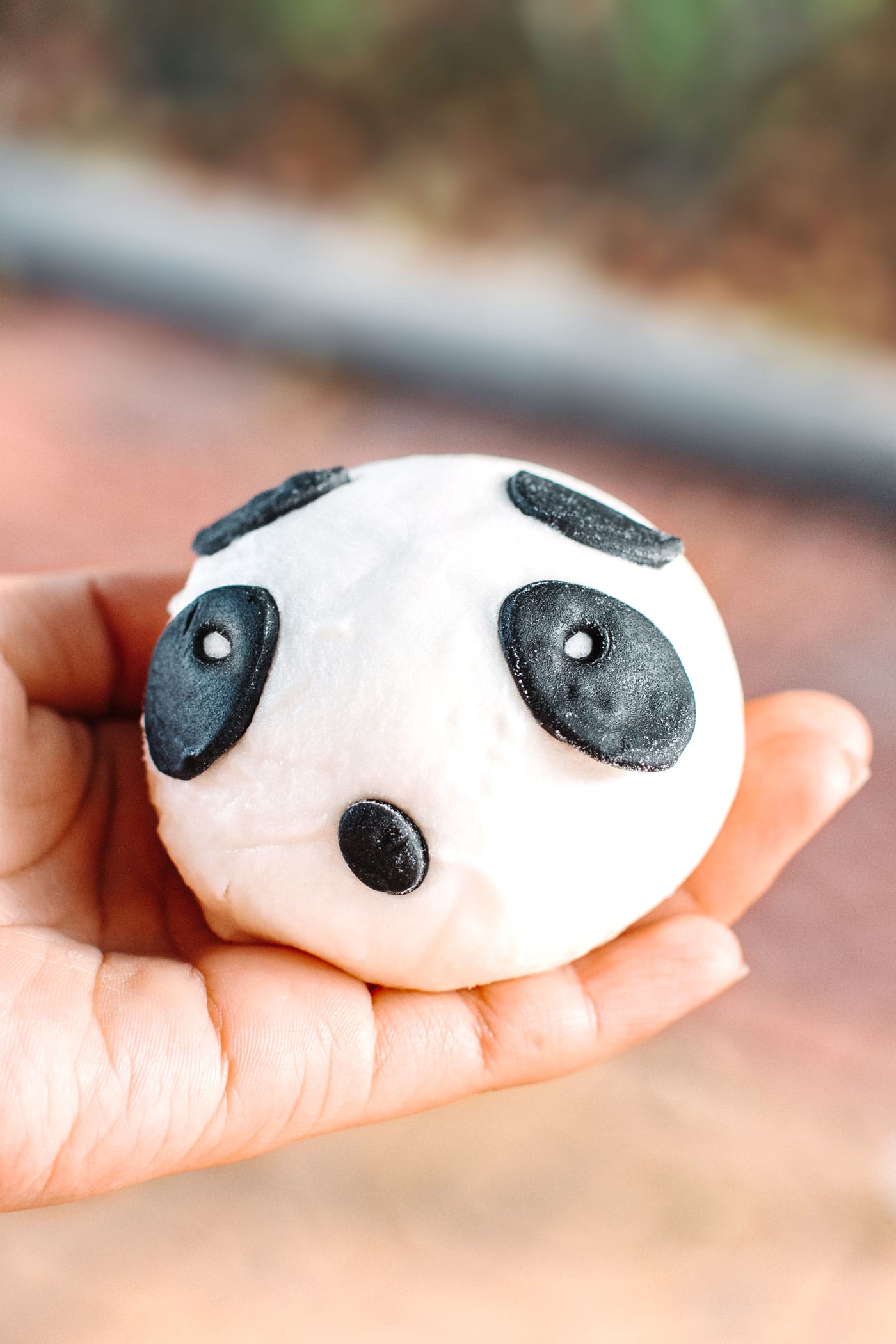 While not all of them looks as cute as this one, this is the sweet version of Bánh Bao. Filled with a sweet mung bean cream, it makes a nice mid-morning or afternoon snack. You can find these on the street, or in convenience stores.
Tau Hu Non (Silken Tofu with Ginger Syrup)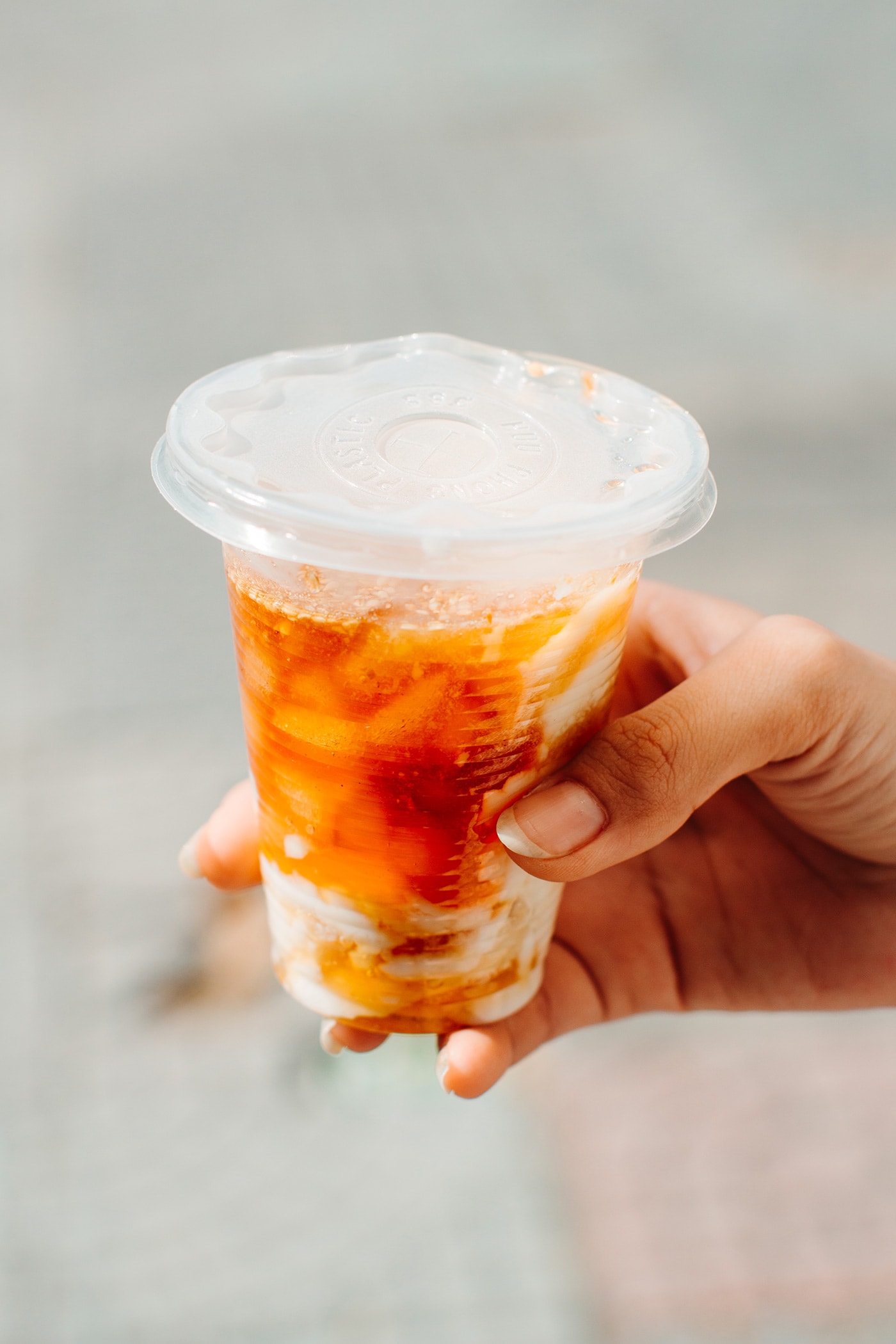 Looking for an afternoon snack? Don't look any further! This warm silken tofu, often sold in a cup, is topped with a delicious ginger syrup, chewy tapioca pearls, and coconut cream. They scoop out thin slices of silken tofu into a cup before adding the syrup that will coat the soft tofu. I can say I had A LOT of these!
Vietnamese Chocolate
If you are looking to get your chocolate fix in Viet Nam, Marou is the place to go. Their chocolate is made from cocoa beans grown in different provinces of Viet Nam, it is very aromatic and they offer different chocolate bars that include candied chili, popped rice, or cashew praline.
I found their cashew milk hot chocolate not chocolatey enough for me, but their brownies and chocolate bars are very good!
Bánh Da Lợn (Chewy Pandan Cakes)
The name of this sweet can be translated as "pig skin cake" because of its gelatinous and chewy texture. This steamed cake has two different layers, the green one is flavored with pandan juice and the lighter one consists of yellow mung beans. It's not too sweet and has a delicate pandan and coconut flavor.
Chè Bắp (Sweet Corn Soup)
There are many different types of chè (sweet soups) in Việt Nam made from different kinds of beans, nuts, bananas, sweet potatoes, etc. This is one of my favorite! It consists of yellow corn cooked with sticky rice, coconut water, sugar, and pandan leaves. It's topped with a sweet and thick coconut milk. SO GOOD!
Bánh Trung Thu (Moon Cakes)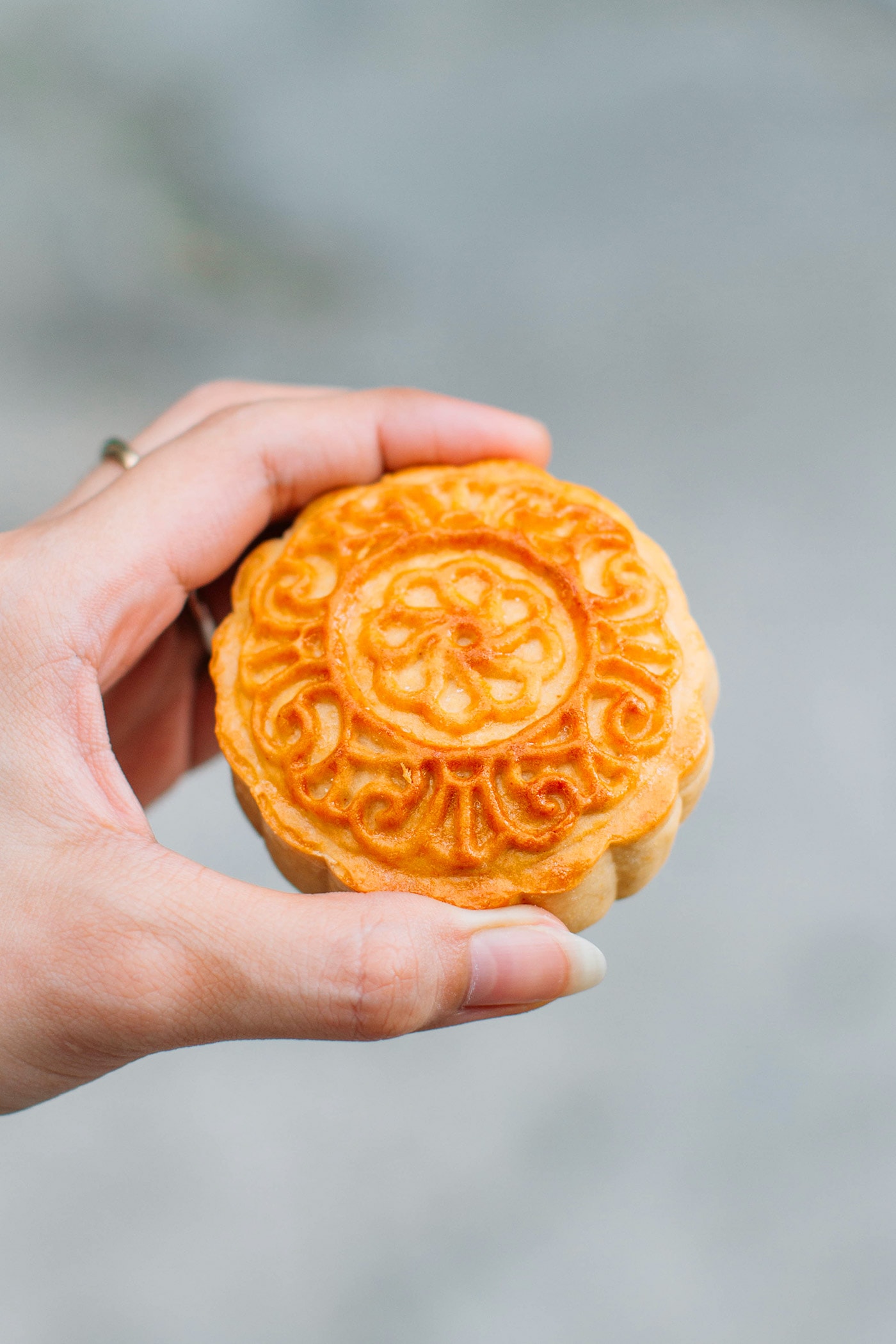 Only available during the Mid-Autumn festival, these Chinese cakes are often gifted between family members and friends. The non-vegan versions are usually salty with meat and egg inside, while vegan versions are sweet and filled with mung bean or lotus bean paste, sesame, etc.
Ice Cream
Vegan ice cream? Of course! The one pictured here is an avocado and dates sorbet on top of a Marou chocolate sorbet. You can find vegan ice cream at Osterberg in Ho Chi Minh city, or at GioiA Gelati in Hanoï. My favorite was definitely the chocolate sorbet at Osterberg, so creamy and chocolatey you would never believe it's vegan!
Bánh Cam (Crispy Rice Ball filled with Mung Bean Paste)
Bánh Cam can be translated to "Orange Cake" but…it does not contain any orange! It takes his name from its round shape and golden color. It has a crispy and a bit chewy crust made from glutinous rice flour. It is filled with, once again, sweet mung bean paste.
WORDS TO KNOW
Here are a few words that you can try to remember or write down that may help you during your stay:
Vegetarian: Chay. No sugar: Không đường. No milk: Không sữa bò. No eggs: Không trứng.
No cream: Không kem. No cheese: Không phô mai. Not spicy: Không cay. No chili: Không ớt.
CONCLUSION
There you have it, a non-exhaustive list of my favorite vegan Vietnamese dishes, and there are many more!
Vietnamese cuisine is so diverse that it would be difficult to list of all the vegetarian dishes. Việt Nam is really a paradise for vegans compared to Europe for example. You can find vegetarian restaurants almost everywhere. The food is mostly made from whole ingredients, rich in vegetables, and quite healthy in my opinion. There is obviously fried foods and fake-meats that would not be considered super healthy, but in the end there are so many options available that you will find som
*I want to thank Tuyền for helping me discovering so many delicious foods, finding the places, assisting with the photos, and helping me indulging on all of this delicious food!
Now I want to known, what are your favorite Vietnamese dishes?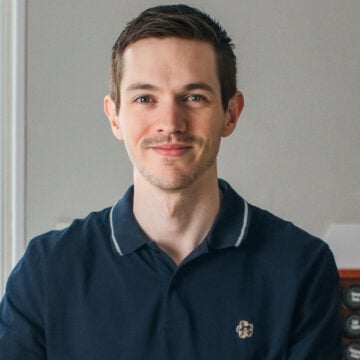 About the Author
Thomas Pagot is the founder, photographer, and recipe developer behind Full of Plants. He created the blog in 2016 as a personal cookbook for vegan recipes. Through years of recipe development, Thomas has successfully grown Full of Plants into a trusted resource for plant-based recipes.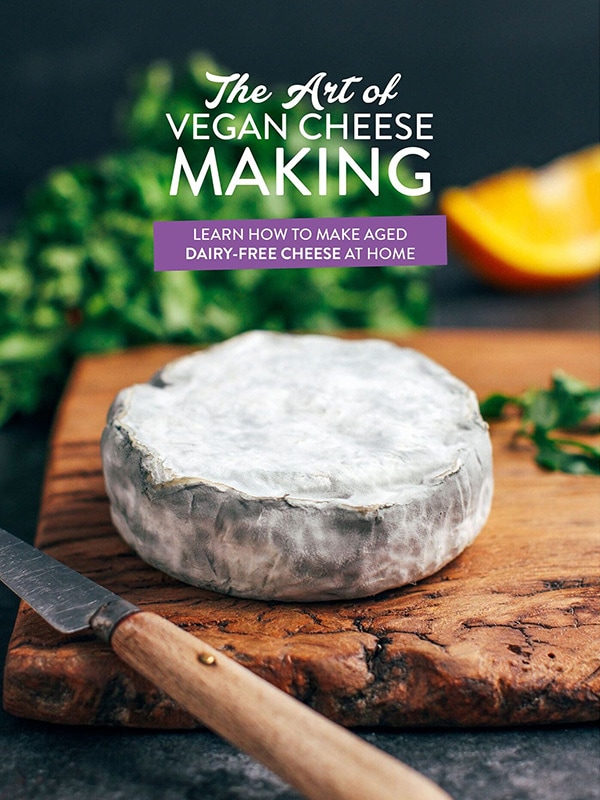 🧀 25 Mind-Blowing Vegan Cheese Recipes!
Sign up for the Full of Plants newsletter and you'll get new recipes delivered by email weekly, PLUS your FREE 100-page printable eBook!