Heaven in a jar, that's the best way to describe this chocolate caramel swirl spread with crunchy biscuit pieces. Think left and right twix in a jar. It's vegan and healthy. Well, not that healthy but incredibly tasty neverless. Ready to dip your spoon(s) in this jar of melted twix?
The chocolate part consists of roasted cashews combined with melted dark chocolate. I slightly under-roast the cashews so they have a more neutral flavor and don't cover the chocolate flavor. This results in a creamy nut butter with a milk chocolate flavor.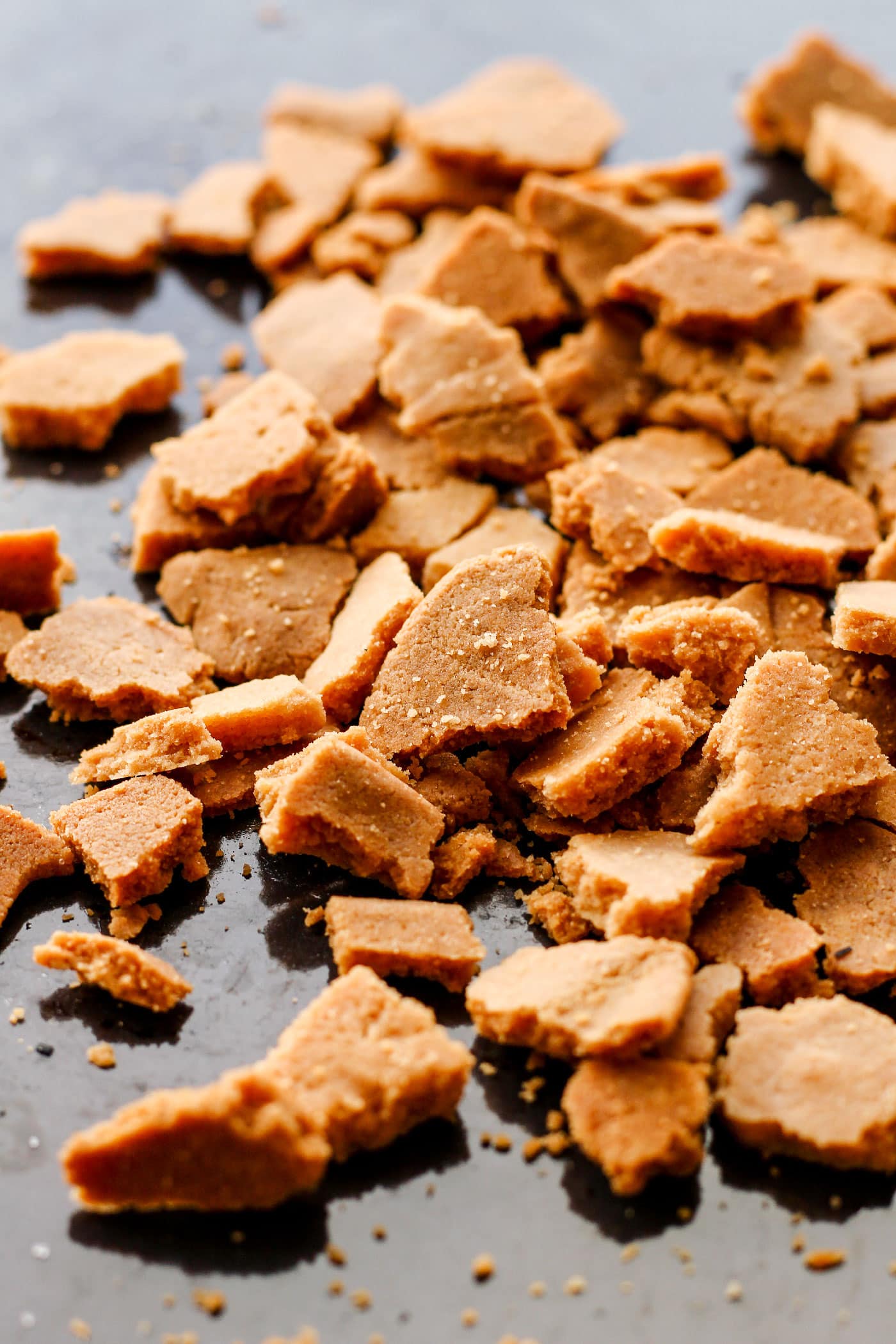 The crunchy biscuits are gluten-free and naturally sweetened with maple syrup, they bring the crunch needed to take this from a simple chocolate-caramel spread to a "Twix" one.
For the caramel I went with a simple mix of almond butter, maple syrup, coconut oil and vanilla extract. I also added a healthy pinch of salt because caramel without salt is not real caramel, right?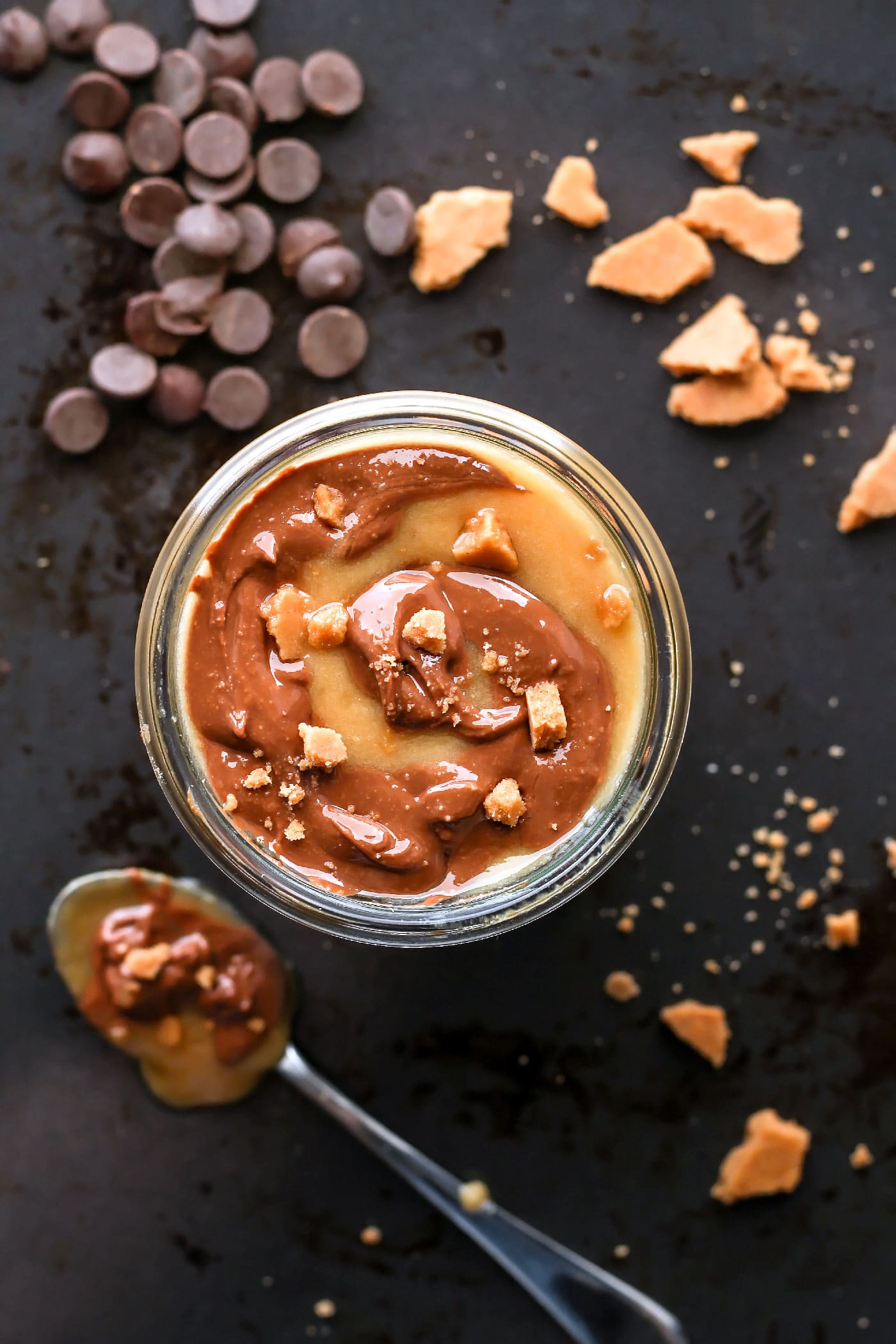 Filling the jar can be done in two ways. One is to make layers, pour some of the chocolate butter into the jar, top with crushed biscuits and pour some of the salted caramel on top, repeat until the jar is filled. The second one is a bit more tricky but works well too, transfer the chocolate and caramel to two different piping bags and pipe both at the same time while slightly rotating the jar. For the latter it works best when the chocolate and caramel are chilled for 30 minutes before so they have a firmer consistency.
Unless you want to make it look fancy I recommend sticking to the layer method, it's easier, especially if you don't have a third hand to help you rotate the jar.
This spread can be kept at room temperature, just be aware the biscuits might lose some of their crunchiness after some time. I prefer to keep it in the fridge for a firmer consistency, it also prevents oil from separating.
While it's best eaten straight from the jar by the spoonful (just my opinion), it makes an incredible topping for oatmeal, pancakes or even nicecream. If you loved Twix bars you will absolutely love this chocolate caramel spread!
Let me know in the comments if you try this recipe and feel free to tag #fullofplants if you take a photo!
Print
Twix Chocolate Caramel Spread
Salted caramel meets chocolate and crunchy biscuit pieces for a decadent nut butter. It tastes just like melted twix! Delicious by the spoonful or use on top of oatmeal, pancakes or nicecream!
Chocolate spread
2 cups

raw cashews

1/2 cup

dark chocolate chips (about

3.5 ounces

)
Salted Caramel
1/2 cup

almond butter

1/4 cup

melted coconut oil

1/4 cup

and 2 tbsp maple syrup

1/4 tsp

vanilla extract

1/8 tsp

sea salt
Crunchy biscuits
1/2 cup

rice flour

3 tbsp

cornstarch

3 tbsp

maple syrup

3 tbsp

coconut oil, at room temperature

1/4 tsp

vanilla extract
Instructions
Chocolate spread
Preheat the oven to 325°F.
Line a baking sheet with parchment paper and spread the raw cashews evenly.
Roast for 13-15 minutes. Remove from the oven and let cool about 10 minutes. Don't turn off the oven yet, you will need it to make the biscuits.
Place the cashews in the bowl of a food processor and process for about 10 minutes, scrapping the sides from time to time until you get a very creamy cashew butter.
Melt the chocolate chips over a double boiler and add to the bowl of the food processor. Process for another 1 minute until well combined and transfer to a small bowl.
Salted Caramel
In a small bowl, combine all the caramel ingredients and mix until smooth and well combined. Cover with plastic film and refrigerate while you prepare the biscuit.
Crunchy biscuits
Preheat the oven to 350°F and line a baking sheet with parchment paper.
In a large bowl, combine the rice flour and cornstarch. Add the maple syrup, coconut oil and vanilla extract, and mix until a smooth dough forms.
Transfer the dough to the baking sheet and roll out the dough to a 1/6 inch thickness (I used another layer of parchment paper on top to be sure it doesn't stick to the pastry roller). The shape doesn't matter since we will break it into small pieces later.
Bake for 18-20 minutes, or until the edges are golden brown. Remove from the oven and let cool completely. With your hands, break the biscuit into 1/4 to 1/2 inch pieces. Set aside.
Assemble
In a large jar, pour about 1/3 cup of the chocolate spread, top with 1 tablespoon of crushed biscuits and cover with 1/3 cup of the salted caramel. Repeat until the jar is filled to the top. You can also directly mix the crushed biscuits with the chocolate and caramel spread.
This Twix chocolate spread will keep at room temperature. Biscuit pieces might lose their crunch after some time though. For a firmer consistency (perfect to spread on bread), keep in the fridge.
Notes
Depending on how crunchy you want your spread to be, you might not use all the biscuit pieces. I ended up using only one half of crushed biscuits, you can use leftovers in yogurts, oatmeal or on top of nicecream.
If your house is too warm, I recommend keeping the spread in the fridge, otherwise the oil might separate (like most nut butters).
Nutrition
Serving Size:

1 tbsp

Calories:

84

Sugar:

3.1g

Fat:

6.2g

Carbohydrates:

6.5g

Fiber:

0.2g

Protein:

1.5g