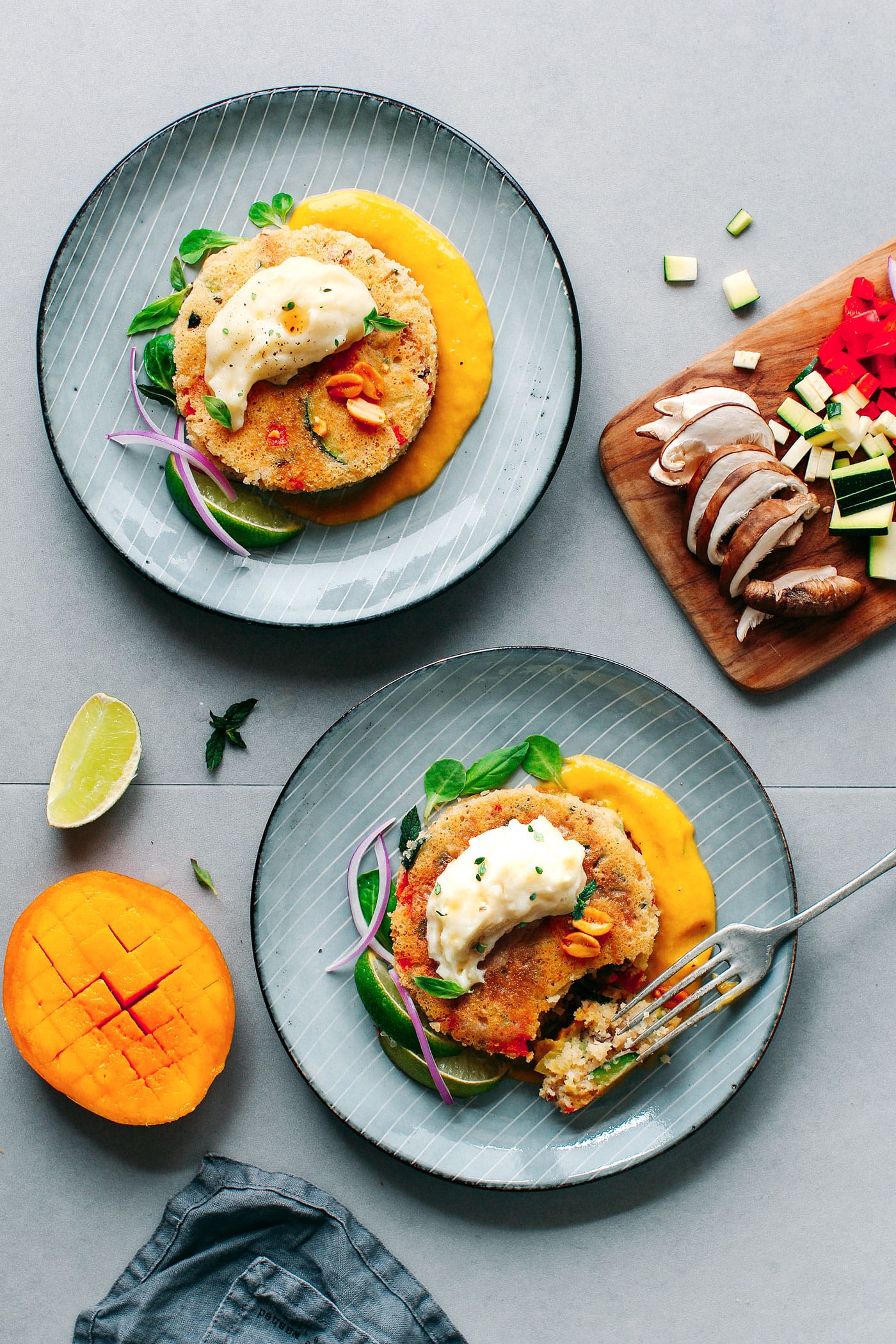 This recipe is inspired by a dish I had last week at a Thai restaurant called Dok Boua. It's basically a savory and super fluffy pancake filled with veggies, topped with celery root puree and served on top of a sweet and creamy mango sauce. The combination of texture and flavors is simply amazing. So here is my version, which is in my opinion, just as good as the original!
What I love about this dish is the balance of the savory celery purée with the sweet mango sauce. Plus the spongy pancake that soaks up the sauces and adds texture. The whole combination is magical.
While this recipe requires some preparation, it's not a complicated one. The mango sauce can be made ahead of time and kept in the refrigerator for up to 3 days, just like the celery purée. Then all you have to do is reheat and prepare the savory vegetable pancake.
The most challenging part of this recipe was the spongy vegetable pancake. It took me several tries before getting a very soft and fluffy texture. I first tried using aquafaba, it didn't work that well. Then tried baking it, and finally, I found out cooking it in a skillet just like a pancake, but in a metal ring was the best and easiest option.
Almond flour makes the base of the pancake batter, it gives it that soft and moist texture. Then come rice flour and potato starch for more structure. Making the pancakes is pretty easy, you start by cooking thinly diced zucchini, red bell pepper, and mushrooms with some garlic and ginger in a skillet until soft. In the meantime, whisk together all the pancake ingredients, and finally, transfer the cooked veggies to the pancake batter.
To cook the pancakes, I recommend using cookie cutters, or crumpets/pastry rings. It helps make the pancakes tall and fluffy. You can use two 3-inch rings, or a larger one, depending on the size you prefer. This recipe serves two persons as an appetizer or one as an entrée.
The mango sauce is sweet, very slightly spicy and requires only 6 ingredients: mangoes, garlic, coconut cream, lime juice, soy sauce, and ground chili. You simply process all the ingredients together in a blender and you are ready to go!
Regarding the celery root purée, I added some cauliflower to balance with the celery flavor which can be quite strong. If you are not a fan of celery use only mashed potatoes or maybe Thai hummus?
To serve, pour some mango sauce into a serving plate. Place the pancake, then top with a generous dollop of celery root purée and spread it over the pancake, or just shape it into a swoosh for a better presentation.
If you like sweet and savory dishes, you are going to love this one! The combination of flavors + textures is ah-mazing. This is definitely going to be a regular in my house!
Let me know in the comments if you try this recipe!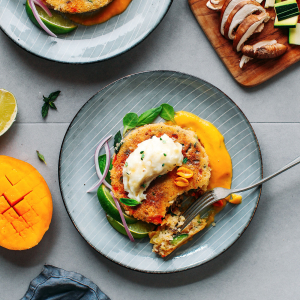 Thai Veggie Pancakes with Creamy Mango Sauce
Super fluffy savory pancake served with a creamy mango sauce and topped with celery root purée. An incredible combination of flavors!
Ingredients
Mango Sauce
2

mangoes

1

clove

of garlic

3

tablespoon

coconut cream

1

tablespoon

lime juice

½

teaspoon

soy sauce

⅛

teaspoon

ground chili
Veggie Pancake
1

teaspoon

oil

1

clove

of garlic

minced

½

teaspoon

ginger

grated

¼

cup

zucchini

finely diced

¼

cup

red bell pepper

finely diced

¼

cup

mushrooms

finely diced, I used shiitakes

1

teaspoon

soy sauce

¼

cup

almond flour

2

tablespoon

potato starch

2

tablespoon

white rice flour

2

teaspoon

baking powder

¼

teaspoon

salt

¼

teaspoon

onion powder

optional

3

tablespoon

water

2

teaspoon

olive oil

1

teaspoon

apple cider vinegar
Instructions
Mango Sauce
Peel the mangoes and place the flesh in a food processor or blender. Add the garlic, coconut cream, lime juice, soy sauce, and ground chili, and blend for 7-10 seconds. Taste and adjust seasonings to your liking. Transfer to a small saucepan and set aside. Mango sauce will have to be warmed before serving.
Veggie Pancake
Heat the oil in a large skillet over medium heat. Once hot, add the garlic and ginger. Sautée for 2 minutes.

Next, add the diced zucchini, red bell pepper, and mushrooms. Cook for 5-7 minutes, stirring regularly until the vegetables are soft. Stir in the soy sauce and mix. Cook for another minute before removing from heat. Set the cooked vegetables aside.

Prepare the pancake batter: In a small mixing bowl, whisk together the almond flour, potato starch, white rice flour, baking powder, salt, and onion powder if using. Add the water, olive oil, and apple cider vinegar. Mix using a wooden spoon until combined.

Transfer the cooked veggies to the pancake batter and mix until just combined.

Heat a non-stick skillet over low-medium heat. Once hot, lightly grease the pan using a kitchen paper towel. Place two 3-inch cookie cutter in the center of the skillet (you can use slightly smaller or larger cookie cutters). Pour the batter into the cookie cutters, filling ¾. Cover with a lid and cook for about 5 minutes over low-medium heat. Flip the pancakes using a spatula and carefully remove the cookie cutters. Run a knife along the edges if the pancakes are sticking to the cookie cutters. Cover with the lid and cook the other side for 3 to 5 more minutes.

To plate: Place about 3 tablespoon of the mango sauce on a plate and spread it using the back of a spoon. Place the savory pancake in the center of the plate and top with a dollop of warm celery root purée. Drizzle with some toasted sesame oil, top with fresh basil and a few peanuts, and serve immediately.
Notes
Mango sauce and celery root purée will keep for up to 3 days in the refrigerator.
Be aware you will have some leftover mango sauce.
Nutrition
Serving:
1
serving (with 3 tablespoon mango sauce and 2 tablespoon celery purée)
Calories:
232
kcal
Carbohydrates:
31.4
g
Protein:
3.7
g
Fat:
11
g
Fiber:
2.7
g
Sugar:
5.8
g
DID YOU MAKE THIS RECIPE?
Tag @fullofplants on Instagram and hashtag it #fullofplants