In case you missed it, I shared a recipe for hollow sesame donuts last week. Today, I'm excited to introduce Teriyaki Tofu Sesame Sandwich!
While these donuts are delicious on their own, they are also amazing for savory sandwiches! Here, they are filled with teriyaki tofu, pickled carrots, avocado, hummus, and sautéed mushrooms. Super flavorful, full of umami, rich in texture, and so satisfying!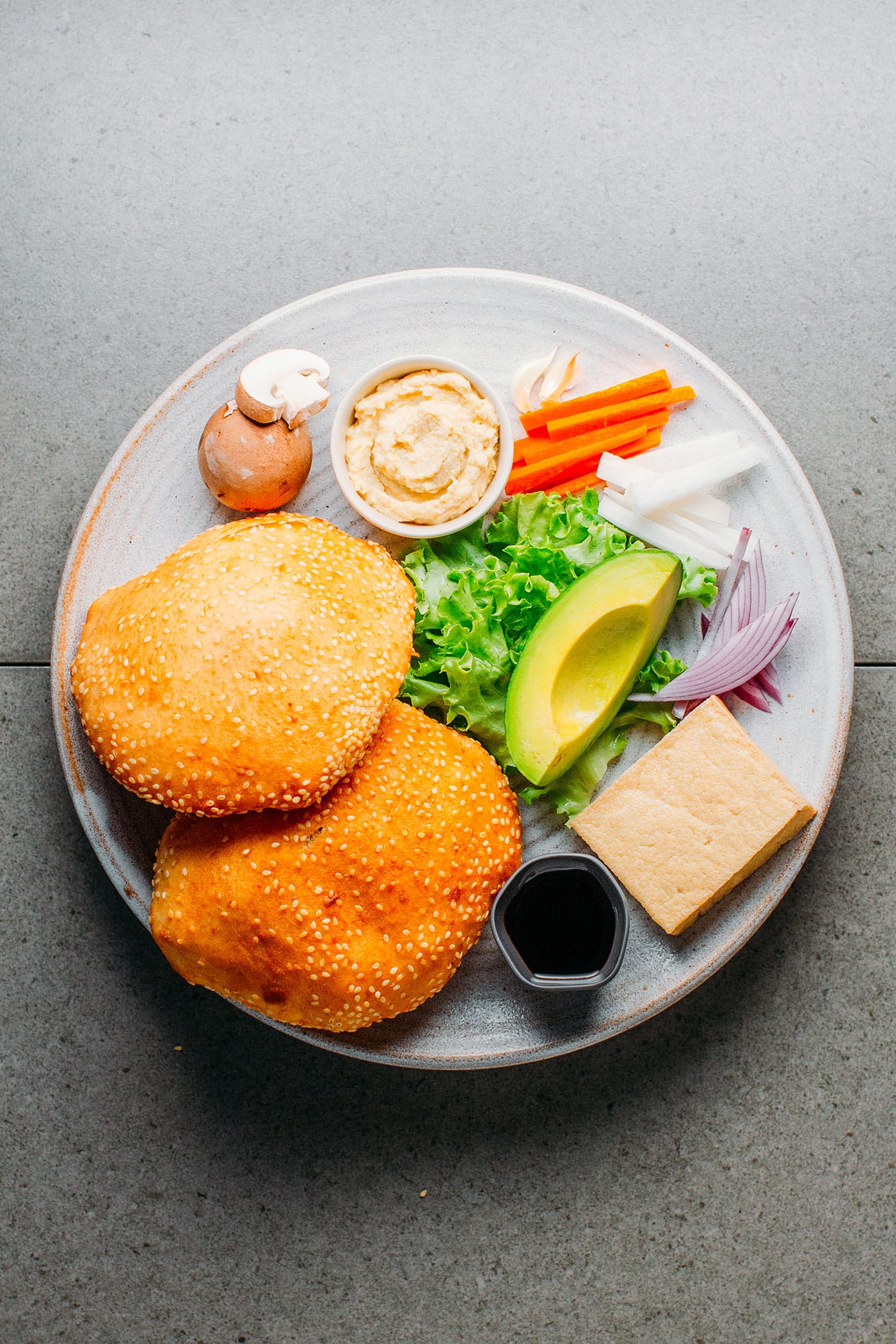 We start with the pickles that add crunchiness and freshness. Carrots and white radish (daikon) are cut into matchsticks and then put into a brine made of vinegar, water, sugar, and a pinch of salt. I recommend preparing the pickles ahead of time. The day before is best.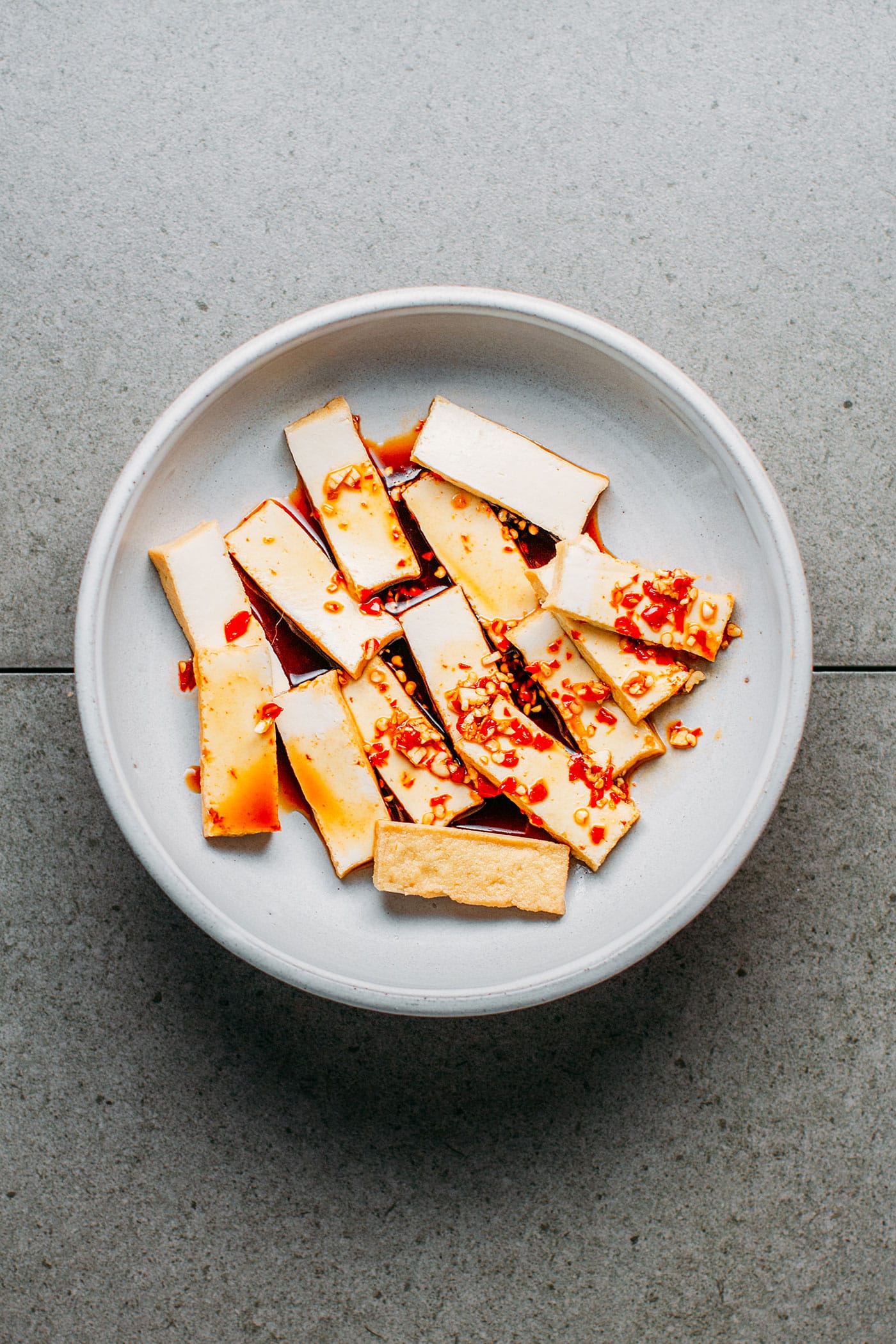 Next, we have the tofu that is marinated with soy sauce, maple syrup, lime juice, and garlic. For extra flavor, I also added a pinch of five-spice powder.
Once your tofu has marinated, pan-fry for a few minutes or until it has absorbed the marinade.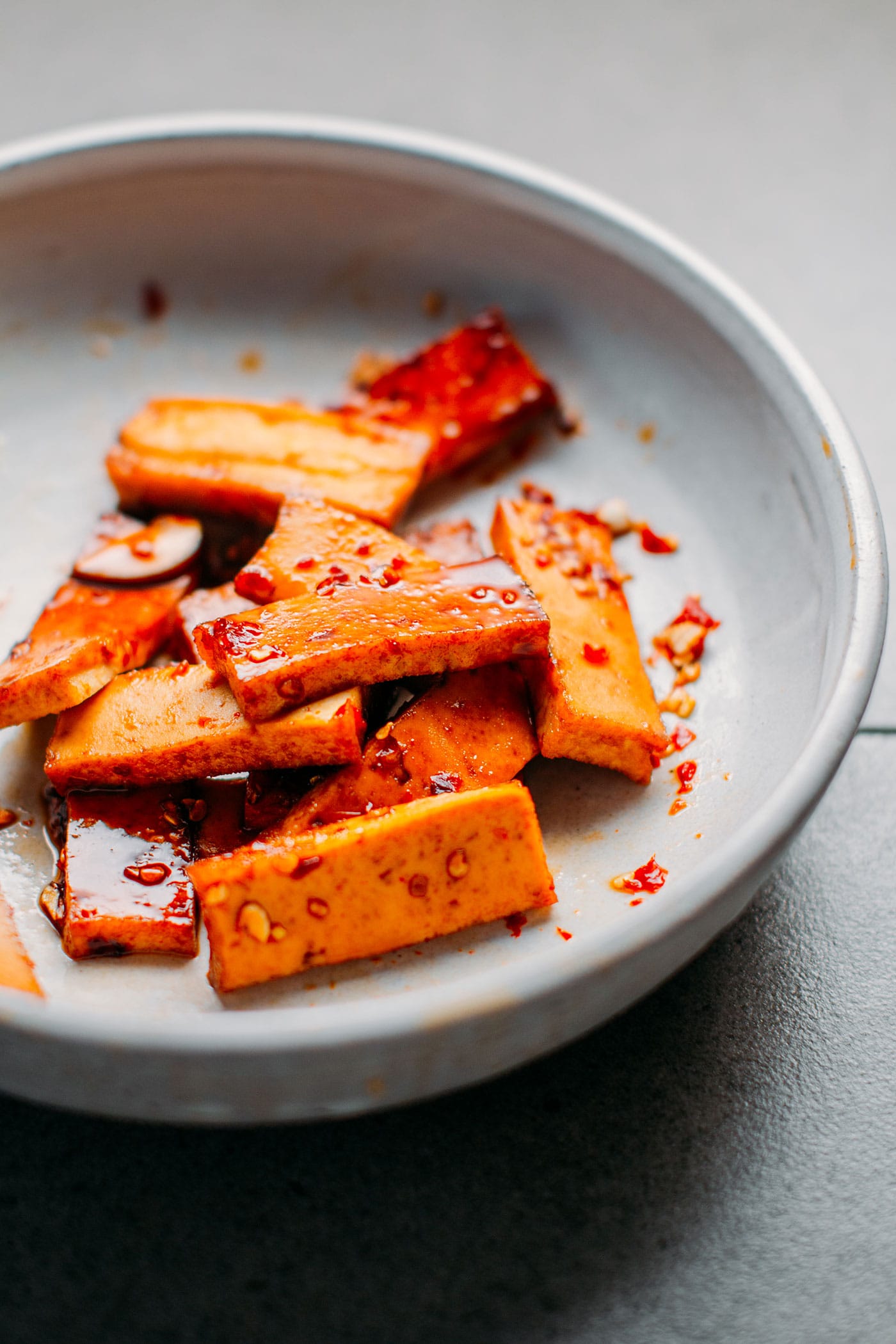 To assemble the sandwiches, cut each sesame donut in half and spread a generous dollop of hummus on the inside. Add some lettuce (or your favorite salad!), avocado slices, sautéed mushrooms, some pickles, and a couple of slices of teriyaki tofu.
There you have it, a portable, flavor-packed sandwich with a super tender sesame "bread"!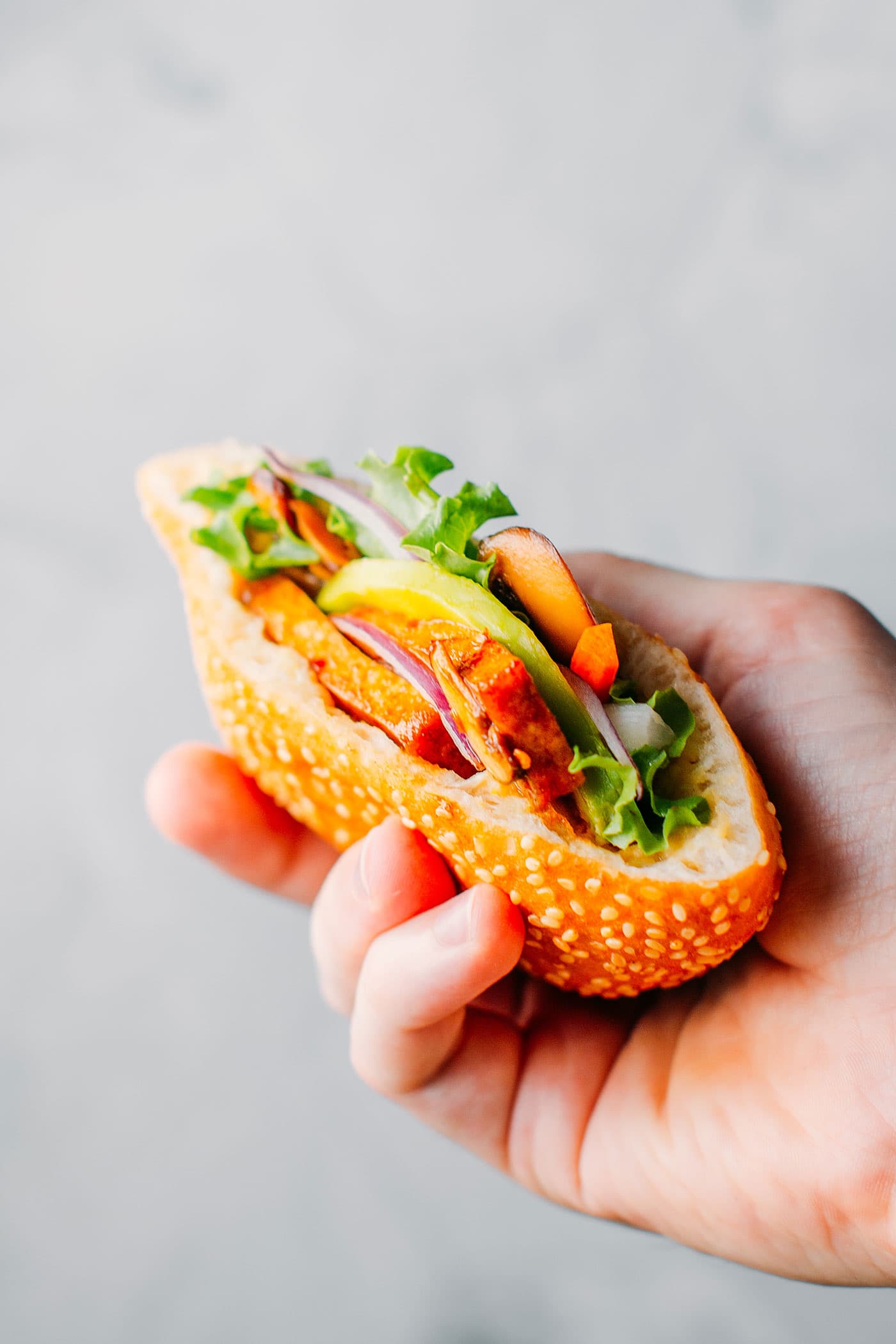 These sandwiches are fresh and packed with vegetables, healthy fats, and protein. The hummus and saucy teriyaki tofu add a lot of flavors, pickles bring some freshness, and the "bread" is so tender it's almost like a brioche!
Looking for more portable lunches? Check out these Spicy Thai Flaxseed Wraps, Pulled Mushroom Banh Mi, or Crispy Mushroom and Chick'n Gua Bao!
Let me know in the comments if you try this recipe!
Recipe
Teriyaki Tofu Sesame Sandwich
Tender sesame sandwich filled with hummus, teriyaki tofu, avocado, sautéed mushrooms, and pickles! A delicious, satisfying, and portable lunch!
Ingredients
1

block firm tofu

1

tbsp

soy sauce

1

tbsp

maple syrup

1

tsp

lime juice

2

cloves

of garlic

minced

1/8

tsp

five-spice

optional

3/4

cup

sliced mushrooms

1/2

cup

hummus

2-3

leaves

of lettuce

1

avocado

sliced

1/4

red onion

thinly sliced
Pickles
1/2

carrot

cut into matchsticks

1/2

white radish

cut into matchsticks

1/4

cup

water

2

tbsp

sugar

1/4

tsp

salt

1/4

cup

vinegar
Instructions
Start by preparing the pickles (can be made a few days ahead): Heat the water, sugar, and salt in a saucepan over medium heat to dissolve the sugar. Once dissolved, transfer to a bowl or jar. Add the vinegar, carrots, and radish. Refrigerate for at least 1 hour or up to 7 days.

Cut the tofu into thin slices and transfer to a deep plate. In a small bowl, prepare the marinade by combining the soy sauce, maple syrup, lime juice, garlic, and five-spice if using. Pour the marinade over the tofu and make sure each tofu slice is covered with the marinade. Let marinate for at least 30 minutes or up to 1 day in the refrigerator.

Heat a teaspoon of oil in a non-stick skillet. Once hot, add the sliced mushrooms and cook for about 5 minutes, or until mushrooms are cooked. Deglaze with a teaspoon of soy sauce and cook for another 30 seconds. Transfer the mushrooms to a small bowl.

To the same skillet, add the tofu with the marinade and cook for about 5 minutes, or until almost no liquid remains. Remove from heat.

To assemble: cut the sesame donuts in half. Spread about 2 tbsp of hummus on the inside. Add a leave of lettuce, avocado, some sautéed mushrooms, a few slices of red onion, some carrots and radish, and finally a couple of slices of teriyaki tofu. Repeat with the remaining donuts and serve immediately at room temperature!
Did you make this recipe?
Tag @fullofplants on Instagram and hashtag it #fullofplants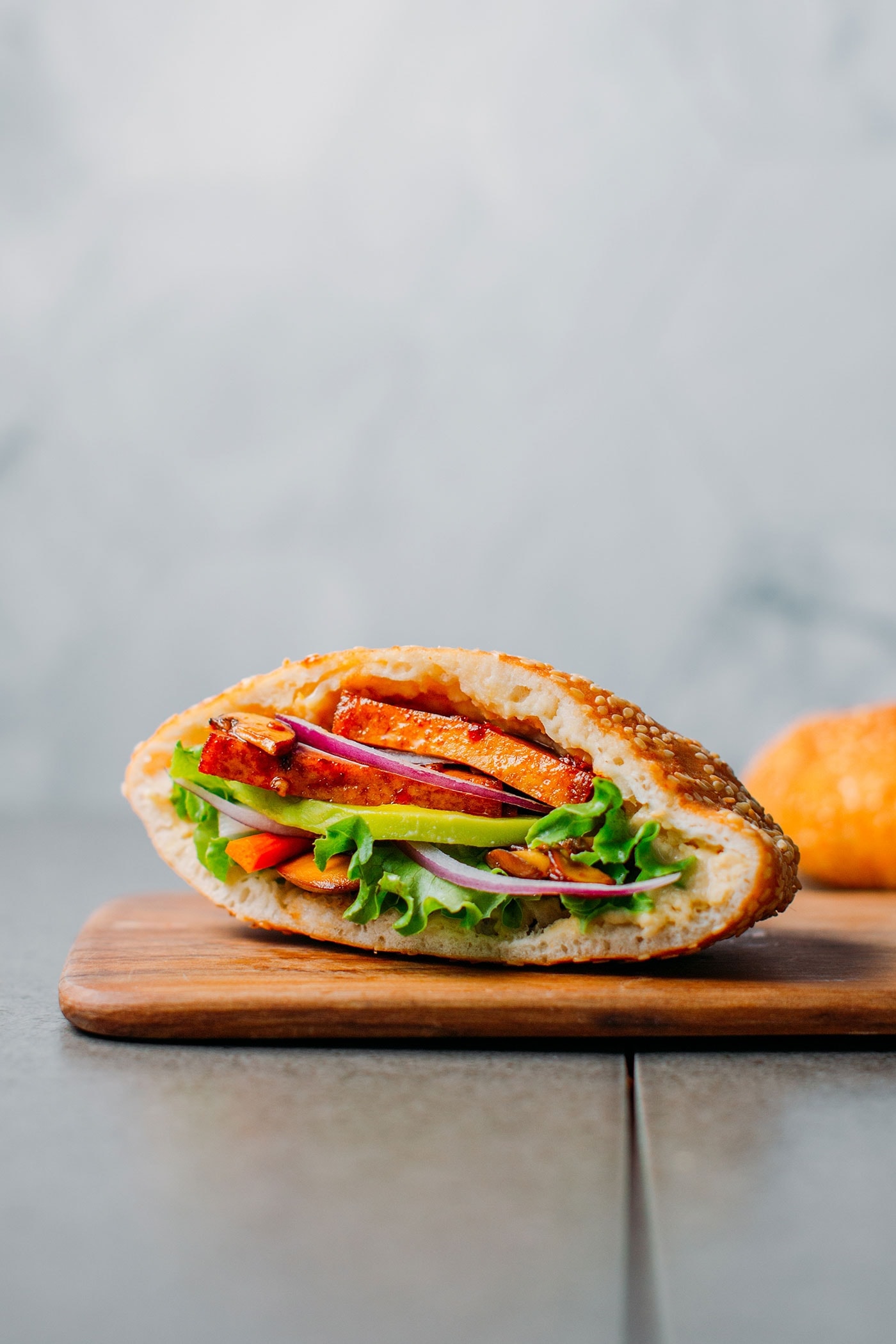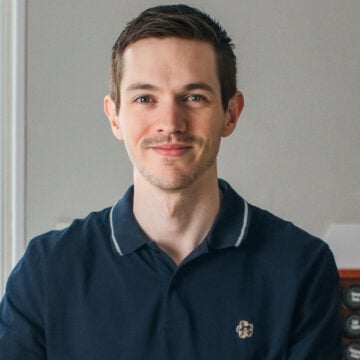 About the Author
Thomas Pagot is the founder, photographer, and recipe developer behind Full of Plants. He created the blog in 2016 as a personal cookbook for vegan recipes. Through years of recipe development, Thomas has successfully grown Full of Plants into a trusted resource for plant-based recipes.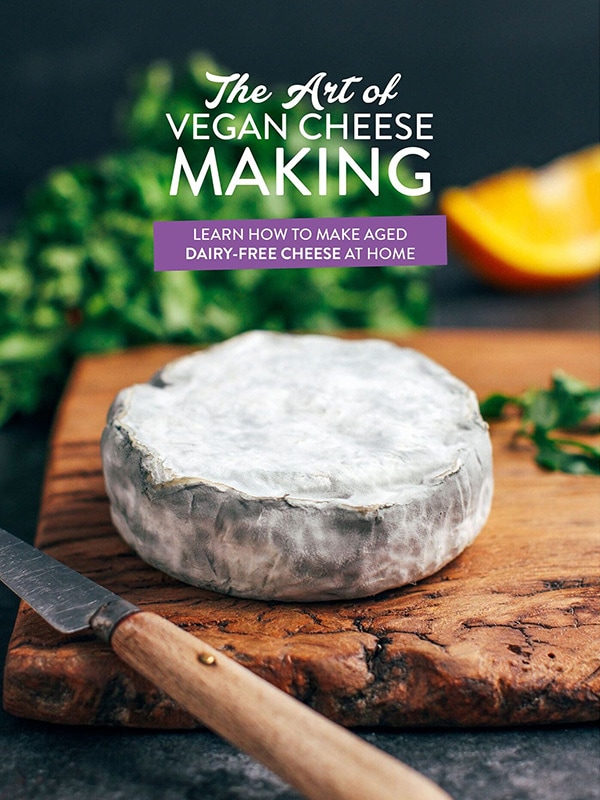 🧀 25 Mind-Blowing Vegan Cheese Recipes!
Sign up for the Full of Plants newsletter and you'll get new recipes delivered by email weekly, PLUS your FREE 100-page printable eBook!