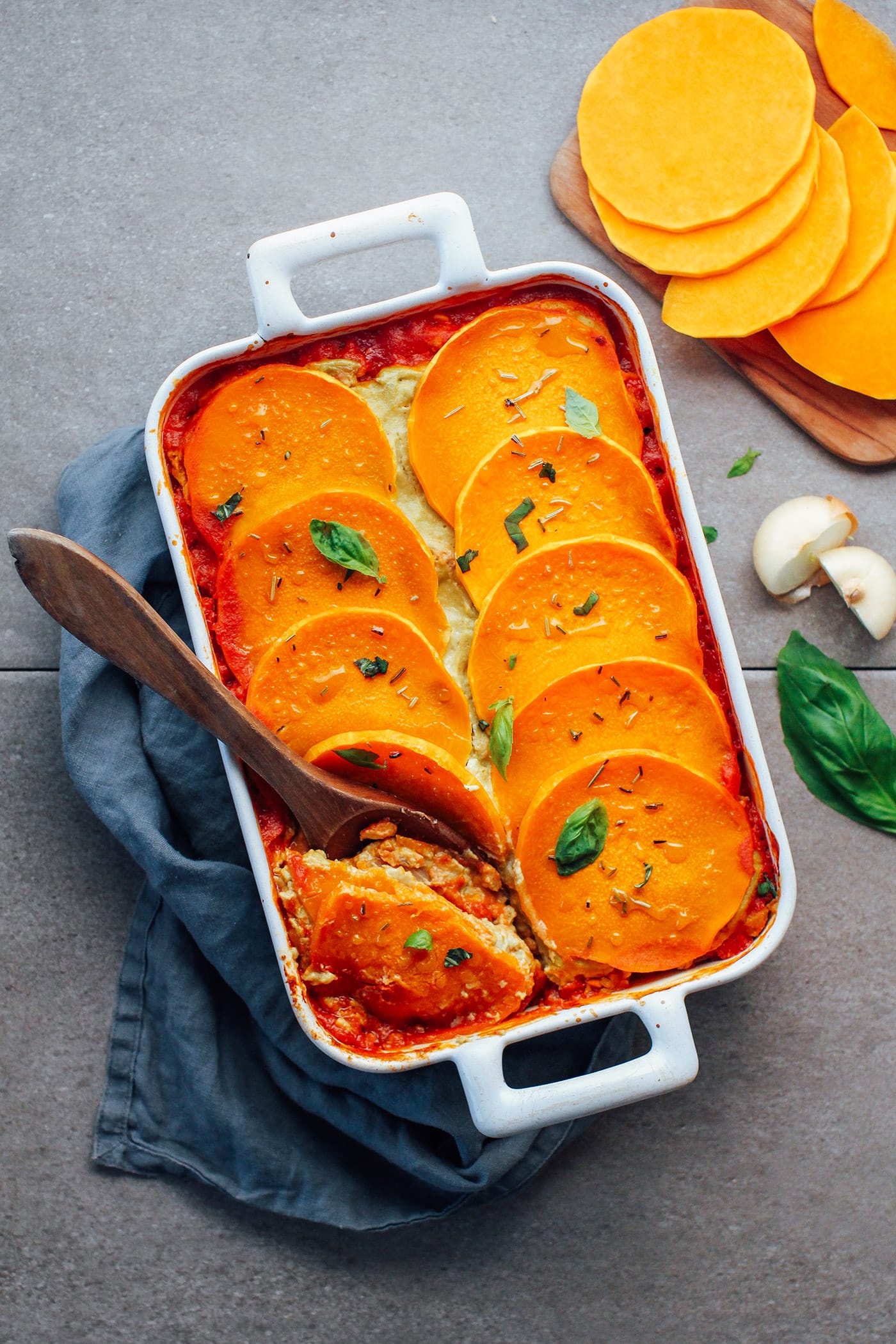 The king of comfort food has arrived guys.
I mean it. This creamy bake is layered with butternut squash, marinara sauce, pesto cream, and rosemary tempeh! It's super creamy, flavorful and so cozy!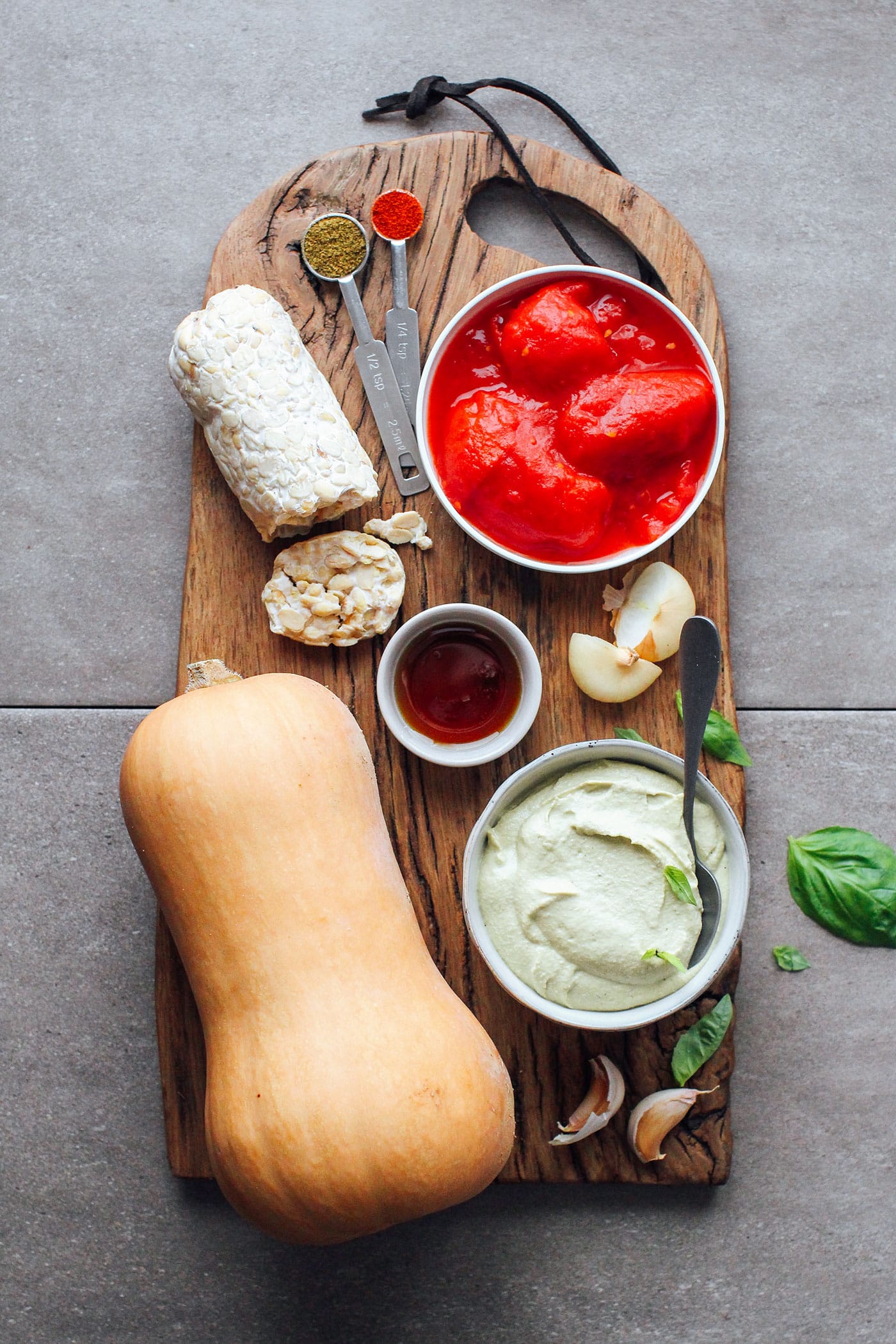 We start with the pesto cashew cream that is a key element in this recipe, it adds creaminess and a ton of flavor.
Making the pesto cream is very easy, you combine soaked cashews with vegan pesto, water, nutritional yeast, and lemon juice in a blender and blend until super smooth. If you are looking for vegan pesto, check out my Vegan Pesto Swirl Cream Cheese recipe, or you can simply buy it.
Next, we have the marinara sauce that consists of peeled tomatoes that are cooked with onion, garlic, and chili for some spiciness. Basically, you combine everything in a saucepan and let it simmer for about 35 minutes.
To add protein and texture to this dish, I added scrambled tempeh that is sautéed with soy sauce, maple syrup, and rosemary. If you don't have tempeh on hand, feel free to use tofu.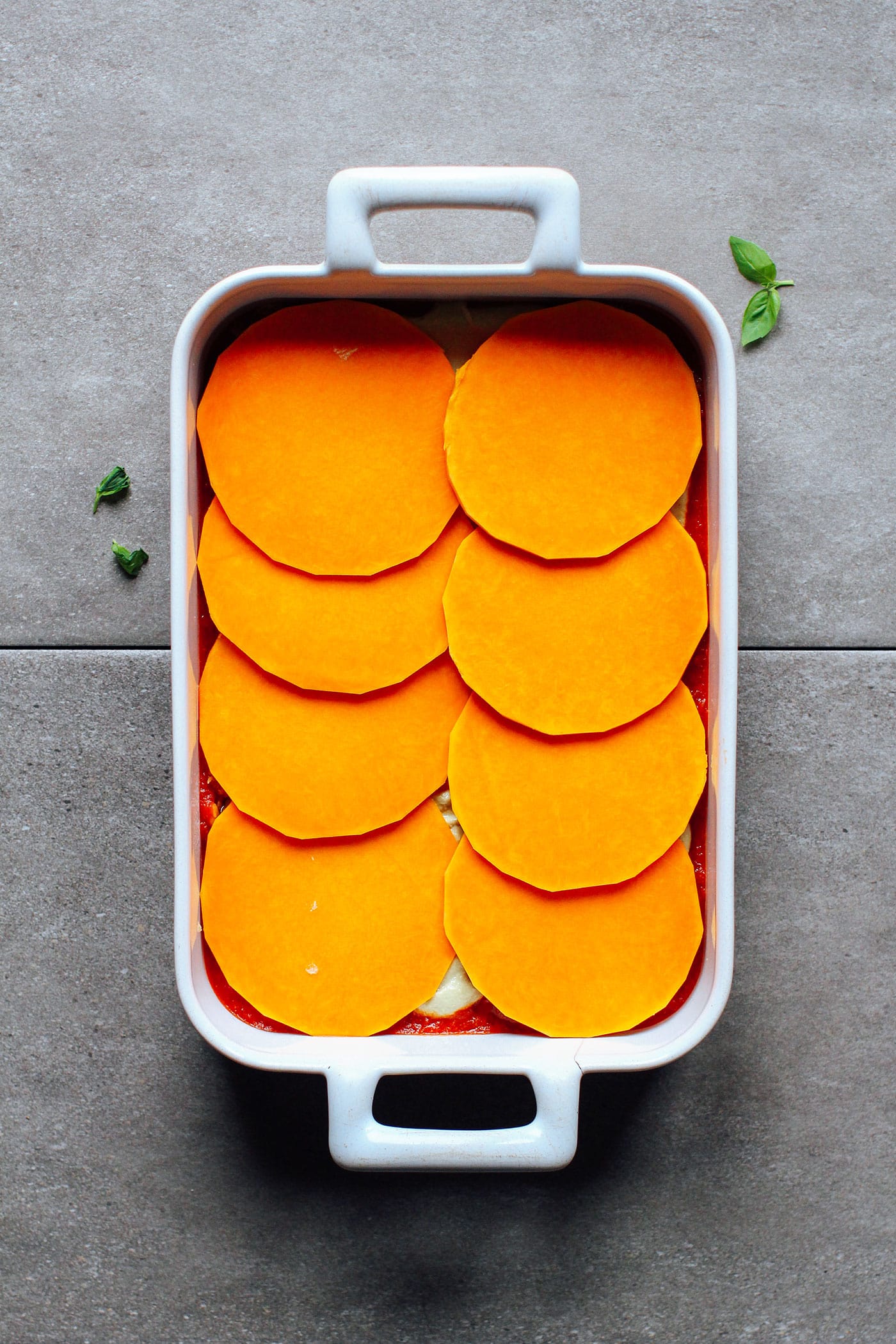 Finally, to make the "lasagna", we spread some marinara sauce in the bottom of a baking dish, top with scrambled tempeh, some pesto cream, and finish with thin butternut squash slices slightly overlapping. Repeat once again and it's ready to go in the oven!
If you are looking for a family-friendly dinner to warm you up on a cold weeknight, look no further! This bake (or "lasagna") is incredibly creamy, slightly sweet thanks to the butternut squash, and packed with protein!
Let me know in the comments if you try this recipe!
📖 Recipe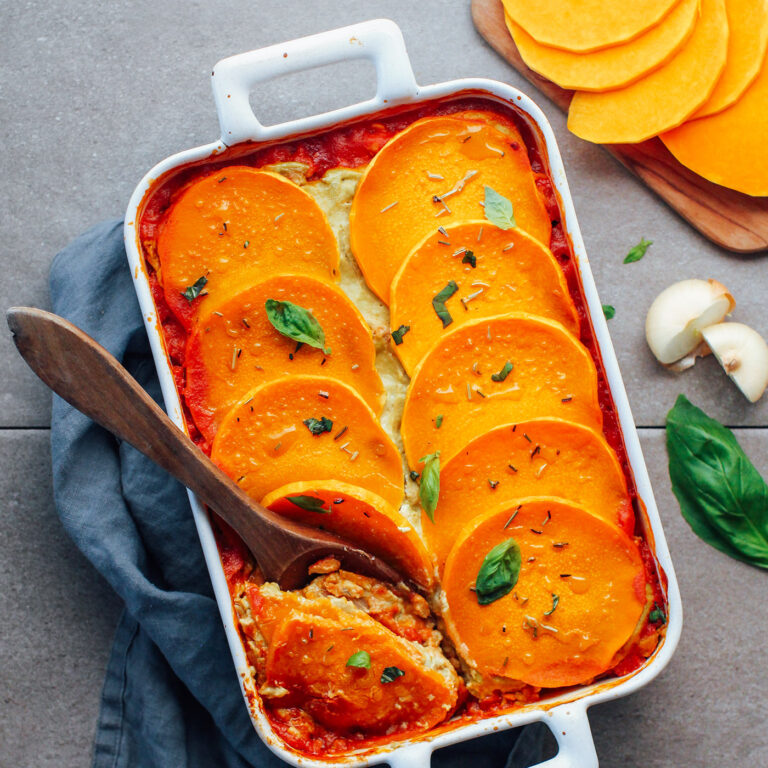 Tempeh & Pesto Butternut Squash Lasagna
Rich and comforting lasagna with marinara sauce, basil pesto, rosemary tempeh, and butternut squash! Creamy and comforting, a delicious dish to fight the cold days!
Ingredients
Instructions
Prepare the cashew pesto sauce: Drain the soaked cashews and transfer to a blender. Add the vegan pesto, water, nutritional yeast, lemon juice, and salt. Blend on high speed, or until smooth, about 2 minutes. Transfer to a bowl and cover with plastic film, set aside.

Prepare the tomato sauce: In a medium-size saucepan, heat the oil over medium heat. Once hot, add the onions and garlic and sautée for 3-5 minutes or until the onions are soft.

Add the peeled tomatoes with their juice to a blender and pulse 3-4 times until roughly chopped, the mixture should still be a bit chunky with tomato pieces. Transfer the tomato puree to the saucepan, bring to a boil and let simmer 35-40 minutes, or until it has slightly thickened.

Add the maple syrup, nutritional yeast, and ground chili, and stir to combine.

Prepare the tempeh: Using your hands, scramble the tempeh into small pieces and transfer to a bowl. Add the soy sauce, maple syrup, rosemary, cumin, paprika, and liquid smoke. Stir to coat the tempeh with the marinade.

Heat a tablespoon of oil in a large skillet over medium heat. Once hot, add the tempeh scramble and sautée for 3-5 minutes, or until it starts to brown. Remove from heat and set aside.

Make the lasagna: Preheat oven to 400°F (200°F). Pour half of the tomato sauce in the bottom of a 10x7-inch baking dish. Top with half of the tempeh scramble. Next, pour half of the cashew pesto sauce on top and try to spread it evenly using the back of a spoon. It's okay if it slightly mixes with the tomato sauce.

Arrange 10-12 slices of butternut squash overlapping on top of the pesto cream. Repeat with the rest of the tomato sauce, tempeh scramble, pesto cream, and another layer of butternut squash slices. Sprinkle the top layer with sea salt and rosemary.

Cover with aluminum foil and bake for 45-50 minutes, or until the butternut squash is fork tender. You can then put it under the grill for another 10 minutes to make the butternut squash golden brown on top.

Let cool a few minutes before serving. Butternut squash lasagna will keep for up to 4 days in the refrigerator or 1 month in the freezer.
Notes
* Be careful and use a very sharp knife to cut the butternut squash into thin slices. I recommend using the top half of the butternut squash (where there are no seeds).
Nutrition
Serving:
1
g
|
Calories:
632
kcal
|
Carbohydrates:
43.4
g
|
Protein:
25.6
g
|
Fat:
44
g
|
Fiber:
5.4
g
|
Sugar:
11.9
g
Did you make this recipe?
Tag @fullofplants on Instagram and hashtag it #fullofplants