These are not your traditional enchiladas and have very little to no Mexican flavors in it, but the principle stays the same: corn tortillas filled with veggies with a sauce and baked.
The difference here is that the enchiladas are filled with cauliflower, red kidney beans, and coated with a spicy-sweet-sour tomato sauce. A cheesy and creamy sauce comes on top to make these enchiladas super extra delicious.
BIG on flavor, easy to prepare, let's do this!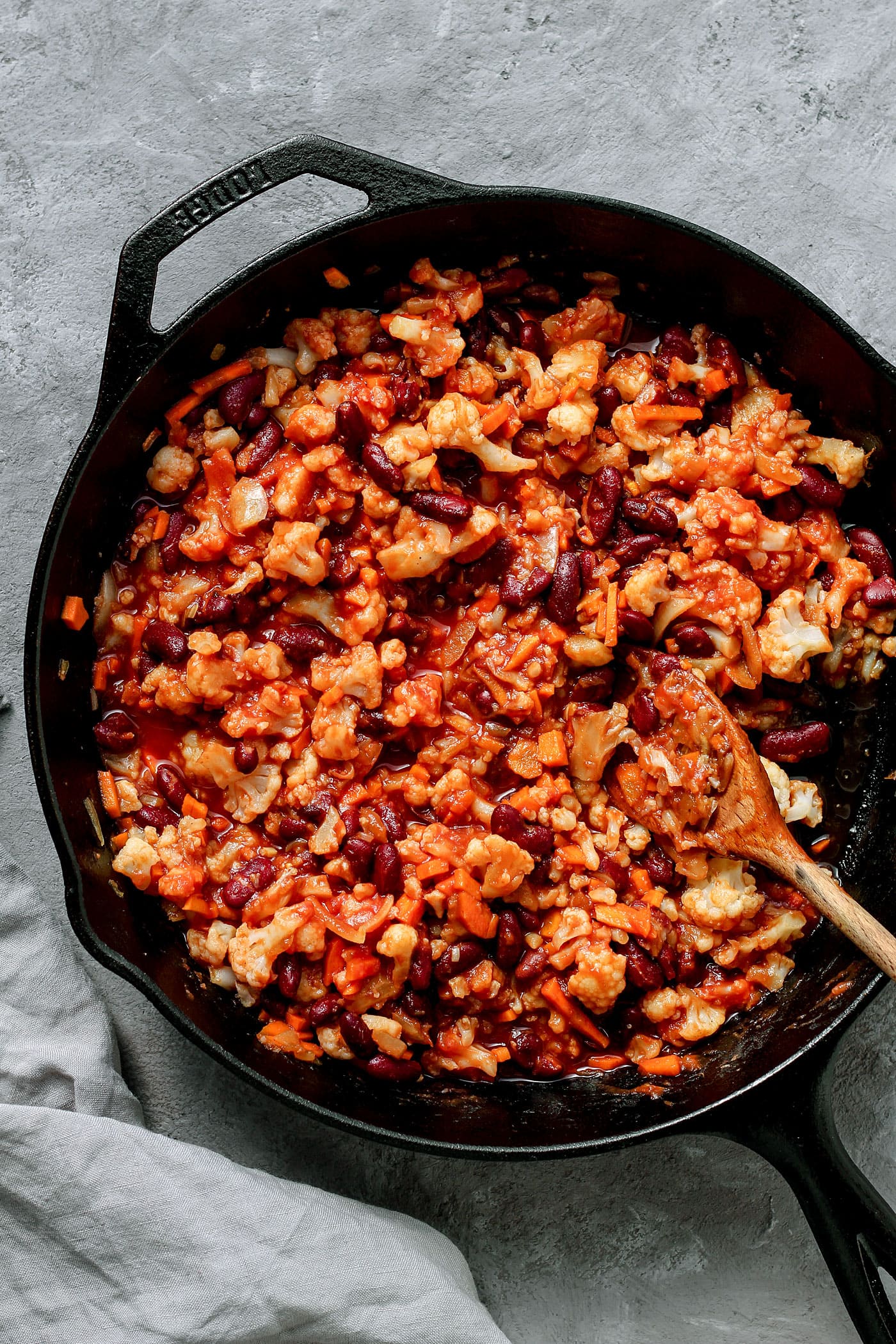 It all starts by cooking the cauliflower, you boil the florets for 8-10 minutes, or until soft. In the meantime, you can prepare the filling by sautéing the onion, garlic, and carrots for a few minutes. Stir in the cooked beans, cauliflower florets and finally the sweet and sour tomato sauce and your filling is done!
The tomato sauce is so easy, it relies on a base of pure tomato sauce, soy sauce for saltiness and umami factor, maple syrup for sweetness and white rice vinegar for the slightly sour after taste. Oh, and toasted sesame oil because I love it.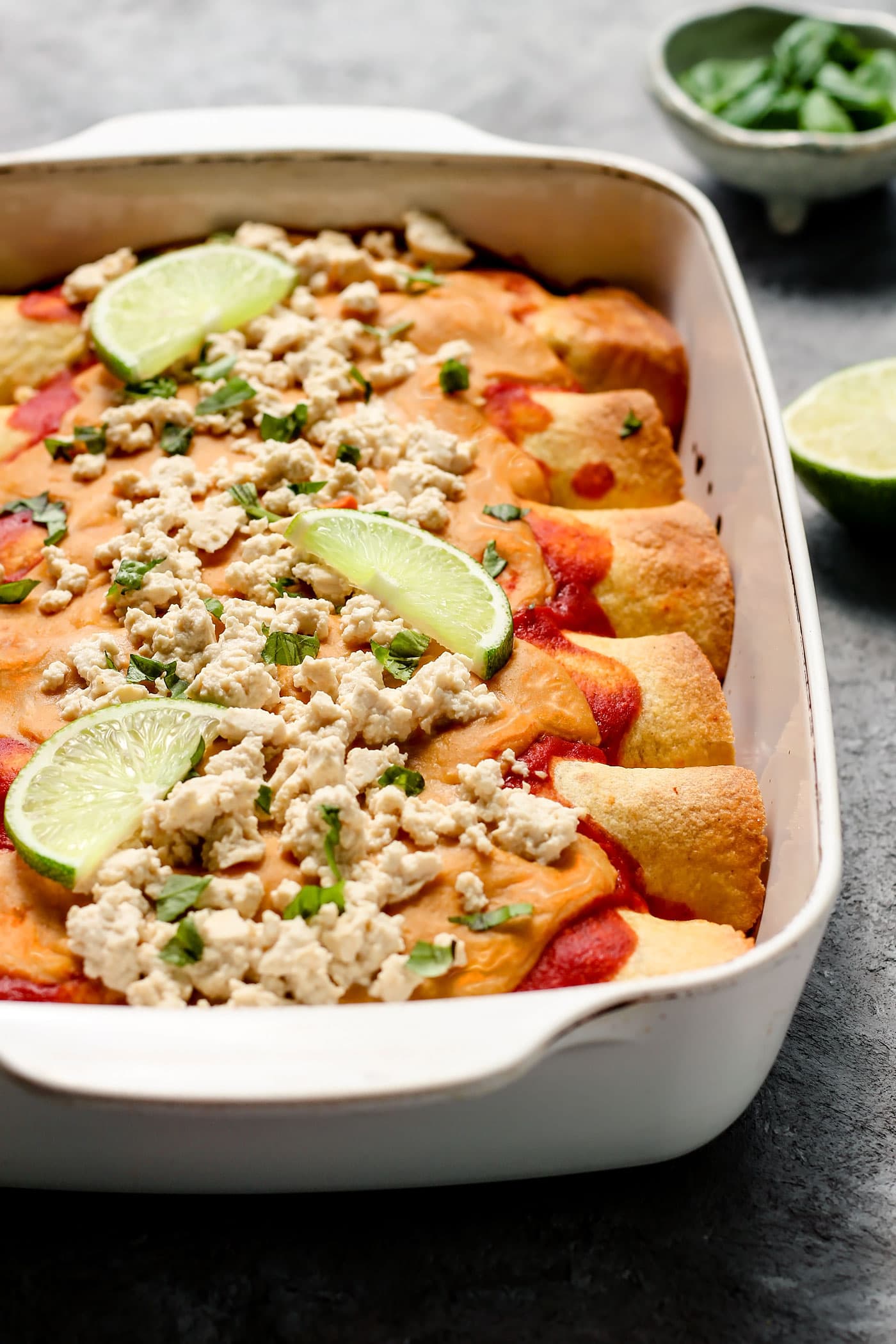 To top the enchiladas, I made a quick 10-minute cheesy sauce. It's savory, cheesy, creamy and take the enchiladas to the next level. Sweet and sour tomato sauce + cheesy sauce = TON of flavor.
Before serving, top the enchiladas with fresh basil or parsley, and if you are feeling extra fancy, tofu ricotta. I used Sam's recipe from It Doesn't Taste Like Chicken for the tofu ricotta, it takes only 10 minutes to prepare and makes a super tasty addition to this dish. Now I guess we can say these enchiladas are double cheese.
What I love about these enchiladas is that they reheat beautifully, pop them in the oven a few minutes and dinner is ready.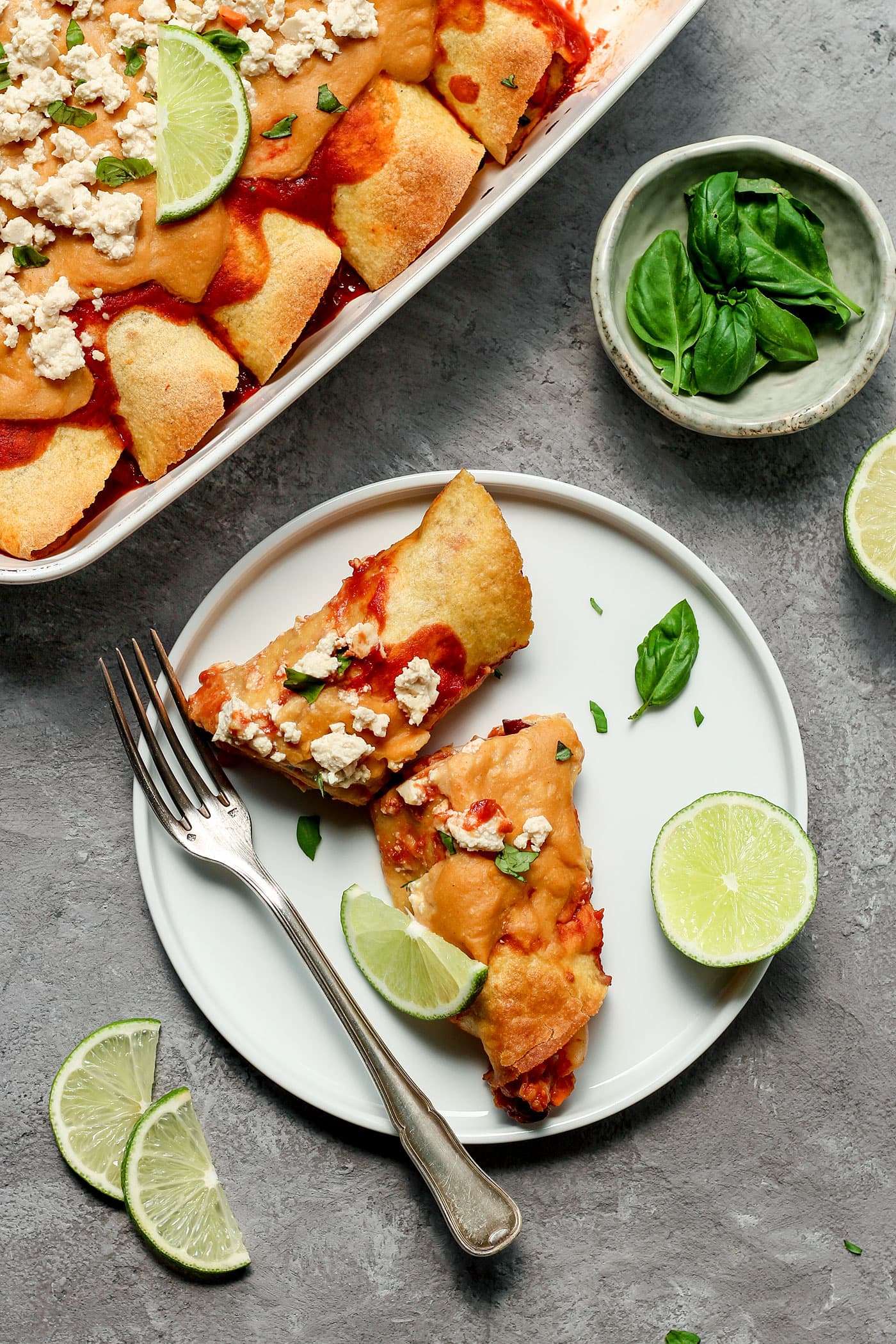 I'm not going to lie, these cauliflower enchiladas are so good I had them for breakfast the next day. And usually, breakfast always means something sweet to me as you can see here or here.
If you have non-vegan guests coming over for dinner, there is no doubt these will be a crowd pleasing meal!
Let me know in the comments if you try this recipe!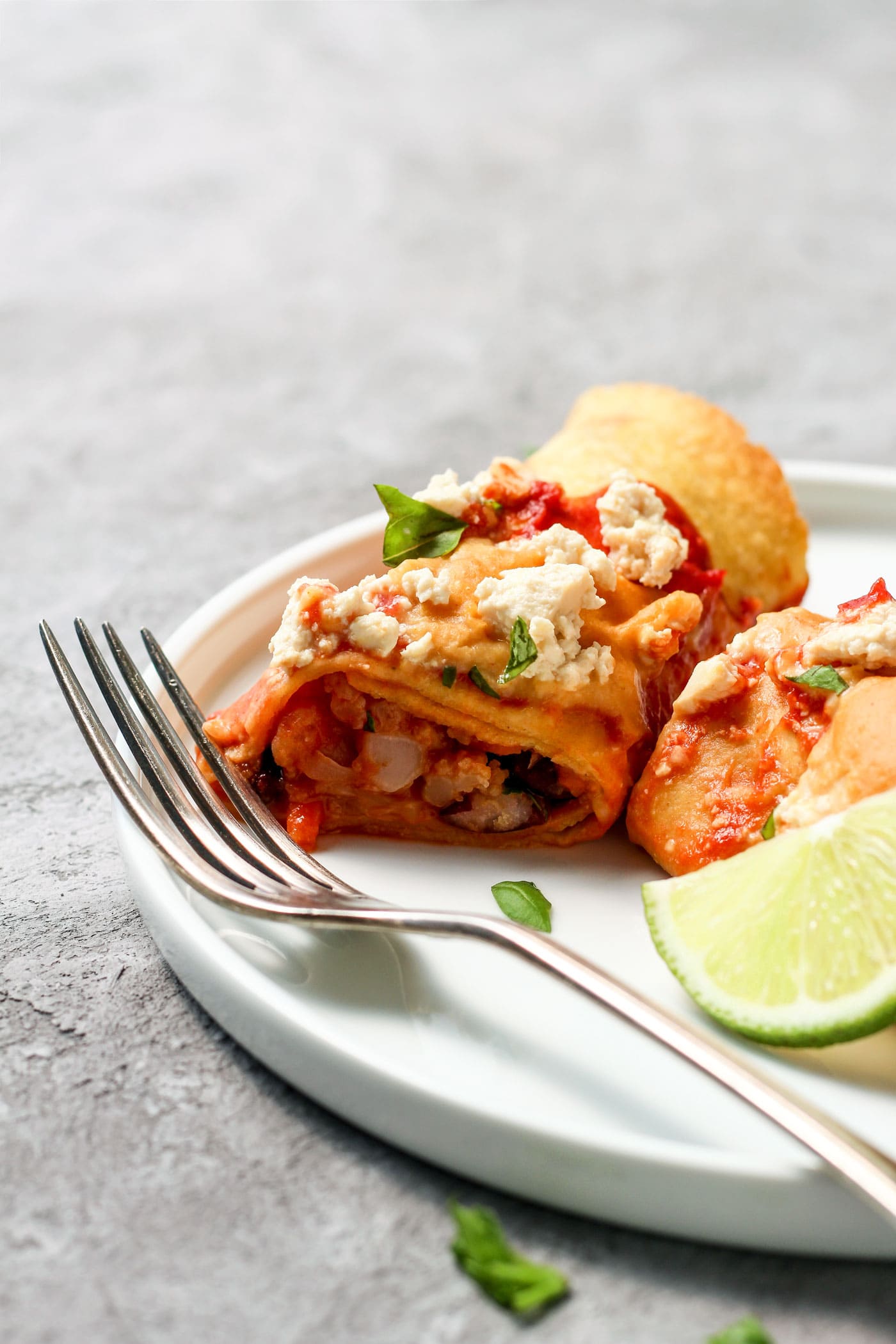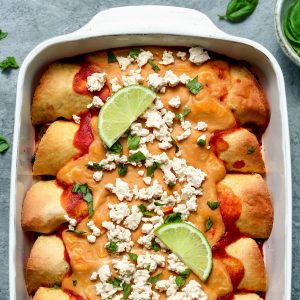 Sweet and Sour Cauliflower Enchiladas
Easy 45-minute enchiladas filled with cauliflower and red kidney beans, topped with fresh parsley and tofu ricotta. These enchiladas are big on flavor and have the perfect balance of spicy, sweet and sour.
Ingredients
Instructions
Sweet and Sour Tomato Sauce
In a medium size bowl, combine all the ingredients and mix well. Taste and adjust seasonings to your liking.
Enchiladas
Bring a large pot of salted water to a boil over high heat. In the meantime, chop off the thick bottom part of the cauliflower stem and discard it. Cut the cauliflower into small florets and rinse them under cool water.

Add the florets to the boiling water, reduce to medium heat and cook uncovered for 8-10 minutes, or until soft. I like to slightly undercook it to have more texture. Once cooked, drain and set aside.

Heat the oil in a large skillet over medium heat. Add the onion, garlic, and carrots, and cook for 6-8 minutes until the onion is translucent and the carrots soft. Stir in the ground coriander.

Add the red kidney beans and cooked cauliflower to the skillet, and cook for another 3-5 minutes, stirring regularly.

Reserve about ⅔ cup of the tomato sauce for topping later, and add the remaining sauce to the skillet. Stir to coat, making sure all the vegetables are coated with the sauce, cook for another 2 minutes. Remove from heat and set aside.

Preheat oven to 350°F. Spread about ⅓ cup of the tomato sauce in the bottom of a 13x9-inch baking dish.

Next, to soften the corn tortillas, heat some oil in a large skillet and lightly fry the tortillas, one at a time for 10-15 seconds per side. Drain on a paper towel to remove excess oil.

Take a tortilla and place ⅓ cup of the filling in a line down the center. Roll up the tortilla to seal it. Transfer the enchilada to the pan and repeat with the remaining tortillas.

Spread the remaining tomato sauce on the enchiladas, pour the cheesy sauce on top, and tofu ricotta if using.

Bake for 20 minutes, the tortillas should be golden brown. Top with fresh chopped basil, lime slices and serve immediately.

Leftovers will keep for up to 3 days in the refrigerator. To reheat, cover with foil and warm for 20-25 minutes in a 350°F preheated oven.
Cheesy Sauce
In a small saucepan, combine the almond milk, nutritional yeast, tahini, cornstarch, garlic powder, and salt.

Whisk well to make sure the cornstarch is dissolved. Heat over medium-high heat and bring to a boil, whisking constantly. As soon as the sauce starts to thicken, remove from heat, stir in the lemon juice and pour over the enchiladas.
Notes
You will have enough filling for 8 enchiladas. If you can only fit 6 in your baking pan like I did, the filling leftovers will keep for up to three days in the fridge.
These enchiladas are not overly sweet at all, if you have a sweet tooth I would recommend adding 1 tablespoon more maple syrup.
Nutrition
Serving:
1
Enchilada
|
Calories:
256
kcal
|
Carbohydrates:
42.6
g
|
Protein:
10
g
|
Fat:
6.1
g
|
Fiber:
6.8
g
|
Sugar:
7.8
g
DID YOU MAKE THIS RECIPE?
Tag @fullofplants on Instagram and hashtag it #fullofplants