The quest to finding the perfect comforting, hearty, and flavorful pasta dish is over. Imagine crispy and tender gnocchi coated in a vibrant, garlicky and cheesy kale pesto!
This gnocchi dish is plant-based, gluten-free, satisfying, and perfect for Fall or Winter! A must-try!
Jump to:
📔 What are Gnocchi?
Gnocchi are Italian dumplings often prepared with cooked mashed potato and flour/semolina. This type of pasta is cut into bite-size pieces, and served with a sauce or a broth as an entrée.
🍠 How to Make Sweet Potato Gnocchi
It starts with the sweet potato that is roasted until tender, about 40 minutes.
Roasting the sweet potato not only gives it a deeper flavor, but also prevents the flesh from being too moist.
Next, we scoop out the sweet potato flesh and mix it with rice flour and potato starch to create a dough. We went with rice flour to keep this recipe gluten-free, but you can obviously use all-purpose flour if you prefer.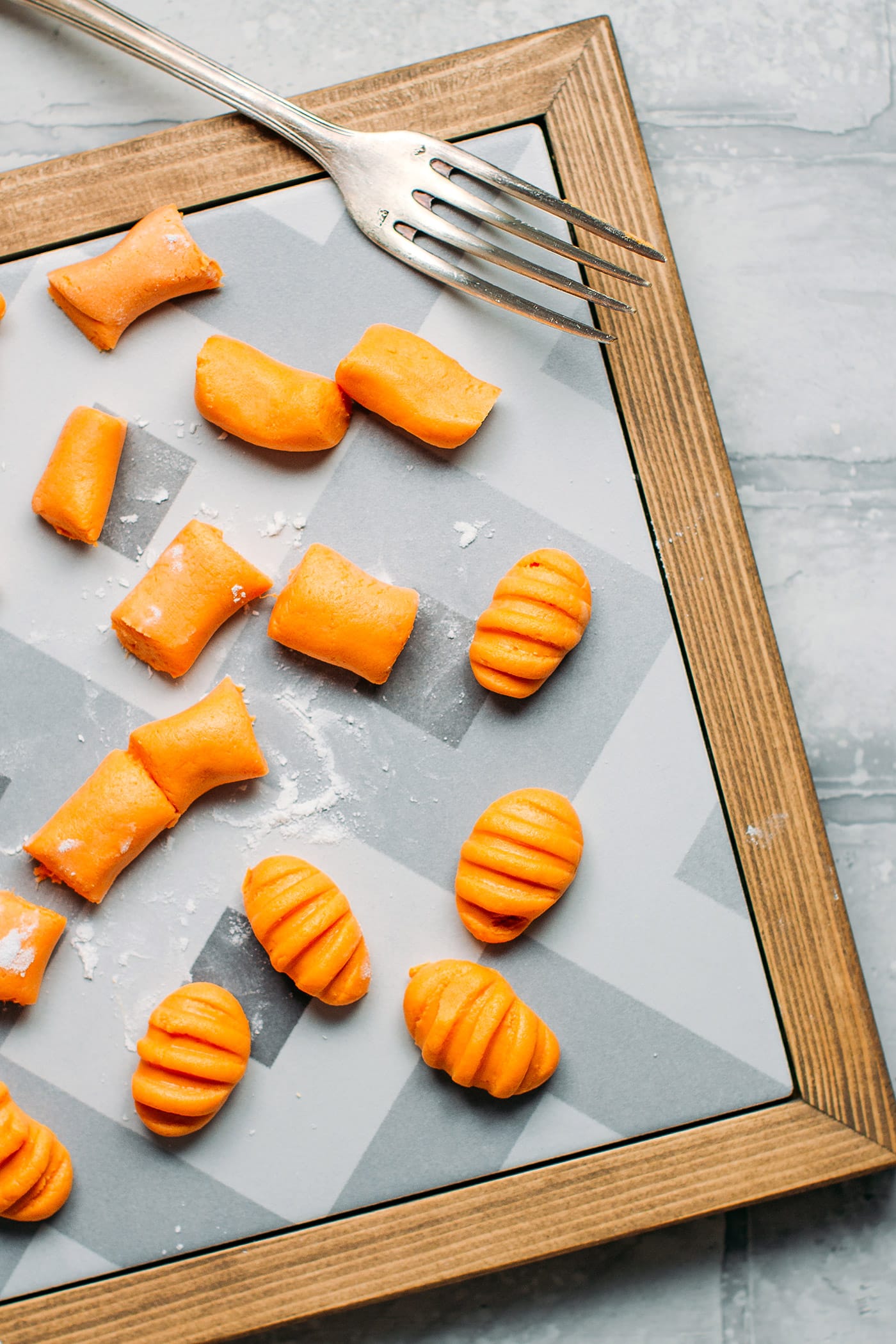 Once the dough is ready, let it rest for about 30 minutes, to allow the flour to absorb some of the moisture.
Next, you want to divide the dough into 4 balls, and roll each ball into a long roll.
Cut each log into bite-size pieces, roll each piece into a ball, and use a fork to create some indentations. To cook, boil the gnocchi for 2-3 minutes, or until they start to float.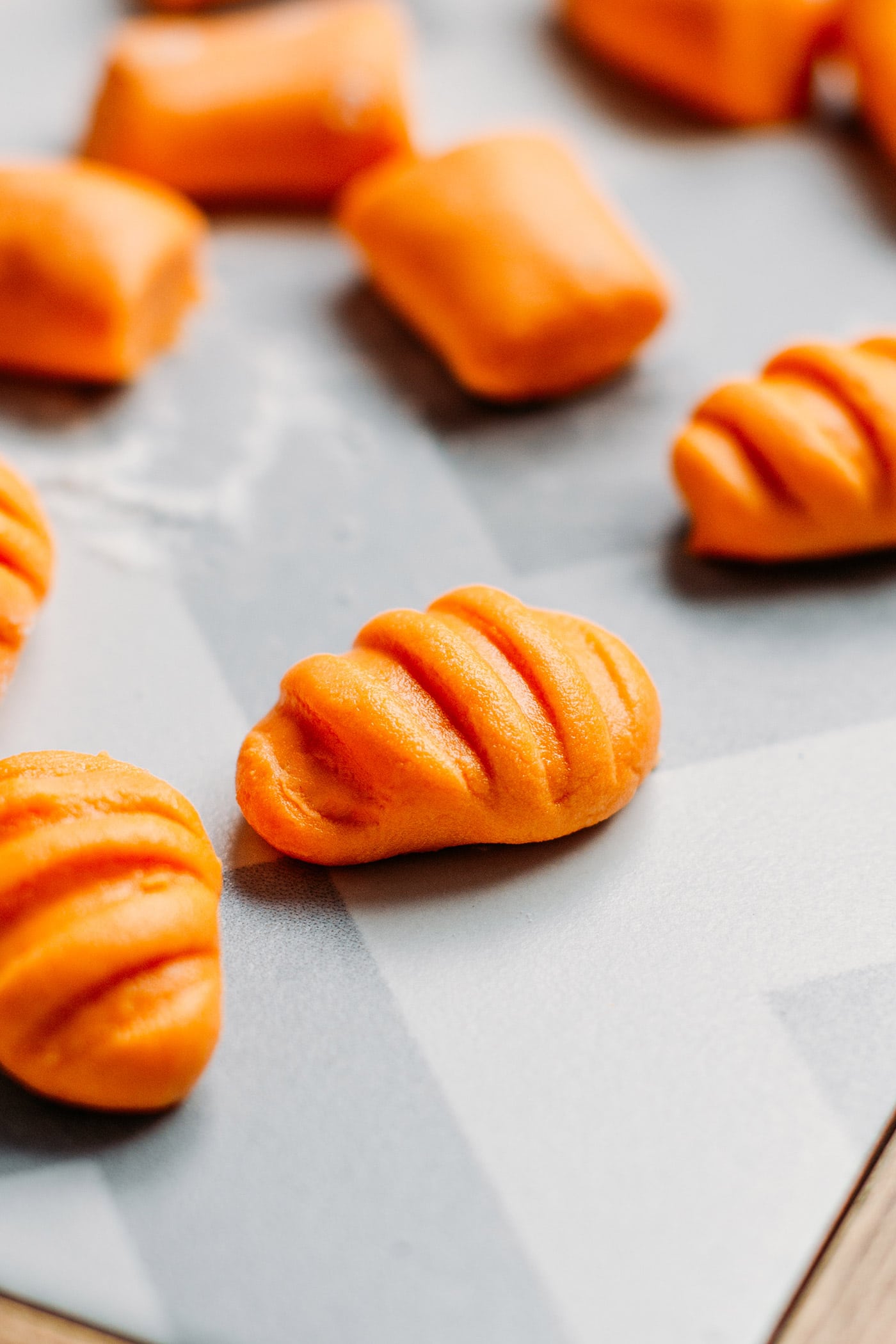 🥬 How to Make Kale Pesto
Now let's talk about the pesto!
Raw kale makes the base, then we have olive oil for richness, lime and garlic for freshness, and nutritional yeast for a subtle cheese flavor. Process all of the ingredients together in a food processor, until you get a runny and slightly chunky consistency.
Finally, sauté the gnocchi in some butter to give them a crispy texture, and coat with the garlicky kale pesto!
The subtle sweetness of sweet potato gnocchi balances so well with the hearty and herby kale pesto!
📘 Tips
When preparing the gnocchi: do not add all of the rice flour all at once. Depending on the variety of the sweet potato, you might need more or less flour. Start with ½ cup of rice flour, and add more, one tablespoon at a time, until you get a soft and just very slightly sticky dough.
The dough should have the consistency of a pizza dough, soft and not too sticky. If you add too much flour, your gnocchi will be too hard and chewy.
To prepare the kale pesto, I recommend using the small bowl of a food processor. If using the large bowl, you might have to double the quantities.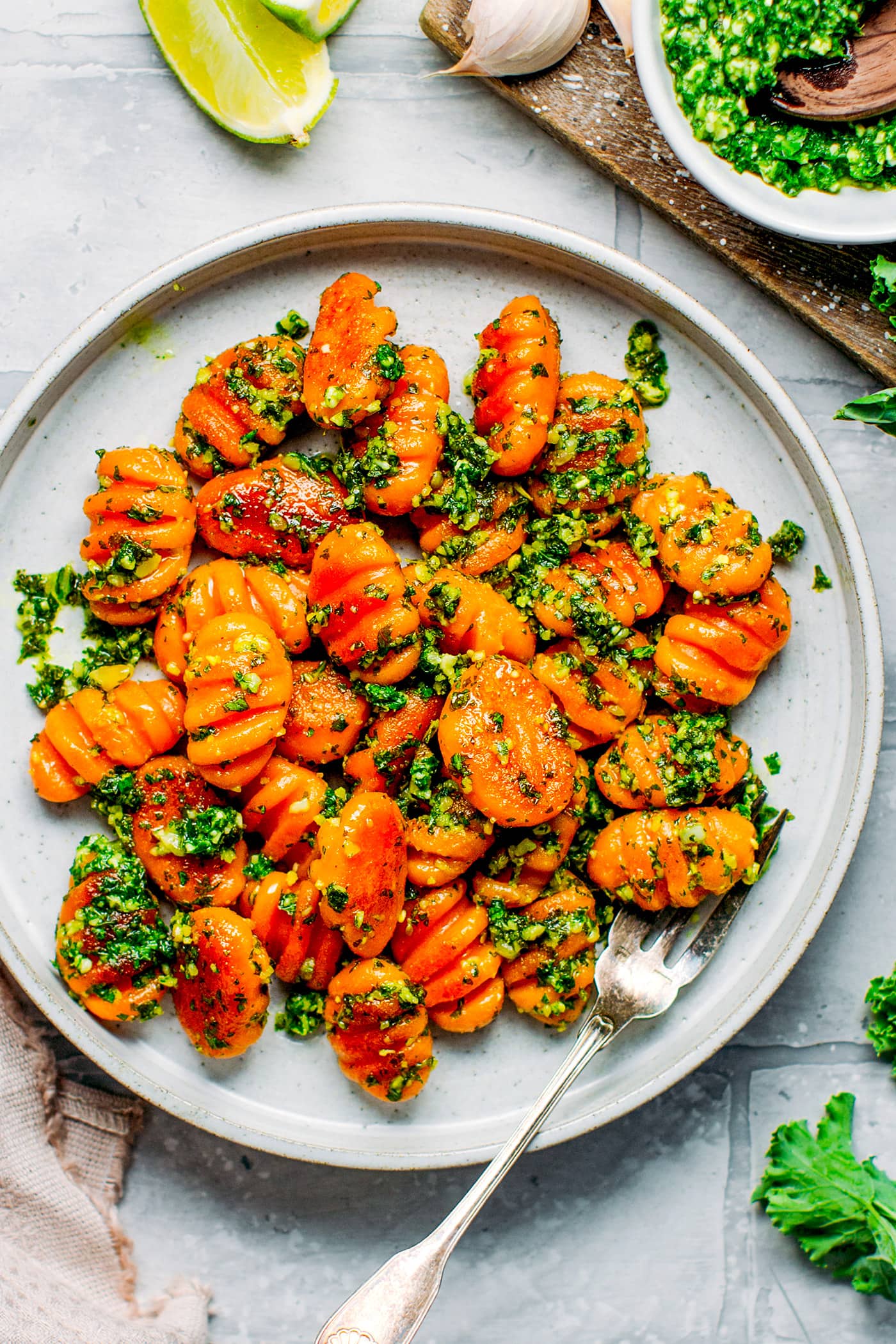 This sweet potato gnocchi with kale pesto makes a delicious lunch/dinner, but can also be served as a side for your holiday table!
Looking for more pasta recipes? Check out this Creamy Caramelized Onion Pasta, Vegan Sriracha Mac & Cheese, or these Char Siu Beef Noodles!
Let me know in the comments if you try this recipe!
📖 Recipe
Sweet Potato Gnocchi with Kale Pesto
Crispy pan-fried sweet potato gnocchi coated with a rich and garlicky kale pesto! It's easy, plant-based, packed with flavor, and so comforting!
Ingredients
Sweet Potato Gnocchi
1

medium

sweet potato

(about ¾ cup purée)

¾

cup

rice flour

4

tablespoon

potato starch

¼

teaspoon

salt

1

tablespoon

vegan butter

or oil
Kale Pesto
1

cup

loosely packed kale

3

tablespoon

olive oil

2

tablespoon

cashews or pine nuts

1

tablespoon

lime juice

1 and ½

teaspoon

nutritional yeast

1

clove of garlic

⅛

teaspoon

salt

adjust to taste
Instructions
Sweet Potato Gnocchi
Preheat oven to 400°F (200°C) and line a baking sheet with parchment paper.

Wash the sweet potato and prick it a few times using a thin knife. Place on the baking sheet and roast for about 45 minutes, or until the flesh is tender. Remove from the oven, cut the sweet potato in half lengthwise, and let it cool completely.

Scoop out the flesh and transfer to a mixing bowl. Add ½ cup of the rice flour, potato starch, and salt. Using a wooden spoon, mix to combine. At this point, the dough should be very sticky, add one tablespoon of rice flour at a time and mix to incorporate. I ended up using a total of ¾ cup rice flour. The dough should be soft and just very slightly sticky.

Cover the dough with plastic film and let it rest at room temperature for about 30 minutes.

Divide the dough into 4 balls. Roll each ball into a long 1-inch thick log. Cut each log into 16 bite-size pieces. I recommend rolling the dough on a smooth countertop, or a cutting board lined with plastic film to prevent the dough from sticking.

To shape the gnocchi, take one piece of dough and roll it into a ball. Place it in the palm of your hand and use a fork to create some indentations by slightly sliding the tines on the dough. Do not press too much. Place on a cutting board and repeat with the remaining balls of dough.

Bring a large pot of water to a boil. Once boiling, carefully drop half of the gnocchi into the boiling water and cook until they float, 2-3 minutes. Use a slotted spoon to remove the gnocchi from the water and transfer to a plate. Repeat with the remaining gnocchi.
Kale Pesto
Add all of the ingredients to the small bowl of a food processor and process 15-30 seconds, or until kale is very finely chopped and combined with the oil. It's okay if it's still slightly chunky.
To Assemble
Heat the butter (or oil) in a large non-stick skillet. Once hot, add the drained gnocchi and sauté for 3-5 minutes, stirring regularly, until they are golden brown and crispy.

Next, add the kale pesto, stir to coat, and cook for one more minute. Serve immediately!

These gnocchi are best served the same day if you want them crispy on the outside and tender on the inside. Gnocchi will keep for up to 2 days in the refrigerator, reheat gently over medium heat.
Nutrition
Serving:
1
serving
Calories:
533
kcal
Carbohydrates:
76.8
g
Protein:
6.7
g
Fat:
23.2
g
Fiber:
6.4
g
Sugar:
10
g
DID YOU MAKE THIS RECIPE?
Tag @fullofplants on Instagram and hashtag it #fullofplants