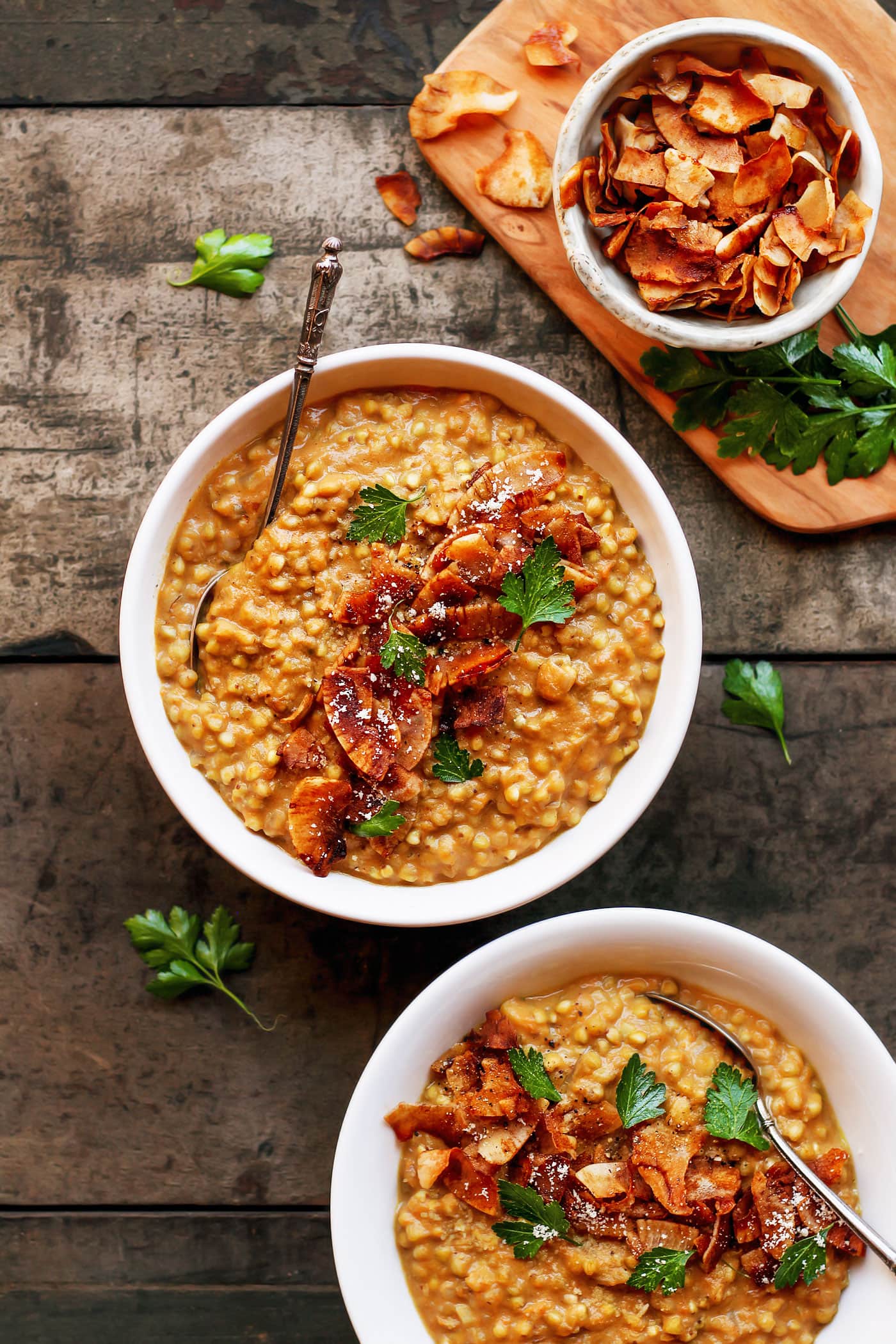 And the buckwheat frenzy continues.
If you guys have noticed I already released a few recipes featuring buckwheat groats, like my buckwheat pesto salad, or this cashew buckwheat curry. I feel buckwheat groats are highly underrated, they cook quickly and are packed with nutrients, plus they have a nice crunchy texture. This is definitely not the last recipe to use this wonderful grain, more are coming!
This risotto is SO flavorful! Buckwheat groats are cooked in coconut milk for extra creaminess and pureed sweet potatoes for a subtle sweetness. The combination of both gives the risotto a buttery flavor. You're going to love this one!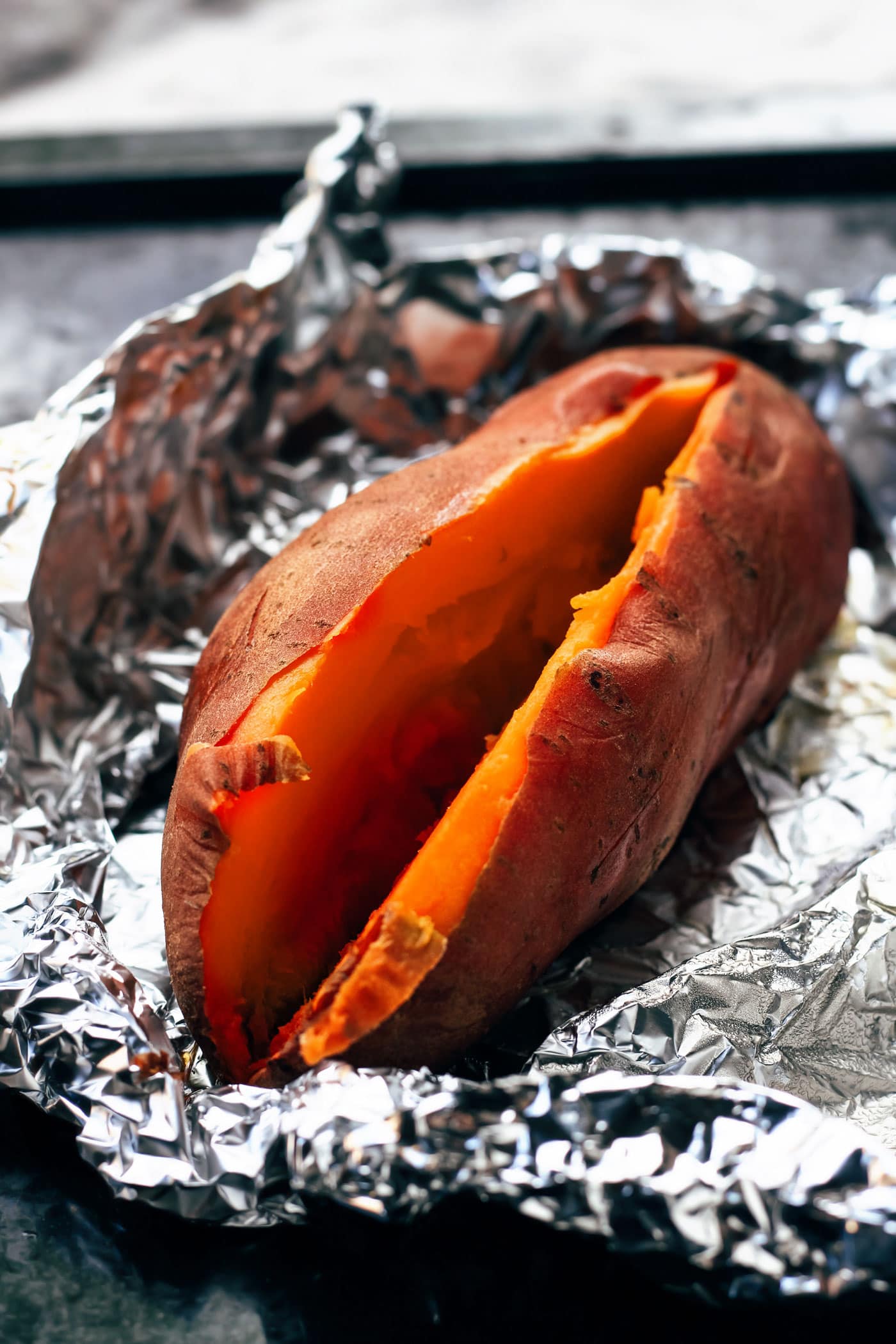 You start by roasting the sweet potatoes in the oven until soft, then transfer to a blender or food processor and blend until smooth.
Once this is done, you can start the risotto. Shallots and garlic are cooked until golden brown, then comes the buckwheat groats that are toasted to bring out their natural nuttiness.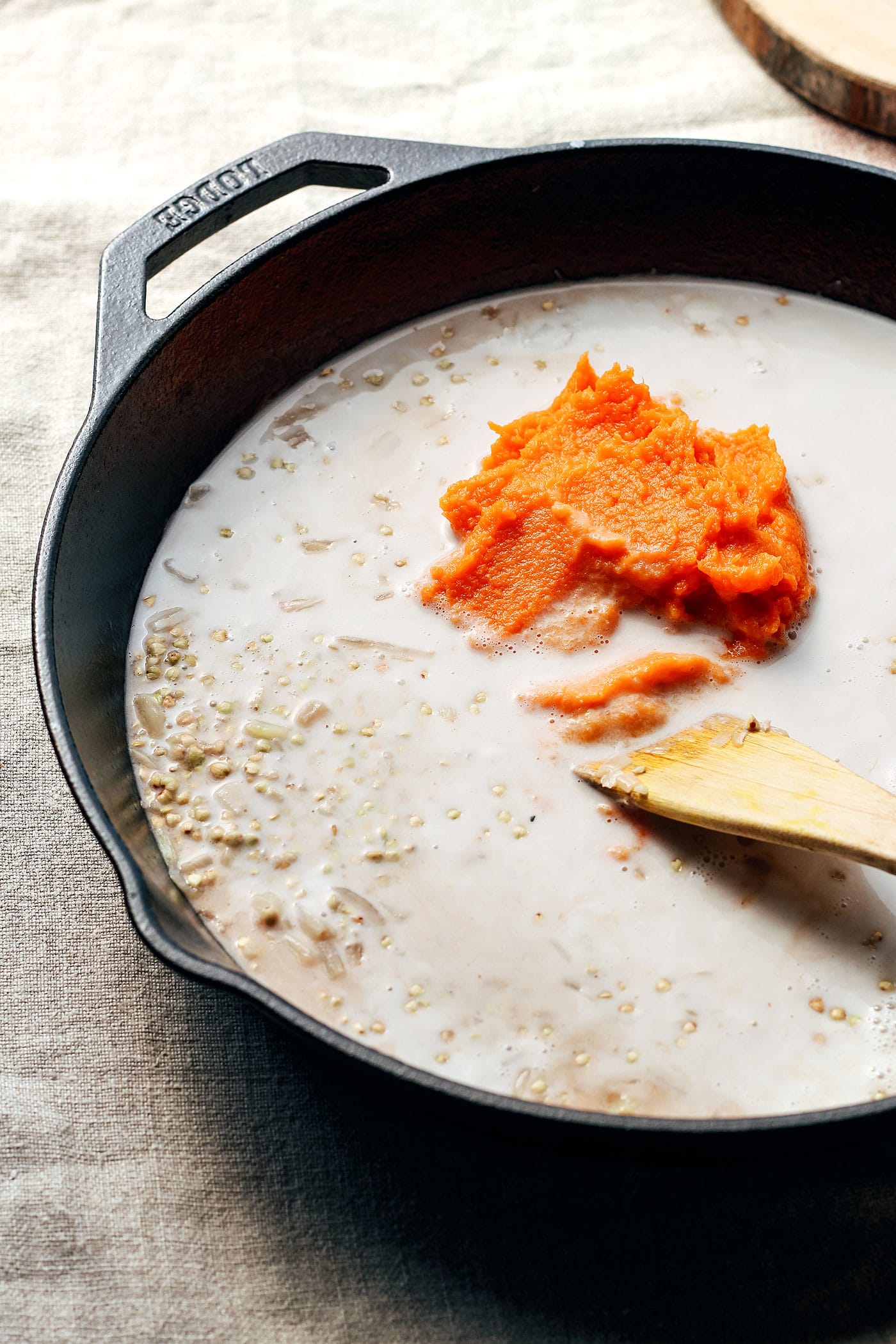 Stir in the white wine (essential for any risotto), coconut milk, sweet potato purée, a pinch of smoked paprika for a hint of smokiness, and let simmer 25 minutes. Done. I also added some nutritional yeast after cooking to give the risotto a more buttery flavor.
This recipe comes together in a little less than one and a half hour because of the roasting time for the sweet potato. If you want to shorten cooking time on a weekday, the sweet potato purée can be made up to 2 days ahead and kept in the fridge.
Next, comes the toppings, which are optional but add texture and flavor. I went with coconut bacon, fresh parsley and a sprinkle of vegan parmesan. Make sure to top with coconut bacon just before serving, otherwise, it will become softer and lose its crispy texture.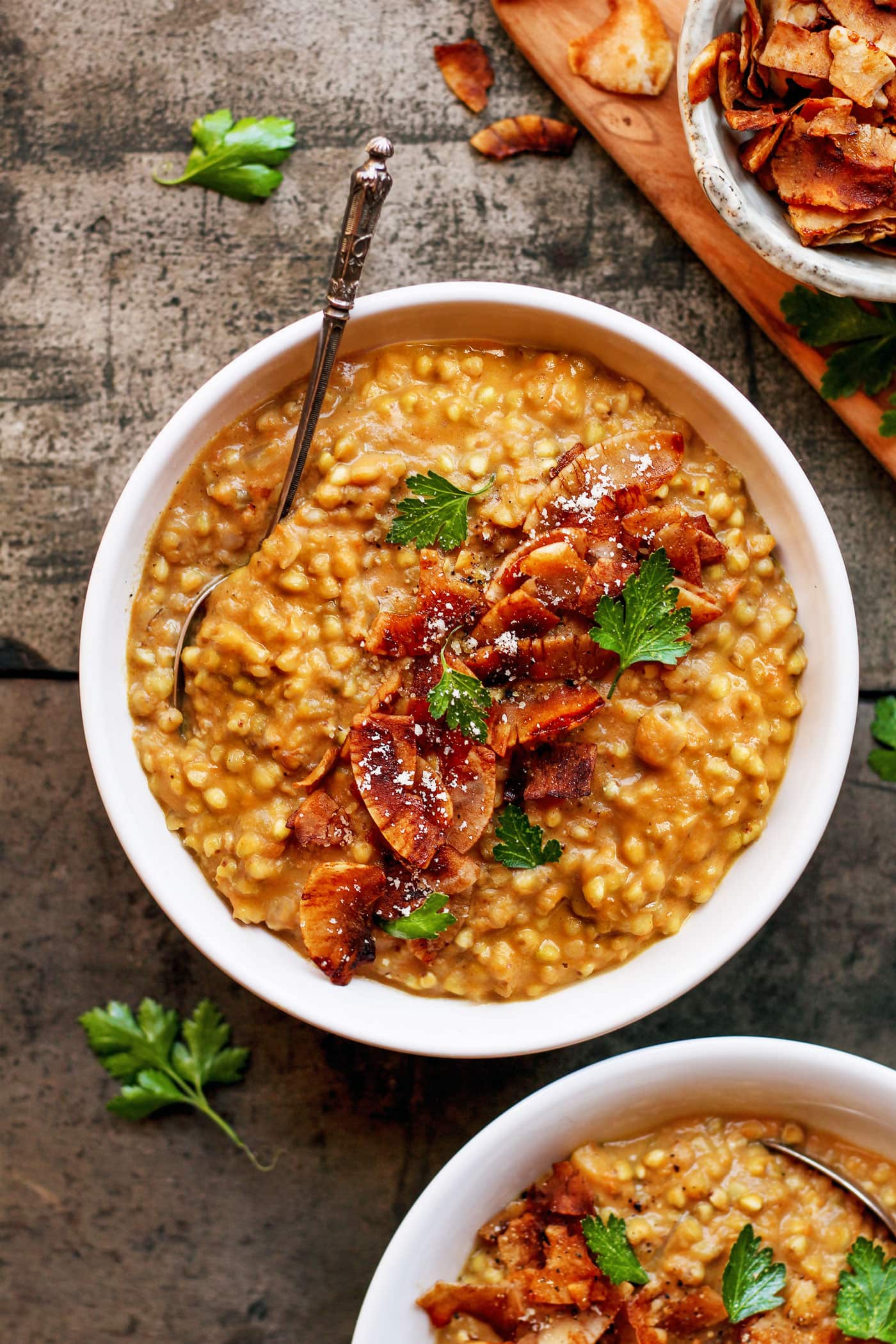 This buckwheat risotto is delicious as is, but it also goes very well with some Almond Butter Tofu Skewers, or a green salad on the side.
I'm sure you will love this risotto, it's creamy, savory and so comforting. Whether it is summer or winter, it makes a healthy and filling entrée!
Let me know in the comments if you try this recipe!
Print
Sweet Potato Coconut Buckwheat Risotto
Super creamy and buttery buckwheat risotto, flavored with sweet potato and coconut milk. Comforting, healthy and so delicious!
1

large sweet potato

1 tbsp

olive oil

2

shallots, minced

1

clove garlic, minced

1 cup

raw buckwheat groats

½ cup

white wine

1

14-ounce can full-fat coconut milk

⅓ cup

vegetable broth (or water)

½ tsp

salt

⅛ tsp

turmeric

⅛ tsp

smoked paprika

1 tsp

nutritional yeast
optional toppings: coconut bacon, fresh parsley, vegan parmesan
Instructions
Preheat oven to 400°F. Wash and brush the sweet potato, pat it dry with a paper towel. Prick the sweet potato a few times with a knife and wrap it loosely with aluminum foil. Place on a baking sheet and bake for 45-60 minutes, or until the inside is soft.
Remove from the oven and let cool. Cut the sweet potato in half and transfer the flesh to the bowl of a food processor, or blender. Process until smooth, about 30 seconds. Set aside.
Heat the olive oil in a large skillet over medium heat. Add the minced shallot and garlic, and cook for 5 minutes, or until soft. Add the buckwheat groats and toast them for 2-3 minutes, until they become golden brown, be careful not to burn them.
Stir in the white wine and continue to cook until most of the liquid has evaporated. Add the coconut milk, sweet potato purée, vegetable broth or water (if using water you might have to add more salt), salt, turmeric and smoked paprika.
Bring to a boil and let simmer for 20-25 minutes until the buckwheat is soft but still a bit chewy. Stir regularly to make sure it doesn't stick to the bottom of the skillet.
Once cooked, stir in the nutritional yeast, taste and adjust seasonings if needed.
Divide into bowls, top with coconut bacon, fresh parsley or basil and vegan parmesan. Serve immediately.
The risotto will keep in the fridge for up to 4 days. Reheat gently over medium heat, you might have to add a bit more water or vegetable broth to make the risotto creamy again.
Nutrition
Serving Size:

1

Calories:

420

Sugar:

5.3g

Fat:

20.8g

Carbohydrates:

45.6g

Fiber:

6.3g

Protein:

8.4g