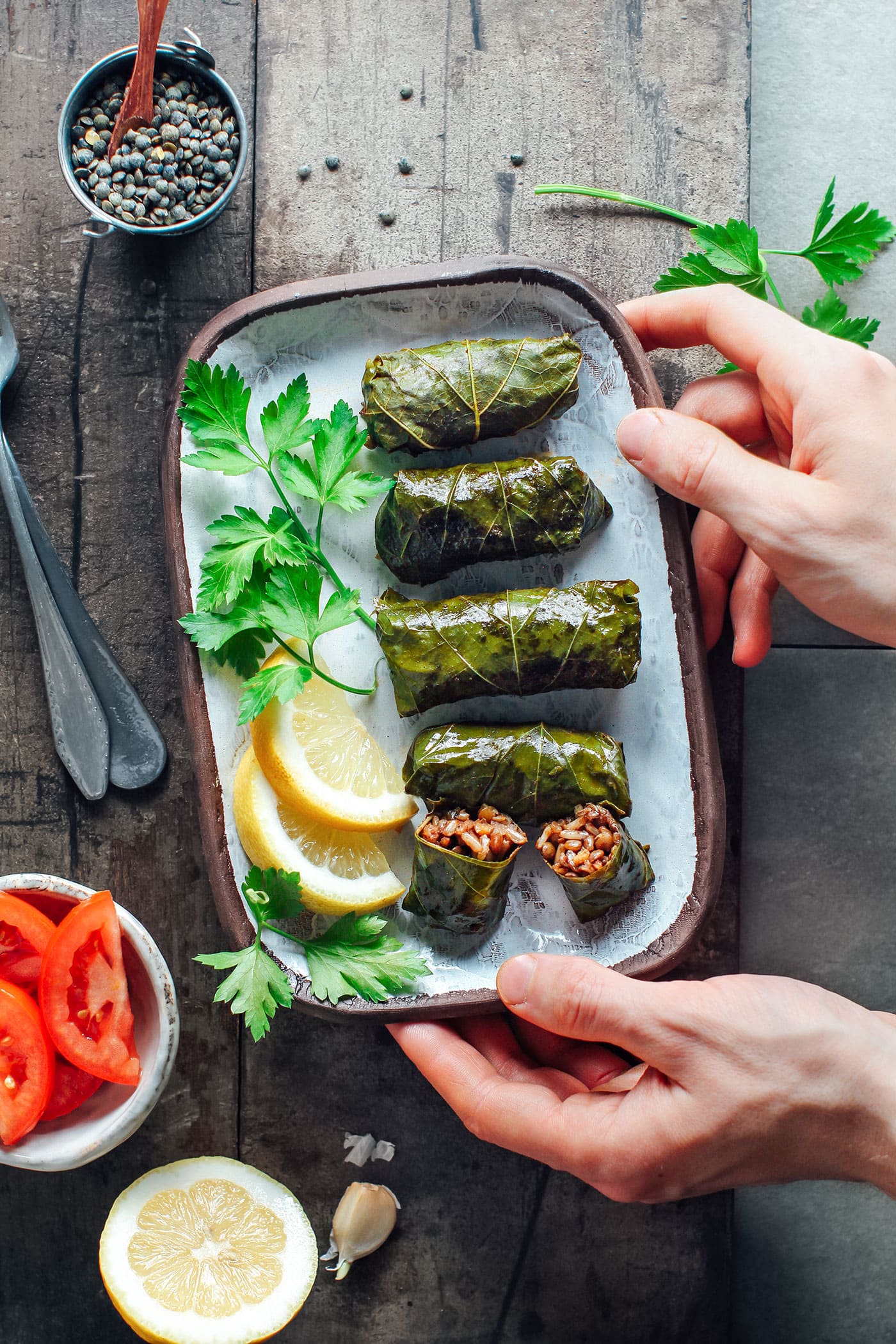 If you are in the mood for a rustic-looking, nutritious, and spicy recipe, you are on the right page! Introducing Spicy Vegan Stuffed Grape Leaves!
These grape leaves, also called dolma, are stuffed with a combination of spicy and smoky brown rice and green lentils. They are inspired by Mediterranean dolmas that are quite popular in the Middle East.
While this recipe is simple, be aware that folding each grape leaf is a bit time-consuming, but trust me, it's worth it in the end!
It starts with the onions and garlic that are sautéed until golden brown. Then you add spices for flavor: chili, cumin, oregano, and smoked paprika. I went with 1 and 3/4 tsp of chili, which makes them just spicy to my taste. If you like very spicy food, I would recommend adding 1/2 tsp of chili or sriracha. On the other hand, if you are not used to spicy dishes, decrease the ground chili to one teaspoon.
Next, add the rice, green lentils, and water. Bring to a boil and cook until almost no water remains. This step helps to precook the rice and lentils and takes only a few minutes.
To assemble the leaves, you place about a teaspoon of the filling in the center of a grape leaf and then roll it up as you would do with a spring roll. Dolma experts out there, please don't judge my folding skills. I'm still working on it.
To cook the dolmas, we cover them with water, add a squeeze of lemon juice, and cook covered for about 50 minutes in a pot. You want to let it just simmer (it shouldn't boil); otherwise, the leaves may crack, and the filling will escape.
As you can see above, you also want to pack the leaves into the pot. I ended up adding a couple more stuffed leaves to fill the gap in the center.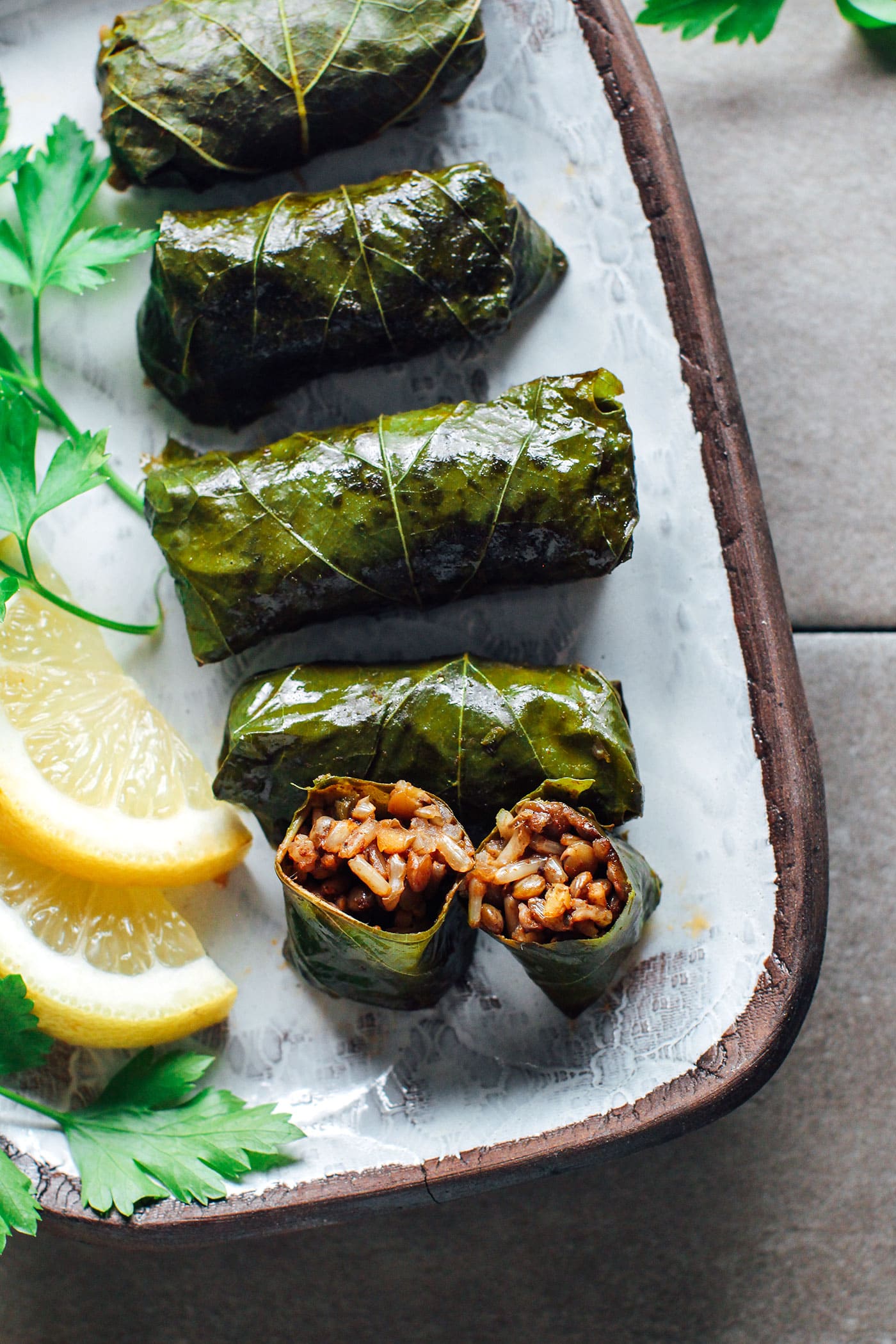 These stuffed grape leaves, or dolma, make a light and delicious appetizer. I love how the soft and chewy texture of grape leaves contrasts with the filling. These can also be enjoyed as an entrée or side dish, served with tofu or tempeh on the side for a complete meal.
Let me know in the comments if you try this recipe!
Recipe
Spicy Vegan Stuffed Grape Leaves
Grape leaves stuffed with spicy and smoky brown rice and green lentils! A light and delicious plant-based appetizer!
Ingredients
1

tbsp

oil

1

onion

diced

2

cloves of

garlic

minced

2

tbsp

pine nuts

optional

1

tbsp

soy sauce

1 and 3/4

tsp

ground chili powder

1/2

tsp

oregano

1/2

tsp

smoked paprika

1/4

tsp

ground cumin

3

tbsp

tomato paste

1/2

cup

brown rice*

1/2

cup

green lentils

3/4

cup

water

3

tbsp

chopped spring onions

18-20

grape leaves

in brine, drained and rinsed

1 and 1/2

cup

water

3

tbsp

lemon juice

1

tbsp

oil
Instructions
Heat the oil in a large skillet over medium heat. Once hot, add the onion and garlic and cook for 5-7 minutes or until onions are golden brown. Add the pine nuts if using and toast for 2 minutes.

Add the soy sauce and cook for another 30 seconds. Add the spices, tomato paste, brown rice, lentils, water, and spring onions and cook for 5-8 minutes or until no water remains. The rice and lentils won't be cooked, this is normal as they will cook later once wrapped in grape leaves.

Let the rice and lentils cool until they are no longer hot.

Place 4-5 grape leaves in the bottom of a heavy-bottomed pot. This will prevent the stuffed grape leaves from sticking to the bottom. If you don't have extra grape leaves, just place a plate in the bottom of the pot.

To assemble: lay one leaf on a working surface. Place about 1 and 1/2 tsp of the rice and lentil filling at the bottom of the leaf. Fold both sides of the leaf over the filling and then roll it up into a cylindrical shape. It should be tight but not too much as the filling will slightly expand. Place the roll in the prepared pot. Repeat with the remaining filling and grape leaves.

Try not to leave any gap between the rolls, otherwise, they might open during cooking. If using a small pot, you can layer the rolls.

Place a large plate on top of the stuffed grape leaves, this will keep the rolls submerged.

Pour the 1 and 1/2 cup of water into the pot with the lemon juice and oil. Bring to a boil and then reduce to a simmer. You don't want the water to be boiling or the leaves will explode. Let simmer covered for 45-50 minutes or until the rice and lentils are cooked.

Remove from heat and let cool a few minutes before transferring the stuffed grape leaves to a serving plate. Stuffed grape leaves can be eaten warm, or cold!
Notes
*I recommend using Thai or basmati brown rice that usually cooks in 30-35 minutes.
If using fresh grape leaves, blanch them in boiling water for about 5 minutes. You may have to add a good pinch of salt to the cooking water as the leaves won't be salted.
Nutrition
Serving:
5
rolls
|
Calories:
226
kcal
|
Carbohydrates:
38.2
g
|
Protein:
9.1
g
|
Fat:
4.4
g
|
Fiber:
9.3
g
|
Sugar:
3.2
g
Did you make this recipe?
Tag @fullofplants on Instagram and hashtag it #fullofplants