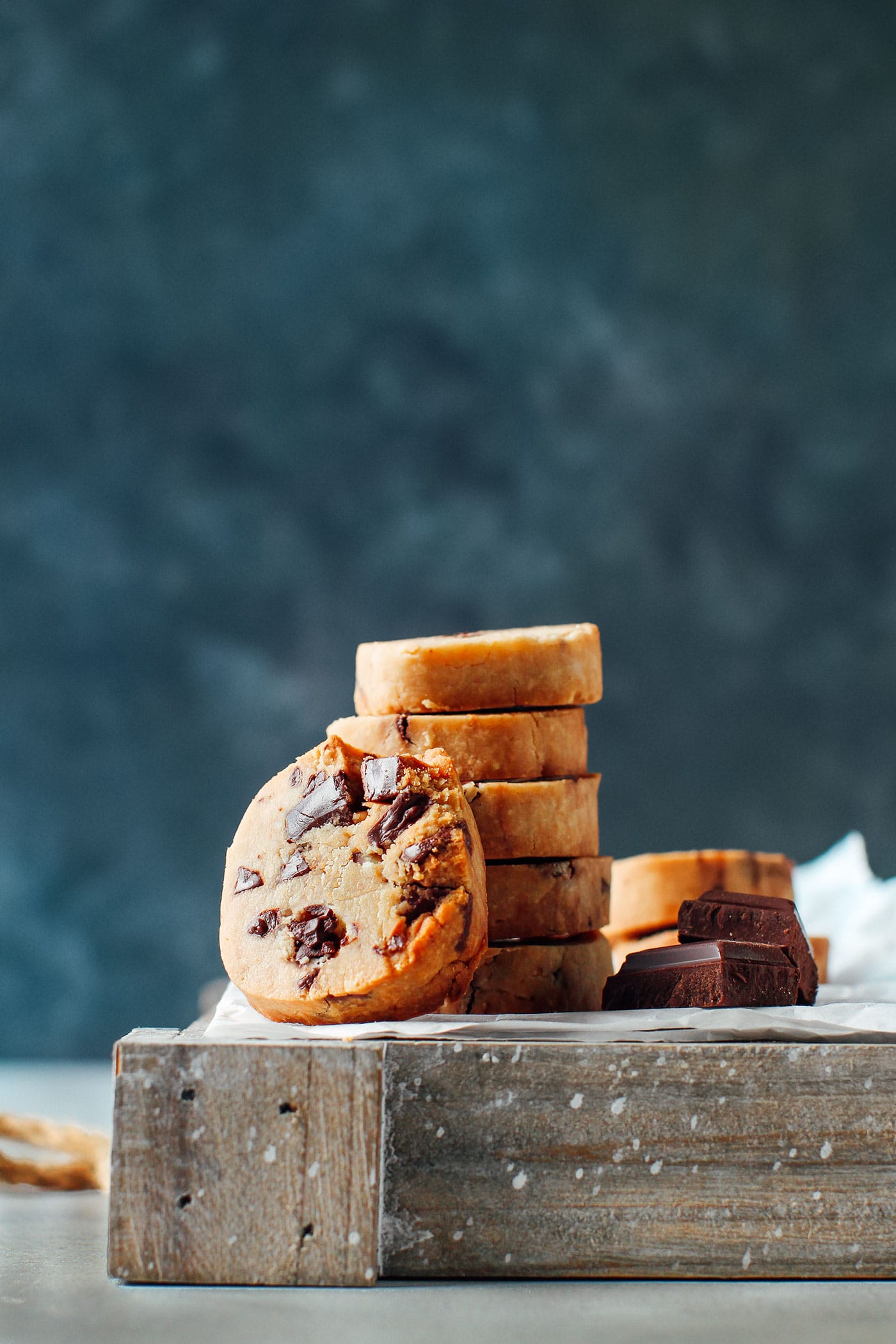 I have a new snack addition.
Let me introduce it to you: Crunchy vanilla cookies packed with melty chocolate chunks. These delightful shortbread cookies are perfectly crunchy, gluten-free, and naturally sweetened! You are going to love their shortbread texture!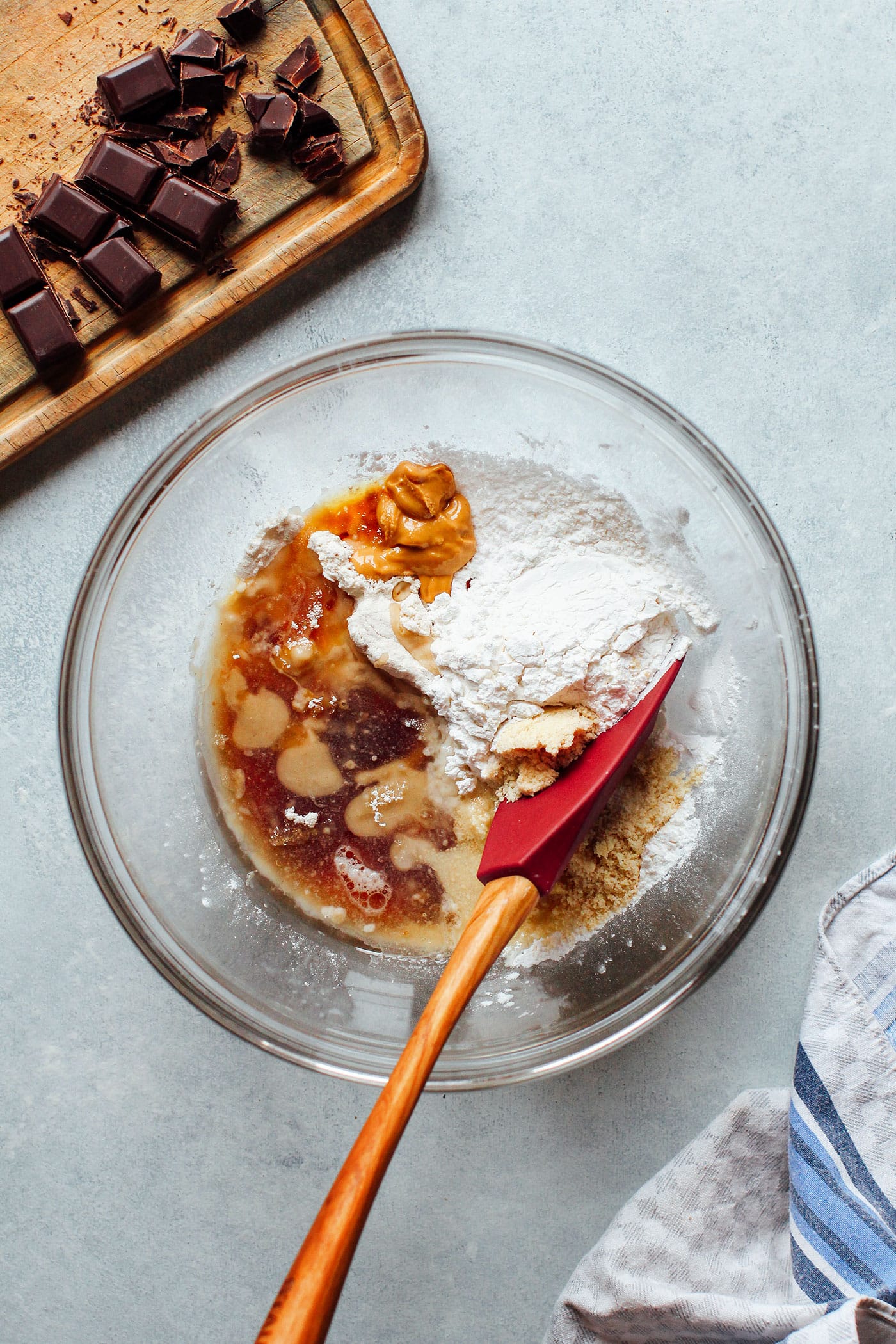 This recipe is based on the shortbread I used in these Crunchy Choco Sticks. I have to say I'm super happy with how they turned out, the texture is just like shortbread cookies (or "sablés") I used to eat. Crunchy, from the edges to the center, with that "sandy" texture shortbreads are known for. Actually, these cookies are delicious plain if chocolate is not your thing.
To keep the cookies gluten-free, I went with a mix of rice flours, tapioca starch, and almond flour. Instead of butter I use coconut oil and to replace sugar I go with maple syrup. Then comes vanilla, a good pinch of salt, and obviously chocolate chunks. I don't recommend making large chocolate chunks or the cookies will crumble when you will cut them.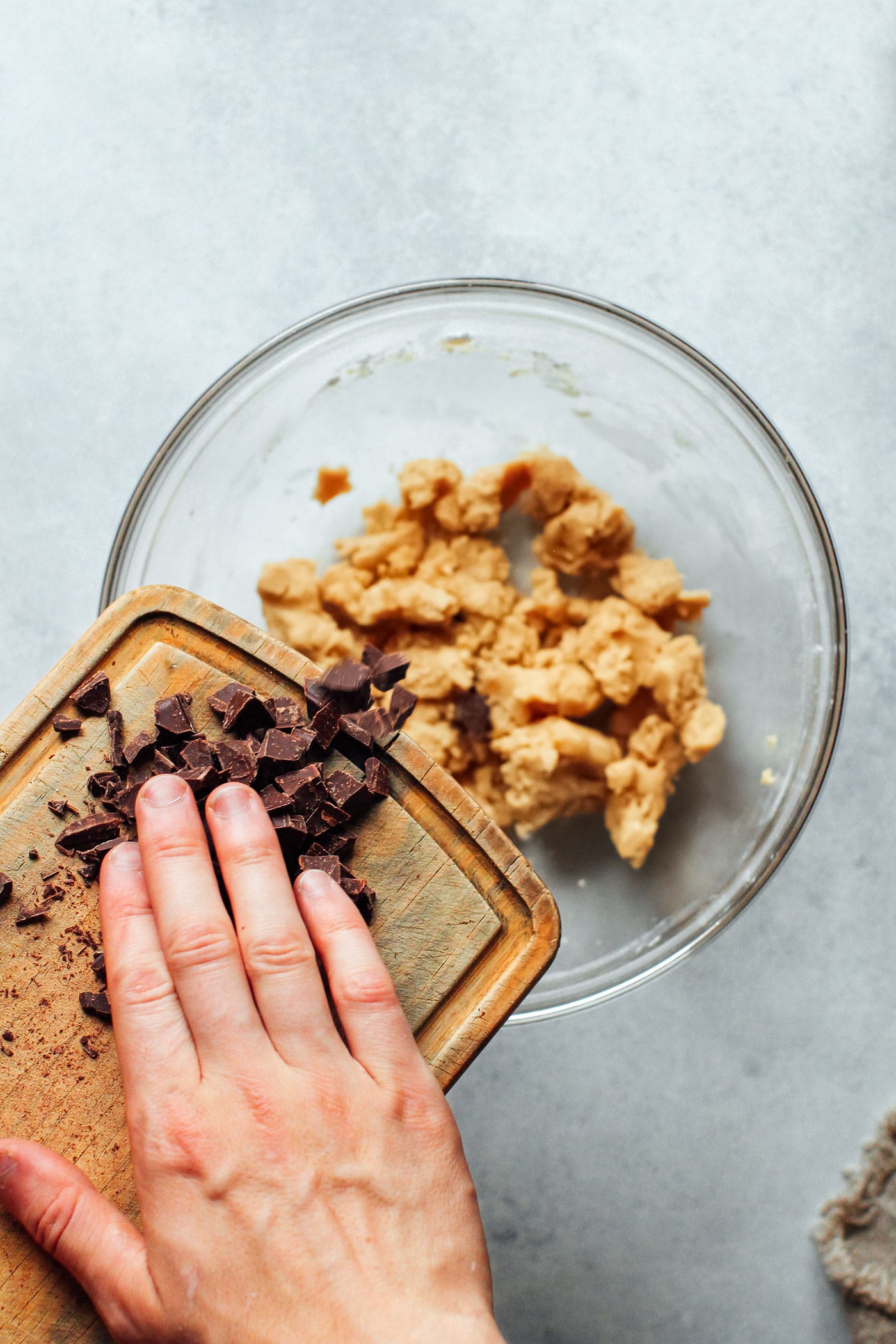 Once you have a soft dough, shape it into a log, wrap in plastic wrap and refrigerate for at least 2 hours. Then it's time to slice your cookies!
Important tip: After removing the log from the refrigerator, let it sit at room temperature for 10-15 minutes just to soften the dough a little bit. Otherwise, it will be too hard and crumbly and you will have trouble getting cookies that hold together.
15 minutes in the oven and your shortbread cookies are done! What's great with these cookies is that they stay crunchy for days, or even weeks if you have enough willpower to not eat them all in a couple of days.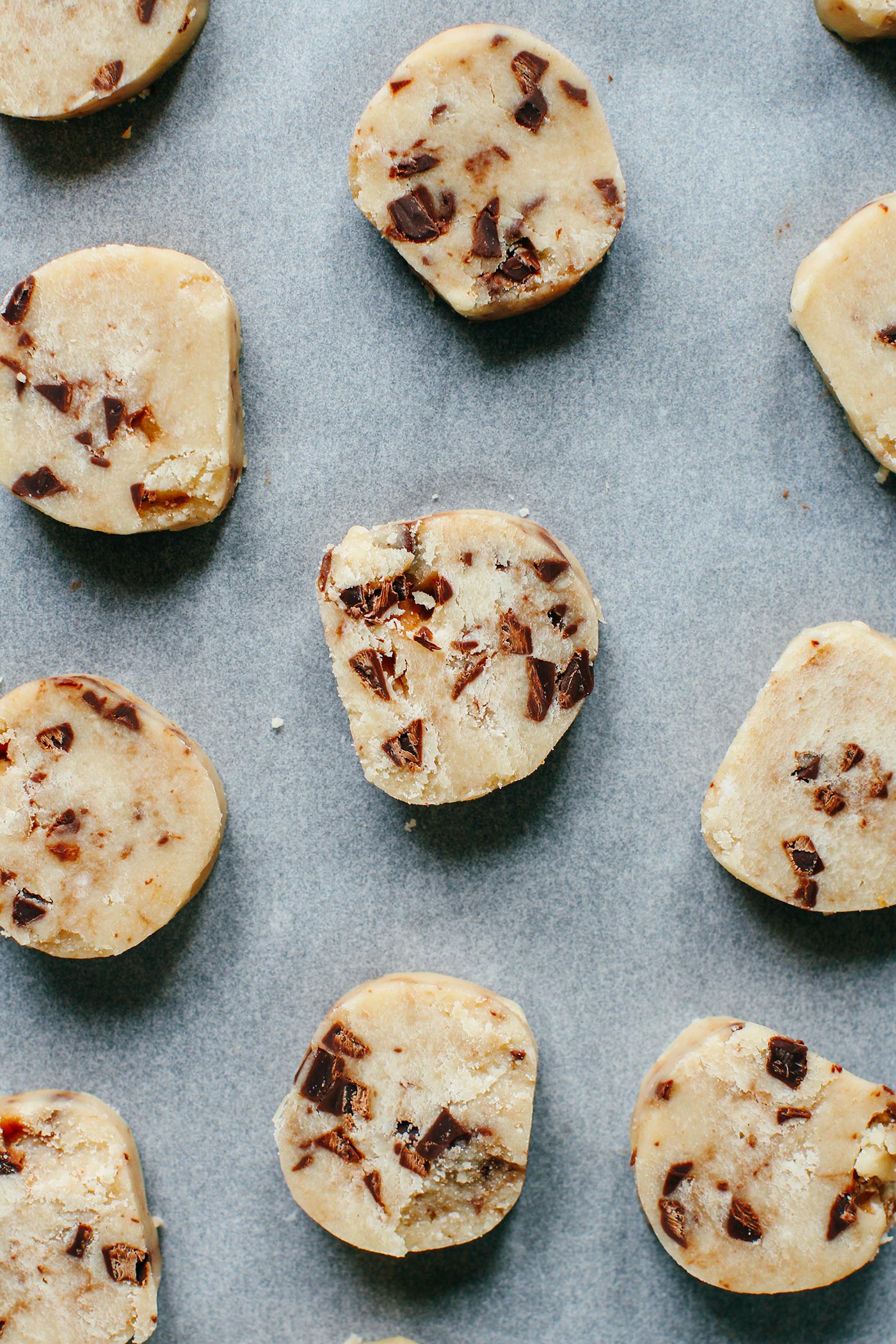 These cookies are the perfect little snack to have with your coffee or tea. May I suggest dipping them in hot chocolate? If you like shortbreads or "sablés", you are going to love these! Want to use raisins, pistachios, or even cacao nibs instead of chocolate chunks? Do it!
Let me know in the comments if you try this recipe!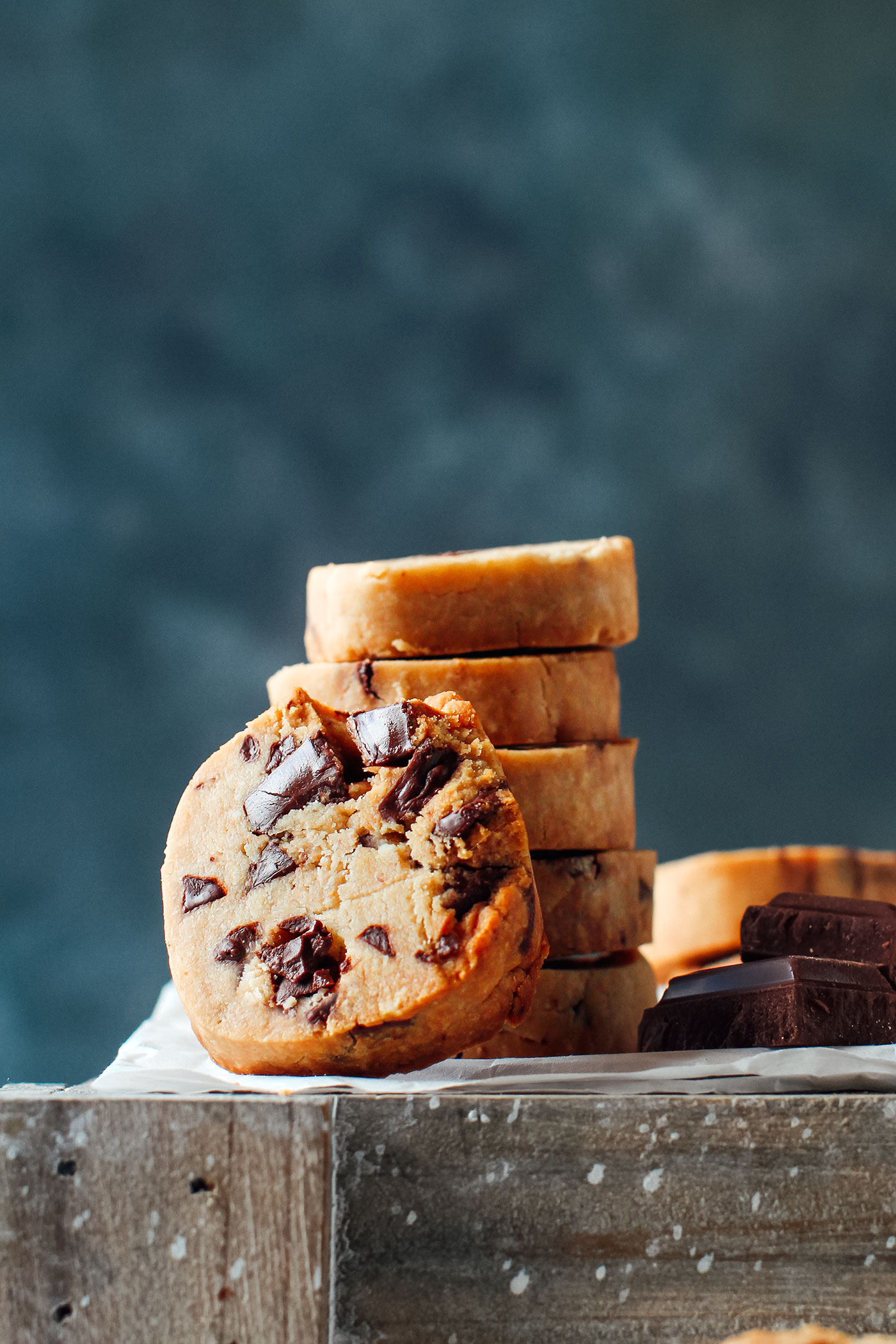 📖 Recipe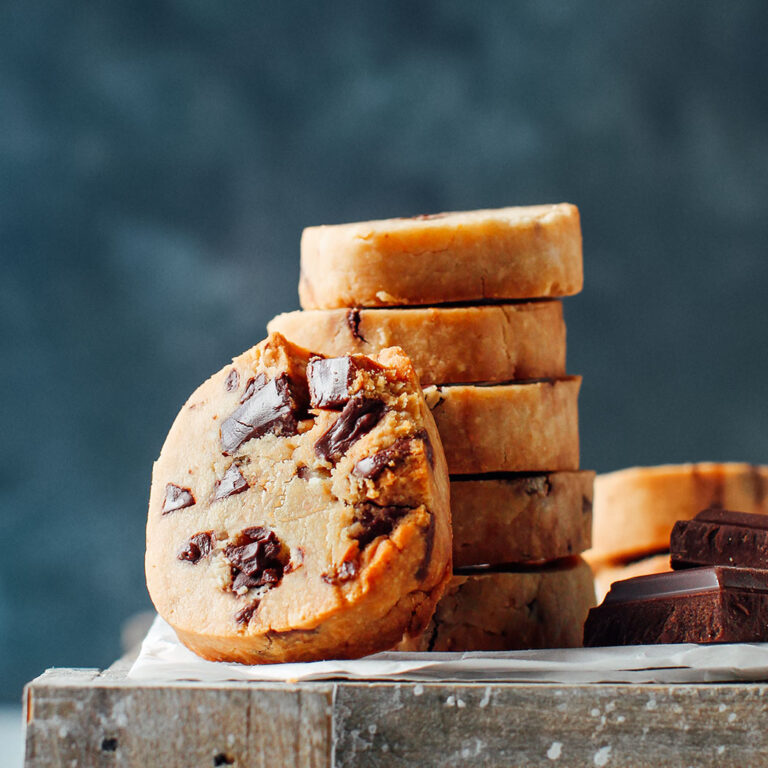 Slice & Bake Chocolate Chunk Cookies (Vegan + GF)
Delicious vanilla shortbread cookies loaded with dark chocolate chunks! Perfectly crunchy and gluten-free, these are perfect with coffee, tea, or hot chocolate!
Instructions
In a large mixing bowl, stiff together the brown rice flour, white rice flour, tapioca starch, and almond flour. Add the melted coconut oil, maple syrup, water, almond butter, and vanilla extract. You can also add a good pinch of salt.

Stir using a wooden spoon or spatula until it forms a slightly sticky dough. Use your hands to finish mixing the dough.

Stir in the chocolate chunks. Make sure your chocolate chunks are not too large, otherwise it won't be easy to slice the cookies once chilled.

Form the dough into a log of about 1.5-inch diameter. Carefully wrap it tightly in plastic wrap and chill in the refrigerator for at least 2 hours, up to 3 days.

Remove the log from the refrigerator and let it sit at room temperature for about 15 minutes. If you don't let it warm a bit the cookies will crumble when you will try to cut them.

Preheat oven to 350°F (175°C) and line a baking sheet with parchment paper.

Using a sharp knife, slice the log into 16 thick cookies (around ⅓-inch-thick). Carefully place them on the prepared baking sheet and bake for about 15 minutes, or until slightly golden on the edges. Let cool at least 10 minutes on the baking sheet before transferring to a cooling rack.

Enjoy with coffee, tea, or as an afternoon snack. Cookies will keep at room temperature stored in an airtight container for up to 10 days.
Notes
*For fully refined sugar-free cookies, use coconut sugar-sweetened chocolate.
Did you make this recipe?
Tag @fullofplants on Instagram and hashtag it #fullofplants