Spring is here. Let's celebrate with fresh and crunchy mango summer rolls!
These summer rolls feature tofu with a crispy sesame seeds crust, carrots, red peppers, chayote, mango for a touch of sweetness, and a ton of fresh herbs!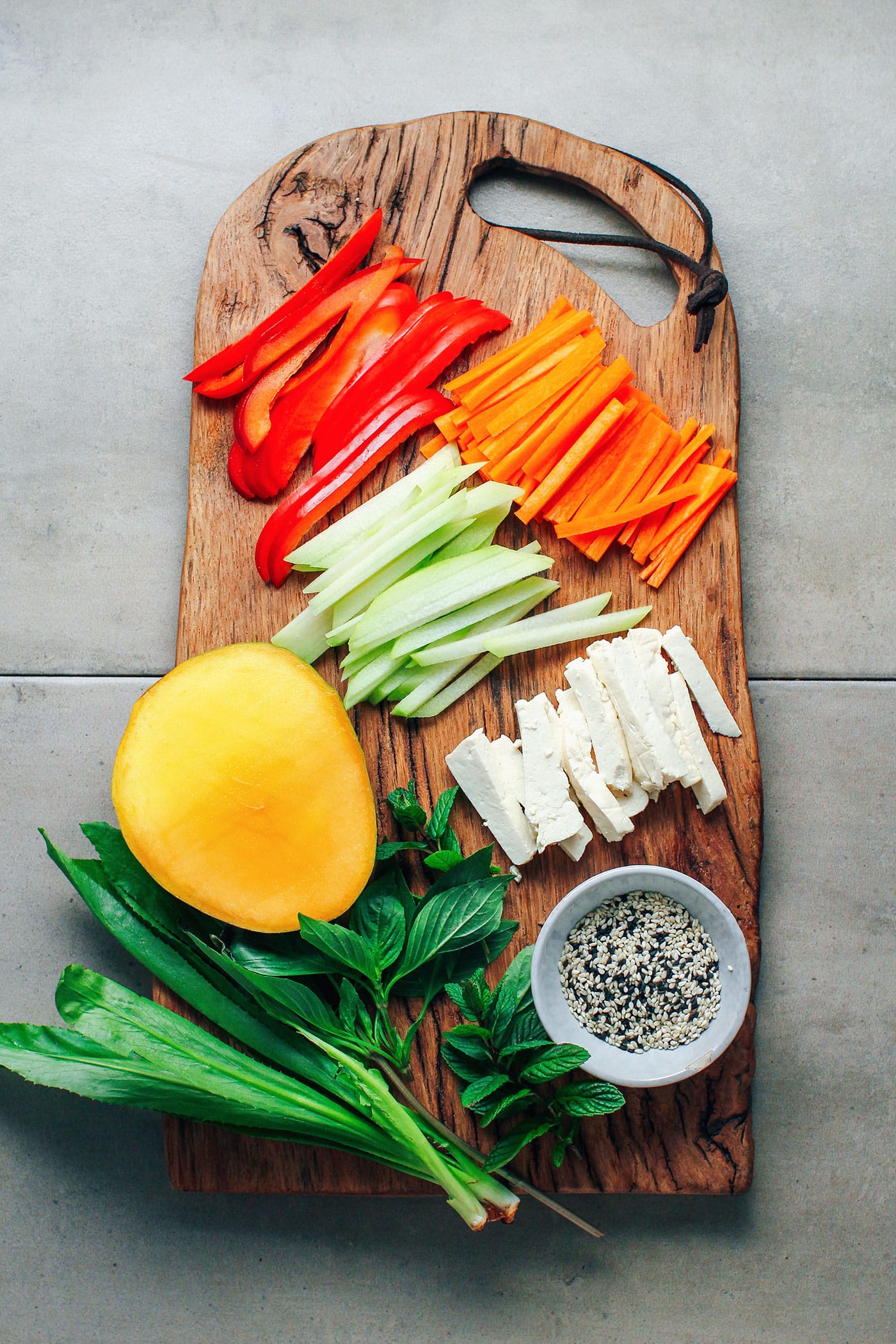 Preparing the rolls is quite easy and quick if you have some rollin' experience. You start by preparing the raw vegetables and sesame tofu, as you want everything ready before making the rolls.
Carrots, mango, red bell pepper, and chayote are cut into matchsticks. If you have never tried chayote, it's a green vegetable that is super crunchy and fresh and has a subtle cucumber flavor. You may substitute it for cucumber if you don't have chayote on hand.
For the mango, I recommend using one that is not too ripe; otherwise, you will have trouble slicing it.
Next, we have tofu. It is first dipped in a cornstarch batter and then coated with sesame seeds. You want to fry it on each side until golden brown. The tofu is super crispy, and the sesame seeds crust adds crunchiness as well as a delicious nutty flavor.
When it comes to the herbs, I went with cilantro, Thai basil, and mint.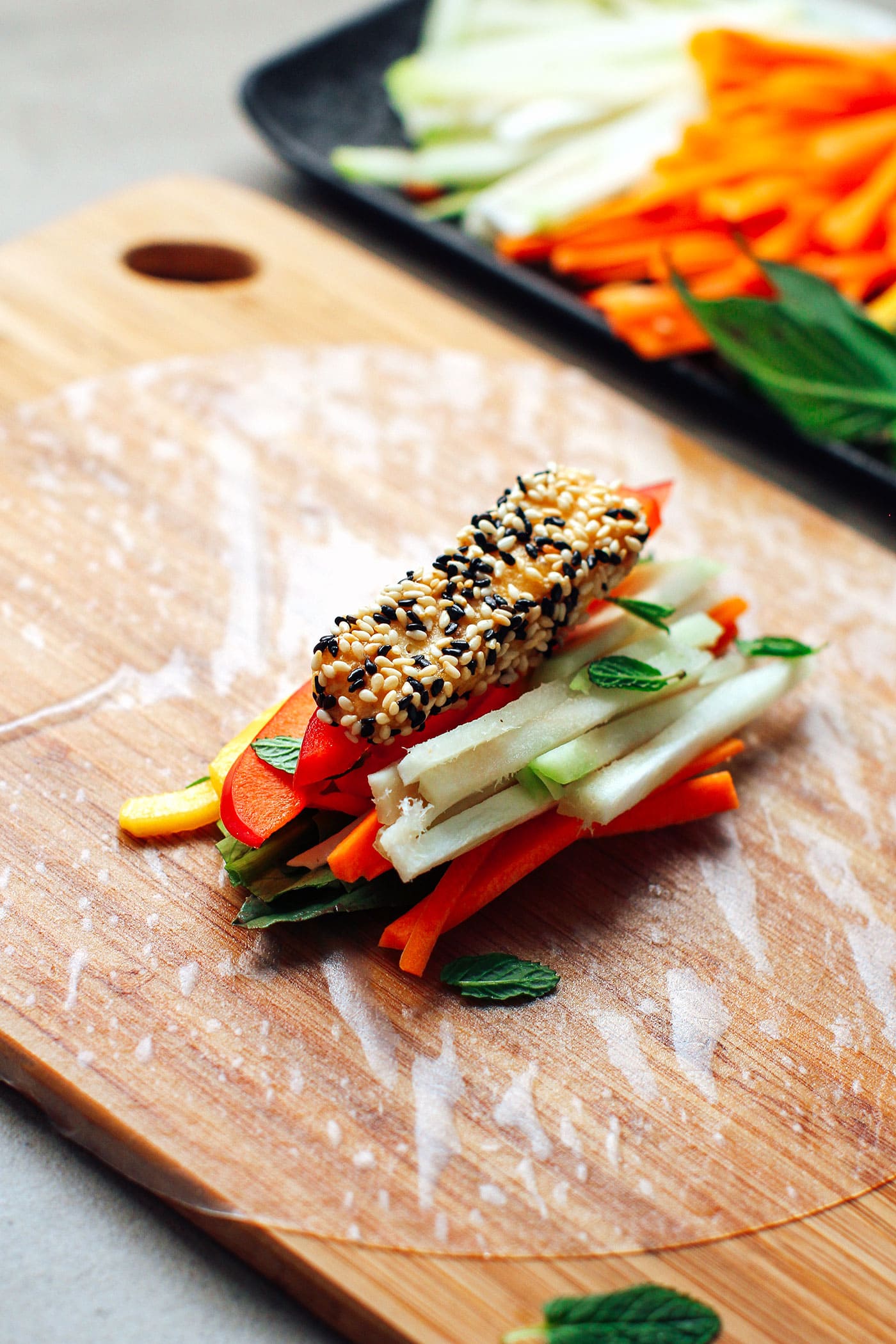 These summer rolls are just filled with veggies and tofu. I didn't add any noodles here to keep them lighter. If you want, feel free to do so; this recipe is versatile!
For the dipping sauce, we have chili paste (sambal badjak in my case) mixed with some soy sauce, lime juice, maple syrup, and a couple of tablespoons of water to thin it.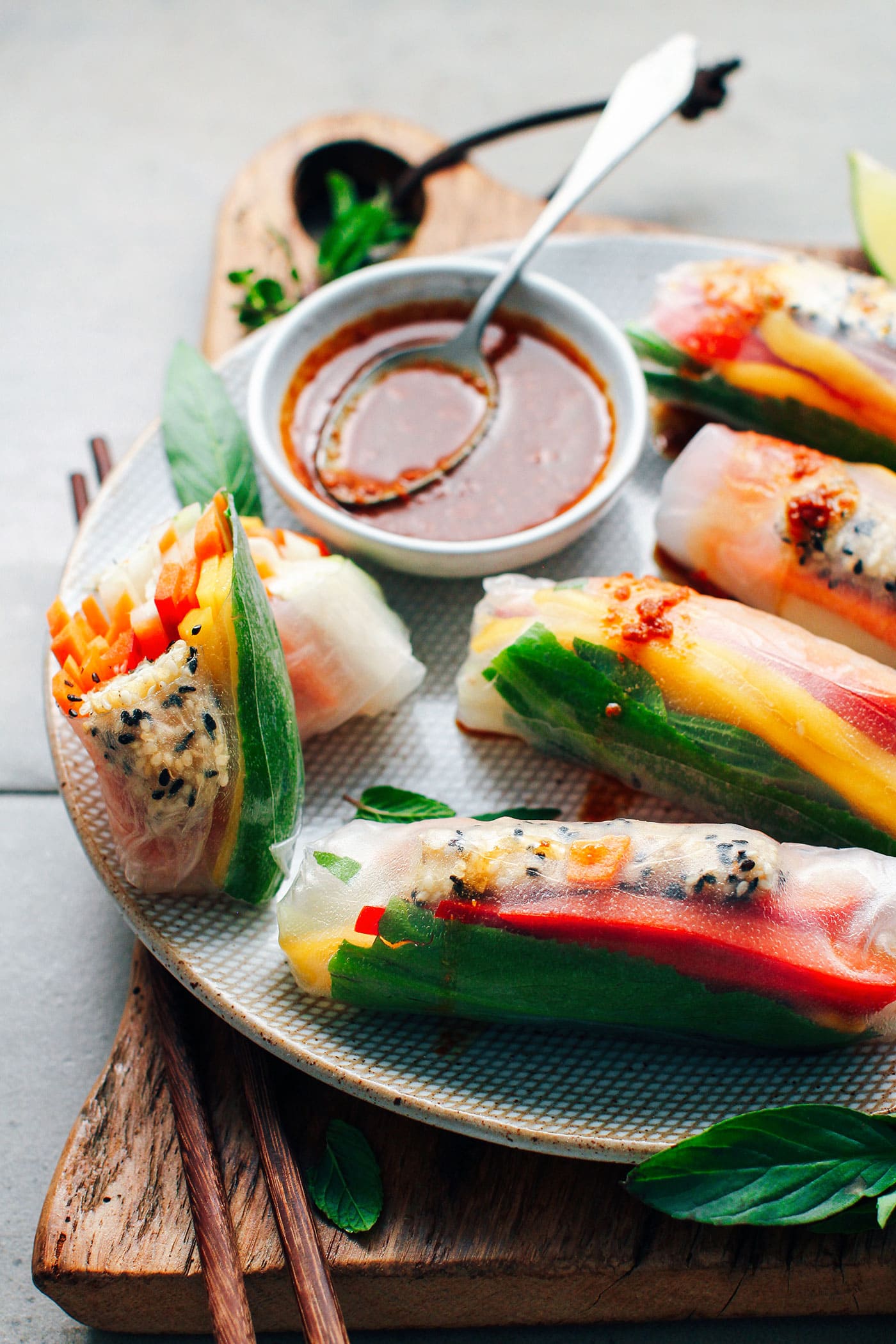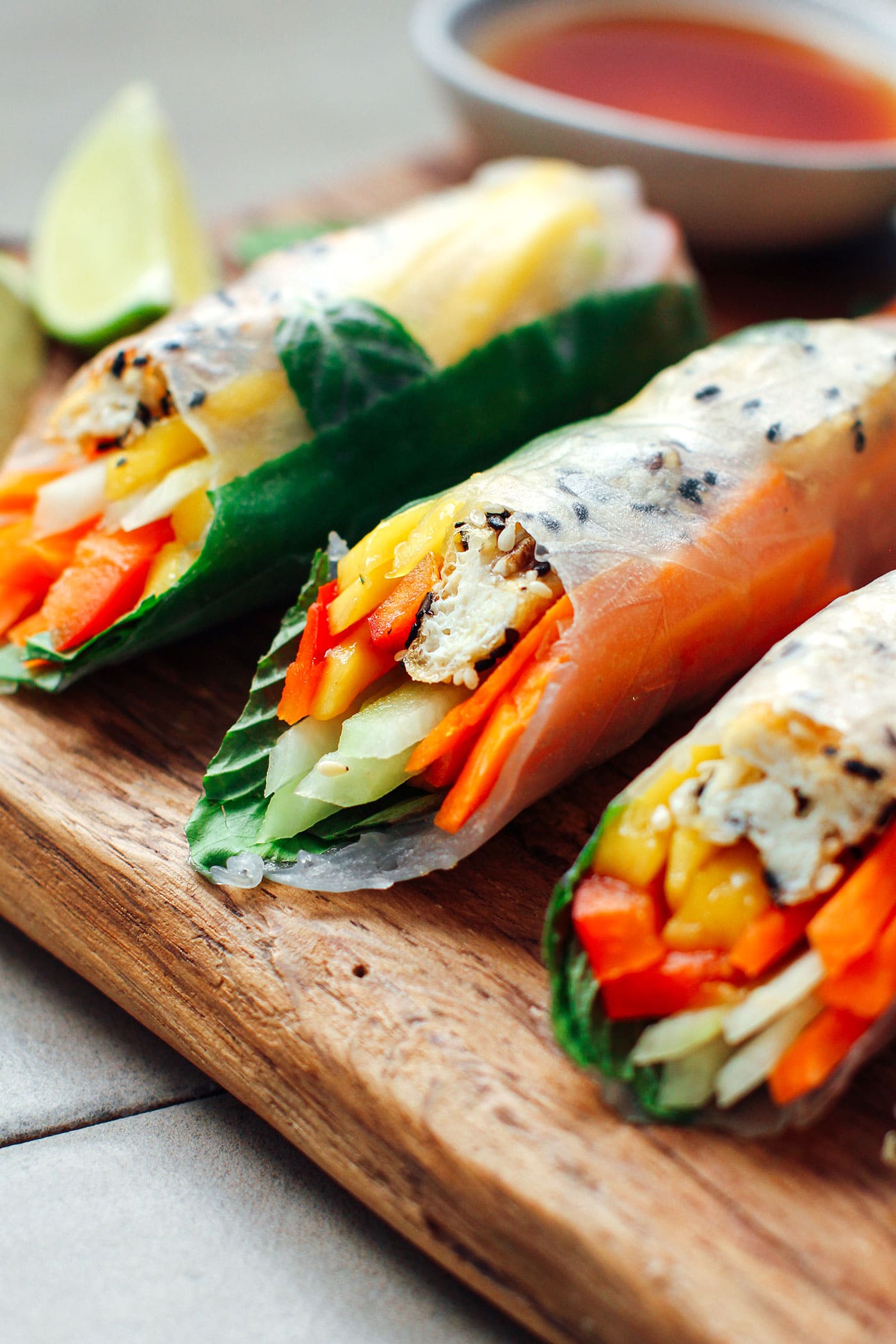 If you are looking for a light, fresh, and healthy appetizer, look no further! These summer rolls are crunchy, sweet and salty, and packed with flavor! Plus, they are low in calories and rich in protein!
Let me know in the comments if you try this recipe!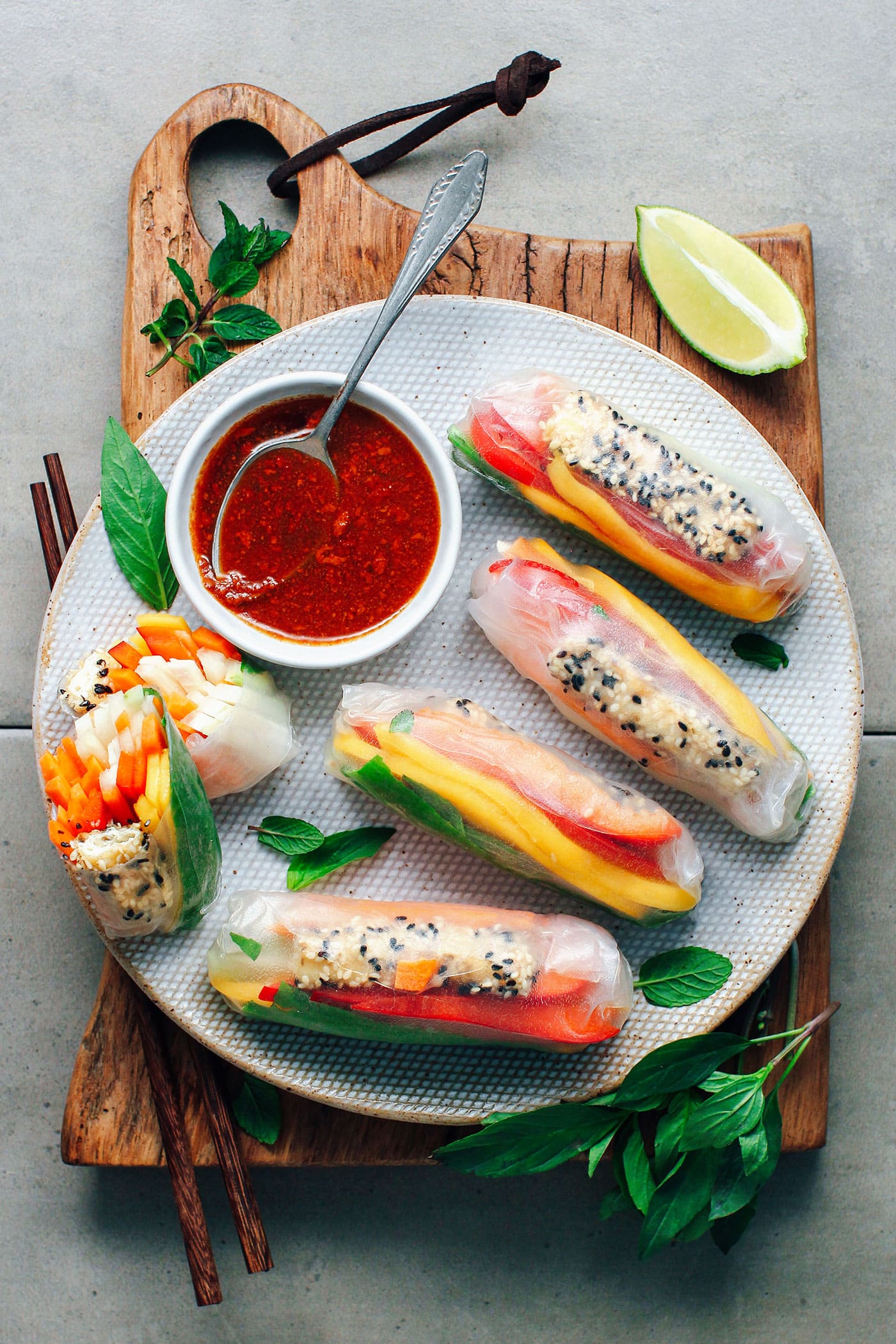 Recipe
Sesame Crusted Tofu & Mango Summer Rolls
Fresh and healthy summer rolls filled with sesame crusted tofu, mango, chayote, and served with a spicy dipping sauce!
Ingredients
1/2

medium mango

1

large carrot*

1/2

chayote

or cucumber

1/2

red bell pepper

4

ounces

firm tofu

3

tbsp

cornstarch

3

tbsp

water

1/3

cup

sesame seeds

I used a mix of black and white

6

rice paper wrappers

1/4

cup

each: fresh mint, basil, and cilantro
Spicy Dipping Sauce
1/4

tsp

sambal badjak

or more to taste

1

tbsp

soy sauce

1

tbsp

lime juice

1

tbsp

maple syrup

2-3

tbsp

water
Instructions
Prepare the vegetables: slice the mango, carrot, chayote, and red bell pepper into thin strips. Set aside.

Cut the tofu into matchsticks and set aside. In a small bowl, whisk together the cornstarch and water. In another bowl, add the sesame seeds.

Dip each piece of tofu into the cornstarch batter and shake to remove excess. Then, dip the tofu into the sesame seeds and transfer to a plate. Repeat with the remaining tofu.

Heat about 1/4 cup of oil in a saucepan. Once hot, fry the tofu sticks on each side until golden brown, about 5 minutes. Once the tofu has a nice golden color, remove from the oil and drain on a kitchen paper towel to remove excess oil.

To make the summer rolls: Pour warm water into a large mixing bowl or deep plate. Dip one rice paper wrapper into the warm water for about 5 seconds. Remove it from the water and place it on a flat surface (I usually use a silpat so it doesn't stick to it).

Place 2-3 basil leaves, some cilantro, and a few mint leaves toward the bottom edge of the wrapper. Add a few sticks of mango, carrot, chayote, and red bell pepper. Top with a stick of fried tofu.

To wrap the roll: Bring the bottom edge of the wrapper over the filling. Then fold the sides over it and continue rolling tightly. Transfer the roll to a serving plate and repeat with the remaining wrappers and filling.

Prepare the dipping sauce: combine all the ingredients in a small bowl and whisk until combined. Taste and adjust the spiciness and saltiness to your liking.

Serve the rolls immediately! Summer rolls will keep covered in the refrigerator for up to 6 hours but are best served fresh.
Notes
* If you want more flavor, you can make pickled carrots. To do that, combine 3 tbsp white rice vinegar with 3 tbsp water in a small bowl. Add a teaspoon of maple syrup, 1/8 tsp salt, and 1 clove of garlic, minced. Add the carrot and let it marinade for at least 2 hours, or up to 48h in the refrigerator.
Nutrition
Serving:
1
Summer Roll
|
Calories:
104
kcal
|
Carbohydrates:
15
g
|
Protein:
3.7
g
|
Fat:
3.8
g
|
Fiber:
2
g
|
Sugar:
3.5
g
Did you make this recipe?
Tag @fullofplants on Instagram and hashtag it #fullofplants