If there is one tofu recipe you have to try it's definitely this one! Okay, these Spicy Seaweed Tofu Rolls are also highly recommended.
This tofu is freaking delicious. Read a lot of flavors, sweet and salty, flavorful, sticky, saucy, and I could go on. If you are bored with your basic sauteed tofu scramble, you HAVE TO try this one!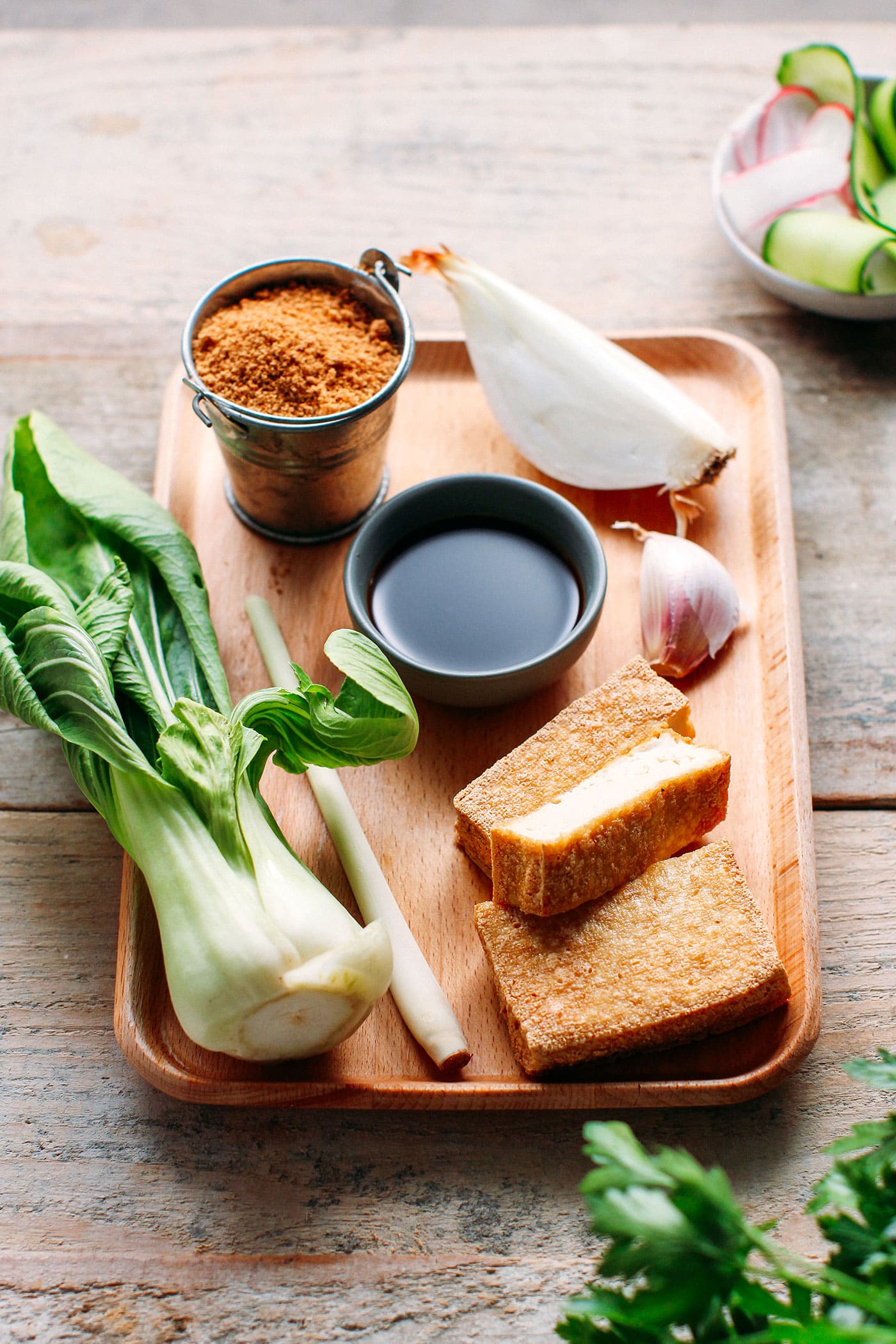 It takes less than 30 minutes to make. You start by sautéeing onion, garlic, and lemongrass until fragrant. If you like it spicy, feel free to add some chopped chili as well!
Next, you add diced fried tofu and sautée for another few minutes so it can soak up the flavors of the aromatics. I use fried tofu instead of regular white tofu here as the fried one holds together better and the skin absorbs some of the juice.
Now onto the sauce: soy sauce, maple syrup, coconut sugar, water, and some rice flour to help it thicken. That's all, nothing fancy but I can say it doesn't lack in flavor!
You cook the tofu in the sauce for a couple of minutes to give it enough time to absorb up the flavors, and then it's ready to serve!
I like to serve this sweet and saucy tofu with basmati rice and some greens on the side. I went with sautéed pak choy, shredded carrots, and some cucumbers, but feel free to go with your favorite greens: kale, broccoli, green beans, etc.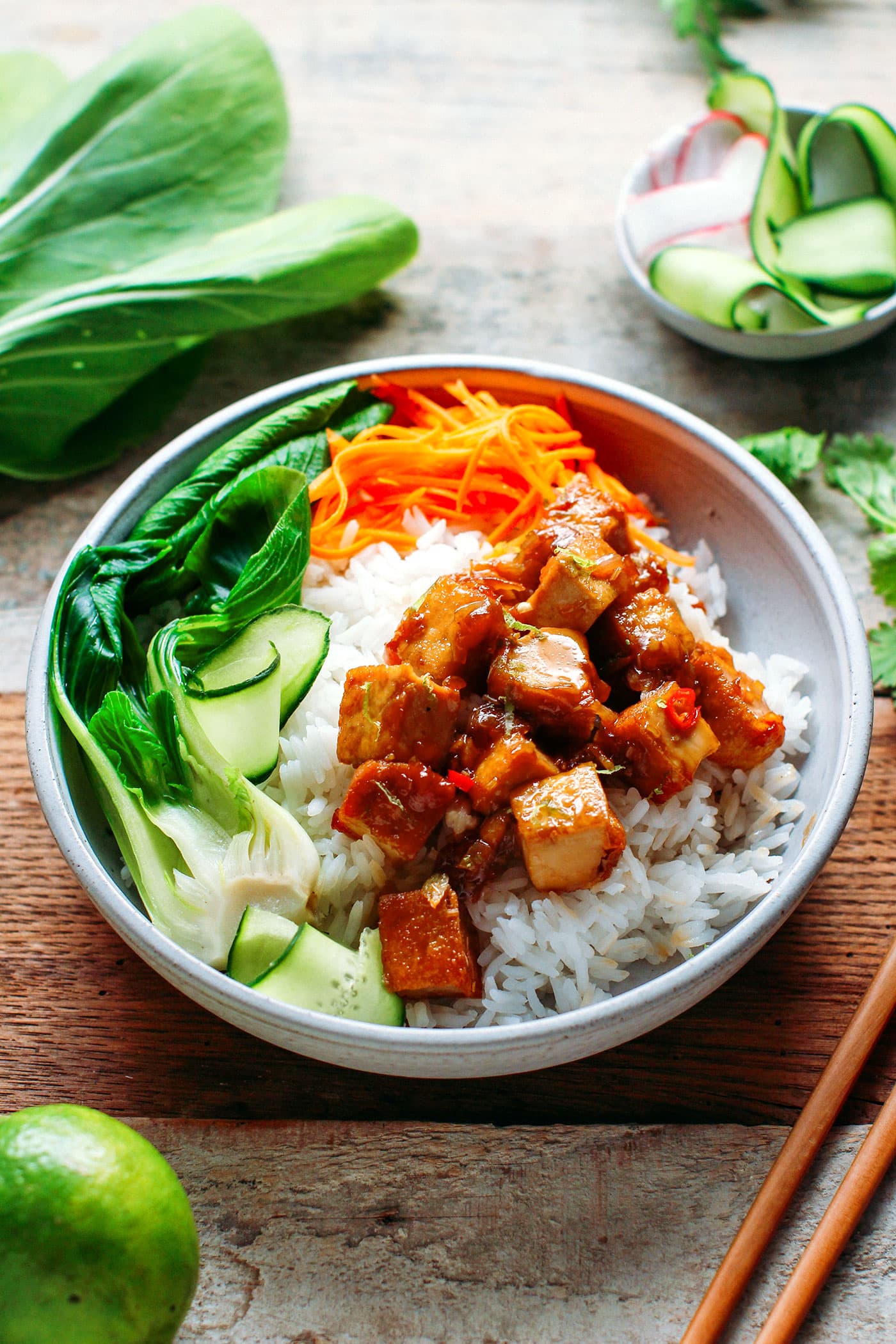 This recipe quickly became a regular here, everyone loves it! It is easy to make, quick, and delicious. Serve with noodles or rice, the greens of your choice, and I can assure you this is better than takeout!
Let me know in the comments if you try this recipe!
Print
Saucy Caramelized Tofu Bowls
Sweet, saucy, and chewy caramelized tofu flavored with garlic, lemongrass, and onion. One of my favorite way to cook tofu!
2

blocks (250g) fried tofu

1 tbsp

(15ml) oil

1/2

onion, diced

1

clove of garlic, minced

1/2

lemongrass stalk, minced

1 tbsp

(15ml) soy sauce

1 tbsp

(15ml) maple syrup

1 tbsp

coconut sugar

2 tbsp

(30ml) water mixed with 1/2 tsp rice flour
For serving: rice, cilantro, pak choy, pickled veggies
Instructions
Cut the tofu into 1-inch cubes. Set aside.
Heat the oil in a medium saucepan over medium heat. Once hot, add the diced onion, garlic, and lemongrass. Sautée for 3-5 minutes or until the onion is slightly golden.
Add the diced tofu and sautée for another 2 minutes, stirring regularly to prevent the tofu from sticking to the pan.
Pour in the soy sauce, maple syrup, and coconut sugar. Stir well to coat the tofu.
In a small bowl, combine the water with the rice flour. Pour the mixture into the pan and stir. Cook for one more minute, or until the sauce has thickened and the tofu is coated.
Serve on top of rice with sautéed pak choy and pickled veggies.
Caramelized tofu is best eaten the same day but will keep in the refrigerator for up to 3 days.
Nutrition
Serving Size:

1 (without rice)